Artificial intelligence is smoothly penetrating into all spheres of our lives. Now, if you need to voice any text, be it a video or a book, you don't need to spend time recording your own voice.
By the way, for recording videos, you can also avoid using your face by taking advantage of these best free AI human face generators.
These free AI voice generators 2023 will help you to create voiceovers using any voice you want in just a few minutes. Go through this review and choose the app that meets all your requirements.
Voice & Face Cloning: Clony AI
Clony Al is a mobile app that provides voice and face cloning features on your smartphone. Create realistic voice and video recordings with your own face or the face of others.
The process of generating a new voice takes just a couple of minutes, allowing you to use the results for your own purposes almost immediately. Record your voice with the built-in microphone and use it to create original audio recordings on your device.
Clone the voice of your friends, family, or celebrities to create fun voice recordings. The AI processing has high accuracy, so it's hard to distinguish it from the original. Use a face from your own photo or photos of other people to apply it to your videos.
The app offers a large selection of effects and filters that you can apply to your voice and video recordings. Change voice playback settings to create unique sound effects. Customize color, contrast, saturation, and more. This allows you to make your recordings more vivid and unusual.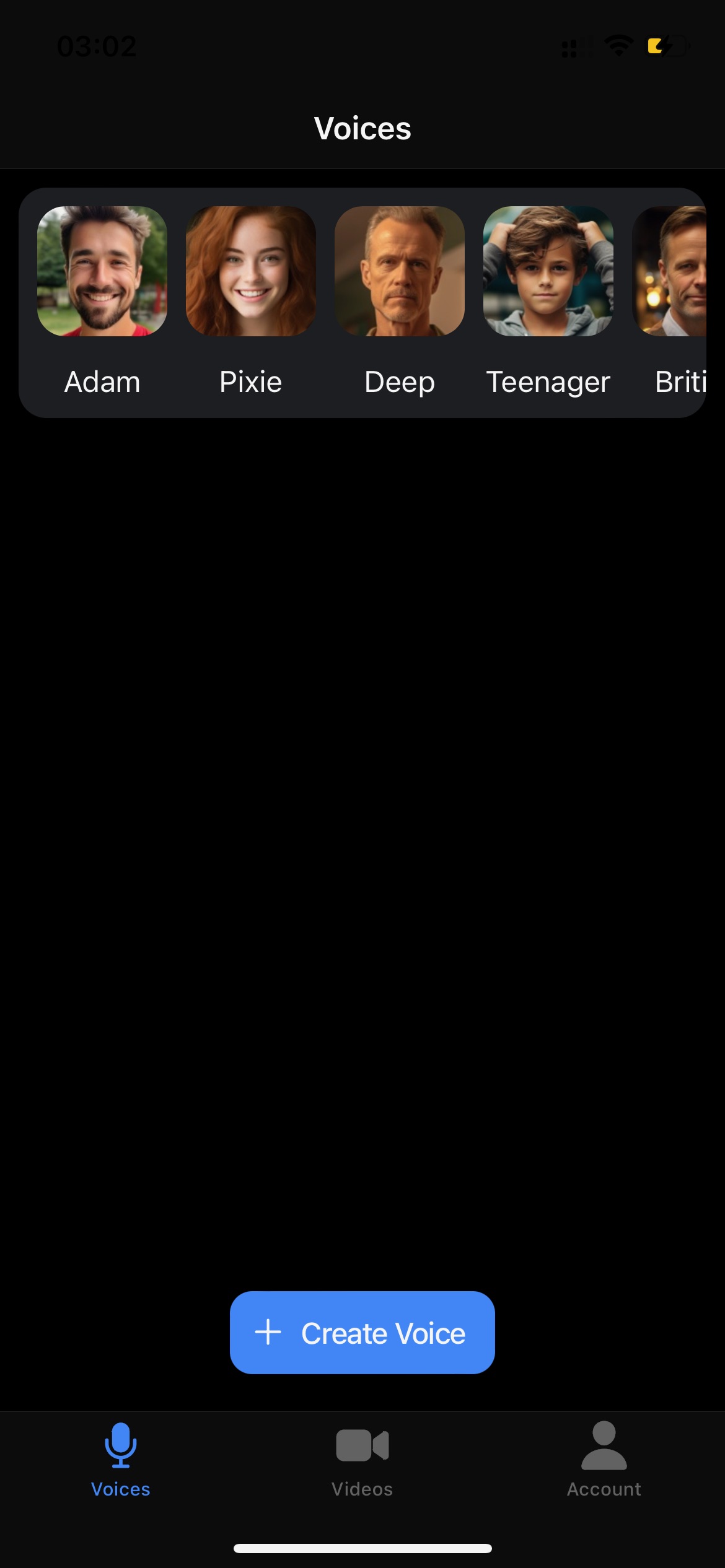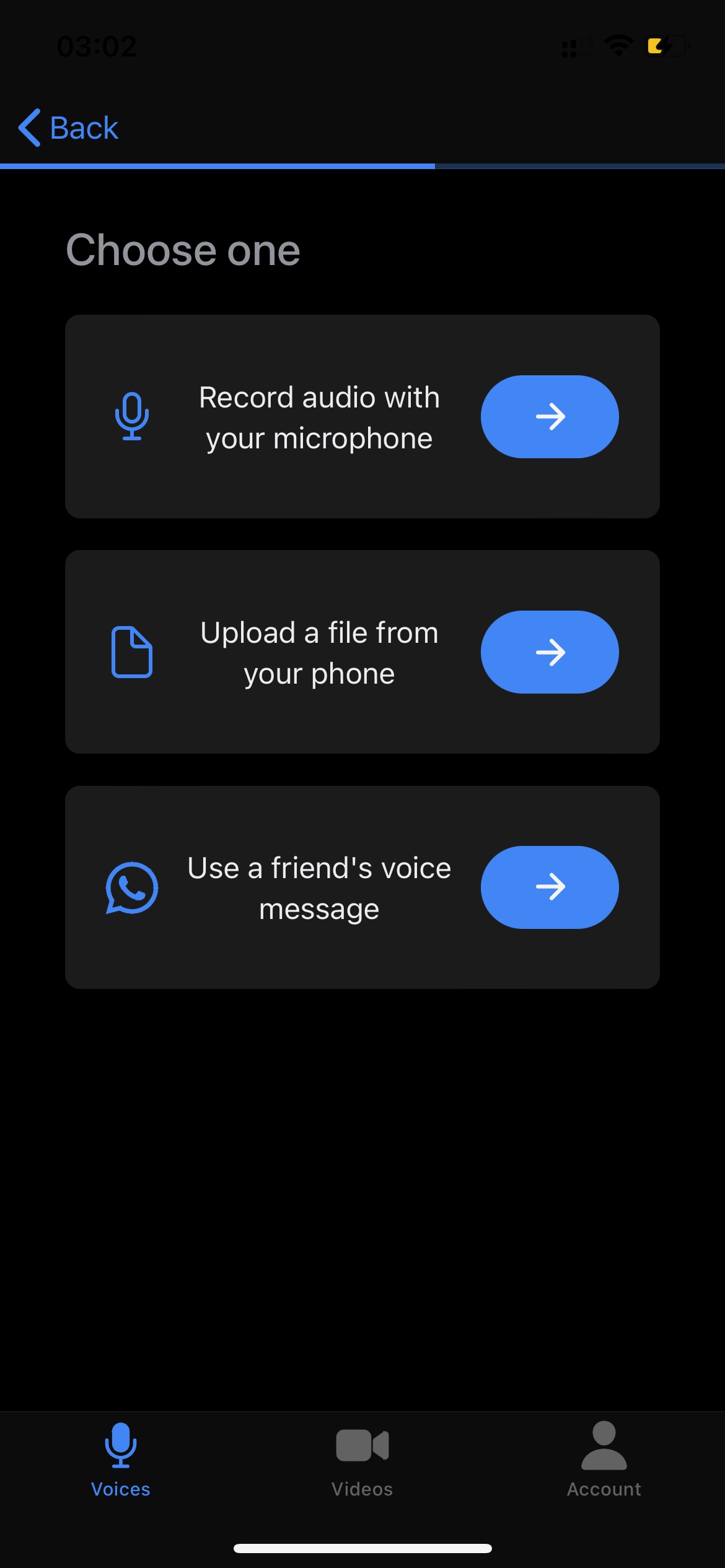 Share your recordings with friends and other users via popular social networks or messengers.


You may also like: 9 Best Voice Over Apps for iPhone & Android
VoiceAI – AI Voice Generator
VoiceAl is a mobile app that helps you turn your text into a celebrity voice using artificial intelligence. Choose your favorite character or a real person and launch the app. Thanks to modern algorithms, the neural network quickly processes your text request and converts it into a voice recording.
A special feature of the app is its high accuracy and realistic voice reproduction. Create sound files that are impossible to distinguish from real voices. Add the generated recordings to audio and video projects, voice characters, audiobooks, robots, and much more.
The app has a simple design that makes it easy to customize and manage the generated voices. The main features and settings are available immediately after downloading the app, allowing you to test the program's features right away.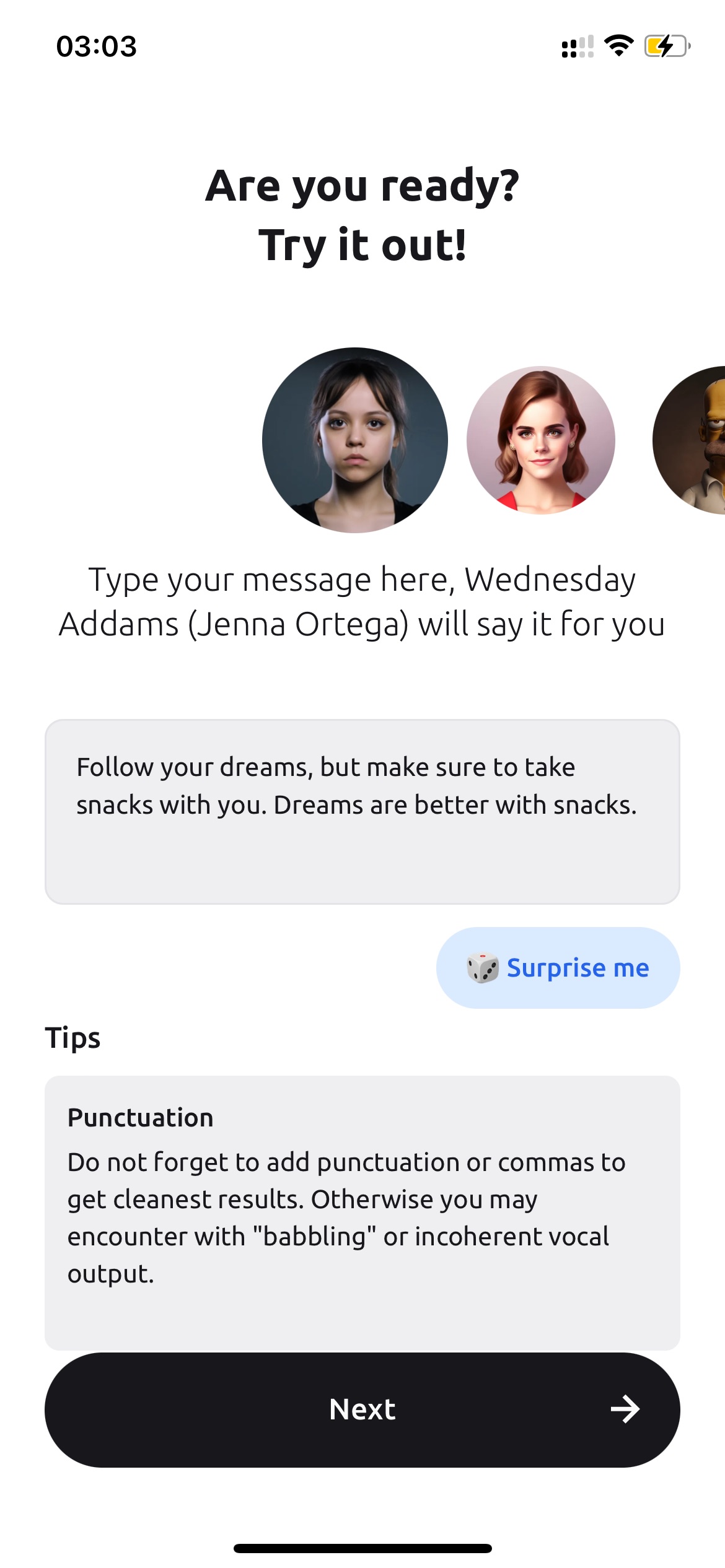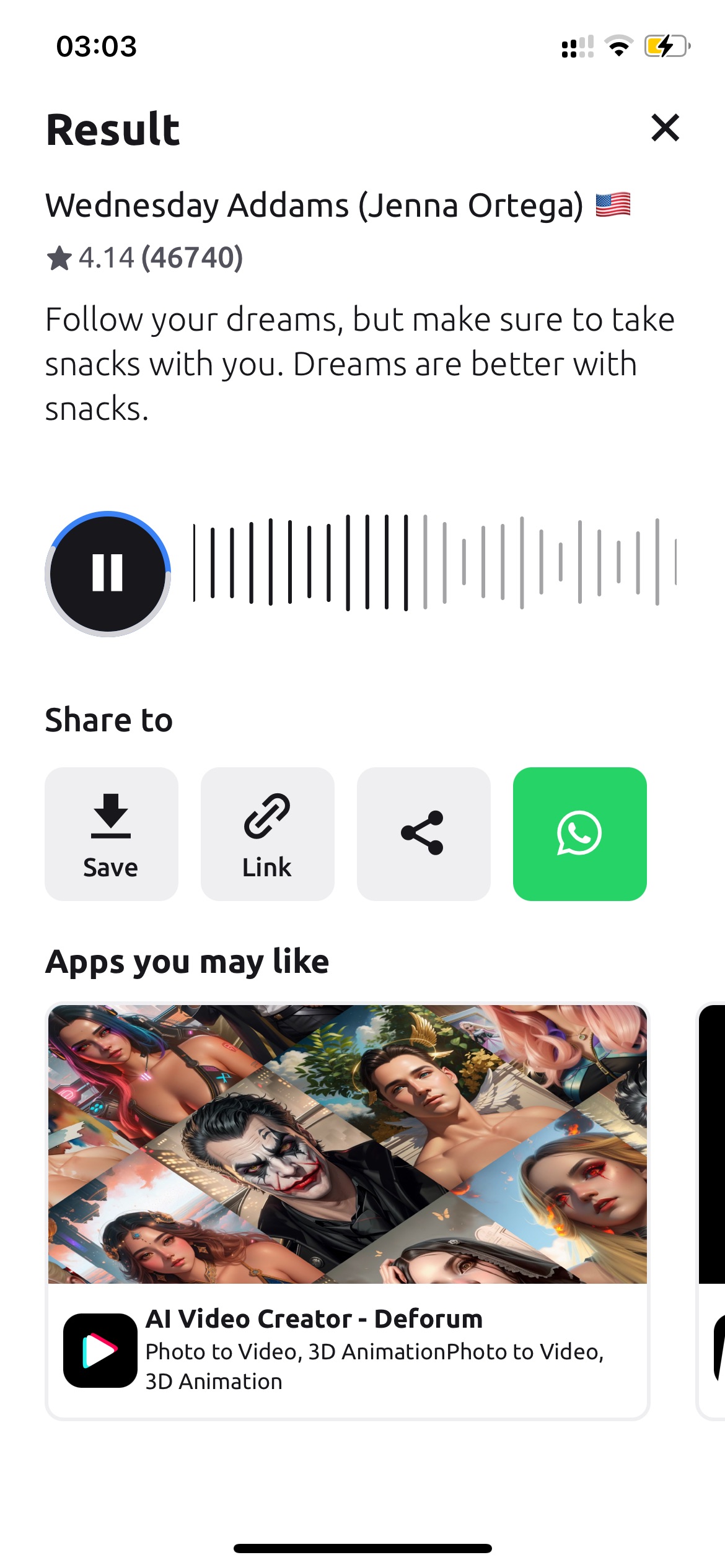 Any user can create voice files on their smartphone or tablet for free. Use ready-made recordings in a convenient format to congratulate your friends or prank them with mock voiceovers. Clone your own voice and use its recording for any purpose.


Voices AI – Change your Voice
Voices Al allows to change your voice or replace text with the voice of a famous person by using advanced artificial intelligence technology.
After installing the app, you will need to select the person whose voice you want to substitute for the written text. Next, you will need to enter the text. The app offers a set of voice filters that allow you to change the voie tone, pitch, and tempo.
Listen to the intermediate result and change your text request if necessary. Clone your own voice into an audio recording to use it for different purposes. Process the final audio to achieve high-quality playback without losing clarity and definition.
Record and save audio files with your new voice to prank or delight your friends. Share recordings with friends and family via social media or other online platforms.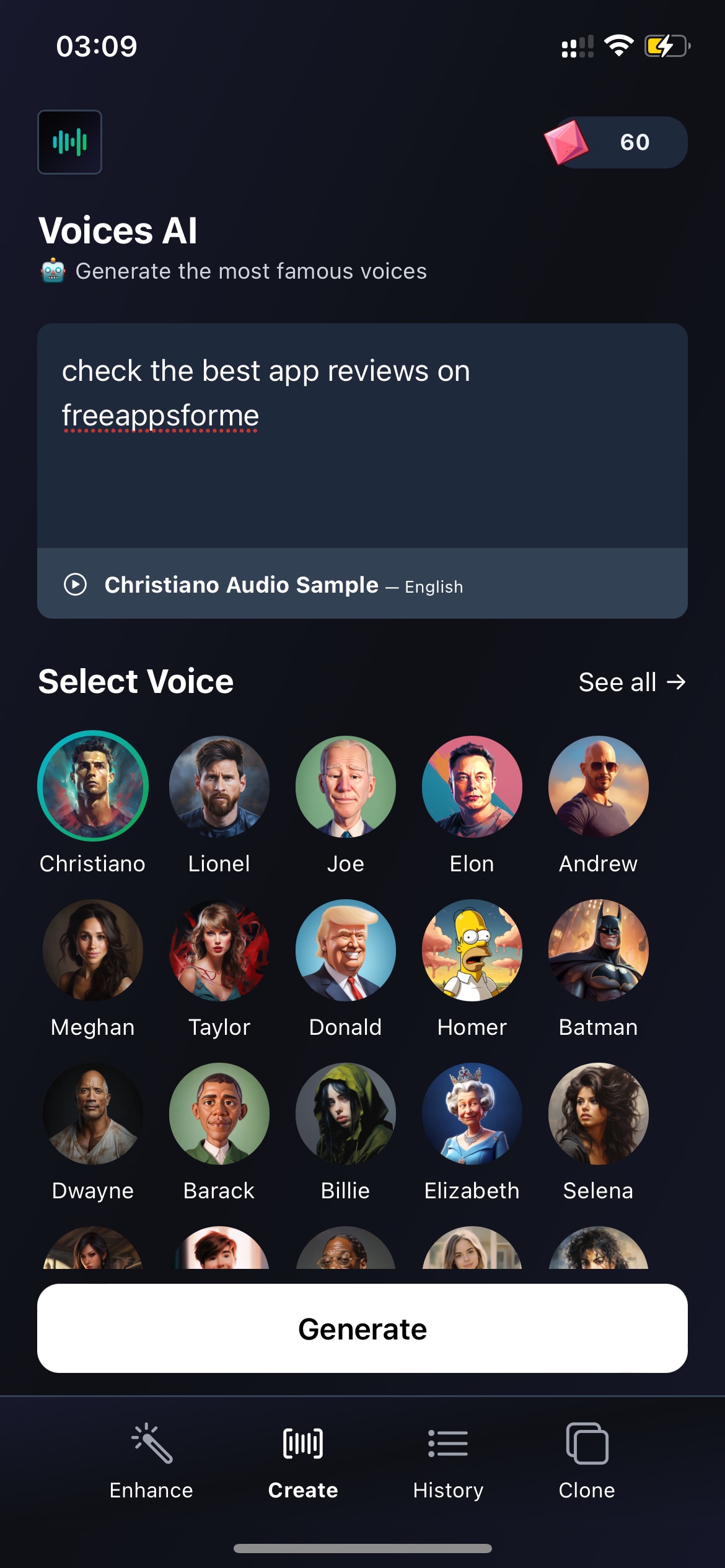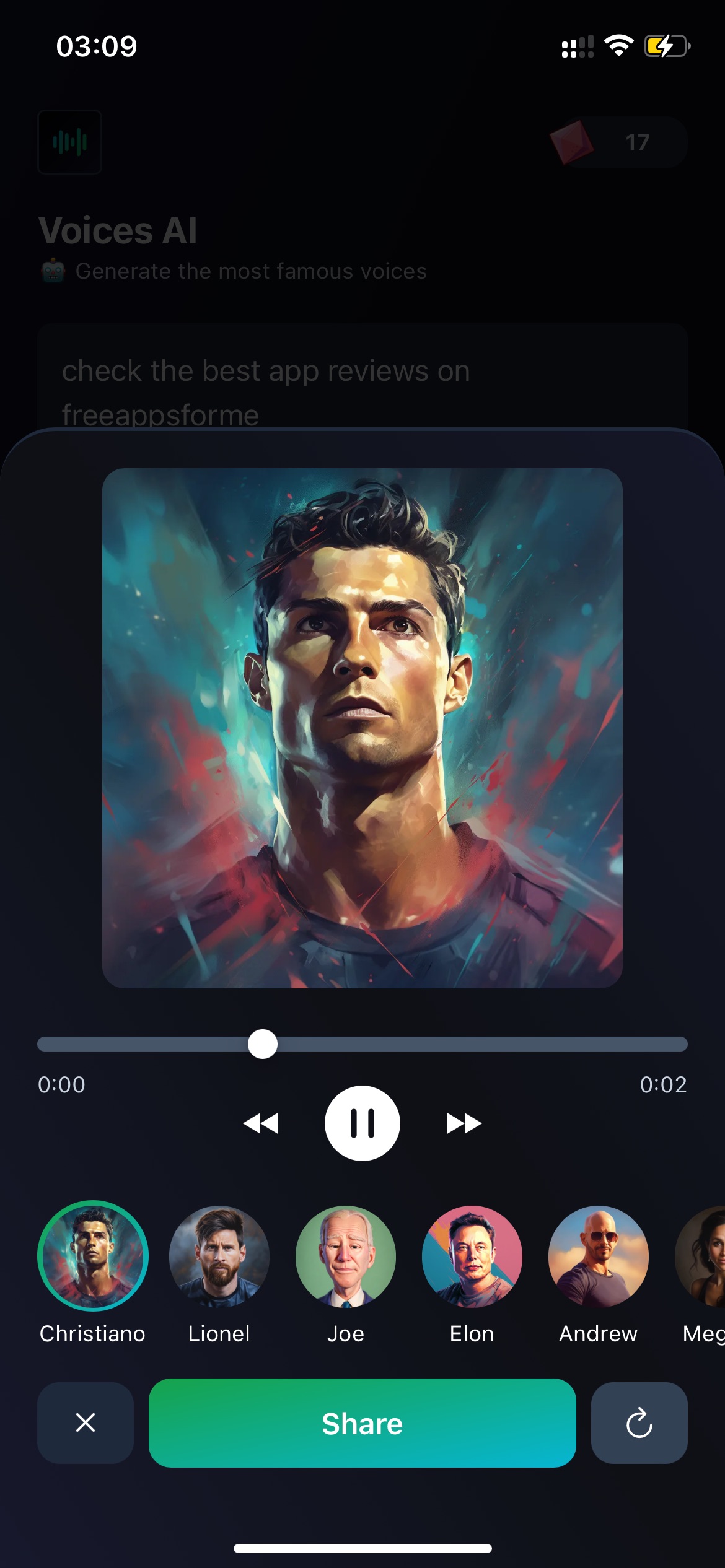 Choose settings to save the recording to your device. Thanks to artificial intelligence algorithms, you can save it without losing audio quality.


Voice Cloning – AI Voice Cloning
With this app, you can clone any voice with artificial intelligence. Bring your photos to life, record a voice message with new modern effects, and have fun with your friends.
Enter text and then select one of the suggested voice styles to create an audio file with perfect sound quality. Customize voice cloning settings, and adjust the speed and pitch of your voice to create audio files that match your preferences and requirements.
Convert text or video into an audio recording in a couple of minutes. The app offers a wide range of features and settings to help you create perfect-sounding audio files. Customize the tone of voice, and add sound effects to it that will greatly transform the sound.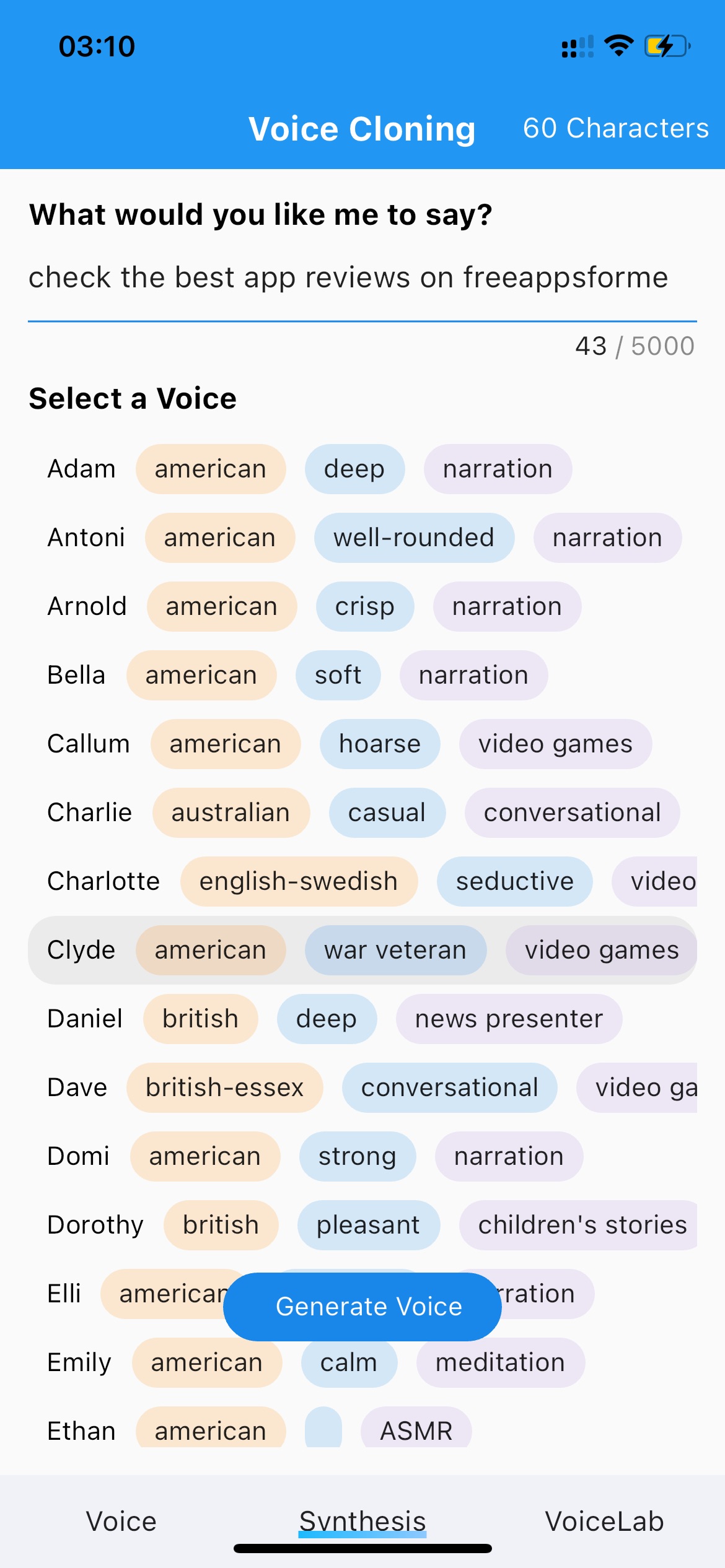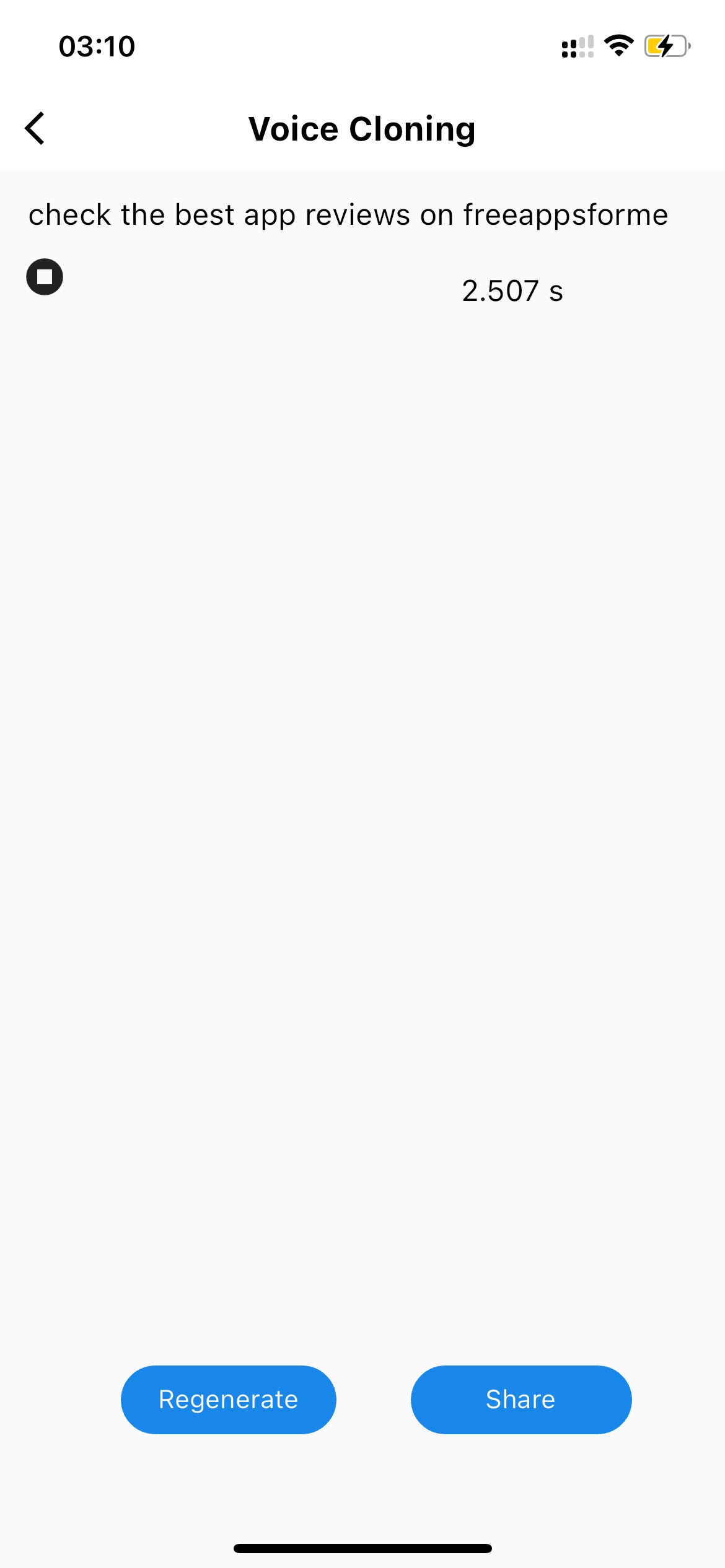 After creating an audio file, save it and use it as a ringtone, notification, or for other purposes. Saving an audio recording will not change or spoil the sound quality in any way. Name your recordings so that you can find them more easily among thousands of drafts.


Voice AI – Voice Changer Clone
This mobile app allows users to change and clone voices using artificial intelligence. Choose the voice of a celebrity or cartoon character to replace your speech with it and use it later for any of your purposes.
The program offers several different options for changing your voice, so you can experiment with any of them. Each of these modes has customizable parameters such as speed, tempo, and tone of voice, giving you complete control over changing the records according to your preferences.
Select any recording from your device's storage and apply the effect to create a unique sound. Create mock audio recordings, share them with your friends, and use them during phone calls. Finished audios can be saved to your device or left in the app for further editing.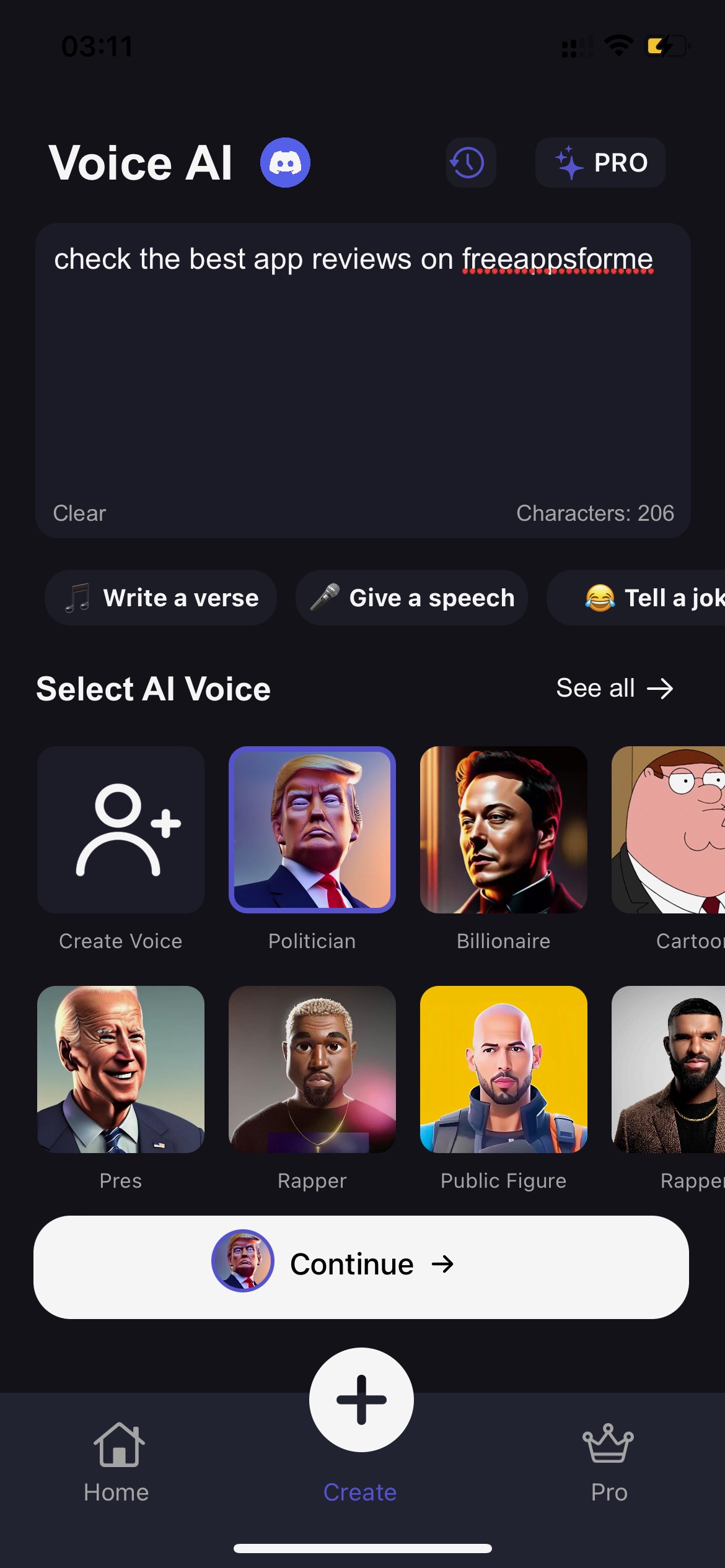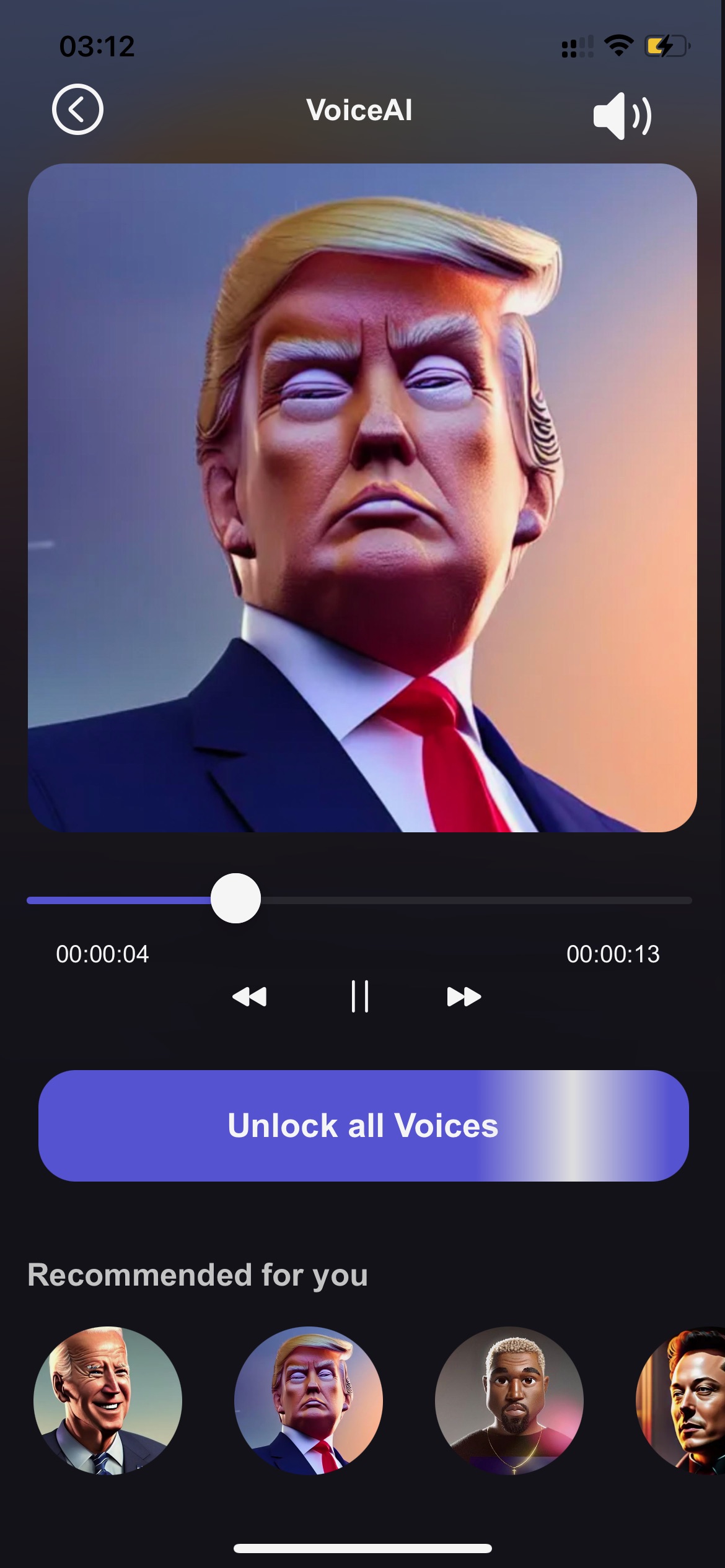 Try to apply the recording on videos or podcasts. For this purpose, use the most appropriate saving format, which will help you not to lose audio quality and playback while using the recording.

Parrot: AI Voice Generator
Parrot is a mobile app that allows you to create unique voice recordings. Make your content more unique by adding a voiceover video of a celebrity or any famous person.
Add unique voices to your videos in minutes using artificial intelligence. The app provides great sound quality that is almost indistinguishable from a real human voice. It offers a wide range of voice customization tools.
Choose a celebrity whose voice you want to use in your video and create a voiceover for him or her. Write a short query, which the neural network will quickly process and provide you with the result.
You can experiment multiple times, as the app is free and provides endless possibilities for generating voiceovers for your videos. Enter text into the app or import it from external sources. The app will automatically convert that text into a voiceover.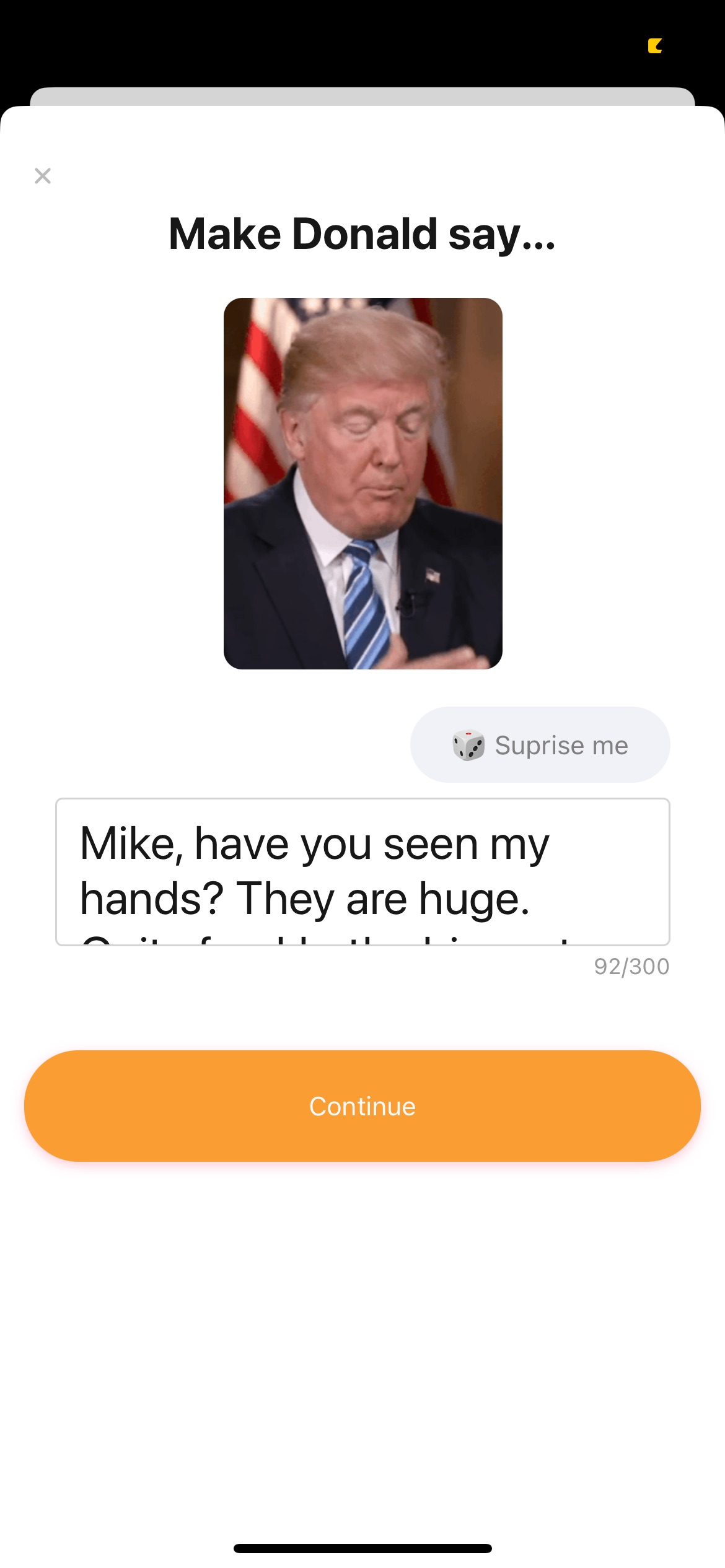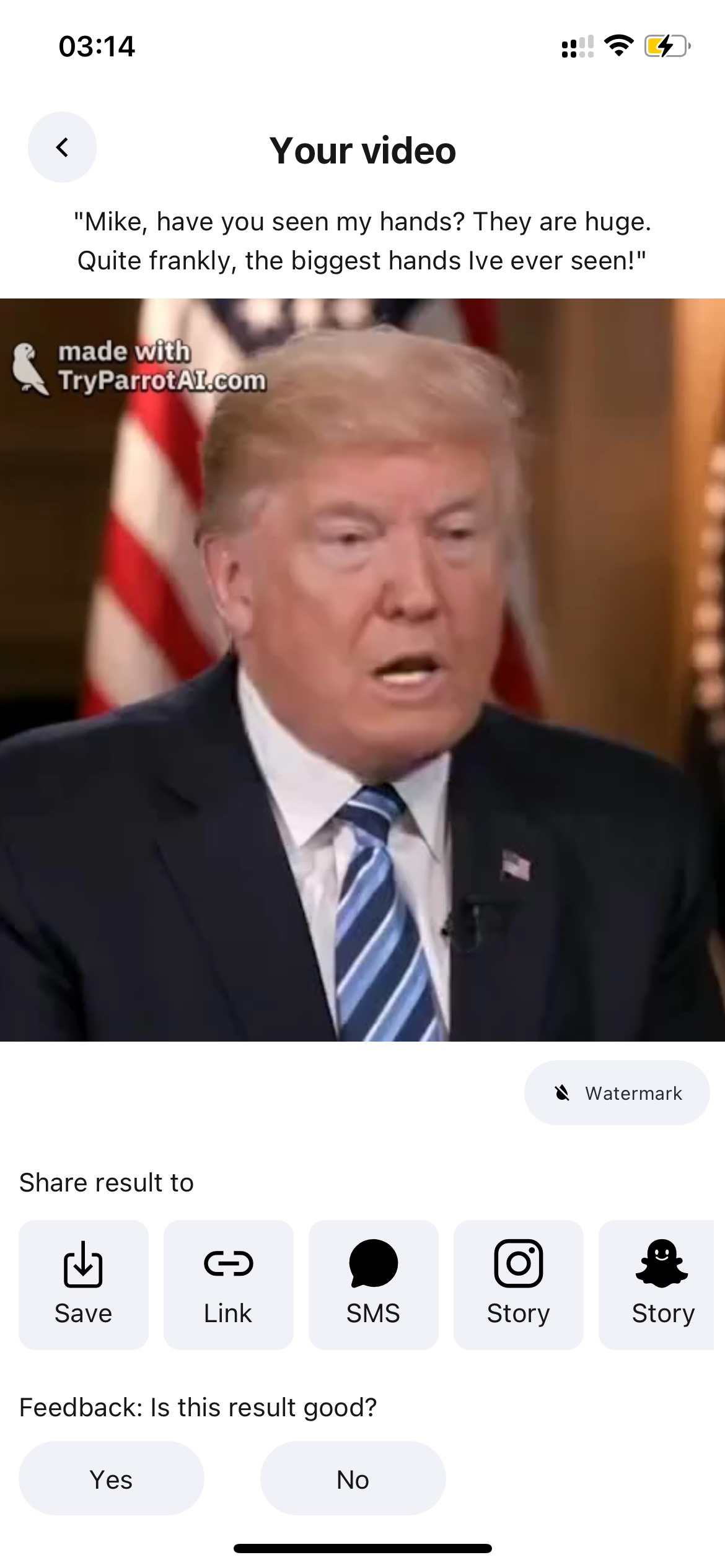 Preview the pre-processing result before overlaying the voiceover on your video so that it is not too long or too short. Edit text directly in the app and get perfect results.

You may also like: 11 Best Celebrity Voice Changer Apps (Android & iOS)
Voice AI – Clone Any Voice
When you launch the app, you will get access to all the features and tools that will help you recreate unique voice recordings. With this app, you will clone the voices of famous personalities and edit them to your liking.
In seconds, the app will analyze the selected voice recording and create an exact copy of it with the help of artificial intelligence technologies. Apply special effects and filters. Change the tone, speed, and frequency to create unique sound effects.
Add extra filters to your recordings to make them more realistic. Try the text-to-speech feature to create high-quality recordings for audiobooks, podcasts, and other types of content.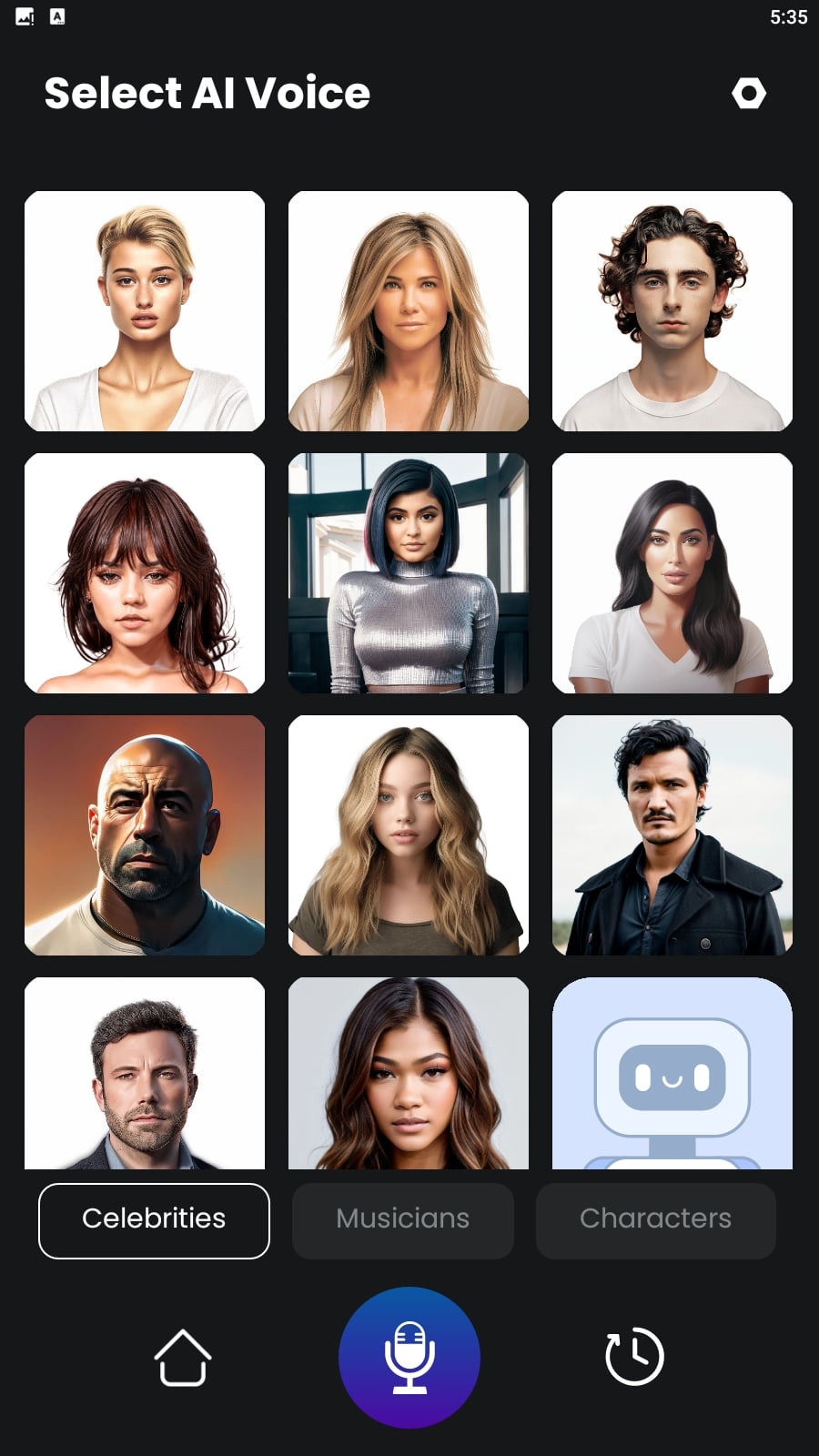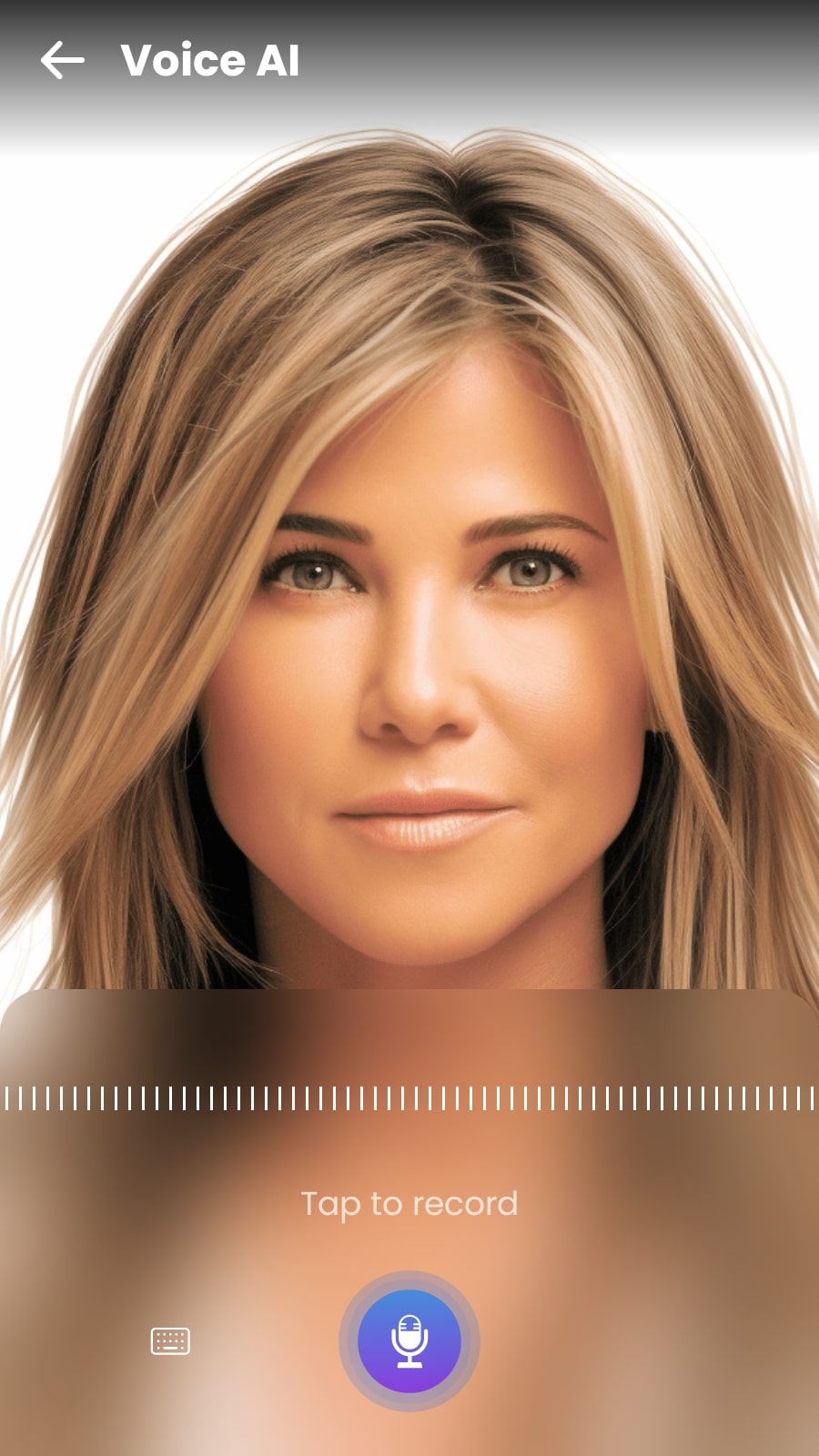 Save cloned voice recordings and share them with your friends through various social media platforms. Export your audio recordings to various formats to make them easier to share.

AI Voice Over Generator
AI Voice Over Generator allows you to quickly create voice-over videos, audiobooks, podcasts, and other content using generated voices and effects. Turn your text into speech using artificial voice and neural network technology.
Enter text in the mobile app or upload ready-made documents to automatically generate voice speech. The app supports multiple languages as well as various voice styles and effects. It utilizes modern audio processing technologies that ensure high-quality generation results.
With the generated recordings, you will be able to convey emotions and intonations, adding expressiveness with extra filters and sound parameter settings. Use a large set of editing tools that allow you to customize speed, tone, pauses, and other parameters.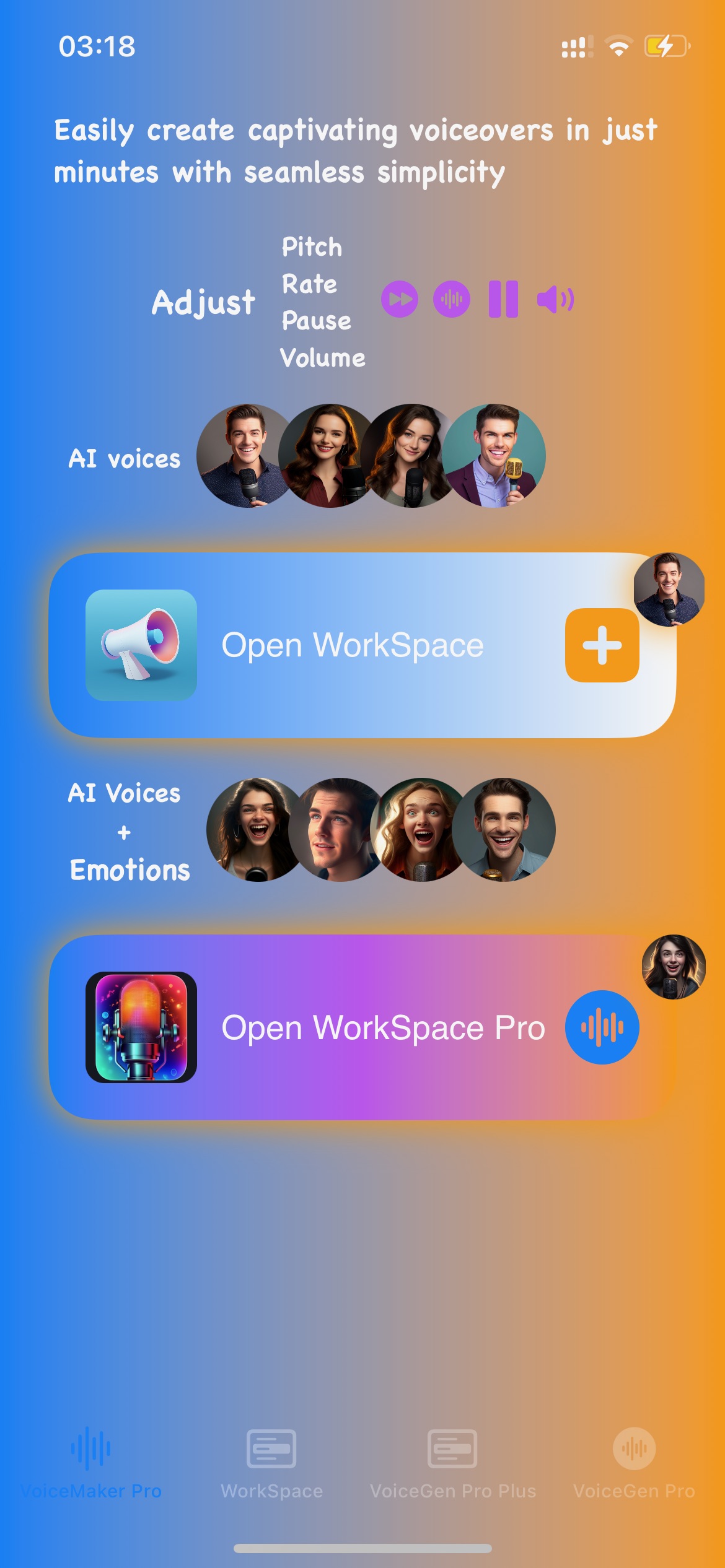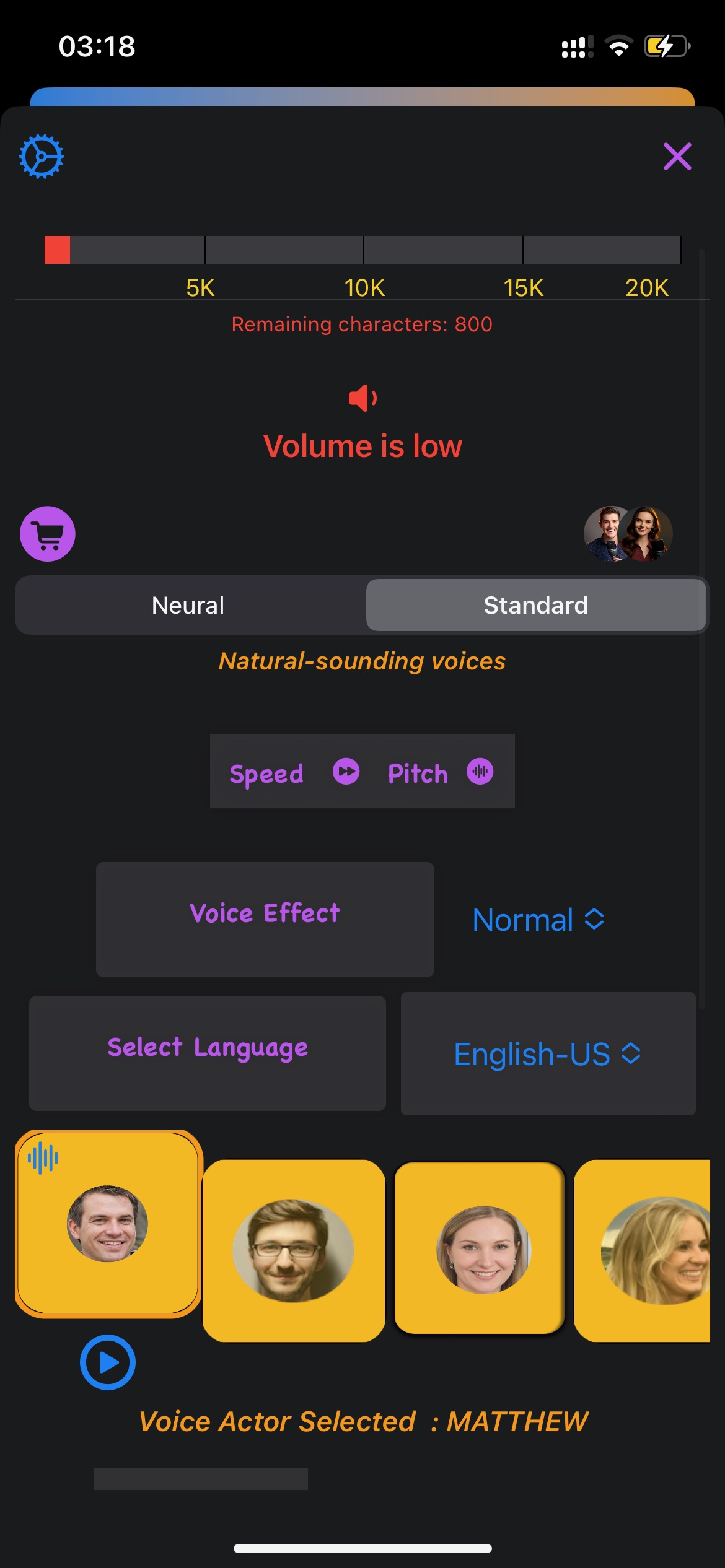 Edit text queries to eliminate mistakes and other inaccuracies in the finished voice recording. Before saving, listen to the final version and tweak it as necessary. After generating the files, save them to your device in any convenient format or send them to your friends via social networks.

PlayHT
With the help of Play.ht, you can bring your texts to life and turn them into high-quality voice audio recordings that can be used for various purposes, including content creation. It offers a large assortment of voices of different people that sound as realistic as possible.
The service uses artificial intelligence technology to generate speech. Use it for creating videos and other content formats. To use the service, you need to create an account so that all generated recordings will be stored in it. After that, you can start using the program.
Enter text on the service's website or upload a document in one of the convenient formats. Next, you need to choose the voice that will be used to generate the recording.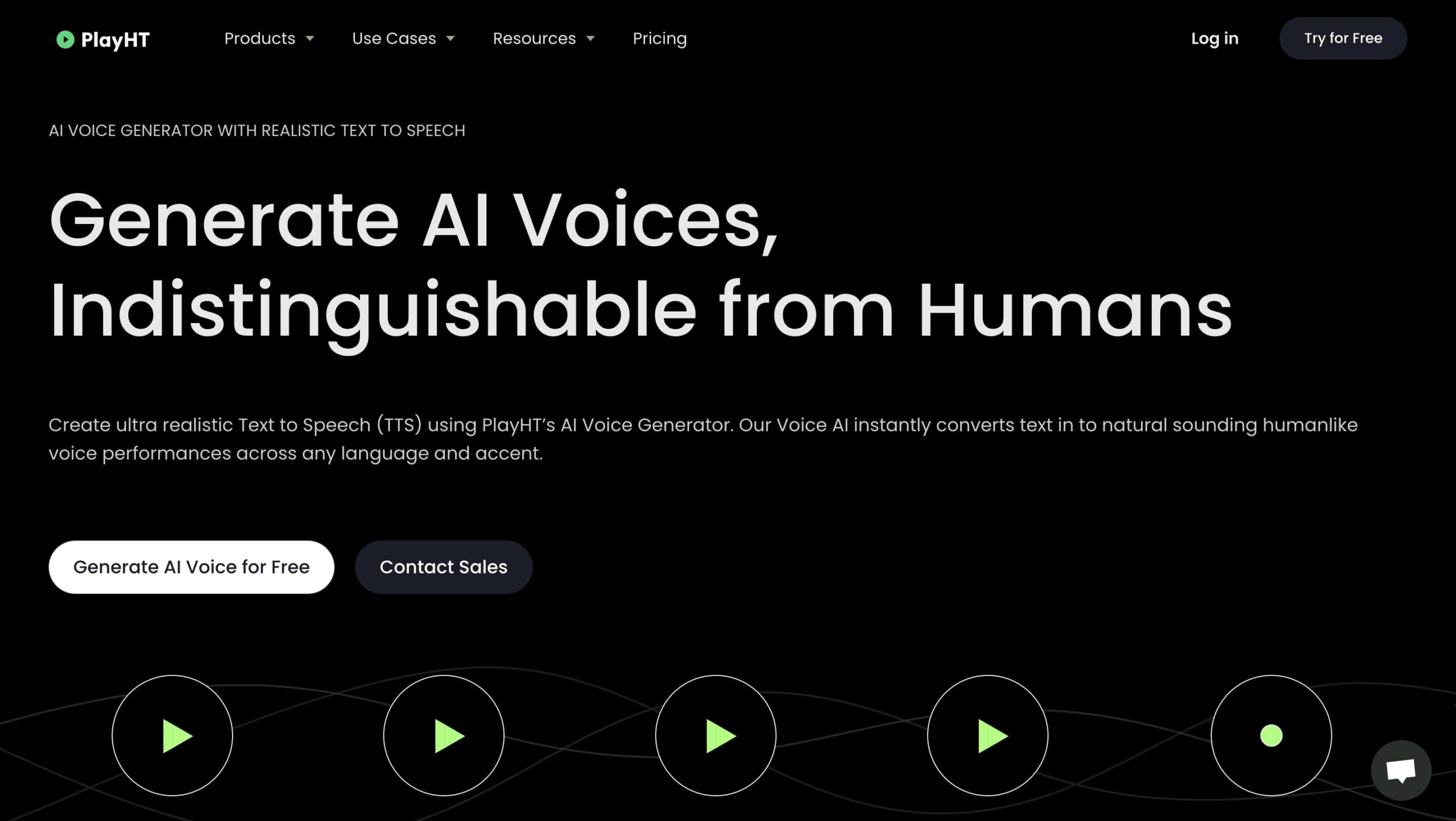 The service offers many options for voices of different ages, genders, and nationalities. Once you get the results, customize recording parameters to improve the sound quality. Adjust the speech rate, tempo, pitch, and even the emotion of the voice.

Narakeet
Narakeet is a modern online service for creating voice content using artificial intelligence. Convert any text into a voice. Paste, type, or upload a ready-made file. The generation process takes just a couple of minutes.
Choose one of the many available characters whose voice you want to receive instead of a text request. Customize the speed and intonation of the speech to get the desired result.
The service provides a wide range of male and female voices, as well as the ability to select different languages. After customizing the voice, the service offers a number of options for extra voice file processing. Add pauses, control intonation and adjust the speed of speech.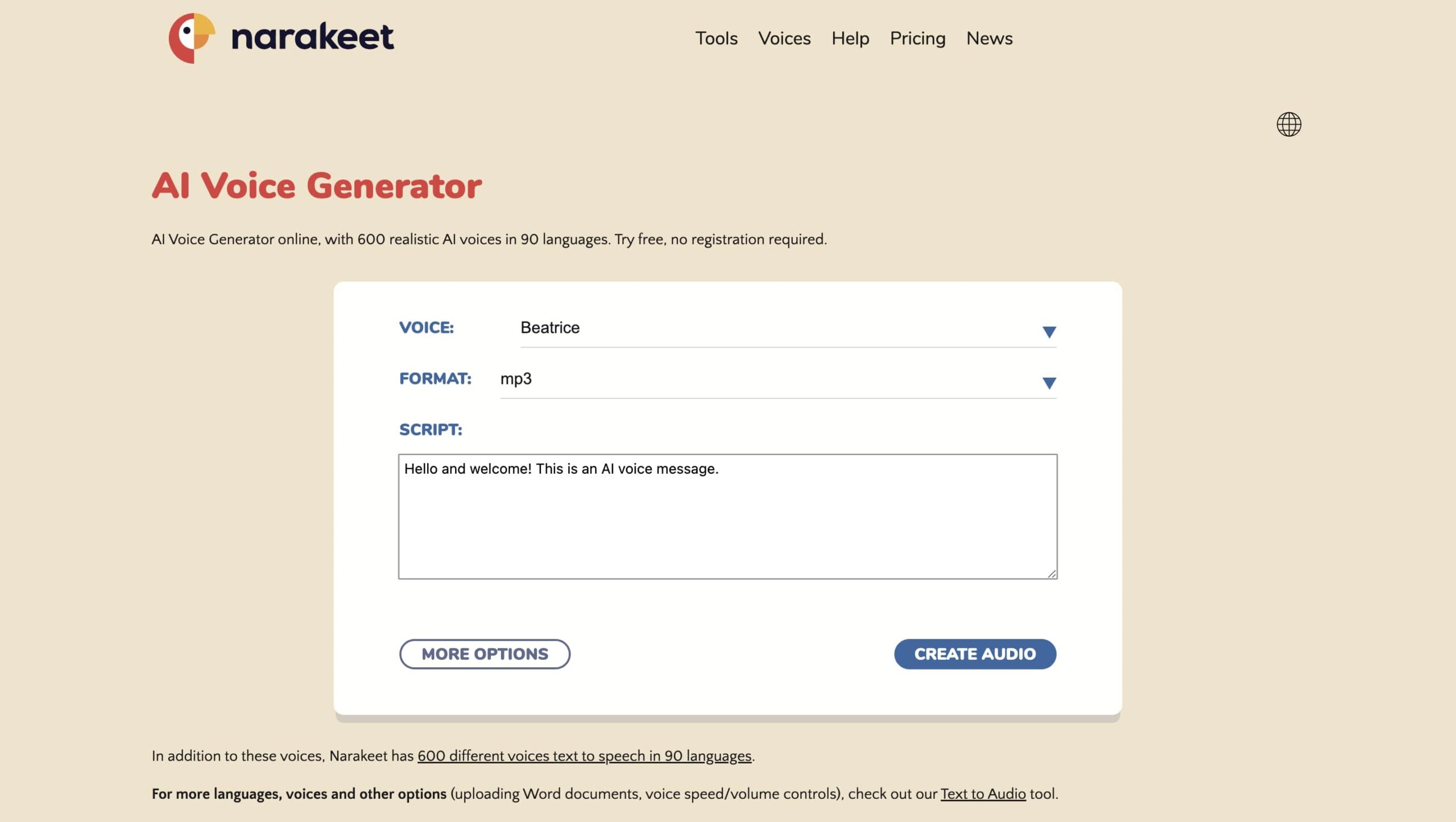 Narakeet provides functions to add background music or sound effects. Generated recording can be saved in any convenient format.

You may also like: 9 Free Deepfake Voice Generator Apps & Websites
Lovo
Lovo is a unique online service designed for creating voice content. With its help you can significantly save time and resources, receiving high-quality and ready-made materials on any subject.
The service is based on artificial intelligence algorithms that allow you to quickly generate voice recordings of high quality. There are a lot of recorded voices in more than 100 languages. Choose any of them and run the service to convert the text into the desired format.
Generated recordings can be used for any type of content, including video voiceovers or for overlaying voices on podcasts. The service guarantees content uniqueness, so you can safely use it for your projects. Choose the style and tone of the generated text.
Change the text request: shorten or lengthen it for a perfect voice recording without pauses or delays. Save recordings in a convenient format for later use, or immediately share files with friends via social media.