Pronouncing English words correctly is a real challenge. Sometimes the words might be read very differently. However, it is vital to know how to pronounce words.
By the way, if you also wanted to learn German, make sure you read 15 Best Apps to Learn German.
This is why you need to try good English speaking apps. Here you will find the best options for iOS, as well as Android users.
ELSA: Learn And Speak English
If you have to make your pronunciation much better, ELSA is what you need to try. ELSA stands for English Language Speech Assistant, meaning the app will help you train without teachers and textbooks.
Today there are over ten million users from all around the world.
The app is equipped with artificial intelligence that will correct your mistakes and give useful tips.Let's see what you will get:
Explore 3000+ lessons in the English language. For sure, all of them are focused on pronunciation and speech in general.
The AI will analyze what you are saying. Then it will give you detailed and accurate feedback so that you can repeat the exercise one more time better.
You don't have to spend long hours practicing your spoken English. Having 15-20 minutes per day will be more than enough.
Get ready for your upcoming exams. If you are going to pass IELTS or TOEFL, ELSA will be perfect assistance available at no cost right from your smartphone.
ELSA is free with ads and a limited set of functions. If you want to train more, go for advanced options that will cost you $11.99 per month.
The app isn't too big, it requires about 130 MB to install. ELSA is available on the App Store and Google Play.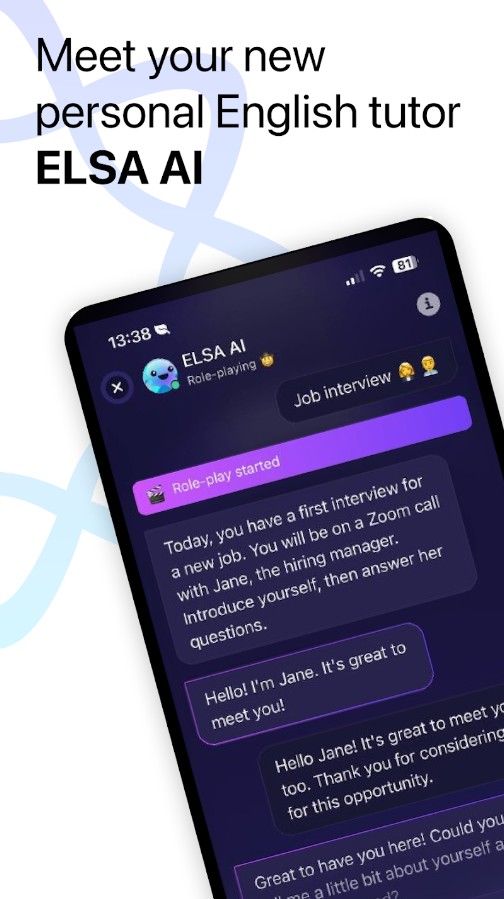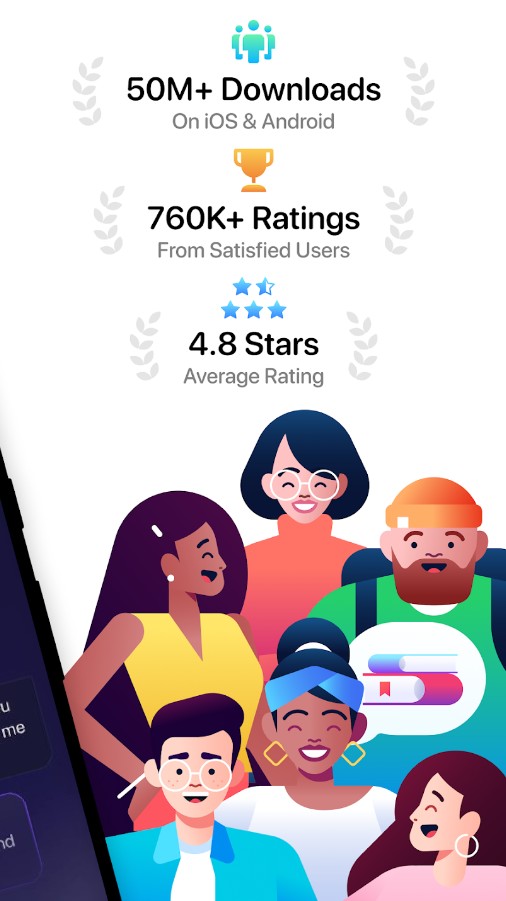 You may also like: 20 Best apps to learn Japanese
Howjsay English Pronunciation
This is one of the best audio dictionaries. If you want to practice your pronunciation and make your English perfect, you have to try it.
The best feature of the app is that there is no synthetic pronunciation. It means every single word is recorded properly and professionally.
Let's see what exactly you can do with the help of this cool application:
Search for the words

you want to learn. To do it, use the search line. At the moment, there are about 180000 recorded words.

Make sure you

pay attention to heteronyms

. These are the words that might be read a bit differently depending on the phrase, such as live, graduate, and so on.

You can always

view your search and pronunciation history

. This helps you to avoid searching for the same word from scratch.

Check the definitions

. For sure, this isn't the app's primary function but it is done very smartly. You will be able to learn what the words mean.

Add the words

you like most of all

to your favorites

. You can find them much faster than looking for them in the search history.
The app is super small – it will require a maximum of 11 MB of memory. What is more, Howjsay English Pronunciation can also function offline.
Both Android and iOS users can download the app for free.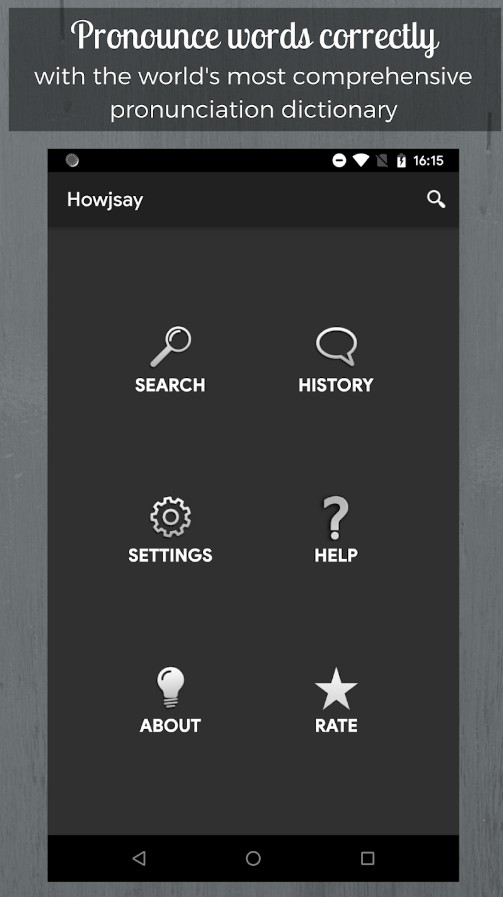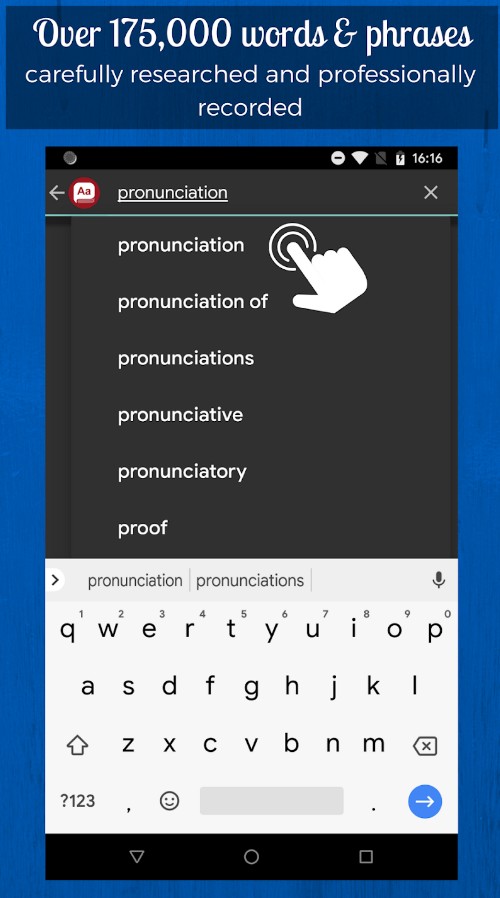 LearnEnglish Sounds Right
To learn how to read a word in English, you know how to read separate letters and know their sounds. With the help of the following application, it will be super simple and fast.
LearnEnglish Sounds Right is aimed at learning separate sounds at first. This is a perfect approach to English learning but it requires time and energy.
Who can use this app? Everybody but it will be a perfect idea for:
Teachers

. It might be hard to devote enough time to each student at times. This is why you might need a tool to help your students. Tell them to download the app and train themselves.

Students

. And vice versa, if your teacher can't help you, feel free to get knowledge somewhere else.
Learn the sounds of English. When you open the card of each sound, you will also be given a list of words containing it.
The app will collect your usage data and identifiers but it won't link it to your personality so there is no need to worry about your safety.
LearnEnglish Sounds Right requires about 35 MB of your device's free space. You can get it now on the App Store or Google Play at no cost.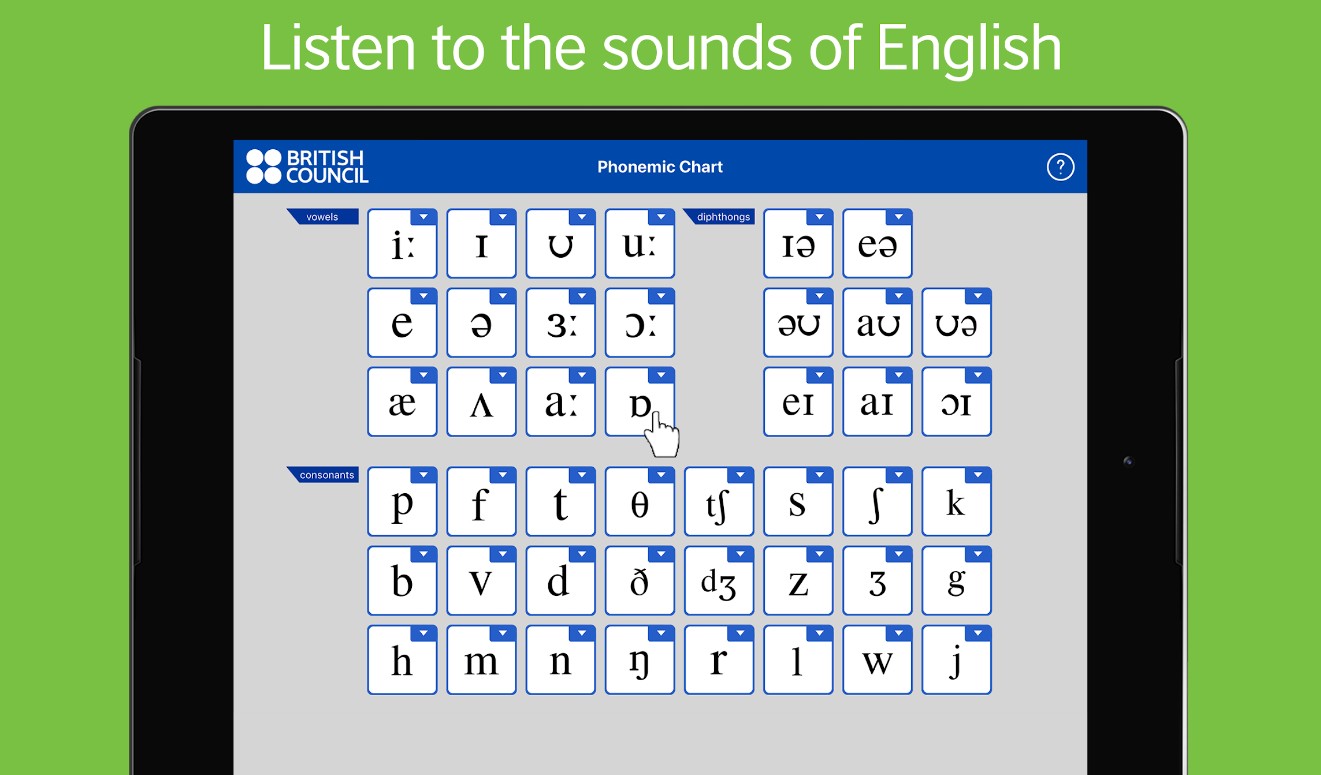 Say It: English Pronunciation
Spoken English is a truly hard thing to practice. You either need a good mentor or a perfect tool, not saying a word about strong motivation.
The app has a primitive structure and smart UI enabling you to start at once.
To fully enjoy the app and get the best result, make sure you know how the app works:
Check the syllables and stresses

. You will see a description of each word so that you can say it correctly.

Record your pronunciation

and compare it to the recordings created by Oxford experts. If you have made a mistake, repeat after the recording one more time.
However, this app is truly universal. Pronunciation is just of its functions. Let's take a closer look at some other features:
Read cool texts. They are divided into different topics so that you can always find something interesting to read.
Repeat grammar. Many people study English at school but their knowledge might fade away if they don't use it too often.
Write your texts. It is vitally important to be able to create your texts if you want to communicate properly and enjoy new opportunities.
Please note that this app is aimed at learning British English. If you need the American one, you'll have to pay $6.99.
The app is available on the App Store, as well as Google Play.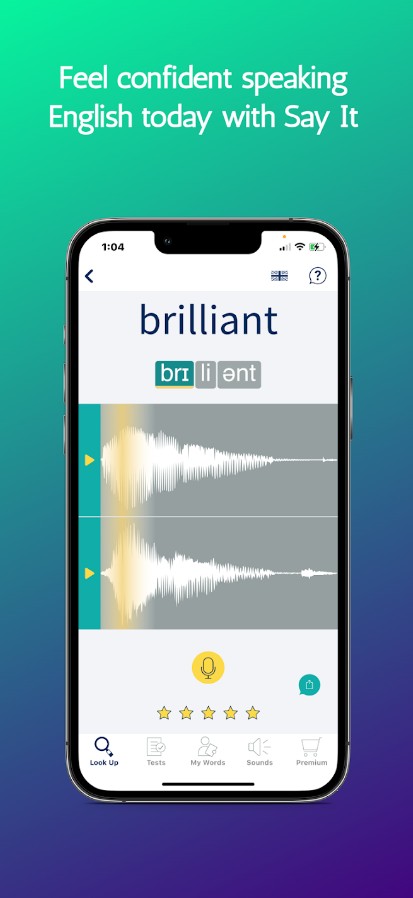 English Pronunciation Tutor
If you have tried learning with a tutor, you probably know how hard it is to find a good one. What's more, its cost is also high.
The decision is obvious – download English Pronunciation and start practicing your spoken English. Now let's focus on the best features provided by English Pronunciation Tutor:
The first 10 units of the app are free of charge. Let a digital tutor guide you through them.
Learn a wide variety of themes that include: front, central, and back vowels, the schwa sound, the stress, as well as many other interesting details you hardly learned at school.
Try Speech Recognition! After you have learned a new unit, it is high time you started speaking yourself. With this function, you will receive feedback on how you pronounce words. What's more, there is a word wheel that helps you randomly choose a word to test.
However, here comes a disappointing downside – in the iOS version, users have found plenty of bugs. They are being fixed but some problems still remain.
These are the free options. If you want to expand them, it will cost you $5.99.
The app is available for Android and iOS users.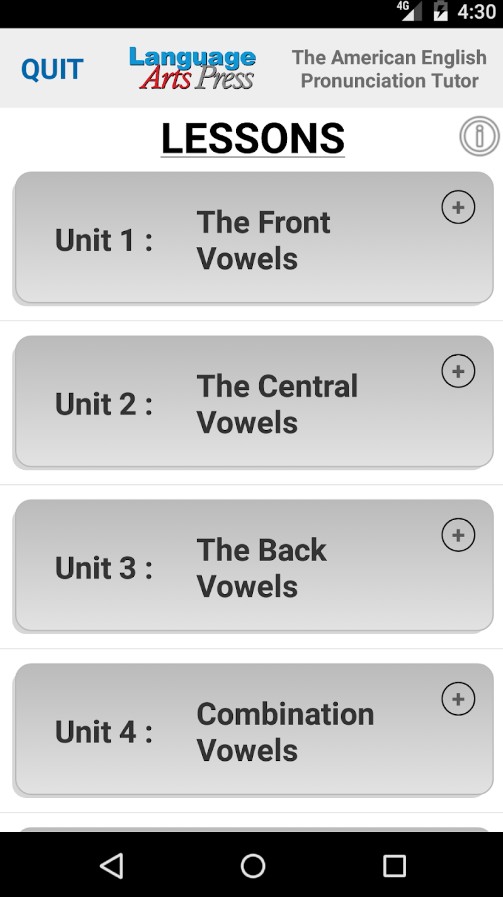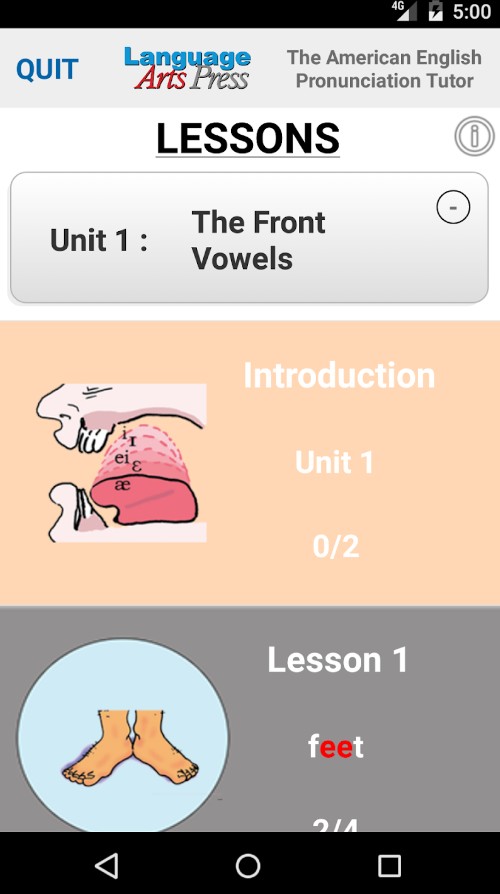 You may also like: 11 Best Spell Checking Apps.
Speakometer – Accent Training
You might know pretty well how to pronounce words correctly. However, this doesn't mean your speech is ideal. You may also have a strong accent that will spoil the impression.
The good news is that you can work on it with the help of Speakometer. It will analyze your speech and then rate it.
Here are some other functions available right after the download:
Give the app some info about yourself. The most important thing is to set your native language. The reason why you need to do it is that the app will adapt its content for you.
Start with the first and most popular words you will use during communication. This is a perfect method – we often pronounce about 20% of the words that exist in the English language in our everyday talks.
Practice regularly. We recommend that you practice your spoken English every day. It is enough to have 10 minutes to enhance your speech and get rid of your accent.
There is a huge set of English words you might pronounce and check. You can explore about 2000 most popular words.
What is more, the app is famous for its simple functions and friendly UI. If you are a beginner, we strongly recommend you try Speakometer.
The app is free with a significant number of ads. You can get it on Google Play only.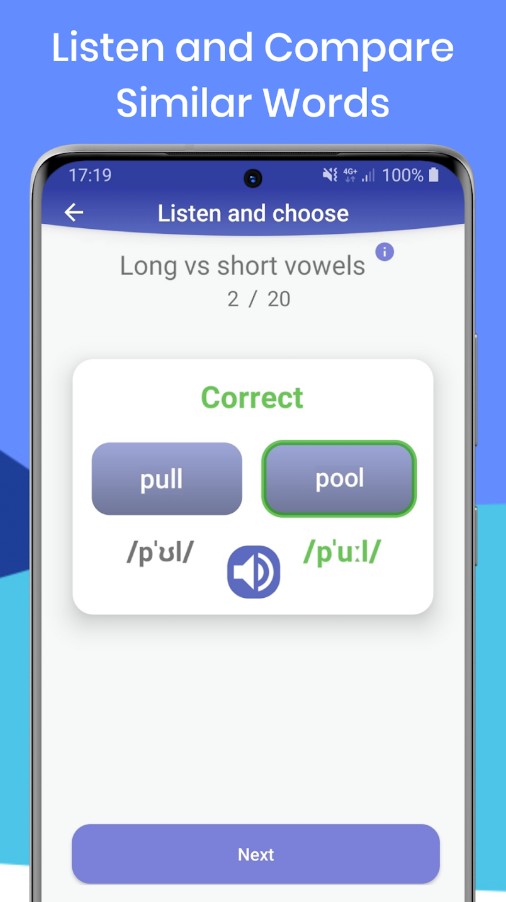 English Pronunciation
This is another cool tool for making your pronunciation much better. If you are looking for a good and simple app to use, English Pronunciation is what you need to try.
Let's take a closer look at the functions you will be given by English Pronunciation:
A wide variety of lessons

. It doesn't matter what your level of English is, you will always find the materials that will enrich your knowledge.

Try Phonemic Chart

. In this function, you will find the best high-quality audios. Listen to them attentively and repeat them a few times.

Check if you are saying the words correctly

. Say a word and then let the app analyze it. You will receive short feedback on your speech.
English Pronunciation is free with its basic options. If you are a beginner, it will be enough to get started. Should you need more, make sure you go premium.
At the moment, the app is available on Google Play only.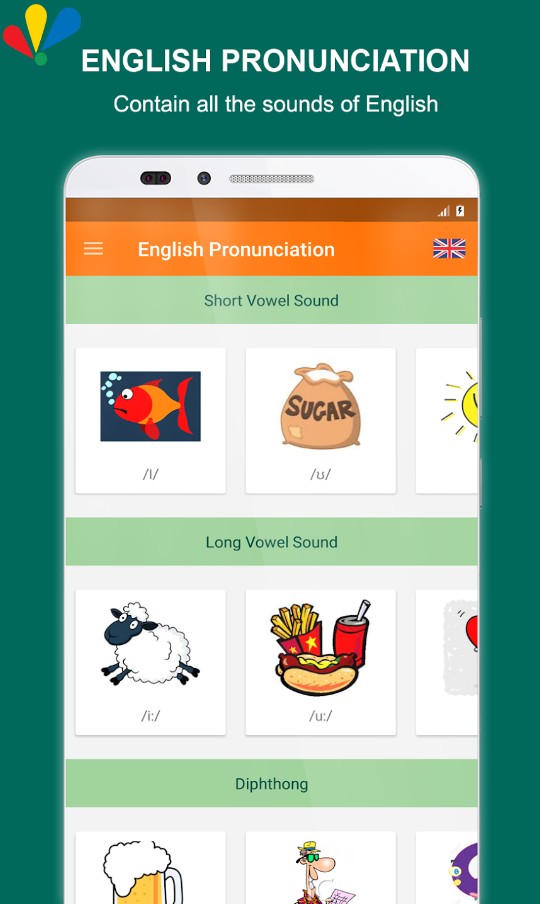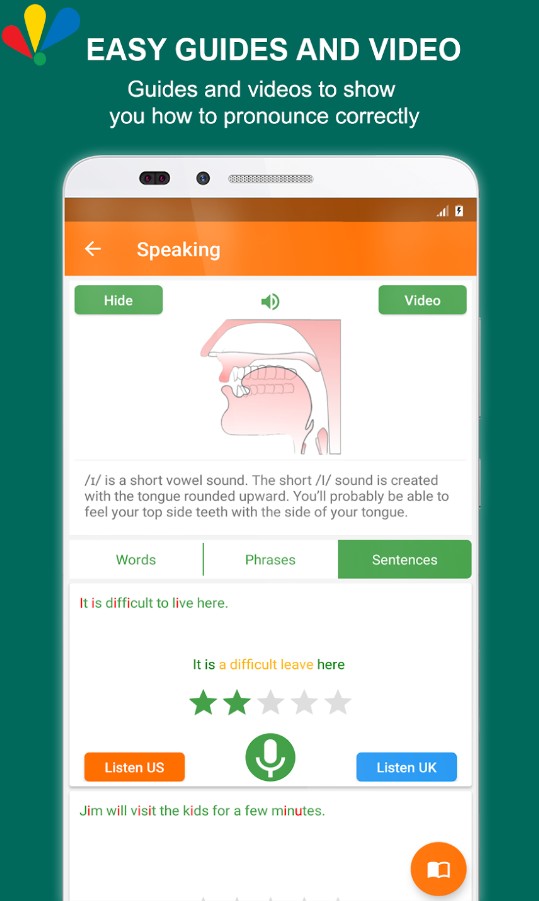 English Speaking Practice – AI
This app provides several impressive­ features that immediately caught my attention. One standout feature is its implementation of AI technology to analyze pronunciation, which I found quite fascinating.
Besides, it provides real-time feedback as you speak, effectively assisting in refining your English pronunciation skills. Moreover, the voice re­cognition feature is incredibly accurate, almost akin to having a virtual English tutor readily available on your mobile de­vice.
Now, let's talk about the­ functionality. While there are some promising features, it does have its limitations. It feels like­ they added a few AI e­nhancements without fully exploring its potential. It could definitely benefit from more references and additional features to make it truly valuable­.
Regarding paid fe­atures, there is limited information available about whether a pre­mium version exists or not. It remains somewhat elusive, possibly hidden within the­ app's cluttered interface­, awaiting exploration by curious users.
In conclusion, the English pronunciation app has potential, but it's held back by a complicated user interface, an ambiguous name, and a lack of transparency regarding its paid features. However, if you're willing to look past these issues, it may help you improve your English pronunciation.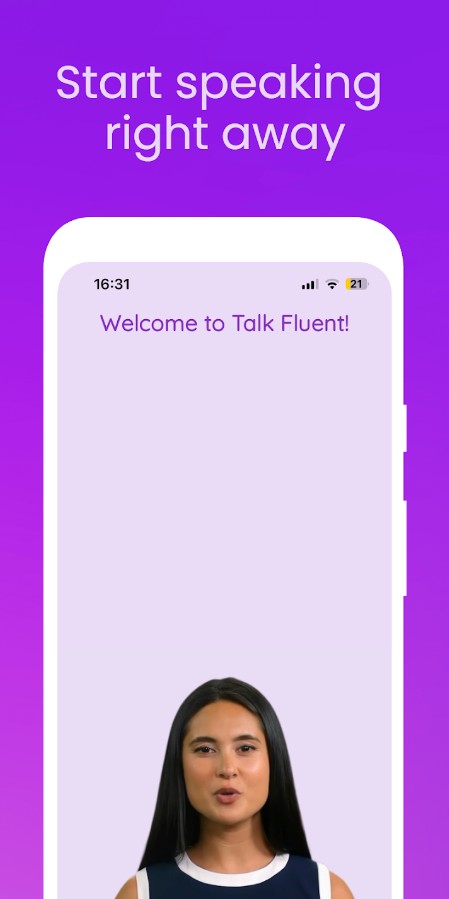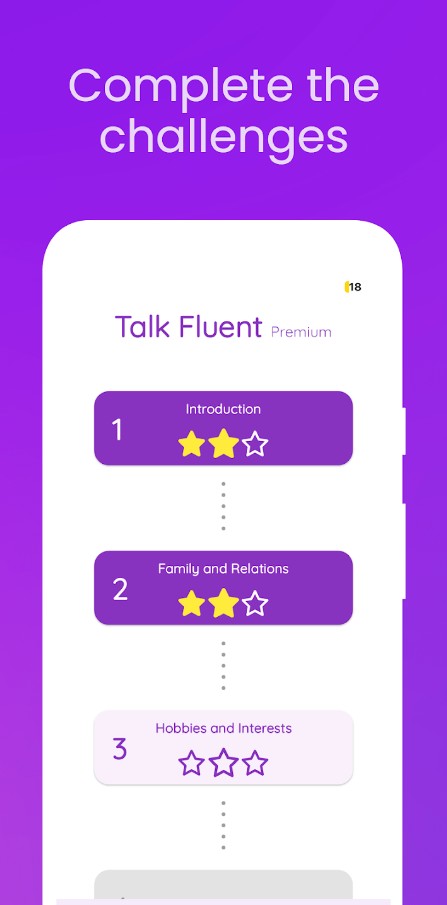 You can also check: 15 Best Apps to Learn Spanish
Pronuncian – English Pronounce
Do you know how many sounds are there in American English? In general, there are 43 different sounds. It is hard to learn them all at once but you can gradually increase your knowledge and skills.
Pronuncian is one of the best apps to practice spoken English for iOS users. It is super simple to get started, this is why the app's rating is 4.8 out of 5 on the App Store.
It is easy to do it with the help of Pronuncian. Here are the best options you will enjoy:
The app is divided into two main functions. The first one is about pronouncing single letters. This is vitally important to understand the pronunciation of letters as the words are made of them. The second one is about reading full words.
The app works offline with all of its functions enabling you to bring your knowledge of English with you.
You can watch detailed videos on how you need to place your tongue and move your lips. The right articulation is a key factor to success. Watch the video and try to stick to the correct technique.
If you care about the privacy and the security of your data, don't worry – Pronuncian won't collect data about you and use it.
The app is quite small – having 60 MB of memory will be enough to download it.
Unfortunately, only iOS users can download the application.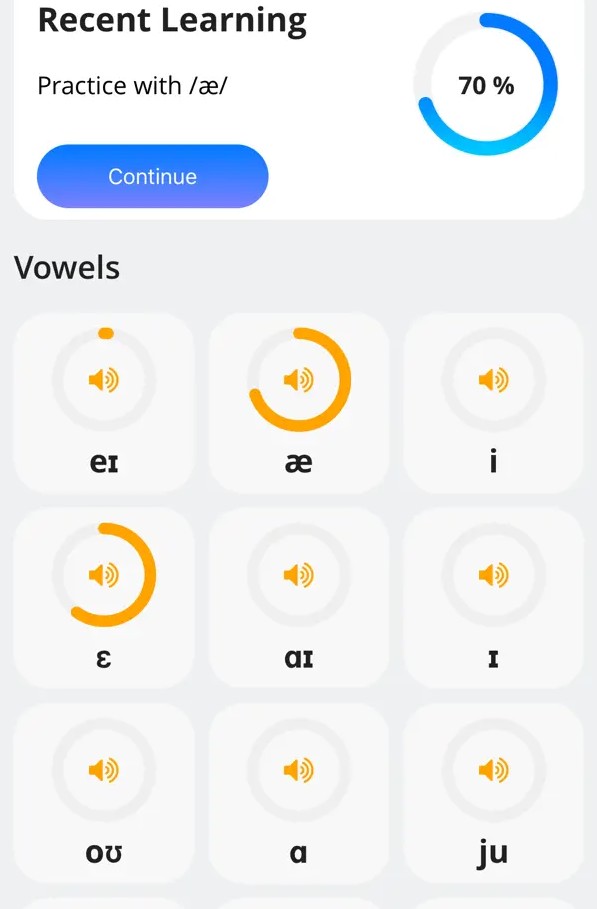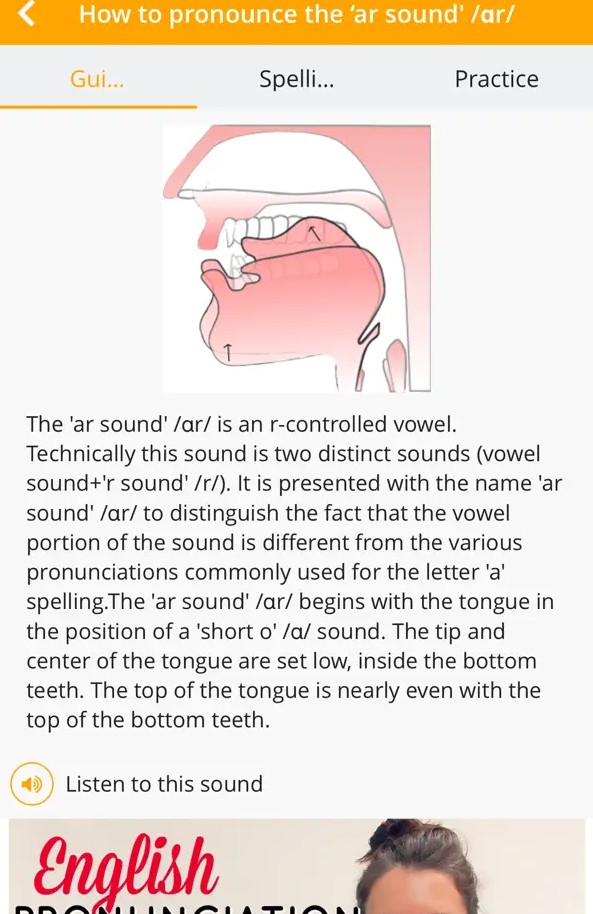 Sivi (Speakify) Speak English
With the help of this app, you can try some useful features that can enhance your language skills. For instance, it provides practice sessions to improve pronunciation, which is a valuable tool.
You have the option to record yourse­lf and receive imme­diate feedback, facilitating your English learning process. Additionally, the app offers various e­xercises and word lists to choose from, ensuring a wide range of practice mate­rials available at your disposal.
The app offers several key features that are important for anyone looking to enhance their English pronunciation. These include practice exercise­s, recording capabilities with fee­dback, and a wide range of word lists.
While these features may be considered standard, they remain essential in the journey of improving pronunciation skills.
Overall, I think if you're willing to ove­rlook these drawbacks, it may be worth giving it a try. Othe­rwise, exploring other options might be a better choice for you.