Aren't you tired of wandering the web looking for the chord arrangements? Yeah, there's an easy way to change it once and for all!
There are loads of free chord finder apps for Android & iOS that will help you learn new chords easy as pie. All these apps are different — some let you learn chords, some provide chord arrangements for songs, but all of them are equally useful, especially for beginners. And if you're just starting your way in playing music, you'll need to learn how to read the notes first.
We've gathered together the 10 best free apps in that category you may try. Take a look!
Chord Tracker
Let's start with an app that lets you find the chords to all your fave songs in a blink of an eye.
The main goal of this app is to let you get the chords of any song and help you learn how to play it. The mechanics are quite simple — the app analyses any song stored on your devices and shows you the cord symbols for it. Thus, you'll be able to practice your performance for whatever long till you're fully satisfied.
Herewith, the app won't work with a streaming service, so you'll need to download the song first. It needs to be said, the app does a good job in classifying the chords, and it will surely match the mood of the song closely. However, sometimes you may not get the exact match — which is not that big of a deal, but you'd better be warned.
The good news is you get t to customize the tempo and the key of the song o it would match your playing style more. Plus, the app only covers the arrangements for guitar and a piano, so keep that in mind. Another thing you need to consider is that the songs protected by DRM can not be analyzed by the app.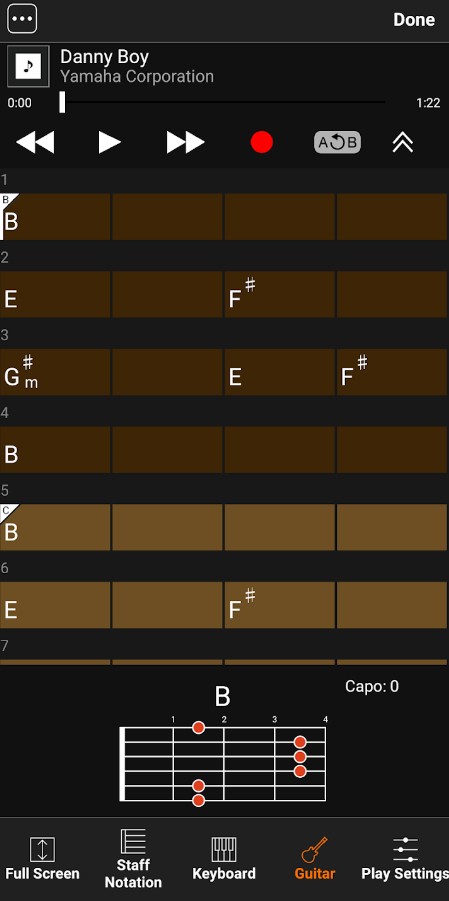 You may also like: 11 Best music notation apps for Android & iOS
ChordBank
This is an app that will help you to learn loads of guitar accords.
This app is two-in-one — a chord finder and a virtual tutor. Herewith, apart from the previous app, this one doesn't look up for songs — just chords and audio samples. In other words, this app is more for beginners trying to learn new chords, and it's pretty useless for professionals.
As it was already mentioned, the app covers loads of chords — from monitor to major, 7th, and so on. Herewith, the free version only allows you to access the basic harmonies, and you need to pay to unlock all the others. The app comes with minimalistic UI and simple navigation, so you'll quickly figure out how to use it properly.
Speaking of a tutoring part of this app, the instructions are detailed, so you'll be able to learn chords effortlessly. All the strings are visible, and the app shows you where to put each of your fingers to play a chord. The bars are clearly labeled as well, so you'll get to know when to get up and down the fretboard. The app also has full left-handed support if needed.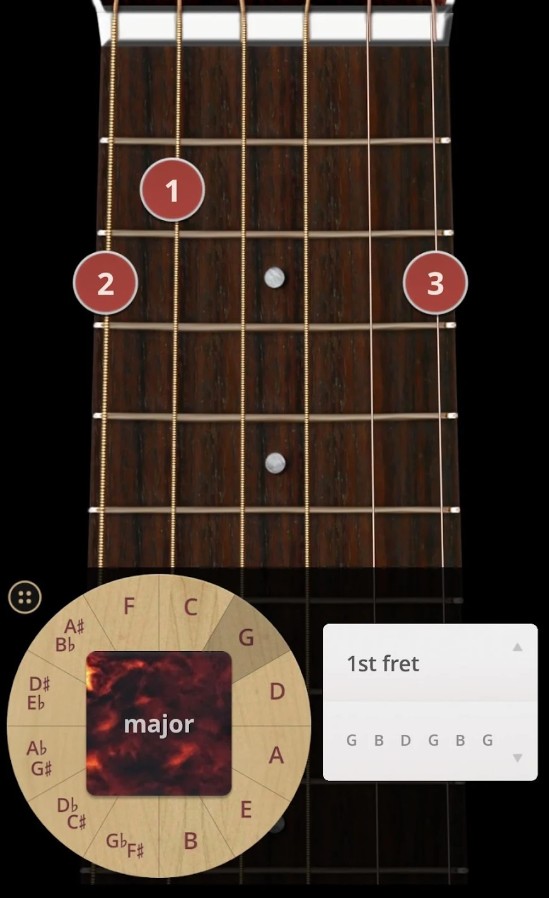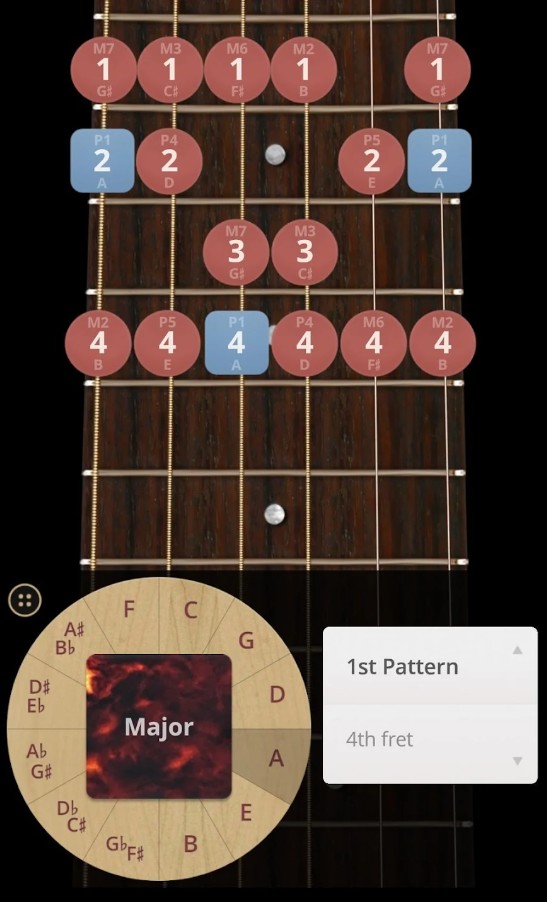 Chord! Free
If you're looking for the simplest and the fullest accord finder app — you've found one.
One of the best things about this app is the fact that it supports plenty of fretted instruments along with the guitar. To be more precise, the app covers the chords, for the ukulele, bass, banjo, and more. What is more, this app is not based on a chart database — it analyses all the possible fingerings instead which makes it great for beginners.
Beyond that, you may go to the settings and customize your playing level, so the app could adapt to your skills. Plus, the app gives you the ability to search for any chord, split, or else. You may rather pick a chord from the list or use a virtual keyboard to enter the chord as it is written.
The app also covers plenty of scales, but the free version only comes with five. Additionally, the app lets you add custom tuning to any instrument if needed. It can also be quite helpful if you've been given an instrument you're not familiar with and want to know how to turn it correctly.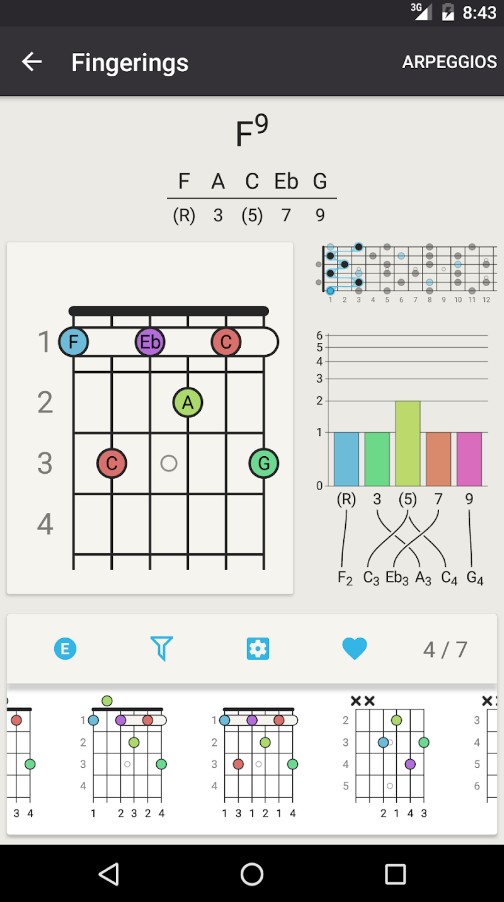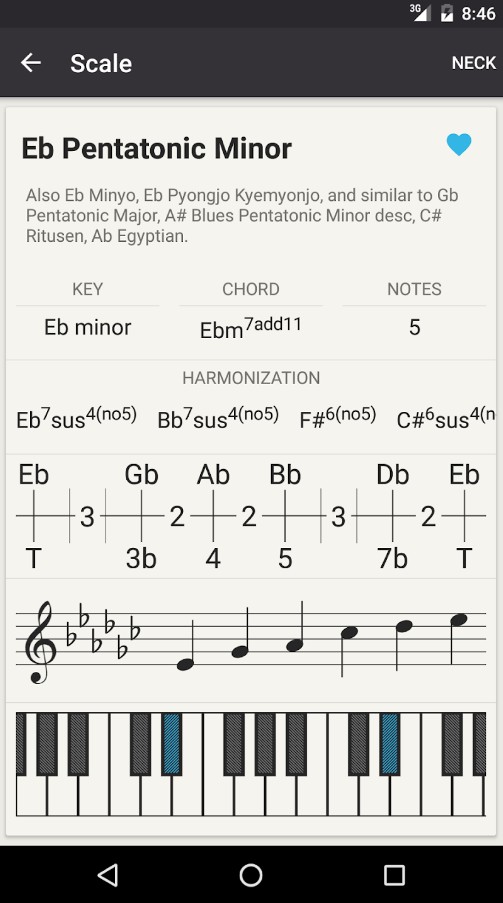 smart Chords
At its core, smart Chords is a comprehensive chord library and toolset. It provides you with access to a vast collection of chords, scales, and arpeggios.
Want to find the right chord for a song? This app has you covered with over 1,500 chords, including various inversions and voicings. It's a treasure trove for any guitarist or pianist.
It's a dynamic tool that helps you understand and create music. You can analyze chord progressions, identify scales that work with your chords, and even generate backing tracks.
In summary, smart Chords' extensive chord library, analytical tools, and customization options make it an invaluable resource for musicians of all kinds.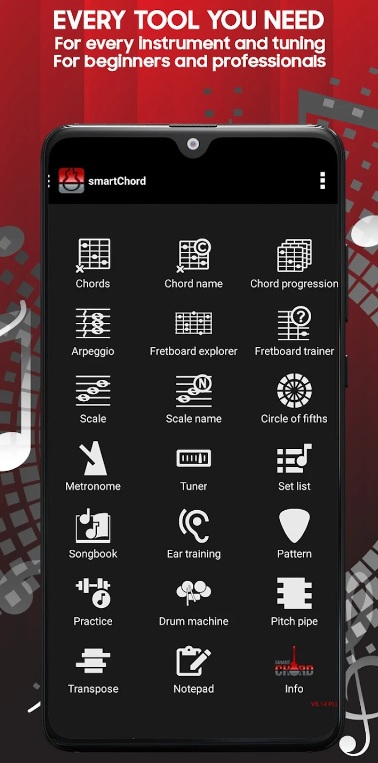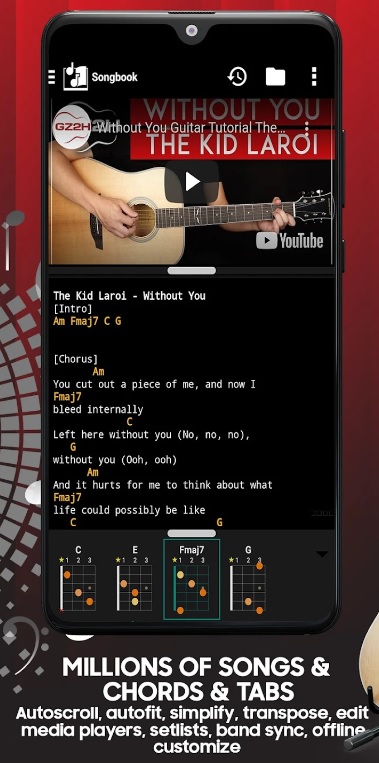 MyChord
If you'd like to learn how to play your fave song — this app is the one for you.
This is a hard finder that lets you view the chords transpose of your fave tracks. The variety of instruments this app shows the chords for is not big — there are only piano and guitar, but it's quite standard for such an app. Apart from the previous app, this one is not based on the chords archive it automatically analyses the track and shows you the arrangement for it.
On the one hand, the fact that you're not limited to the database of songs is great. But on the other hand, the app may not analyze some songs well enough. Herewith, the machines of this app are beyond simple as it supports mp3, m4a, and even YouTube. More to say, there's a built-in YT searching engine that lets you look for the sounds right away.
The chords will move along with the music, so you'll be able to play along as well. However, the app is only able to give you the chords for the arranged songs — not the ones without a score. Plus, the app comes with a recording function if needed.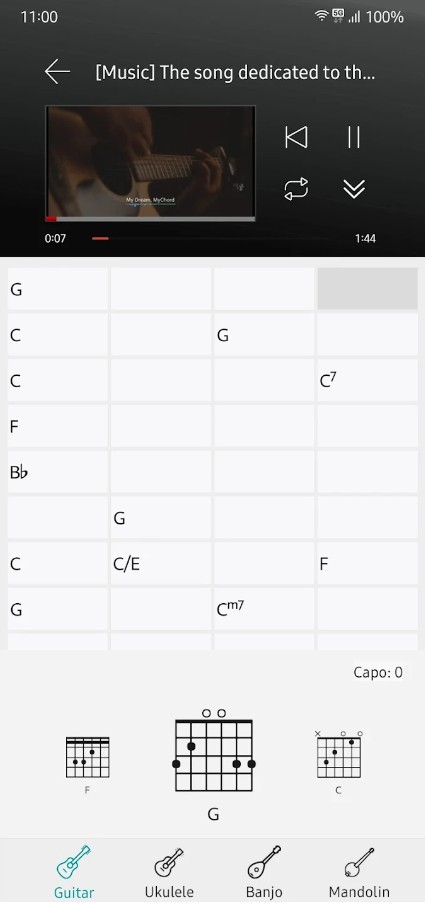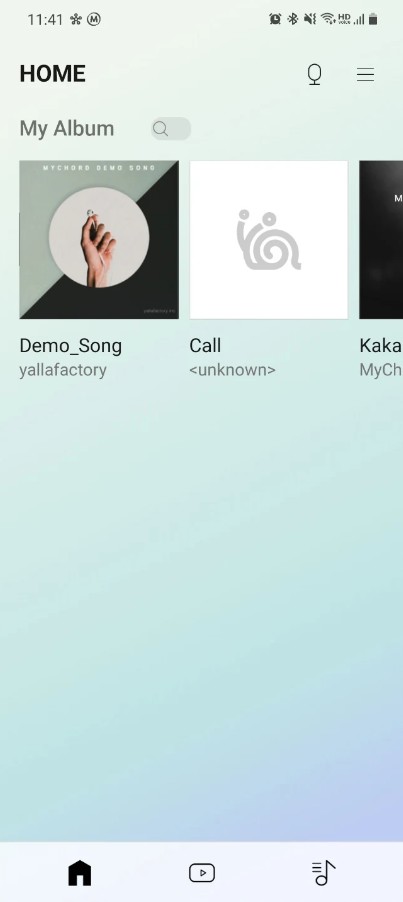 Check also: 11 Best Piano Apps for Android & iOS
All Chords Guitar
The standout feature of All Chords Guitar is its intuitive chord finder. Simply select the desired chord type and the app will display all the variations and voicings available. This means you can easily find the perfect chord for your song, no matter how complex it may be.
With over 5,000 chords in its database, you're bound to find the one you need. Whether it's basic open chords or intricate jazz chords, this app has them all. Plus, it covers various instruments beyond the guitar, making it a versatile tool for musicians.
The app also includes a handy chord quiz feature to test your chord knowledge and improve your skills.
In conclusion, I find All Chords Guitar incredibly helpful for learning and understanding chord progressions.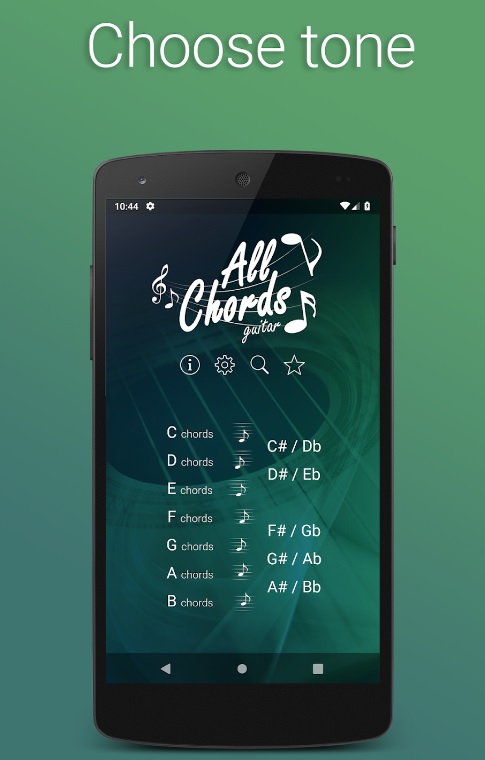 Chord ai
If you want to get the harmonies of any songs without the need of looking for in online — this app is your cup of tea.
The app is based on smart AI techs that decompose the song while it's playing and give you chord arrangement for it right away. Herewith, the app has a high-reliability level, so you can be sure to get the sounding most alike to the original. Another good thing is the app has no limits for the sound source — you may stream the song on your phone, PC, or any streaming service around.
The only thing that matters here is you'd better make sure there are no extraneous sounds around. Once the sound is analyzed, the app will transpose it into chords for the guitar, piano, or ukulele. As we're here for the free apps, here are the chords the app could recognize major and minor, augmented and diminished, sus2 and sus4, 7th and M7th.
In case you are a ukulele player, the app covers a wide compilation of chord positions if needed. Additionally, the app runs offline, so you can analyze the song wherever you are regardless of the web connection. The UI is quite simple and intuitive, even for beginners, so no worries about that.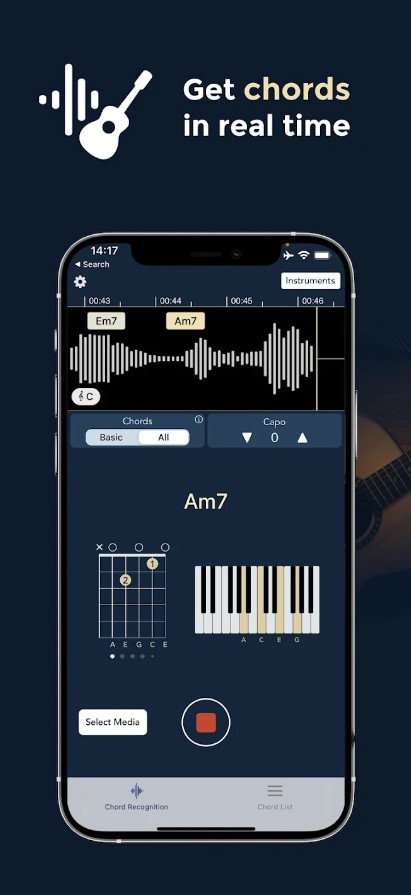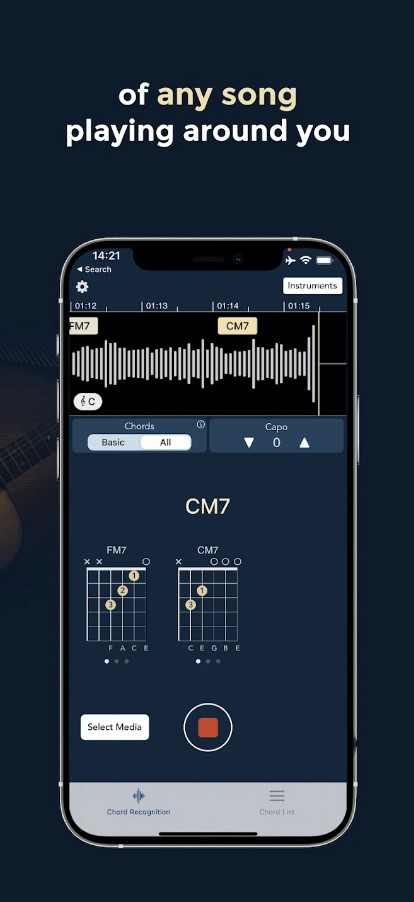 All Guitar Chords
It is a handy tool that simplifies the process of finding and mastering these essential elements, catering to guitarists of all skill levels.
Also, this app boasts an extensive database of over 5,000 chords, covering various chord types and voicings. With such a vast collection at your fingertips, you can effortlessly locate the right chord for your music, regardless of its complexity.
Additionally, the app includes a chord quiz, offering an interactive way to test and improve your chord knowledge.
The app's functionality extends beyond the guitar, making it useful for other instruments like the piano and ukulele. Musicians of all backgrounds can benefit from its comprehensive chord library.
All Guitar Chords also offers playback options, allowing you to hear the sound of each chord. This auditory feature greatly aids in understanding and mastering different chord progressions.
In summary, I believe that All Guitar Chords is an invaluable resource for musicians seeking to explore the world of chords, its vast database, intuitive finder, and educational components make it an essential tool for anyone on their musical journey.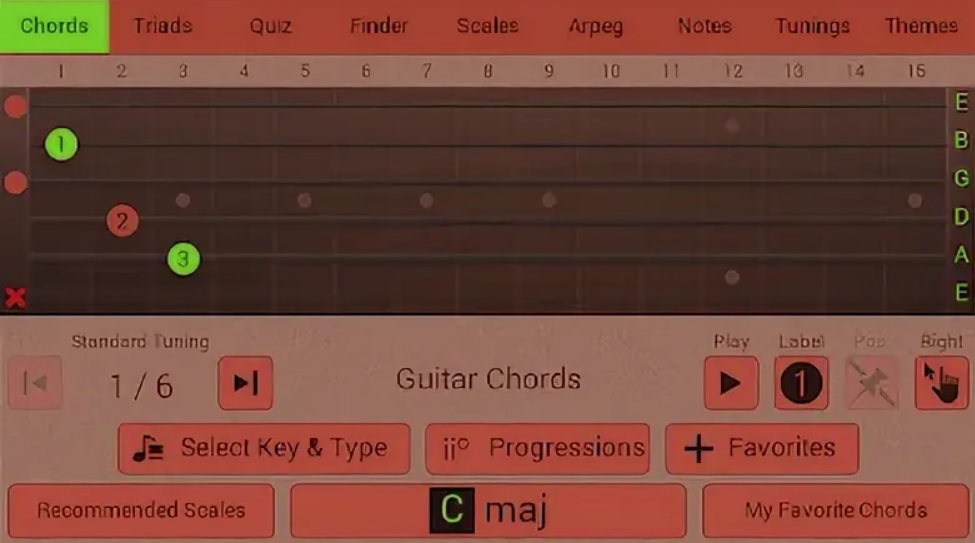 Chord Analyser
Here's an interactive chord finder that lets you find notations and chords for stringed instruments and piano.
Along with the standard guitar and ukulele, the app also covers banjo, mandolin, and more. Herewith, some instruments are only available with a pro sub pack so keep that in mind. There are two ways to use the app — first of all, you may recognize the chords with it. To do so, just tap on the piano keys or guitar string, and the app will indicate the chord and pick the best notation for it.
More to that, this app is great for learning how to play chords. To cope with that, you'll need to pick the chord from the library, pick the instrument you want to play it in, and that's it. It needs to be said, the app covers a wide base of chords, not only the basic ones, so it will be useful for both beginners and pros.
For now, there are already over 2,5K chords from simple to complex and more are yet to come. Plus, the app supports all the positions and inversions so no worries about that. The app even lets you customize the chords right from the app if needed.

You may also check: 9 Best ukulele learning apps for Android & iOS
Chordify
And lastly, we have an app that provides you with accurate song chords for guitar, piano, and ukulele.
This app is based on a massive song library that already covers over 22 million songs with chords for them. Fair to say, the chances of not finding the song in this app are pretty low. Plus, the app constantly updates its collection, so you won't miss any trendy songs with it.
Once you've found the song, you'll need to pick your instrument and the app will show you animated chord views for it. This app is great for everyone — from beginners to pros. It supports ts all the positions and inversions, so you won't have troubles with that as well.
Beyond that, you get to transpose the chords to a different key in secs. You may also slow down the song if you have any difficulties with chords. The app even lets you download the chords in a MIDI file if needed. You may also add songs at your faves for easier navigation and there are no limits for that.