Brushes are essential for everyone fond of sketching. It is not just a device, it is a weapon in the artist's hands. Here you get to know the free procreate brushes apps & websites.
And for those who like to create art in all forms, we also recommend to check the best 8-bit painter apps.
Ibis Paint X
If you use a tablet or other device for making pictures so this app is a great platform for creating amazing pictures using a tablet.
Operating this software on your gadget, you get a lot of opportunities for convenient drawing. The service has plenty of features and, of course, a vast library of different brushes.
Amazingly, the developers have added more than 15,000 various brushes. This is a real fortune as you have a great opportunity to receive the right tools for you to create a masterpiece.
In the set of brushes, there are such as Dip Pen, Felt Tip Pen, Airbrush, Watercolor, Flat Brush, and so on.
Apart from that there are also many other features here. Thousands of useful drawing materials are open for use. For example, auxiliary lines when you draw architectural objects. it has never been so comfortable to make illustrations and manga.
Advantages:
There are about 15,000 realistic brushes.
The app has many other additional features for drawing.
There is a community of artists supported by the service.
Users can view the instructions for the app on the official YouTube channel.
Drawbacks:
Since there are a vast number of tools and brushes, it is easy to get disoriented in the app.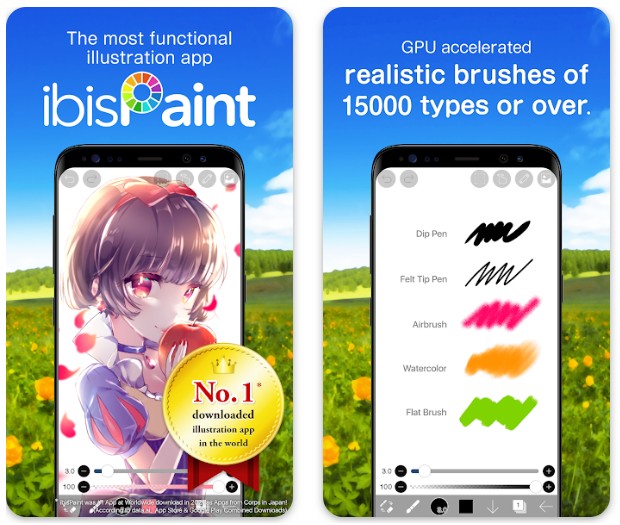 You may also like: 11 Best home painting apps for Android & iOS
Sketchbook
The app is a multipurpose program. It can be an excellent replacement for paper notebooks and sketching albums.
If you should have only the best procreate brushes, then here you will find the necessary set of tools to create amazing pictures.
The app has a user-friendly design that is an essential element for any graphic software. You can see the menu right at the top of the website. Here it is feasible to pick the brush that you like the most.
Brushes are presented in a convenient format to find the right one. Each tool not only has a name but also an image to make it more effortless for you to navigate. It is also available to see what stroke the brush leaves before you start making images with it.
Yet, you have an option always to further adjust the parameters of the selected brush to exactly portray.
Moreover, the drawing service contains useful features for creating sketches. For example, you can use fill, text insertion, or symmetry generation.
In addition, if you want to record the entire drawing process on video, this is also easy to do. Just activate the shooting mode in the menu.
Advantages:
There are several dozens of excellent procreate brushes in the app.
User-friendly design.
Drawbacks:
There is no autosave of the sketches.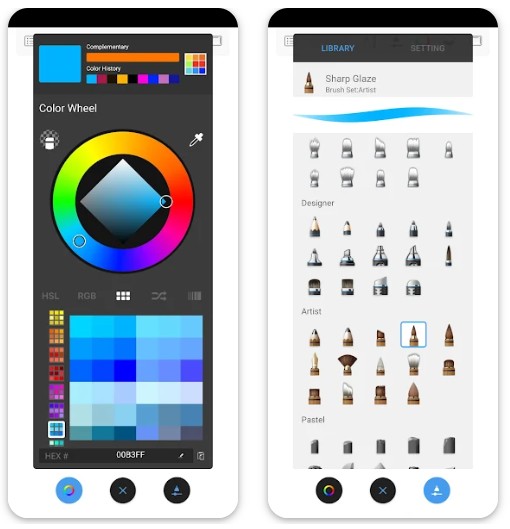 Artecture Draw, Sketch, Paint
This is a popular app that many artists use and are satisfied with. Here you will find the required tools for both beginners and professionals.
There are various brushes to paint the way you want and how you feel comfortable. Just pick one of them from the menu. However, this is not necessarily to be limited to just one recreate brush.
The app allows you to have multiple brushes at the same time. They will be conveniently located in the part of the screen where you put them by yourself.
Thus, you always have the opportunity to choose the necessary brush and make a new stroke in just a few taps on the screen.
The program provides such procreate brushes as Marker Pen, Oil Brush, Paint Roller, Paint Tube, Gradient Brush, Flood Fill, Air Brush, and many others.
What is more, it is difficult to name all the drawing features that are presented in this app. For example, you can use several layers of an image, choose a static background, insert text, experiment with color palettes, and so on.
Advantages:
The service supports popular formats for uploading images.
Drawings are saved automatically.
There are a lot of convenient procreate brushes.
Drawbacks:
The app interface is overloaded with tools.

Infinite Painter
In case those are your first steps in the journey as an artist, then this app will become your best friend. However, even if you are an experienced performer, you will also find this service useful for your creativity.
There is nothing difficult about creating masterpieces. Open a new canvas in the app and start drawing with one of the brushes.
The service provides an extensive collection of various realistic brushes. Use the menu tab that is located at the bottom of the canvas (and does not distract at all while drawing).
You can use brushes for oil or aquarelle paints, felt-tip pens, pencils of various thicknesses, crayons, charcoal, pastels, various designer brushes, airbrushes, and calligraphic tools.
The developers offer you a large library of artistic instruments with which to easily make sketches. That is why you cannot just pick a brush but also adjust its depth, brightness, and intensity.
Advantages:
There are a lot of procreate brushes.
User-friendly design.
Drawbacks:
The service can have bugs and freezes.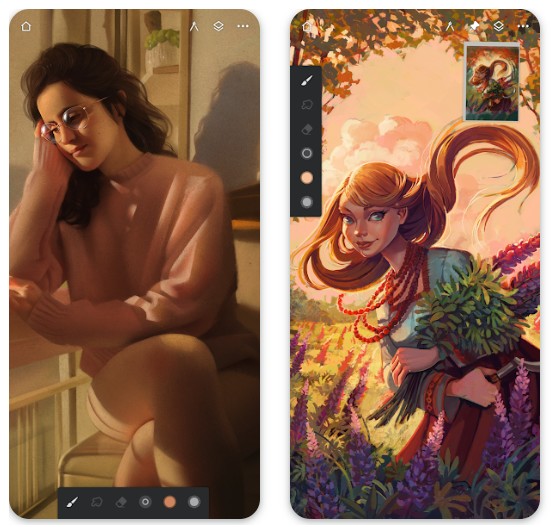 Tayasui Sketches
For all those who are searching for realistic procreate brushes for sketching with tablets or smartphones, the Tayasui Sketches service can help.
Although this app does not have hundreds of various brushes, the tools that you will find here are of high quality and as close as possible to real brushes.
You will feel it as soon as you touch the e-canvas. If you used to draw only on paper, then it will be very easy to switch to virtual canvases with this service.
It is always possible to change a procreate brush with a couple of taps on the screen. All the necessary settings are located on the screen, which is why you can always change the brightness, intensity, and color of the brush.
If you use a brush for watercolor paints, then you will surely be pleased with the feature of creating unique aquarelle spots. This is another point in favor of the super realistic tools that this app provides.
Advantages:
The design of the app is quite convenient for use by professional artists and amateurs.
The app is not overloaded with countless functions.
Procreate brushes are very naturalistic.
Drawbacks:
The service often lags.
It has a limited number of free features.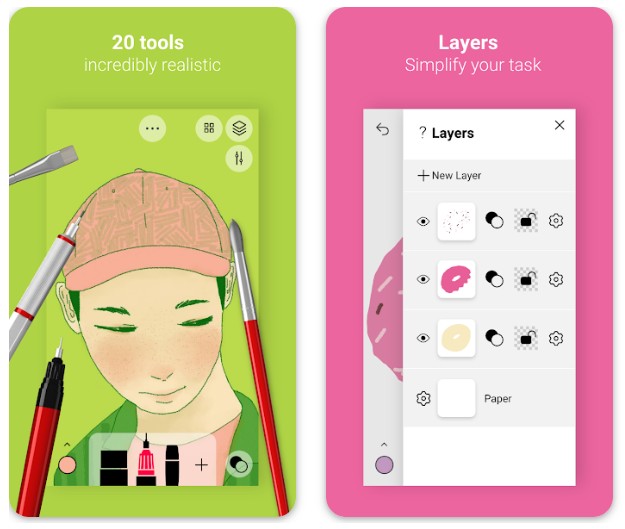 Brushes for Procreate
This is a website that focuses on creating various brushes that users can download for their purposes. The site offers both a large number of free sets and paid ones.
On the main page of the site, you can see a selection of various sets of procreate brushes for any type of drawing. Here it is very easy to find tools to draw vintage draughts, calligraphy, landscape, or graffiti.
Download the brush or set of brushes you like the most. After it, you should install the kits to your apps for illustrating.
If installing files causes you difficulties, it is rather convenient that the site provides its users with detailed installation. That is not hard to see in the site menu, which is located at the top of the screen.
Advantages:
There is a large selection of free brush sets to download.
If you do not understand how to install the files, you can read the instructions.
Drawbacks:
The instructions only describe the way of installation on Apple gadgets.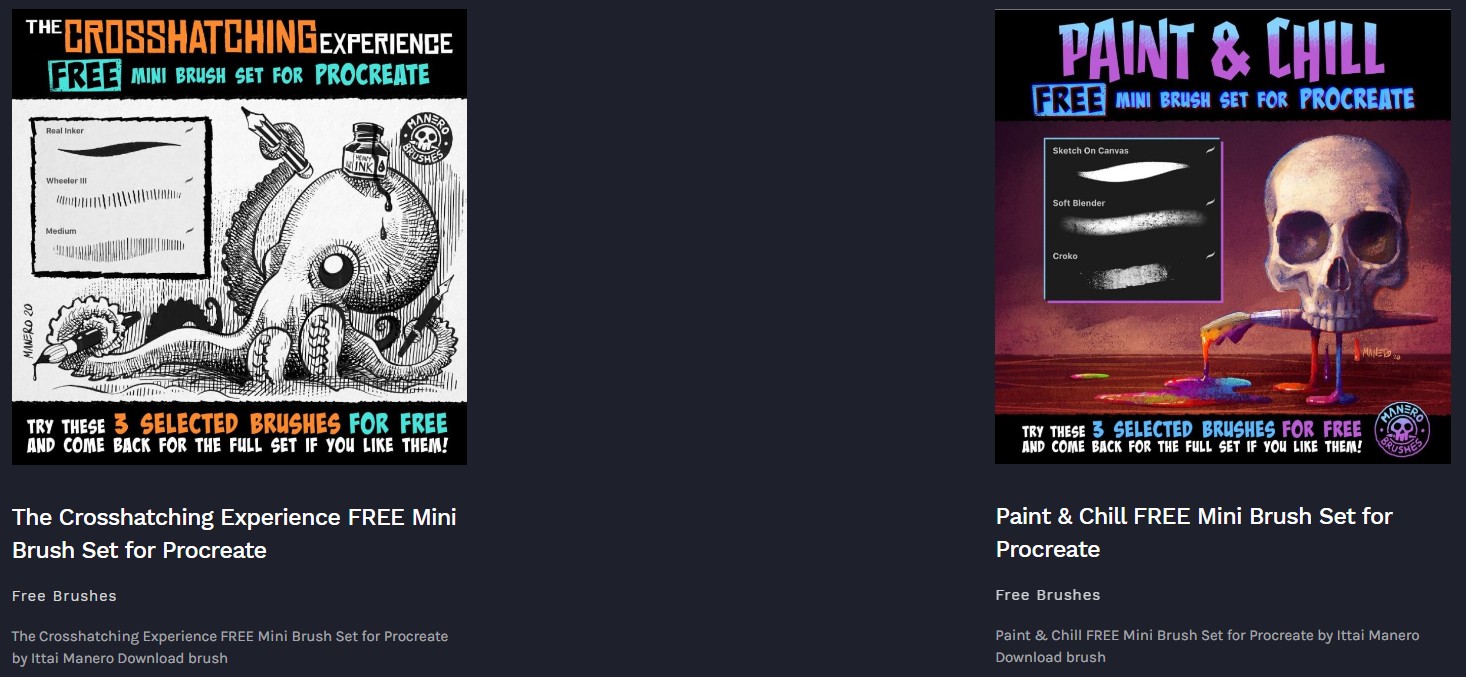 You may also like: 7 Free Painting Estimate Calculator Apps & Websites
Librium
This is a website that can be easily found on the Internet. Moreover, it is a great source of free procreate brushes for your sketches and art.
The design of the site is modern and minimalistic, inspiring to make new creative works. Here you will not find anything superfluous, only the most important things. The brush sets are available for download to everyone.
You have to scroll through the page to choose the one you need or download all the brushes that are presented on this website.
The website offers you brushes for any purpose. The kits are divided into various genres, for example, for drawing anime, pencil sketches, textural hair drawing, or even for creating shining flower bushes.
It is interesting to watch the weekly exhibition of the best art using brushes that this source provides. Every week a magnificent picture appears here. Perhaps it is yours?
Advantages:
Users can download sets of procreate brushes for various types of sketches.
There is a weekly contest for the best art.
Drawbacks:
No disadvantages were found.

GrutBrushes
On this site, there are both free procreate brushes and paid ones. Just download sets from the section with free brushes and enjoy new drawings!
On the main page of the website, you can find detailed video instructions on how to download sets with brushes and install them in your drawing programs on tablets. That is why you will be able to try out all the brushes for your art.
The section with free sets of procreate brushes is full of tools for all types of drawings. There are brushes for watercolor paintings, as well as various pencils and airbrushes for unique sketches.
Although the zone with free sets is not as large as the paid one, it is still a huge source for finding the necessary brushes. The website has a catalog consisting of hundreds of kits of brushes for downloading which is constantly updated.
In addition, each brush is accompanied by a short video that shows how it performs on the canvas. It is very convenient to look at the strokes before downloading.
Advantages:
The website provides users with video instructions.
It is possible to see how each brush functions.
Drawbacks:
Confusing website navigation.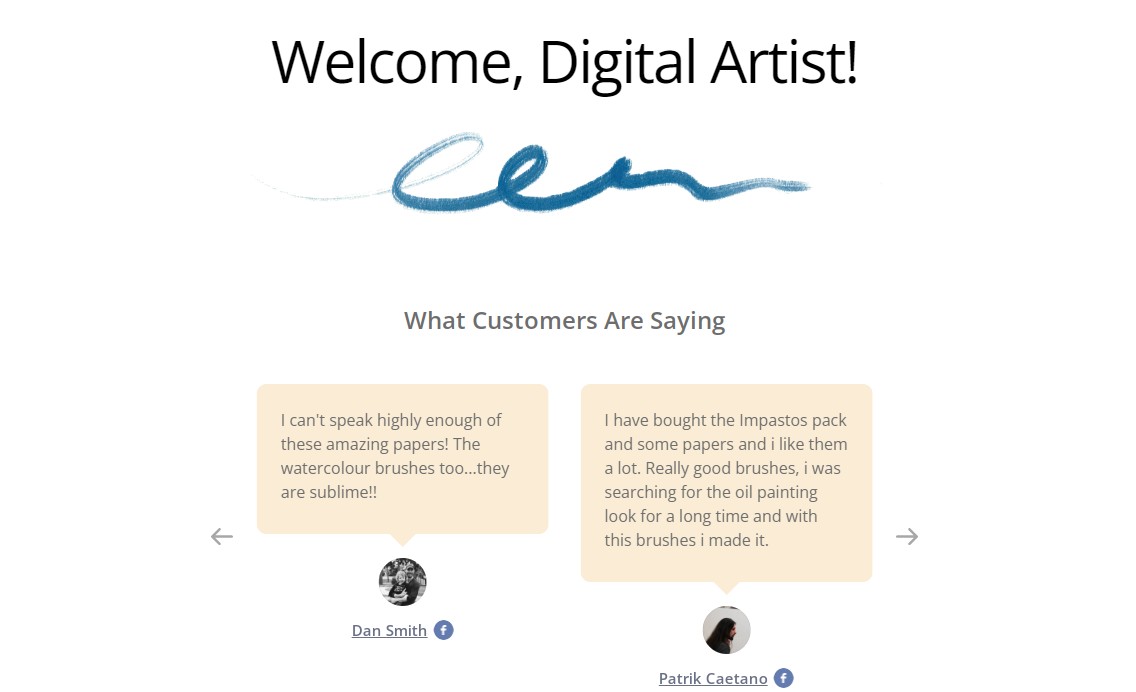 Swizzle
This is a website that has a section with free procreate brushes for any type of picture.
Although the main page welcomes you with a selection of paid brushes, you should just go to the tab with free sets. To do this, find the menu. It is located at the top of the website page.
You may find that there are a great number of categories on the site by which brushes are divided. For example, there are such categories as makeup brushes, tattoo brushes, oil brushes, flower brushes, or even fur brushes.
In total there are about forty types of procreate brushes among which you will find the right tools for yourself.
However, the service does not provide many free brushes. Most of the items are in the paid catalog. However, it is still possible to choose some excellent brushes for your art.
Also, the site offers you to use the instructions for installing files with tool sets. This is located in the menu as well.
Advantages:
A simple and easy-to-use website.
There is a special manual for installing the files.
Drawbacks:
There is not such a huge catalog of free procreate brushes.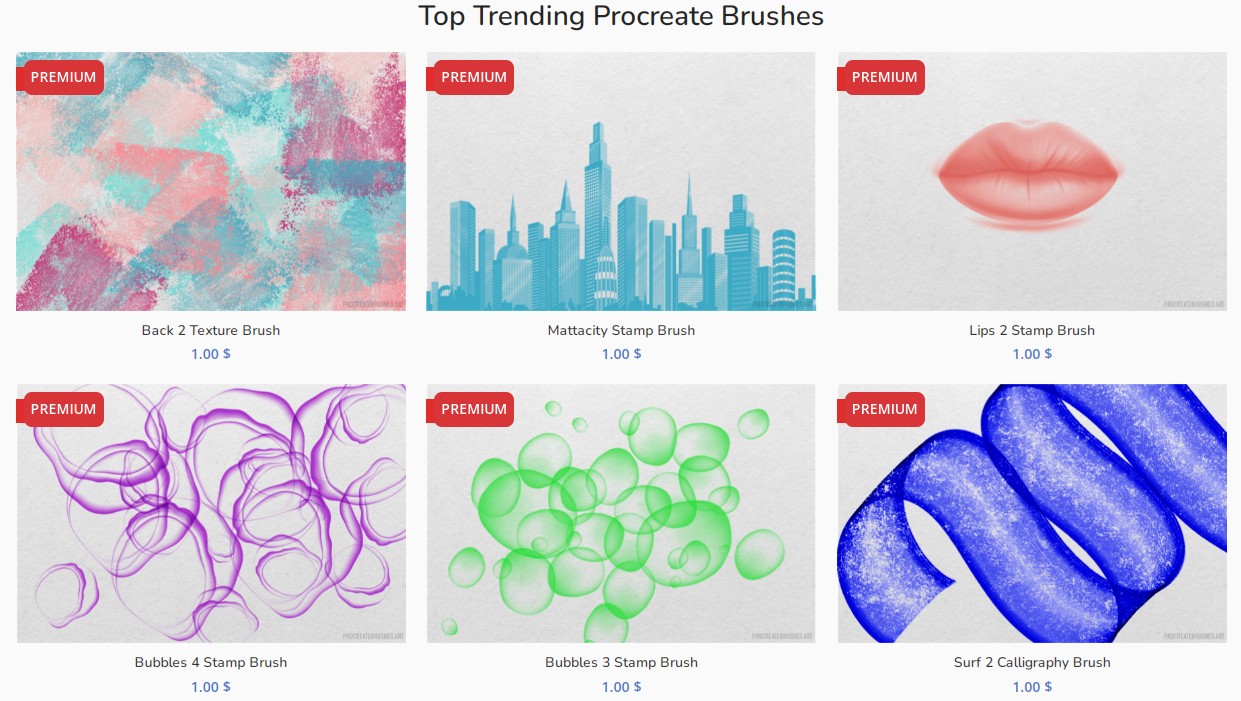 SketchBook: Draw Art & Paints
This app for your smartphones and tablets will be a great choice if your hobby is drawing. Download it and immerse yourself in the world of creativity and bright colors!
The app will be as convenient as possible for beginner artists because it has a design that is not overloaded with many different features. It is easy to find the necessary functional elements and use them.
However, this service is also a great workplace for professional artists.
What is more, here you can get a lot of various brushes that can help you in painting a new masterpiece. These procreate brushes will ease you through the difficult and boring part of drawing strokes.
Also, these tools are as similar as possible to real brushes and will be convenient to use. In the app, brushes are divided into such types as basic, synthetic, shaped brushes, designer brushes, texture brushes, and many others.
In total, the developers have added about 150 procreate brushes to the app.
It is possible to sketch without being distracted by extraneous interface elements. All the details are hidden to free up space for the canvas and your creativity, correspondingly.
Advantages:
There is a vast collection of brushes of any type.
Simple and intuitive app design.
Drawbacks:
Sometimes the app can have bugs and freezes.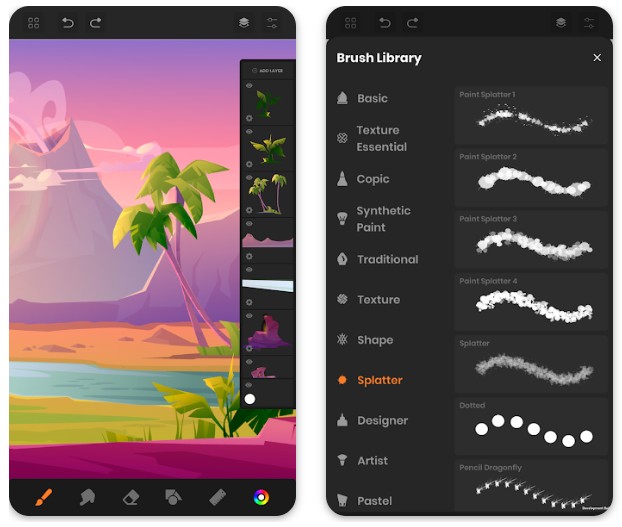 You may also like: 11 Free Paint By Number Apps & Websites For Adults
MediBang Paint
If you have always dreamed of creating your manga, then this app was designed for just such purposes. Although it is possible to use it just for drawing. It has wide functionality and is suitable for creating pictures of different genres.
When you have installed the app on your gadget, it welcomes you with a useful guide that will teach you how to use the software and tell you more about all the features.
The service has a huge library of procreate brushes. There are all the basic types of tools that can be further customized to your taste.
In addition, you can also create your brush. Experiment and get the very tool that will become your main weapon in the battle for the conquest of the art of painting.
You will probably notice that the service has an almost infinite number of functions. Every detail of the picture can be edited, moved, painted over, deleted, layered, copied, and much more.
On the other hand, it loads the interface very much, making it extremely difficult to use. The menu with tools takes up quite a lot of canvas space.
What is more, you can install this app on your smartphone, tablet, or PC. With the help of the cloud, all your work can be accessed on any device.
Advantages:
It is possible to design new brushes and use them in your sketches.
This app is a powerful picture editor with a huge number of different useful elements.
There is a tutorial.
Drawbacks:
The service has an interface that is difficult to use.
The autosave system has bugs.