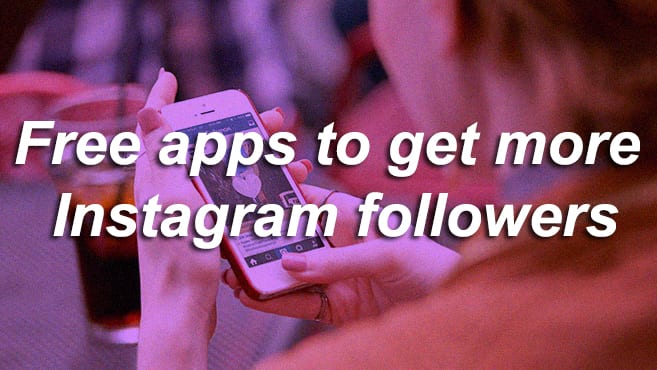 Using Instagram is fun even without any additional apps. Sharing photos and short videos with friends and family brings lots of pleasure (and lots of likes!). But what if you want to get a wider range of people to view your posts?
The reasons for that can be different. You might be considering running your own business or posting some creative stuff on your page, which, you think, will appeal to many people besides your nearest and dearest. Many people just want to show off, which is quite Ok in our century of high-tech and social media, when online life partially replaces face-to-face communication.
Whatever your reason is, increasing the number of followers is a good idea! Nowadays there is a huge variety of websites that overload you with advice on how to get more followers. "You need more hashtags!" they say, or something of this kind. But, in view of the fact, that Instagram's popularity continues to grow so rapidly, some apps are now able to facilitate finding people who are likely to follow you.
All you need is to download a couple of such apps and integrate them with the Instagram app. Different apps work in different ways. Most of them are designed to track followers, which means you can discover who followed or unfollowed you. Some apps can help find people with similar interests or mutual friends. All these functions are useful in looking for new followers. Let's find out about the best Instagram followers apps and start getting more hype right now!
6 FREE INSTAGRAM FOLLOWERS APPS 
Crowdfire for Instagram growth
Crowdfire is an app for gaining followers both on Instagram and on Twitter. Now, of course, we're interested in it as an Instagram followers app. Crowdfire has lots of same features as the first two apps. It provides users with all the necessary information about followers and their activity. With the help of this app, you can find out who are your most dedicated admirers – people who view your posts very often.
The app is able to recommend you appropriate hashtags, which makes it easier for you to get new followers. Crowdfire was originally meant to promote businesses, so you'll find it extra-useful if you want a really big "crowd" of people to know about your page.
The Copy Followers function is especially helpful in gathering this crowd. It allows you to follow the followers of those users who are similar to you, for example, they may be selling the same products. Another great function is scheduling your posts so that the majority of your followers may observe them. It is achieved in the following way: the app chooses the time when most of your followers are online.
Crowdfire is available both on Google Play and App Store. It has some additional features that can be purchased, however its main functions are totally free. So, if getting popular on Instagram fast and easily is what you need, you should definitely get this app!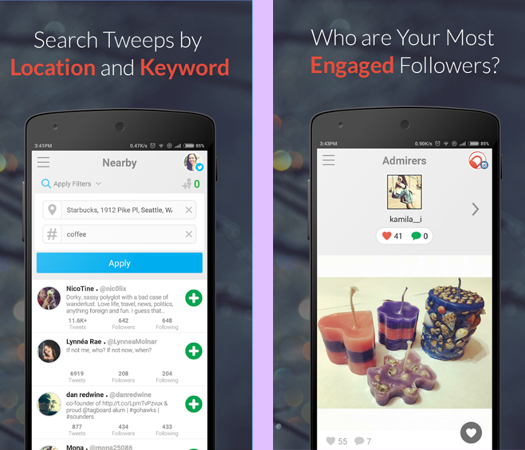 Follower Insight for Instagram
Follower Insight for Instagram provides a great insight about your followers. It's one hundred percent free, so there are no additional functions for which a one has to pay, although it is now common among such apps.
This app has a pleasant peculiarity, which is the ability to make screens of your new followers. People like to be acknowledged, so such screens can help you to gain the loyalty of your followers and substantially decrease the number of potential unfollowers. This feature is called a "shoutout".
The design of this app is as simple as 24/7. It will certainly appeal to many users, because of its simplicity. Download Follower Insight and start getting some useful insight about Instagram followers right now!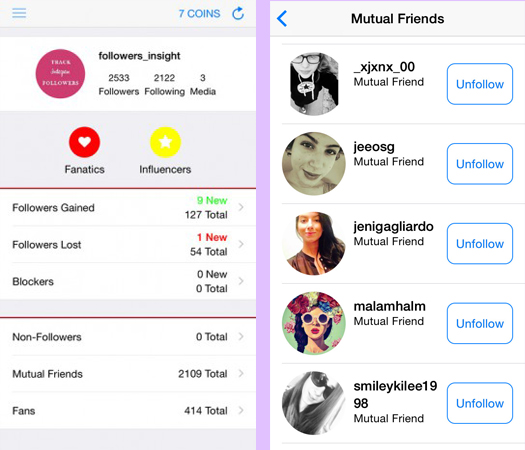 My Followers for Instagram
My Followers for Instagram is for iPhone users. This app also represents a bunch of functions for tracking followers. With its help, you'll be able to see your top likers, commenters, blockers, ghost followers and much more. This app really deserves your attention as it works just like the original Instagram app. To be more precise, it enables you to view, like and comment posts.
The app also has a shout out function to please your new followers, which is free. Another good thing about My Followers is that it is possible to log in not just one Instagram account, but as many as you have. This one requires charges, like some other unusual features introduced in this app.
My Followers for Instagram has everything you need in order to be aware of your followers' activity! Needless to say, that this is a great tool in promoting your posts because knowing your target audience is always the key. Another good app to have as an addition to Instagram!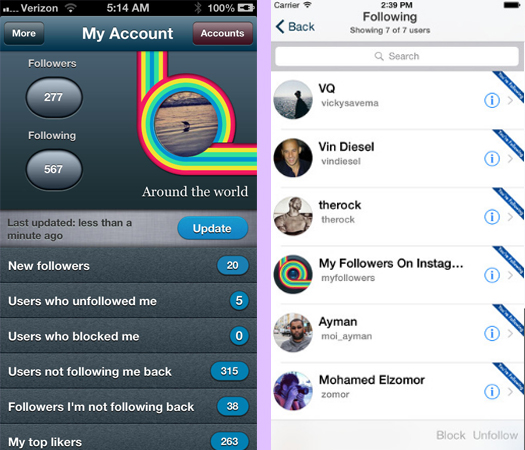 InstaFollow for Instagram
InstaFollow for Instagram is an app for Android devices. It is a great addition to Instagram itself as it provides a number of useful functions connected with followers. The app enables you to be aware not only of your new followers but also of those people who unfollowed you. If you want to know more about the last ones, you might also be interested in our Unfollowgram review.
InstaFollow shows your biggest fans and those who view your posts not so often. With its help, you may find out about mutual friends and then follow them. Now, let's face it! Everyone is eager to get more followers, so they will probably follow you back.
The app also gives you an opportunity to observe those posts you liked and the most popular users among those you follow. You can use it as well in order to find people with mutual interests.
InstaFollow is for the ones who prefer to keep track of followers and get rid of the ones who don't follow back! Download this app and start being followers-aware right now!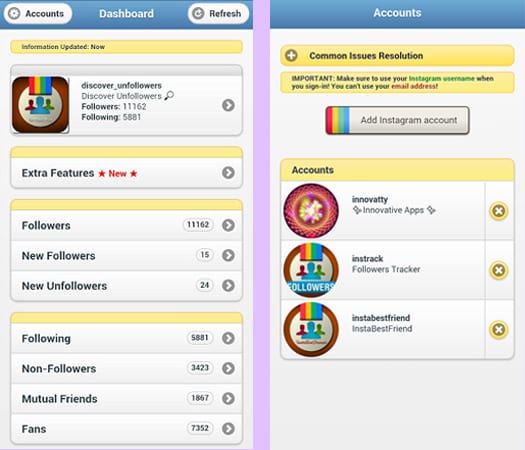 Currently unavailable
We have discovered some of the most popular apps which help, first of all, track followers and get some insight about them. If you are trying to promote your Instagram page, one of such apps is a must-have. Good luck with finding new followers! And, as usual, be smart in choosing apps!
Followers For Instagram
Followers For Instagram (Followers and Unfollowers Tracker) is similar to the previous app. The difference is that it is designed for iPhone owners. The app shows you who followed you and who unfollowed you. It also reveals to you who doesn't follow you back or whom you don't follow back (most apps call these fans). 
Apart from this information, Followers For Instagram provides you some statistics about your followers, like who is more active in liking your posts or who comments you most.
The app has a beautiful and simple interface, which won't cause any trouble in finding the information you need. The number of followers you can have in order to use this app is limited up to 20 000. If you don't mind this limit, then there are no reasons for not getting the app. Downloading Followers For Instagram will let you know everything about your followers!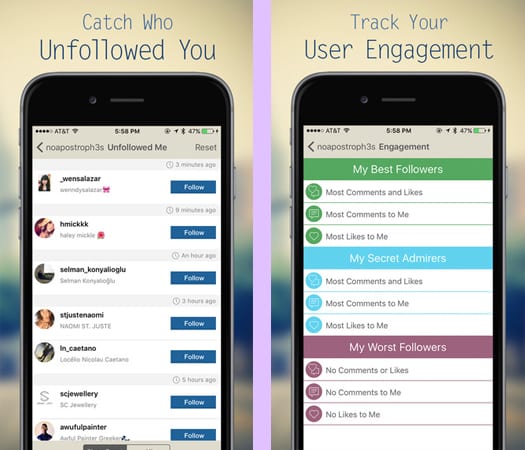 Currently unavailable
Followers+ for Instagram
Followers+ for Instagram is no different from other apps. It also shows you new followers, unfollowers, fans and so on. The app is able to detect your best posts, which are the most liked ones. You can also view statistics of your followers' activity and lots of other things. Scheduling posts is available as well.
The main advantage of this particular app is its beautiful design. So it is up to you to choose which app suits your needs and taste best. The app is available both for Android & iPhone. Followers+ for Instagram is a really nice choice when it comes to tracking followers!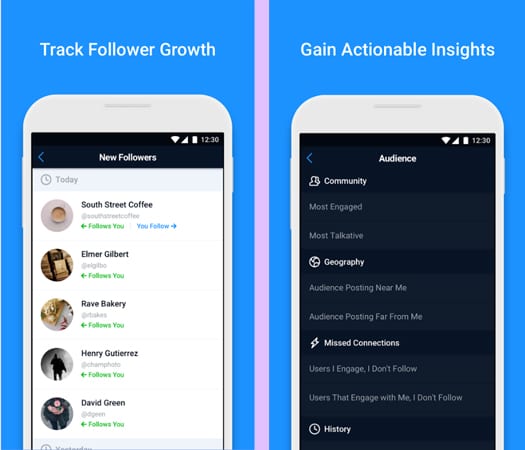 Currently unavailable