Families that have a family member with health problems are constantly in need of extra help. You can automate all the home processes with special apps or use the help of experts. Caregivers can be a great solution and make daily life easier in many ways.
Professionals in this field are trained in first aid, caring for sedentary people, and much more. You will find the most advanced members of this profession using these best caregivers apps.
ianacare
Ianacare helps people connect and make caregiving more reliable and convenient. This app is designed for both experienced social workers and caregivers, as well as regular people whose loved ones need outside help. Now you will not feel lonely and broken, because you will become a part of the team.
Here you can ask for advice in a difficult situation, delegate tasks, and share your emotions with other participants. It doesn't matter who is in your care: a family member, a patient, or a nursing home resident. This platform is designed to make the daily work of caregivers easier.
Ianacare helps you stay connected with other family members, medical staff, and social workers. You will not have to handle an overwhelming task alone. Here you will find out what you can get from health care providers and what you can expect from local social welfare organizations.
You can ask for help at any time by posting a request on the feed. This approach will save time and money and will help you get qualified help on time. If you work in the field of social assistance, you need to coordinate the use of the app with your employer and register.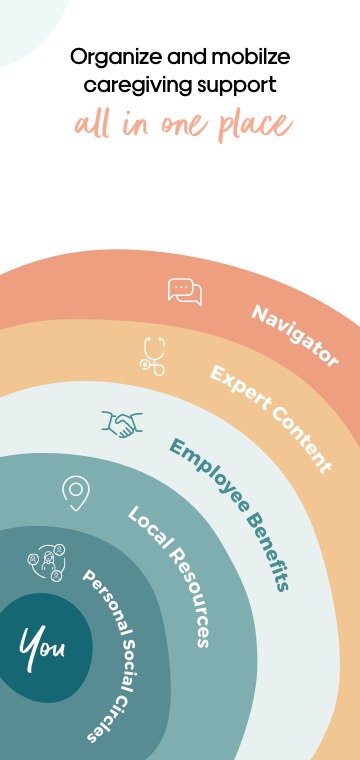 All of us have had times when we are in dire need of support from others. Ianacare is a great example of mutual aid.


You may also like: 5 Best Maid Service Apps for the USA
MyShyft
MyShyft is a medical recruitment app. With its help, you can easily staff an entire department in a new clinic. All negotiations are conducted directly, without intermediaries. It is a profitable and convenient way to look for workers in the medical field.
A mobile staffing agency connects professionals who need a new job with an employer. If you're interested in changing jobs, you won't have to inquire about vacancies at clinics and hospitals. Forget about lengthy interviews and submitting advertisements.
If you're looking for a job, sign up for MyShyft. Tell them what school you graduated from and what courses and internships you took. Indicate your specialty and work experience. List the institutions where you have worked in the past. Do not forget to note a convenient schedule and the possibility of working night shifts.
You can determine the cost of labor and note it in your resume. Thanks to this app, you will get a convenient schedule and the opportunity to work the optimal number of hours per week. The administration of the clinic will quickly find the right specialist with the necessary level of qualification.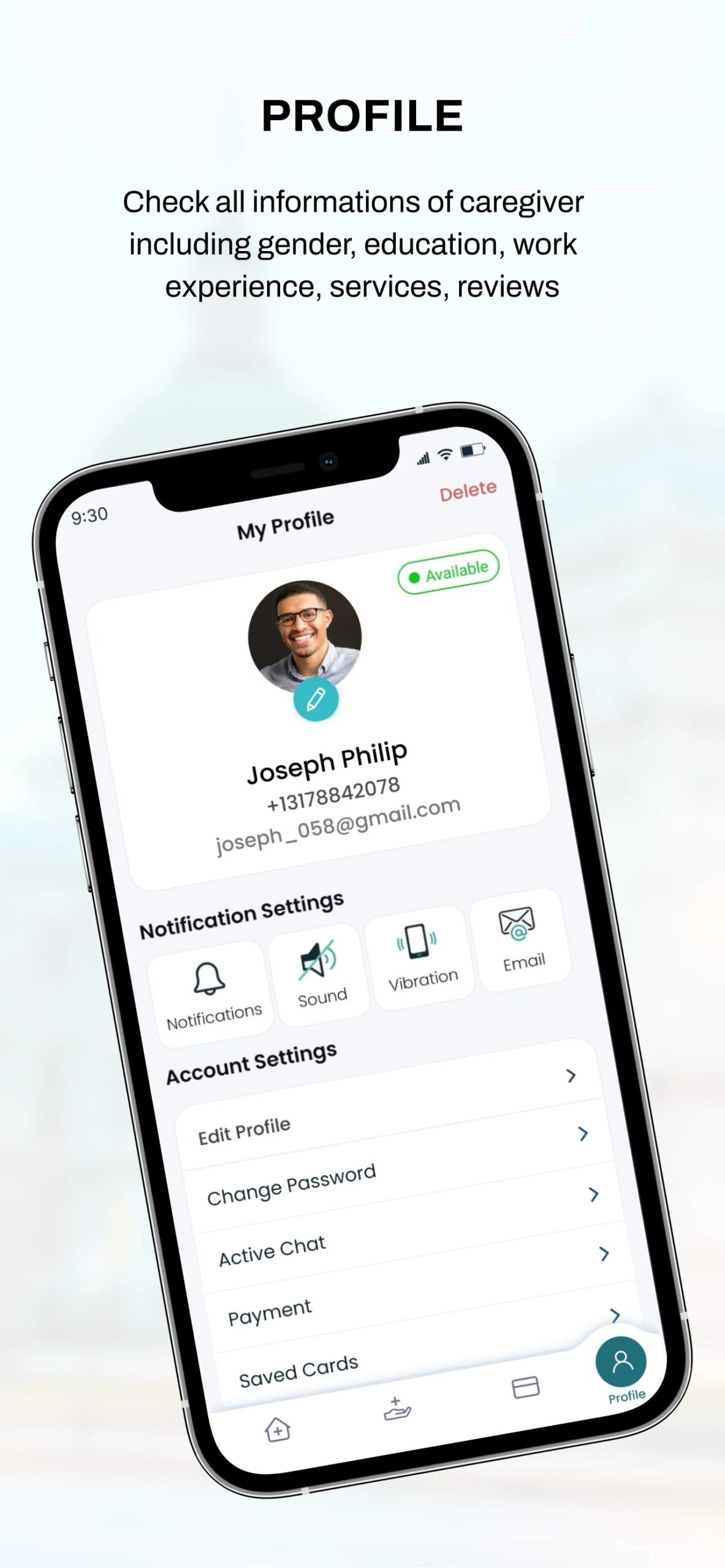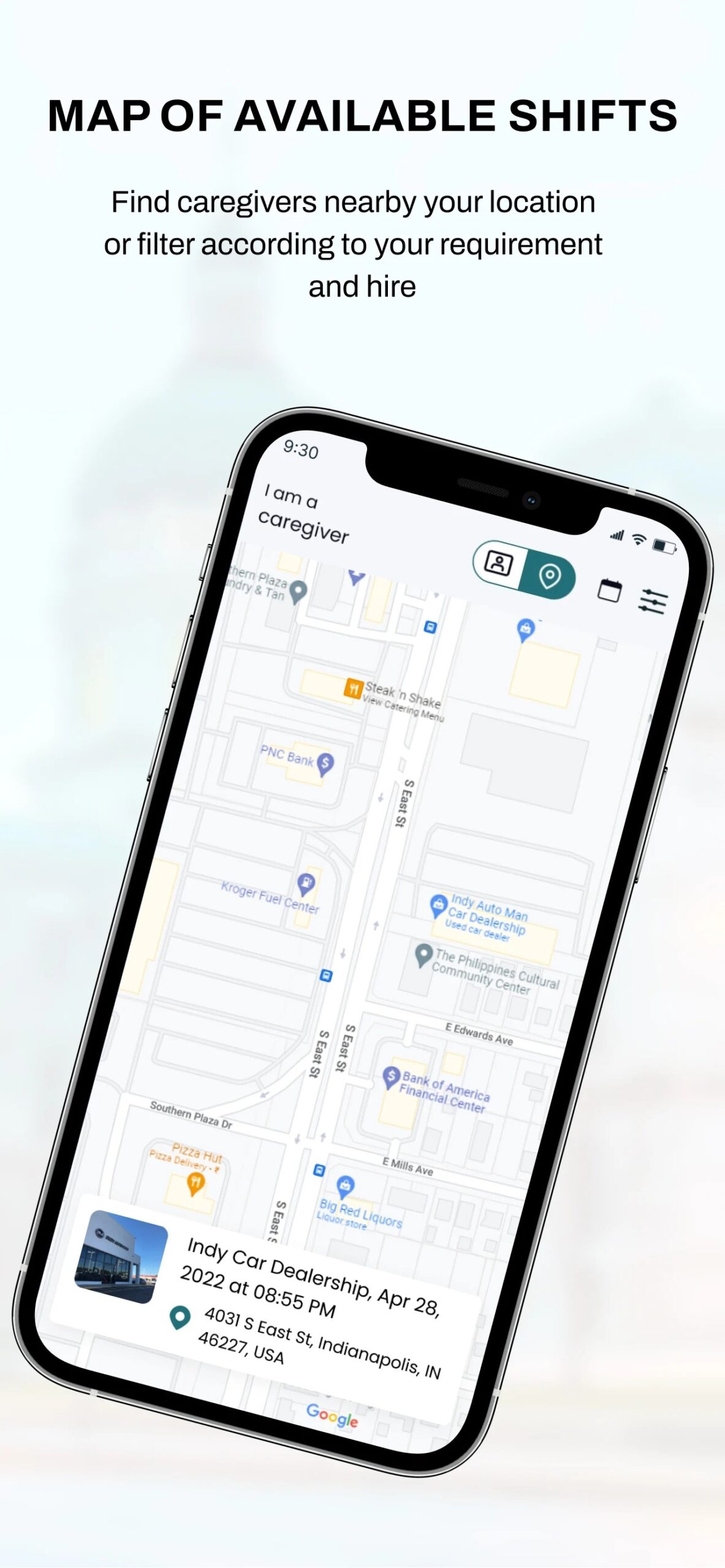 MyShyft contains thousands of portfolios of medical professionals, and their number is growing every day.


AlayaCare
AlayaCare is a kind of electronic medical record that displays all the important information about the patient. This app will be relevant for medical staff and care representatives. Each member displays the changes in the patient's health status that have occurred during their shift.
Besides, medical procedures, rehabilitation, and specialist sessions can be noted here. Each employee will have access to this data. This eliminates the possibility of shift handover errors and improves the quality of care.
Note medications, tests, and plans for the next day. Set up notifications if you don't want to miss important procedures or medications.
The platform supports 3 languages: English, Spanish and French. It is suitable for working with children, the disabled, and the elderly. AlayaCare uses an end-to-end encryption method to maximize the security of its users.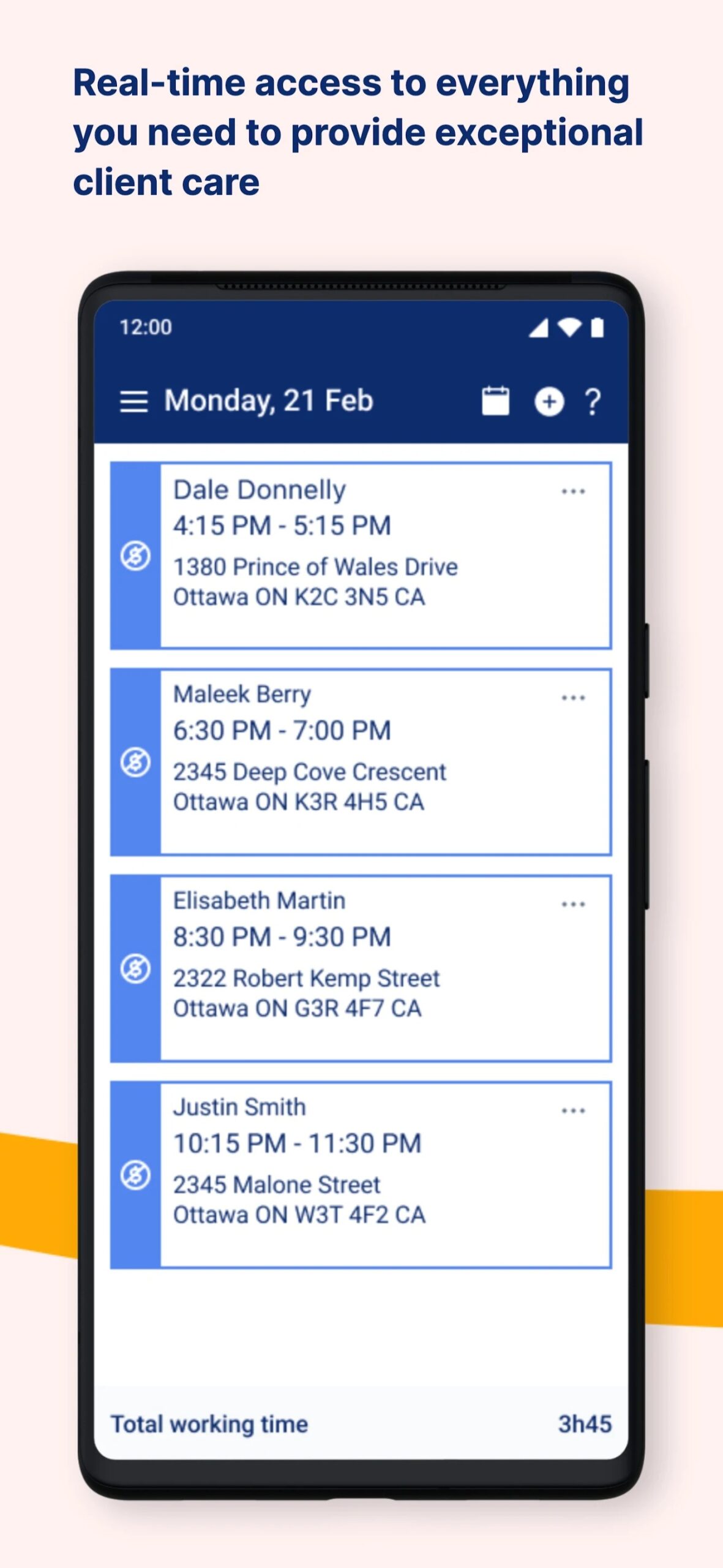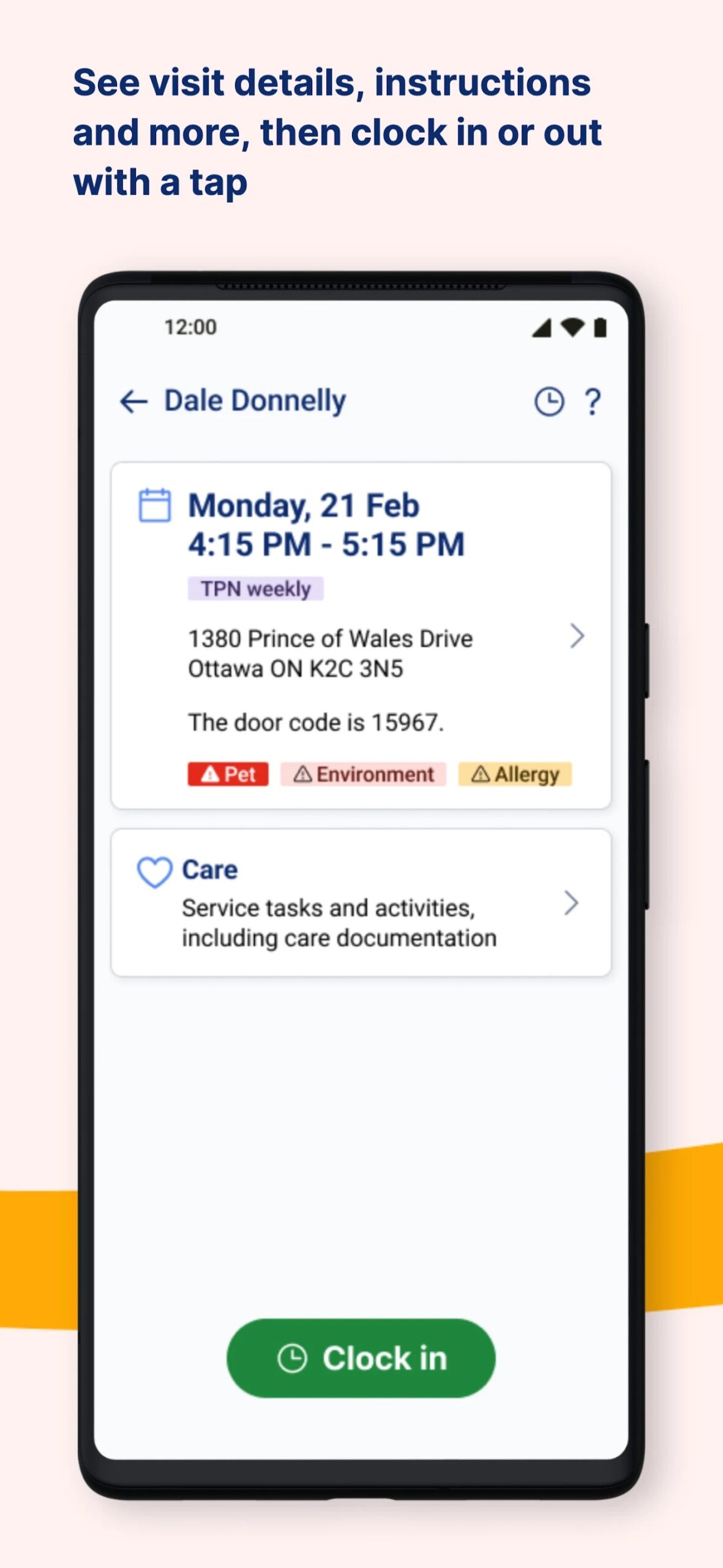 The app has a clear menu and can be used for free. You can similarly maintain multiple medical histories at the same time. It is ideal for incoming medical personnel who care about the well-being of their patients.


CaringBridge
CaringBridge is a simple and convenient way to share up-to-date medical information in real-time. The app is popular with medical staff, social service providers, and people who are caregivers for their family members. Here you can find out the ward's health status and how they are feeling today.
The dates of tests and their results can be noted. Plan medical procedures and doctor's visits for a week or a month so that other members are aware of them. Now you won't forget to give the visiting nurse or another family member important doctor's appointments.
Make a note as soon as your ward has taken medication. All changes will show up on your page in the form of messages and notifications. Upload positive photos to cheer yourself and other users up. Don't forget to share your thoughts and emotions to get support from other participants in your patient's care.
You don't have to pay to use the app. There is no limit to the number of people who can access 1 story. Share up-to-date data with those who are actively involved in caregiving.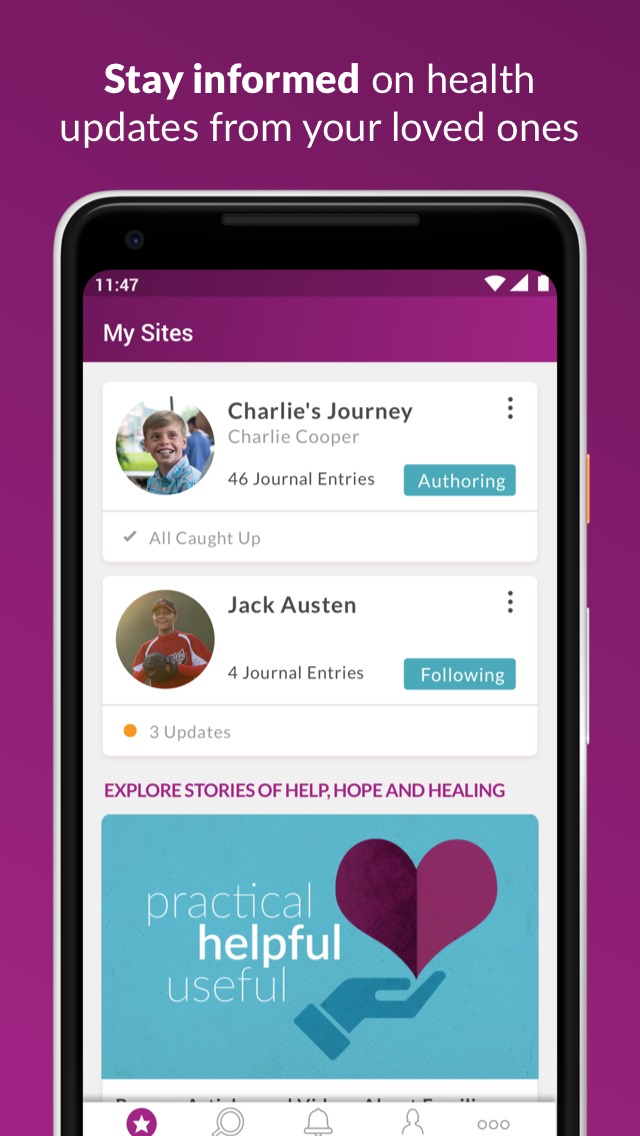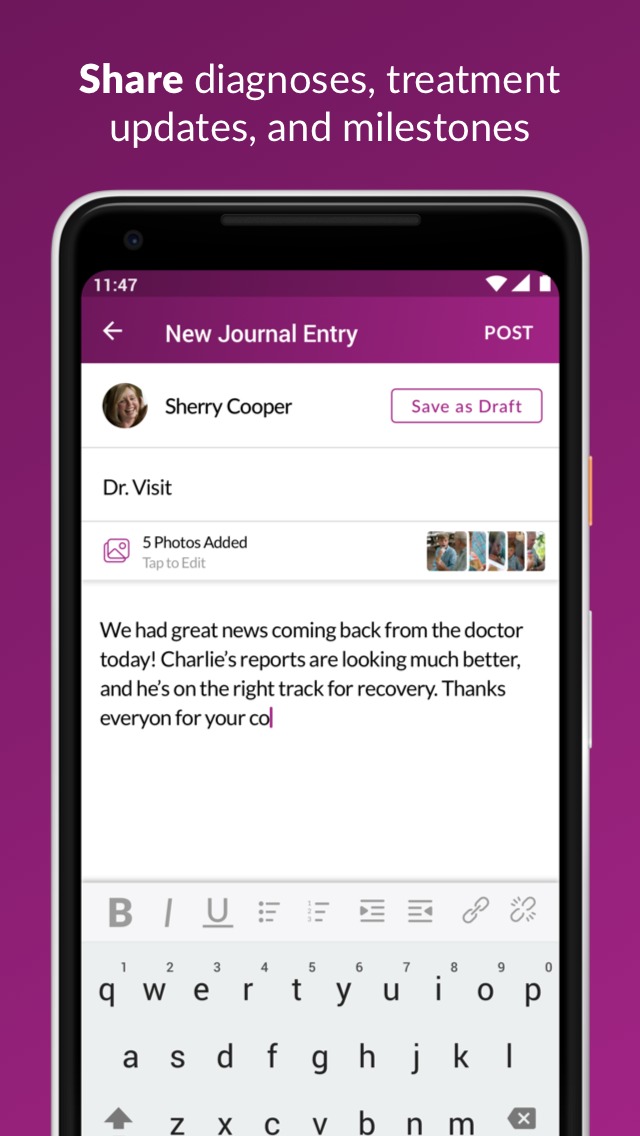 CaringBridge has been around since 1997 and has won many awards. Most importantly, this program helps people grow closer and provide comfort and safety to those for whom they are responsible.


CareLinx
With the CareLinx app, you can provide professional in-home care. Many people who are aging in place require specialized care and constant supervision by professionals. Family members can't always provide this kind of supervision.
This app will help you find the best caregiver for your loved ones. Communicate directly, without lengthy consultations. Enlist the support and assistance of a true senior care professional. Entrust the life and health of your loved one to a highly qualified professional.
You can always stay in touch by receiving text messages. There are over 400,000 caregivers registered on CareLinx with a perfect track record and good reviews. Find a care worker who lives close by and is a good fit for your situation.
From the beginning of your search to the signing of the contract, you will be accompanied by the specialist. He or she will help you navigate through the large number of caregiver resumes. Negotiate the cost and number of working hours.
The working hours and payment for the hired specialist can be received in the form of an invoice for any period. The employees calculate and file tax returns on their own, so you do not have to spend time on this work.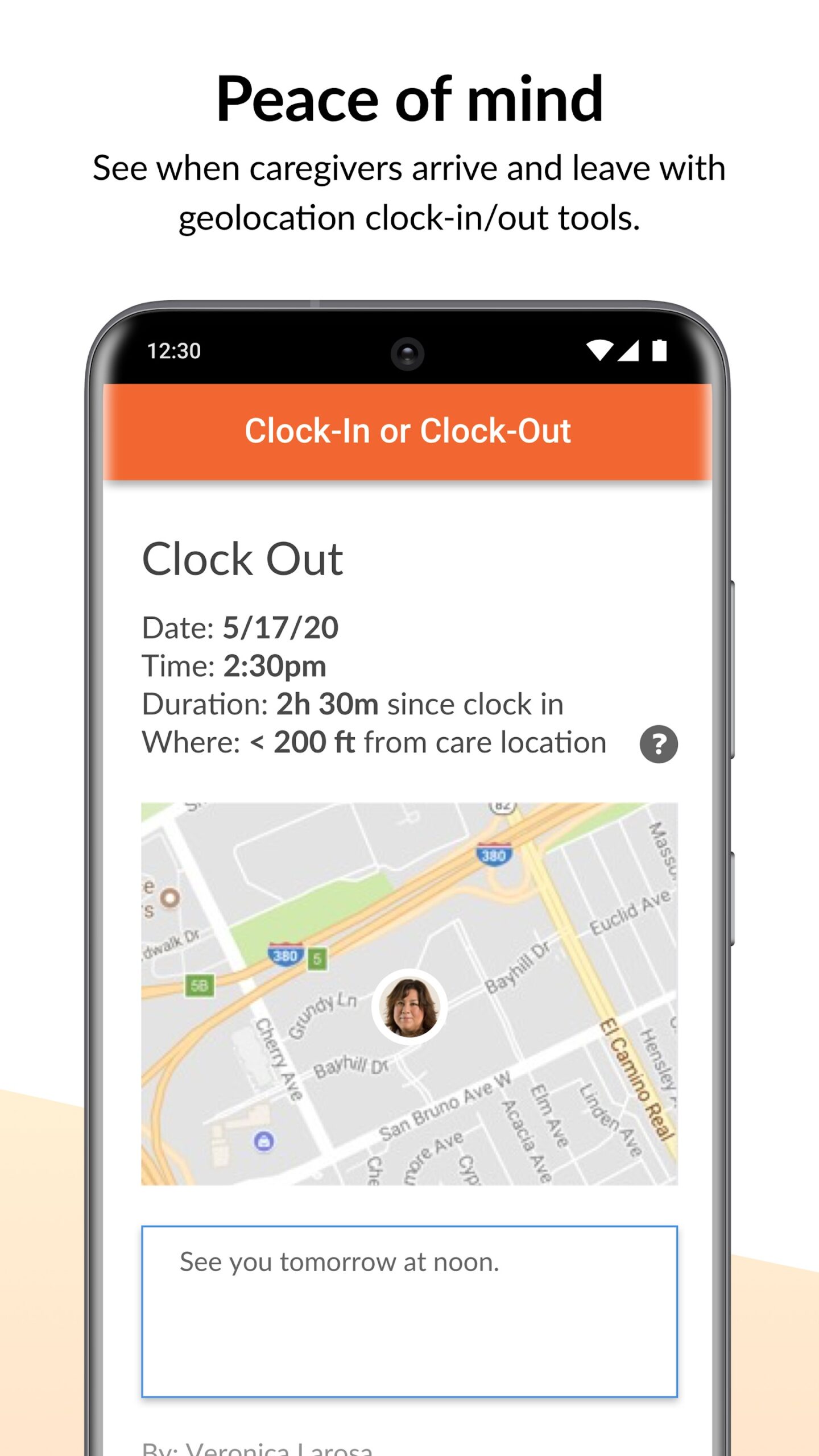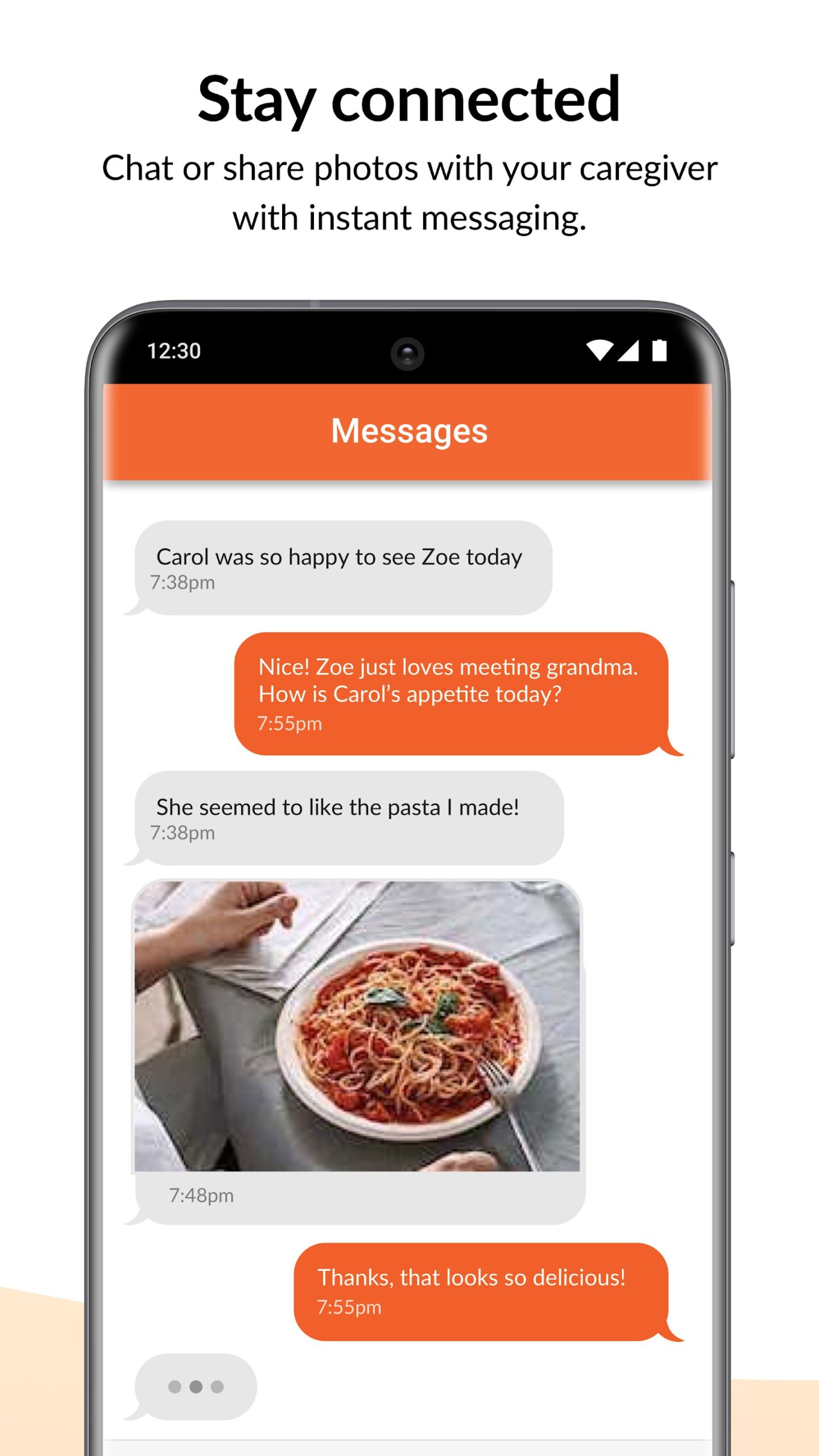 The service is waiting for you if you want to work in the social sphere. Leave your applications and get a high-paying job close to home on favorable terms.


Care.com Caregiver: Find Jobs
Care.com Caregiver: Find Jobs helps you and employers find each other. This app contains a huge number of offers related to child care, elderly care, and disability care. There is also a whole category of professionals for pet care, residential cleaning, and tutoring.
Register here if you want to maximize your experience and find a good job close to home. Increase the number of clients and enjoy working at your convenience. To attract more hires, you need to create a personal profile. List your strengths boldly. Indicate your work experience and main field of activity.
Name the area where you are most comfortable working. If you have references or recommendations from former employers, be sure to mention them on your page. You will only need your phone number to submit your app.
Interested clients will contact you themselves. All that remains is to discuss the details and cost of the job. To be able to join Care.com members, you need to choose a subscription plan: 1, 3, or 6 months.
If you are looking for a nanny, caregiver, or tutor, you need to visit this app. In a short period of time, you will find a professional that fits your budget and qualifications.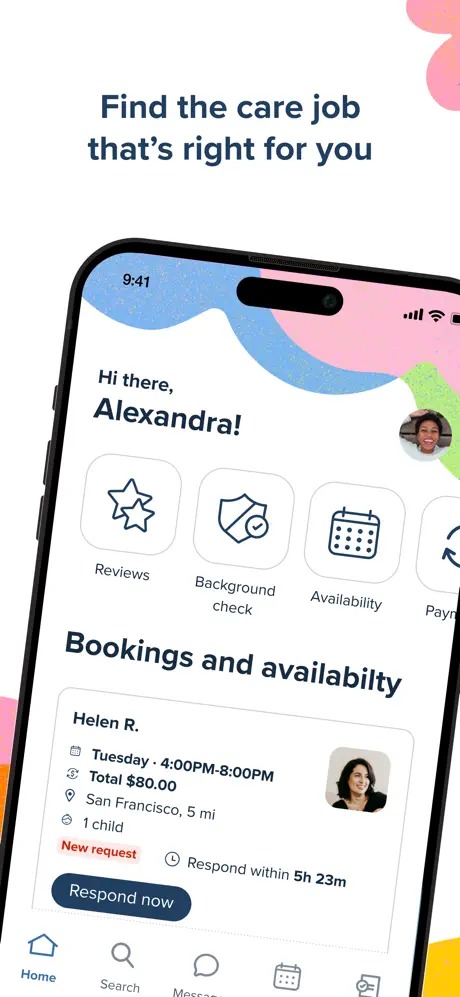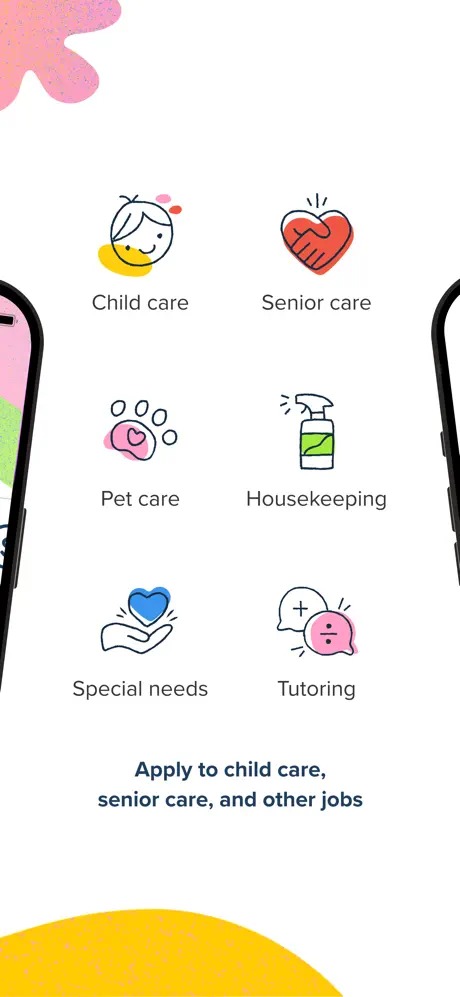 There are thousands of specialists in one place, you just need to choose the best option.

You may also like: Get Paid to Clean Houses (8 Best Apps)
Family Caregiving – CircleOf
Family Caregiving – CircleOf will ease you into the routine activities associated with caring for a family member. The situation may be different: recovering from surgery or injury, autism or infantile paralysis, senile dementia, and Alzheimer's disease.
Install the app for anyone involved in the care of a relative. Now you can keep all the information you need at your fingertips without the risk of losing important medical records. Make a weekly schedule and divide the day's time among all household members.
Write down doctor's appointments or other activities that concern the caregiver. Make a medication schedule and mark the items completed. This app will become your assistant for every day.
CircleOf helps you unite against a vicious ailment. With it, you will feel calmer and more confident. The app supports calls and video chats. You can easily rearrange your schedule if someone close to you has an emergency.
Even if you are thousands of kilometers away from home, you will know everything about the condition of your ward. This mobile app replaces a slate board with a schedule and a stack of paper notebooks.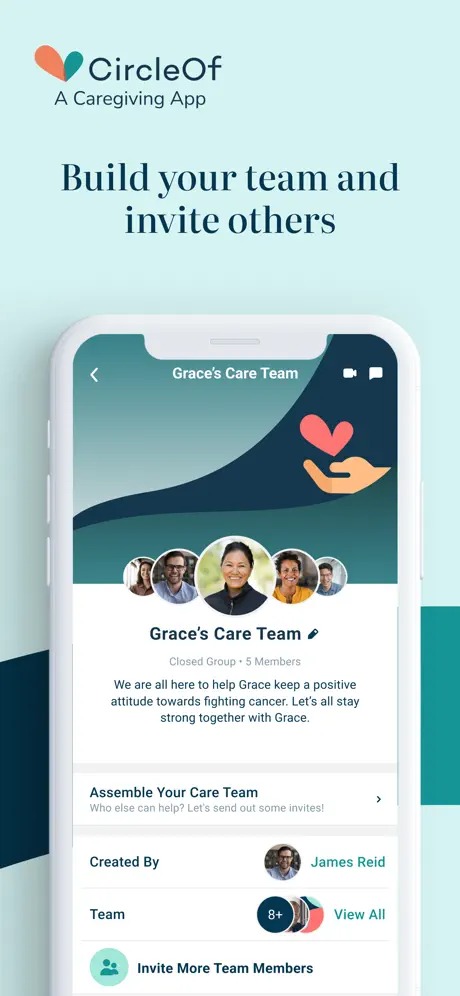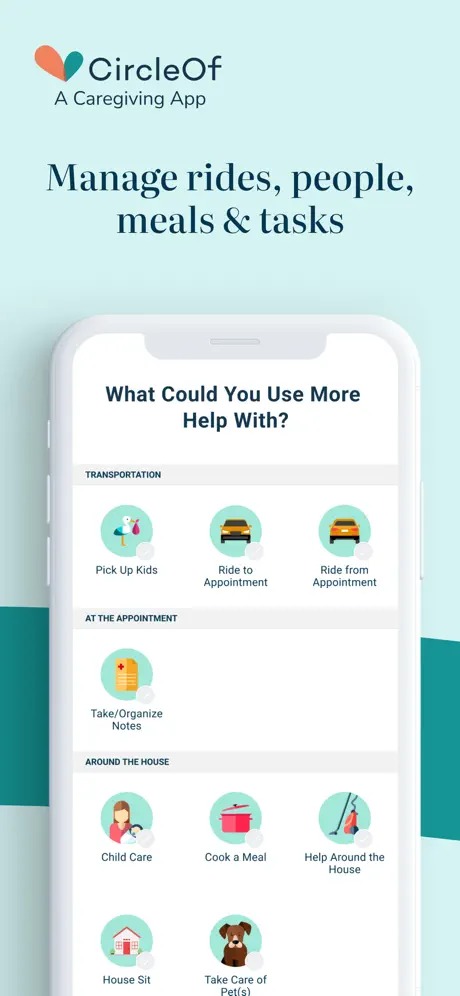 If you need support from volunteers and social workers, you can contact them here. Make a task and ask for help. The mobile caregiver makes caregiving easier and more affordable.

Positive Caregiving
Positive Caregiving makes us feel better about ourselves. It is an official supplement to the book that helps you realize and accept what is happening on an emotional level. Using the supplement, you will learn to understand exactly what you are feeling and experiencing.
Your psychological state will return to normal and you will be able to care for your loved one with even more dedication. Spend your time doing more than just worrying. You will have access to a selection of interesting activities that will keep you entertained and have fun together.
As you work, you will emphasize 5 important feelings. These are love, empathy, gratitude, forgiveness and reverence. Answer questions, get unexpected answers, and make the atmosphere in the room friendly and relaxed.
The author of the book suggests that you create a personal Care Album in which you can record memorable moments. Decorate it with colorful photos. You can make it together with the person you care for. During the realization of care, do not forget about your personal mental well-being.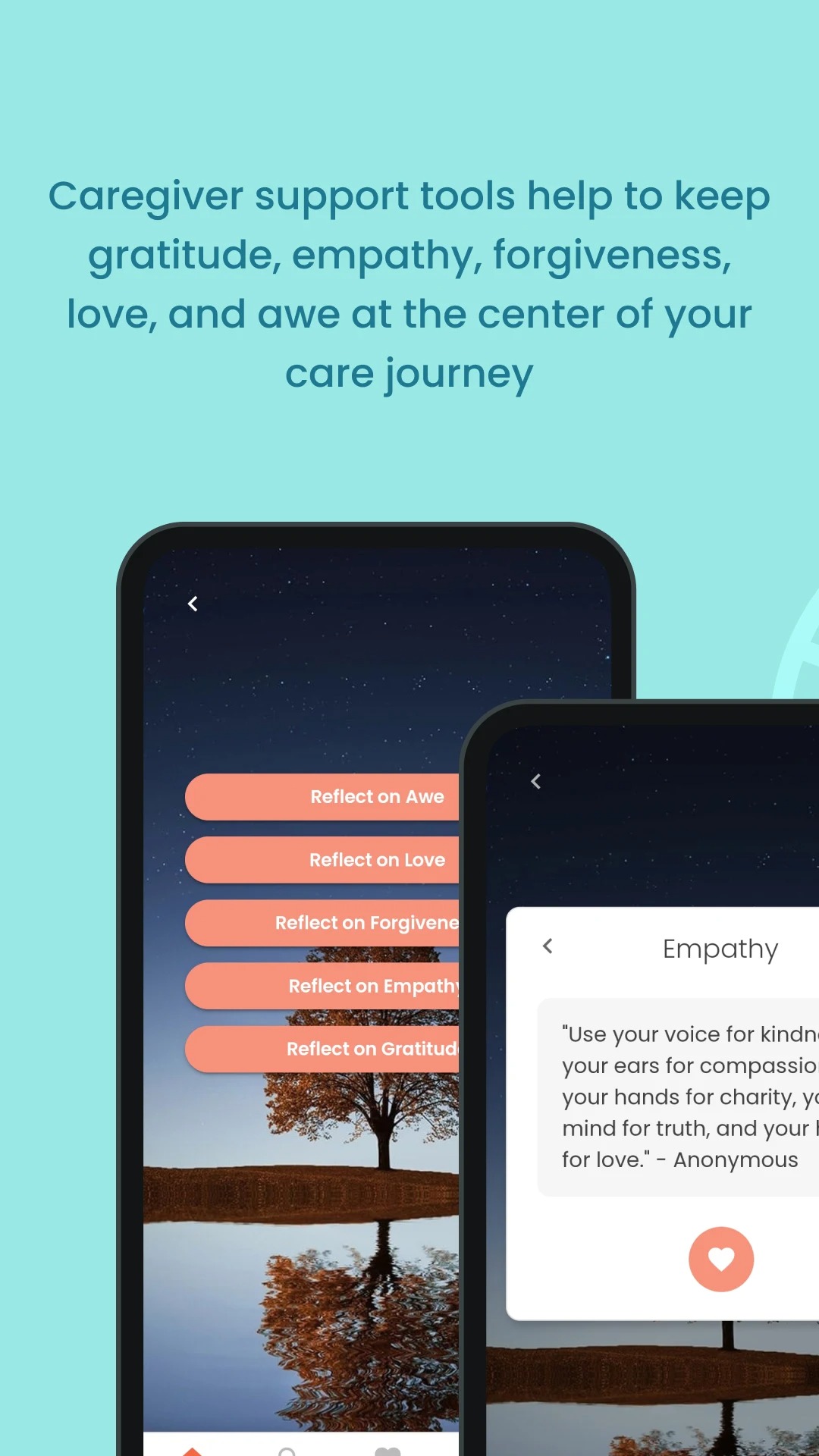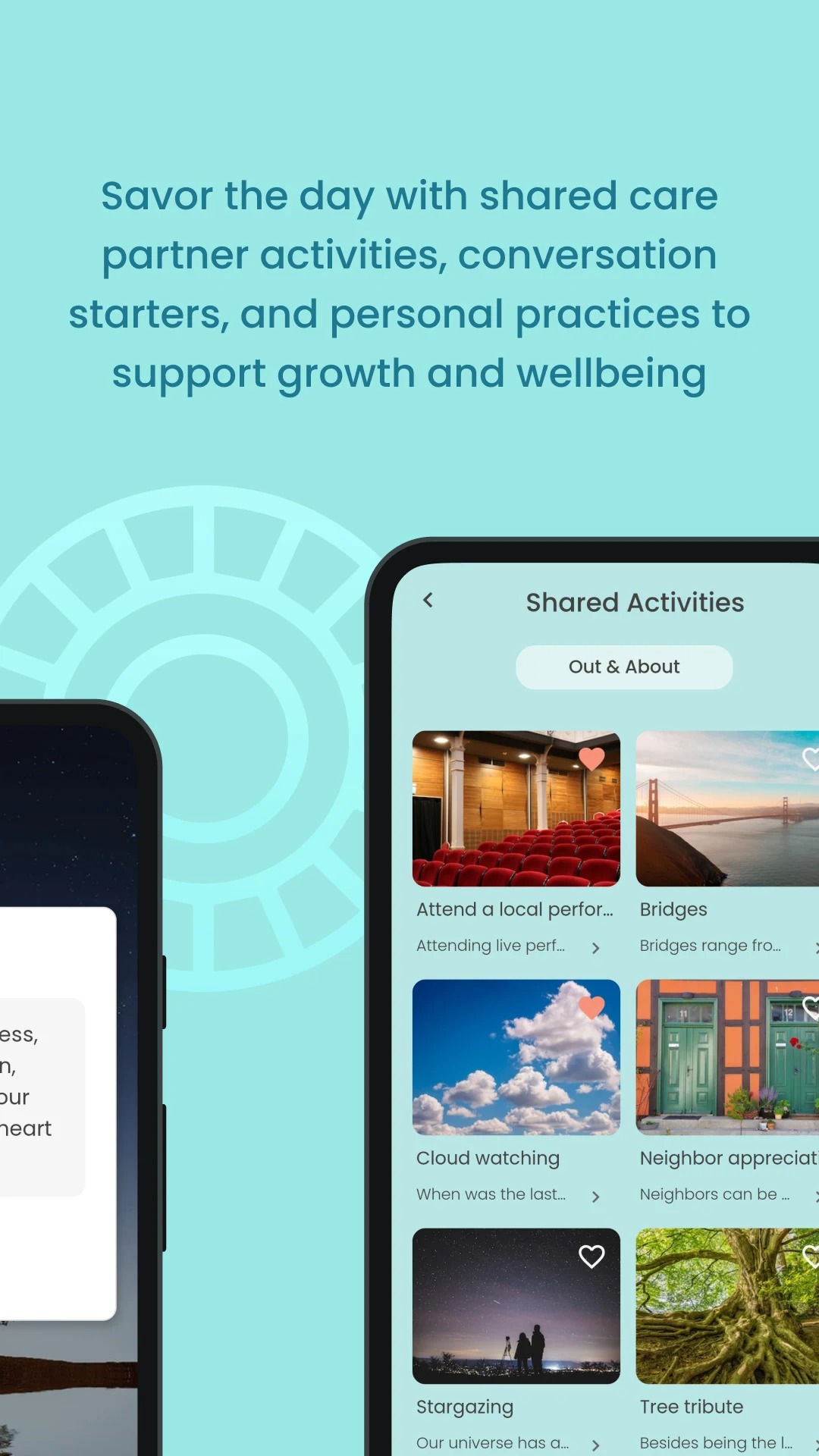 You will get effective meditations and psychological techniques, which will reduce the strain on your nervous system and help you cope with a difficult period in your life.

vela | for caregivers
Vela will facilitate communication between healthcare providers and caregivers. At any time, you can get in touch with professionals who can help you solve a problem. One app to keep in touch and share medical records.
Sometimes it can be difficult to handle a situation alone. Stop worrying and install this app. Here you can get in touch with your doctor, visiting nurse, and pharmacist. You can ask questions and get the results of examinations. You do not even have to visit your doctor for this. All data is secure and strictly confidential.
You can store any number of documents here with no time limit. Contact medical professionals and family members in this app. Vela makes it easy to keep in touch with those who are far away. Send text files and photos. Ask for advice and get expert help immediately.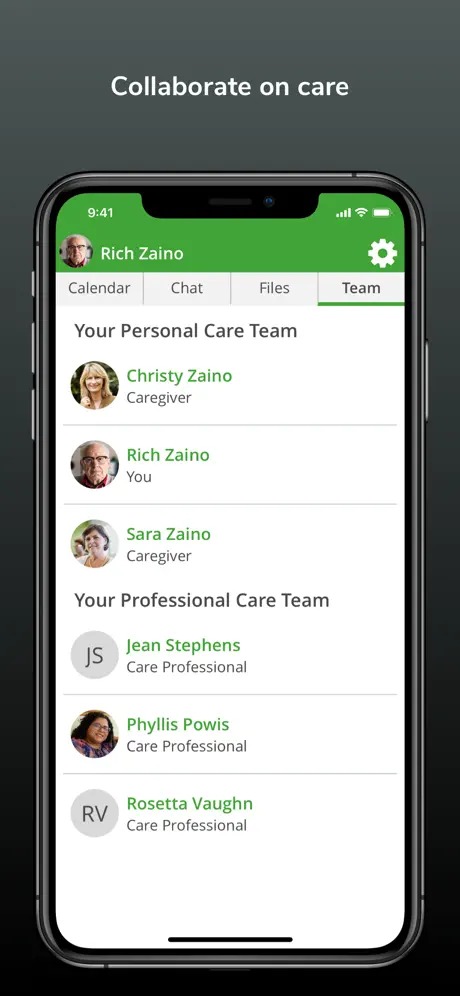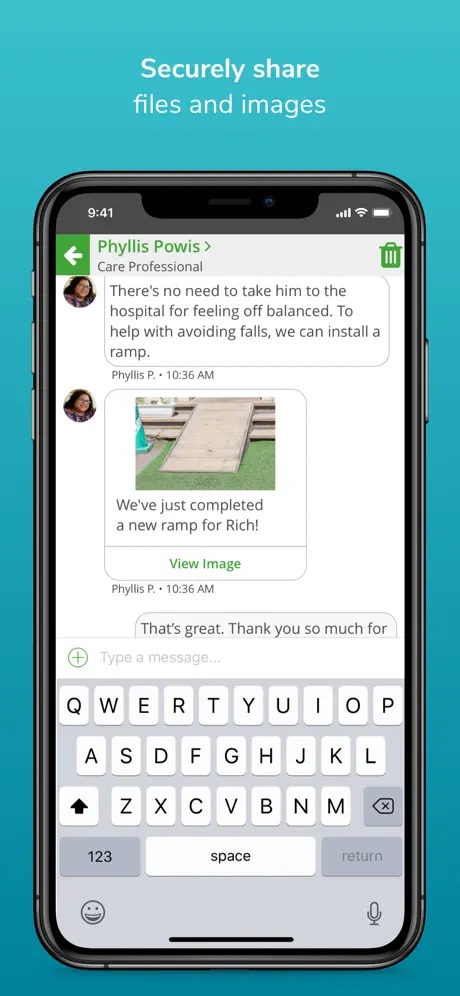 Add all interested parties and keep in touch in a convenient format. If you are a healthcare professional, you will need to register to access your personal account. As a home caregiver, you should be assured that professional help is available at all times.

Trusted Caregiver
Trusted Caregiver is a platform for professionals in the service industry. You can quickly register here and receive a job invitation in just a few hours. Create your resume and specify important details. You are free to choose what services you want to provide and when.
Perhaps your experience is in working with children. Or you may have spent most of your professional life working with the elderly. Indicate what kind of work you are interested in at the moment. An employer has a right to know a lot about your career.
Write down what school you graduated from and when. Where you have worked before and what level of qualification you have been awarded? The service welcomes experienced and novice nannies and caregivers equally. Set your location so that the hirer can be guided to this point.
Pay and work schedules can be set right away or negotiated with each family separately. Get to work as soon as the contract is drawn up. You spend minimal time on interviews and administrative matters.
To find a suitable vacancy, you can choose a family from the list of available vacancies or browse the current vacancies freely available. There are jobs for everyone: nannies, caregivers, caretakers, and pet care professionals.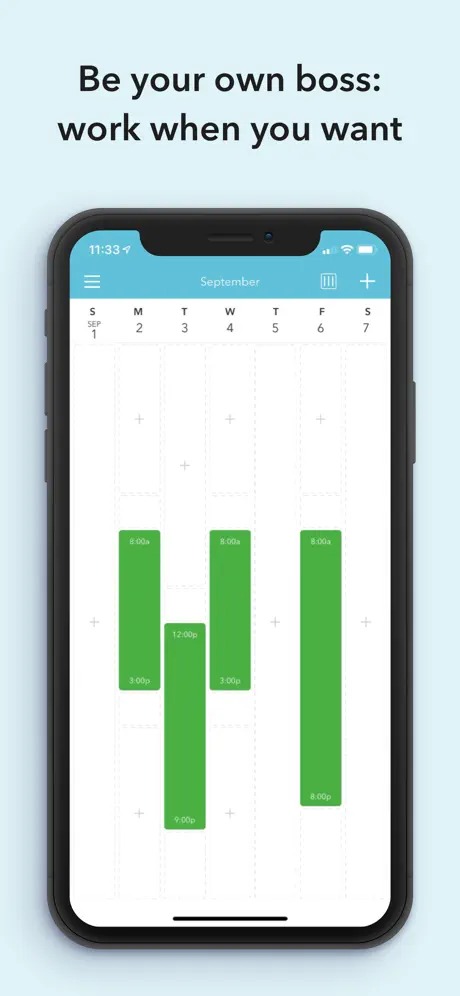 The better you do, the better chance you have of getting good reviews. With a high rating on Trusted Caregiver, you can expect high-paying jobs.

You may also like: 9 Best Babysitting Job Apps for Android & iOS
Care.com: Hire Caregivers
When selecting a caregiver to care for a loved one, one has to take many aspects into consideration. There are many responsible and conscientious caregivers looking for work on Care.com: Hire Caregivers. Choose from thousands of professionals and look for someone you can rely on. All the profiles are freely available.
You can familiarize yourself with the conditions offered by the worker and arrange a meeting. Make your choice based on the recommendation and feedback from families who have worked with this person. Now the services of caregivers and nannies have become even more affordable.
There are specialists in every field and with different costs of services. You will easily find a person who will walk the dog, look after a child, or devote his or her working day to an elderly relative.
Agree on a work schedule and salary, and talk about the possibility of a probationary period. Care.com is designed to make it easy for families in need of services to communicate with professionals.
To begin your search, fill out a simple form. Choose who you are looking for and for what type of work. Include where you are located and what schedule works for you. You can give an approximate cost or leave the line blank.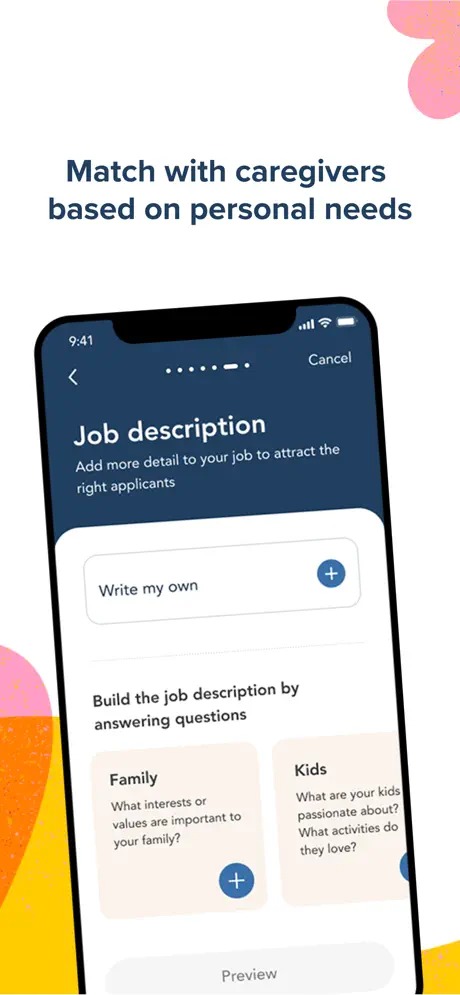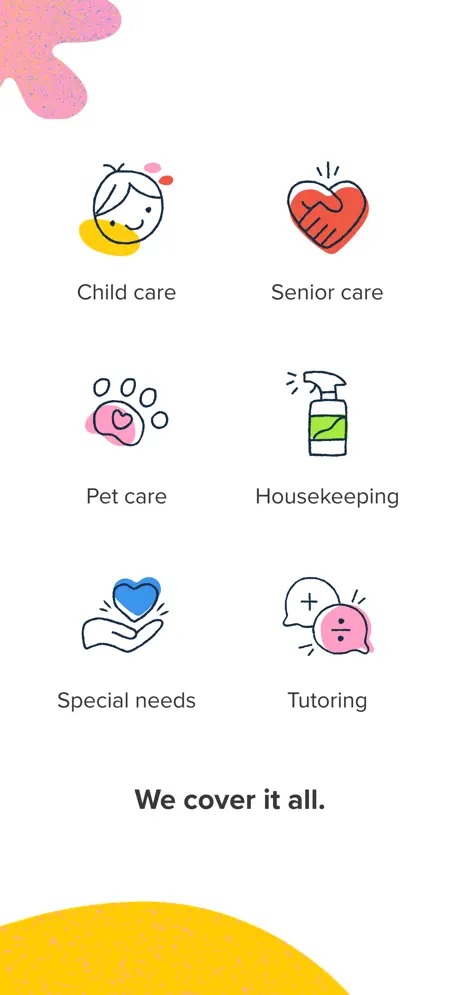 Your form will be published and you will be notified about the responses of workers. You can find the right person on your own by reading the resumes of available caregivers. You can always find a caregiver for an elderly person or a child without contacting agencies.