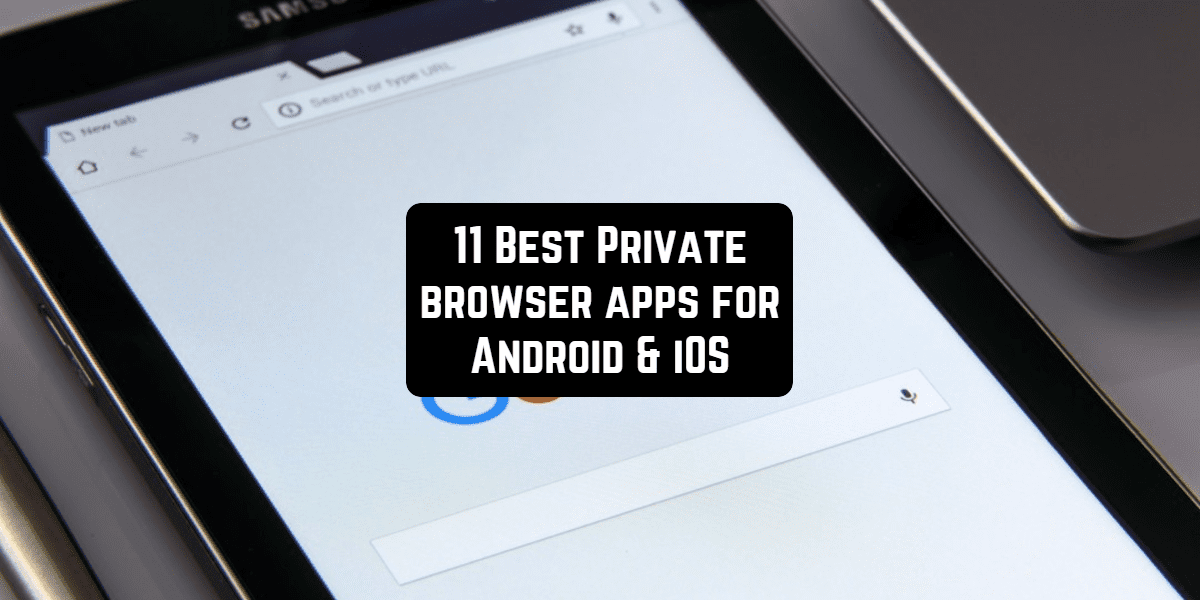 In the modern world, privacy on the Internet is the hottest topic to dispute about. In a past few years, we have heard enough scandals and news about how hackers, sponsored by different criminal organizations, or even by governments, break up any kind of system and steal the personal data of millions of people.
That became the reason why people got more concerned about the Internet privacy. Not surfing the Internet sheer is far not enough. A basic user has to care about their privacy in order to save their personal data which is so easy to steal. In other cases, it can be just morally uncomfortable when some barbaric person break up our social networks and get access to the private conversations.
That's why private browsers were created. They provide safety of all your personal information and guarantee access to the files on the Internet without risks of getting a virus. They all work in a different way, but all of them are the powerful tool to protect your digital privacy.
InBrowser
InBrowser is a private browser for your device with the TOR and video support. Every time you exit the app all your data is getting deleted, including history, cookies, and sessions. InBrowser is a multi-functional browser with the anonymous mode. The data encrypting is made via TOR net, receiving the access to the information sources, which were blocked by a provider, network or government. For this, you will need the installation and launching of Orbot.
It also supports all the search networks, such as DuckDuckGo, StartPage (Ixquick), Bing, Google, and Yahoo. There are no ads in the app. It supports the camouflage agent so it appears like you visiting sites via Google Chrome, Internet Explorer, Firefox and so on. Moreover, the app has the function called LastPass which saves your passwords automatically so you don't have to write them down.
Video support is included – just cope the link and player will play it. If you have several opened pages at the same time InBrowser will allow you to switch quickly between them. If you want to download something you need to click on the link and hold your finger on it. Then you can download the file on your SD card.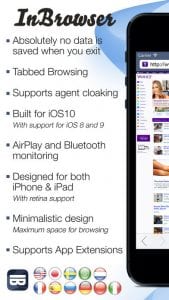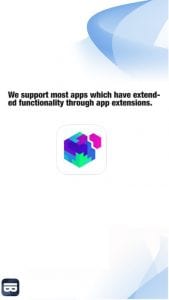 back to menu ↑
Private Browsing Web Browser
This app finally will allow you to watch all the browsers privately on the full screen. All the history, cookies, cache – everything will be deleted after you exit the app. And the quality of the picture is really impressive since it allows you to view browser on the full screen. Thanks to the hiding of status bars and auto-hiding of all navigation controls when required. The fact that the browser is private doesn't mean that it has low speed. Moreover, it also includes high-security level and reliability.
The interface is easy to use. The app also has such functions as portrait and landscape mode support, orientation locking support for iPad, similar UI to Safari. In order to provide yourself with more space, you can use a hidden status bar. If you want to maximize screen real-estate then overlay controls. Lightning fast startup and shutdown will help you to save your battery's energy. Your homepages will always be Google, Yahoo or Bing. The app has the very discrete icon and presentation and, what is important, it has no ads.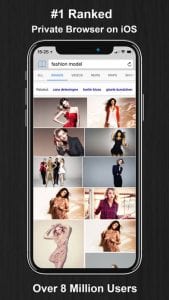 back to menu ↑
Downloader & Private Browser
All Android users out there will find this app invaluable when it comes to downloading files and surfing the Internet anonymously. All your data will be protected with a password. You can create your private folder and save all the files there. No external sources will be able to get an access to your storages and information. You can keep your favorite media files with you and watch them whenever you want.
The app provides you a full-screen mode so you can see everything like with an ordinary browser. You can accomplish a few downloads at the same time, you have the download manager for this. If your download was broken there is a function that can restore the connection and continue. Players in the app can play various types of files, both music, and video. You can also rename and remove your files.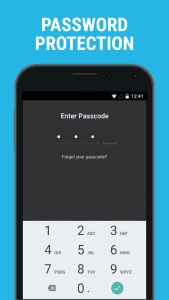 back to menu ↑
Secure Private Browser
This is a simple app which lets you visit all the sites you want securely and privately. The speed of the browser is pretty decent and it is also described as multi-functional. You can store your personal files to watch them whenever you want and protect your privacy by locking all files with a passcode or your Touch ID. Besides you can stream videos and images from the browser or your Personal Files to Chromecast and Airplay devices to watch your favorite media on your television.
You are also able to download photos from your camera roll and share all kinds of files using iMessage. The VPN service is powered by Rocket VPN. The app is optimized to work with the latest iPhone versions. In general, users will find this Browser quite simple, but all the functions it includes are actually useful without any extra features that you may not be using.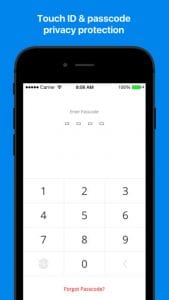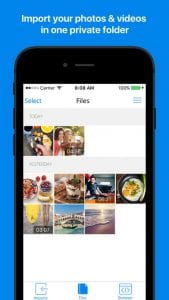 back to menu ↑
Private Browser Deluxe
Visit your favorite sites and download files to your device with this app! Private Browser Deluxe gives you a chance to watch such popular formats as Microsoft Word, PDF, ZIP, and others. Protect your data and access to the files with the password or Touch ID. The powerful browser supports few pages opened, notes, anonymous mode and Google search tips. It also shows you the list of the files available for download for each page.
You can always change your user-agent For the access to the full version of sites. You can keep the history of your visits or delete it. You got a download manager in this app with downloads active in the background (up to 10), pause and resume of downloading. You can always choose a folder for a new download. After that, you can sort your files, rename and delete them. The app also supports AirDrop.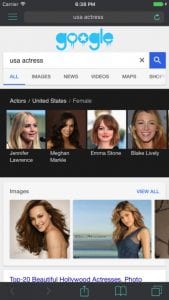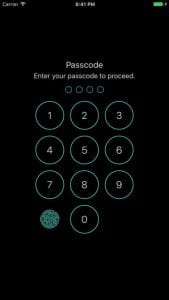 back to menu ↑
Dolphin Zero
Cute dolphin on the icon of the application will definitely attract your attention. Dolphin Zero is a free browser that is able to anticipate users' requests, search the entire internet and can be configured completely for you.
One of the features of the browser is that your phone becomes a real desktop. So you don't have to switch screens to another tab – they're all displayed at the same time. Synchronization between your devices is also convenient.
In addition to the data on your personal smartphones, tablets and phones, your passwords, bookmarks and more from Chrome and Mozilla browsers can be synchronized. This feature is incredibly useful when changing the main browser on your smartphone.
There is an extension Dolphin Zero Incognito, which weighs less than 1 megabyte, but guarantees you anonymity on the Internet.
The browser always has a "no tracking" feature, so Dolphin Zero doesn't save your request and viewing history, logins, passwords and other personal information. The only nuance is that the application does roughly track your location, but compared to the functionality, it's not a big deal.

back to menu ↑
Firefox Focus: Privacy browser
Human rights on the Internet are very vague. Many websites collect your personal data, track your location, and browsers store requests and cookies so much that many users are frustrated.
On the one hand, browsers provide complete anonymity, but on the other hand, your data is absolutely easy to access. Mozilla, as one of the most famous browsers, often defends anonymity when using the Internet. Firefox Focus: Privacy browser has been developed for this purpose.
When using it, you do not need to configure many settings. Most web trackers are blocked automatically and do not inconvenience you. Because information is not stored or collected for advertising purposes, websites are downloaded faster.
You can easily erase the entire history of your requests at the end of your session. From the beginning of the launch to the end of the application on your smartphone, the Firefox Focus keeps you anonymous on the Internet and protects your personal data.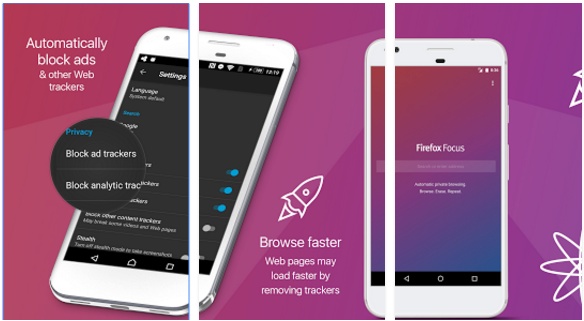 back to menu ↑
Tenta Private VPN Browser Beta
This app guarantees you ultimate privacy, security, and convenience in a browser. Unlike the most of browsers, it protects your data, not selling it. It was developed specifically with one aim – to guard your privacy. In some ways, this is a new generation app. The app has in-built true VPN and complete data encryption. The idea of this app, as its developers say, is that privacy is not-negotiable and everyone should have safe access to the world's information without censorship or judgment.
Well, if you are not new to the digital world, then you probably know that VPN coding provides better protection of any data type. Moreover, the app has a special function "Smart incognito" which will help you protect your DNS, IP address and browsing history well and for good. You won't have to do any setup or registration. No hackers, trackers, and ISPs will find you. Besides, you can safely connect to the public WiFi and keep your information safe.
Tenta protects your password with AES-256 encryption. For the better safety of the password, don't keep it on any other servers. No one, including Tenta, can snoop into your search history because your traffic has special encryption. Each user has their own access to Tenta browser – it means each of them has to have a separate password so no one violates the privacy of others.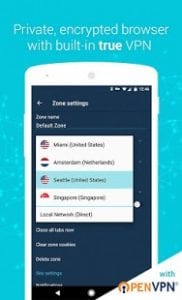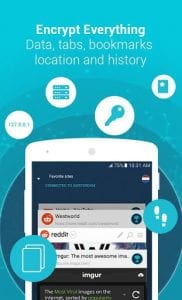 back to menu ↑
VPN + TOR Browser Private Web
This app is the only one of its kind that has both VPN and TOR browser. That means it promises to be the most secured app when it comes to the Internet surfing. You can choose between the speed and ease of use of VPNs and the advanced protection offered by the TOR network.
The TOR Network protects you by bouncing your communications around a distributed network of relays run by volunteers all around the world: it prevents somebody watching your Internet connection from learning what sites you visit, and it prevents the sites you visit from learning your physical location. When you use a certain website, they cannot track your real IP address. Besides, it will become safe for you to use public WiFi.
It also supports the video and audio playback. Moreover, using this app you will find an advanced browsing capability with tabs, and popover detection and blocking. All VPN sessions are unlimited in duration. You will be able to access .onion websites which are only accessible through the TOR network.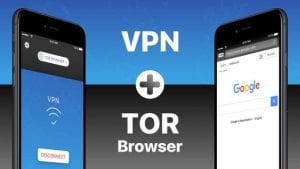 back to menu ↑
DuckDuckGo Privacy Browser
Have you noticed that some of the anonymous browsers have funny icons? DuckDuckGo is depicted with a funny duck, which basically corresponds to the name. But don't think that such an icon implies that the service is not serious or working badly. Absolutely not!
DuckDuckGo is a private Internet browser that holds a leading position in the market among search engines. You can safely say that it goes almost on a par with Google and Yahoo. It provides a high degree of confidentiality and blocks network advertising trackers.
If many private browsers simply don't save your history, DuckDuckGo protects your data even from your ISP. Multiple encryption allows you to leave all your information only with you, without saving it anywhere.
This high degree of anonymity is due to the fact that developers believe that no one should know what you are looking for on the Internet. Your health, finances, intimate preferences and other issues should be kept strictly confidential.
DuckDuckGo leaves a privacy rating next to each website, so you can always know your level of security. Of course, 100% anonymity is not yet possible, but DuckDuckGo is considered the best in this area.
back to menu ↑
Secure Browser & File Manager
The last but not least app in this list is this one which allows you to visit your favorite sites securely and privately. With it, you will be able to enjoy fast and comfortable browsing and will forget about the speed problems when it comes to private browsers. It is also a multi-tab browser. Here you can store your personal files to watch anything you want with your privacy all guarded with a passcode or Touch ID.
Stream videos and images from you iPhone or iPad to Chromecast and Airplay devices* to watch your favorite media on your television. What is more, you can download pictures from your camera roll and share your personal files using iMesseneger. However, users say there are some misconceptions in the app. For example, function keys are not available all the time or it can be highly unproductive. On the other hand, the advantage of this app – stylish and easy interface.