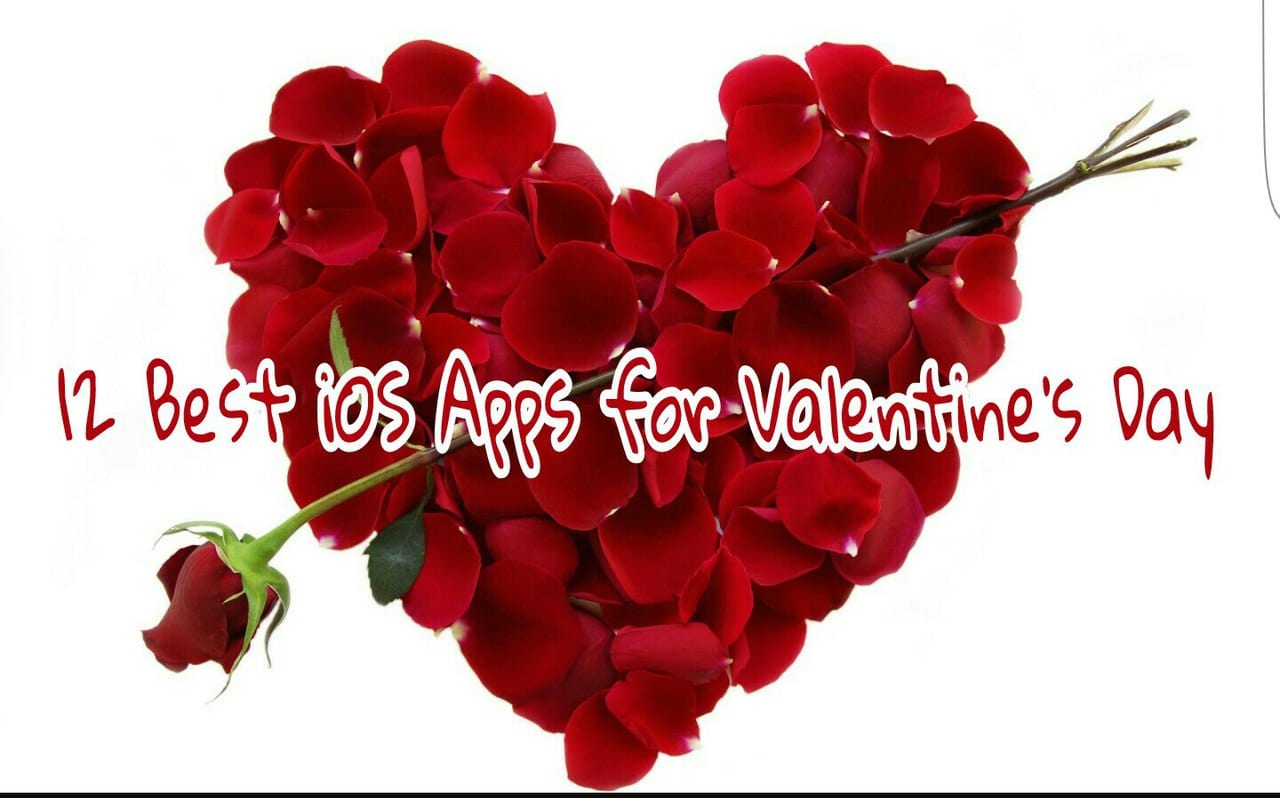 Just in time, we gathered a great list of best iOS apps for Valentine's day. Enjoy!
1. 2Life
2life is an app for the most important relations – the private, safe and organized environment intended for two. Share your talk, cooperate and be coordinated with the partner using this unique app.
It is so easy nowadays to lose your precious connection in chaos of a set of applications and messages from the mass of people. One contact brings you in 2life where it is possible to communicate, share and plan your daily life only with the partner in one the colourful, simple application in use.
As soon as you have created the free joint account in 2life, 2life is synchronized on all devices in real time. On the screen of activity there is summary information on the taken actions in the application so that you never miss anything.
2life does coordination of schedules and works simply, effective and giving pleasure.
Here you will find a he joint calendar which is synchronized with a device calendar, be able to make plans together and change them, from grocery purchases to room decoration. You can always note web links in the built-in observer and add information which can be required by your partner (such as your clothing size), in the personal profile.
You will also get an access to a "hotline" of your relationship. The private space for conversations in 2life gives you to two an exclusive communication channel with free, safe, unlimited text messages.
And of course the most important sharing. You store significant photos and the general thoughts in this private space collect and comment on the photos telling story of your relationships and to things that have helped you to achieve success in joint projects.
If you want you can write a diary, individually or together.
There is also a virtual mailbox. The checked CONTENT 2life contains blogs, magazines, ideas for common evenings in restaurant without children, special offers and not only to entertain, but to inform and inspire you.
If you want something more, there is more – 2life – the free app including a chat, a calendar, the built-in observer and sharing of references, 3 active lists, 20 loaded photos and 2 diary entries. In categories 2life Premium photo, plannins and diary entries aren't limited.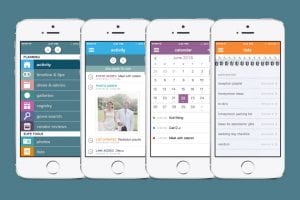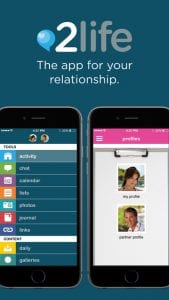 Download for iOS
2. Couple
Couple — social network for two. You communicate, you draw, you share photos and videos, you plan and even more!
The third wheel in the relations? It would seem that the answer is unambiguous. But here you can get acquainted with a mobile application — Couple.It was created as a social network for two. Such approach ensures safety of intimacy of your relations at the maximum convenience of communication, joint pastime, photo and video messages. Many functions of social networks and web services in the application are performed in a special way, but for lovers ThumbKiss can be the most interesting option — each other contact at distance.
To use this app you need to get registered in its system. First of all one partner must be registered then, he sends invitation on the postal address to the darling and waits for confirmation. The entrance with use of profiles of social networks isn't provided, the declared anonymity thereby is maintained.
No preliminary settings from you are required. Of course, it is worth changing avatars, especially, if you don't love small doggies.
Menu detects your location automatically and also it has built-in calendar. And it contains dates of your birthdays and start date of the dating. Each couple can fill a calendar with any events, three the closest of them will be displayed in the menu. Possibilities of an organizer will allow to expose a reminder on the coming event and not to miss his celebration.
The built-in chat is not quite remarkable. There is nothing special about it. Lists of affairs are formed together, instantly synchronized. The performed tasks are deleted from plans. It is essential to remember that sharing of photos and video is presented. Direct shooting, or the choice from gallery is provided. The built-in filters aren't of great art value. Bigger interest is attracted by a possibility of sending a secret.
Depending on your choice, a photo which you are sending to each other can be removed after a while. Correspondence, posting photos and videos and all actions in general are united in the timeline. You can trace whether your action by the partner is seen, and also to remove any event from the general history. Before passing to the most unexpected function of the application, we will mention a possibility of sending a voice message, and also joint pastime behind a board for drawings. The declared possibility of an instant call does not exist. There are no Viber functions here, usual transition to phone dialing program.
Moment of truth. ThumbKiss suggests us to feel the darling at distance. When you concern the screen mobile, your partner will see a trace on the phone. The reciprocal contact will cause vibration of two smartphones.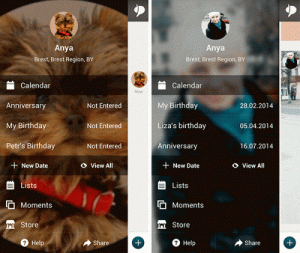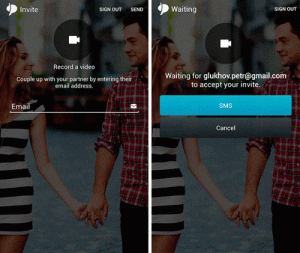 3. Tom's Love Letters
The app Love letters of Thomas is one of the best ways to express your feelings to darling. In the app you will find romantic cards, love songs and Tom who is in love and Angela's pretty gestures which you can share through SMS, e-mail or Facebook. Certainly, the best way to tell about the feelings is a live, romantic appointment. But, as we live in the world of high technologies and mobile devices and it is already a part of ourselves, the game Love letters of Thomas will be just for the case. With its help it is possible to please your darling, to surprise him or her with a beautiful card or to sent a hot kiss which will be skillfully executed by a couple of lovely cats in love (Tom and Angela).
The beautiful animation performed with a spirit of romanticism. Tom in love is able to embrace Angela gently, to kiss her and many other things. Angela also has unique abilities which are aimed for girls, who are interested to transfer their emotions in relation to their guy.
At the moment, in the game there are 9 colorful cards which you can exchange with your date. The number of cards is constantly updated so you can always count on something brand new.
In the list of love songs you will find 3 beautiful tracks which are possible just to be listened or sent to your crush. Besides, words of songs are easy to remember so that will allow you (if you want) easy to learn them and to perform immediately. Using "hours of love" you can appoint a meeting or share some events with favorite people, friends and relatives. This function by all means will be pleasant to everyone who will download and will establish love letters of Thomas on their device.
System optimization to the device is an essential key to success, because when sending content (a card, the musical file, gesture, etc.) from one device, it has to reach integrity and safety the addressee who will have already other device, with same characteristics. It is actually very simple to play this game as there are no rules here. In general, it is rather a kind program which is designed to surprise and give a joy. You can always download Love letters of Thomas for free and after installation you receive at once all functionality of this remarkable application which will bring a shining smile to the face of your darling.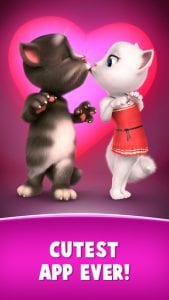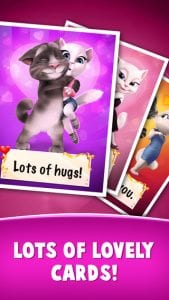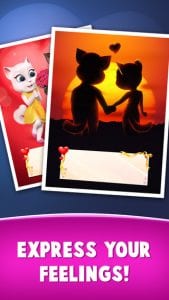 4. Tinder
Now you can delete your accounts on loveplanet, mamba or other resources like these where you are registered. It isn't fashionable to get acquainted on dating web-sites anymore, it is definitely not for young people and not perspective at all. The world is experiencing new boom of modern mobile novels, thanks to the Tinder app. While other dating sources and app requires a big amount of money in advance just to accept you, the application increases base on effect of "gossip hotline". And if we consider the general tendency of the population to use our smartphones more, then we can tell surely that for such services as Tinder lies the future.
This app for mobile acquaintances isn't tied to a certain city. It literally looks for the soulmate within the distance specified in settings. Tinder will not force you to create any questionnaires — couple of photos, several words about yourself (it is not obligatory too) will be enough — on searches of the perfect date.
To start work with the application you have to be registered on social network Facebook. This condition is necessary for working with Tinder. After downloading you have to enter your data of the account in Facebook (e-mail and the password).
Now the most interesting part: If the girl (guy) who is near appears in a zone of defeat of your fluids, then the program will display your potential partner. Any other ways of communication are not given yet — you should press only "Like" (heart) if the partner was pleasant to you or "Following". Information about the user is limited to couple of photos and can be seen in the small section "About", it also shows the remoteness from you and the last activity.
Next the principle knows as "Love at First Sight", popular in the past, works. The person whom you "have liked" will see your profile and if he also presses "heart", then only then the possibility of personal correspondence will be opened for you, and in the interface the inscription will shine — "Couple is picked up". However, if conversation has disappointed you, you can remove it from the steam. One more feature of the application — it is impossible to learn who has delivered you like and who did not. In other words — the chatting will not begin until both persons show mutual sympathy.
The first not obvious plus is a binding to facebook which means crowds of silly and not far persons from other sources will be left in the basket — nevertheless there are more adequate people on Facebook. The second is the speed. Any answers to your questions. You can like someone, close the app, find a couple by the evening. Actually, the app is just ideal for visitors from other cities or people who need to meet exactly today. It is super easy to communicate in Tinder. It is only the bridge between you — at once you agree about a meeting, if you like each other. Here the truth is covered dangerously by the small volume of information about an object. If photos include a lot of photoshop, then it is better to ask the reference to a profile in social network. In general, such approach is a plus too — just like that nobody will write to you, only on mutual sympathy. Tinder is an ideal speed dating app.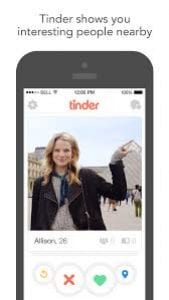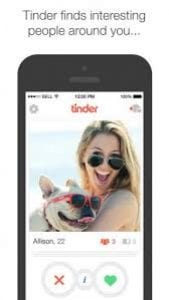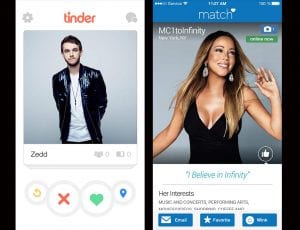 5. Love Collage
Turn your favorite photos into a surprising collage! You want to surprise date for St. Valentine's Day? Our new collection of  romantic frameworks and stickers will perfectly fit to express your love! You can create a card with various writings, for example "I love you", to "My darling". It will be a fine surprise which is easy to create by just adding different frames to your photos. Then you will be able easily to send a card through the SMS, e-mail, popular messengers and social networks.
You can be not the best one when it comes to making a photo and editing it in the photoshop to turn it into the work of art because using the Love Collage app provides a set of functions for processing of a photo and creation of collages.
Love Collage – the reliable app where you will be able to create love photocollages. If you want to please your second half, then you should begin to download this program right now. It will allow you to receive all necessary things for your intentions. So do not miss such an unique opportunity and begin to download it right now. You will get excellent photocollages and quite unusual photos.
The program has a set of prepared frameworks which will give your photos an excellent look and you will be able to enjoy them forever. A lot of couples recommend this program for the constant use. You can always download additional filters. It is very captivating to create collages and the most important it will remain in your memory forever. The most qualitative selections can even be unpacked and collected in an album.
Thanks to the fact that the program has turned out such qualitative it can bring a huge quantity of positive estimates. You will easily find them at any web source.  Any other program will not give you such positive effect as this. One more plus is the fact that it is not imposed to the user and does not take a lot of space in memory of the smartphone.
As a result it turns out that Love Collage is a pretty decent app for all who want to create unique photocollages. With an app like this you will have a set of opportunities for creation of lovely pictures.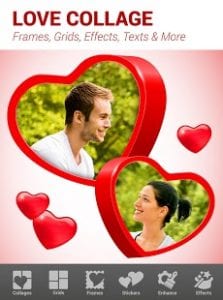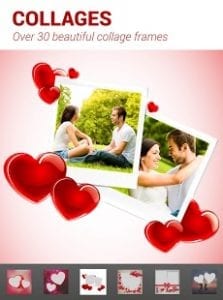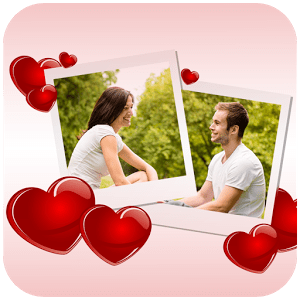 6. LOVE
The love relationships are perhaps one of main things that can be in our life. At once two loving hearts unite, there is a sympathy – love – the fine feeling painting the life with bright paints. It is the day necessary to remember well … And LOVE app will be your personal assistant not to forget that.
"LOVE" will allow you to visualize perfectly love on a desktop of your mobile device, pay attention to the screenshot with a chat. Naturally, the app has extensive settings, allows to establish personal photos, to sign a couple in love and so on. It is a very important point which will probably be pleasant for your date. Surely he or she will start using this app too. Isn't it beneficial for you both? In my opinion, the answer is obvious.
The program has bright, intuitively clear interface with which will not take you long to understand it. Reviews of users of this app are very encouraging and positive. Naturally it had small defects in the program which the developer has quickly corrected.
Also the app does not take a lot of space of your memory that will please owners of the budgetary smartphones and it has the minimum set of settings. To adjust this app only several clicks are required.
The application will keep account of date of acquaintance and will be able to warn about the forthcoming anniversary in advance. Life at most of us is very loaded therefore the automatic mention of dates of meetings is extremely useful. In addition, you will be able to bring some additional dates, marks and the other useful information concerning your beloved in the available calendar.
"Love" is the application for a couple in love which will remind you of the soulmate once again and for those most attentive will notify on important dates.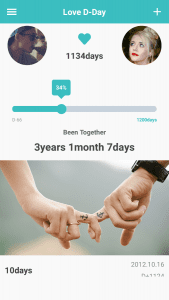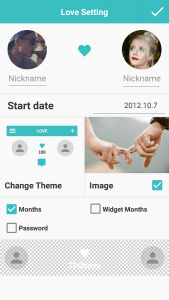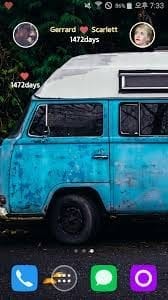 7. Avocado
Another interesting app for couples is called Avocado which is made by Googles employees.
The name for the new application and service is chosen not incidentally. Trees of avocado yield two fruits at once – an original hint on "couple". In a number of cultures, first of all at Aztecs, avocado is a symbol of love, fertility and abundance. So it becomes clear why developers have chosen this kind of name for this app.
The application does not differ from other networks for couples that much. The main emphasis is placed on private exchange of short messages. It is possible to send notes absolutely free of charge. There are also no rigid restrictions for message length. In it advantage in comparison with the SMS.
As well as in a case with apps like this, users of Avocado can keep joint lists of affairs and exchange photos. The latter variant helps out when you are in a business trip. You can quickly shoot some interesting sights and as an opportunity appears, you share your observations with your date. What is more, developers suggest to look at the keyboard in a new way. Instead of texting "smiles" the user can write on a photo their emotions (laughter, surprise, love). Then it is possible to send such "personalized" smile to your crush in one tap.
There are also quick notes which are something like samples for messages. It is possible to send in advance your prepared message in one touch — like those "I miss you" or "now I am busy", "is it Ok I will call back later?". This option can seem dubious at the first sight but if you like it you will always find a way of using it. And there are more of unusual ways of use. For example, the account in Avocado is joint. It means if someone in couple has to create the account, and then entrust access to the account to second "half".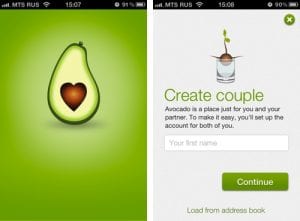 8. Bon Appetit
We all like cooking. Without any exception. Even though sometimes we are afraid we are not good enough at it. Fear of the fact that the prepared dish will not please our date. It is always more interesting to cook for someone, especially, if that someone is your lover. The easiest way for all to save them from similar fears – to find the good collection of recipes thanks to which each of your dish will be possible to be called a masterpiece. Bon Appetit presents you the best collection of recipes.
In the application you will find more than one thousand recipes of different dishes (by the way, new recipes are added to the app nearly every month). It can be hot meal, snacks, soups, salads, desserts, sauces and many other things. And that the most important, all recipes are available in this app absolutely for free. You will also see no advertising.
All recipes in Bon Appetit are followed by detailed description. Besides the main text you will see professional photos which will appeal to you all process of preparation. You will have an opportunity to compare the result with what you have cooked. By the way, some recipes are explained in the form of video, what is even more convenient.
As each cooking masterpiece begins with purchase of products, developers have embedded the section where it is possible to make the list of products in the app. Products can be added to the list in two various ways. The first one is to press one button in the list of ingredients in the recipe which has interested you. After that everything that is necessary for preparation of a dish will appear in the list of purchases. The second is to add all necessary products in a manual order, in that case you will be able to add everything that want in general.
By the way, in addition, it is possible to add your own notes to already available recipes. As we know, we all have different tastes. Perhaps, you consider that it is better to add other spice to a certain dish, than is offered in the application. Or, for example, you consider that it is better to bake red fish no more than 15 minutes for the better taste, instead of all 20 as the recipe says. Generally, you can do everything you want. By the way, it is possible to add not only the text, but also photos to notes. Thanks to it you can make your own full recipes of notes.
In addition to that at last, it was crucial to mention a couple of convenient functions. The first of them is a search. You can always look for recipes according both to the name, and on a certain ingredient or even on preparation time. The second is a built-in timer. If you are afraid to miss the moment to take out pie from an oven, install the timer directly in Bon Appetite, so you definitely not miss out.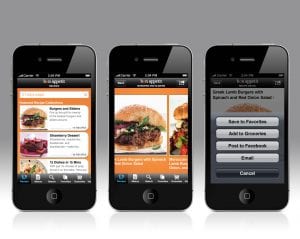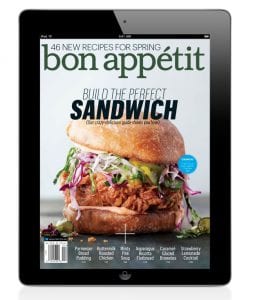 9. Fingle
Fingle is a game where you have to follow the lines and it is an original arcade which will allow you to enjoy its plot and to use fingers of two hands at once. This is a cool game for a couple. Each finger has to follow lines which go in parallel to each other and to bypass the mass of the obstacles placed on the way. To set up the records, it is necessary to follow attentively a route in order to overcome barriers.
Fingle is a very interesting game in which it will be possible to check the reaction. To start to use this app, it is enough to download it, to choose level,  put two fingers, one to each line and to move them in the direction which is guided to you by the line. The app is covered with the beautiful graphics, and the main lines on which it is necessary to move are white. They are specially allocated in the way so that you weren't confused in game space. An intricate aspect of the game is that you should use two different fingers. In case you don't know, doing two different movements by extremities is quite difficult.
In this game you have to simultaneously maintain on two parallels by fingers, but it is not applicable to identical lines. You will get the unique route of the movement for each hand. During the movement you will bump into a lot of barriers which you will have to overcome fast. Rivalry with other participants will allow to set records and to get to the top of the leader table. This app will be amusing toy for all who haven't got used to simple actions and it is ready to meet face to face difficulties in the form of original barriers, traps to hands.
The game Fingle is very difficult therefore prepare for it. It is similar to when to write sometime with the handle two hands at the same time. In this game one finger will slide on a surface and at the same time to turn aside from barriers. It is better to play with two participants. Incredibly difficult, but it develops your reaction and thinking. Check the abilities and learn whether it is possible to make this most difficult task. Synchronously move your fingers you will both succeed. Throw down a challenge to other friends and compete with them. You have a real chance to prove that you can do more and win.
10. Love is…
"Love is…" – chewing gum popular around the world, but not because of its taste or constitency or because of inserts. This app is a collection of these inserts on series, starting with very first and to the last. The application with a big collection of comics about love, and also history of their creation. Enjoy comics and share them with friends.
In all collection, from the first to the last releases of inserts from the well-known chewing gum "Love is …" is collected. As you launch the app for the first time it is possible to choose any release, and or swipe-ohm or icons to turn over inserts. It is possible to turn fearlessly into other releases, the application will remember an insert on which you have stopped. Having come into the section "it is a little history" you learn how a series of comic books "Love is …" were created. After updating inserts open almost in all screen.
Love is … — the comic book which created by an artist from New Zeland Kym Grove in the late sixties. It is known chewing gum of the same name. The origin of Love Is … was given by a series of love notes of Kym Grove which she sent to the future husband, Roberto Cazali. Kym drew pictures with the red-haired girl and the boy with brunette hair, signing from above "Love it …", and the continuation of the phrase from below corresponding to the drawing. She enclosed a painted napkin to the husband every day in the morning in his office. In 1975 Cazali's family has invited the British artist Bill Espri to continue work on the comic book. Espri draws him since then and till present. "Love is…" – chewing gum popular around the world, but not because of the chewing gum, and because of inserts. Let's remember youth?
The application – a collection of these inserts on series, starting with very first and to the last. The friendly interface and animation will bring pleasure from using the program.
Interesting fact: Artist Bill Espri famous for the comic book Love Is…, did not suspect that his drawings are delivered together with the Turkish chewing gum "Love is …". He has learned about it only in 2008 when he was called by the correspondent of the Big city magazine to interview him as at the author of pictures to inserts of the known chewing gum.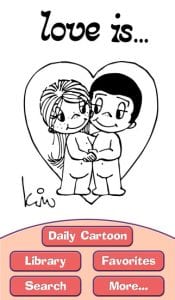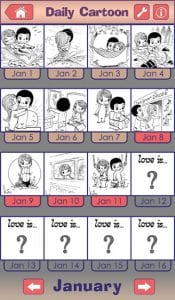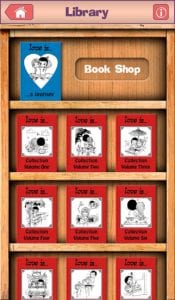 11. 101 Valentine's Day Greeting Cards
You and your lover have been waiting for this day the whole year to celebrate! So do not miss your chance to make this day even more special and unforgettable by using 101 Valentine's Day Greeting Cards app! Here you can design your own unique card for your date  or to choose the one that already exists. Most of these cards are with hearts on it but there are also pieces with different and intricate design so everyone can find what they like.
The app represents more than 101 kinds of festive cards which will surely impress your crush! The interface itself is made pretty nice, just in the theme of Valentine's Day (obviously) in red, pink and white shades. This app is easy in use: just as you launch it you can see hundreds of different cards with beautiful words written on them. Find one which you really like or you feel the most appealed to and send it to your lover on this special occasion. He or she will recieve it on her phone immideately.
It is 21st century after all – now you do not have to wait for days for your lover to recieve your love letter. Just download the app and send one of this little masterpieces to the love of your life!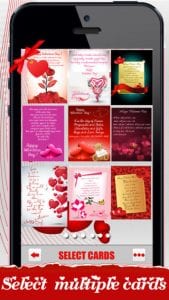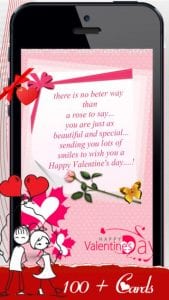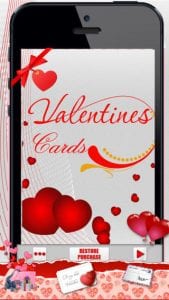 12. Love Quotes
For all romantic people out there there is an app called "Love Quotes". If you or your date are sensitive to the beautiful and meaningful quotes then the Valentine's Day will become one more reason to share this immortal thoughts written on paper.
As you launch the app for the first time – the first thing you notice is a stylish interface and a lot of variants of quotes to choose from. You can pick up not only common phrases but also to decide which mood will they reflect – will your quote be funny? Or tragic? Or maybe you want something clever? You can click on the categories and choose a suitable topic for you – you will surely find what you are looking for. As you have found a quote that you like there are different options of what you can do next – you can press "like" or "dislike", to share this quote with another person or to find out about its origin. You can always just mark the quote that you like so you can go back to it later.