Have you ever wondered how many students one teacher has? There are actually a lot of them. It's almost impossible to memorize each one, let alone grades.
Keep your students' parents informed about their grades by using these best apps for teachers to contact parents.
Thus, teachers need to keep up with the times and use all the modern features that will structure their work and simplify it in many ways. These best free grading apps for teachers will be a great solution. Go through their features and choose the one that fits all your needs.
Teacher Aide Pro
Teacher Aide Pro is a mobile app for teachers to help them efficiently organize their work and improve the teaching process. The app offers a wide range of tools, a user-friendly interface, and many possibilities to optimize the workflow.
Create and manage class schedules. Add new classes, and specify the date, time, and duration of the lesson. Classes can be divided by groups or individual students, allowing you to plan and organize the learning process.
Keep a record of student progress. Mark students' presence or absence and enter their grades and comments. The app automatically calculates the grade point average and provides detailed reports on each student's progress.
Try out the features for creating and storing learning materials. Upload and organize files, documents, images, and other materials needed for lessons.
The app offers many tools to communicate and interact with students and their parents. Send notifications about homework, schedules, or other changes in the learning process. Connect your students' parents to the chat rooms to contact them directly.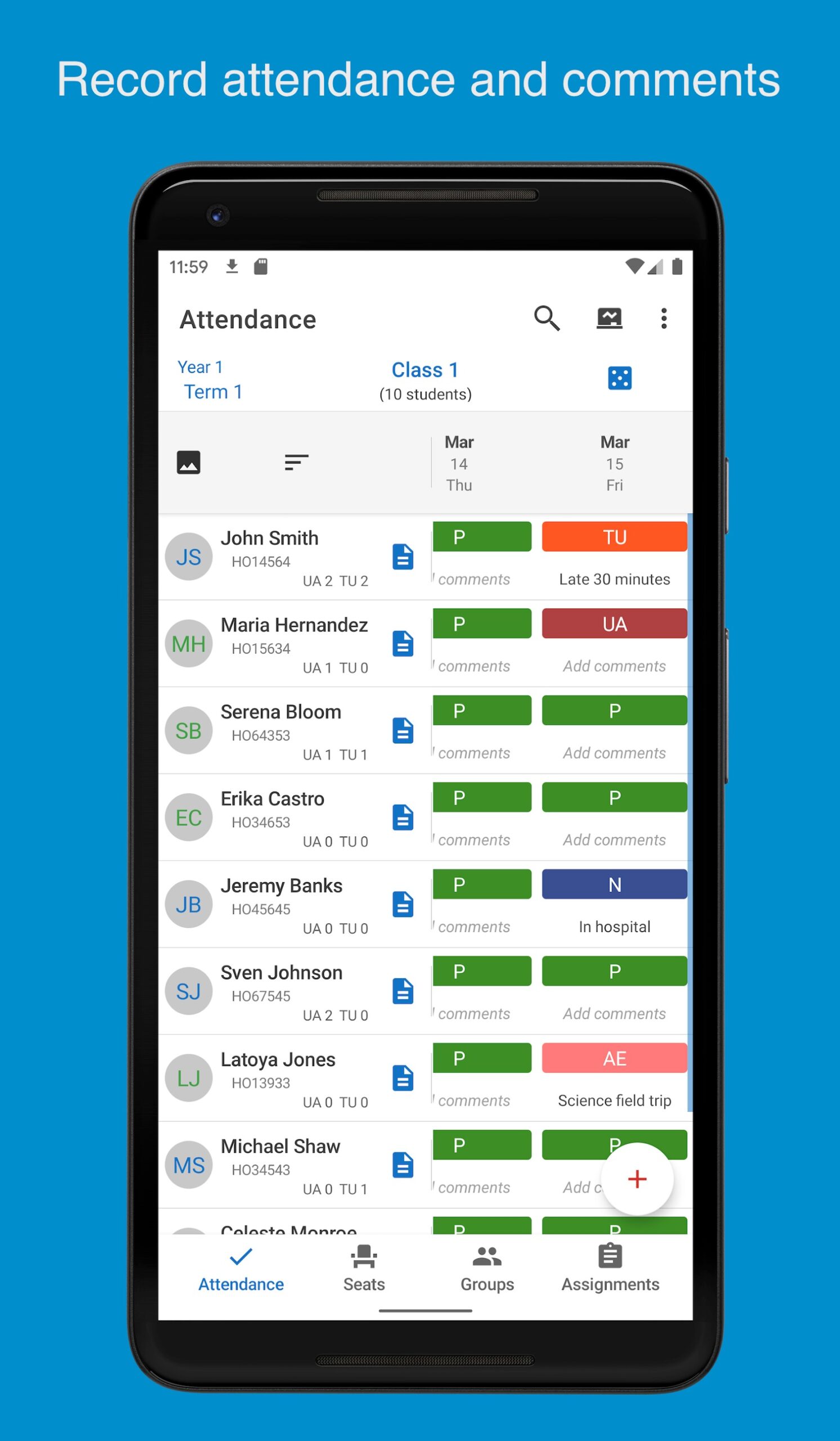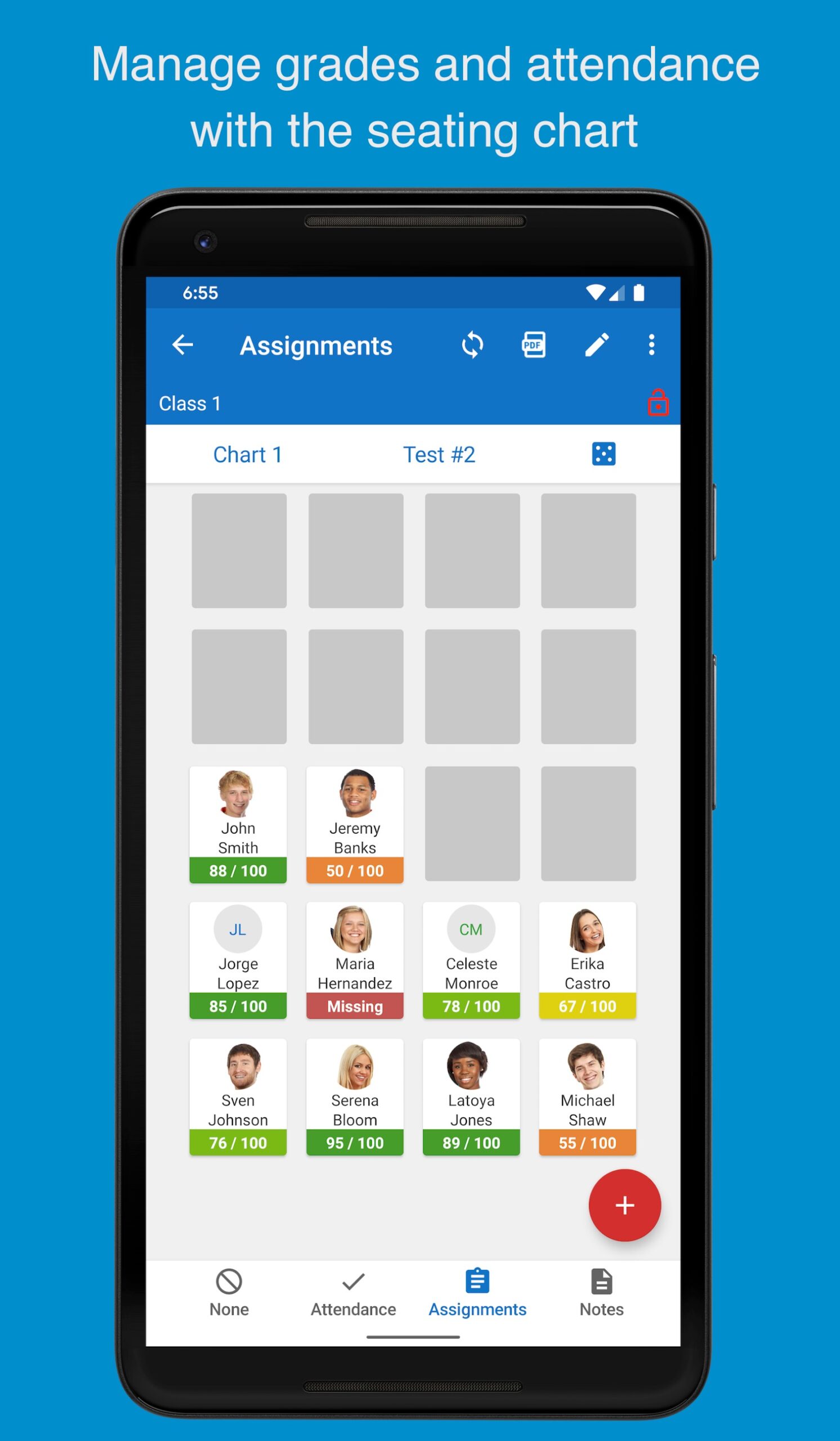 Create to-do lists, plan activities, keep records of student progress and achievements, and generate reports for administration or parent meetings. Record seating data and save it to check for future lessons. Take advantage of a paid subscription to gain access to more features and tools.


You may also like: Top 5 Seating Chart Apps for Events and Teachers (Android & iOS)
Canvas Teacher
Canvas Teacher is a mobile app for teachers that helps organize and simplify the process of teaching and interacting with students. With the app, you have access to a variety of tools and features to effectively run your classroom.
For example, the learning material viewer feature. View all available course-related materials, assignments, files, and resources. Add new materials and update existing ones. Create and edit courses, add new sections, and define the schedule and structure of learning material.
Create, assign, and track student assignments. Review and set due dates, post grades and write comments on work. The app allows you to send messages and comments to students, create and take part in discussions, and conduct online conferences and video calls.
Give grades to students, leave comments on work, conduct individual or group lessons, and generate and export progress reports. The app supports a variety of learning formats. Try remote learning, recorded lessons in offline access, and other options.
Create and edit class schedules, events, and deadlines, and synchronize your calendar with other similar apps. Add groups of students, divide them into subgroups, add assignments, and track each group's activity. Add images, videos, audio, and other multimedia to learning materials.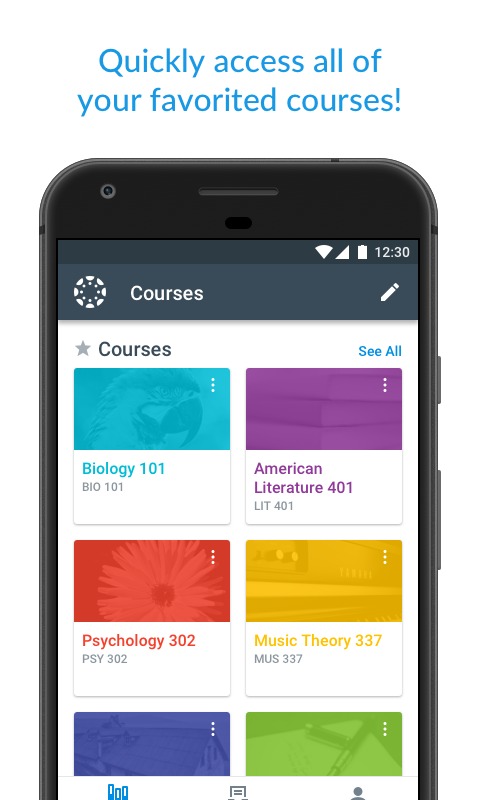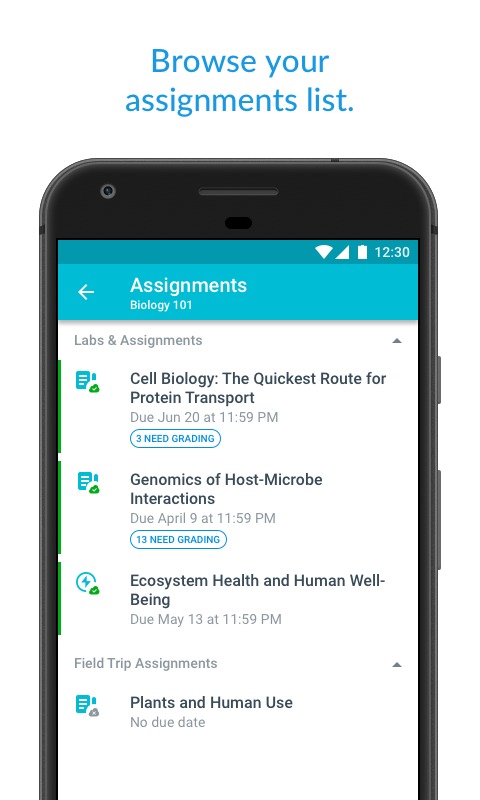 The app keeps student and teacher data secure.


TeacherKit Classroom Manager
TeacherKit is a mobile app for classroom management and teacher organization. It helps teachers efficiently and conveniently manage student records, journals, lesson planning, and more.
The app offers class creation and management features. Create classes for different subjects, specify class information, school year, school, etc. Each class can contain an unlimited number of students who can be easily added, deleted, or edited.
Add photos of students, brief information about them, and other data to help keep attendance records. The app offers a flexible grading system where you can assign different types of grades. Set and edit grades for each student, and enter comments or notes.
Calculate the average grade with a feature that automatically summarizes all grades and determines the average grade for each student. All data will be automatically displayed in a table that you can export and use in other apps and services.
Plan your lessons and classes in any convenient format. The app offers a customizable calendar system where you can specify dates, times, and lesson duration. Add assignments, materials, presentations, and links associated with each lesson so students can easily access them.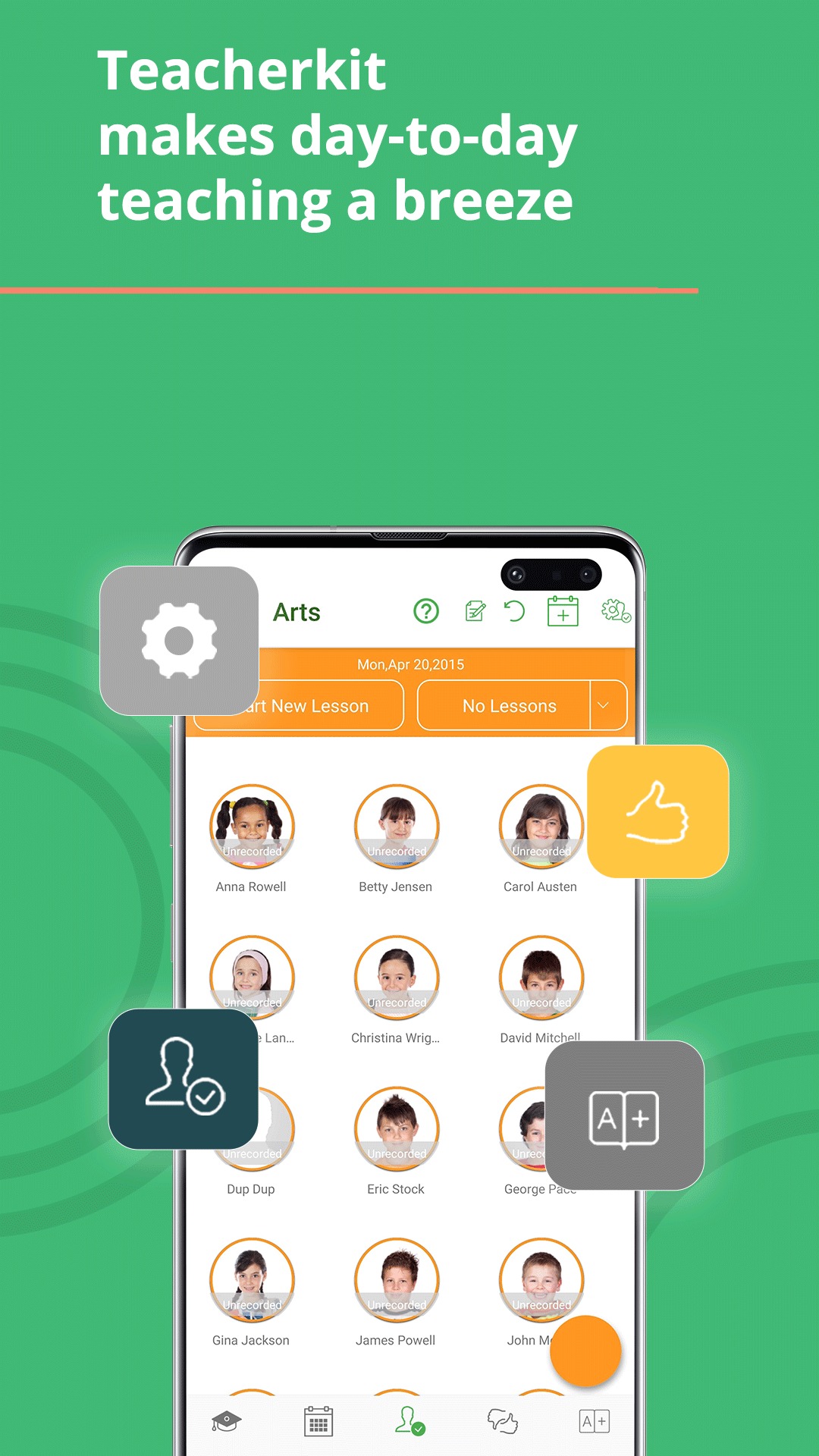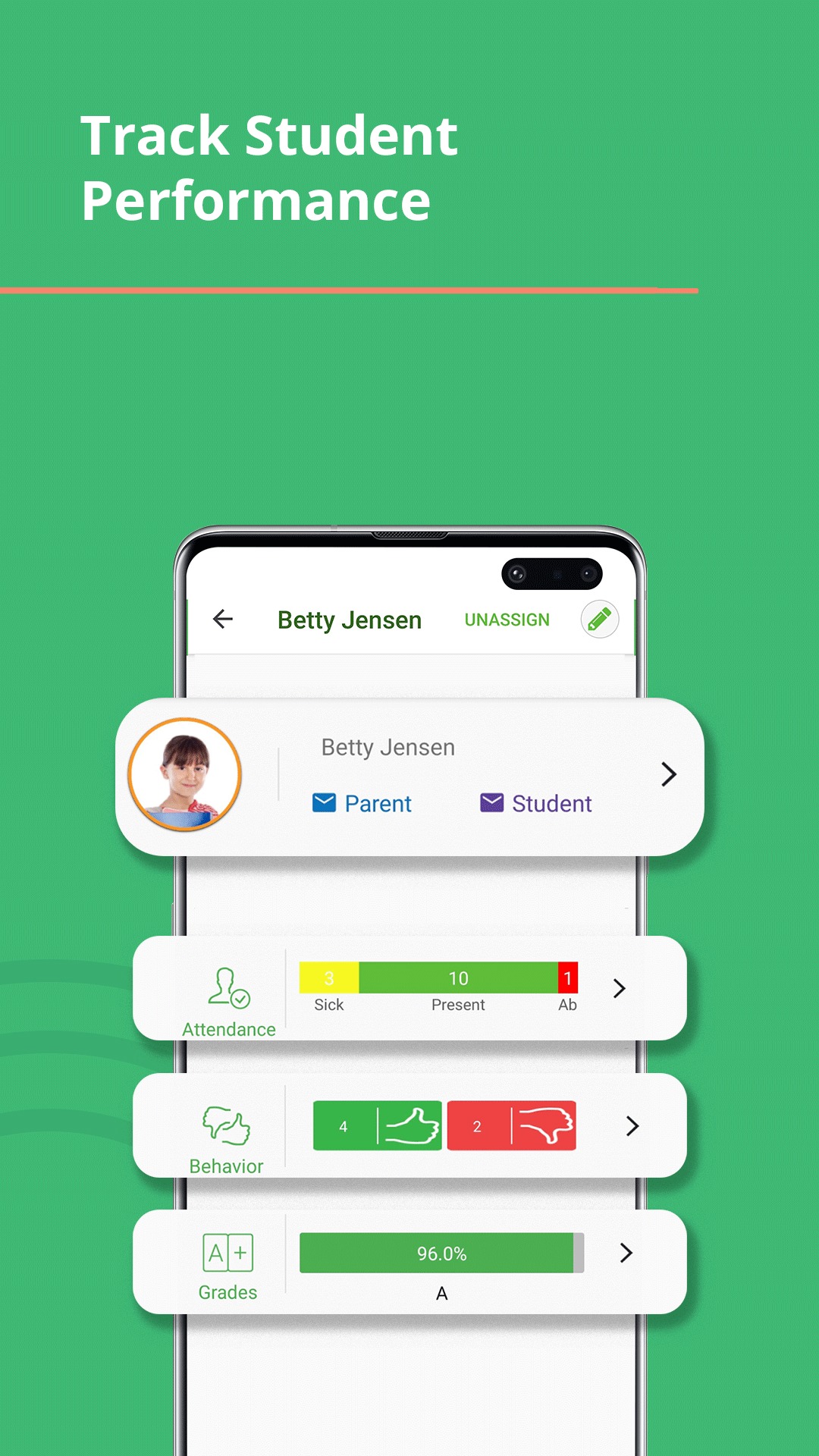 You also have the ability to enter notes and schedule homework and other lesson-related activities.


Additio App for teachers
Additio is a mobile app for teachers to help them organize and manage their classrooms. It contains a wide range of features for effective planning, student progress, parent interaction, and much more.
Add and edit class schedules. Customize data to individual preferences and save it for use as a template. Add different academic subjects, and specify start and end times.
Set up in-app alerts so you don't miss important events or the start of classes. Add students to classes created for them and make a student roster.
Create and complete a profile for each student with their name, photo, contact information, and other important details. This will help you easily track each student's academic progress and achievements, as well as communicate directly with their parents.
Add different types of grades, set criteria, and enter grades for homework, tests, or projects. The simple grading system will help you quickly grade each student and track their progress as they learn.
The app offers convenient tools to keep track of student presence. Mark attendance, tardies, and absences for each class, and fill out statistics and reports to view the overall profile of each student.
Create notes and plan tasks for the day or other period. Record important events, ideas, or comments on activities, and add tasks and reminders.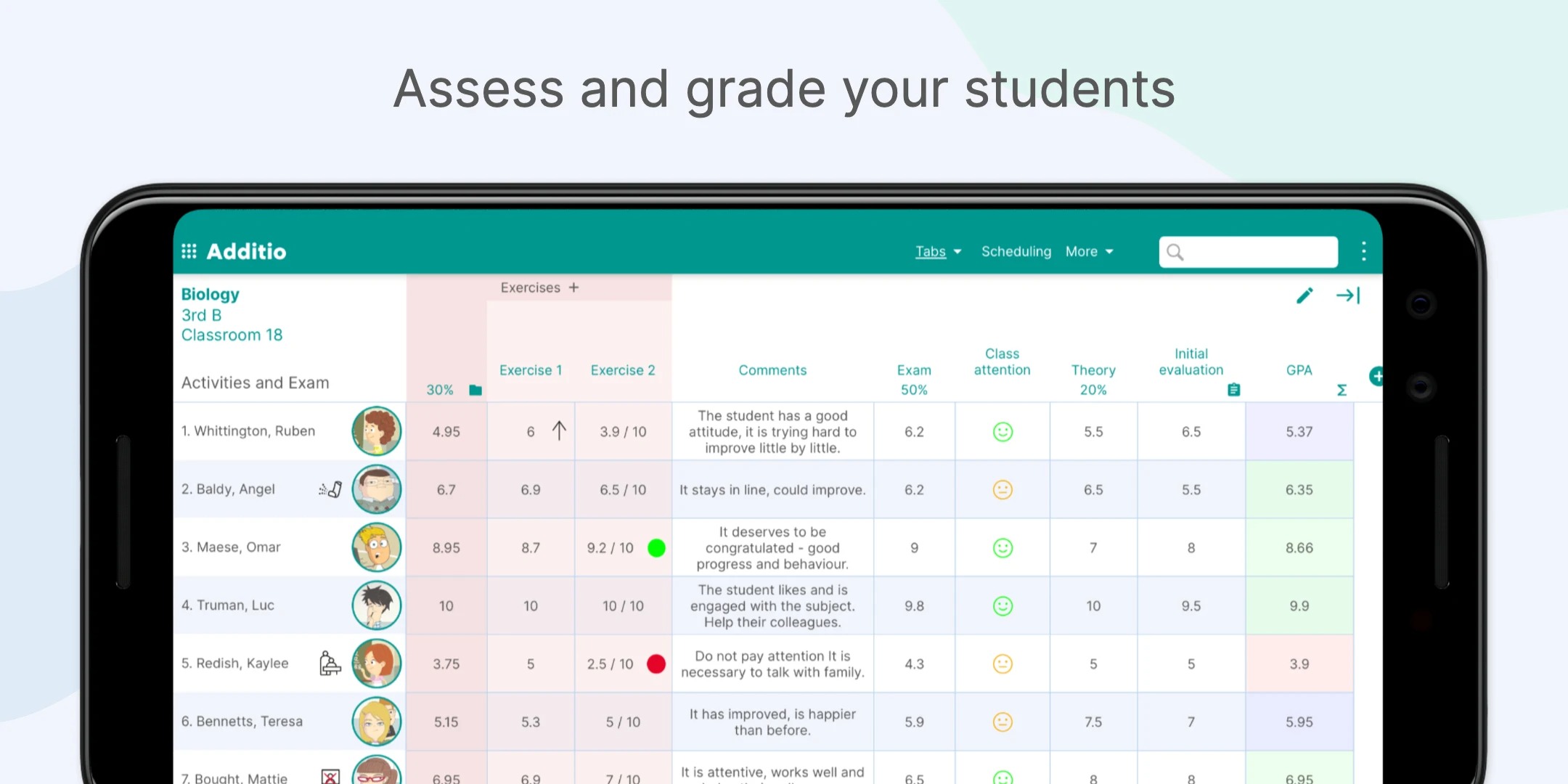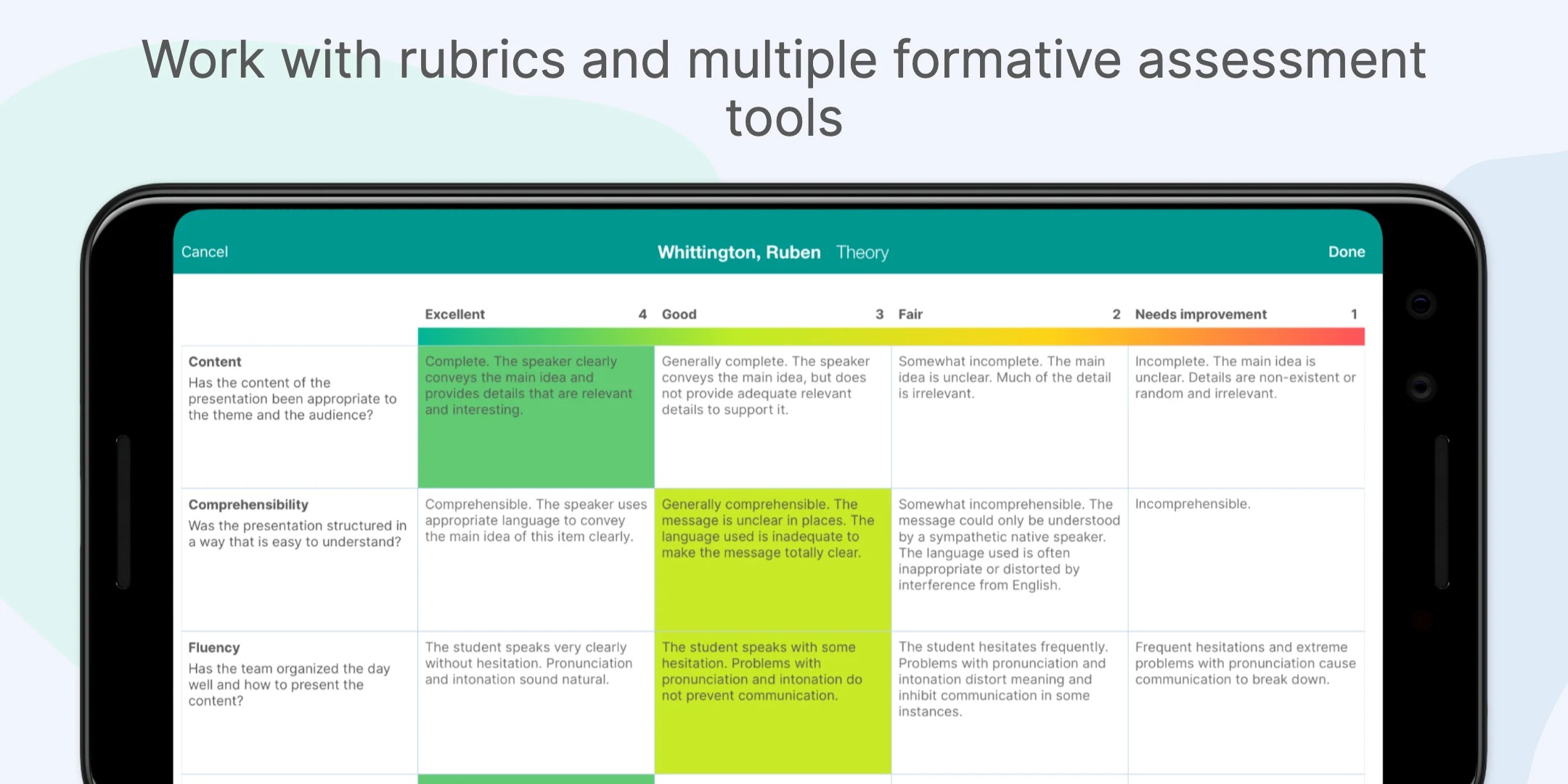 The app provides easy interaction with parents. Send notifications, inform them about homework, student successes and failures, and schedule meetings and conferences.


Ez Grader Calculator
Ez Grader Calculator is a mobile app designed to quickly and easily calculate grades for academic assignments or exams.
With the service, you can easily calculate the grade. Just enter the number of correct answers and total number of questions and the app will automatically calculate the result. This is a handy feature for grading a large number of papers or tests.
The app provides a grading table that allows you to determine the average score from the percentage grade. You can use this feature to convert between different grading scales or to quickly grade papers.
Set the appropriate parameters for grading papers at your university or school. For example, set whether a grade can have a decimal part, which helps you in rounding scores. Customize the grading table according to your requirements and edit it at any time.
Set the required grade parameters and add changes to the grade table as you see fit. Export data from the app to any internet platform or convenient file format. Share them with other users via various social networks and services.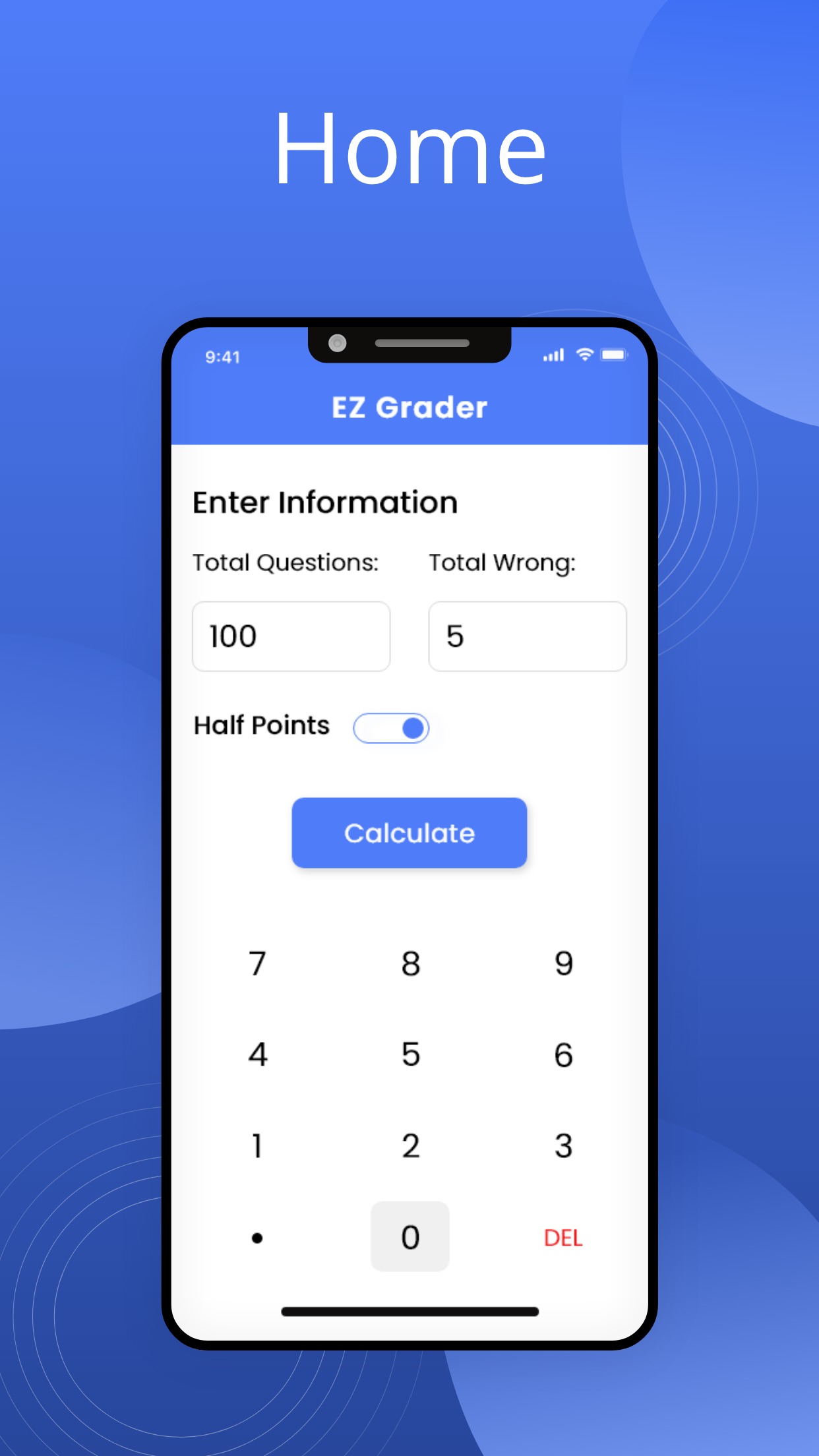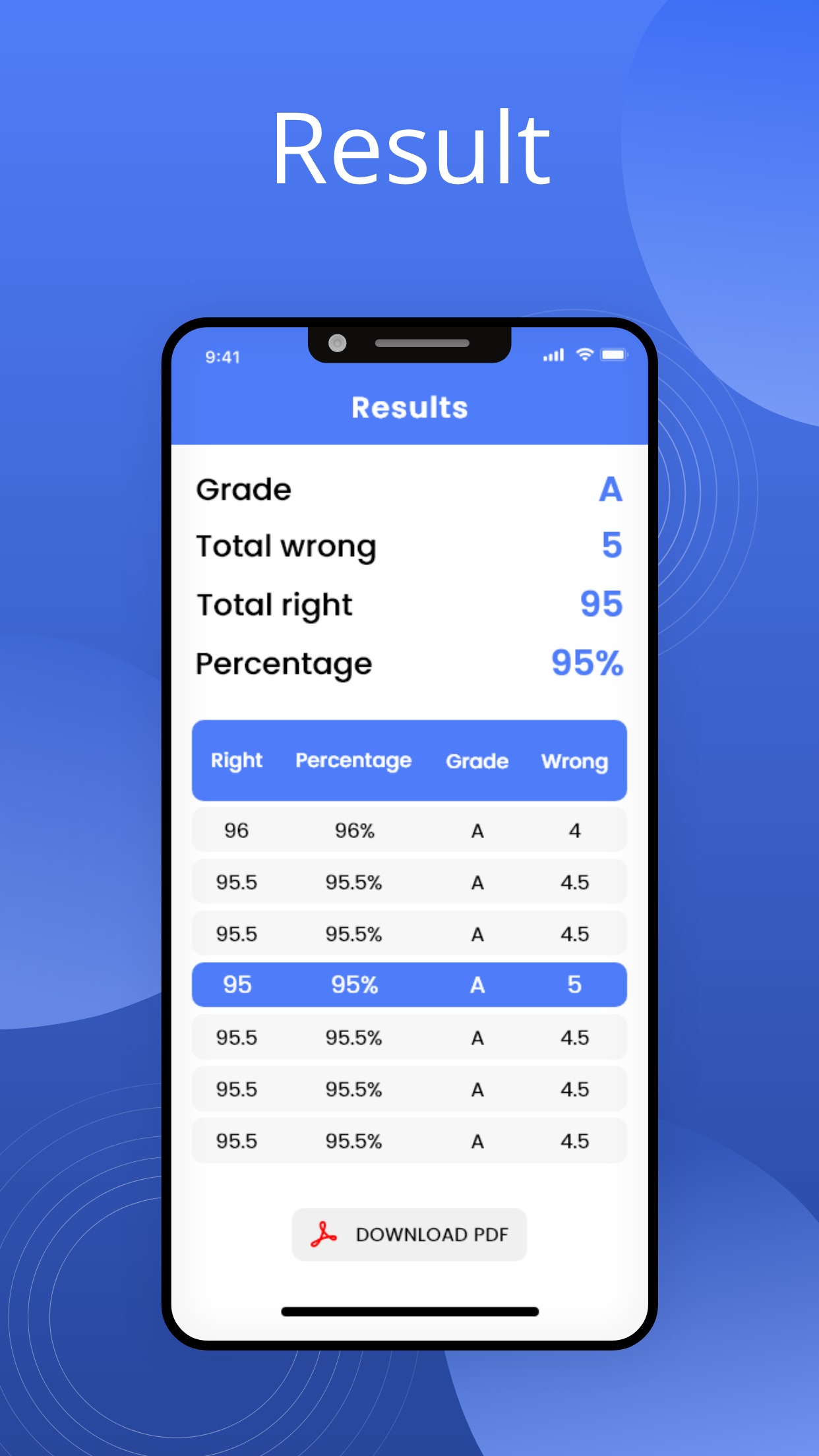 Print your data directly from the app or generate a document for use in other apps. The app is free, so anyone can use it to keep track of student grades.


Deskbook Teacher App
This is a mobile learning app designed specifically for teachers and educators. It offers a wide range of features and tools to help teachers enhance learning, create interactive lessons, and effectively engage with students.
Create unique and engaging lessons, including a variety of content and infographics. Add text, images, video, and audio content to make lessons more interesting and understandable for students. Develop and save your own tests and assignments to make your knowledge-testing system unique.
Manage your students' roster and organize them into groups. Upload and populate profiles for each student where they can track their progress and results. Fill in each student's details with important personal characteristics and performance information.
The app gives you the ability to interact with your students online. Send messages, give feedback, ask questions, and keep in touch with students so that they can discuss lessons and assignments with you.
Check and evaluate your students' work and progress. View test and assignment results, track student activity, and analyze their progress. All this data can be saved and used for future reports and analysis.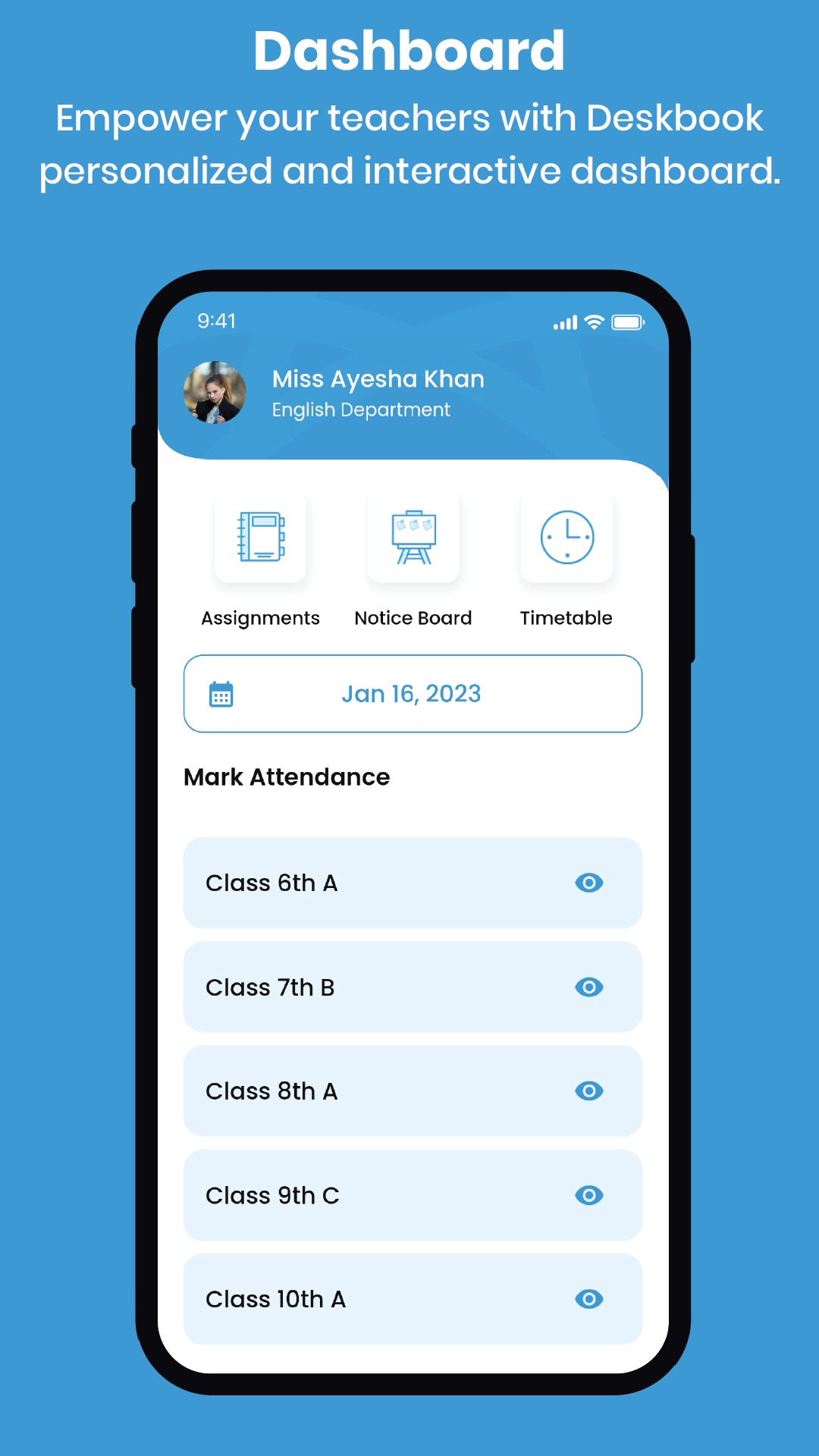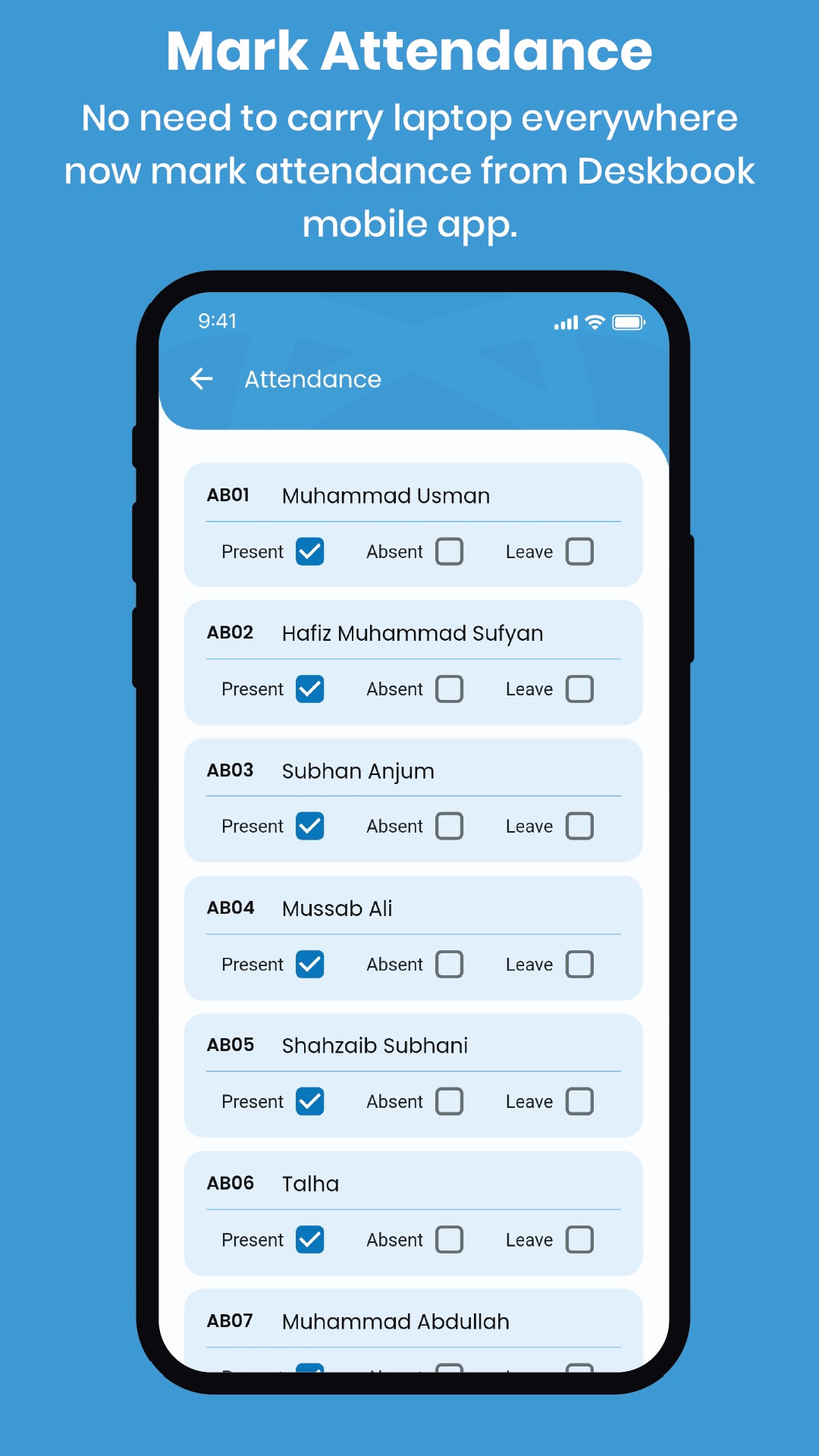 The app is available on a variety of devices, allowing teachers and students to use it anytime and anywhere.


You may also like: 11 Best Apps for Tutors to Get Paid (Android & iOS)
Easy Grade – EZ Grader
Easy Grade – EZ Grader is a mobile app to helps teachers calculate grades for different types of work. The app is designed for iOS devices and is available on the App Store.
One of the main functions of the app is to calculate final grades quickly and accurately. Choose the number of questions in the test and the number of possible correct answers. After filling in the distribution of correct answers on the test, the app will automatically generate a final grade for each student.
Choose different ways to calculate grades, depending on the requirements and types of work. Add a percentage range and find out the grade. Select the number of points and get the final result. Customize the app according to the requirements of your school or institution.
Use different grading categories. Add points for activity, homework submission, lesson engagement, etc. After entering the points, the app will automatically calculate the student's or learner's overall grade. Fill out a list of students and save their grades for future reference and progress tracking.
The app provides a user-friendly interface to navigate between different classes and students in the form of tables. Use data from the app on other platforms by downloading and exporting tables with grades of students from different classes and groups.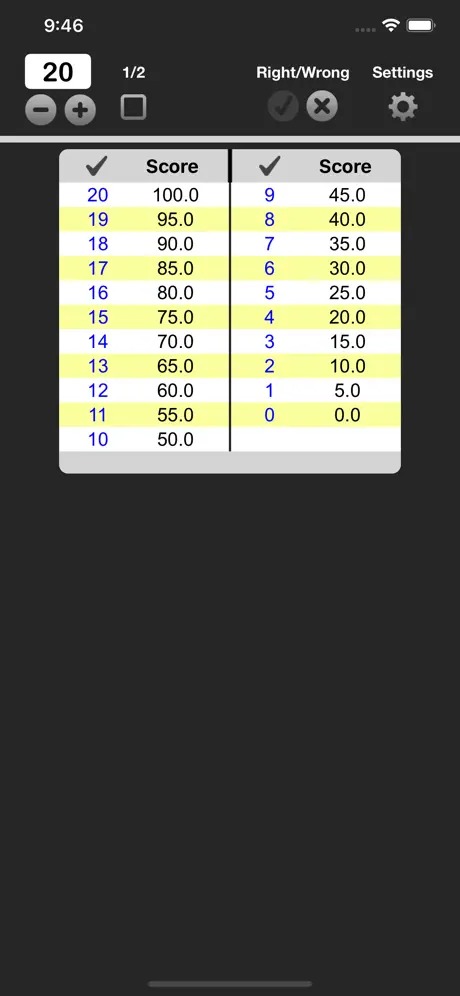 Use an appropriate orientation to view summary tables. Choose how grades are calculated. For example, by correct or incorrect test answers.

Teacher's Assistant Grade Book
Teacher's Assistant Grade Book is a mobile app for teachers to help them manage and assess their students' progress. It provides e-journaling features to save time when grading students. Create, populate, and edit class and student lists.
Add information about each student. Write his or her name, add a photo, as well as contact details and other information. This will keep track of each student's academic achievements and personal information.
Enter grades and comments for each student for different subjects or criteria. Customize the degree of importance of each criterion or subject to produce grades. Set parameters to calculate grades for each subject, type of work, and student to get the most accurate data.
The app includes a handy calendar that allows you to plan your class schedule and important events. Add dates for tests, quizzes, and other assignments.
Set due dates for assignments and other events. Connect a notification system and get reminders of important events. This will help them stay organized and notify students about upcoming events on time.
Try the multi-class management feature in one account if you are running many classes. It's convenient to switch between groups and students, so you can easily organize your work with them.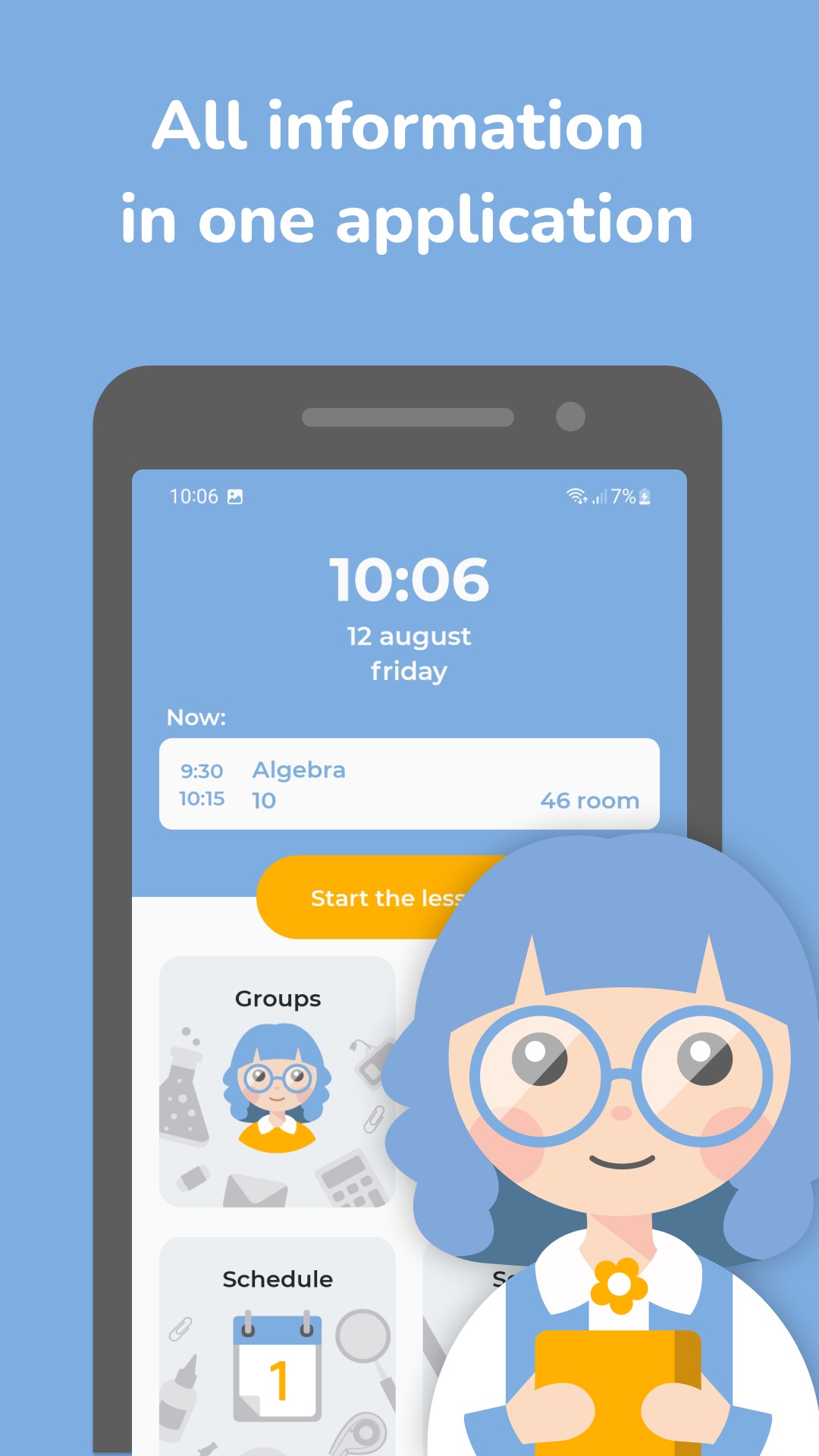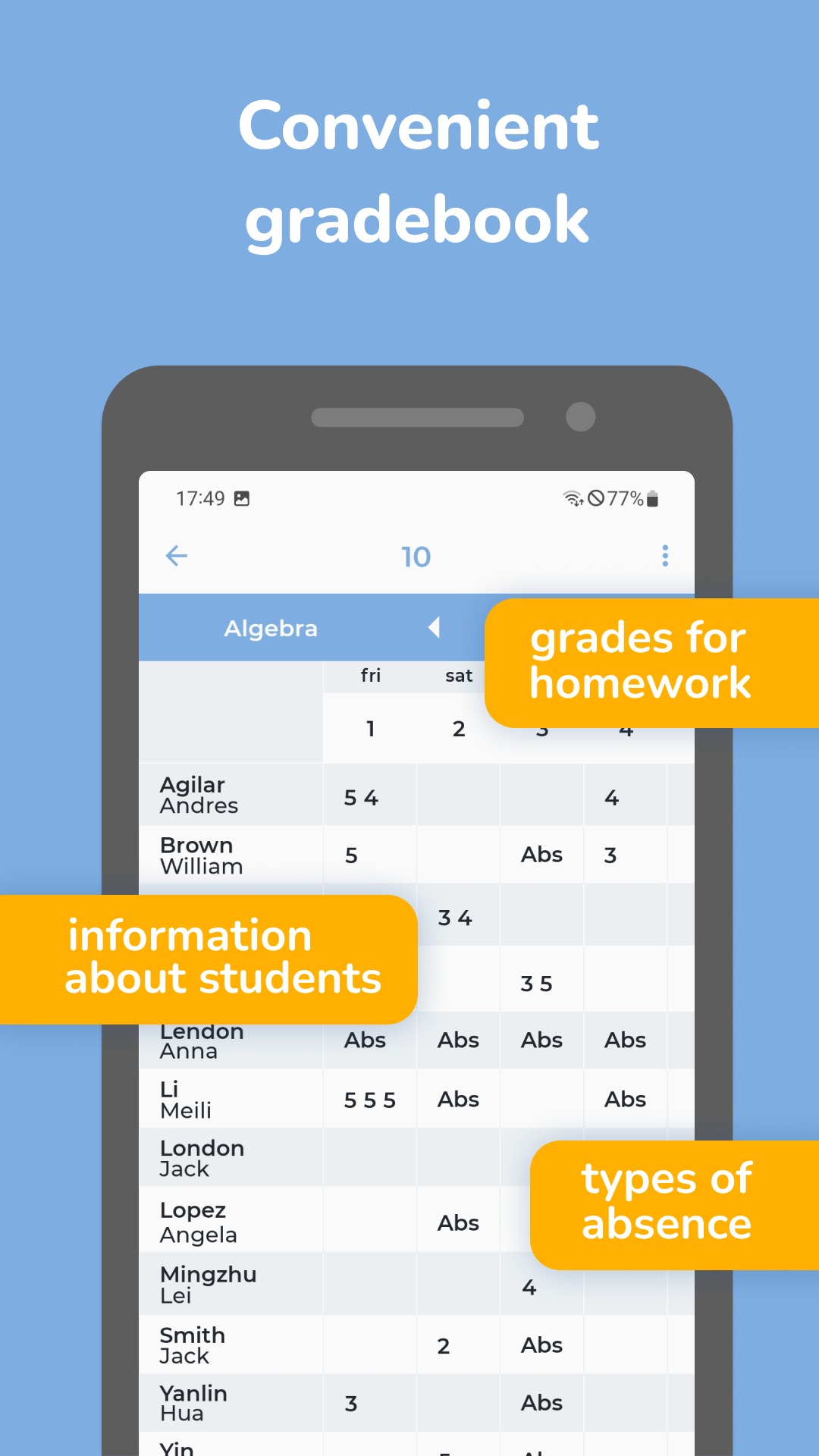 Create reports on each student's progress in different subjects or an overall class report. Keep statistics and analyze data to determine where your intervention and help is needed.

A+ Teacher's Aide
A+ Teacher's Aide is a mobile app for educators to help them organize their work effectively and improve learning. It provides many features and functions that make classroom management and grade calculation much easier.
Fill in class information and rosters, and manage class schedules. Add new lessons, specify start and end times, and school days of the week. With this feature, you will be able to track your schedule and keep track of important events, grades, and other events.
Manage your student rosters with easy file creation and editing features. Create personalized profiles for each student. Fill their accounts with important data. Write student names, contact information, grades, and any other information.
Track students' statistics and keep in touch with them or their parents thanks to the filled contact details in the app. Create assignments and tests for students. Add new tasks, specify due dates, and describe all necessary instructions.
Take notes, plan lessons, and track the activity of class members. Write down all important points as you go through the learning process so you don't forget anything. Write reports and analyze the progress of your class.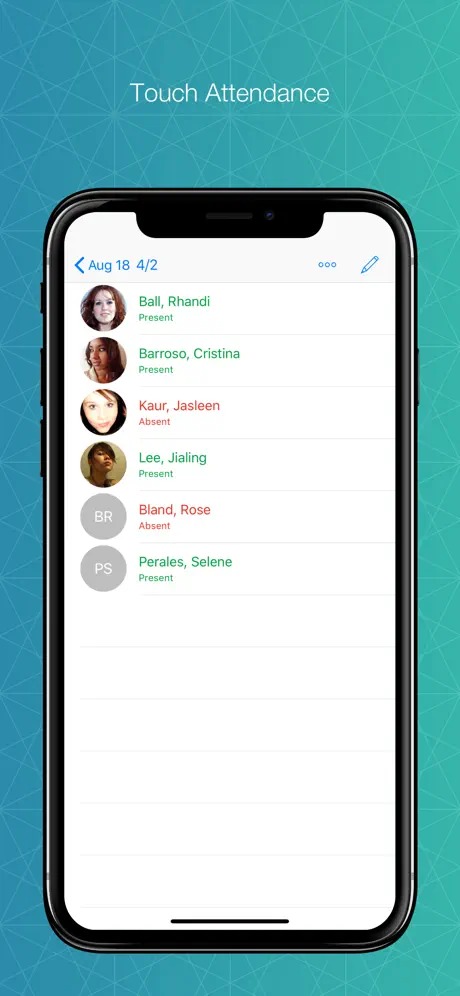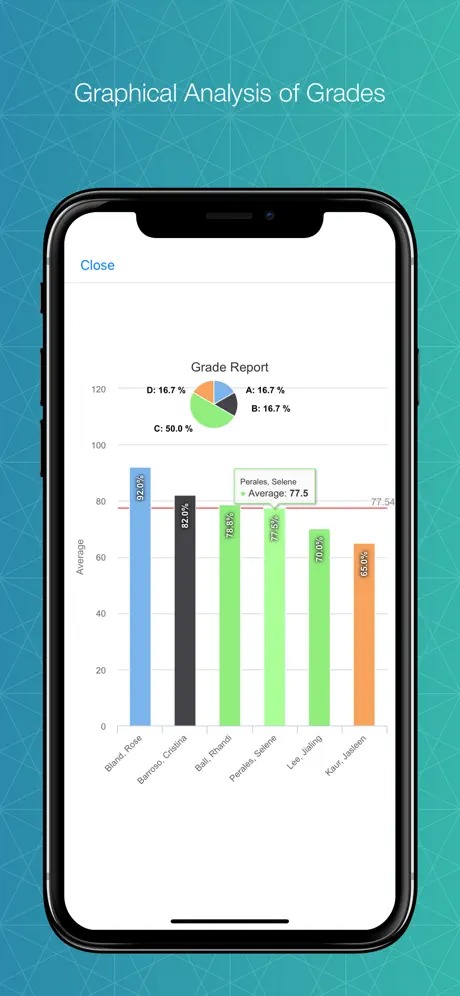 Get easy access to parents' contact information so you can contact them to discuss their children's progress. Export and use the data in other apps.

Teach Upp: Teacher Gradebook
Teach Upp is a mobile app for teachers to help them simplify the process of keeping track of students' grades and progress. With this app, you can effectively keep your electronic journal and organize your learning process.
Create groups for individual classes or courses of students. Track the progress of each individual student and keep track of their grades. Try different display modes. Add and populate a student roster or grade sheet.
Different options are available to teachers for each student. Add, edit, or delete grades, and enter comments on each grade. Record various performance parameters. Add information about assignment completion, class participation, and behavior.
Post grades using different criteria and formats. Set grades as numbers, percentages, points, and even letters. Try out the feature to create reports and statistics that can be used to analyze the progress of a group or individual students.
Track progress and identify areas that need extra attention. User data is stored locally on the device, ensuring the privacy and security of student information. Export data and reports from the app to other platforms.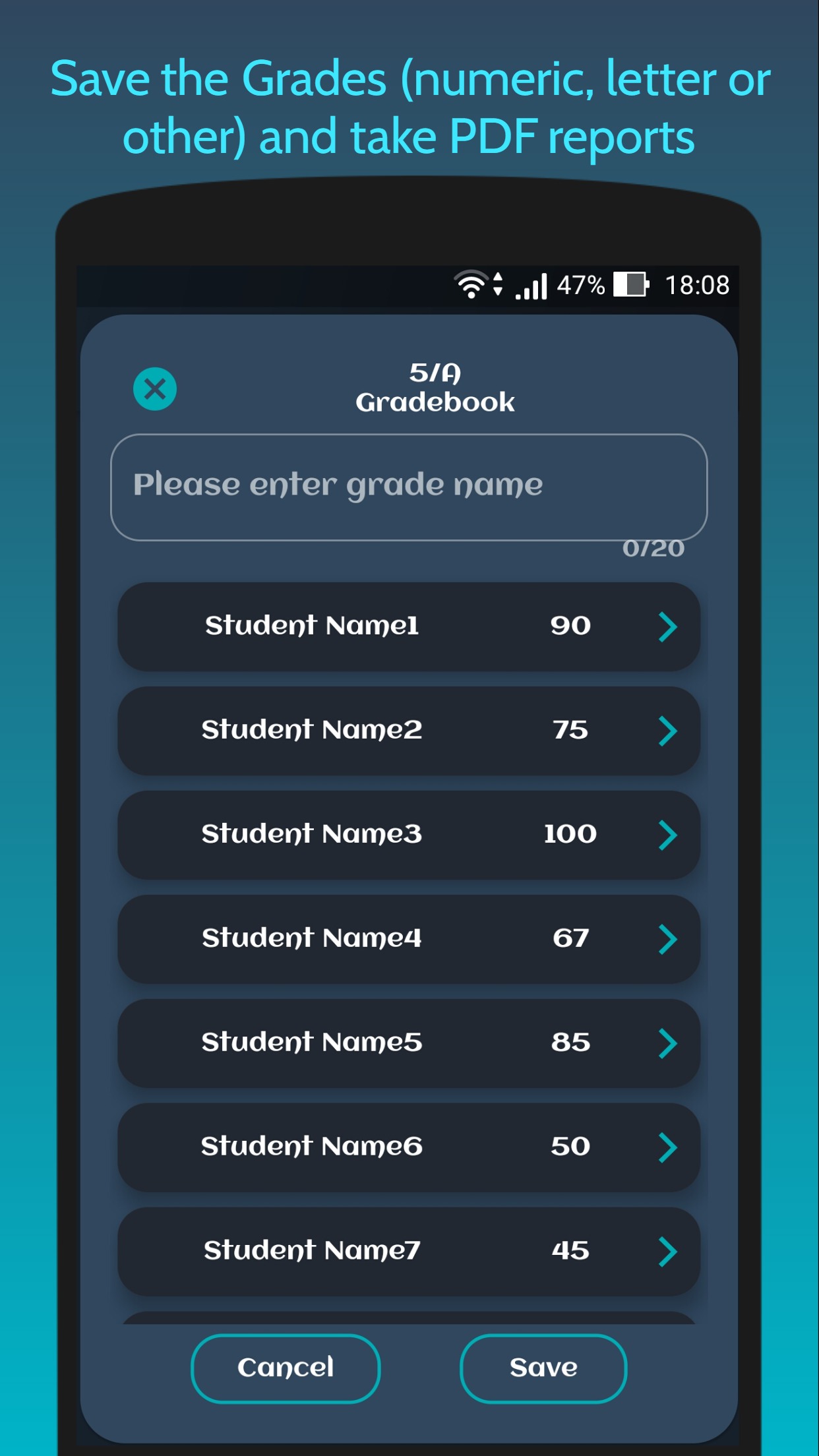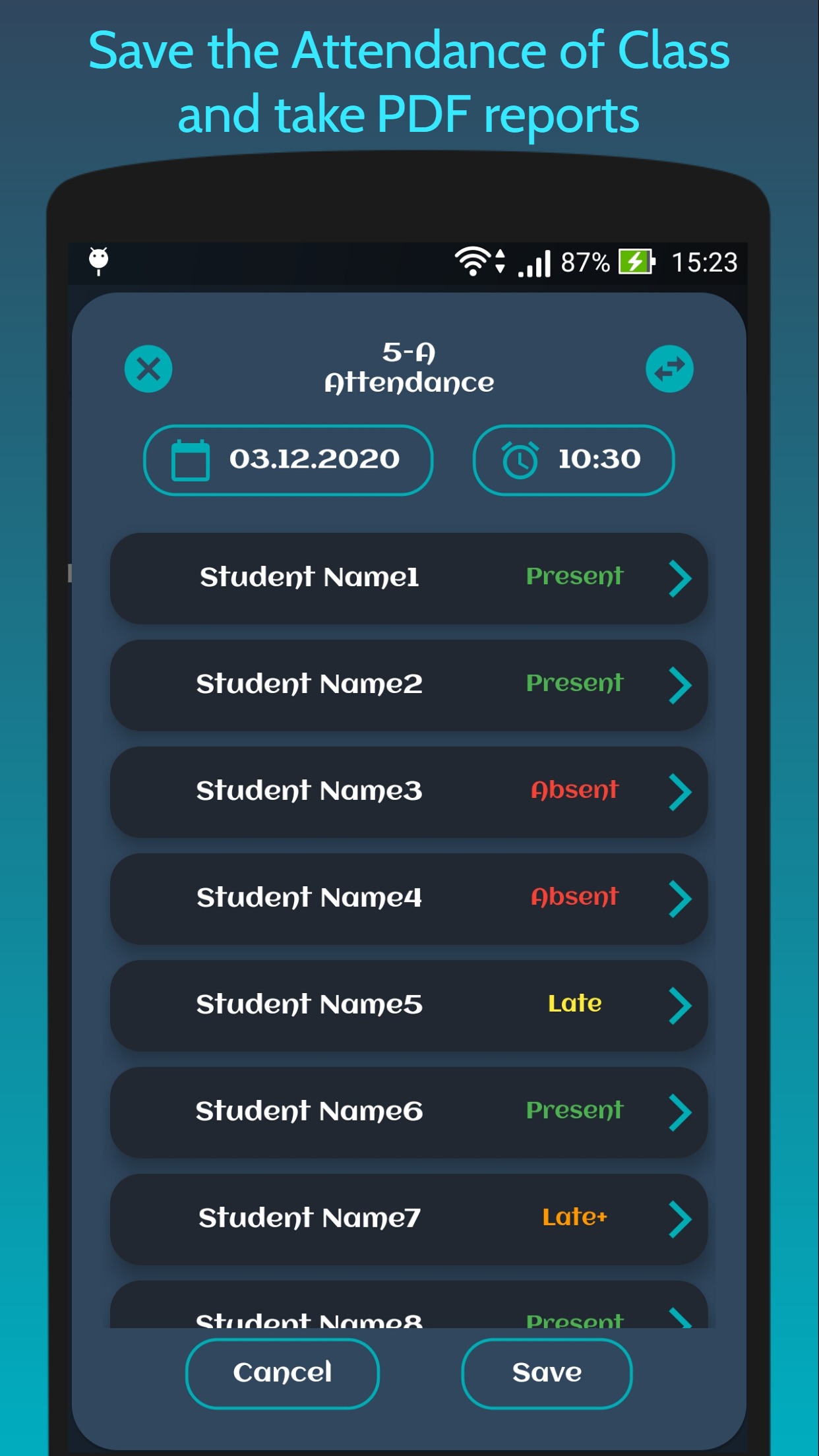 Print spreadsheets directly from the app. Share data with students or parents, and send it via mail or other contact information.

You may also like: 11 Best Home Tuition Apps (Android & iOS)
Teacher Gradebook
This is a mobile gradebook app designed to make it easy to keep a class journal and manage learning. It helps you organize and analyze student grades, progress, and performance. Manage data and organize your learning process with handy lists and calendar features.
Create and populate student groups, add new students to them, and view information about each individual student. Enter, edit, and view grades for each student in different subjects. Set grading criteria and methods for assigning grades.
Assess student achievement in two clicks and provide detailed feedback on each criterion. Create and edit lesson schedules for each class. Set the date, time, and duration of each lesson. Set notifications to remind you of important activities and events at your school.
Create reports and export data to other platforms. Generate detailed student progress reports and export them to various formats. Print reports from the app by selecting the appropriate data format.
The app allows you to automatically generate reports and send them to other users. Share data with students or with parents through any platform. Set the appropriate grading system, and add student missed classes. Add notes and comments, set goals, and track their fulfillment.