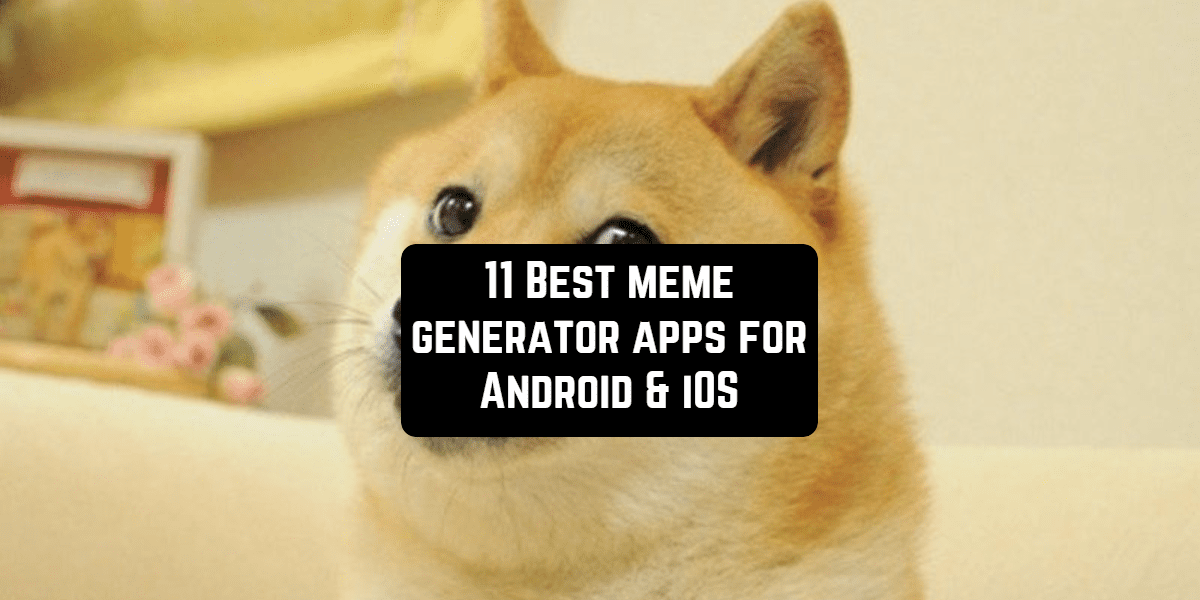 Whenever you like it or not, but memes have gained a huge popularity in our century. In fact, they have become one of our favorite ways of entertainment substituting traditional stand-ups and comedy shows. Often it turns out that a common person can ironically reflect their experience more relevantly to others than professional artists can. That's why applications for meme generating were created – they give everyone a chance to cover funny situations from daily life with an ironic picture. What is more, watching memes never takes you long, that is why so many people nowadays like and share them.
1. Meme Generator Free
With this app you will find the most interesting and funny memes and be able to share them with friends via Facebook, Twitter, Instagram, WhatsApp, Messenger, Google+, E-mail, Dropbox, Drive, Snapchat, etc. Here you will find different meme categories, which includes more than 700 examples, tools which allow you to create new memes, using pictures from your phone, then save it and share it with others. There is a huge set of stickers and color and text settings so you will be able to make a meme of any kind.
You add up to 10 signatures to your picture. What is more, you can unite a series of memes into one later. To see all the images that you have you just have to scroll down and they all will be displayed in your menu. You can also compile a list of your favorite memes and, by the way, new memes are added constantly.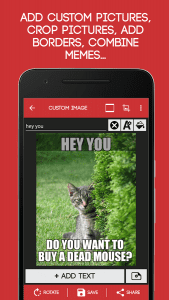 2. Meme Generator by MemeCrunch
Another app for those who share their passion to memes and want to create their own masterpieces in this craft. Here the developers game you all the opportunities so you could start making funny pictures too and share them with the world around you. No watermarks, everything is easy and accessible. You will find it surprisingly easy to create memes with this interface. There won't be a problem with getting the materials for new memes since there are plenty of pictures in the app. Or you can upload them from your device. Divide them into categories, watch the memes made by your friends, add texts to them! With Meme Generator by MemeCrunch it will not take you for long and soon you will discover yourself creating many on images. You can also sort them by popularity, by name or by the date of creation.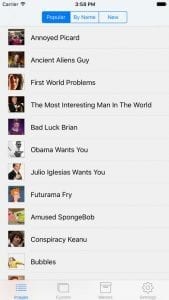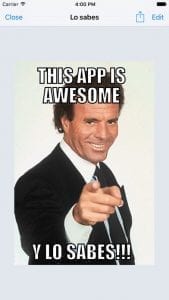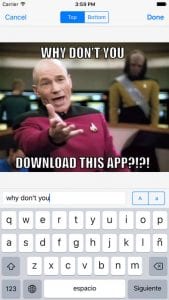 3. Meme Generator (old design)
This is the best app connected with WhatsUp to create memes. Be ready to find collections of the most popular, hilarious and captivating memes from the Internet. The advantage of this app is that you can create your group in WhatsUp and there share the pictures you liked and hold related conversations with your friends. Also, this app can work offline so it's very easy to use it.
For these reasons there many opportunities for you to use it everywhere – in school, university, work, on the road, at home and so on. Find a meme for every single situation you are got into! Upload the images from your gadget or take it from the app, use your camera. In other cases you can just watch memes created by others and have a great time laughing.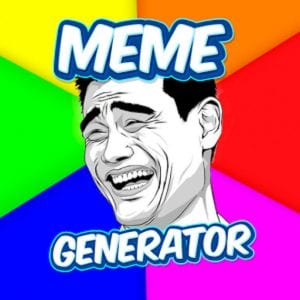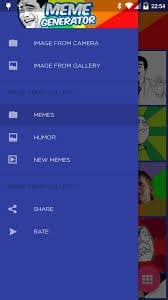 4. Ololoid Meme Generator
This is a simple app for meme generating.  Make demotivators, funny stories or just hilarious pictures. Again, the full range of available pictures is up to you – you can use pictures from the Internet, from your phone or take a shot right away. Don't forget to share your fantasies with friends! Creative process is always easy because the app has a large interface for meme personalization. Moreover, if you are luck of ideas about new pictures, remember that you have an access to more than 900 examples from others.
You don't have to close the app when you want to find a suitable picture – you can do it right via the app. Also, there are a lot of tools for the printing and decorating the images. After you're done with a new image you can send it to the social networks so everyone could see it. And don't think that soon it's going to become boring – new tools are added regularly along with those which you already use.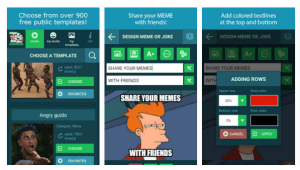 5. Mematic – Make Memes – Your Meme Maker Creator
This is one of the most popular apps for creating memes on Earth. Just look that more than 5 million people downloaded it. The reason for that, of course, its simplicity and convenience in usage. Mematic gives you a chance to edit your pictures and then share them with your friends. You will get an access to the all classic meme styles and will create incredible memes in no time. Remember your favorite characters? Bachelor Frog, Philosoraptor, The Most Interesting Man In The World – they are all here.
Now it's time to create your own funny and exciting stories using all the tools from Mematic. At anytime you can download and save the meme you created. Show the latest new under new angle by turning them into a fun and memorable picture. Pick up your favorite printing style and place the text on your image. And, of course, watch the memes, created by other users of this app.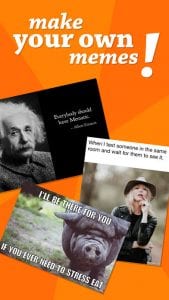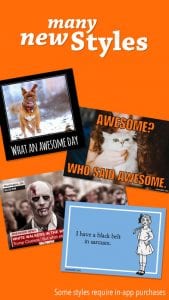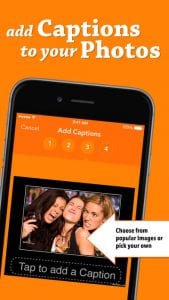 6. Meme Factory
Just exactly how it sounds – Meme Factory is a perfect meme generator for you. Free your fantasy and creativity by making a number of funny and memorable memes! Join thousands other users and share your meme experience together. What is more, here you will find a countless number of images for memes that you have never seen before and which will give you some nice fresh ideas to create. You can rate a meme, browse it and download. In order to help you with organizing, you can sort memes by name, date or randomness. In case if you are looking for a certain meme you can find it using a search bar. Edit and customize your pictures in special option. Later you will be able to publish your works on Facebook, Instagram, etc. Remember, that you have to create an account for submitting your own memes.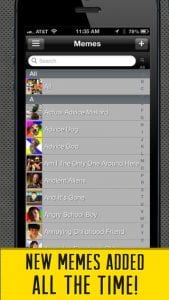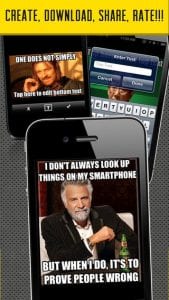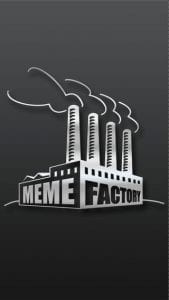 7. Meme Creator
The name here speaks for itself. As you have already guessed, this app includes an art studio which will enable you with skills to create awesome and unique memes. You have a lot of stuff to work with here – more than 600 images. There is no chance that you will be caught in absence of diversity – you have more than 20 fonts to write your texts on pictures. If you want, you can combine saved memes and create different comics. After you are done with another captivating meme, let the world see your creation and share it via social networks or messengers. If you're feeling like your image looks chaotic and it need to be restyled, use appropriate tools and find unique filter that you prefer. You can also change the sixe of a picture. Finally, there are always something that we like and don't want to lose – for these cases you can create a list of your favorite memes.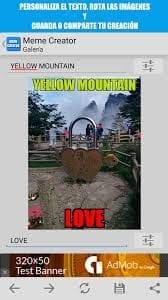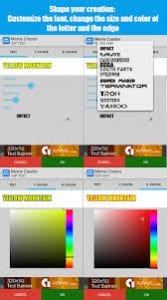 8. Meme Producer – FREE Meme Maker/Generator
In order to make even more life meaning images you can download this app. Whatever idea is hitting on your mind – you can immediately turn it into life with the help of Meme Producer. It has more than 2 millions downloads and it stands for something already. First of all, search for a picture, depicting a life (or imaginary) situation on which you have a creative idea. When you found one, change captions and add all the necessary features and information on it. When you are happy with the result you can share it with your friends or just random people.
Have fun together! You always have a chance to add multiple images to your meme. If you haven't found a picture which you have been looking for in the app storage you can upload it right from your gadget. Here captions can take more than one line. A decent advantage is also that this app has no adds and no watermarks.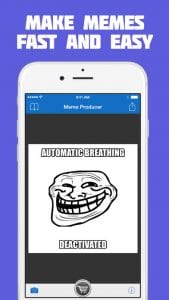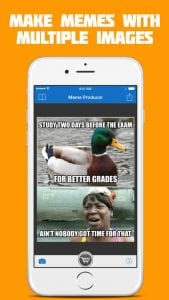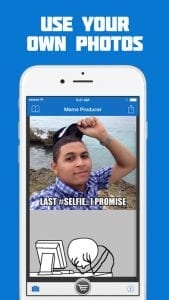 9. Modern Meme Maker
Show your creativity off with Modern Meme Maker. As soon as you get an idea on how to make an awesome meme you can start making it immediately and then share your picture using social networks. Here you can choose not only pictures, but also videos for meme creation, both from the library of the app and from your phone. You will find more than 100 funny memes for you to caption. Make your own funny or life stories, change images, rotate them, crop them, add texts! In case if you don't want your meme was used by anyone else you can add a watermark to it. Choose the font you like and add a description on the picture you're working on. Then you can divide your memes into categories and it will make it easier for you to orient in huge quantity of memes created by you and other users. You can also use screenshots from videos and add them to meme stories.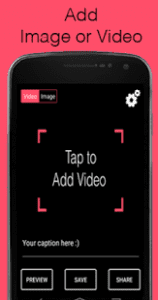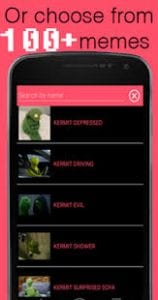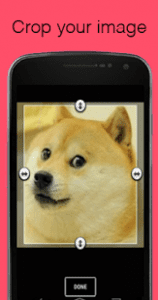 10. Make a Meme+
All the funny memes you know, starting from "forever alone" to "success kid" are here. In other words, you will have no time to be bored creating and watching memes with this app. It is really easy to make writings on pictures here since you can change font and text by simply tapping on the screen.  Add hats and faces to your memes and pictures like the "Scumbag Hat" and "Troll Face". When you are done with another meme you can send it to your friends on facebook.
Moreover, you can add your friends to your funny meme story and you will have something to laugh at. Tweet the memes you made. Send them via WhatsUp using special options for it. You can also attach a picture to one of your contacts for fun. There is also a function which is called Know Your Meme" which will help you to find out about new memes and creative process. Download or delete aby from your creations.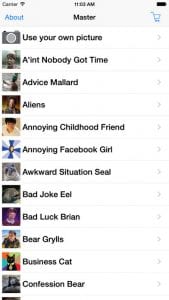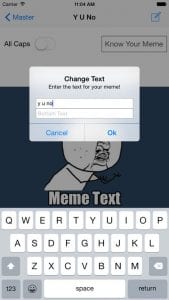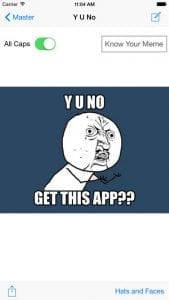 11. Meme Studio
This is also one of the most popular and recognizable apps for meme generating. It gives you a chance to work with really impressive graphics so your memes will look really polished and eye-popping. Add many writings and descriptions to your funny story by choosing a font you like the most. If you found a new and interesting meme, but you're afraid to forget about it you can mark it and then get back to it later. As always, after you finished making your meme you can share it via Facebook, Instagram, Twitter, etc. The app also tracks the memes you watch the most and provides a quick access to those. There is always a space for creativity and stuff – in the library you will find a lot of different memes and will make your own unique case.