There are so many activities that are available for the majority of a population and everyone can find something to do. If you are a person interested in art, drawing and paintings are all you need.
Or maybe you are an athlete who wanted to become stronger and harder, make an effort to broaden new horizons, so different hard sports like Crossfit or Gym are up to you. But if you are looking for harmony with your body, balance, and calm, yoga is the best option.
Different poses will help you to feel every cell in your body and learn how to understand its signals.
What if you do not have enough time to go to a Yoga Centre or group classes?
Of course, do yoga at home, using your iPhone or Android! Moreover, nobody can see you doing yoga if you embarrass you are not a pro. We prepared several great apps for yoga, so you can do it wherever and whenever you want.
Another plus is that the majority of apps are free and you don't have to pay for a personal coach or group classes, but do yoga on your way with a personal electronic coach.
---
More Yoga articles:
---
Glo – Yoga and Meditation
The ultimate yoga guide. This is probably the app on the whole market which offers the biggest number of yoga classes – more than 3700, including all nuances and additional materials for everyone to do the yoga of their dream. As you have probably already guessed, the main feature of Glo is that it helps you to create your own unique type of yoga.
Here you will find classes for all types of people, of any occupation and lifestyle – it doesn't matter if you're a president of a large corporation or a mom on maternity leave. You can choose classes according to the level of your skills, teacher, type of yoga, and so on.
Combine different classes to create your unique program. Whatever your level of experience, life stage, and aspirations – from prenatal strength to mid-workday calm – you'll find just what you need to feel your best at the moment.
The app is recommended by a variety of influential media sources as the best one for doing yoga.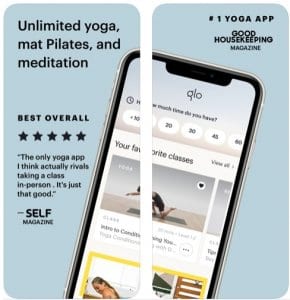 You may also like: 11 Best Stretching Apps for Android & iOS
5 Minute Yoga – quick workouts for flexibility
Only five minutes of regular sessions per day are required to become healthier and keep your body in good shape.
Developers understand that not everyone can do difficult poses, which require years of workouts and practice.
So there you can find sessions created from a large selection of simple but effective poses making it ideal for beginners. Gradually, your level will increase, and poses will be more sophisticated and difficult to comply with, but we are sure, you won't abandon.
Quick yoga routines are ideal to start the day, to relieve stress in the office or to help unwind before bed.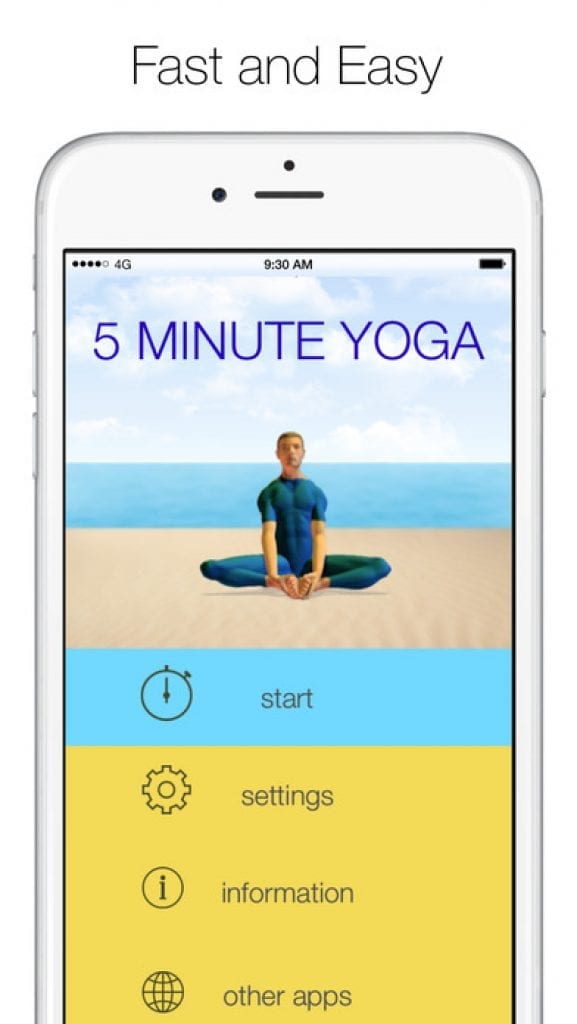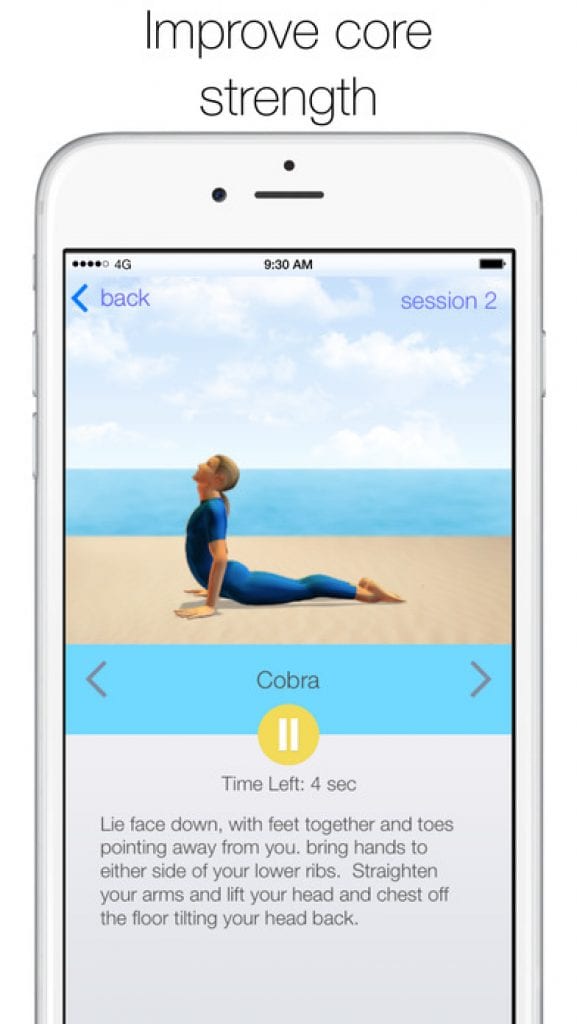 Simply Yoga
If you are a beginner, Simply Yoga is the best way for you to become a part of the Yoga World. There are more than 30 different effective poses which bring you a lot of utility. You can choose one of three available workouts for 20, 40, and 60 minutes. HD  videos ill help you to avoid making a mistake, doing each position.
What I really like is audio supporting. In-Built coach tells you some useful tips on how to breathe, where should you keep your hands, and how to make each pose. Moreover, it is absolutely free and available on iOS and Android platforms.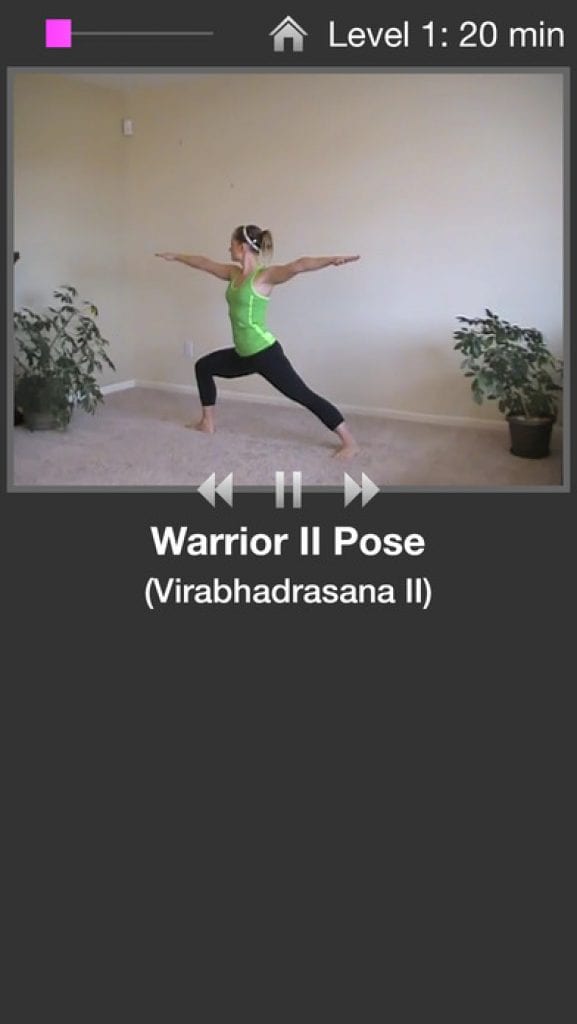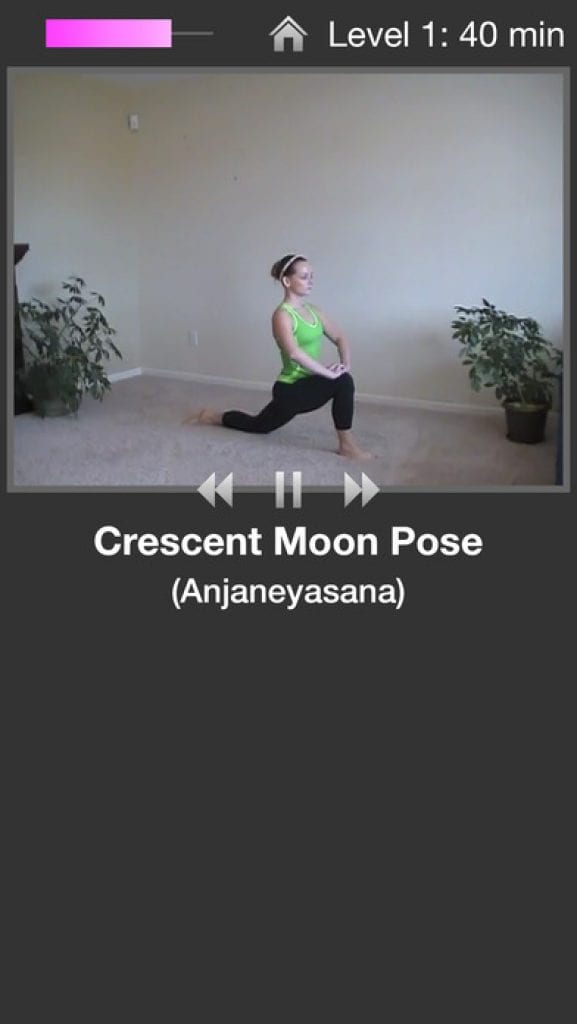 Pocket Yoga
Listed among the "15 Best Beauty Apps" – InStyle. Selected by CNN as one of the "10 great mobile health apps"
Pocket Yoga means that you can take your yoga classes wherever you go because your yoga coach is on your iPhone or Andriod phone.
For better understanding the nature of yoga, you can use the dictionary, available in the app. There you will find the names, right doing and so on.
Moreover, you are given the choice of choosing one of 27 best-selected sessions to have an effective workout. Add music, exporting from iTunes or your library to make a workout not so routine. Music is a very important part of yoga, it should be relaxing and keep you calm.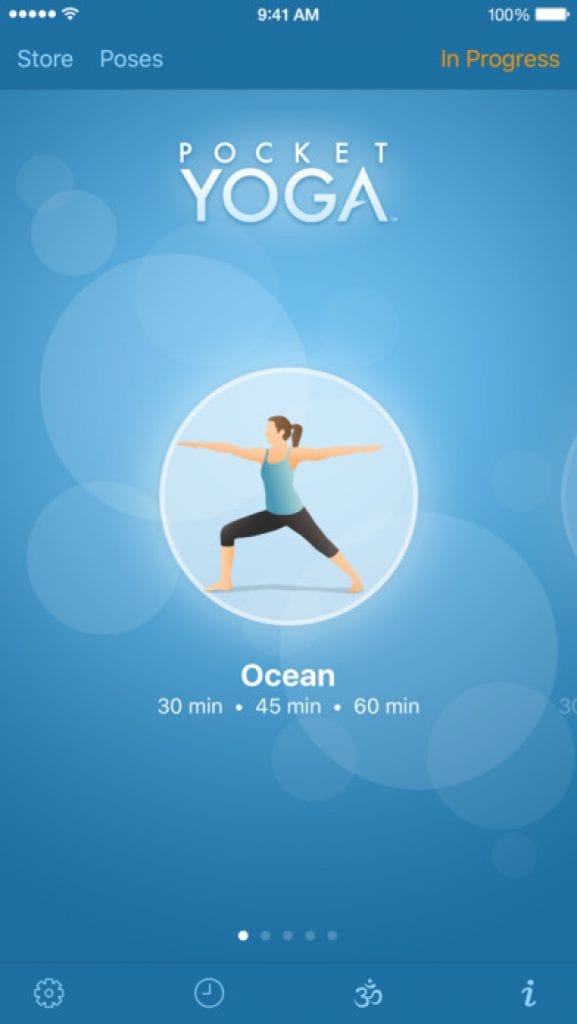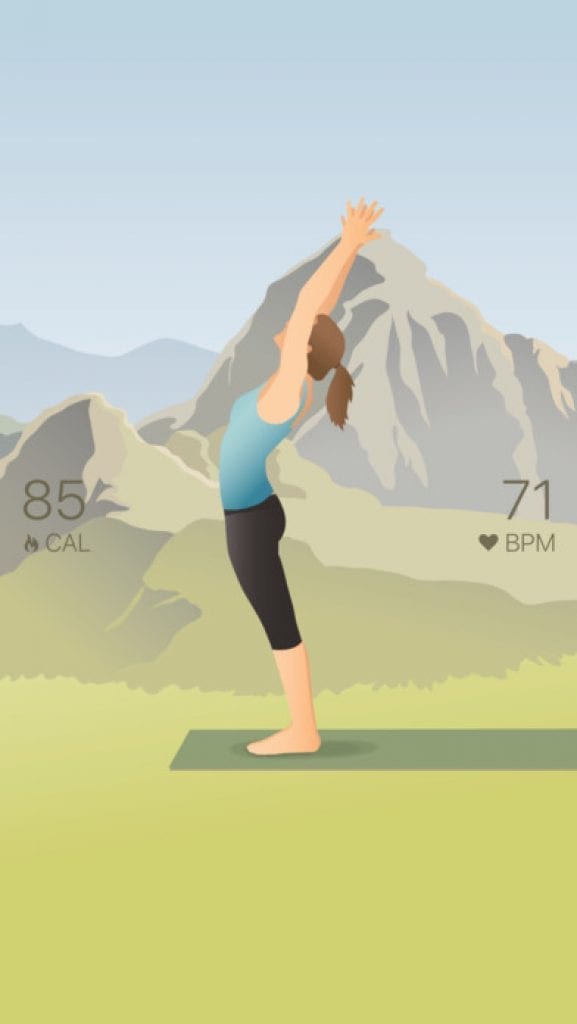 FitStar Yoga
Another well-designed app with an understandable, minimalistic interface and its features. The app cooperates with the expert of yoga- Tara Stiles- so to provide the perfect experience made just for you.
You can follow absolutely different goals from gaining the flexibility to losing weight. The app tries to collect the most suitable sessions, containing only effective poses and pose combo.
The app is always developed, based on people's feedback and comments, so new sessions will wait for you each month.
What is more, you can measure your progress and achievements, using smart bracelets or watches such as Fitbit, Jawbone UP, or MyFitnessPal account to automatically sync your weight and consolidate your fitness activity.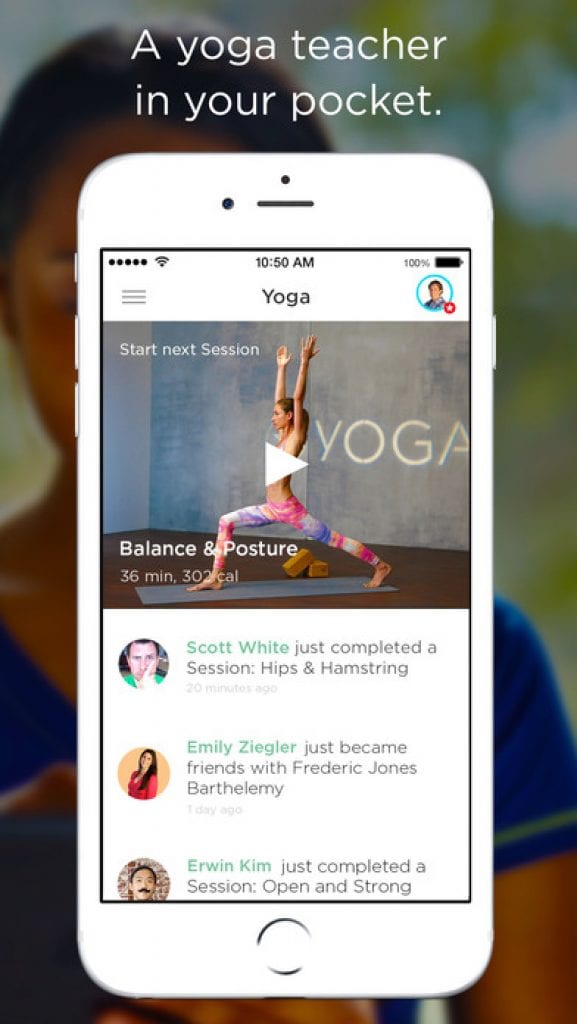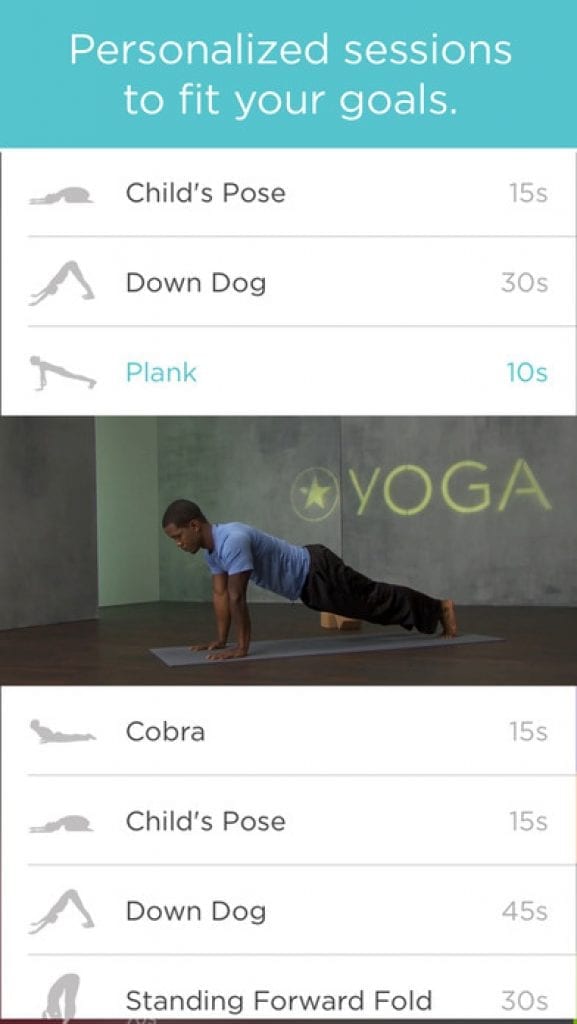 Down Dog
Sometimes, we are getting bored, doing the same poses, everyday routine, but you have no money for paid subscriptions. Down Dog is your problem solution. Each time you practice, Down Dog creates a brand new vinyasa yoga sequence so that you never run out of content.
Clear vocal instruction and a matching playlist round out the experience for a true studio-quality class. By the way, you can choose a playlist by yourself and a time you want your workout will last, the app immediately selects the best session for you and your needs.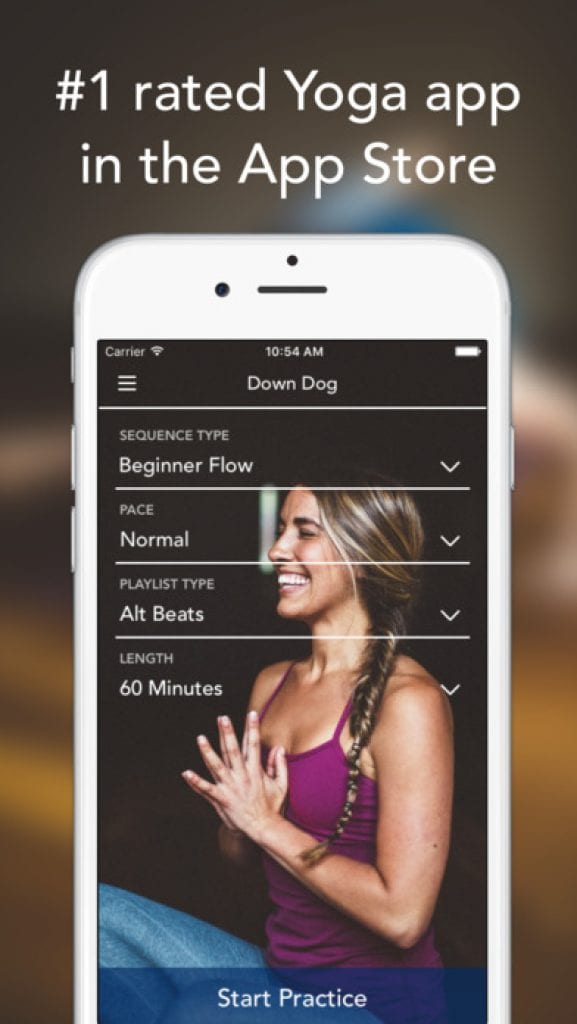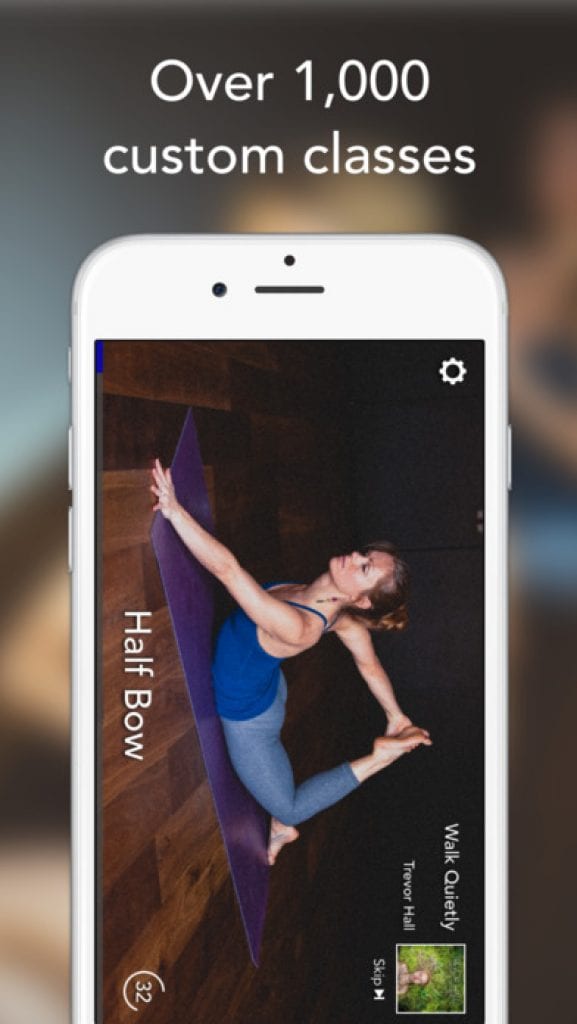 Yoga Studio
Another perfect app for everyday yoga. There are more than  70 ready-made yoga & meditation classes with HD video instructions, so you can make your workouts more efficient and productive.
All sessions are easily customized or you can create your own unique HD video classes, based on a huge Library with 280+ poses, detailed advice, and instructions. Tackle workouts that specifically target flexibility, relaxation, strength, and more.
Now you will never miss your yoga time or forget about it. The app helps you to stay on track with class scheduling, which is a perfect benefit for beginners as experts.
Choose from several background music and ambient sound options, or create playlists from your personal music library. Also, it is supported on your TV with Apple TV (Gen 4) app or AirPlay, so Play classes directly.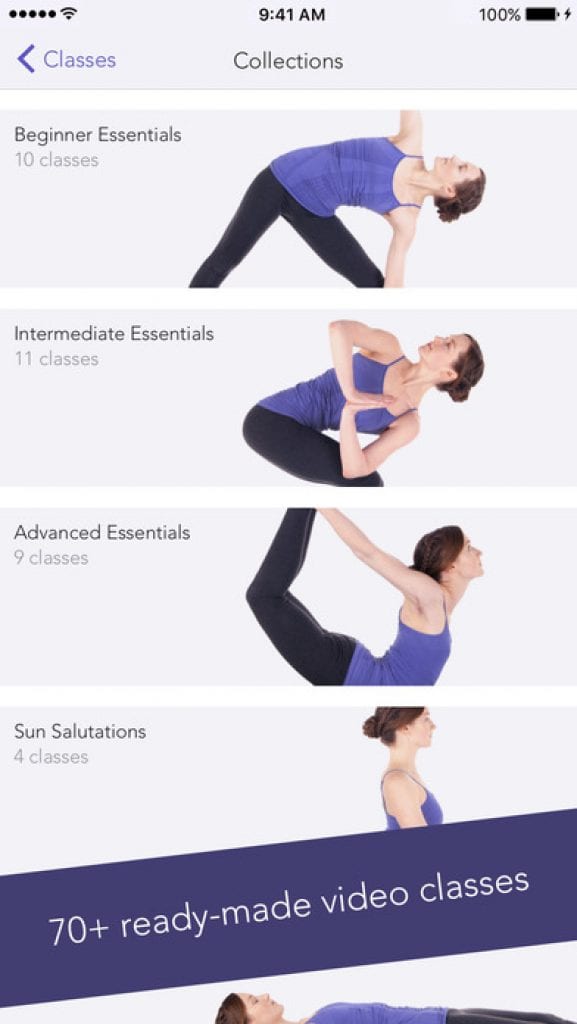 Universal Breathing – Pranayama
For those who are tired and want to relax after a difficult and hard day at work, we recommend starting doing yoga, at least, fifteen minutes each day with Universal Breathing- Pranayama.
It is the professional app created by doctors, designers, and app developers to provide the perfect breathing experience. It is based on a technique of right breath work, not just about twisting and stretching your body.
What will you get practicing breathing every day?
Falling asleep faster
Higher athletic endurance
Help managing asthma and COPD
Decreased blood pressure
Relief from headaches and migraines
Less stress and better mood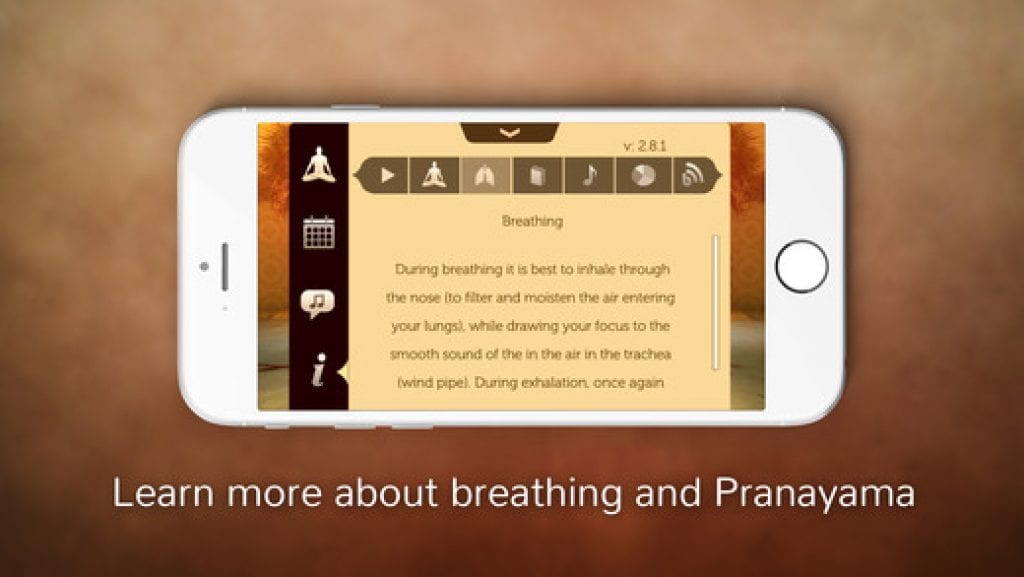 Daily Yoga – Workouts, Meditation and Fitness Plan
An app is created by 8 super professional yoga experts, so don't doubt whether this app is the best or nor.
100 unique yoga & meditation exercises with the largest database of 500 yoga positions, beautiful HD videos, guided meditation, soothing music, social community, and more.
There are several features that make this app one of my favorites. First of all, you can choose a session which satisfies all your needs.
For example, if you want to focus on strengthing your abs, choose 5×5 Abs Toning Plan, or if you are a beginner- 12-Day Beginner Tour is up to you and a lot more sessions are available. Secondly, only you customize the duration and suitable time for each workout. Last but not least, you choose lovely music to enjoy the process of yoga.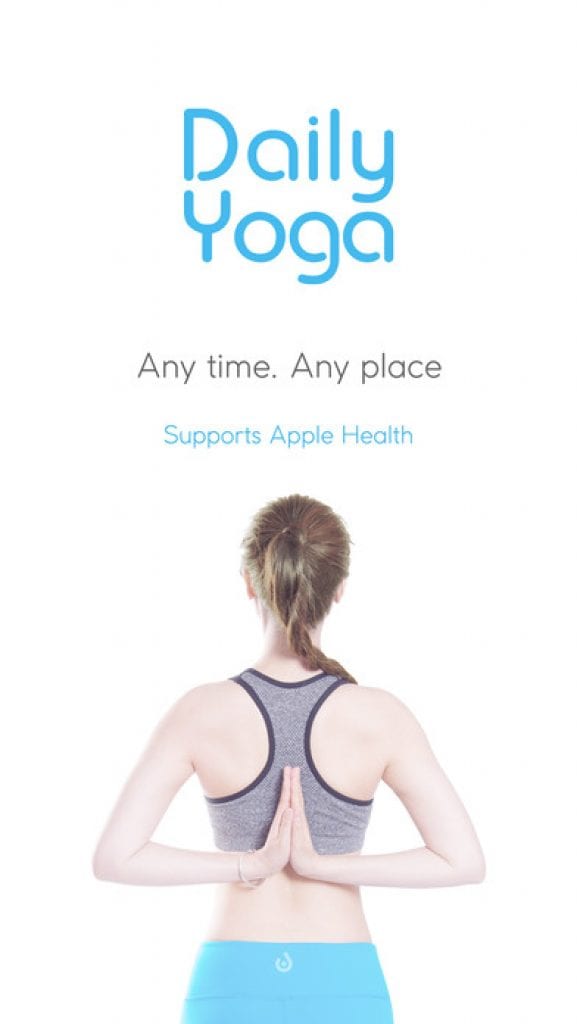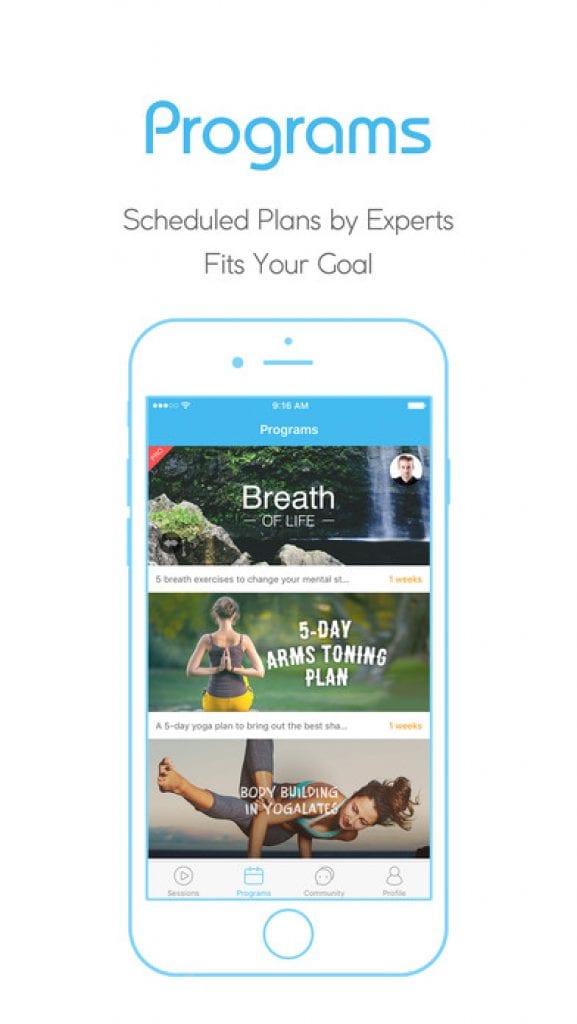 Yoga – Track Yoga
Yoga is not only for gaining flexibility, but it is a good way to fight depression. While you doing yoga poses, you get all bad thoughts out of your head and give it and your mind an opportunity to relax. All you need is to set some goals and follow your schedule.
Yoga- Track yoga can help you to organize yourself. Due to its various sessions, you can create your personal week of workouts. There are several interesting and effective yoga programs, created as for women as men: Full Body Fitness, Yoga for Depression, Yoga Workout, so everybody can find something for everyone.
Apart from a personal yoga teacher, who will get you useful tips and advice, HD instructive videos with all recommendations and yoga positions dictionary, you will be able to collect badges that motivate you further by completing yoga milestones.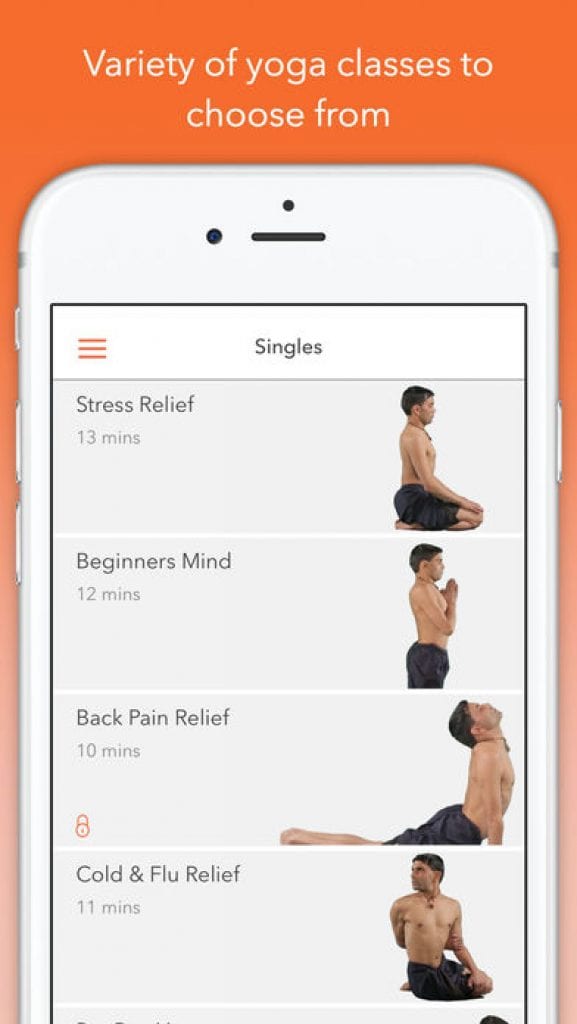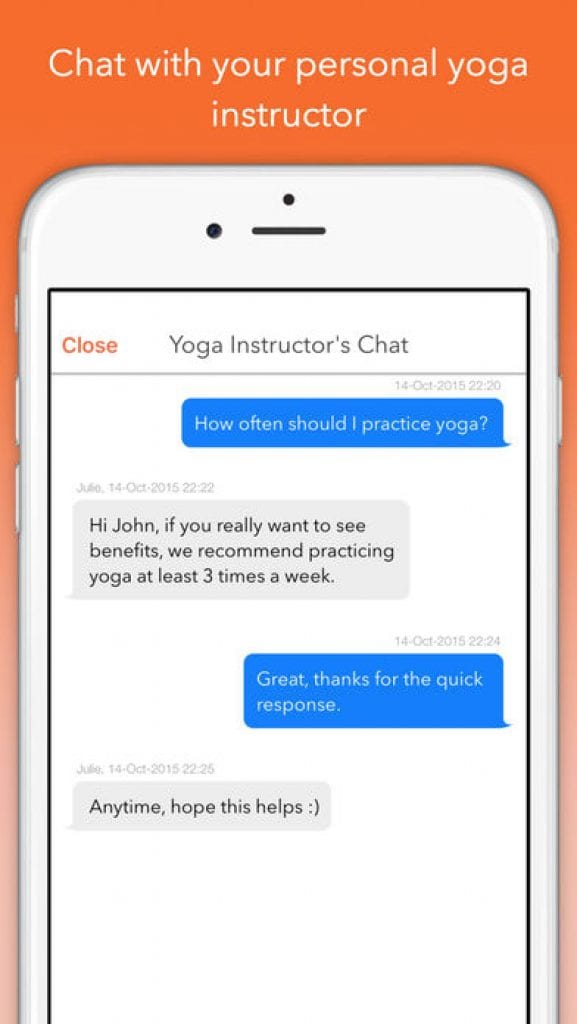 Yoga Fitness Training
Exercise is the key to life. Keep the body strong and your mind free. Although some think yoga is only for relaxing and staying calm, yoga is a great strength builder and some of the strongest people in the world perform yoga on a daily basis to reduce stress and build muscle.
Due to specially selected programs, sessions, and poses you will achieve your goals as soon as you start doing yoga every day during a month. The app consists of over 40 poses and 8 routines, which you can combine to create your own workout.  Some of the poses are beginner level and some are for more advanced.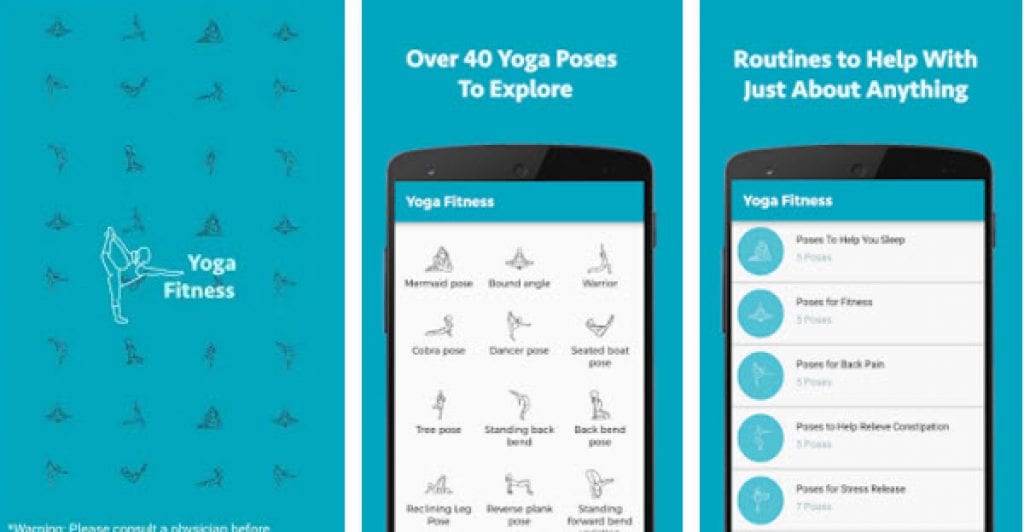 Sworkit Lite
Unlike other apps in the study that limit workouts until upgrading, with Sworkit you enjoy all the free workouts Sworkit has to offer and then choose to upgrade to Sworkit Premium when you are ready to unlock new workouts and features that help you achieve your goals.
There are 4 available modes: cardio, strength, flexibility( stretching), or yoga. In every section are specially selected sessions containing several of 200 different poses and combinations. What is more, you can choose your favorite music as a background, so you can get all satisfaction from your workouts. Remember, that it is necessary to hear your body and feel it!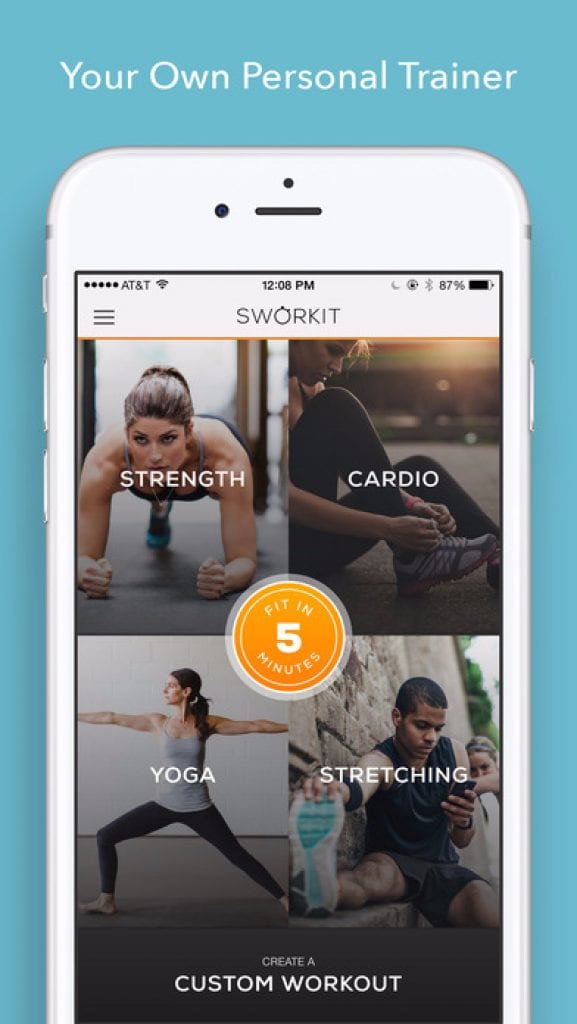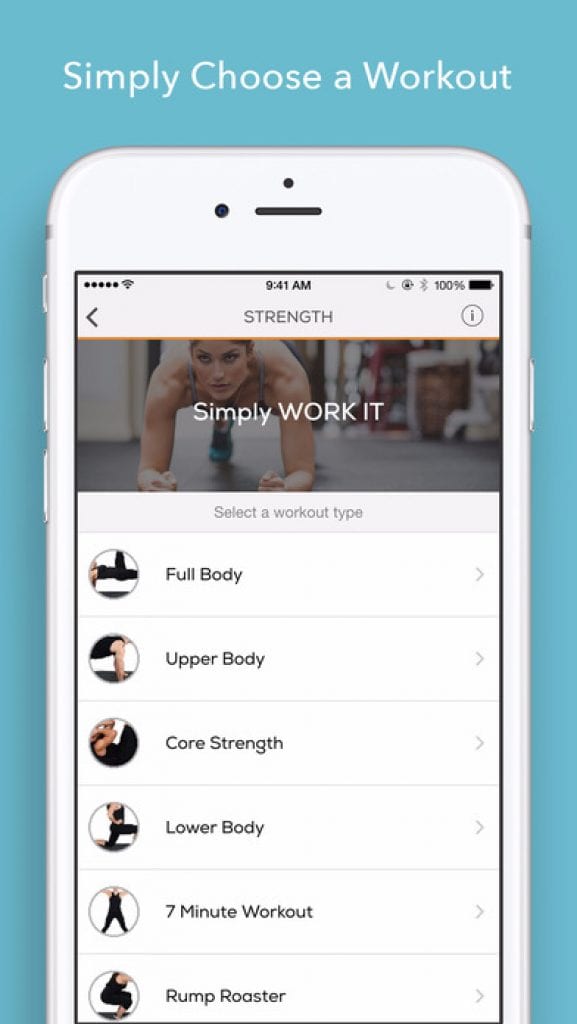 Gaia
This app is entirely dedicated to yoga. Here you will find the regular yoga exercises, meditation techniques, other mindful practices. In other words, it is a good program for those who not just want to train their muscles, but also improve overall state with famous practices.
All the yoga classes are prepared by the world-famous teachers. The library is constantly updated and users say that the app is constantly evolving. After following a program of Gaia you will see that you haven't only become stronger physically, but your consciousness has also expanded, you've become more mindful and peaceful.
Great app for those who experience lots of anxiety or has sleep problems.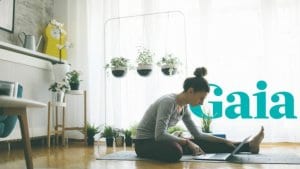 Yoga Studio: Mind & Body
For those who are seeking for a less engaging yoga app, but of decent quality, here is your optimal choice. This Yoga Studio will help you to learn the basic positions of yoga, learn the right techniques, and train your body. All the yoga classes here are presented in HD resolution.
In total, there are more than 80 classes that you can explore. Moreover, in Yoga Studio you will find the library guide of over 280 poses with detailed advice and instructions. Both beginners and experts will find this program helpful – you can choose the level of difficulty.
Just like in many other yoga apps, here you can choose the length of classes – starting from 5 minutes to one hour. Besides, you can set up a goal on which you want to focus more. For example, maybe you want to focus more on flexibility? Or strength? Or maybe relaxation and balance? All those programs are available here.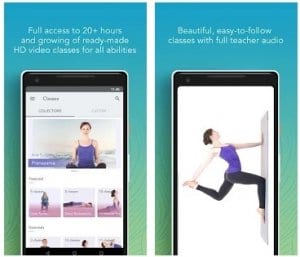 Yoji Yoga Lite
The app is ideal for practicing Hatha Yoga and other yoga styles involving static postures. It consists of 33 poses most appropriate for practicing yoga at home. Remember that 30 minutes of yoga practice every day provide you fat burning, losing weight, good posture, and gaining flexibility!
You can customize a workout as you want, choose the most attractive asanas, the duration or how long will your workout last and music, of course! You can also change the name of the practice and its image. It is easy to create new practices or delete those that you no longer need.
All poses are supported by funny images and detailed voice instructions which will become the best teachers!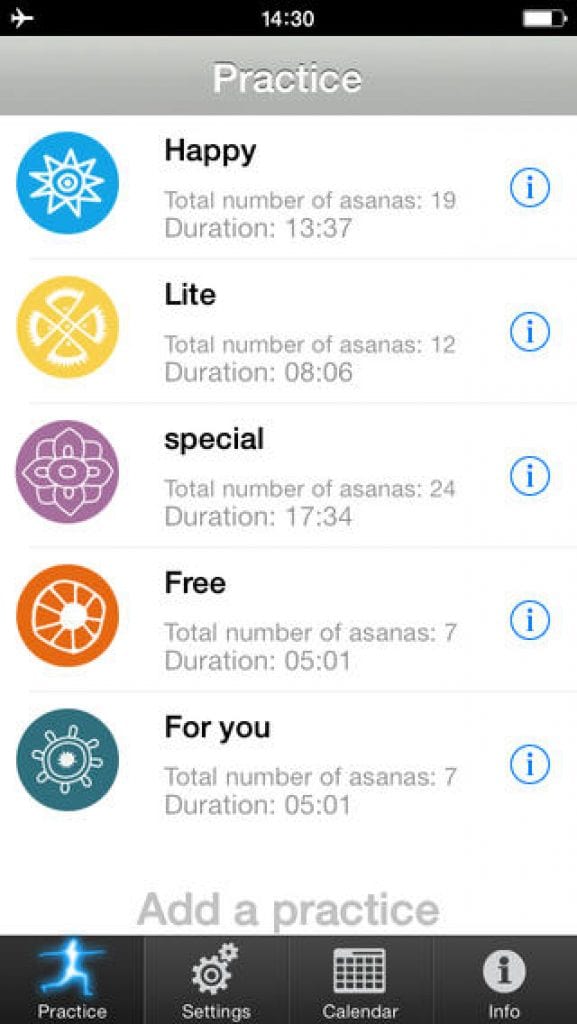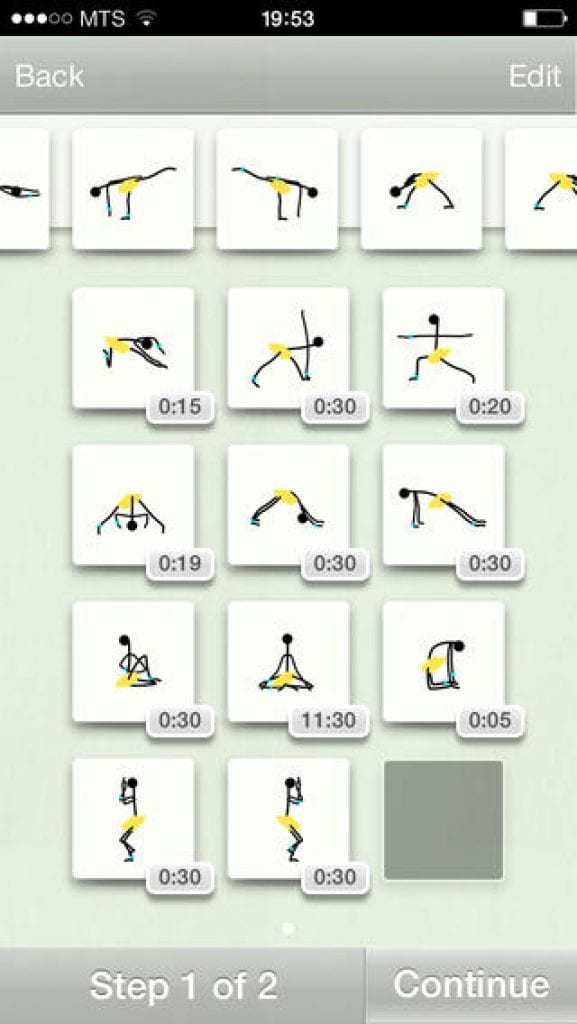 Find What Feels Good
This app with an unusual name is made by Adriene Mishler. Well, being more precise, the founded the program of yoga that is presented in this app. Find What Feels Good is a different kind of yoga app – its goal is not to get you in shape (though there are yoga excesses for that as well), but to give you more tools on your way to personal happiness.
Here you won't find any intense cardio workouts but will find useful videos and podcasts dedicated to self-love, nutrition, and many other aspects essential for a human to conduct happy and mindful life. In total, here you have more than 100 hours of yoga with Adriene Mishler.
Another cool feature here is that you can watch the classes even without an Internet connection. All you need to do is to download the video in advance. Moreover, you can stream the classes to other devices via Chromecast or Airplay.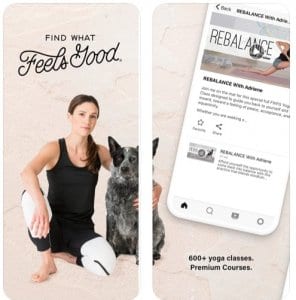 Alo Moves
Another app with n interesting name, which is, nevertheless, doesn't make the contents of it less interesting. Alo Moves is actually a fitness app, but the core of all its programs is yoga. Moreover, this app is knowing for providing serious and effective yoga exercises that will make your muscles stronger and more flexible.
In total, Alo Moves has more than 1500 yoga classes and new classes are added every week. Apart from regular yoga lessons, here you will discover meditations, sound baths, and other types of fitness too. You can choose the level according to the difficulty a regulate the time, that you are willing to dedicate to practicing yoga with Alo Moves.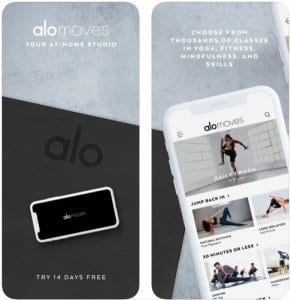 Yoga Workouts by Daily Burn
If you are looking for an easy app that doesn't include lots of fancy features that you're not going to use anyway, but simply helps you to learn all the yoga asanas, then this app will suit you the most. Daily Burn works simply, but effectively, in the best fitness traditions.
When you first open the app, you have to set up your fitness goal. You can set the letter flexibility or strength as the goal of your yoga classes. Then the app will create a weekly workout program for you. You can also take classes on-demand in categories like "balance" and "hip openers" with videos of real instructors.
Peloton — at home fitness
New York City is known as a place that attracts the best professionals all over the world. People who are the best in their craft, work there, including yoga instructors. This app contains yoga training programs by the best New York instructors, so now it doesn't really matter where you are – you can always get a master-class.
Actually, Peloton contains several fitness programs and yoga is just one of them. An interesting feature here is that some classes here take place online and you can watch live streams right from New York City. Set up your fitness goals, choose programs, enjoy training with the best world instructors – this is all about Peloton.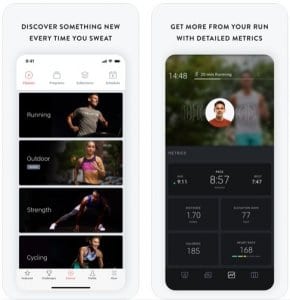 Asana Rebel: Get in Shape
Still think that you hate yoga because it is so slow and boring? This app will reassure you, proving that yoga can also be dynamic and exciting – and – what is more important – a great cardio exercise to help you to lose weight. However, this app will be useful not only for fans of intensive workouts – it includes all the aspects of yoga.
It means that here you will discover the meditations and traditional asanas as well. Moreover, all the sessions are customizable and you can make your practice last from 5 minutes to an hour. Track your daily progress and see which changes you're making with Asana Rebel.
Another cool feature is that intense yoga sessions here are conducted to energetic music. In the main menu, you can choose the type of body you want to get as a result – and go straight for the training programs for that.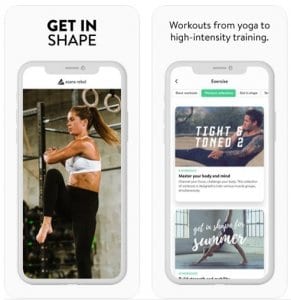 You may also like: 7 Best Fitness Challenge Apps 2020