If you are looking for a way to improve your mental health and track your mood patterns you can pay attention to the Mood Patterns app. Honestly, I came across this app once, and now I'm using it almost every day.
The app is remarkable by its simple interface design and ability to do the sampling of your mood states. In order to start using the app, creating of account isn't required – which is convenient in my opinion. You will only need to come up with a pin code so no 3rd person would be able to access your data.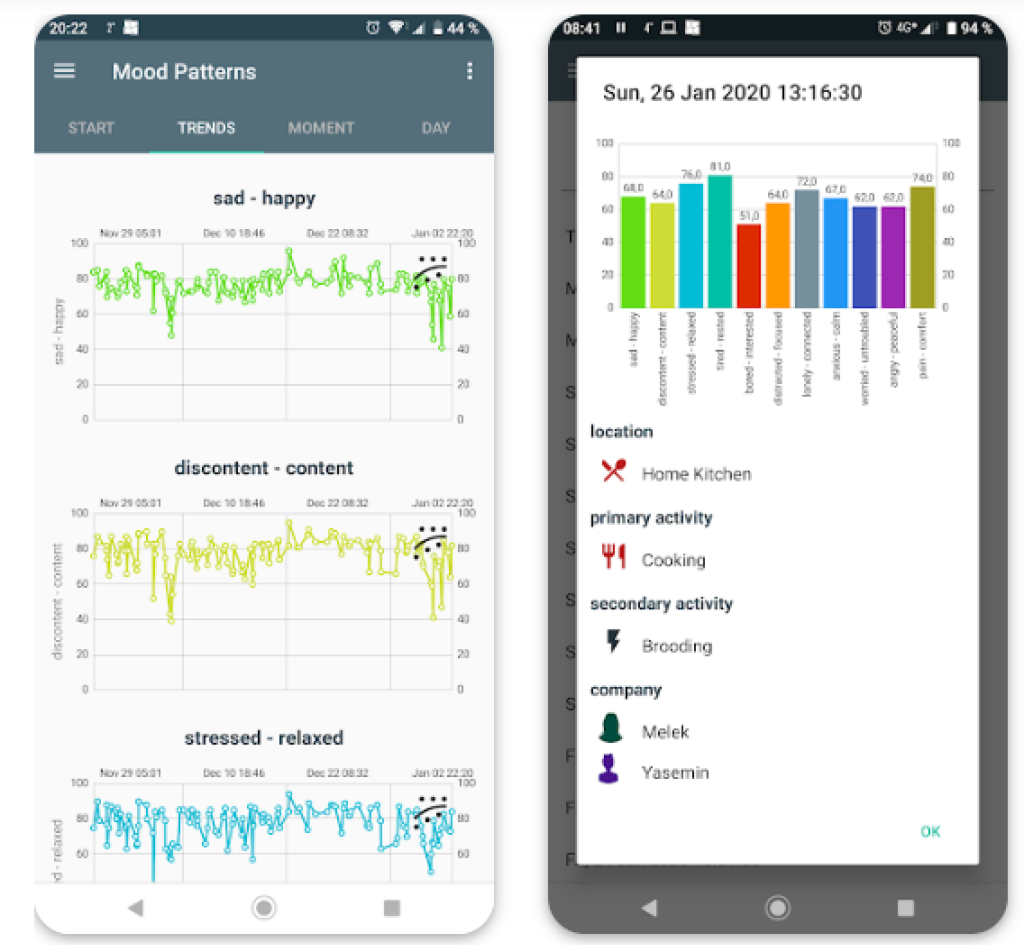 The primary purpose of the software is to assist users in recognizing trends in their moods and sleeping patterns. The diary requests more information about the user's day, such as stress levels, exercise, and diet, as well as a rating of their mood and sleep quality on a scale of 1 to 10.
The software starts to analyze the data and find trends after a few days of journaling. Then, in simple-to-read graphs and charts, users may observe the trends in their mood and sleep over time.
Users who want to alter their lifestyles and enhance their general well-being can find this info helpful to determine the causes of their bad moods and restless nights.
In general, the most prominent feature of the Mood Patterns app is its wide range of tools and features that may be used to better understand their emotions and spot patterns or triggers that can be harming their well-being.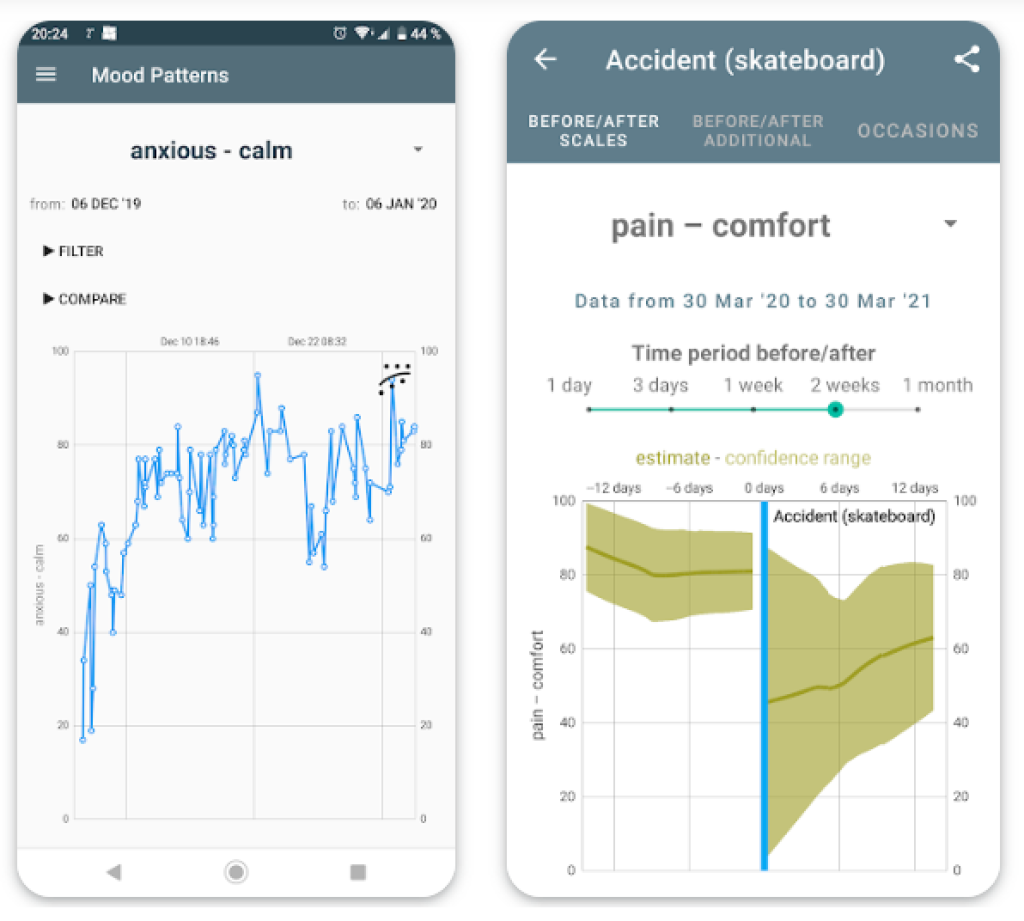 The mood tracker, mood patterns, insights, settings, and support are among the features available on the app's main menu. Users can enter and track their moods in the "Mood Tracker," along with their emotional condition, bodily status, and so on.
A thorough examination of the user's mood patterns is presented in "Mood Patterns," along with trends and connections between various data sources. Based on their mood patterns, "Insights" offers consumers individualized recommendations and insights.
You can personalize your app experience via "Settings," which also lets you choose your preferred language and notification settings. Users can contact the app's support staff and resources by clicking "Support."
They can begin recording their moods by entering numerous data points, such as their emotional state, physical status, and environmental factors, once they have logged in. A thorough study of the user's mood patterns is then generated by the app and displayed in the "Mood Patterns" section.
The app's user interface has a clean, contemporary look with a blue and white color pattern. The mood tracker for the user is displayed on the app's home screen, where different data points can be entered.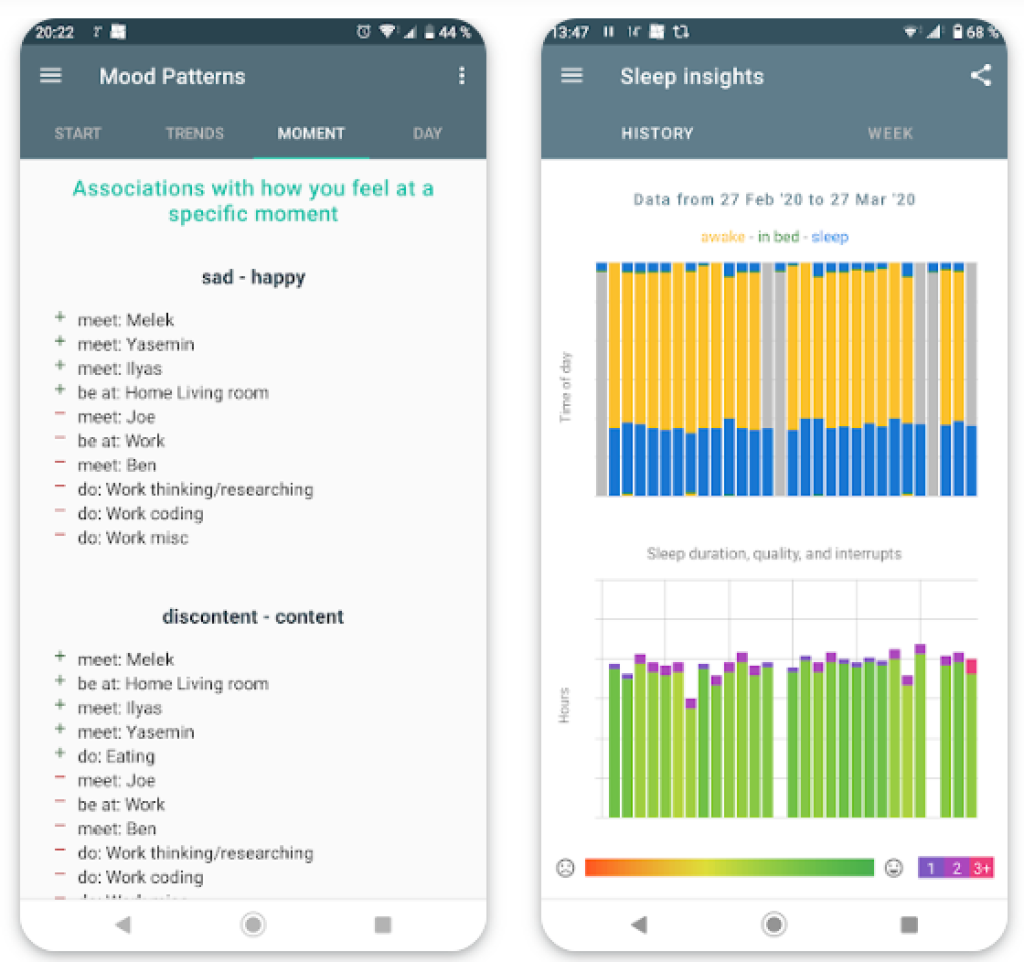 Moreover, the app has a calendar view that shows the user's mood trends over time. Under the settings section, the app also has a dark mode that may be activated.
In addition there are some interesting feature of the Mood Patterns app. Based on their emotional patterns, it offers users individualized insights and advice, such as suggestions for getting more sleep or reducing stress.
You can also schedule reminders to record mood data and monitor advancement over time.
What I want to say is that Mood Patterns is a great app for anyone trying to understand their mood patterns and enhance their mental and emotional health. It offers a distinctive and cutting-edge method of tracking and analyzing mood with its extensive data inputs, individualized insights, and user-friendly interface.