So what does a good strategy game need? Mind-blowing graphics, interesting story, and fantasy settings is our answer. And Rising Empires 2 just ticks all the boxes. Undoubtedly, it is one of the best strategy games ever.

You may also like: 25 Best cross-platform multiplayer app games (Android & iOS)
It is amazing that this treasure is available on mobile devices and Rising Empires 2 is very powerful. It really took our breath away and it will definitely have the same effect on you.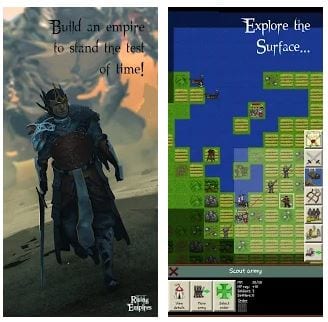 So the plot of the game is the following: there are six human races and each one of them is trying to create the strongest civilization and to conquer all the land. You choose the race you want to play from and take it from there. There are humans, elves, dwarves, greenskins, the insectoid Krant, and the undead Ende.
Also, you get to pick their religion. And it gets more exciting as every race is unique according to its abilities.  The map has two levels – the Surface and the Netherworld. The races live in the part where it is the most comfortable for them.
And we just can't stop talking about the technology tree as it's really impressive. It has weapons, agriculture, engineering, magic, social organization, and the list goes on. The more advanced the technology is getting the more amazing things you can have including better stats and new buildings.

You may also like: 18 Best Multiplayer Strategy Games for Android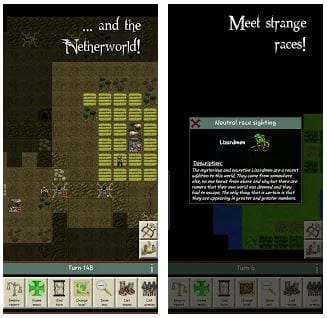 Of course, there are negotiations between the nations. Firstly, diplomacy comes for a peaceful compromise but if it didn't work then it is time for a fight. When the armies meet the outcome is calculated automatically. Be sure it is fair as the calculation system is very complex and analyzes everything.
The building part is quite interesting too. You have an option to improve squares on your territory to become more productive. And you can also add more buildings which result in more research points, faster production speed, town happiness and so on.
Saying this game is a masterpiece is an understatement. It is a one-off full of stunning features and options. Visually it is a dream and everything is carefully thought through in the game. if you still haven't downloaded Rising Empires 2 don't waste any more time.

You may also like: 11 Best Space Strategy Games for Android & iOS