Sometimes your happiness about having an iPhone can be interrupted with self-installing apps. This is very annoying, especially when you don't know the reason. What is more, it can be quite dangerous, as any uncontrollable activity might be an indicator of hacker's presence.
However, the problem can be fixed easily. Just follow the tips step by step.
By the way, if you are interested in using your iPhone 100% effectively, make sure you check How to Check How Old Your iPhone is? Full Guide.
We recommend that you try all the listed things, even if your problem was solved with the first step because it will help to improve your security.
Automatic download should be disabled
Sometimes people who use iPhones and iPads forget about automatic downloading. And then they get surprised by the tremendous amount of applications that are being installed on their device.
However, this one of the easiest problems to fix. To solve the problem, just open the Settings. Then find "iTunes & App Store" button. When you tap on it, you will see a menu.
You should find the Automatic Downloads section. Then find "apps" and look for an automatic download. Turn it off and enjoy using your iPhone.
What if you are not against the automatic download but you would like to save your phone memory? Well, there is a good decision for such a problem.
Go to Automatic Download and switch to the next menu. What you need to find is the Cellular Data option. When you activate this section, your device will be prevented from consuming cellular data. But the functionality of automatic download will remain.
How does it work? The apps will be downloaded only when your device will be using Wi-Fi.
There is another cool tip. You can try Low Data Mode. Its main function is to remain the cellular data unrestricted.
You may also like: 10 Best iPhone Thermometer apps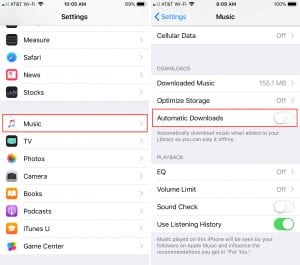 Check Apple ID Settings
The decision will depend on the number of Apple devices you have. If you have multiple iOS devices, they are highly likely to be using the same Apple ID. So the apps installed on your iPad will be automatically installed on your iPhone and vice versa.
To fix the problem, check the list of your devices that could be tied to your Apple ID. It is very common for people to stop using some of their gadgets but they don't remove them from the list. Or it could have been a simple glitch. Anyway, you need to check it and remove some of the devices you are not using.
If you have only one device (for example, an iPhone), then you should contact technical support. There can be some issues connected to your privacy and security. We can't predict which response you gonna get so we can't give a piece of advice here.
If you are in love with Apple gadgets, you can also look at a good guide – How to Change Your iPhone's Auto-Lock Time.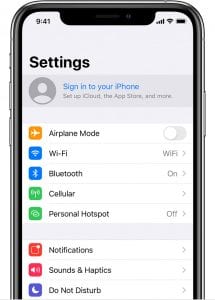 It can be a virus!
This is the worst scenario. Even though iOS devices are famous for their security, such things sometimes happen, especially if you tend to download apps and files from unknown web pages and strange sources.
Even though Apple tries to protect its users, sometimes it can be vulnerable. It is highly unlikely to "catch" a virus from the Internet but it is possible to hack an iPhone. 
As a result, there can be malware in the system. To remove it, do the following:
Try to remember when your problems occurred for the first time. If it is connected with the download of some suspicious files, delete them. 

Remove the history and cash in Safari. 

Turn your device off and wait for a few seconds. Then turn it on. Sometimes restarting your phone can be the solution. 

Go back to the default settings. This is a kind of extreme measure. If you fail to solve the problem using the other tips, default settings might help. 

If the tips provided by the article don't seem to help, contact the professionals. If there is a problem with the operating system, we don't recommend that you solve it yourself if you don't have enough experience. 
Do you need a special set of antivirus programs? Well, in fact, you don't. Apple devices are famous for their good protection and security. 
Their devices have a built-in set of good antivirus software, so you don't need any additional apps on your Apple device. This is one of the best features of Apple.

So when the problem is solved, you can just keep enjoying your device.
You can also check: 11 Free Split Screen Games for iPad & iPhone