Riddles, crosswords and other logic games will always be popular among children and adults. All of them play a very big role in brain development or its support. Children learn how to think over, improve our cognitive skills and finally to be patient and determined. Adults in their turn maintain the functionality of the brain and train their thinking abilities not letting the brain be fossilized. 
What's more, riddles are entertaining and challenging. We are finding pleasure in solving yet another one riddle. It's like a little victory, especially for children. Playing it in a group or in a family circle can have a positive impact on a relationship inside the group. 
On one side, riddles involve active brain work while on the other side it's easy entertainment as it's presented as a game, not as a textbook exercise. 
At our time, we spend more time with our electronic devices and its easier for us to access anything through our mobile phones. There are lots of websites and applications suggesting riddles to play and here is a collection of the best riddles apps for Android and iOS.
What am I? – Little Riddles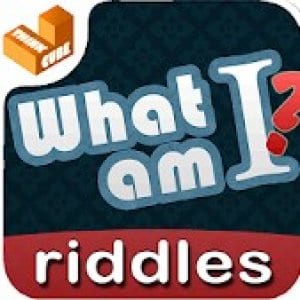 What am I? is one of the most popular mobile application and a game in one. Easy to find and easy to play, the game has a comprehensive interface and advanced design. From first sight, you can have an opinion that developers made a great job. The number of riddles is huge, some of them you may know while some may be absolutely new for you.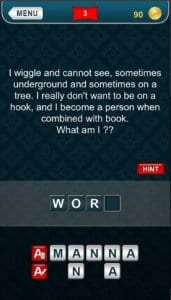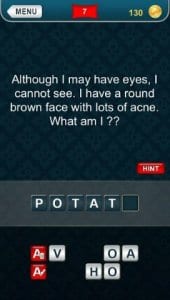 Solving riddles you will move from level to level earning coins. If riddles are tough to solve, prepared hints are always here to help you, though for this you must pay. The game can be played by one person at any place. No matter you are commuting at the moment or having a lunch break. Playing with friends or with a family can bring even more fun. There can be some spelling mistakes in riddles, but it didn't stop thousands of people to play it.
There you can find in-app purchases and advertisements though, in general, the app is free.
You may also like: 15  Best turn-based strategy games for Android
A Year of Riddles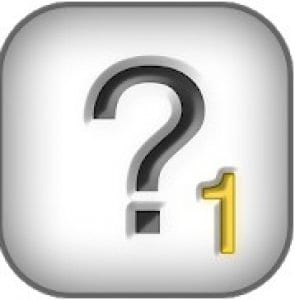 The developers of this game took the idea of daily riddle and applied it to the app. You may think at a glance that you will have one riddle a day no matter how many you would have. Thankfully it's not true. There are just 365 riddles for each day of the year but you can access all of them at any time. The system is typical – you earn points for each solved riddle. When you get stuck you can use hints paying with game points. If you are really stuck you may use real money.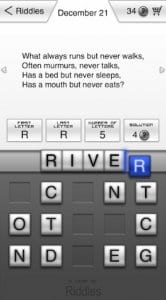 A year of riddles is a very popular and high rated game. It weights few and will not load your phone memory space, though it can load your brain and force it to work. There are in-app purchases and advertisements.
Amazingly there are 3 more paid versions of this game with new riddles to play, And its a riddle for me where did they find all of them.
Just Riddles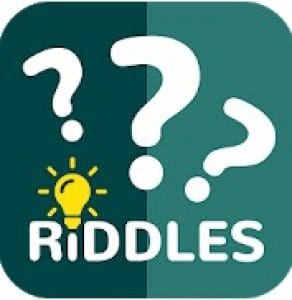 Just riddles is yet another time-killing entertaining app. It will help you to sharpen your brain an improve its abilities. Riddles are suitable for adults and children. Some of them can be hard while others may seem to be silly. There are plenty of riddles though it's not mentioned how many the app has in total. New riddles appear within each level, but sometimes you get back to old riddles choosing random style.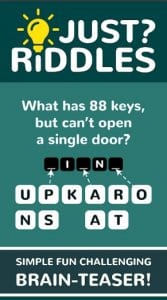 The app is free with advertisements though they are not annoying and few people complained about them. If you don't know the answer there are hints to help you or you can ask friends directly through the app. Earning coins will help you to solve riddles. The app is available for Android and iOS devices.
Riddles – Just 500 Riddles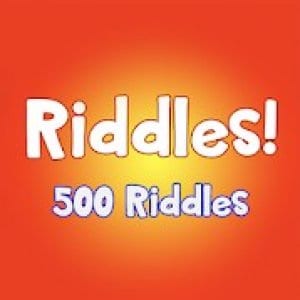 This game seems to be easier as each riddles goes with an option to choose the answer from 4 given. It's kind of test, not a gap-filling exercise thus it's easier a bit. Just 500 Riddles is available for Android only for free. It contains adds and they sometimes pop up in an inappropriate time. Some may consider it inconvenient and mood-ruining though still, the game has tons of positive reviews and ratings above the average.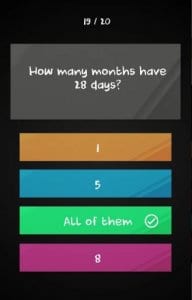 There are many levels and each level contains 8- 10 riddles. To get to another level need to answer right on around 7 riddles. Some of riddles are tricky and require a player to be very attentive as the answer is hidden behind words and we often can just miss it. Therefore riddles train not only the brain but attention itself.
Math | Riddles, and Puzzles Math Games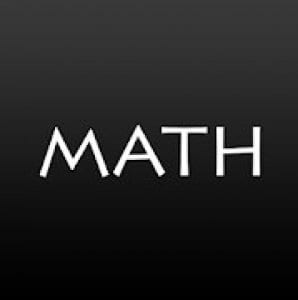 The next application is far from being simple and traditional as it's related to math. It can be very important to pupils as they study it daily during the years at school. But as long as riddles are har sometimes the app is suitable for older schoolers and adults with mathematical ways of thinking.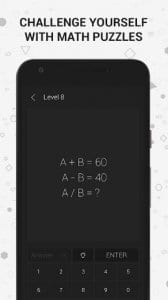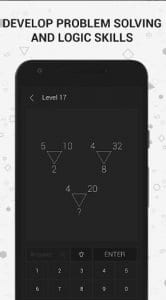 There are called math brain games, more educational than just entertaining. Such riddles sharp the brain. For example, there are different figures and numbers in a row or specific order and one number is missing. The task is to find out what number is missing searching a logic in a picture or geometrical shape. The game is placed on both Android and iOS markets and available to download for free.
1000 Riddles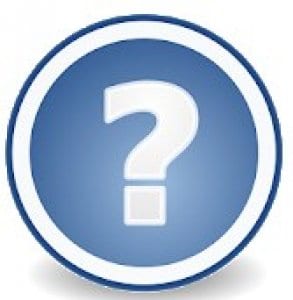 The next app in our list combines different riddles, logical math puzzles, and famous quotes guess tasks. 1000 riddles is a free popular application for Android and iOS devices with high ratings and thousands of downloads. People like to play it and it doesn't consume memory storage. The design and interface of the app are simple yet not destructive.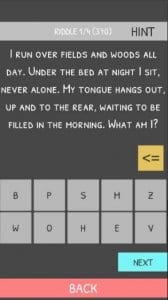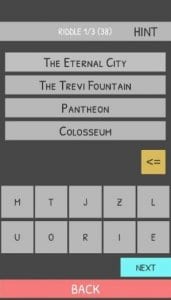 The process of the game is classic: you getting a riddle or logical game and letters to form the answer with. Certainly, you can use hints if you have no clue about the answer and have never heard a riddle before. The game is suitable for children and adults at any time like a brain developer and stress-relieving activity.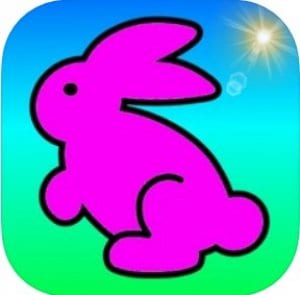 The last but not least riddle games application is for iOS only. It's a bright and colorful app with a design that is more suitable for our little ones from the age when they can solve riddles and even memories of some of them. The most significant feature of the app is that it gives an answer right away from the moment you feel you are giving up. The app is not going to torture you giving hints for coins. It's all up to you. The answer is right away under the riddle hidden behind the question mark.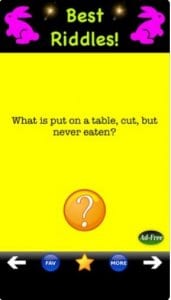 Best Riddles & Brain Teasers is a simple app where the game process isn't complicated by levels, coins and getting hints. The app is for simple joy, stress-relieving, brain work, and development. It will not be hard and irritating as it's so easy to find out the answer. But anyway, challenge yourself trying to solve riddles by yourself. It will be rewarding.
You may also like: 15 Best farm game apps 2019 (Android & iOS)