Getting tired from typing repeating text, but still want to impress your mates? This article has you covered!
There are text repeat apps for Android & iOS that will generate repeating messages as many times as you need. These apps come with full emoji support, and some even let you try creative fonts or vertical writing. Some apps even come with random text generators, but if you want to get thoughtful messages — get yourself a proper app for that.
We've gathered together the 6 best apps in that category you may try. Take a look!
Repeat Text
Let's start with a text repeater app that lets you send the same message multiple times.
It's a simple-to-use app that covers all the essential features. First of all, it lets you send any kind of message. In other words, the app supports multiple languages, all emojis, and all that. You may easily send a text filled with emojis, which is nice. More to that, you may even send an empty message if needed.
Speaking of the text length, there is no word limit, so feel free to send any messages you want. Along with that, the app lets you set a repetition limit, and add space and line by your will. There are also random options that will write random text and emojis as many times as you'll need.
You get to set any number of repeats and there are no in-app purchases for that. Plus, the app lets you view and modify the output before sending it, which is handy. You also get to copy the text and share it on social media if needed.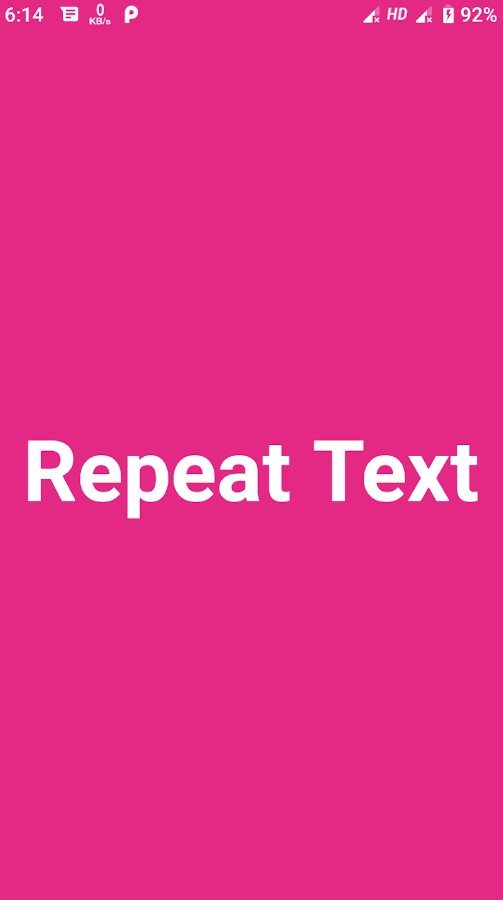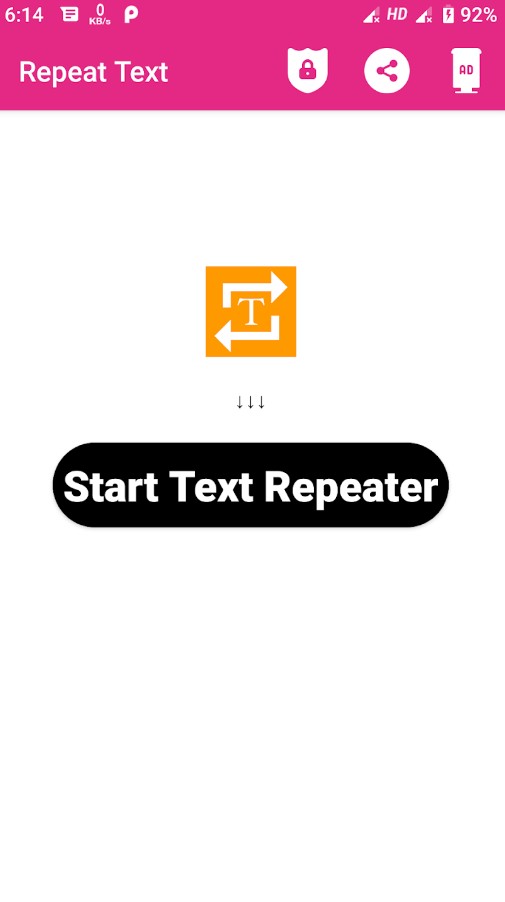 You may also like: 11 Best Auto-Reply Text Apps for Android & iOS
Text Repeater
It's a text repetition app that makes it easy to write repeated messages.
What this app does is let you create an infinite amount of the same text messages for you to use. Herewith, the app is compatible with letters and emojis, so no concerns about that. It even lets you create reversed text messages to confuse your mates if needed.
More to that, the app covers a wide range of stylish fonts you may try for free. You may even send blank messages if needed. Let's talk about limits, shall we? You get to set the number of repeats, but you're limited with 1K anyways. The same goes for words or the number of emojis — 1K is the maximum.
The app also supports a long list of languages, so you won't have trouble with that. Plus, it runs offline, so you get to use it at any time needed. As for the in-app purchases, there are none, but the ads may pop up from time to time.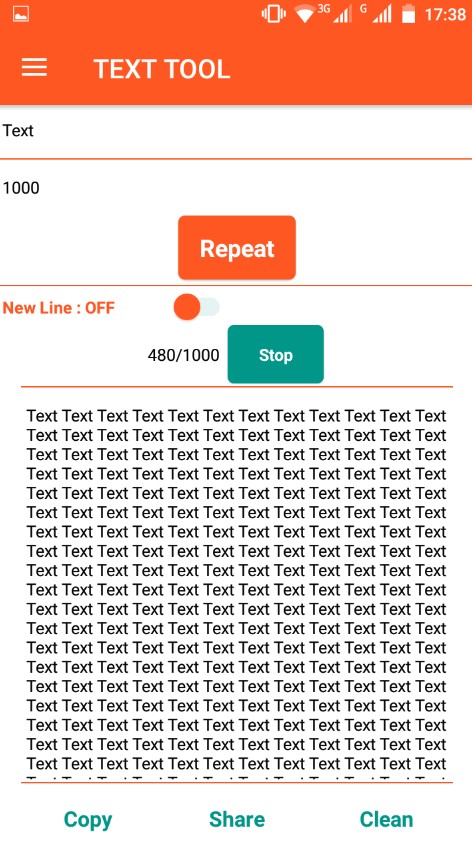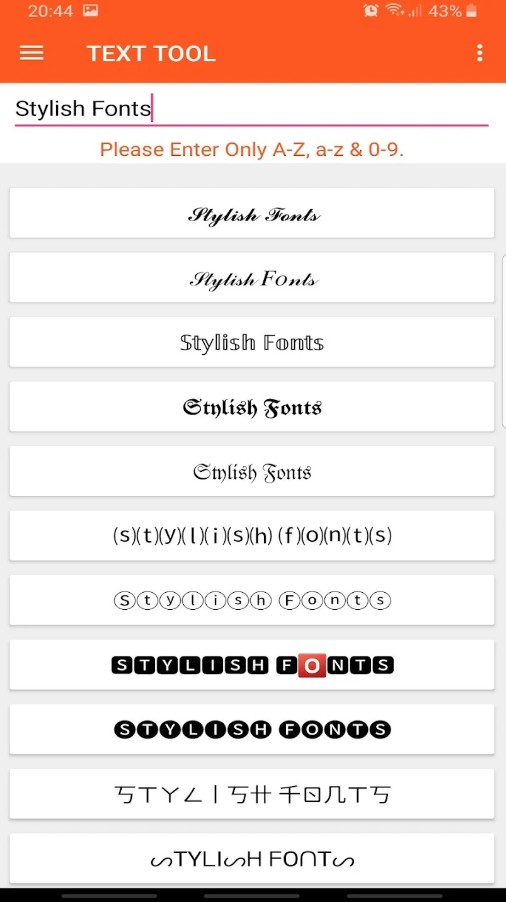 Tttt: Text Repeater
Tttt simplifies this process with its straightforward functionality.
This app is particularly beneficial for students, whether they need to repeat a specific word or phrase multiple times for memorization or want to generate repeated content for creative assignments.
Also, users can easily input the text they want to repeat and specify the number of repetitions required. The app then generates the repeated text instantly, saving time and effort.
What sets Tttt apart is its simplicity and efficiency. It doesn't overwhelm users with unnecessary features or complexities. Instead, it serves a singular purpose exceptionally well.
In conclusion, Tttt: Text Repeater is a handy app for students and professionals who require repeated text for various purposes. I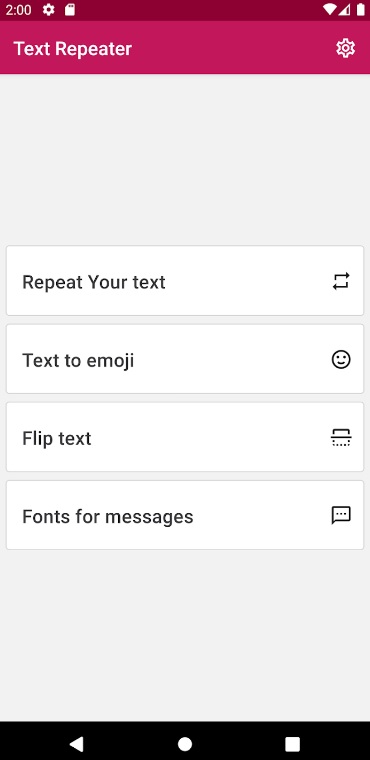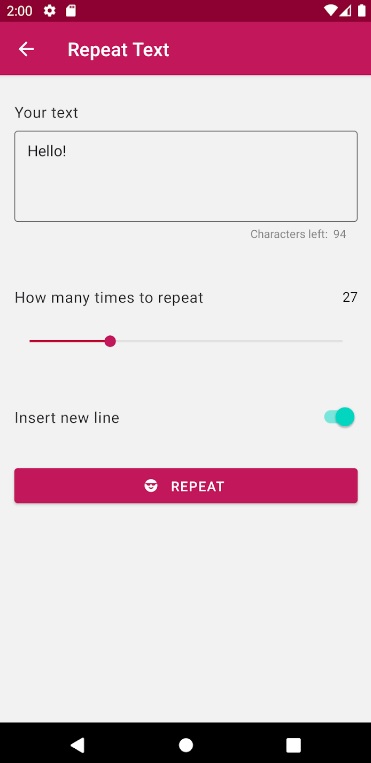 Check also: 11 Best Handwriting To Text Apps for Android & iOS
Text Repeater
This is a text repeater app that lets you resend the same message over and over again.
The main goal of this app is to automize the process of mass text sending and make it accessible for everyone. It comes with a simple user interface, so even if it's your first time dealing with such tools — you'll totally cope with it. Plus, the app supports multiple languages and both letters and emojis, so no concerns about that.
Beyond that, the app covers several kinds of messages to resend — the first one is a classic repeated text tool. Here you get to present a message of any kind and set the repetition limit. The length of the text is not limited, so feel free to write everything you need. Next, there's a random text option where you just need to set the repetition of the kind of content included.
Then, there are so-called letters that consist of vertically written symbols of any kind. You get to choose between letters and emojis if needed. You may also try crazy texts with flipped and reversed messages or weird fonts. Besides, the app comes with a wide range of ASCII emoticons you may try.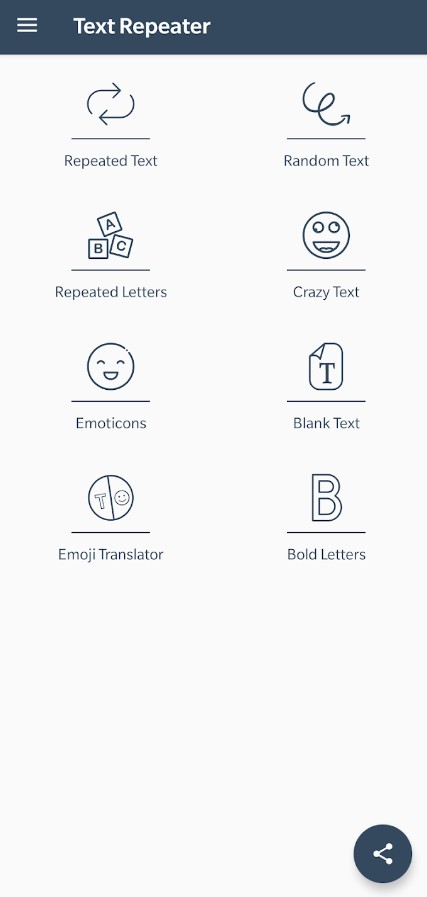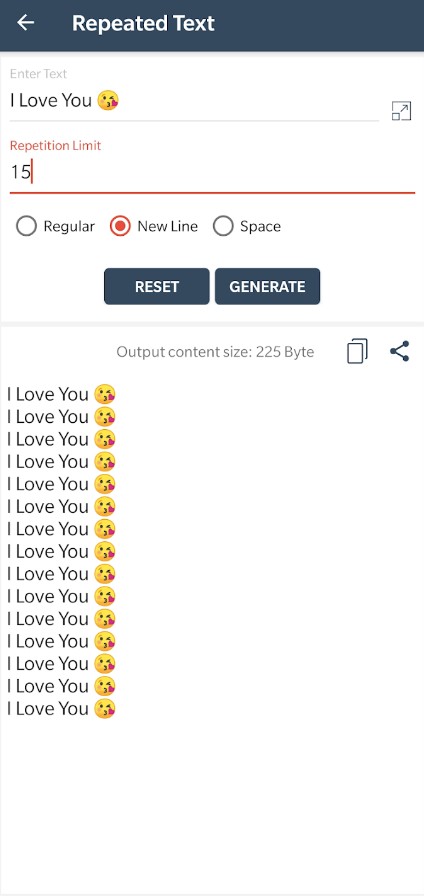 Texter
Texter is a user-friendly app designed to simplify the process of generating text messages.
With just a few taps, you can generate multiple text messages simultaneously. This can be a real time-saver, especially when you need to send the same message to multiple recipients.
This app doesn't impose strict limits on how many messages it can generate at once, making it a flexible choice for various users. You can create as many messages as you need, making it suitable for both personal and professional use.
Also, Texter offers a straightforward and intuitive interface. You don't need to be tech-savvy to navigate the app and put it to good use.
All in all, I think Texter will simplify your life if you are a person who needs to generate repeated texts.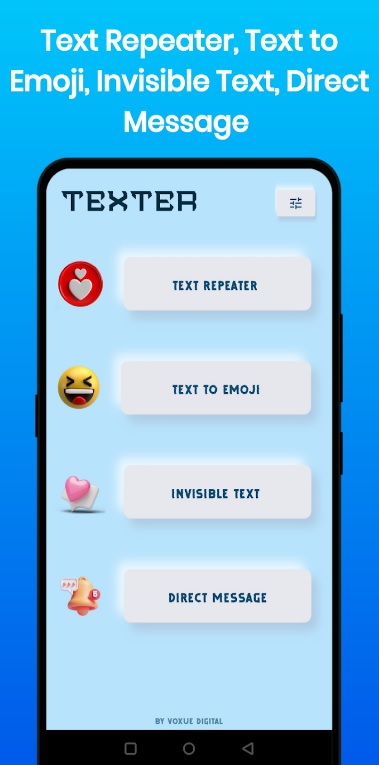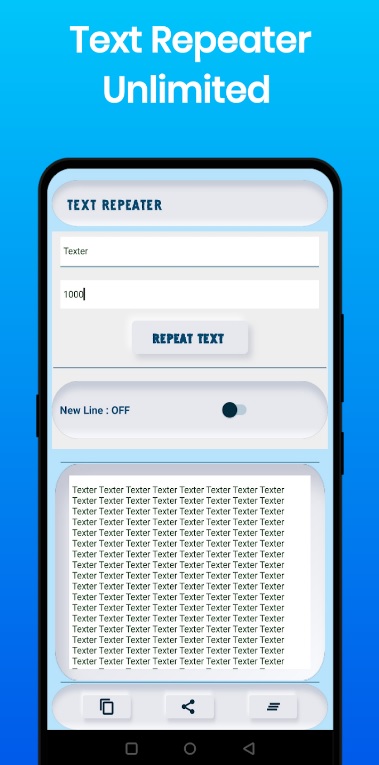 You may also check: 11 Best speech-to-text apps for Android & iOS
Text Repeater
And lastly, we have an app to write a repeated text for you.
The app comes with a wide range of customizations, so you get to write any messages needed. The app supports various symbols such as classic letters and emojis, so you won't have issues with that. As for the languages, all the popular ones are covered as well.
It needs to be said, the app has a pretty high repeat limit — you get to repeat the text up to 10K times. Herewith, it doesn't matter if the message consists of words, emojis, or both. You also get to adjust the text by regulating horizontal space, a vertical one, and adding new lines if needed.
Once you're done, you may rather copy the text or send it to your mates right from the app. All the features are free, but there are ads that are paid to remove. Besides, the app runs offline, so if you're not going to share the text right away, you may use it at any time.