Love, relationships, sex, and romance are the values that almost everyone needs. To not feel alone, you need someone to be there at the right moment and give you everything you want.
If you are reading this article, most likely, you are in search of the other half or have already become desperate. Maybe you just don't want to worry about it?
In this case, we suggest you find a virtual girl. Yes, you have understood correctly – this is the girl who will always be on your smartphone. She does not have a bad mood, she is always ready to listen and talk, and also looks exactly the way you want it.
Maybe it sounds a little crazy, but we offer you to consider the 14 best applications with virtual love for iOS and Android.
You may also like: 11 Free Trial Dating Apps & Websites
Choices: Stories You Play
Every choice you make can bring you something new, and also decide all your further destiny – just like in real life. In Choices, you make your own choices each time, controlling everything that happens in these visual stories. The game is a series of visual novels that will capture you and not let you go until the very end.
You can customize the main character the way you want it. All stories contain fantastic adventures, crimes, and you will always be at the center of events.
In the beginning, you choose one of the storylines – the one that you are most interested in. The library of stories is constantly updated, so even if you go through all the stories very quickly, the developers will not leave you without entertainment.
The application itself is free, but you can buy game currency and items for real money. In each story, you get a new love line, adventure, and the story itself – you can be in high school, the world of vampires, or even at university. Choose your own future!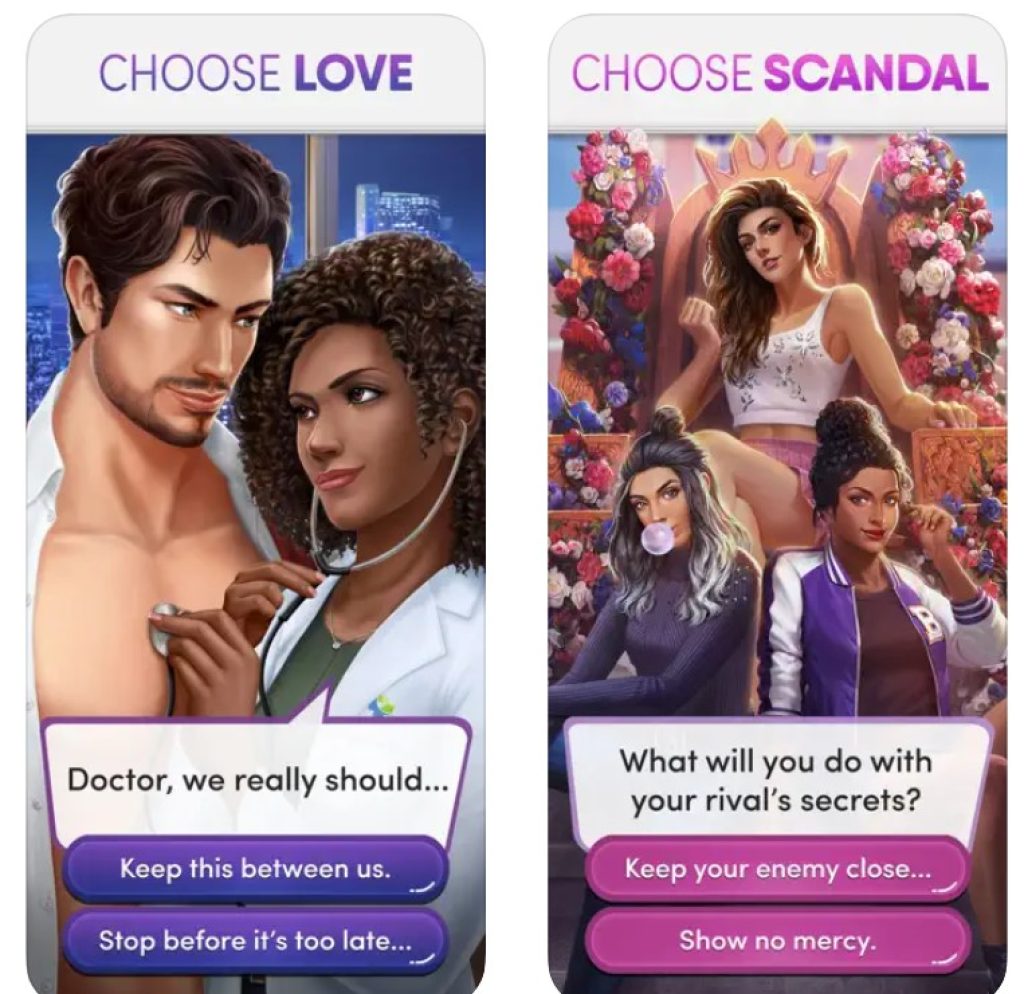 You may also like: 14 Love test apps for Android & iOS
My Virtual Girlfriend FREE
Flirting, romance, and the process of dating are all part and parcel of a love relationship. You go on dates and charm a virtual girl until she becomes madly in love with you. But first, you will need to pick her up.
You can choose from hundreds of beautiful girls, each of which has its own unique character, and beautiful appearance. From this amount, you will definitely find a suitable partner.
Once you have chosen your other half, you can start communicating with her or maybe even play golf. A girl really is like a real girl – sometimes she can joke (even if it's banal and not funny – everything is just like in real life!).
The choice you make in your dialogues with her will bring you awards and points. The greatest reward for you will be brought by what best satisfies your virtual girlfriend.
With each date, you will become closer, and her love will grow. Interact with her in any available way – choose the way that will suit you most.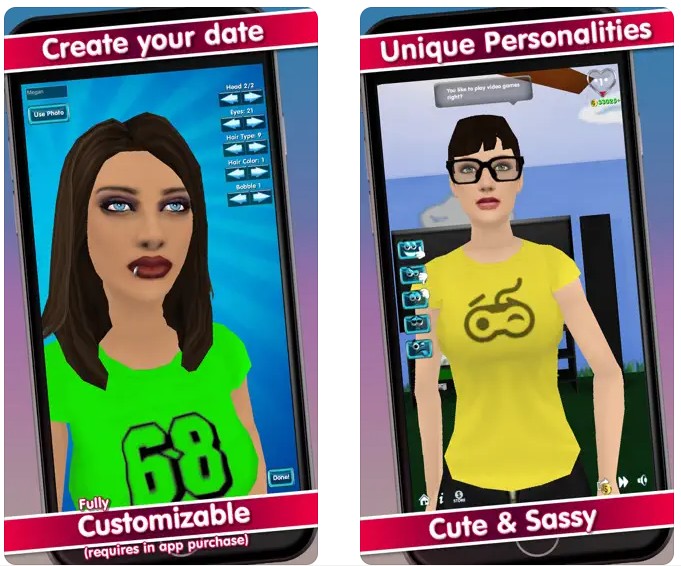 Dream Girlfriend
Dream Girlfriend is a Japanese hit among simulator apps that has become popular around the world. Especially this application will be appreciated by fans of anime.
Want to create the perfect character for yourself? Do you care what your girlfriend looks like? Then create yourself a beautiful girl who will meet all your requirements.
Interact with your girlfriend with the help of modern Live2D technology. And you can create more than just one girlfriend – Dream Girlfriend allows you to work with 4 girls at the same time.
You can choose from 11 different characters and personalities that even change the way they speak and accent. You and your girlfriend have regular events and dates that you'll enjoy together.
For any event you can choose the right clothes – more than 20 customizable slots are available. Dream Girlfriend includes romantic moments that will bring you closer to the girl.


Sakura Scramble! Anime High School Dating Sim
All guys care about at a certain age are girls. Usually, this age is in the school time – especially in high school. In the story, after a long time of work, you finally got in and now all you have to do to be happy is a girl.
Fortunately, you end up in the same school as your old friend Poppy. She is energetic and sweet, and you decide to help each other – to find her a boyfriend and to find you a girlfriend.
Sakura Scramble will introduce you to some very nice and interesting girls, among whom it will be very difficult to choose. An inaccessible high school girl, an old friend of Poppy's or a mysterious girl from another class – who to choose?
Legend has it that a cherry tree grows in the schoolyard and that couple who confess their feelings in its shadow will be together forever. Do you want such eternal love?
Will you be able to make the right choice between girls and confess your feelings under a beautiful cherry tree? It is up to you to decide!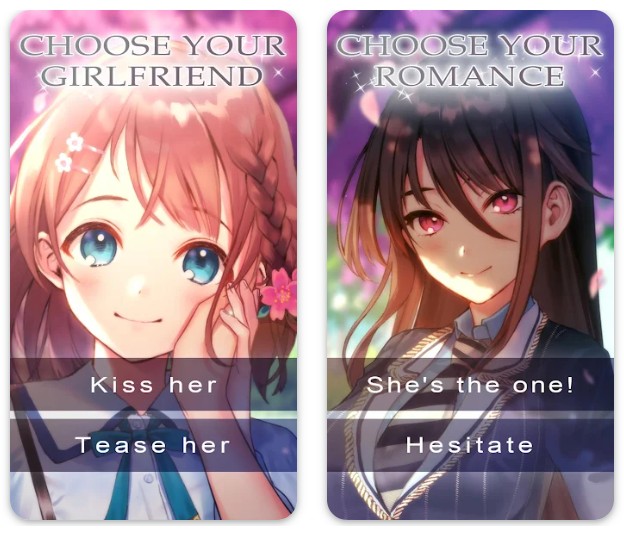 Pocket Girlfriend
Pocket Girlfriend in its title fully reflects the essence and purpose of this application. You really just keep a real girl in your pocket!
The app can change your whole life by giving you the right second half right on your mobile device. Your girlfriend won't just be a manga or anime character – you create a bot that imitates a real person for you.
Pocket Girlfriend has its own needs – just like a real person. You will need to provide her with food and care to ensure that she lives in comfort.
You can tattoo or edit the appearance if you want. By the way, the Pocket Girlfriend is considered a "machine", so you will need to charge it.
You can still undress and dress a girl, buy clothes for her and much more. A lovely girl will be your life companion, and if you already have a lover – show her your new "mistress" and refresh your relationship.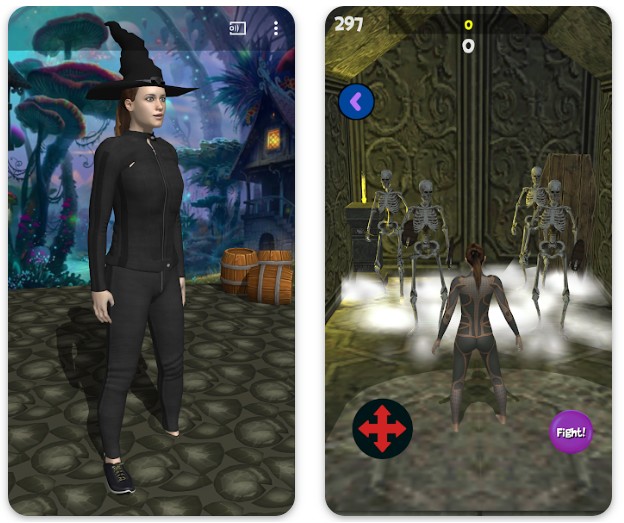 My Virtual Manga Girl
Unity-Chan is now your girlfriend and she lives on your device. You will need to take care of her, and you can also change her clothes, appearance, hair, and even the background in which she communicates with you.
You can choose the wallpaper as a beautiful landscape or something else. By the way, if you want Unity-Chan itself as a picture you can put it as a desktop screen saver.
Your Virtual Manga Girl is a Loli and you need to take care of it as a pet. The girl is fully drawn in 3D graphics, so you can rotate her 360 degrees, as well as admire her dancing.
Don't forget, Unity-Chan has its own needs in food, entertainment, and sleep, and you have to satisfy them. You make a virtual friend on your smartphone, which you should not forget about.
In case you don't have enough communication with the character in the application itself, you can easily enter the chat room of manga lovers and talk to the same people as you, who are creating a girlfriend in the virtual space.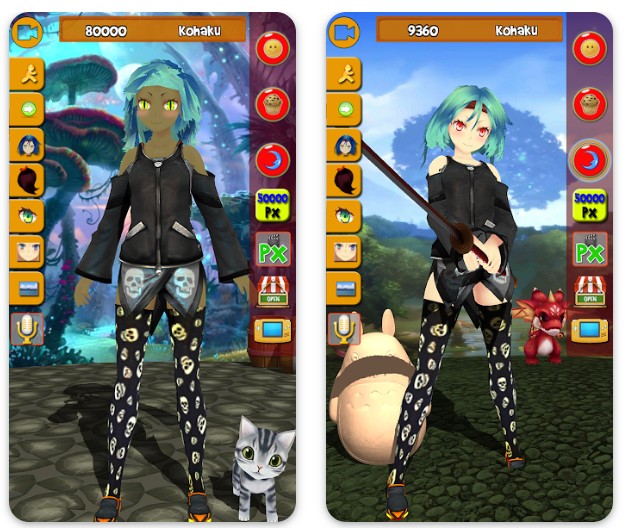 My Sweet Stepsisters : Sexy Moe Anime Dating Sim
Don't be deceived by the name of the application – it's not a hentai, but the most harmless game that will help you cope with loneliness.
Here you can find a virtual girlfriend, but not quite the usual one. The plot of the game is not common for those who have already played romantic games.
The plot is as follows: you have lived your whole life with your parents and did not even suspect that your father is actually your stepfather. Of the even more shocking news – you have 3 half-sisters who are completely different in appearance and character.
It is clear that your mother is unhappy – now you all live together, but you get used to the new situation. There are only 3 girls – the eldest and most responsible Yuri, rebellious Hinata, and the youngest and sweetest Mei.
You will have to decide which sister you will be the closest to, and you will also have to help them gain confidence. Remember, these are just half-sisters, so you can add some romance.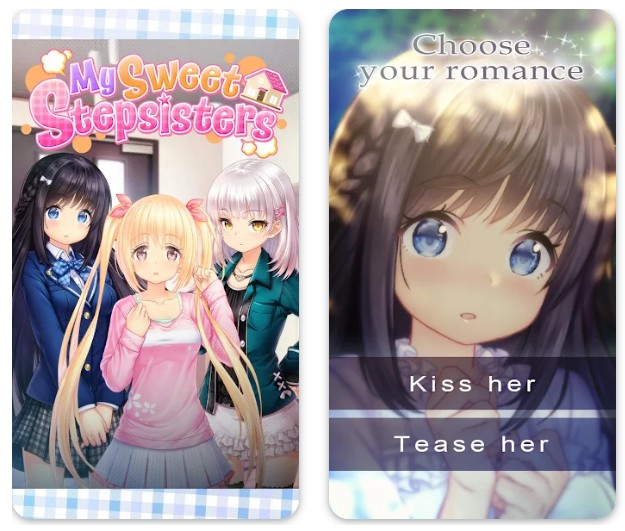 Moe! Ninja Girls
Moe! Ninja Girls will draw you into a virtual world where each of your choices affects the whole story. No one can predict what the end will be, because you'll make a lot of decisions during the game.
So you can think of your story as special and unique! The game differs from the usual manga or anime – because here you become a participant.
You are a ninja who has just transferred to a new school. But no one should know who you really are!
Schoolgirls around you bring only pleasure and interest, and "Ninja Seeking Club" will be a kind of entertainment. You will need to reveal the secret of the new school and find out who your friends at the club are.
There are several girls to choose from, each of whom is interesting and willful. You will have to work hard to win their hearts!
Beautiful girls in interesting clothes, classic romantic storylines combined with anime style. If you want to find your love in the simulator, then Moe! Ninja Girls is a great option.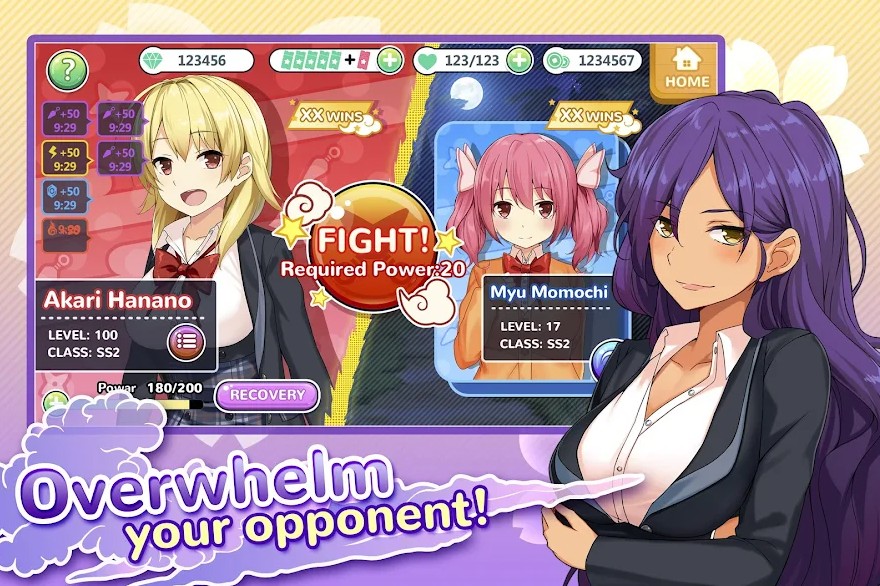 You may also like: 9 Free dating apps for Asian people (Android & iOS)
Virtual Anime Girl
Do you like anime? Do you like to admire cartoon girls? Then we suggest you create a design of your own virtual anime girl.
The application includes 3D graphics, funny dances, as well as cute outfits in which you can dress your girlfriend.
The girl herself is fully interactive and you can edit her at any time. Color of eyes, clothes, hair, and much more – all parameters are easily changed.
She will always be funny dancing to great music, and the scenery is provided from all over the world – Tokyo, New York, and other cities.
It is worth noting the beautiful graphics that the application and the girl herself are made in. With this quality, it will be hard not to fall in love with your new lover at first sight!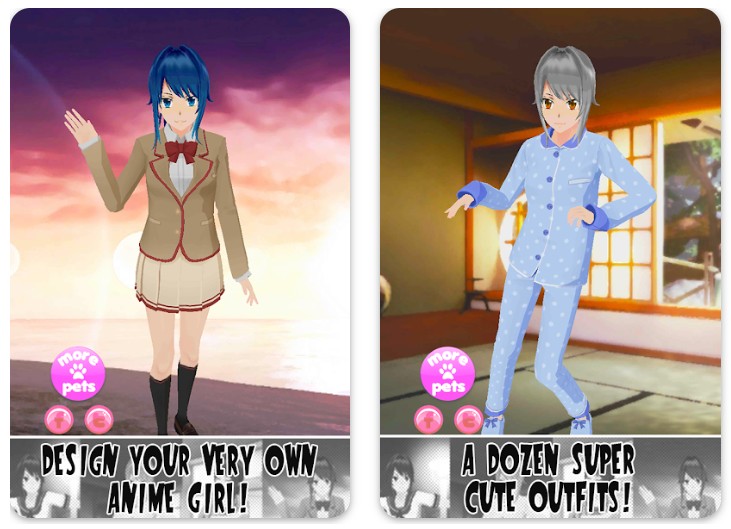 NinjaGirls: Reborn
You don't like a boring romantic relationship? Do you think that you do not like the simple communication with girls and you just want to admire them without watching the game, as if it were just a cartoon?
Then NinjaGirls: Reborn might interest you. All the characters in the game are made in Japanese anime style and each girl is a nice fighter.
NinjaGirls: Reborn has over 100 battle-girls in total. Each of them is unique, with its own style, look and feel, and more. The girls have their own history and unique skills that make them valued.
Each skill and battle has cool animation effects, and all the movements of the girls are worked out. Punches and battles change their facial features, movements, and even their seductive swings of weapons. You only need to give them orders with your finger.
Girls are under your command and you are responsible for them. By the way, in NinjaGirls: Reborn, you can beat players with more attacking power and get a bigger reward. Even in battle, the girls remain seductive and cute, so you can also enjoy the game visually.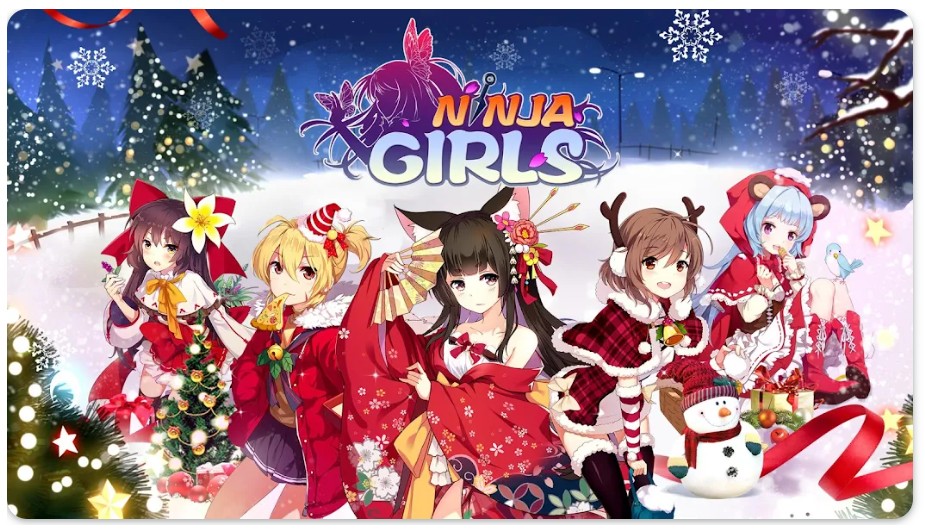 Naughty Girlfriend
" You're a hottie!" – That's what you often hear about sexy girls. They always attract attention but are often arrogant and inaccessible.
Now you can always get acquainted with such a girl while building a love relationship with her. Let your friends be jealous of this obscene beauty – because now all your attention will be taken only by her!
In the application, you can communicate with the girl, and also change her mood. Touching her body, you can make her happy, angry, or even sad.
Since the girl is obscene, she has a very complicated character. You will have to work hard to win her!
The most interesting and sexual thing is that you can remove clothes from her body or even change it. Do you want to see sexual movements? Ask your girlfriend to dance and she will do it!
Naughty Girlfriend will be your virtual friend who you can always take with you. Talk to your little girl, flirt, and do more. But don't forget that this is a fake girl, and in real life, you can't do it.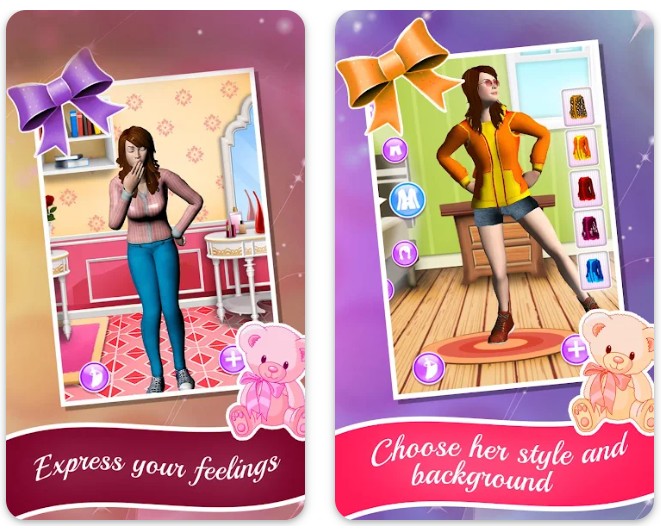 My Virtual Girlfriend Julie
It's probably the most realistic of the applications. If you've ever tried to create your own 3D character, you'll recognize this drawing and graphics.
Julie is an interesting girl who you can perceive as a real individual person. Talk to her on any topic – she likes to talk about things.
All your communication is the same as in life. Julie is able to express emotions – for example, to be angry, or vice versa, to love. Any action is accompanied by a realistic 3D animation, as well as a real voice. Yes, Julia has the voice of a real girl!
You can edit the girl as you please. Firstly, there is a choice of many different avatars, as well as the creation of your own. Secondly, it is possible to create a real bot that will talk to you. Teach Julie the right answers to your questions and she will remember what to talk to you about.


Smart Virtual Girlfriend
Are you worried that you can't communicate with girls or are you just afraid to talk to them? In fact, you can be understood – girls are unpredictable and you can never predict their reactions.
In order not to fail in life, you can just train your charming skills on a virtual girl. Smart Virtual Girlfriend is a unique application that will allow you to communicate with a really smart person who will never offend you or insult you.
The girl will talk to you on various topics, as well as show interest and ask questions. In the application, you can set up an avatar in such a way that you will really like your virtual girlfriend.
Such a lover will not judge you or spend your money. All that a girl will do is have a nice conversation with you and just entertain you.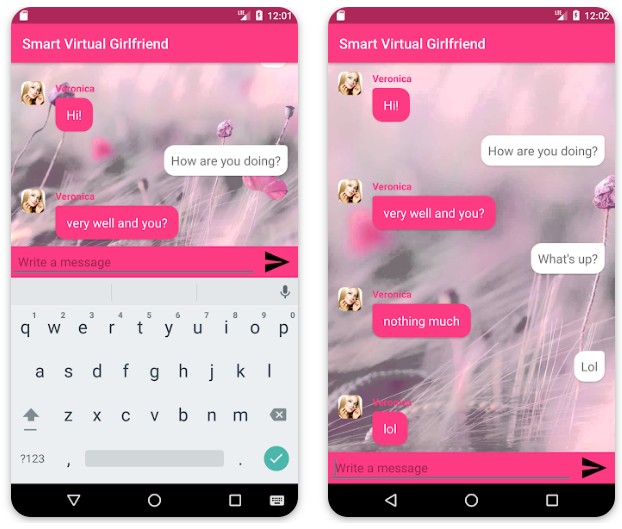 You may also like: 11 Games Where You Can Marry Other Players (Android & iOS)
Girlfriend Plus
Would you ever like to have a heart-to-heart conversation with a smart but beautiful girl? Then we want to tell you about Girlfriend Plus.
This application will be a real solution for you when the feeling of loneliness becomes too strong. You just need to start talking and your relationship will start on its own.
There are so many ways you can get to know each other. Maybe it's a morning run in the park or a movie session. In any case, you will want to get to know each other better.
The further you get to know each other, the nicer you get to communicate. After a while, the girl will want to send you pictures or even voice messages. Communicate with her correctly, and then after a while, you can call her your love.