15 Best Workout Apps For Android & iOS
Two months have passed since we made a resolution to start working out next year. Installing an app would be a soft launch for those having a hard time voluntarily walking into a gym. This review can also be helpful for those looking for new workouts or maybe even coming up with new workouts on their own. Either way, as lots of apps have step-by-step instructions, best workout apps are a cool way to make your phone more useful.
Sworkit
Sworkit is the app to start things casually. You get to strength workouts without the need for any equipment. But it's also quite comprehensive and includes workout builder designed for experienced athletes and fitness professionals. You can share the workout you've created too. As of now, this app has provided 40+ million workouts to the users.
Another reason why Sworkit is a good fitness starter is that it offers a 6-week beginner's program. Nobody is scared of just 6 weeks of fitness.
The price tagged Pro version lets you ask live trainers questions, provides custom exercise intervals and a generally ad-free user experience.
Get Sworkit Free for iOS here
Get Sworkit Free for Android here
Map My Fitness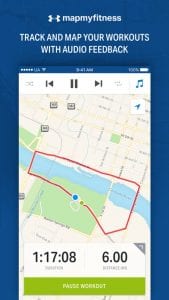 Map My Fitness gets on the top of this list because it's popular and highly rated as well. It is also updated quite often, the last update was February 27.
The pics give an idea how MMF works. It tracks and maps your performance, even the elevation where you exercised. That, all your favorite routes are saved automatically. You can choose an exercise between 600 different sports.
All that data gets analyzed as well. The in-depth insights on each workout are actually amazing, the statistics show every detail, like pace, distance, and duration. You can turn this into your own Big Data project if you get SpeedForm® Gemini 2 Record-Equipped Shoes and sync them up with the app.
Get Map My Fitness For iOS Here
Get Map My Fitness For Android Free Here
Workout Trainer
The Workout Trainer is rated 4+ stars by users too. It offers no less versatility than the apps above. Before starting you can go through the free virtual assessment and get tailored workout recommendations. And then you will be receiving Workout of the Week challenges to spice it up. You can even do workouts from the community.
Or just the follow your schedule. Either way workout trainer can totally be your personal trainer. (and it plays your favorite music too).
Get Workout Trainer for iOS Free Here
Get Workout Trainer For Android Free Here
Nike+ Training Club
This would be the app with the coolest name for sure. Nike+ Training Club offers 130+ workouts from famous athletes like Serena Williams, Rory McIlroy, Jérôme Boateng, or Alex Morgan and Carli Lloyd.
The workouts are mostly focused on strength, endurance, and mobility. Workout times ranging from 15-45 minutes are available for 3 levels – Beginner, Intermediate and Advanced. But you can also start with your own personal plan as well.
This app stands out with excellent search features. The user can search by a workout by its purpose, name, body part, equipment, drill, athlete, trainer and a body part, of course.
Get Workout Trainer For iOS Free Here
Get Workout Trainer For Android Free Here
JEFIT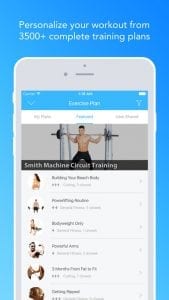 Choose JEFIT if you want something heavier, like strength training and bodybuilding. 1300+ free exercises sound enough to make you healthier. It is just as versatile as the next app but with a simple interface.
Motivation comes free with this app because when you install it you also join a community. Naturally, lots of people share their stats and you feel the urge to keep up. You can actually communicate with the community members and show off your results.
All of your own achievements are saved in a cloud and accessible from a number of devices.
Get Workout Trainer For iOS Free Here
Get Workout Trainer For Android Free Here
Lose It!
Lose It! is the most honest about why most people go into sports and fitness. It makes fitness a fun way to lose weight. It also reminds you to do some exercise.
In other words, Lose It creates a custom weight loss schedule rather than a strictly sports program. And you track yourself through that schedule too.
It also connects to various health and fitness devices, so you don't think just about your food issues.
Get Lose It! For iOS Free Here
Get Lose It! For Android Free Here
J&J Official
This app offers a variety of languages.  You can see that Johnson&Johnson company operates in many countries. The number of available workouts is less astounding, though. 72 exercises and 22 workouts that can be customized into 1000+ variations should be still enough for an average person.
That person would probably enjoy controlling his/her control over the music that plays.  A variety of motivational content is available, you don't forget to work out thanks to reminders, and achievement notifications may also qualify as "motivational content".
The convenient thing that matters these days is that it's compatible with Apple Watch.
Get J&J Official 7 Minute Workout Free For iOS Here
Get J&J Official 7 Minute Workout Free For Android Here
FitStar
FitStar is a flexible app that will fit into your schedule, however busy it may be. You fitness routines can be 7 to 50 minute long, which equals flexibility. The app offers videos to provide coaching and motivation. You don't have to do the same exercise twice if you get bored easily as FitStar features hundreds of exercises dedicated to every muscle of your body and it keeps delivering new handcrafted workouts monthly.
One of the cool things about FitStar, it would recommend workouts depending on user's daily activity tracked with a Fitbit device. It would not recommend cardio if you've been walking all day. Among other things the app tracks how many calories you've burned as well.
You can't choose between too many languages with this app, though.
Strava Running and Cycling
If you want something more specific Strava is one of the best things for running (and cycling). First of all, Strava does lots of tracking, during and after the exercise. But you can also record your track on something like Garmin and upload it. You can analyze each trip by cutting into segments as well.
Of course, in the year 2017, you can share everything you record. You get a choice between Facebook, Instagram, or Twitter, so Donald Trump would see it.
Strava is not behind other apps in the compatibility department either. It is connectable to most running watches, cycling computers or other trackers. But the latest update has made the watch support more complicated. Starting the app on the Watch does not do anything for iPhone, it stays completely unaware. And the opposite is true, you can workout with iPhone and it would never register with the Watch. Too much independence or should we call it redundancy?
Get Strava For iOS Free Here
Get Strava For Android Free Here
Fitocracy
Fitocracy sounds like fancy stuff that would be hard to access to. But this app is full of free workouts just like any other app above. It is also easy to set up as you quickly compile your workouts and track them, too.
Rather than joining a community to share results and ideas, here you can join a team led by professional trainers. Later on, you can visualize success you achieve with these pros.
And there is no way you won't get motivated with this app because you have all the team-buidling and sharing features.
Get Fitocracy Free For iOS Free Here
Cyclemeter
Cyclemeter is one those apps available only for iOS. But it's one the best cycling apps for this platform. An entire history of you is collectible with this app as it records everything for years. All your workouts are summarized in charts. What's really important when it comes to health is that Cyclemeter records the heartrate, not just meters and distance.
But you before you record your stats you go through a very easy setup of repeating intervals, pyramid intervals, and tempo workouts. You can also configure 120+ announcements which help a lot when you are riding a bike.
And surely you can share your workouts via Facebook, Twitter, Strava, and MyFitnessPal.
Get Cyclemeter Free For iOS Here
StrongLifts 5×5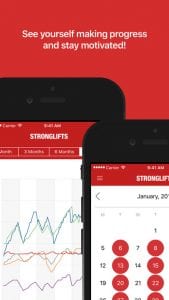 StrongLifts 5×5 is different in 2 ways – works on both OS and it's about heavy things. StrongLifts app makes you stronger, build muscle and burn fat. Using intuitive design you record weights, sets, and reps.
You are told what exercises to do in each workout. If you do everything you may get up to 130kg in 5 months. The weight adding works automatically, so each time you get heavier lifts. And you can switch between kg/lb every time, too.
Get StrongLifts 5×5 Free For iOS Here
Get StrongLifts 5×5 Free For Android Here
Daily Workouts FREE
This app is somewhat low on the number of workouts but you still get 10 different 5-10 minute ones plus 10-30 minute full body workouts. Over 95 proven exercises altogether. All of that comes with on-screen instructions. The workouts are kept with the app no internet necessary. Daily Workouts integrates with the Health app to count burnt calories.
Get StrongLifts 5×5 Free For iOS Here
Get StrongLifts 5×5 Free For Android Here
VeloPal
VeloPal is one more good app for cycling. It tracks the user and sends all the collected data directly to VeloPal.com. You don't have to like that feature, of course. Other things to enjoy custom routes and setting the distance to cover, calories to burn and/or riding time.
In the end, you get enough statistics on yourself that you could write a thesis.
This app updates not so often, though. But maybe it is a good thing.
30 Day Fit Challenges Workout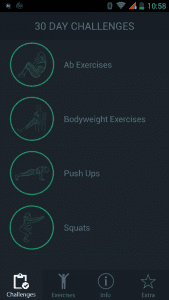 On the other hand, this app is available only with Android. 24 challenges split into Squat, Ab, Bodyweight Exercises and Push Up Challenges will get you in shape and more in those 30 days for sure. The general direction is from beginner level to advanced, works both for men and women.
Don't forget to share everything on social networks.