Now you don't need to pay a lot of money for workout programs and personal trainers. With the advancement of artificial intelligence, many areas of life have become easier.
This is also widespread in the healthcare industry. These best AI healthcare apps will help you take control of your health, which is especially important when you do sports.
AI is also becoming an integral part of the training process. By creating customized programs, it draws on a huge knowledge base and millions of training plans. You are guaranteed to get your unique exercise list by using these best AI fitness trainer apps for Android & iOS.
GymStreak AI
GymStreak Al is your new experienced personal trainer. It includes great artificial intelligence capabilities to help you control your exercise and nutrition. It works around the clock and is always at your fingertips. Ask it any questions you have about your workout plan, weight loss, and muscle building.
Take a short survey where you need to provide your height, weight, and desired results. The program will automatically create a workout plan and help you reach your goal as soon as possible. Its work is based on the experience and knowledge of dozens of well-known trainers and healthy eating consultants.
Working with GymStreak Al is a great chance to become trim and healthy at home and without financial costs. Iindicate whether you go to the gym, or whether you have sports equipment. By the way, you won't even have to spend money on buying the necessary items for workouts.
The Motion Captured tab is created with a motion capture suit. Just watch the movements in 3D mode and repeat them at the right pace. All exercises have detailed descriptions or visual examples.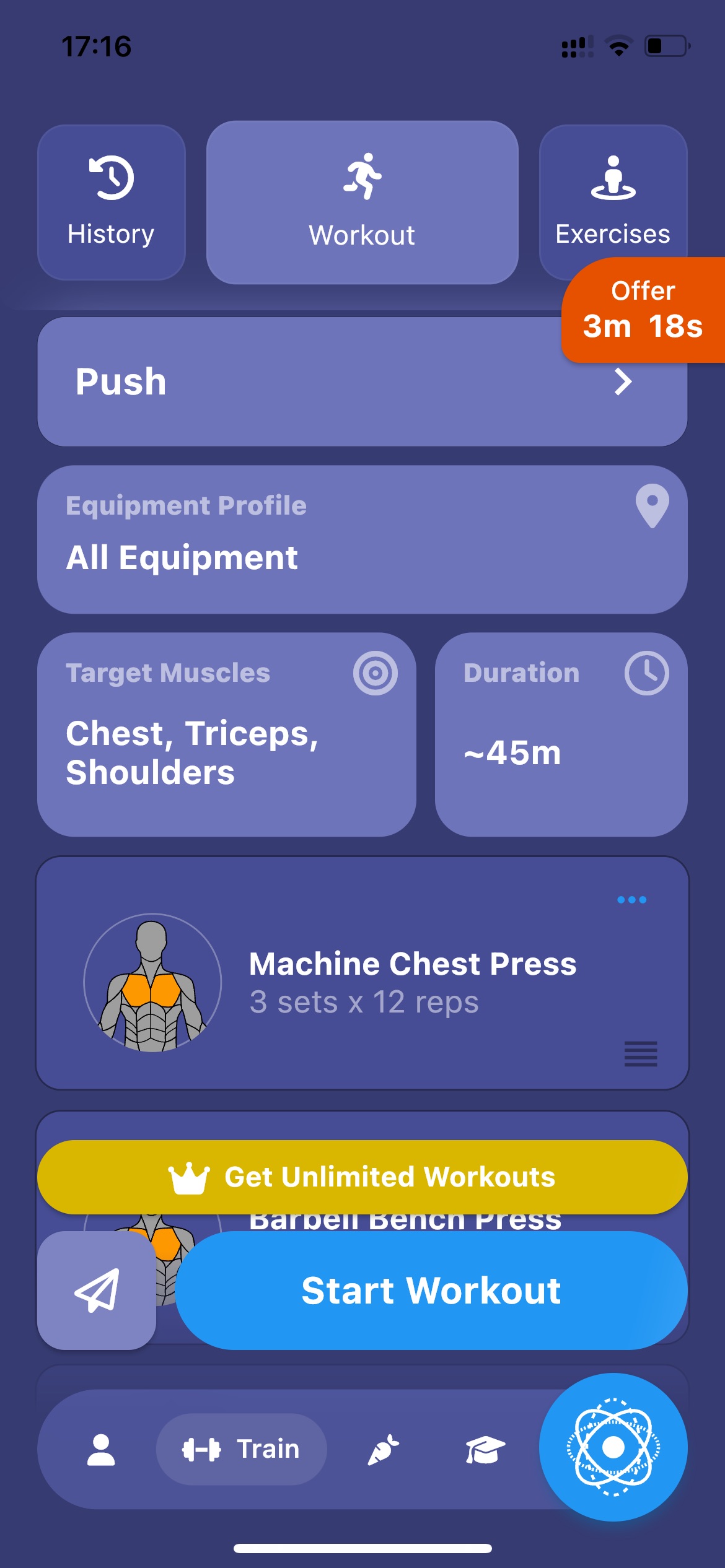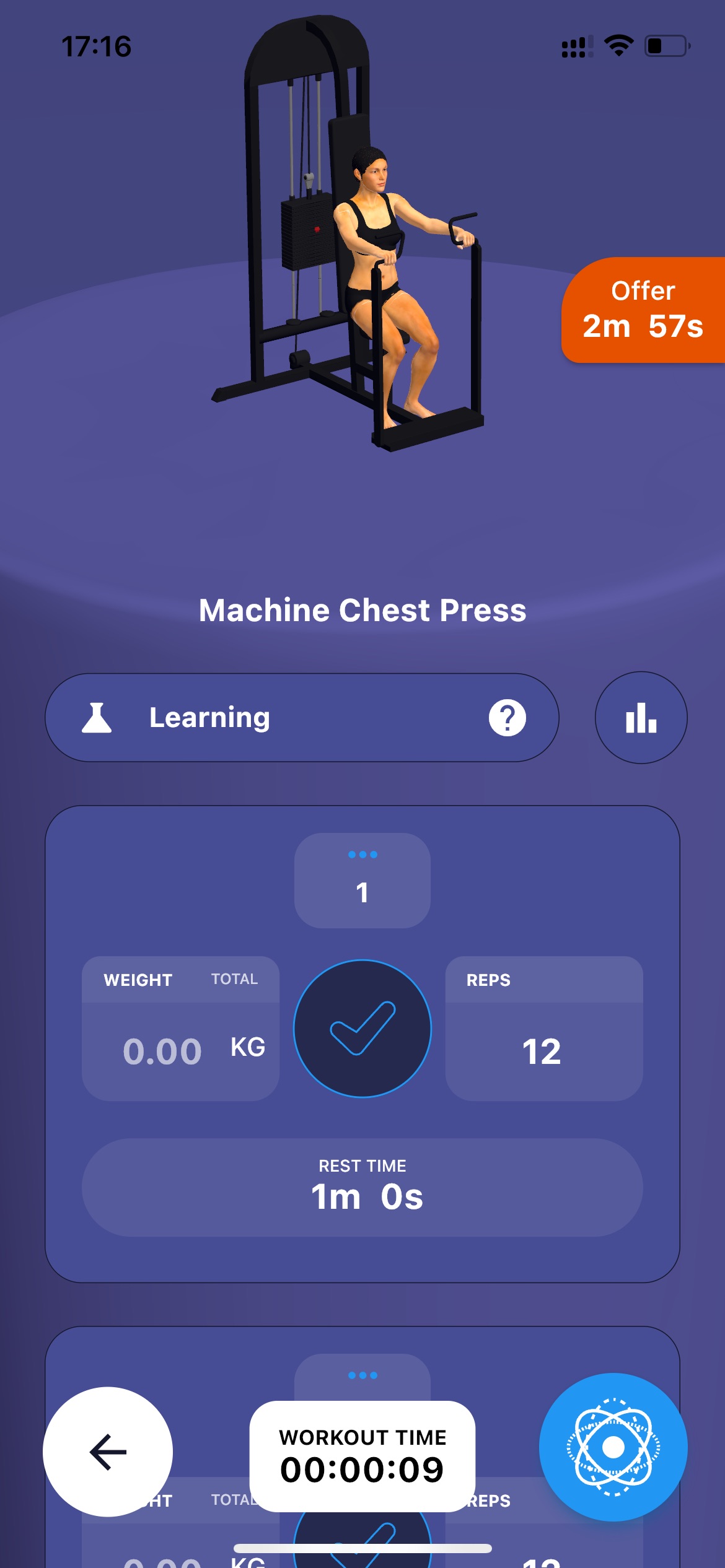 There is also a special section, where you can see your progress for the month or week. Keep track of your strengths and don't forget to keep motivated.


You may also like: 15 Free Trial Fitness Apps for Android & iOS
Fitonist
When you visit the gym, you can refuse the services of an expensive trainer. Fitonist will take over trainer's duties. A great mobile assistant in the gym. You can always turn to it for up-to-date information, ask questions, and get a personalized training schedule.
You will get access to a huge library of physical exercises taken from different methods for free. You will be able to tighten your muscular corset, increase muscle volume, and lose weight without harming your health.
Your requirements, physical capabilities, and health condition are taken into account when calculating the classes. Get a detailed program of workouts for a week or a month. Mark the fulfillment of each task and monitor the dynamics.
You can use the app as a notebook: indicate the number of approaches to the exercise, frequency of hand changes, and your health. You can always go back to these notes and analyze them.
In this app, you will find separate sections dedicated to different muscle groups, a comprehensive approach to training, and the normalization of body weight. You can work out on your own, lift weights, or spend time on exercise machines.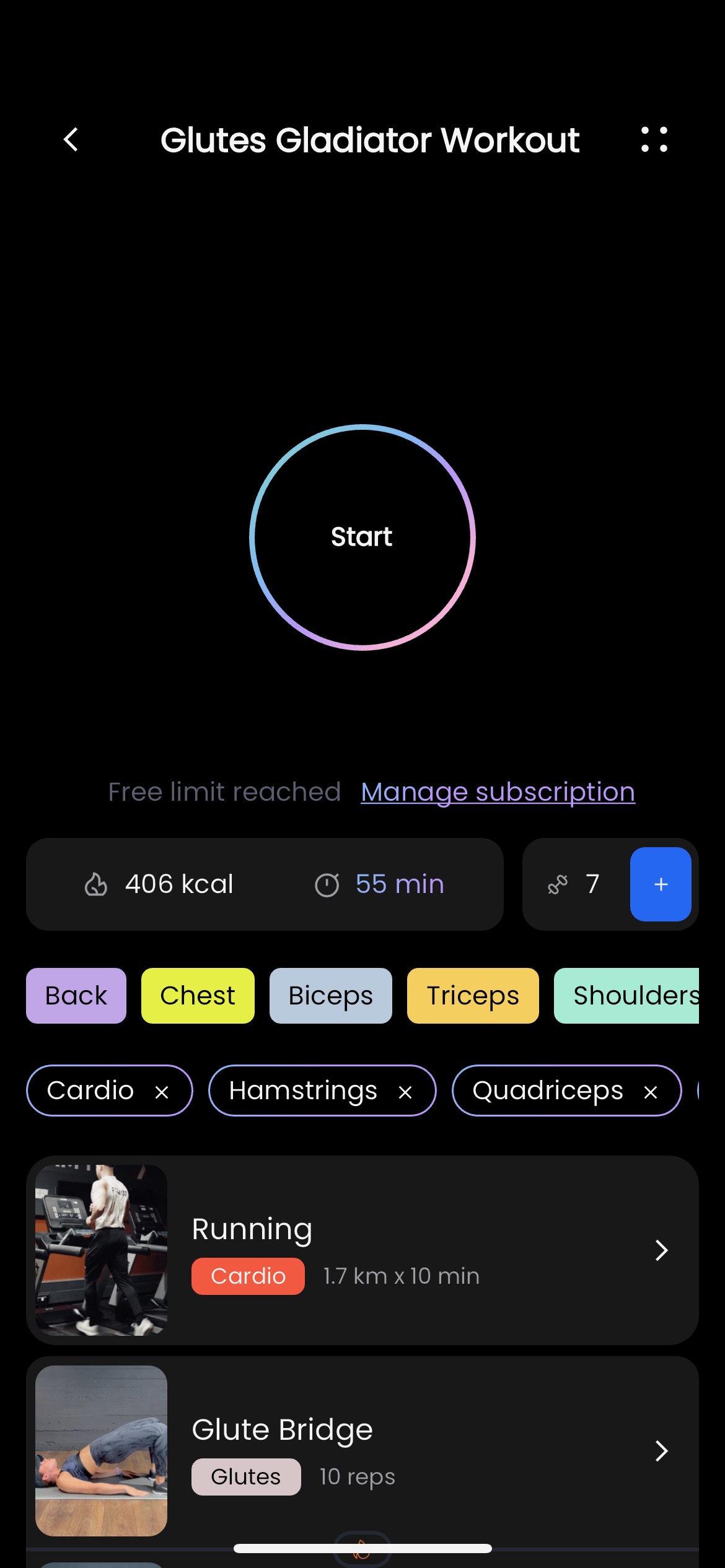 Properly organize your work in the gym to get great results without overstraining and negative emotions.


InsaneAI
The best techniques for home workouts are collected in InsaneAl. You can achieve great results without having access to specialized gym equipment. It describes physical exercises that don't require professional supervision or a visit to the gym.
Allocate 20 minutes daily and soon you will see changes in your appearance and well-being. Get a 90-day exercise schedule. Choose the format that is right for you. It can be text descriptions and pictures, video files, and even quests in game format.
In addition to a collection of workouts for all kinds of muscles, you will be able to keep track of your nutrition. A comprehensive approach is essential when you want to lose excess weight and keep the numbers on the scale.
During your workout, open the app and point the camera at yourself. Your video will be analyzed by artificial intelligence. It takes into account the correct execution of the task, body position and posture, weight of the equipment, and other aspects. You will then know what you did wrong and how to correct it.
InsaneAl has more than 200 workouts from various sources. Choose to your taste: yoga, cardio workouts, gymnastics, dance exercises.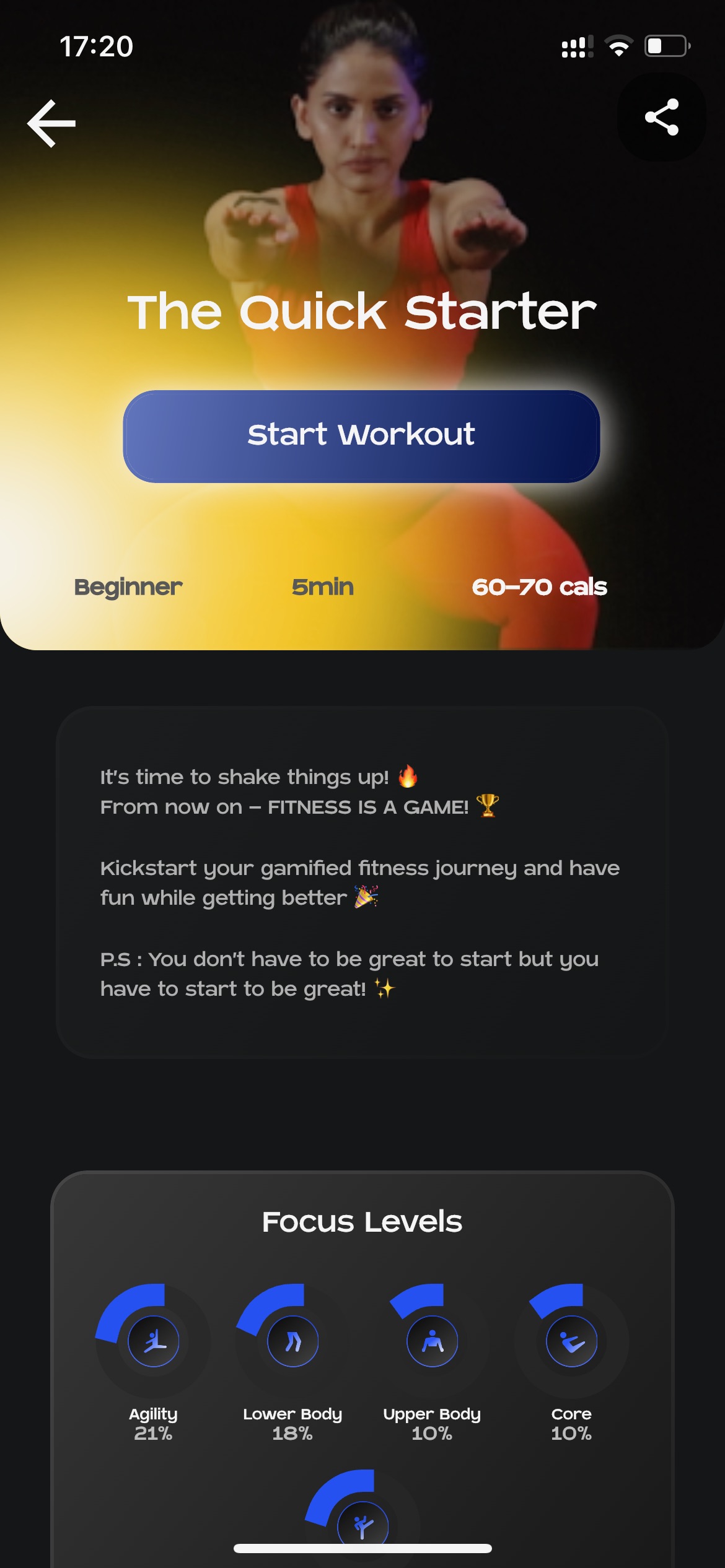 You can always learn more about the history of this technique, the main points of the app, and the duration of the classes. Take a step towards a healthy body without leaving your apartment.


BodBot
BodBot will be an equal replacement for an experienced fitness trainer. It creates a personalized workout plan for each user. With each session, you will reach a certain goal, and the basic plan will change depending on the available progress.
You will not stand in one place but will be able to progress further. Describe your problem and the desired result. Tell if you want to gain abs, develop back muscle strength, and lose extra pounds.
A training plan will be created based on your wishes, taking into account the condition of your body and the presence of chronic diseases. Each exercise will bring you closer to your main goal.
Thanks to the unusual approach to training, you will be able to feel your body and learn to control it. The further you progress, the more challenging the exercises become.
You can make changes to the initial plan at any time. Perhaps you are going on a business trip or have caught a cold. In this case, your workout this week will look different. An individual approach is used to work with each client. All exercises are based on the achievements of physiology, kinesiology, and sports medicine.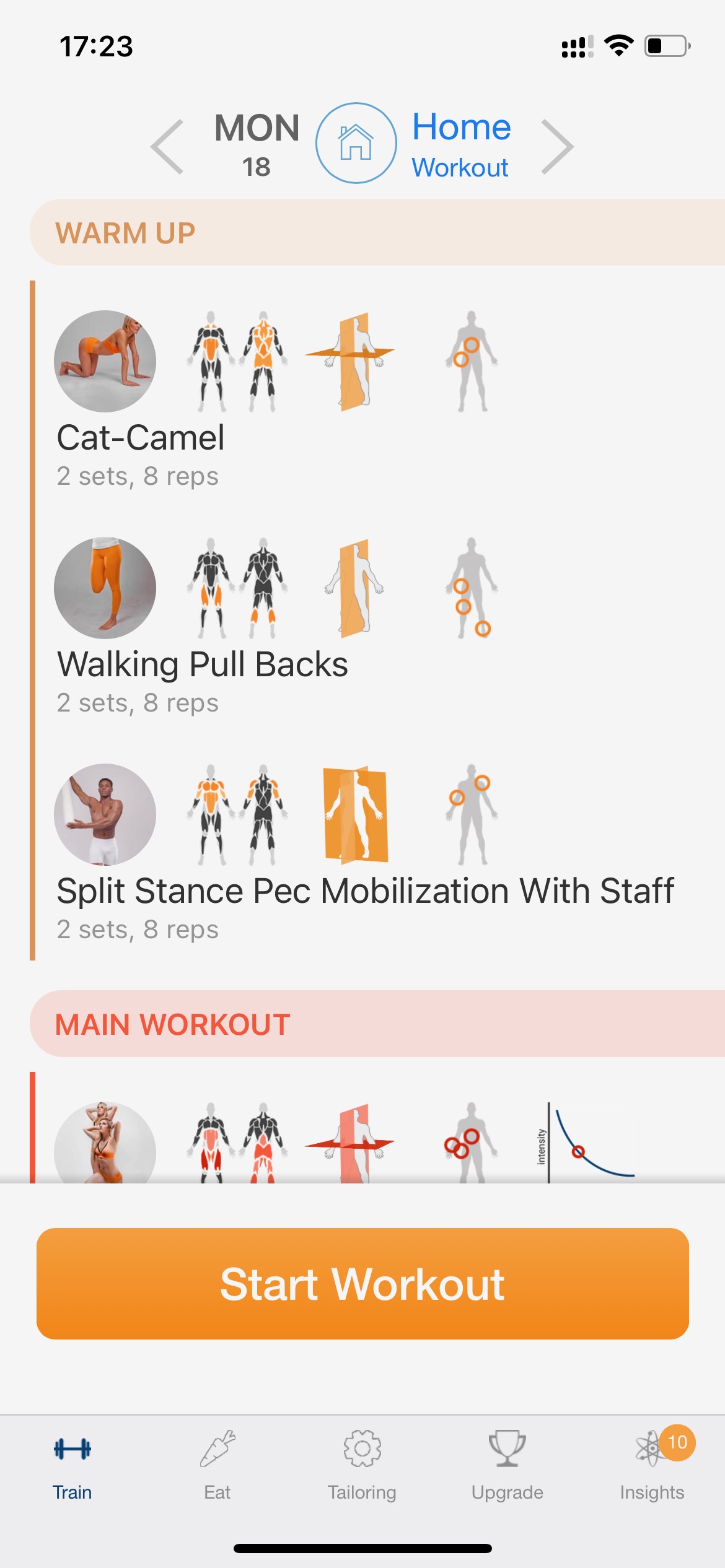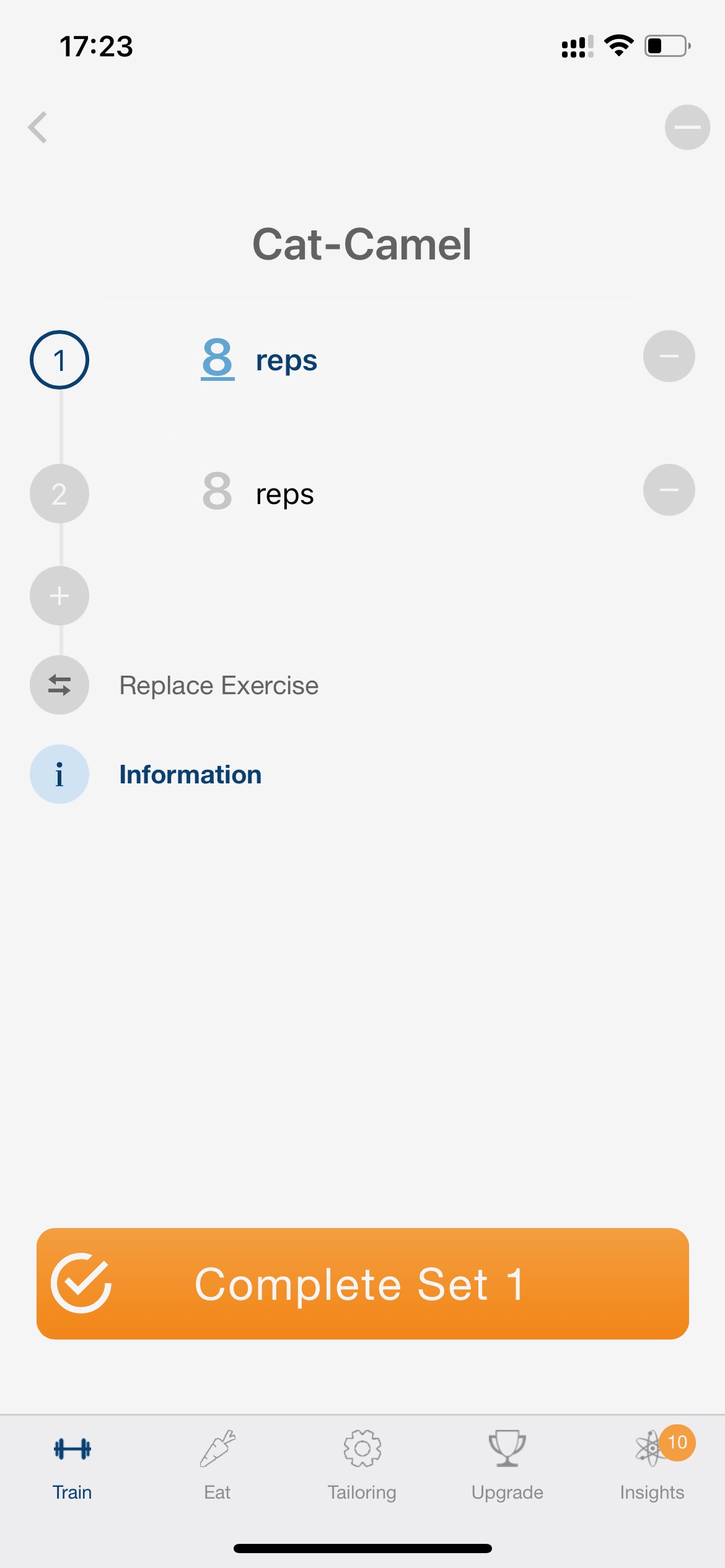 All workouts are inextricably linked. The main goal is to achieve results without harming your health. BodBot guarantees fast results if you follow the plan regularly. Excellent mood and well-being will be a pleasant bonus.


Freeletics
Work out according to your individual program with Freeletics. You will get acquainted with the actual set of sports exercises and get a pumped-up relief body. Choose the level of difficulty and the place where the workouts will take place. It can be your apartment with the nearest park or a gym.
The level of difficulty will depend on your anthropometric data, the ultimate goal, and initial fitness. The app provides the entire set of exercises you need and supports you in the form of audio coaching. More than 40 million users of different ages and genders exercise daily according to the proposed scheme.
To start training, you do not need to find money for a personal trainer and carve out time to visit the gym. You can easily complete the workout during your lunch break or in the evening in front of the TV.
Describe how you feel about the program you completed. This will help the artificial intelligence to adjust to your rhythm and change the schedule according to your progress. A comprehensive approach to exercise will make all muscle groups equally strong, help you control weight, and build muscle mass.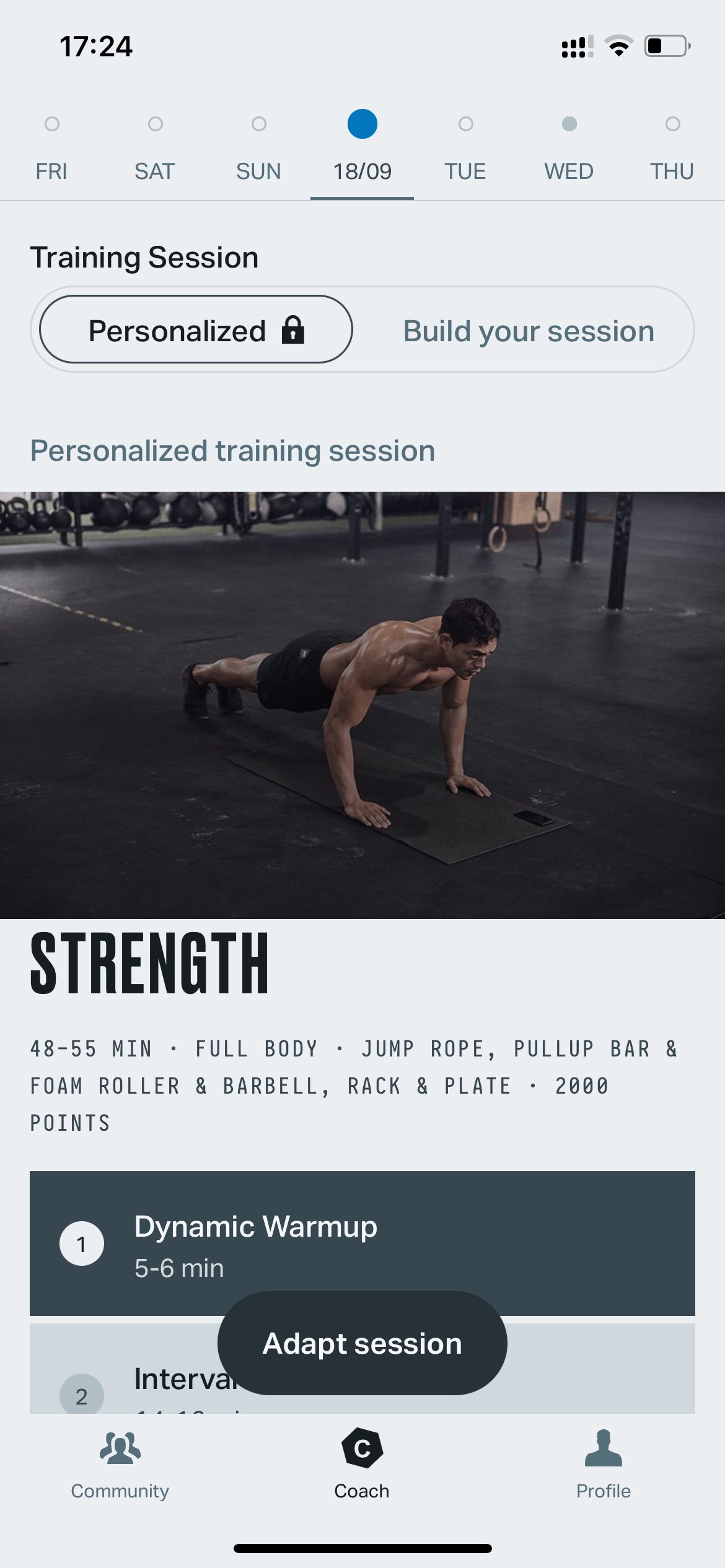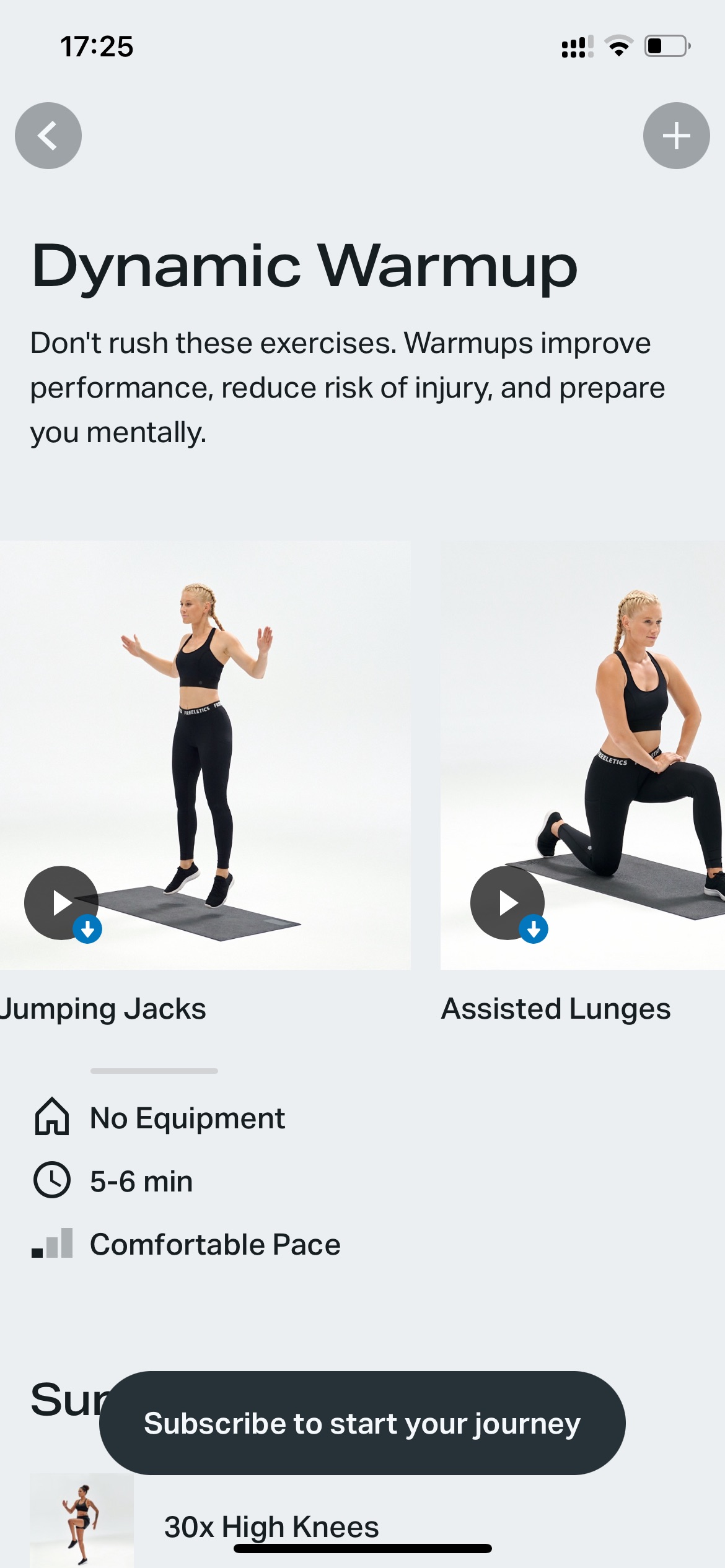 The free program contains 22 individual workouts, 27 exercises of varying intensity, 5 warm-ups, and 20 audio files. Freeletics Coach must be purchased to unlock extra content.


Dr. Muscle
Dr. Muscle has earned the trust of aspiring athletes and experienced masters. Looking for a personal trainer to increase muscle strength and give your muscles definition? Or looking to reduce your weight and fix it? There is nothing better than free classes on an individual program.
The designed scheme allows you to work out anywhere without going to the gym. Excuses such as lack of money and time become irrelevant. Spend only 20 minutes a day on sports and surprise others with a beautiful figure.
The exercise program was created with the help of artificial intelligence. It helps to speed up and optimize the whole process. Get a ready-made exercise plan and follow all the recommendations. You will easily overcome plateaus as the course of the program changes with you.
As soon as you pass the milestone, you will get a new complex. This app is professional in its approach. Each client will receive the most optimal course of classes that no one else has. This approach speeds up getting the results you need by 59%.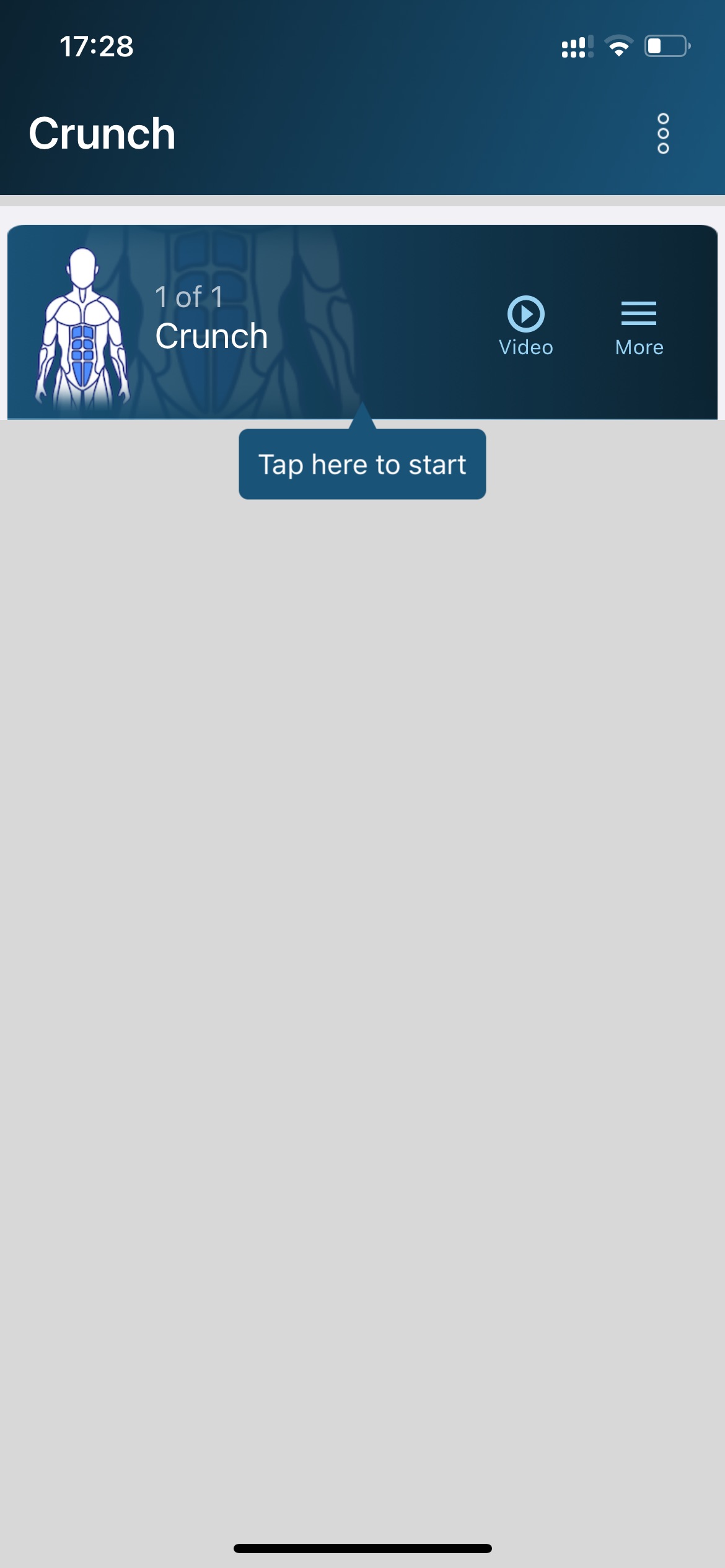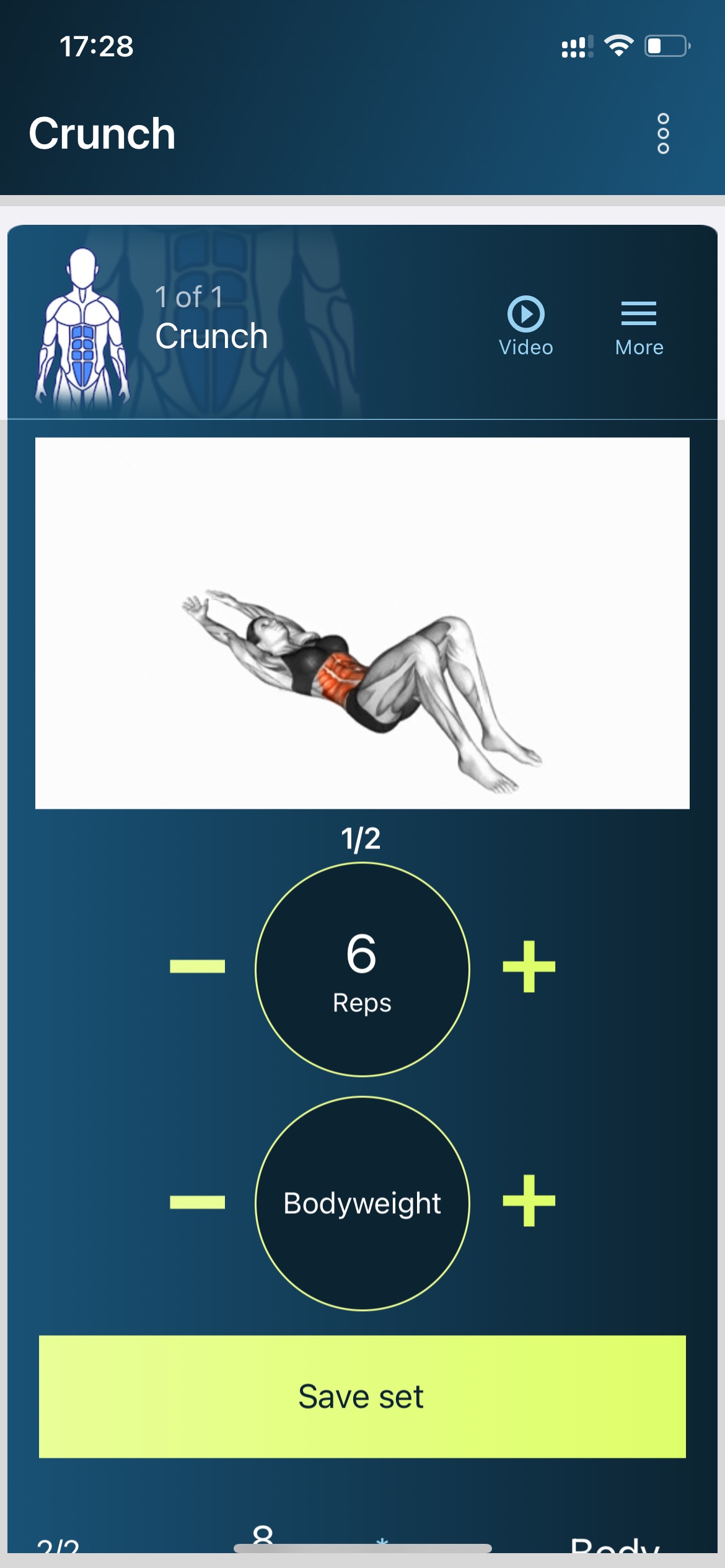 Dr. Muscle offers more than 34 workout options that include 500 different exercises. All information is officially endorsed. Enter your workout log, and get an up-to-date program to prepare for powerlifting and bodybuilding competitions. Supplement your plan with personalized exercises and workouts.


You may also like: 5 Best VR Fitness Apps for Android & iOS
Fitbod
Fitbod will help you achieve perfect fitness even at home. This mobile assistant takes into account all your wishes and selects a set of exercises to achieve them quickly.
If you want to lose weight, increase muscle mass, or pump your abdominal and back muscles, this app will definitely help you. Work out wherever you want: at home, outdoors, or at the gym. Spend 20-30 minutes every day.
Fitbod creates a training plan for each user. Here you will find information about the necessary intensity, frequency of repetitions, and the required weight. To do this, you need to specify exactly what you want to achieve. Also, tell about past experience and your achievements.
The app allows you to take a comprehensive approach to training to use all muscles. This allows you to achieve a lasting result without long repetitions. You will learn many new popular exercises that have been developed based on current research.
You'll also learn hundreds of useful exercises with the most common props, including a fitness ball and jump rope. To make sure you get it right, download video reviews where you can repeat after the experts.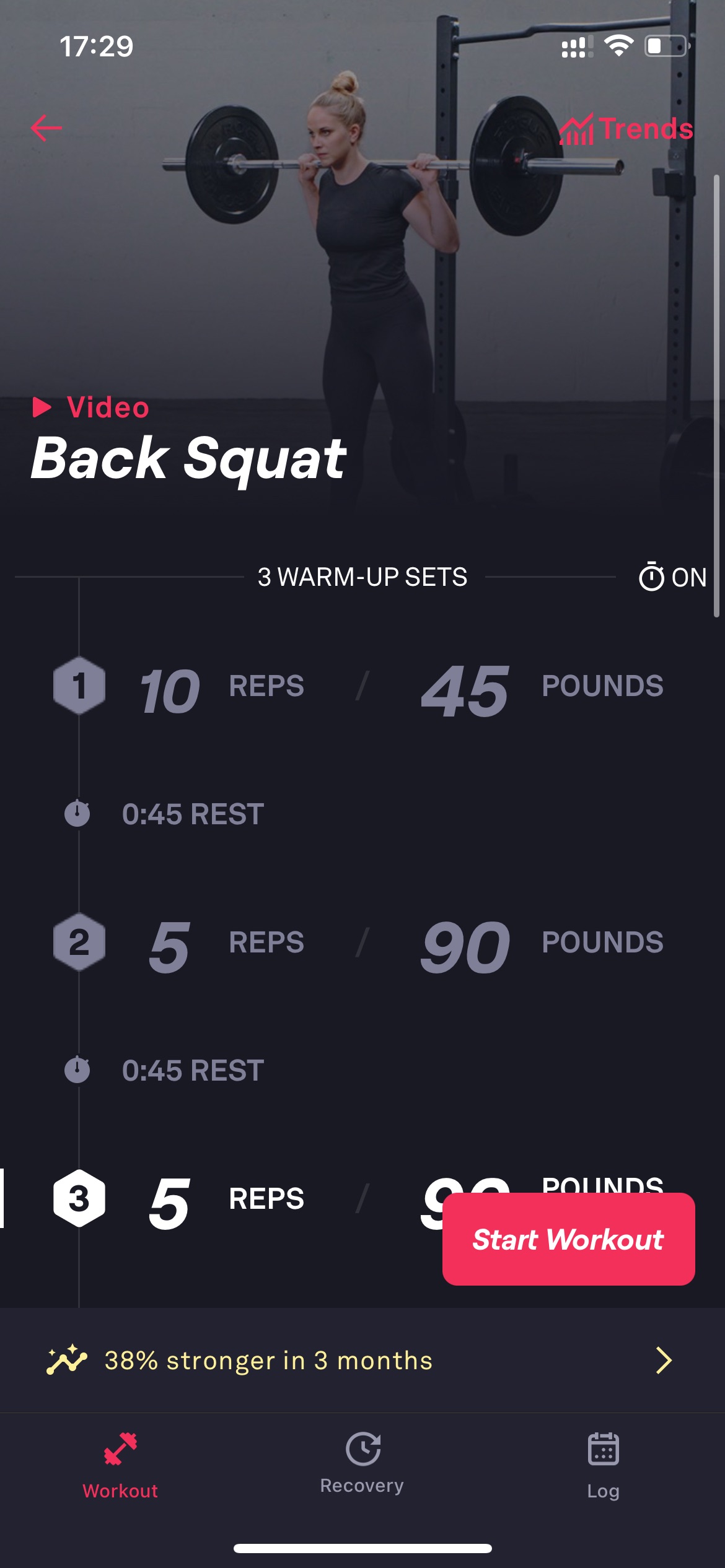 Install the optional app and track your workout with Wear OS Watch. Keep a tally of the calories you've burned for today or the whole week. Join the active lifestyle club with Fitbod.


AI Trainer
Enjoy a slim and fit body with Al Trainer. The app has been developed together with leading fitness trainers and analysts in the world of sports medicine. It contains all kinds of techniques and exercises, the goal of which is excellent physical shape and good mood.
You don't need to go to the gym on a strict schedule, hire a personal consultant, and allocate several hours for travel and training. Open the app, choose the desired course of training, and turn on the demonstration videos.
All aspects of the workout are thoroughly explained. You'll learn what the exercises are aimed at. Get valuable information about your water and salt balance and count the number of steps you've taken today. As well as the number of calories you've eliminated from your workout.
When starting Al Trainer, you need to tell a little about yourself. Age, gender, and anthropometric data are taken into account when developing your exercise plan. Note if you have been injured in past workouts, what health problems you have, and if you have a disability.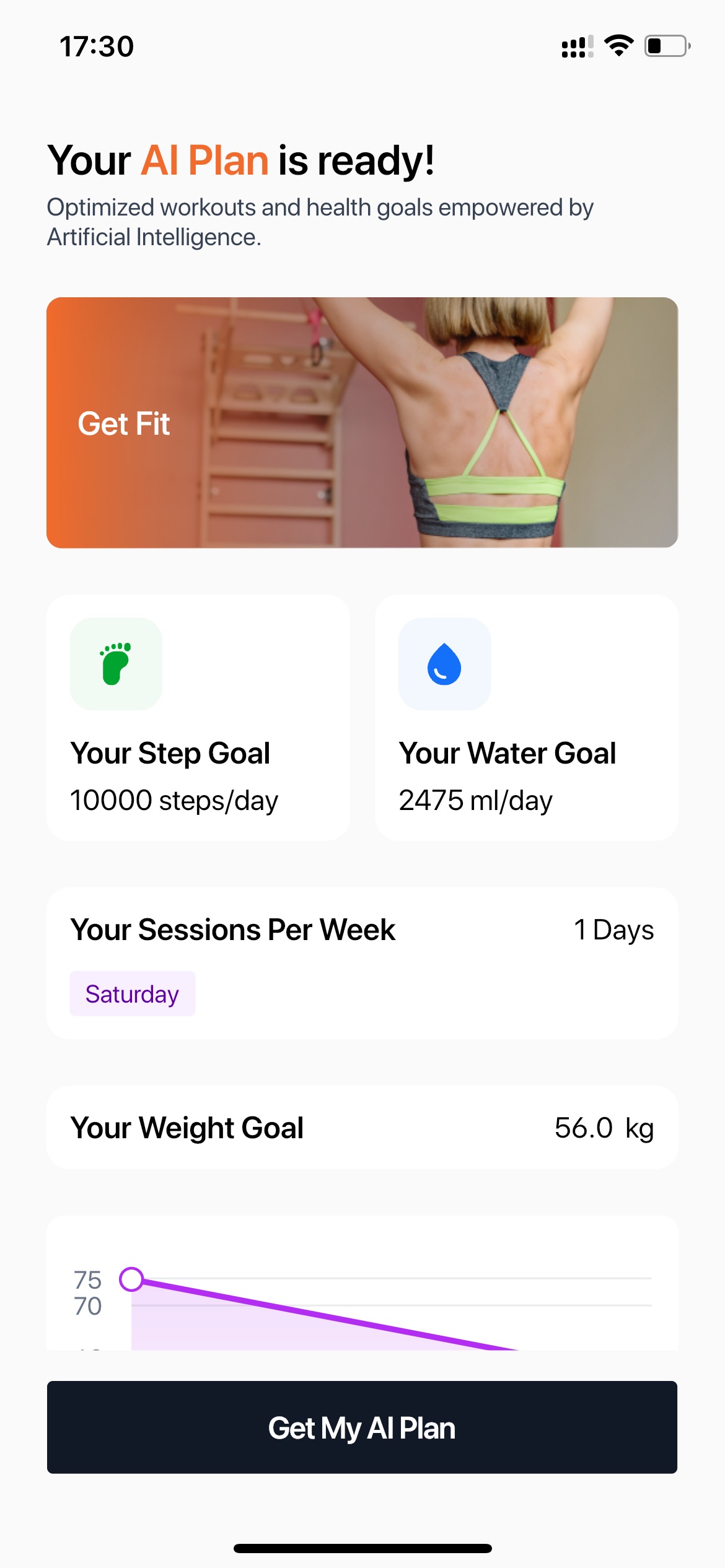 Also, indicate what equipment you have on hand and how much time per day you are willing to devote to training. All the information will be processed quickly and you can start exercising today. In case you do not like the proposed exercise, just remove it from the list. Soon the line will be filled with a new exercise.


Coachify.AI
To maintain your desired weight and fitness, you need to give exercise and proper nutrition the same attention. Coachify.Al offers you a comprehensive approach to staying healthy. Inside you will find a large collection of physical exercises that will help you keep all your muscles toned.
The app also works as a tracker that monitors the amount of calories consumed and burned during the day. You will get professional advice on the menu for the whole week. Find out how much protein, fat, carbohydrates and their ratio should be kept in each meal.
Observe the dynamics of your weight and fitness. Calculate how many extra pounds you have already lost, and how many you need to lose to reach your targets. Artificial intelligence will offer you the most optimal course of training, which corresponds to your needs and capabilities.
Choose a workout at the gym, in the park, or at home. Check which props you can use: ball, dumbbells, elastic band. To monitor your progress in strength training, indicate the maximum weight you can lift. You will always be able to open the statistics and see how far you have progressed.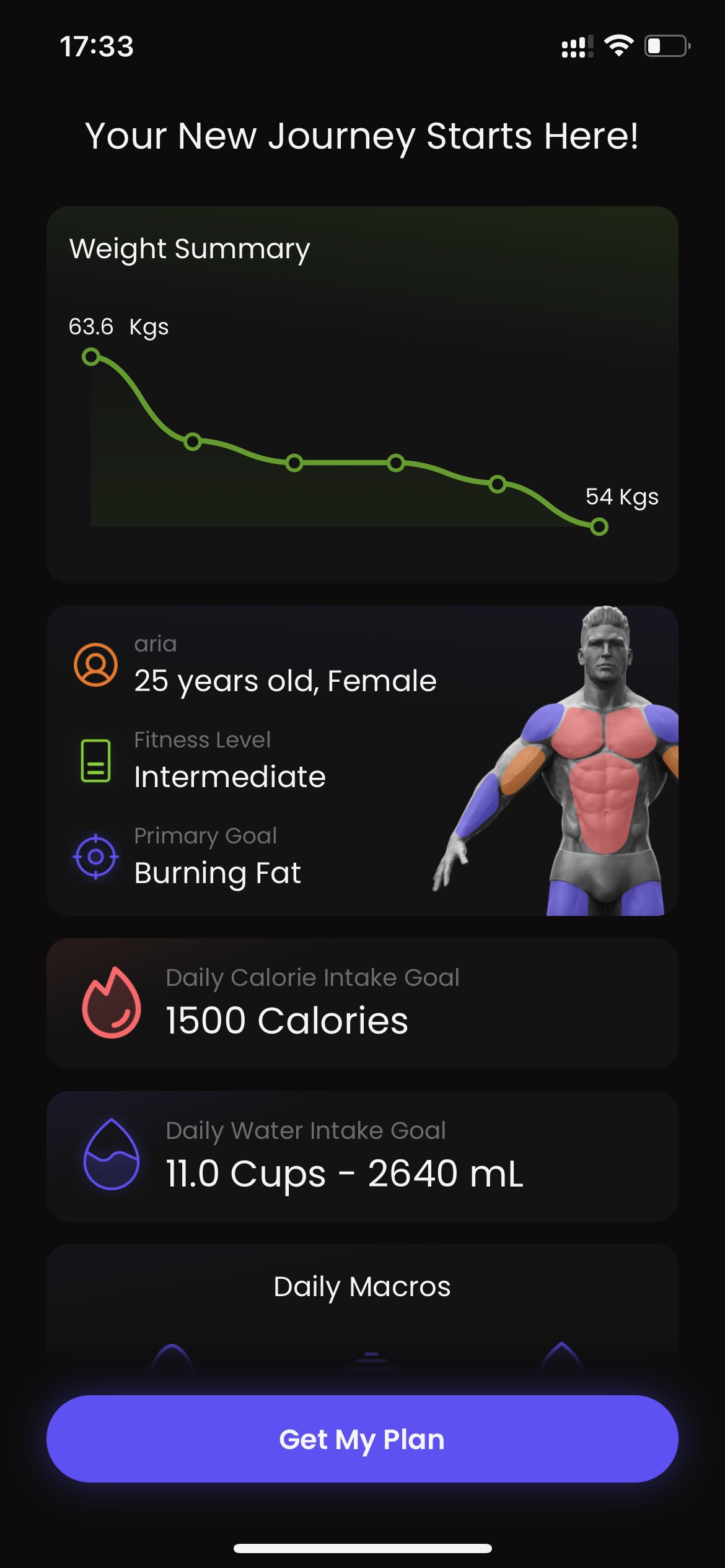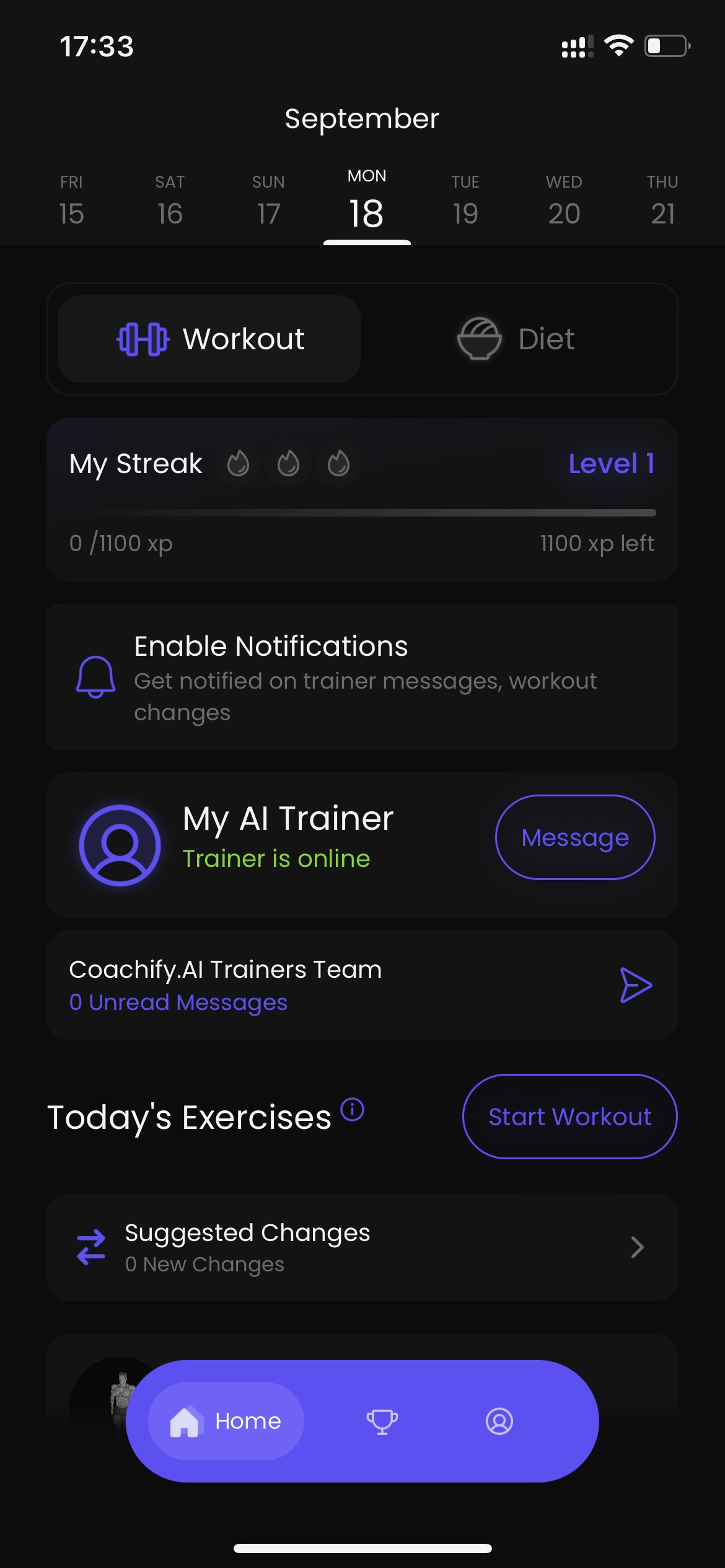 When you start a new block of exercises, you will know which muscles it is designed for, and with what frequency and intensity you should perform approaches. Coachify.Al offers you rest when you need it. Take small breaks to let your body rest and gain strength.


AI Gym
Al Gym works to perfect your figure and keep you healthy. Exercise with pleasure while boosting your mood and self-esteem. There is no need to visit a gym or buy a bulky machine to exercise. All exercises are suitable for use at home with the equipment that everyone has.
It is great if you have already purchased an exercise bike. This app allows you to connect your exercise machine to your phone via Bluetooth to track all your metrics. Keep a count of calories, and kilometers traveled. Record your exercise stats and see how cycling affects your fitness and weight.
If you want, you can take advantage of the personal trainer option. Let Al Gym design a private exercise system for you. The program works at the level of a true professional. You will only have to follow the recommendations and be pleasantly surprised by the results.
You can get a schedule of classes for free. For even more fun, join online sports competitions. Compete with other users, and find new friends and like-minded people. Use the statistics from the app to make an unusual post on social networks. Show your subscribers your rhythm of life.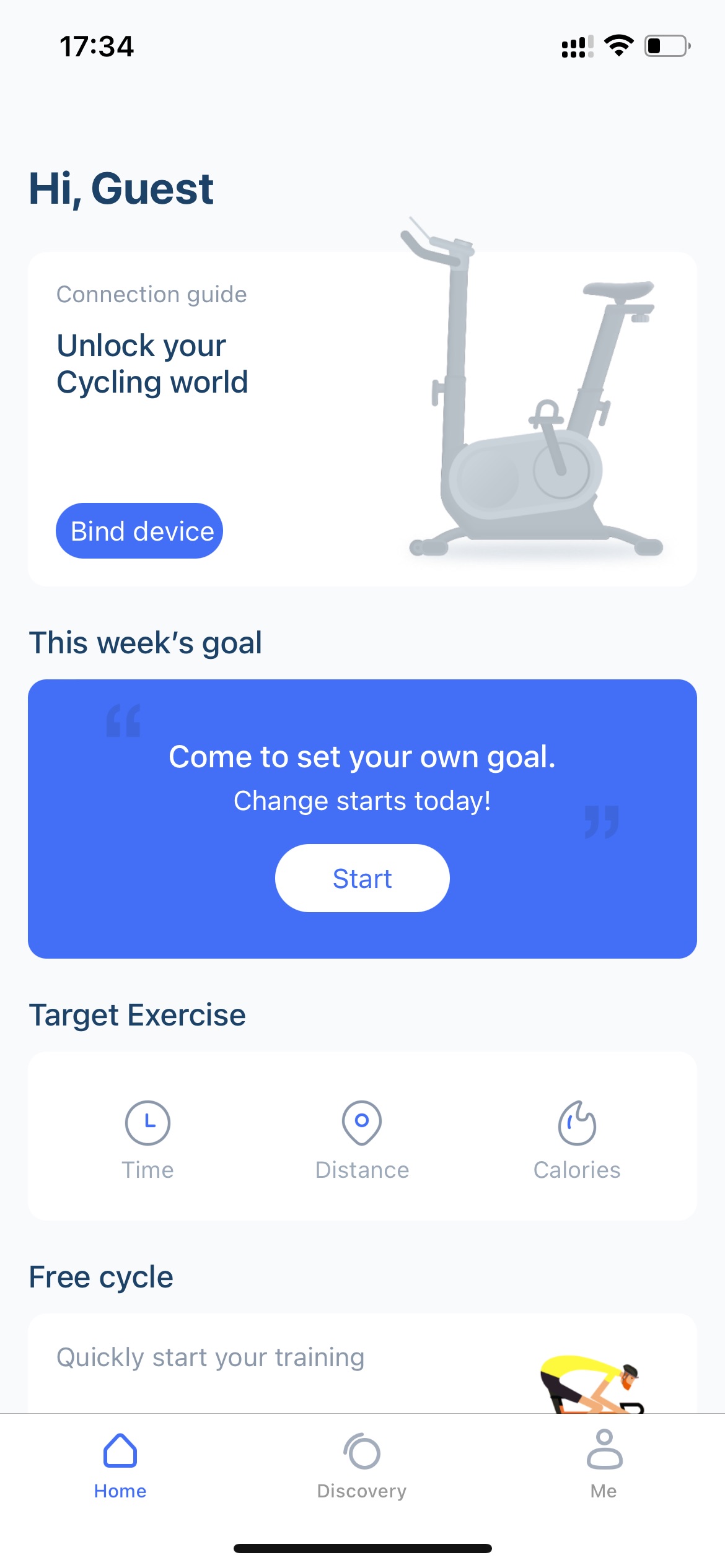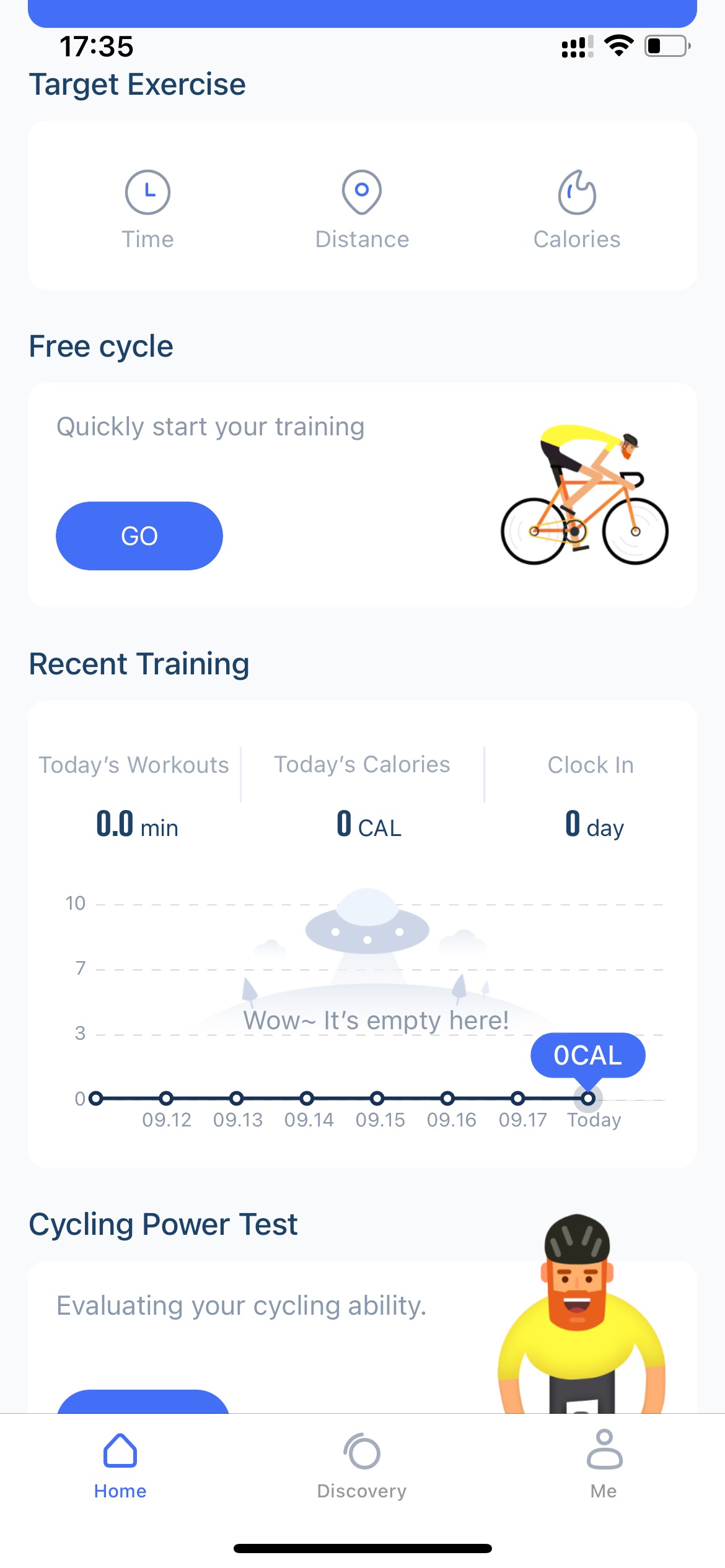 The app is designed for everyone who wants to join a healthy lifestyle without monetary investments and loss of time.


You may also like: 13 Best Resistance Band Training Apps for Android and iOS
Ai Fitness
Join the members of the trendy sports club, control your classes, and progress from your phone. Classes at Ai Fitness include elements of Pilates, yoga, and stretching.
It does not matter in which city and how often you visit the club. To find out more information about the chosen club, just open the app. Here you will find up-to-date information about the time and cost of classes, work schedule, and leading trainers.
Get the exact address and phone number to contact the manager directly and clarify your questions. This is a great way to avoid missing a workout and quickly find the right studio in another city. Or open the interactive map and find the right club manually.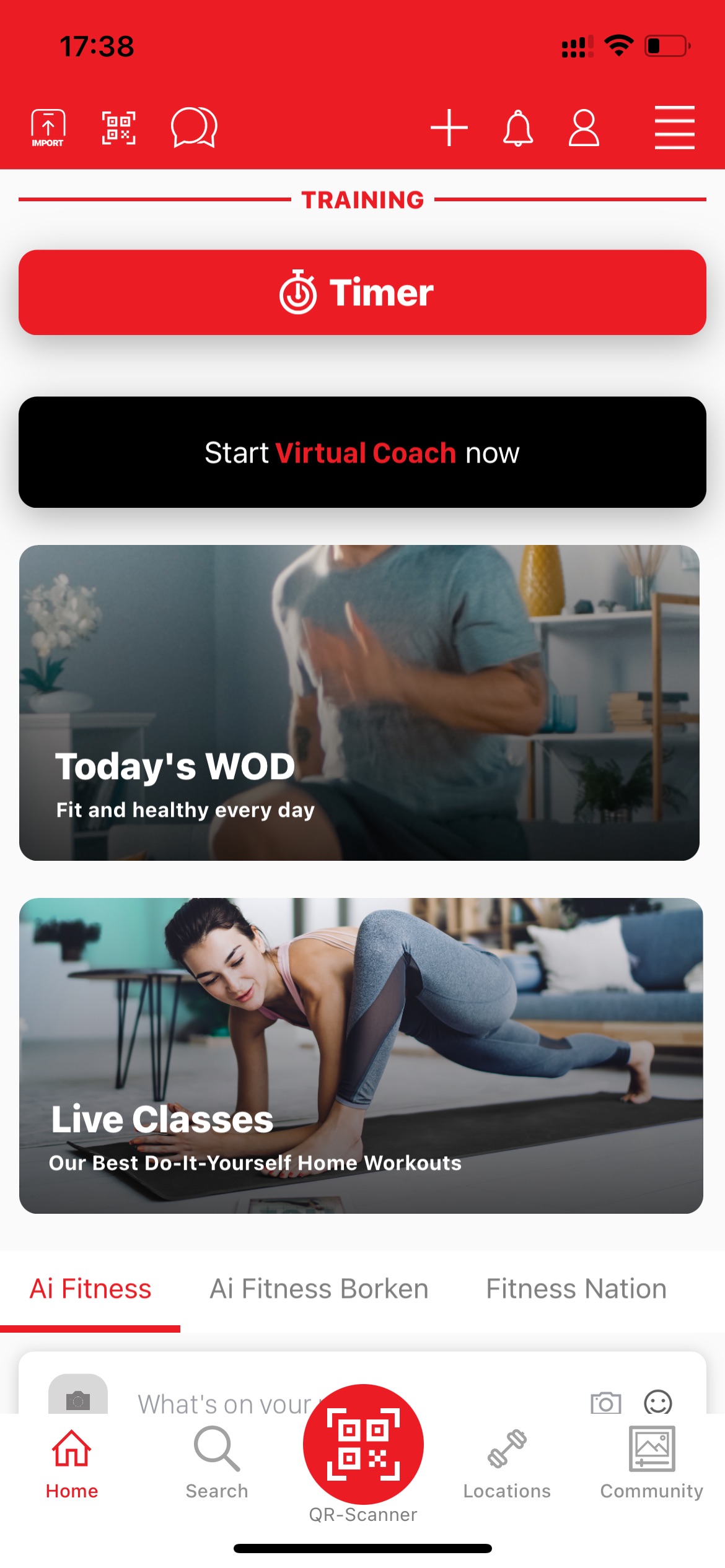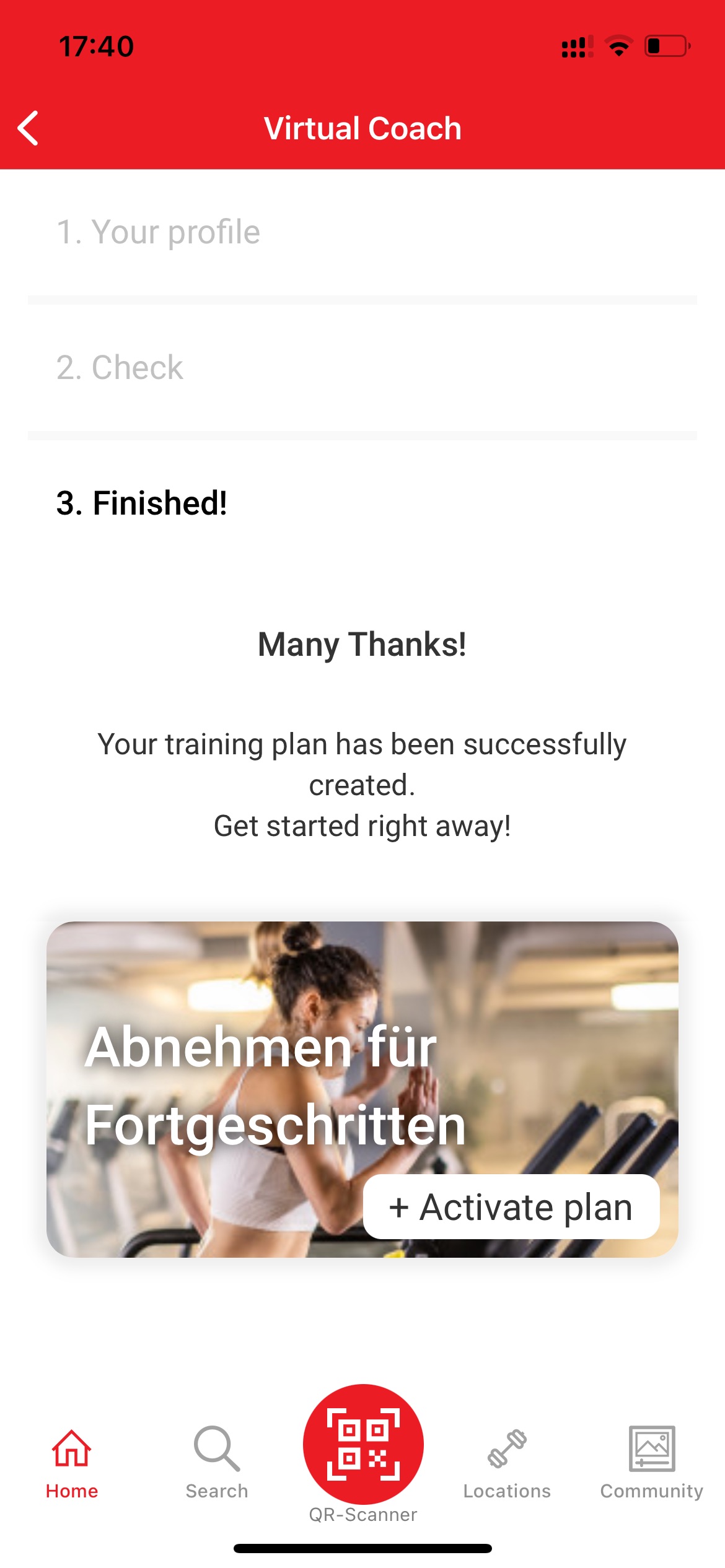 For each client, the trainer develops a separate training plan. You can always check it on the website. Besides, you can find out what progress you have made over the past period. If the training plan is adjusted or the training session is rescheduled, you will receive a push notification in advance.