Many users do not pay enough attention to the batteries of their mobile devices. If you know the detailed characteristics, you can save on energy consumption and find out useful parameters. It is for these purposes that the 3C Battery Manager application developed. Get started right now without registration.
More apps that will help you to analyze the consumption of the battery charge can be found here. 
It is surprisingly pleasant to see all the main characteristics in the main menu of the application. Accessibility and visibility are the features of 3C Battery Manager.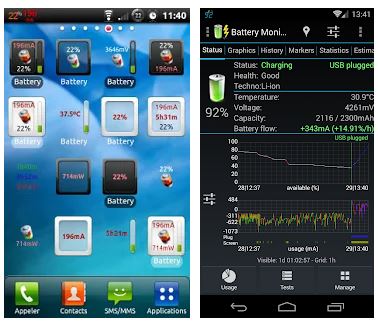 3C Battery Manager is a functional application that has various convenient and useful functions. The interface divided into 2 control panels. All main sections located on the top section. For example, the top menu bar contains "Status", "Graphics", "History", "Markers", "Statics". Menus, and other additional questions contained in the top menu. The user can display battery data on the home screen using widgets.
3C Battery Manager has its own tech support. Formulate your question in detail and send it to the support specialists. The answer won't take you long to wait.
A simple and user-friendly interface with a dark design and white buttons will allow you to quickly integrate into the control system. Laconic design and no distracting details.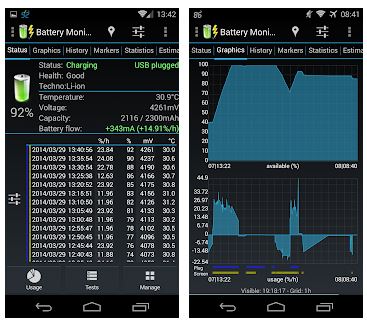 By clicking on "Status" the user will see the required characteristics of the battery of the mobile device. In this section you will see the chart, by clicking on the chart the system will give you additional actions such as "Single graphic", "Show history", "Global / Visible min / max". The "Statics" section will show you details. In which case, you can optimize battery consumption.
Each user can manage the application. Easy integration will allow everyone to master the principle of work.
To save your phone's battery charge, try these helpful apps. 
3C Battery Manager is a unique application that shows accurate battery usage and helps you turn on low power consumption. Moreover, the user can see accurate graphs and calculate the actual battery capacity. In addition, the user can store information about an unlimited number of batteries.