10 Best Air Horn Apps for Android & iOS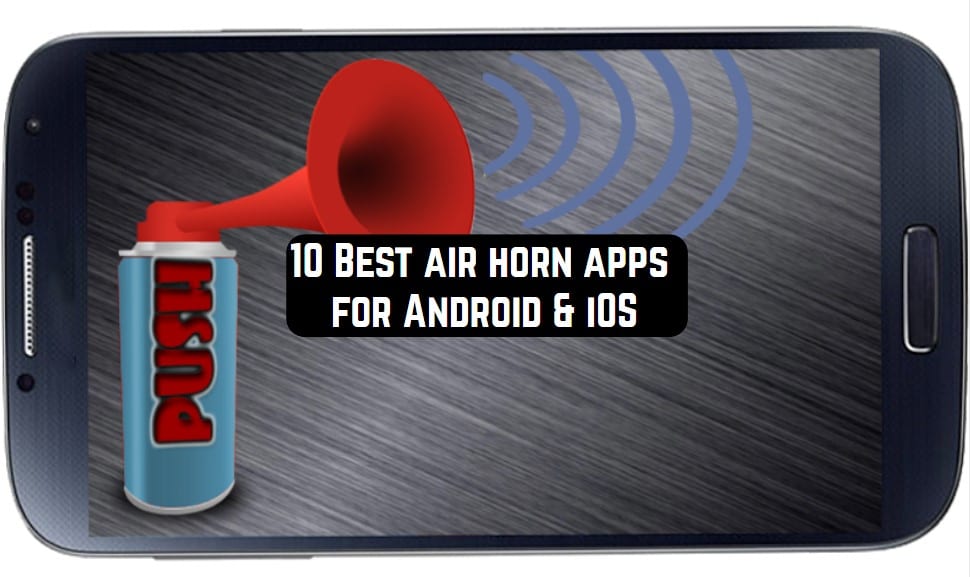 True football fans are doing everything to not miss a single match with your favorite team. That only they do not use to cheer up their favorite team and support the players on the field. One of the most popular tools of fans is the horn, which almost every fan has.
However, the air horn can serve as a means of entertainment, you can play friends with it and just have fun. We present to your attention 10 Best air horn apps for Android & iOS.

Check also 15 Best Sound machine apps for Android & iOS
Air Horn Prank
Turn your mobile gadget into an air horn. Cool sound app – just select the right sound and wake your friends.
Specifications
intuitive GUI
continuous playback while holding your finger on the screen
animation effects included.
contains additional high-quality sounds, including a fire alarm, a bicycle bell, a doorbell, a train whistle, a police siren, a fire siren, a vuvuzela, etc.
You can play or scare your friends and family and cheer from the bottom of your heart at a sporting event. Now the wonderful air horn can always be carried with you.
You may also like: 7 Fun Fake Celebrity Call Apps for Android & iOS
Loud Pocket Horns!
Do you remember that funny video with an Indian guy on a bicycle that has an air horn that was making the sounds like the apocalypse is near? If no, you should check that out. And in case you want to repeat that prank or you also ride a bicycle and you want all those drives would be paying more attention to you, then get this app.
In this app, you will find various types of horns – the classic one, police air horns, trumpets, and many more. Enjoy your time!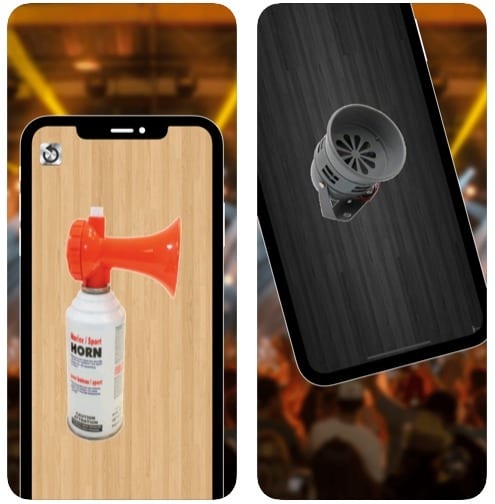 Loudest Air Horn
Loudest Air Horn is an app that plays sudden, loud sounds. It will play or even scare a friend. Moreover, the program can be used at public events, for example, it can replace a vuvuzela at a football match.
The volume of the sounds reproduced by the application is limited exclusively by the volume of the speakers of your portable device based on the Android operating system.
Loud sounds
Using Loudest Air Horn, you can turn your smartphone or tablet into a horn, a loudspeaker, a siren (car or emergency), a mountain horn, a trumpet, a French horn, a perforator, a gong, a doorbell or a school bell and a whistle.
In addition, the program can reproduce the sounds of broken glass, the swing of the putter, the breaking of paper, pressing a toy on a squeaker, shuffling cards, and opening a heavy door.
Using applications is very simple. All you need to do is select the desired sound in the bottom menu, and then hold your finger on its icon at the top of the screen.
Just do not forget to initially adjust the acceptable volume level on your device, because the sound of the Loudest Air Horn is really very loud. To slightly increase the base volume, you can use specialized tools. For example – the application Sound Amplifier.
Key features
able to play loud sudden sounds that help to play and scare others;
allows you to turn your portable device into a horn, whistle, vuvuzela, siren, bell, and so on;
offers a really simple and intuitive interface;
contains the minimum amount of advertising and is distributed free of charge;
works on all current versions of the Android operating system.
Air Horn – Siren Sounds
Impress or joke with your friends and family with this very loud sound. With Air Horn, you can joke, scare or wake up friends or even cheer up at a sporting event.
It includes various realistic sounds, such as an air horn, a train, a ship … that will deceive everyone. This air horn is capable of creating several noises: air horn, siren, high beep, vuvuzela, whip, machine gun, police car, and others.
Special features
Graphic interface with a beautiful sound meter.
The air beep will tremble when playing sound.
Better sound quality from the real airborne sound.
Loud high-quality horns and sirens.
Enable continuous playback using the Loop button.
Easy to set the default ringtone, notification or alarm.
Air Horn (Android)
Are you looking for an air horn app, you have already tried several ones but they are all not loud enough? If you have an Android device, try this one out. Well, if even this one will seem not loud enough for you, there is a function using which you can connect your phone to the speakers and make this sound really loud!
Another useful feature here is that there is an option of an infinite sound. In some air horn apps, the sound is going to be only when you tap on the button.
Here, the on-time tap is enough so it plays in the non-stop mode. The layout has been individually optimized for the majority of screen sizes and resolutions of the most popular devices, including tablets of all sizes.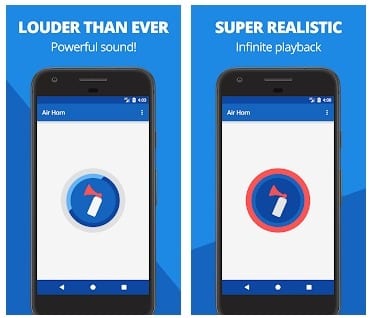 You may also like: 11 Best mouth talking apps for Android & iOS
New Air Horn
Despite the fact that the majority of air horn apps on this list are for Android, we have managed to pick the best apps in this category for iOS devices as well. Like this one – this is an alternative to the simple air horn Android apps, and, what is more, it includes a variety of sounds.
Along with the traditional blast of sound, the app features the following tones: foghorn, sporting event, and even the infamous vuvuzela sound. You can also record your own sound (SD card required). Prank your friends, use this app when you're on your bicycle or scooter.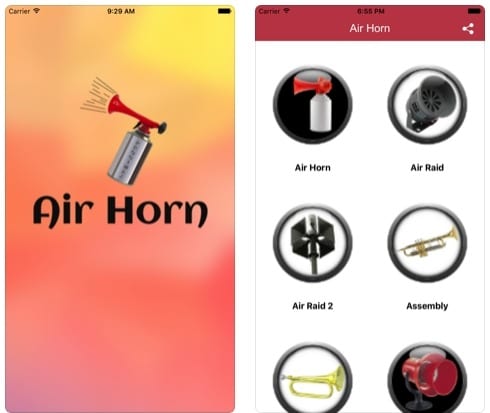 Air Horn MAX!
Application, loudly imitating the sound of a forge. This application is multifunctional: with the help of it, you will be able to attract someone's attention, wake up a person who does not want to go to work, scare a friend. Or loudly cheer for your favorite football team.
Air Horn
A cool application that simulates the sound of an air bugle on your mobile device. It has beautiful graphics and realistic sound that can entertain, amuse, attract attention, sometimes scare, as well as much more. This is a standard Android app, simple, so if a small air horn app is what you have been looking for for your Android device – this is a nice choice.
Mobile Air Horn – Pocket
Turn an ordinary smartphone into a powerful mouthpiece!
Compared to alternative applications, this program includes sounds such as horn, vuvuzela, trumpet. You can also record your own sound, and then play it like the others.
No matter where you are – at your favorite sporting event, in a room full of crazy kids, or at a party late at night with your best friend who fell asleep too early – this app will become an indispensable part of your daily life and give you the power of sound!
A mighty horn will make a roaring sound machine out of your smartphone!
You may also like: 11 Best Soundboard Apps for Android & iOS
Siren and Air Horn Sounds
When for whatever reason you need an air horn, you can use this app. This is a little bit more functional than a traditional air horn app since it includes a bunch of different types of a siren. A pleasant bonus here is all the sounds are accompanied by animations, for example, if you choose the train sound – there will be a picture of a railroad on the screen.