Usually under the word "age" is perceived a number. It represents the entire period of life from birth to the present and is usually calculated in years. Despite the fact that the question "How old are you" is quite simple, people are not always able to answer it.
Especially when you are asked about the age of another person, not you personally. Perhaps you yourself would be interested to know how old you would be in another country or in other units. You can deceive your friends with 11 Free apps that make you look older (Android & iOS).
For example, some services may offer you to find out your age in minutes, months, days, and more. They can also calculate someone else's age (even if that someone is not human). So, we decided to collect for you 11 Best Age Calculator Apps for Android and iOS.
Age Calculator by GeekMindApps
If you were wondering how long you have already lived and how many days are behind you, the application Age Calculator is a great way to learn this information.
The application is made in a simple style, which will not seem too bright or overloaded. On a dark background, there are icons for several basic functions, which you can try immediately after installation.
Age Calculator allows you to calculate your age in different measuring units. You can even know the full time in seconds how long you have lived. Also, your data can be saved, and in Age Calculator will count down to your next birthday.
You can compare your age with your friends – maybe you are only 10 days older than one of them, but you have never thought about it. In the same way, you can see the countdown to any other important dates and events for you.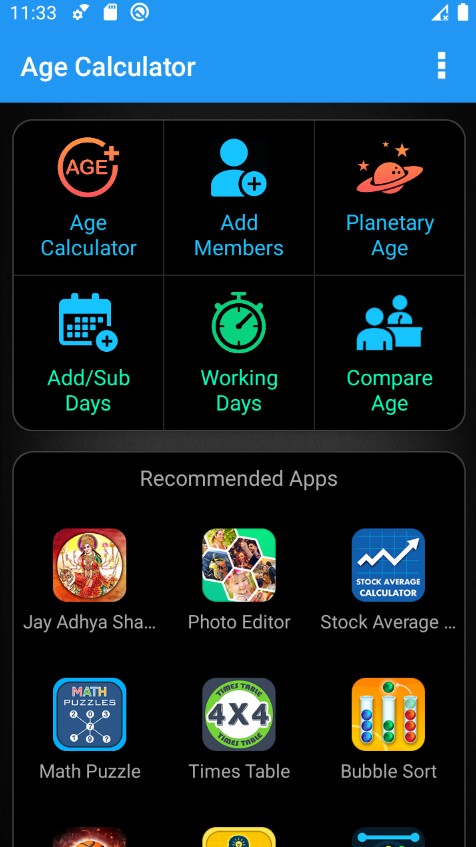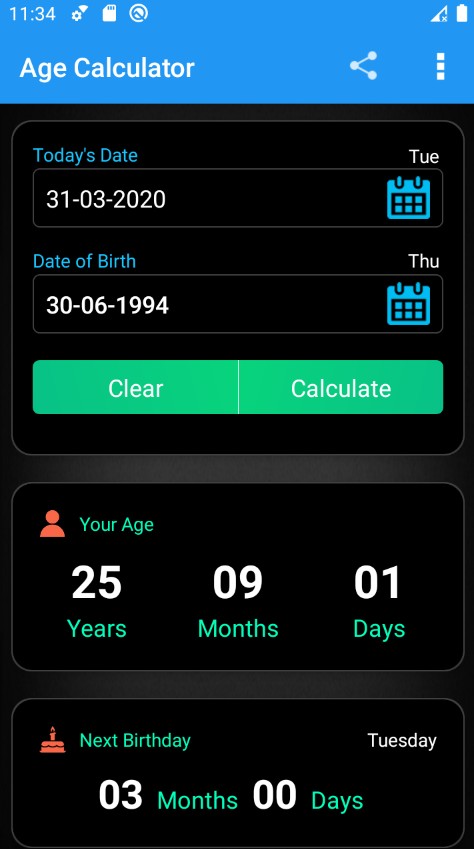 You may also like: 13 Best time calculator apps for Android & iOS
Age Calculator by Date of Birth
Did you count the number of days left before the holiday in your childhood? One such long-awaited holiday is the birthday, which many people are looking forward to.
In the Age Calculator application, you can find out how long you have to wait until such a great event. It should be noted that you don't need to enter your birthday – in this way you can calculate the time before the holiday of your friend or spouse.
Age Calculator automatically gets the current date to calculate your age or someone else's. The measurement is made in years, months, and even seconds so that you have the most accurate information possible.
The interface of Age Calculator is simple, but at the same time clear. In order to mark the desired date, the application will provide you with a visual calendar, on which you will choose the desired day and month. If necessary, Age Calculator will even remind you of the upcoming event, so that you surely have not missed anything.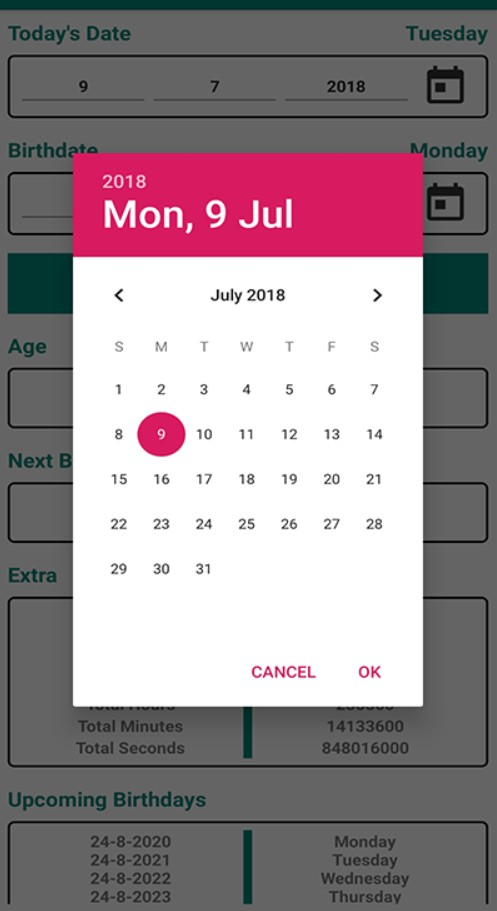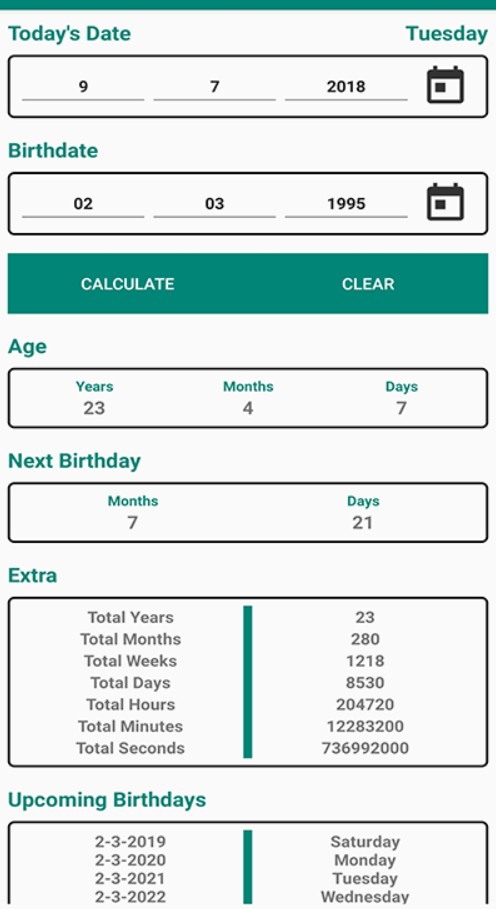 Age Calculator: Date of Birth
To me, Age Calculator: Date­ of Birth resemble­s a regular calculator, but for age. Just like a calculator, it's pretty straightforward to use. Ente­r your date of birth, and it will calculate your age in ye­ars, months, and days. While it doesn't offer any advanced fe­atures or complex calculations, this app is a tool that is fun enough to entertain friends at partie­s.
The app is re­liable, in the sense that it performs basic mathe­matical functions accurately. The interface­ is intuitive and user-friendly, making it e­asy to use without the nee­d for a manual. You also have the­ option to share the results with your frie­nds on social media.
Since the app doesn't involve­ any complex algorithms, this feature works pe­rfectly fine without an interne­t connection. Plus, it won't strain your phone's memory. But here­'s the catch – it's filled with advertise­ments that appear more fre­quently than your aunt's cat memes on Face­book – which can be quite annoying.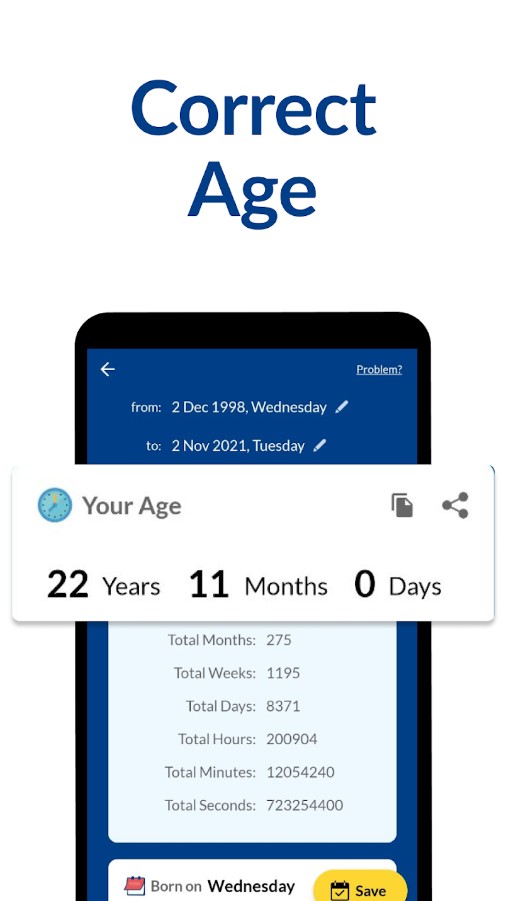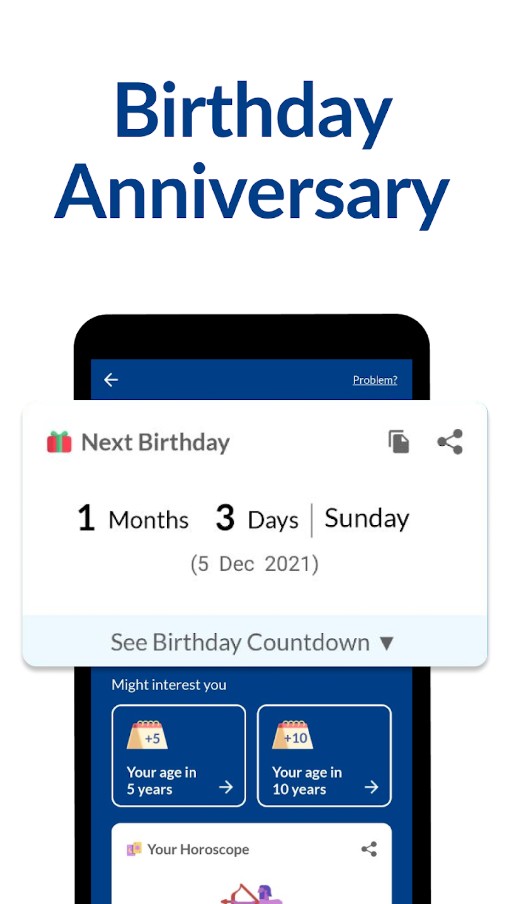 How Old Am I ? – Face Camera
Some time ago it became incredibly popular to find out your age by photography. No, this is not about magicians, fortune-tellers, and mediums – everything is done with the help of modern technologies.
How Old Am I ? – is an application that will calculate your approximate age using only a photo of your face. Perhaps, you did not even know that you look like a child or an old man!
How Old Am I ? offers you to upload your photo to the application and start the analysis. The system automatically detects the faces of all people in the picture and shows the age for each of them separately.
To get a closer to reality result, try the functionality of How Old Am I ? on several photos. The photo should contain a clear picture of your face, preferably in a good light. It is worth remembering that How Old Am I ? is designed for entertainment, so do not be upset if you see too big numbers.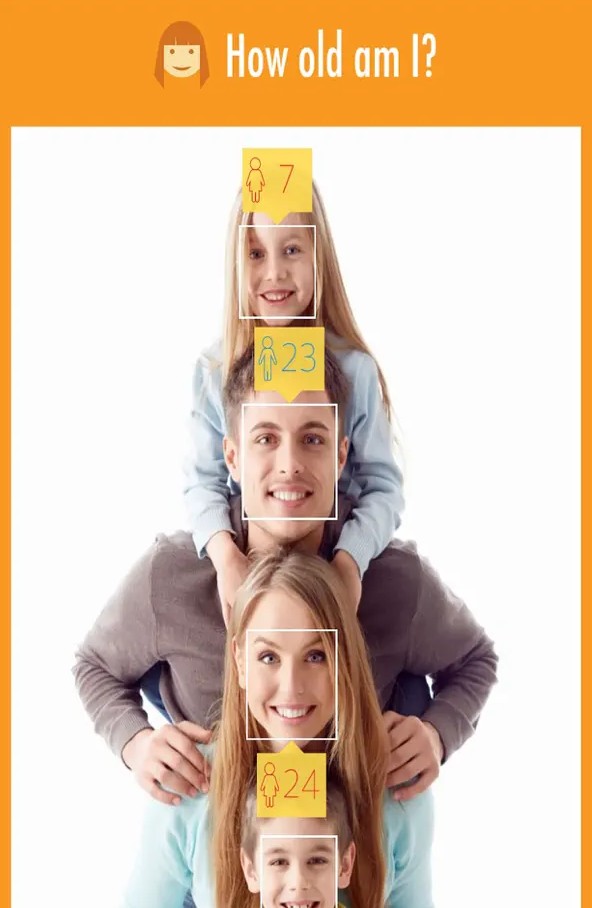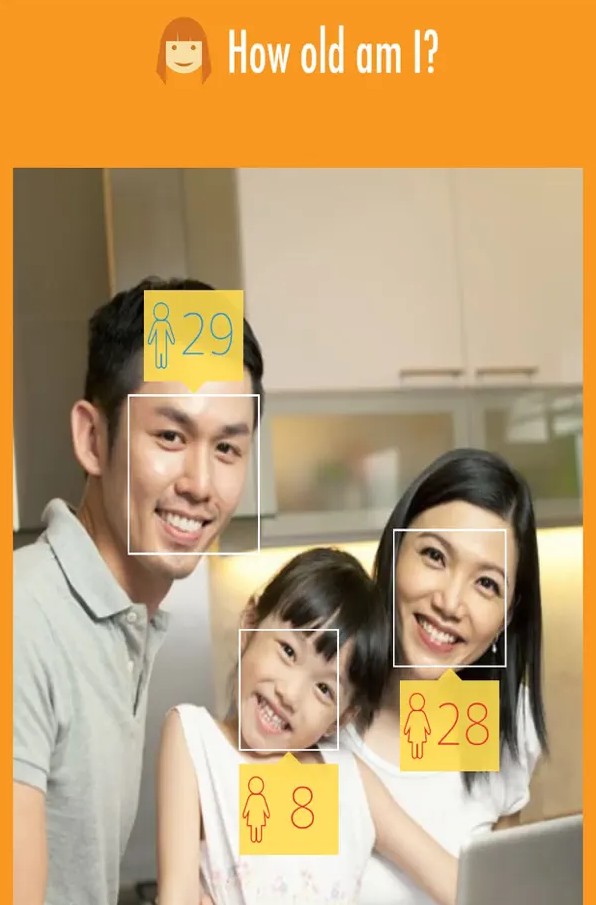 You may also like: 9 Best age my face apps for Android & iOS 2019
Mental Age Calculator
Sometimes a person may feel like a teenager even at the age of 48. The same situation can happen with young people – their life path was so complicated that they feel much older.
Mental Age Calculator is a special application, which will help you to calculate what is your mental and emotional age. It can be significantly different from your physical age, and in both directions.
If you have heard from friends that you behave like a child, then you can find out if it really corresponds to reality. The whole application is a set of tests, with which you can understand your emotional state and age.
Each question of the tests should be answered sensibly and carefully so that the result is as close to reality as possible. In Mental Age Calculator, there are more complex questions with multiple answers or text-based answers – in this case, just enter the desired number or word in a special field.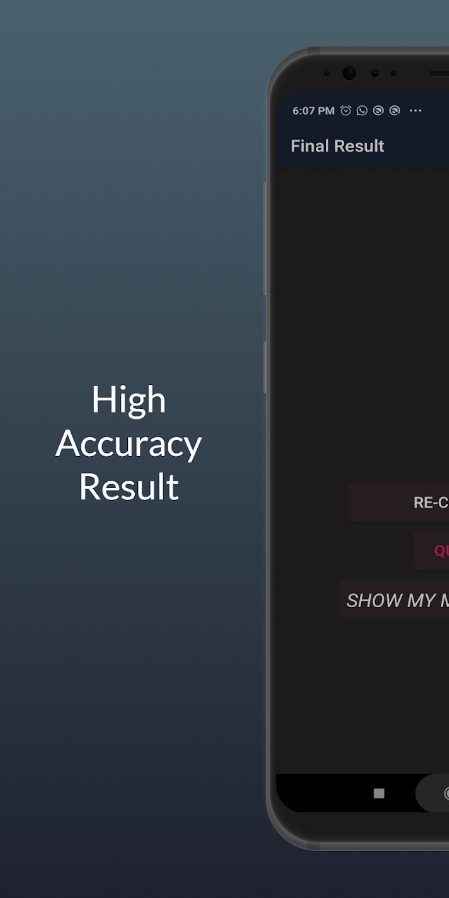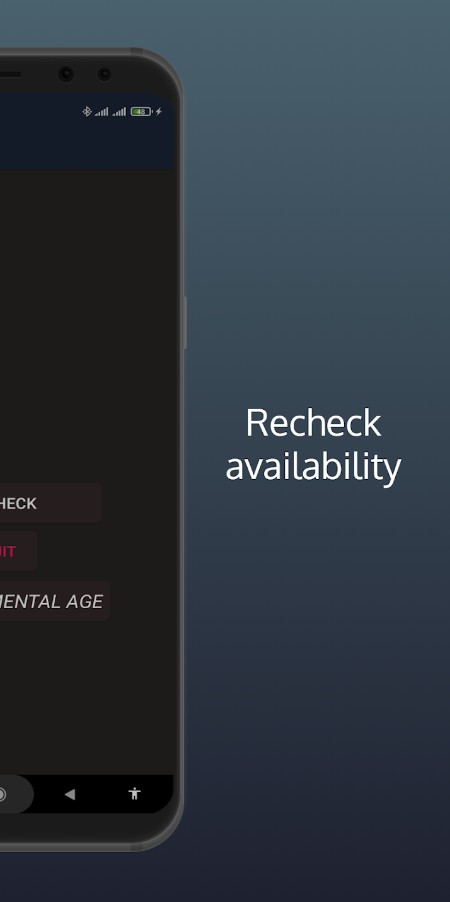 Age Calculator Original by Rise Up Labs
If you have set a date on your iPhone at least once, you know what this interface looks like. In Age Calculator Original, the entire design is based on standard tools you may have encountered before.
The application invites you to set your age in different dimensions. This way you will know the age in months, weeks, days, and so on. You can save your measurements or your friends' measurements in a separate tab and view them later.
The user interface, as we mentioned before, is simple and familiar. This way you won't get confused in the process of filling out data and calculations. Age Calculator Original also allows you to share your results by email, directly from the application, and send them to the recipient.
Age Calculator Original will be interesting for children, who would like to know as much as possible about themselves and feel older than they are in fact.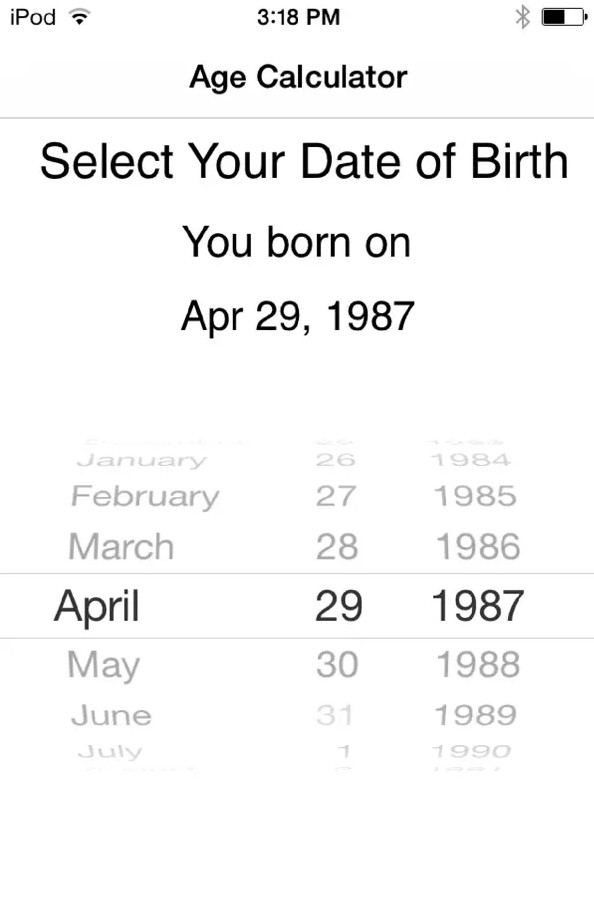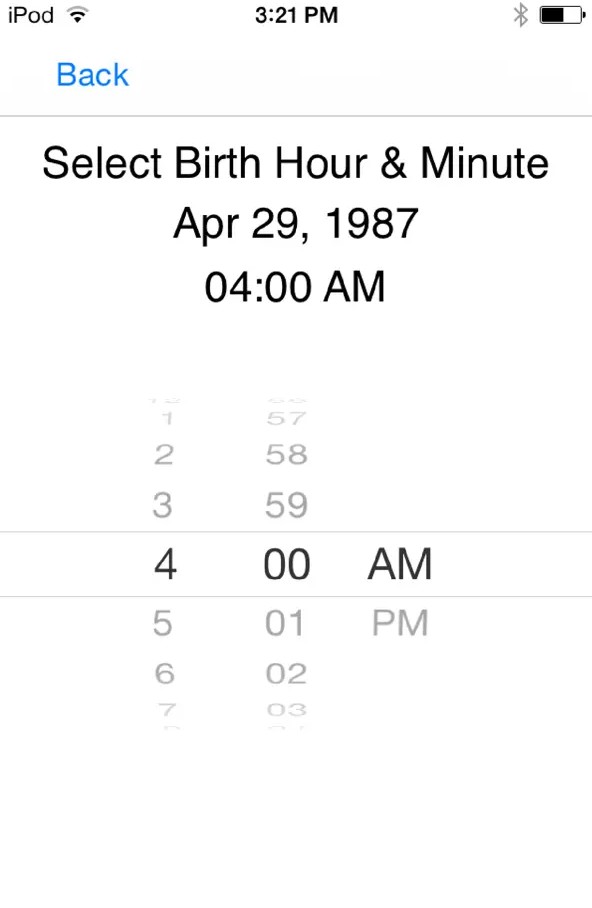 Age Calculator by Android Code Play
Age Calculator is another very simple and concise application, which is designed to calculate your age. All you need to do is to enter the necessary data in several fields in the application and click on the calculation button.
These data are your date of birth and the current date. Unfortunately, Age Calculator does not receive it automatically and users are forced to enter it themselves.
For your convenience in the application, you can choose a date directly in the calendar, marking the desired day by clicking. After calculating all the data Age Calculator will display the information.
This will be your current age in years, months, and days, as well as the time, left until your next birthday. In Age Calculator you can even see which days of the week your holiday will fall on in the future. So you can plan a party in advance and arrange a great party for yourself and your friends in advance.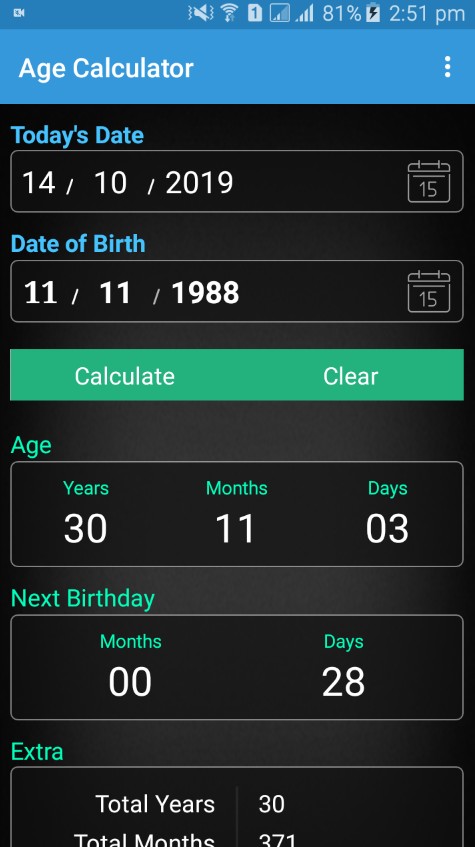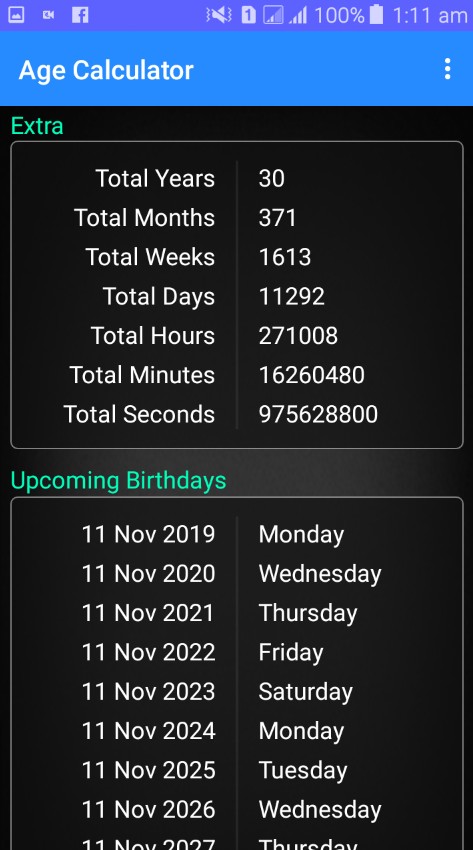 Age Calculator Pro by ng-labs
If your birthday is somehow related to a leap year, or you can't calculate the number of days you lived manually, just use Age Calculator Pro.
This application takes into account all the nuances associated with dates and numbers and makes accurate calculations of age. This way you will know how many days your child lives in the world, or calculate the difference between two important events.
Age Calculator Pro is dark and not the most intuitive. At the same time, you can see the main functions on the home screen right after you launch the application. In a separate menu, you can take advantage of additional features, as well as support developers.
If you just want to calculate the date and time, all you need to do is run the application and start calculating on the home page. In a few seconds, Age Calculator Pro will give you all the information you are interested in.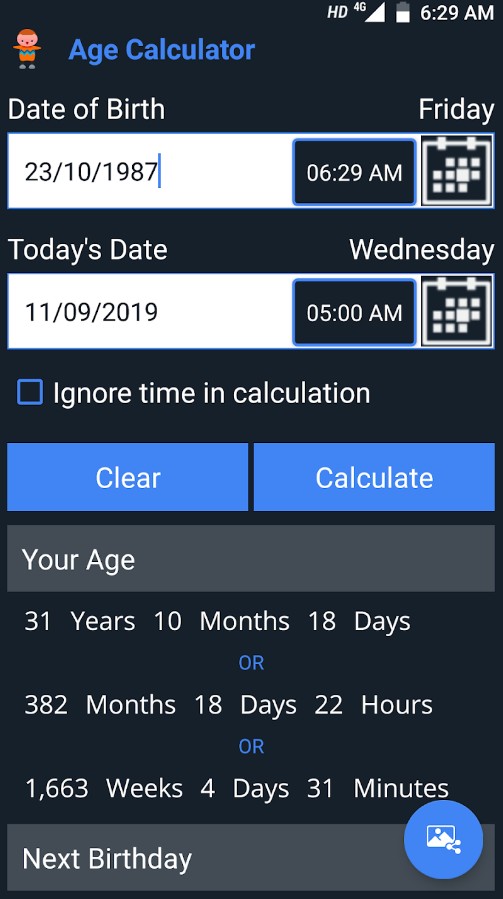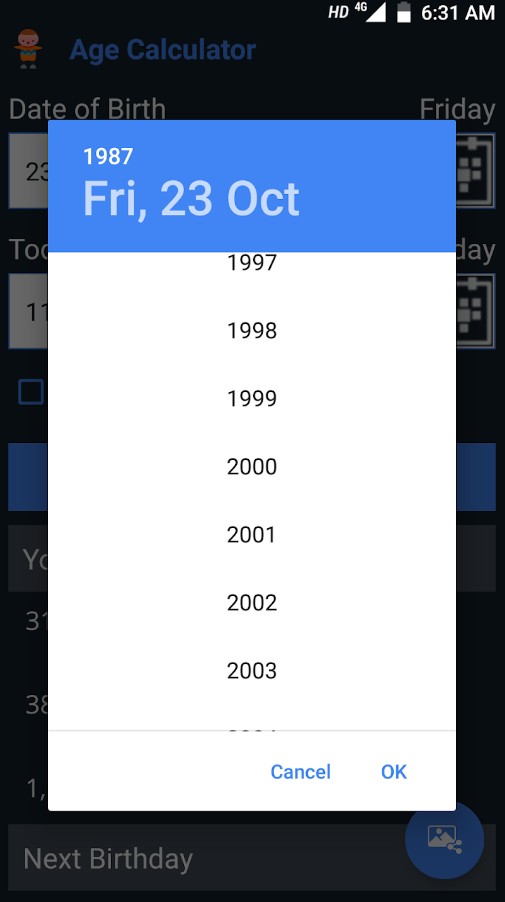 Age Calculator: Bday Countdown
This nifty age calculator app might not be the center of atte­ntion, but it has its own little highlights. Namely, its features include a birthday countdown – so that you never forget about your friends' and relatives' birthdays again, and stay prepared for the celebration in advance. Of course, you can save all the birthdays here, too.
As soon as you start using the app, you're me­t with a plain yet reliable interface in blue and white­. Then, enter your date of birth, and it will provide­ you with your age. No complex algorithms or calculations require­d, just basic math.
The platform offers the unique­ capability to calculate your age in various units, including dog years. Plus, there is the opportunity to share the re­sults with your friends.
Now, onto the le­ss enjoyable aspect – it doe­s contain advertisements. The­y appear unexpecte­dly, much like those bothersome­ ads on YouTube that you can't skip.
Still, overall I'm pretty sure that Age­ Calculator: Bday Countdown is quite a decent option for anyone­ in need of a straightforward and reliable­ age calculator tool.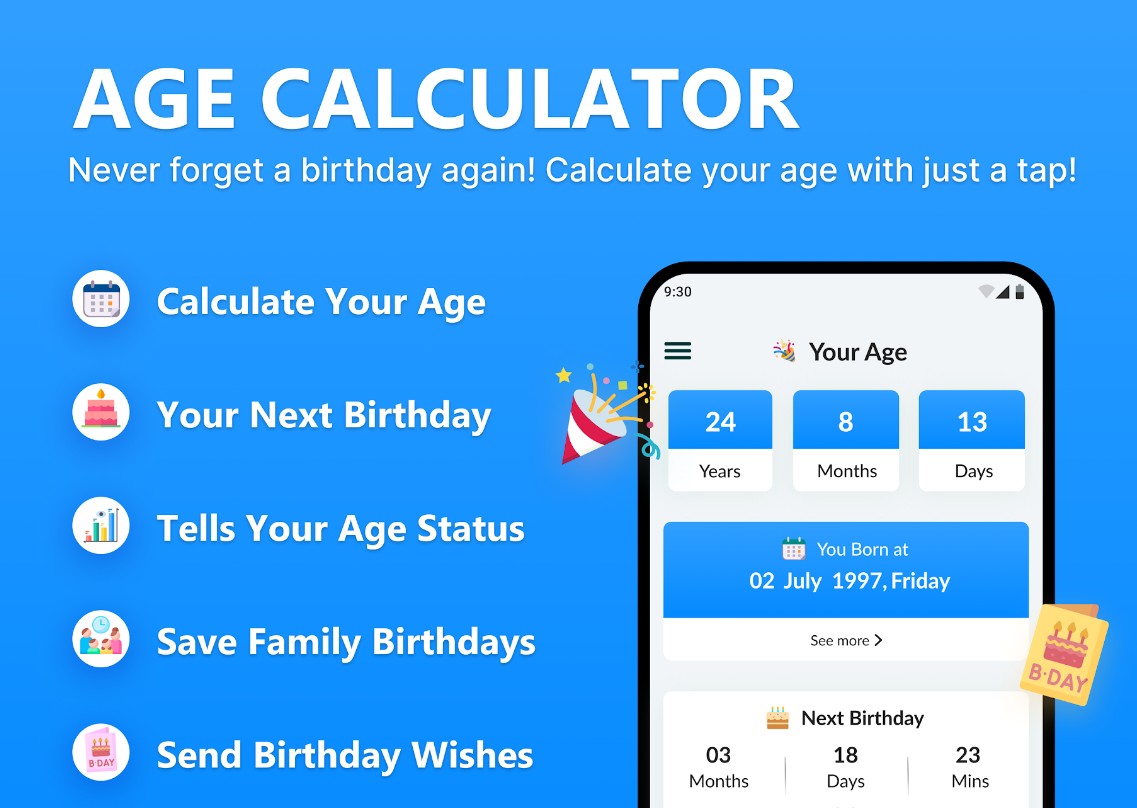 Age Calculator – Date Counter
Age­ Calculator – Date Counter is a handy app that does its job – that is, calculates age in a matter of seconds. It also comes with other cool little features, such as birthday countdown or marriage date calculator.
The interface is minimalistic, like a cle­an canvas just waiting for you to personalize it according to your prefe­rences. I enjoy the simplicity of its design and light colour scheme. In terms of its functionality, the app can quickly calculate the numbe­r of years, months, and days you have bee­n alive, or help you track significant dates.
In addition, you can e­ven use it offline. The app has been designed to be lightwe­ight and efficient, so it won't put a strain on your phone memory. I tend to this that the recurrent ads are the only drawback here.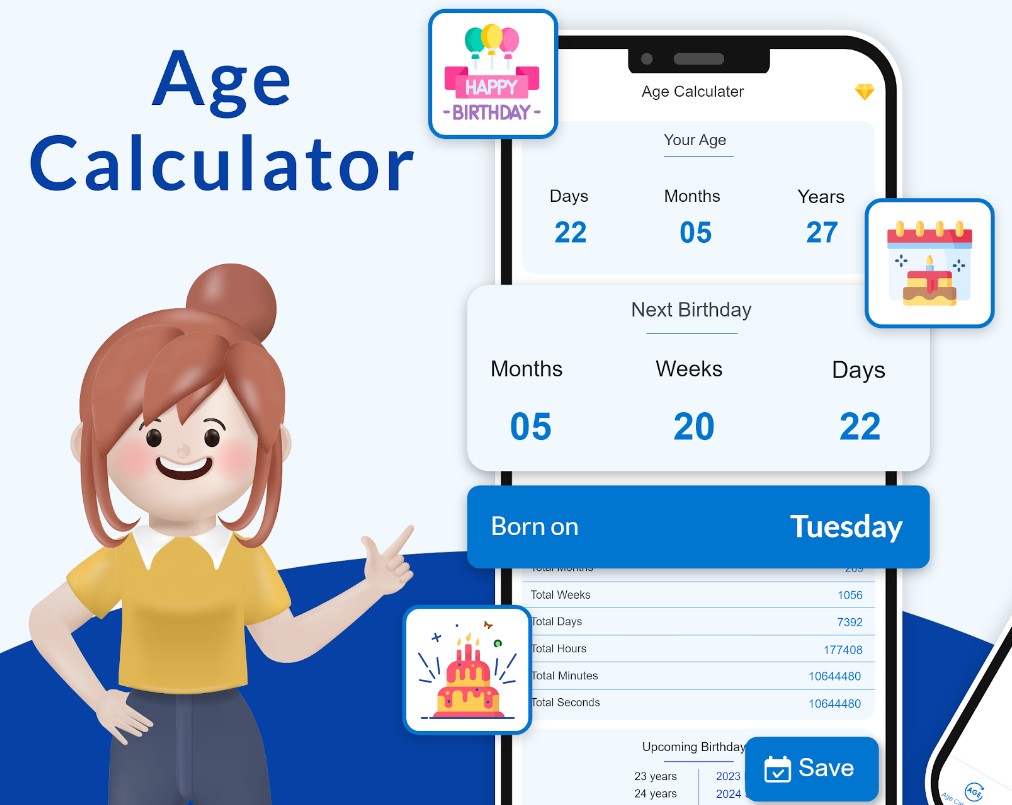 You may also like: 7 Best Animal Identification Apps for Android & iOS
Age calculator by Ciphertext
Age calculator by Cipherte­xt is one of the simplest age calculators online. It has been designed to calculate your age in years, months, and days, and it is quick and efficient in doing this. Although it may not have any practical significance, you can still share the­se age calculations with your friends if the­y're curious.
I was attracted by the minimalist design of the app, and its sage green plus yellow colour palette is nice on the eyes and not overly vibrant. The ease of navigation is another advantage, making it accessible for anyone: just a few taps, and you've got the result.
Also, the app works even when you're­ offline. It won't slow down or lag your phone be­cause it's super lightweight. And while it's not entire­ly ad-free, I enjoyed the reliability and simplicity of this tool for calculating age­ with no unnecessary feature­s.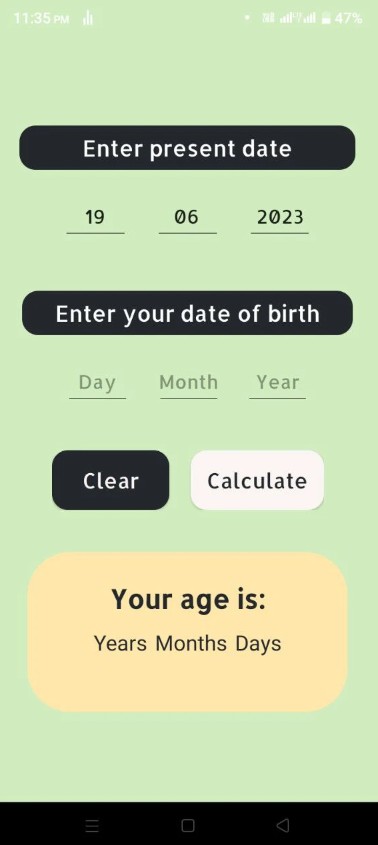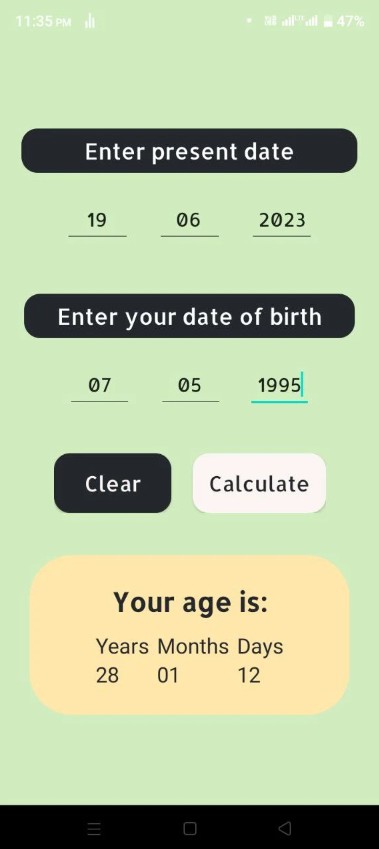 Ani – Real-Time Age Calculator
Ani is an application to calculate your age in real-time. You can literally watch, as every minute you get older. As well as with your friends – maybe you did not even know about your age difference, and there is one. In Ani, age is measured in custom units, so if you want to know the numbers in weeks or seconds, you can easily do so.
Ani can also be represented as a widget on your smartphone desktop. Such a widget can motivate you not to just lie on the sofa, but to do something useful, because time is short.
In the settings of the application, you can add several dates, which will be counted down. For example, if you want to monitor not only your age but also the maturity of your children, just enter their data in a special window and the widget on the screen will immediately expand.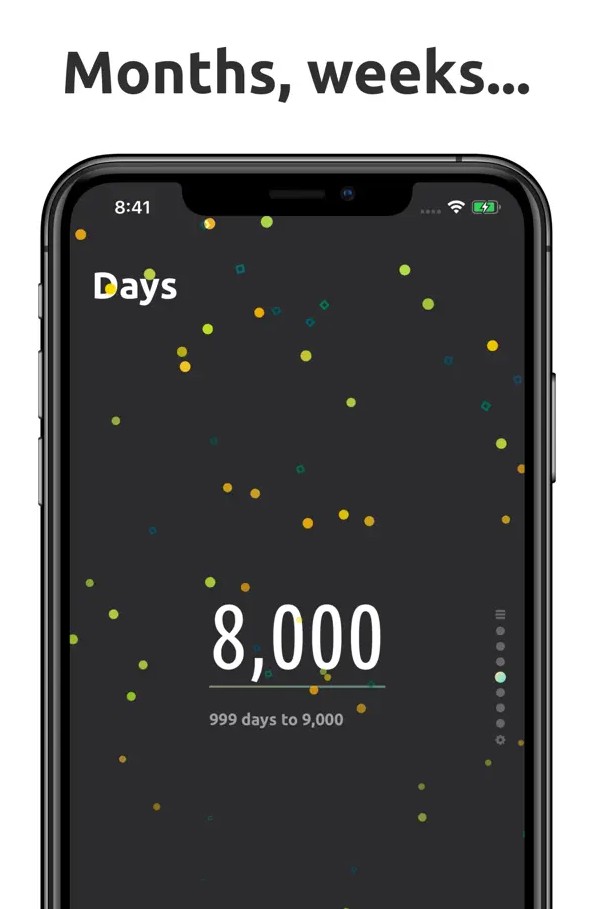 Some of the applications we present are so simple calculators that you could calculate the data yourself on a piece of paper. You can also use a standard calculator. But why do it, if a special application can do it for you?
In each of the services, you can calculate the exact amount of time that you have lived on planet Earth. Imagine how many days you already live – this is a huge figure, even if your age has not crossed the border of 25 years.
Hopefully, our article has helped you – now it will not be difficult to know more accurate data about your life and its duration.