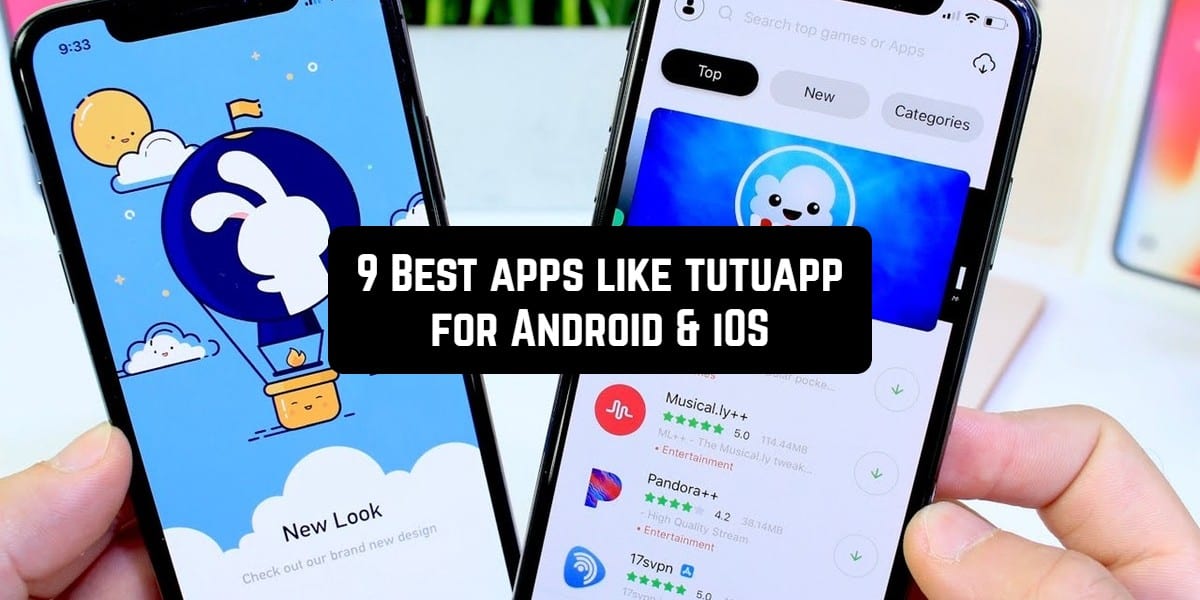 Modern phones are equipped with various functions. Many of them are able to replace a computer or laptop. You can always install programs for fun and work on the gadget, but not all of them are free. In order not to spend money, you can install apps like tutuapp: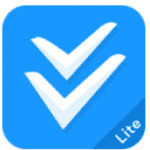 When you want to play a new sensational game on a mobile device, and there is no desire or opportunity to pay for it, then a curious vShare application comes to the rescue of the user. It will help to turn paid games from a store into free ones.
You need to configure the application first on your PC, and then you can also use it on mobile devices. Registration and settings – on the PC, installation of games – on the gadgets.
The program is an App Store emulator, only with more functionality. Therefore, the design and navigation through the catalog remained almost without major changes. Having found the necessary game or program, the user clicks the Get button, after which a window appears asking for permission to install it.
After installation, the downloaded software will appear on the desktop of the mobile device in the form of applications with a standard extension.
The VShare program, after it is installed on the gadget, no longer requires regular connection to a PC. Now all games can be downloaded directly from the device itself without the help of a computer. Sometimes the program can throw a user out of his profile. In which case you need to reconnect the device to the PC and re-authorize.
Some games will give the following message at startup: "Unreliable corporate developer". This is due to the pirated software VShare. In this case, the user should go to the "Basic Settings" and go to the "Profiles and Device Management" tab. Here you select the developer of the conflicting application, which is assigned the "Trust" option.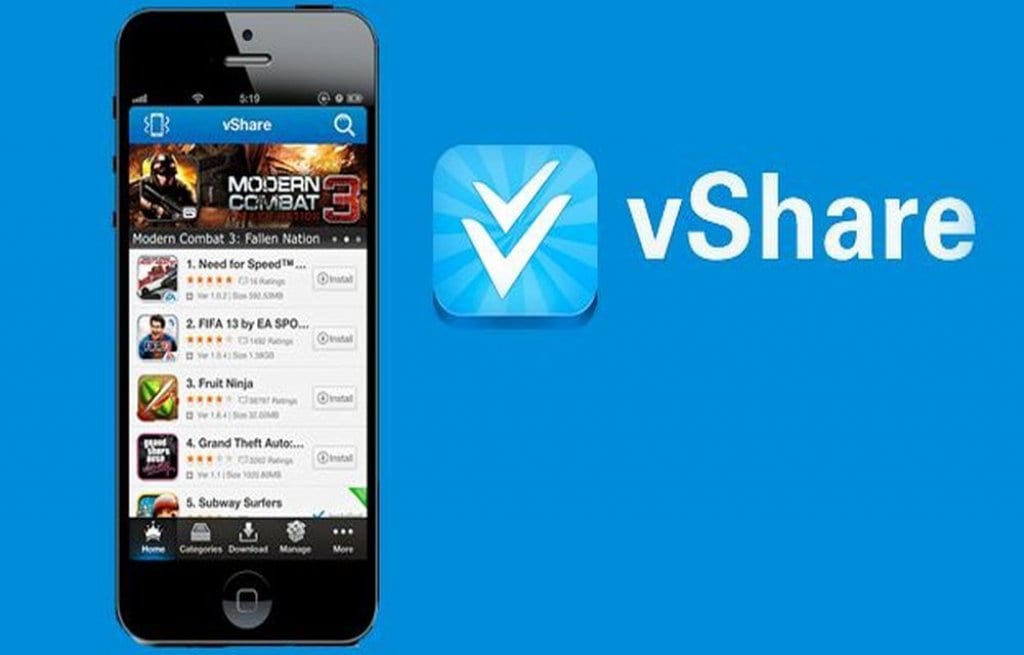 The main problem of the application is that everything that was set by the user through the VShare market doesn't pass the test in the Apple system. This means that personal data may be publicly available.
This doesn't mean that information about everyone who downloaded this software is already going around the Internet, but there is a risk, and it is significant. Therefore, everyone for himself must weigh the degree of risk of using the application and the benefits of it.
In the VShare catalog,  there are not many games that are presented in the App Store.
Not all downloaded applications will work correctly.
Don't forget that regular use of the program can lead to blocking Apple ID.
VShare helper, like any other representative of the pirated software, is happy to give users new opportunities. However, its use can be dangerous. Install it or not – let each user decide for himself.
Available for Android and iPhone
You can also check:
37 Best free music download apps for Android
17 Best free Music download apps for iPhone
back to menu ↑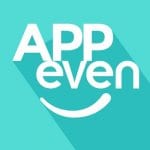 With this application, you can download games and programs for free on your smartphone, while Jailbreak and Apple ID are not needed.
Predominantly, AppEven is installed to use software products for free, or to pre-evaluate them before purchasing, because pirated versions are rather unstable and may not work correctly.
In order to be able to install free games, you first need to install the application store itself. The store is pleasantly different from its Chinese counterparts due to the presence of a clear interface.
There are also disadvantages, for example,  the content isn't divided into thematic categories. This makes navigation a bit more difficult. But there is a convenient search system.
It should also be noted that there will be a lot of video advertising.
When AppEven is installed, at startup, the user sees a standard interface, where there are tabs with popular applications, as well as new games and programs.
In the "search" enter the name of the game. And click search. The game we were looking for appears. When you click on the name, we go to the game page. Here we see the rating, the number of downloads and a description. To install the game on your iPhone or Android simply click the "Install" button..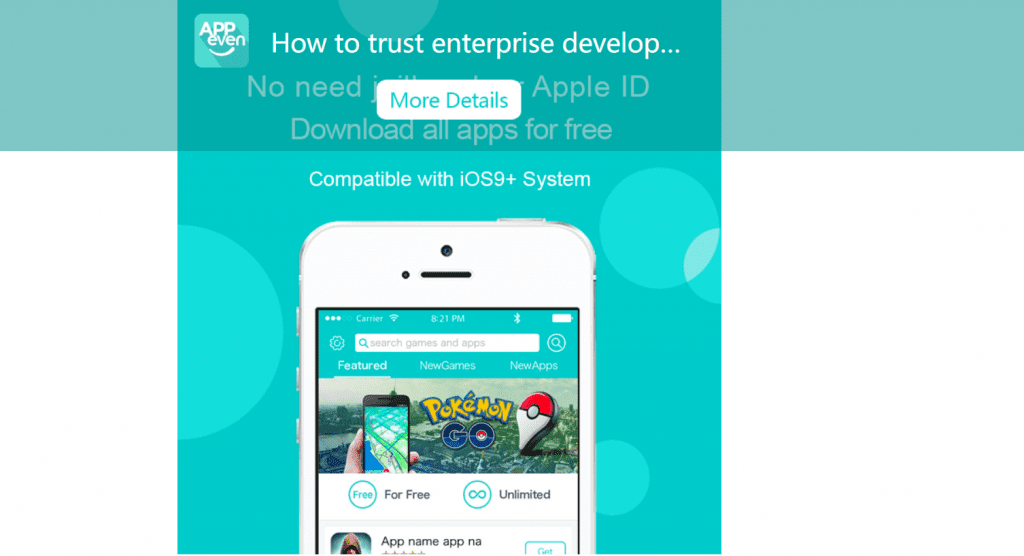 If the download request is successful, the icon will change and the status of the download and installation will be displayed, and upon completion, the usual launch icon will appear on the desktop.
AppEven doesn't request social media accounts or billing information; you don't even need to create an account for the program. Use on different devices has no special differences, so the procedure will be the same for both Android and iOS devices. There are only download limits.
AppEven – a quite good and convenient app store for iOS and Android devices. Its main advantage over the AppStore and PlayStore is that all games and programs here are completely free.
Available for Android and iPhone
back to menu ↑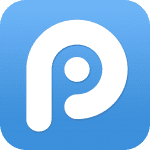 PPHelper allows you to download and install any software for free. There are also hacked versions of applications, where internal purchases are activated and advertising is removed. Downloaded and installed applications will not be displayed in the shopping list but will be available on the gadget.
It should be noted that with the help of PPHelper it isn't always possible to immediately download the necessary program. In such cases, the installation must be repeated a little later. Failures may be due to an unstable service operation. There are also no guarantees that installed applications and games will work for a long time and be updated.
This third-party store is in great demand among users. Every day, they leave a lot of good reviews about it. Among the shortcomings is the fact that the utility is completely in Chinese and doesn't always start right away. You can fix this by using standard Windows OS tools. You can check the utility for synchronous operation with your operating system by right-clicking on the application icon and selecting the "Check program for compatibility" option.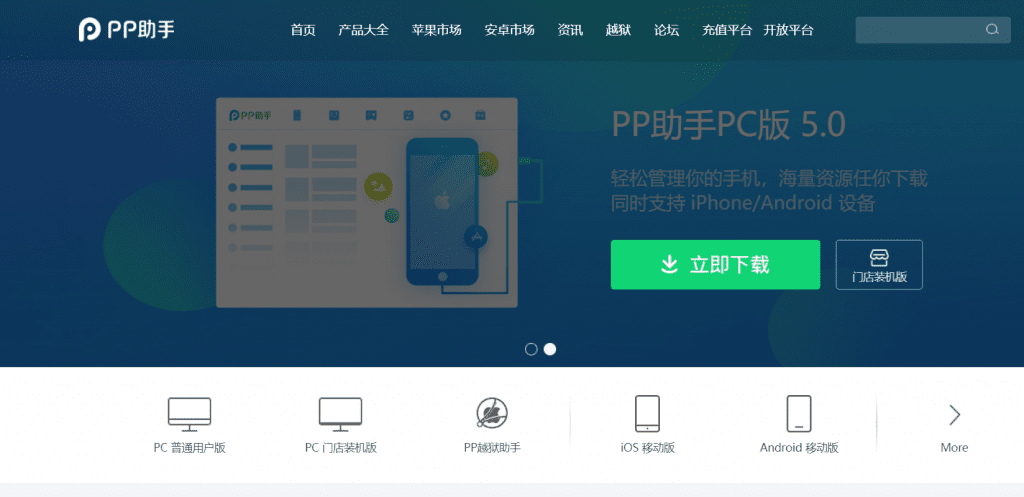 It should be remembered that you can install this application only from the official site. Downloading from third-party sources is unsafe.
Available for Android and iPhone
back to menu ↑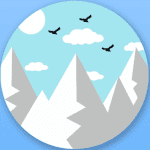 This is a very useful application for owners of iPhones and iPads, who have no desire to spend money on the purchase of games and programs. Using AppValley you can download any content for free. We can say that this is a full replacement of AppStore. The main advantage is the lack of regional restrictions and "unique content" which doesn't require Jailbreak and Apple ID.
AppValley is an alternative catalog of applications for the iPhone platform. Here, users have the opportunity to find tools that aren't possible to download from the official store for iOS devices. This application is useful for not only iPhone users, but also iPad. It's also perfect for those who want to download programs and games for free in the official store without buying them.
The design is comfortable and reminds the official AppStore.
It provides the ability to distribute even hacked and modified applications. As a rule, such applications have open access to prohibited and deemed illegal functions, and in some cases, the user avoids compulsory payment for the services used.
Key features of AppValley application:
Pleasant and user-friendly interface;
Sufficient functionality and additional options;
The ability to install applications for free on Apple devices;
Doesn't require registration;
It has convenient update managers and downloads.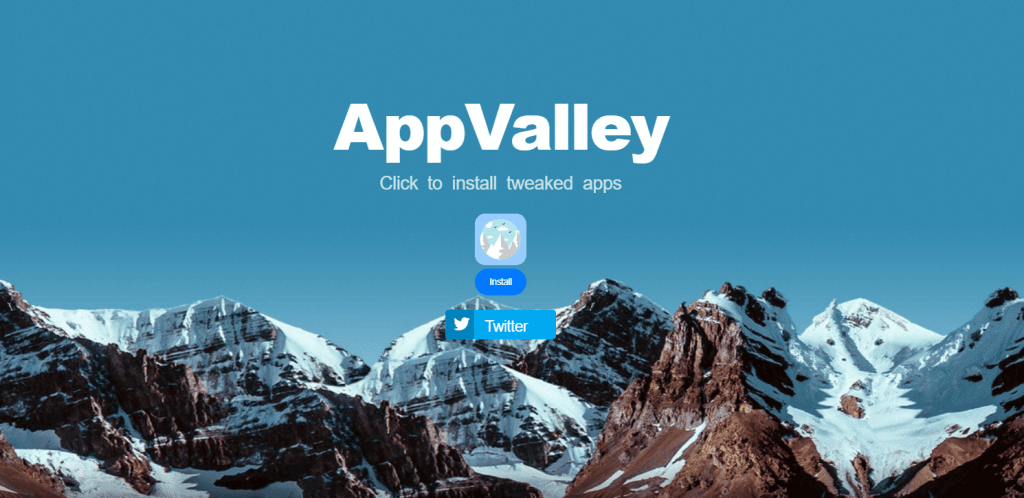 Noteworthy is the fact that the AppValley application provides the opportunity to get VIP status. This is practically the only way to get rid of annoying ads that accompany the user at all stages of working with this application. However, there are a number of other advantages:
Built-in tool for clearing memory and cache;
Improved conditions for downloading files;
Regular updates;
Full access to any content.
Quite a convenient application, nice interface, it's very easy to download and install games. The only negative is advertising that pops up quite often.
Available for iPhone
back to menu ↑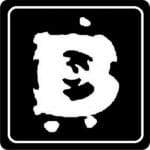 You don't have to pay for your favorite applications, the latest and full versions of software for Android. There is a complete alternative to the famous Play Market. The application is called Blackmart Alpha.
Blackmart is an alternative app store. This software allows you to download and install paid games, software and other digital products on your smartphone.
This software is designed for downloading paid games and applications at no financial cost. It can be used to download updates and all kinds of add-ons to the software already installed on the device.
Many people use the program to try out paid digital products, and only then purchase a licensed version. It's unlikely that someone likes to pay for the "pig in a poke".
Blackmart Alpha offers flexible settings, various sorting modes, and many other useful features. For example, it provides the possibility for backup and recovery (if you have superuser rights), etc.
Many users believe that this service is much better than the Play Store, although when you download free content you will hardly notice the difference.
Developers don't forget about their product. They try their best to improve and complement it, listening to the requirements and requests of users. Software updating is carried out in an automatic, background mode.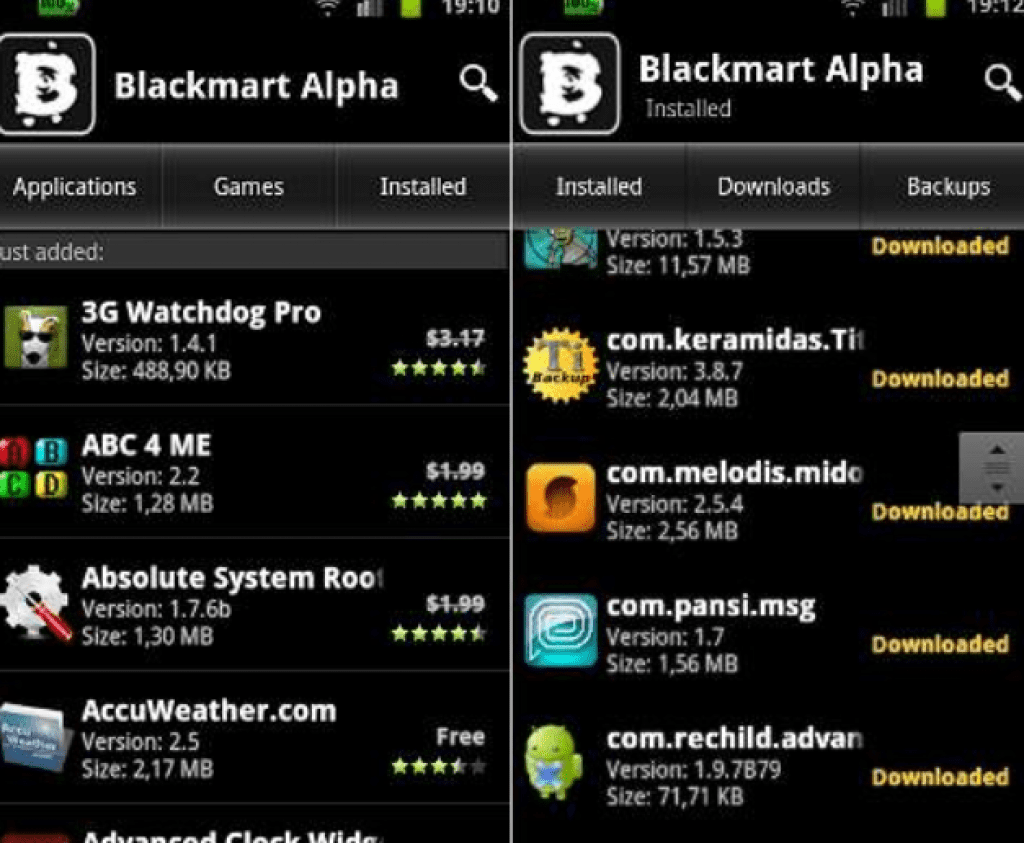 Registration is not required to work with the app. Blackmart Alpha offers a huge base of digital products, which is constantly updated and complemented by new positions.
Due to the fact that the market is not official, it doesn't always work perfectly. Even with an ideal Internet connection, there are sometimes problems with downloading software. Also, some applications authenticate through the official PlayMarket. If the test result is positive, the launch will be impossible.
The interface of the market is simple and intuitive. Even novice users will not have problems with management. Having started the application, the main menu will appear on the screen. All products are sorted into the following categories: Launchers, Video, Messengers, Instruments, Graphic editor, Keyboard, Weather, Music, Games.
Available for Android 
back to menu ↑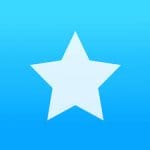 AppCake is another alternative for tutuapp. We included it in our list because the program received positive feedback from most of the users of the jailbreak. The popularity of AppCake and the number of downloads is growing. For those who have spent a lot of time reading the AppCake reviews, you need to know that AppCake works very well on your iPhone, iPod, and iPad.
The AppCake interface is extremely simple and doesn't require time to master. The authors offer a choice of one of several ways to search for the necessary applications.
You can use the search or browse by category. It's possible to track recently added programs and games, or use a search by a week or overall rating.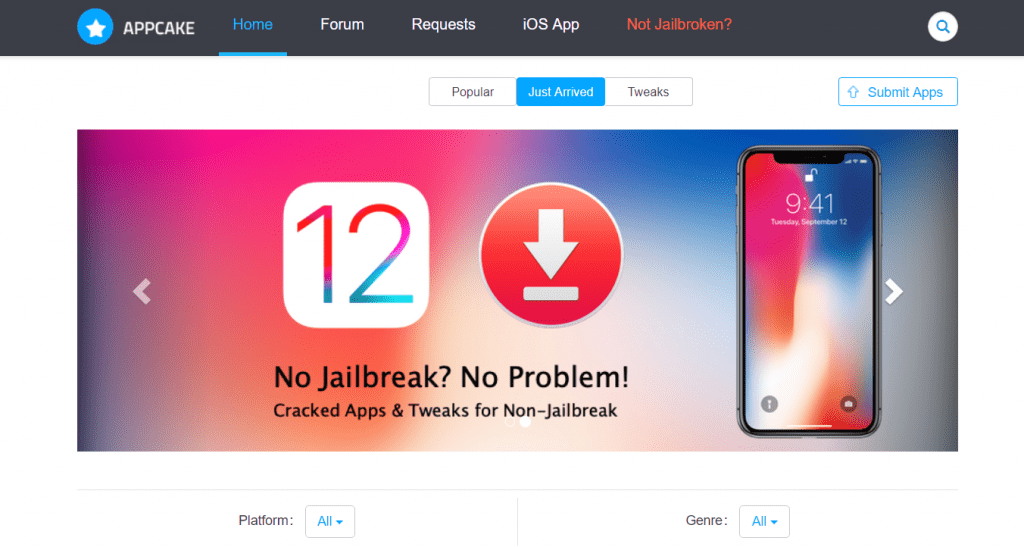 Don't forget that Appcake was designed to give users the opportunity to try programs before buying them. To avoid copyright infringement problems, use Appcake only to install those applications that you plan to purchase in the future.
Available for iPhone
back to menu ↑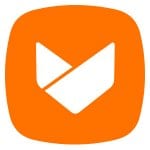 In general, Aptoide functionality is almost the same as in tutuapp. There is a certain catalog of applications, there is a search in the catalog, there is a dynamically updated list of applications already installed on the system. The monitoring of updates of installed applications and the intrusive (but disconnectable) proposal to update them all. But there are differences, some of which are beneficial for Aptoide.
After launching Aptoide, several tab screens are presented to the attention of users: "Homepage", "Feed of applications", "Stores", "Updates" and "Downloads".
Aptoide is actually a store for shops. Anyone can register his store on the site and through it (but based on Aptoide) distribute his applications. It's clear that this platform can be of interest to application developers only as free advertising. In Aptoide, there are more than 700 thousand applications in various stores.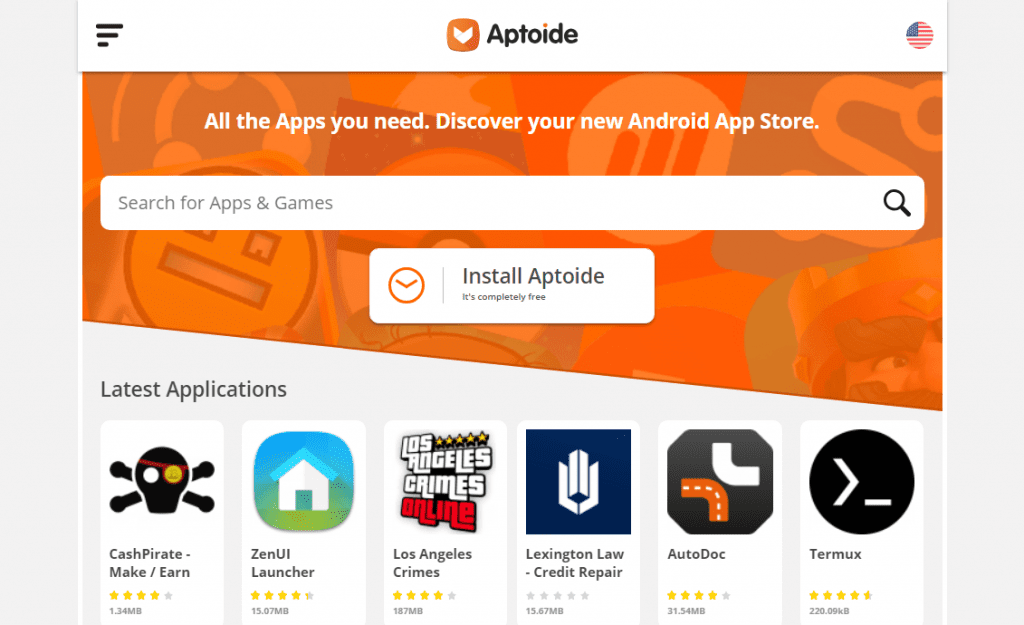 You can subscribe to stores, and then you will receive notifications about new versions and new applications in selected stores.
The category of stores is taken into account when searching for applications (in all stores or only in those to which you are subscribed).
But the stores themselves cannot be found by searching, cannot be filtered by the number of subscribers or the number of applications in them. But, if you have an account in Aptoide (registration is just one minute), you can easily create your own store, put the best, in your opinion, applications in it and enjoy every new subscriber.
Available for Android 
back to menu ↑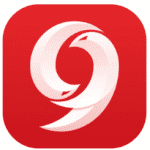 The highly specialized project 9Apps for Android takes the search for free games and applications to a new level – the system scans Google Play and then, collecting and analyzing the search result, gives a list of suitable for downloading applications.
The purpose of the application is to acquaint users with the most important or relevant innovations, formed and completed in a special list.
The selection of a list of free games and applications occurs on a curious algorithm that takes into account the interests of the user, reviews, the number of downloads and high ratings. Results are formed in special categories, broken down by type, importance or popularity. Games are divided by genres – racing, action, arcade… In addition to the global selection of applications and games of interest, there are daily recommendations!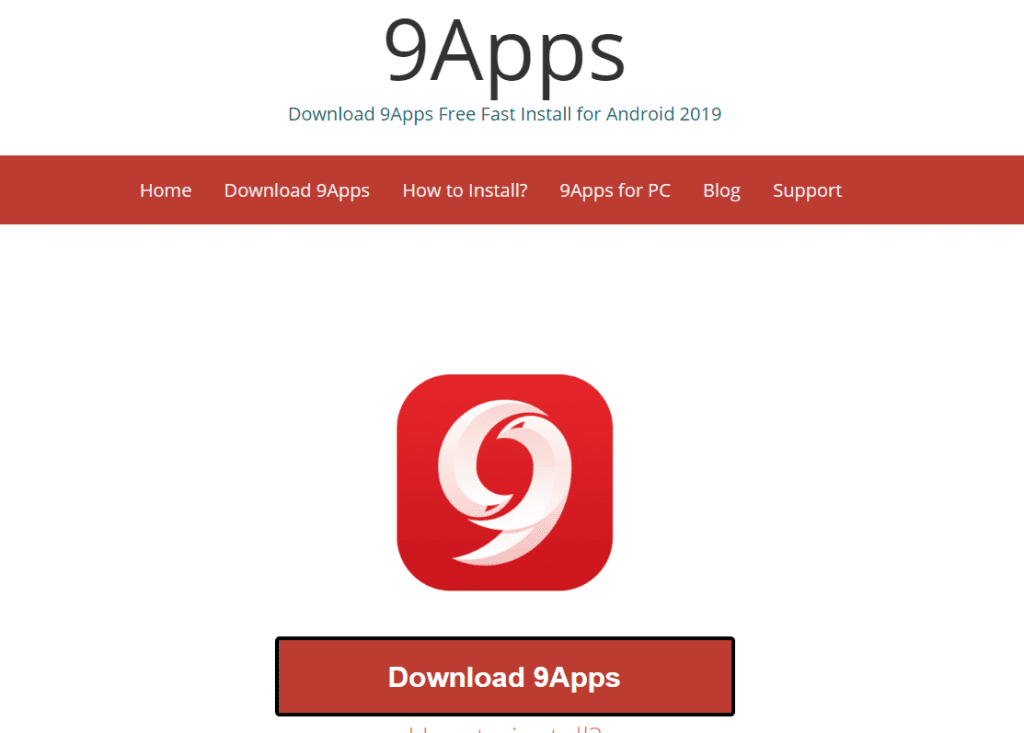 The 9Apps application is extremely simple – light colors, bright menu navigation, and icons.
The main advantage of 9Apps – downloading applications – in fact, looks very mediocre due to a simple problem – applications cannot be downloaded from the program itself. Instead, 9Apps will redirect you to Google Play, which makes it not very useful.
9Apps is a download portal with strengths and weaknesses. It's good for finding and downloading a variety of wallpapers and funny ringtones, but on the other hand, it doesn't allow direct downloads of games and applications.
Available for Android 
back to menu ↑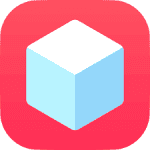 How to stop paying for applications? Good news for those who want to download paid mobile programs for devices on iOS for free. Below we will share with you the source TweakBox, which will replace the standard Store app. After downloading, launch TweakBox and get an absolutely free equivalent of the App Store.
When downloading TweakBox you need to confirm the profile, as it is done through the installation of the profile of developers. Developers offer us 4 categories:
1. Appstore Apps – a section with games and applications that cost money in Appstore, here is free.
2. Tweakbox Apps – a section with programs that you will not find in Appstore (emulators, online cinemas and much more).
3. Tweaked Apps – a section with modified applications, for example, Youtube ++, Instagram ++ with advanced features that allow you to download videos and photos to your phone, although official programs will not allow this. If you are a music lover and pay monthly for subscription of music programs on your phone, we advise you to download Deezer ++ and Spotify ++. You don't have to pay for the subscription, the developers have taken care of everything.
4. Hacked Games – a section with hacked games. You can even download Clash of Clans with unlimited game currency.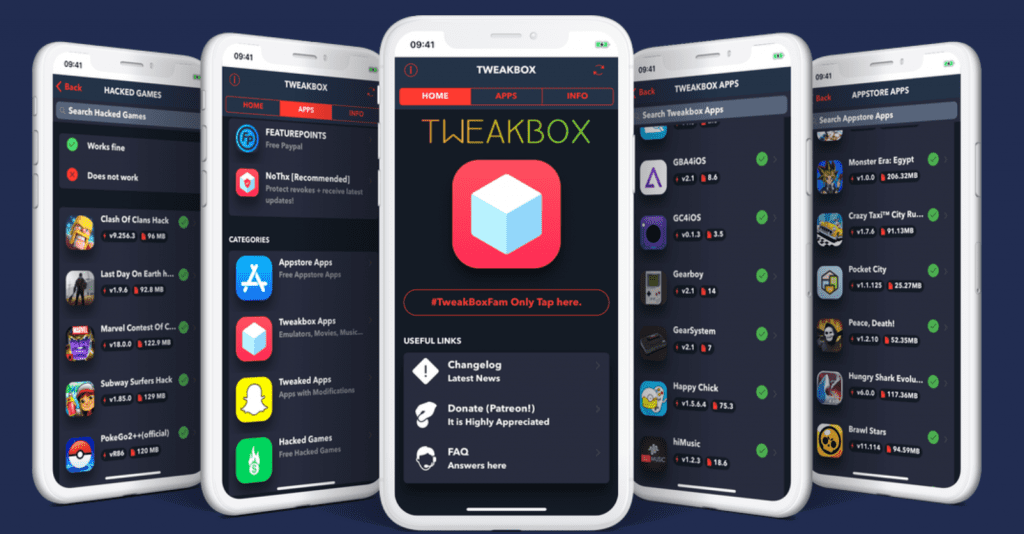 After installing the game or the program from TweakBox you need to make a confirmation, after that everything will work.
An only drawback is a small number of applications in some sections, it will not replace App Store for 100%.
In general, this is a good option for using paid applications, we recommend!
Available for iPhone