There are lots of people in the world passionate about anime and do not miss any opportunity to watch the newest anime series. Some of them can't even spend a single day without watching their favorite anime.  It is difficult to find an individual of any age who has never watched anime. So we are all involved in this anime obsession.
Anime is a distinct media art that can be distinguished from all other types of animation. It is different from other works from the western animation studio due to its style of hand-drawn computerized graphics animation.
You won't find most of the anime on TV and you certainly shouldn't don't expect to watch the latest releases there. It can be difficult to adjust to Japanese broadcast times from your country and you will likely need a subscription in your language or at least in English.  
This problem was solved by the Animeflavor website.
Check this: Top legal apps to watch anime online
Animeflavor was big anime provider that was offered subtitled and dubbed anime in different genres including  Fantasy, Horror, Romance, Magic, etc.  Unfortunately, the website was shut down. Finding a replacement with the same variety is difficult.  To assist the below list showcases  11 of the best alternative sites to Animeflavor offering a vast number of anime series and their latest releases.
GoGo anime
I`ve decided to start this list from one of the most popular websites which offer a full range of anime movies and serials.  It also offers English subtitles and dubbed versions of anime. 
It's called GoGo anime and it offers an enormous collection.  According to GoGo anime, none of the content is stored on their servers. Basically, the website is just a catalog of files stored somewhere else. But this shouldn't bother us as long as we have free access to the great collection of anime.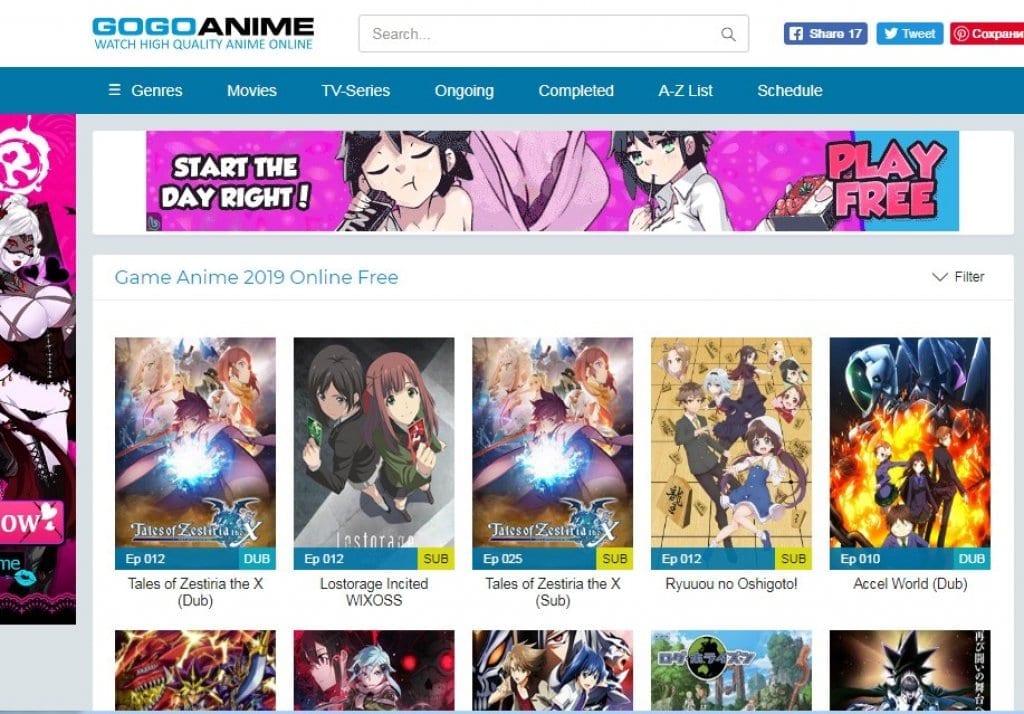 The developers created different ways to search for anime. You can either refer to a categorized list of anime sorted by genres or use an alphabetically ordered list. There is also a search bar where you can simply type the name of anime. On this website, you can search for a particular anime or browse a whole list to select something promising. You can search for anime of different genres: Fantasy, Thriller, Romance, School related anime, Samurai, Magic, etc.
There is also a wide collection of anime for our little ones like  Pokemon, Doraemon, Sailor Moon and many others including educational anime.
The website is filled with lots of advertisements that appear from any click of a mouse. this inconvenience is probably a fair price to pay for the ability to watch free anime without any additional scheduled payment. No registration is required.
Go to GoGoAnime website.
You can also check: 11 Sites like Reddit you`ll eager to use every day
Netflix
Netflix is a global provider of movies, TV shows, serials, cartoons, and anime series. This media streaming platform is paid service with a starting price of 7.99 euro a month without HD quality. Other plans are more expensive and offer HD quality videos. Netflix is a well-known popular resource that has below major features:
Big database of movies, shows, and anime

Smart TV, PC, MAC, Tablets support

Ability to open a few screens at the same time

The interface supports almost all world languages

No annoying advertisements on the website.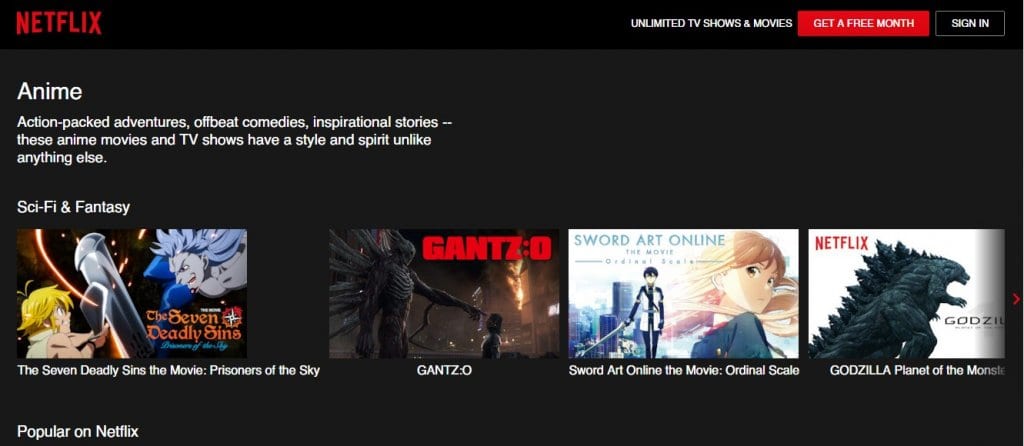 Though the website has lots of other videos a user can find almost all anime series there. Great quality of service and video are provided on this website. It has also a Help Center where you always can address in any problem situation or if you have no idea how to do something like How to set parental control on a Netflix account. All the answers are there on the website support center. In case if you couldn't find a solution there you can contact to Support group directly.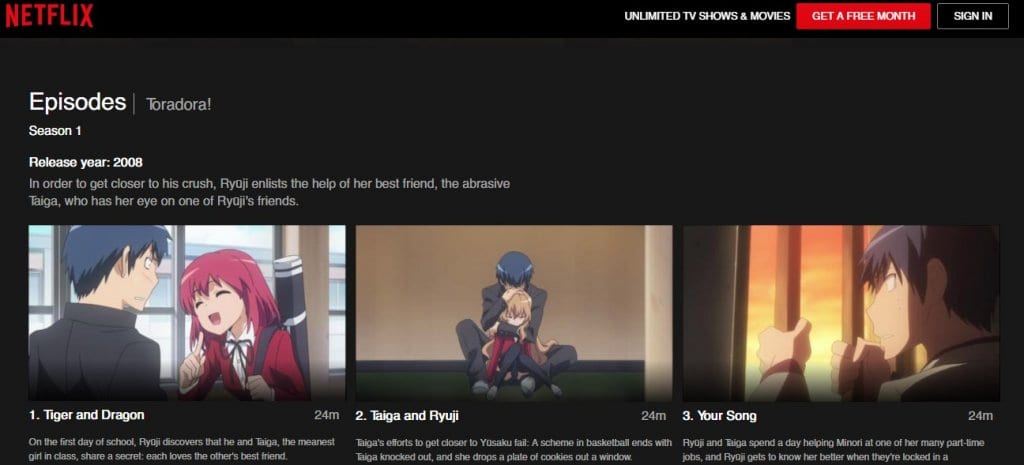 ANime is as one of the categories available on Netflix are also divided into a few categories: Popular (One Punch Man, Naruto, Hunter X Hunter, The Seven deadly sins), New Releases ( Aggretsuko), Kids`TV (Glitter Force), Series ( Toradora).
Go to Netflix website.
KissAnime
KissAnime is another big source of free anime. The details of the website indicate that there are more than 5 thousand of different anime and more than 80 thousand episodes.
You can use an Anime list where all anime is presented in the alphabetically-organized catalog. Frankly, this list makes an impression of endless flow while you thoroughly scrolling down. Pointing the mouse at an anime you will see a pop-up image that will give you a better understanding of what it's about.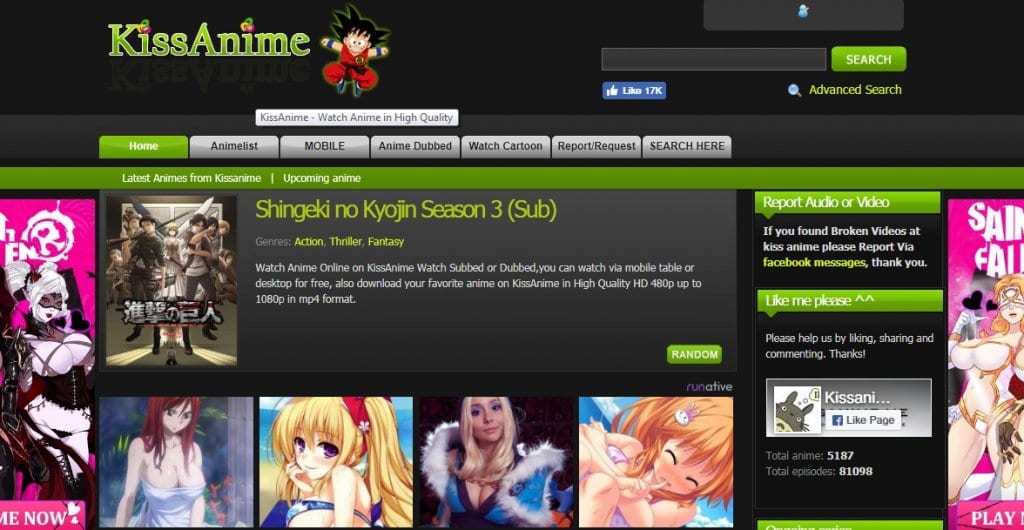 Moreover, the site offers both subbed and dubbed anime. Of course, all subs and sounds are in English.
Registration is optional there and you can proceed with it in order to get rid of advertisements. Either way, you have free access to watch anime. With no payment required visitors are fully satisfied with the service on this website. You also can share anime with your friends via Facebook and Twitter simply. Like it and share.
Go to KissAnime website.
Animeultima
Animeultima is one of the most popular anime websites among anime addicts. It has a user-friendly interface, good search capabilities, and high-definition Japanese animation.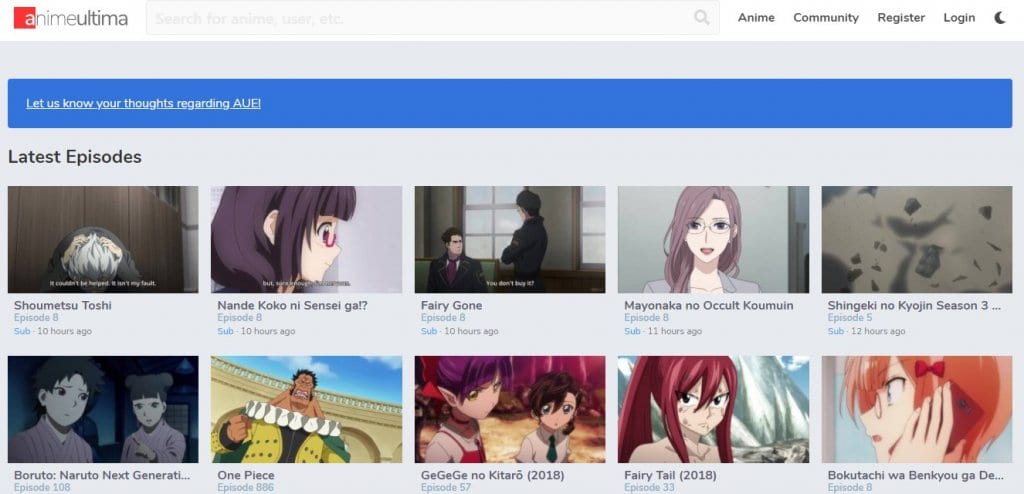 There is a list of some main features offered by the website:
The Animeultima offers more than 1500 anime serials with more than 5000 episodes.

All anime categorized into more than 30 genres and also sorted by year of release

There is a search bar on the front page that is to help you find anime by its name.

Each anime has a complete description and short scenario to give users an idea of what it is about.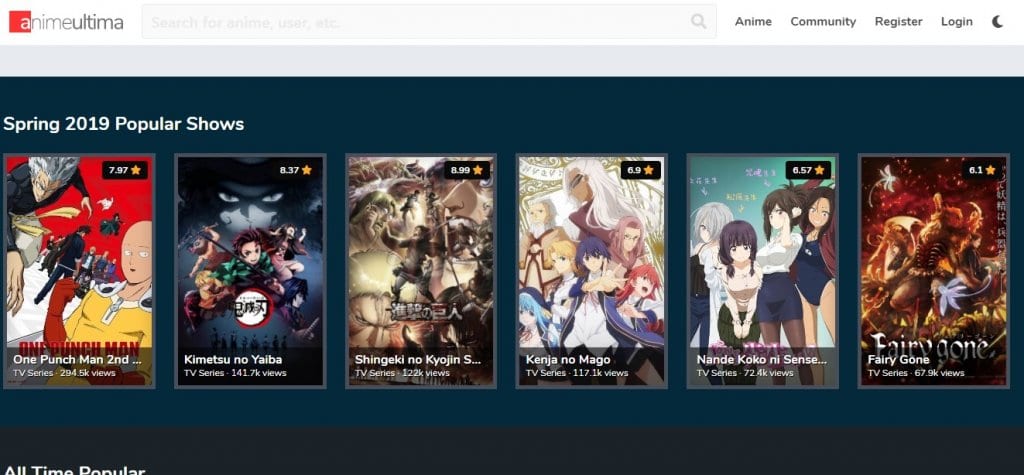 Some of the anime series are suitable for kids while others have sexual or other content that may be inappropriate for children. Some examples of the genres offered include martial arts, romance, parody, drama, comedy, etc. Each anime series has a list of episodes under the description and date of release. You also can see the average rating of the anime and number of views to decide is it worth to watch or no.
You can also register and join a community of anime lovers like you. There is also a forum where you share your ideas or report about problems.
Go to AnimeUltima website.
Justdubs
Justdubs is an online collection of exclusively dubbed anime. Some of them are accompanied by subs.
So, what can be more appealing for anime fans than a free resource for watching Asian animation masterpieces? Let's have a better look at the Justdubs project.
First of all, the website is full of classic and current newest anime. It has constant updates that appear on the homepage. The homepage of the website is divided into a few categories: Latest episodes, latest anime, and the latest cartoons.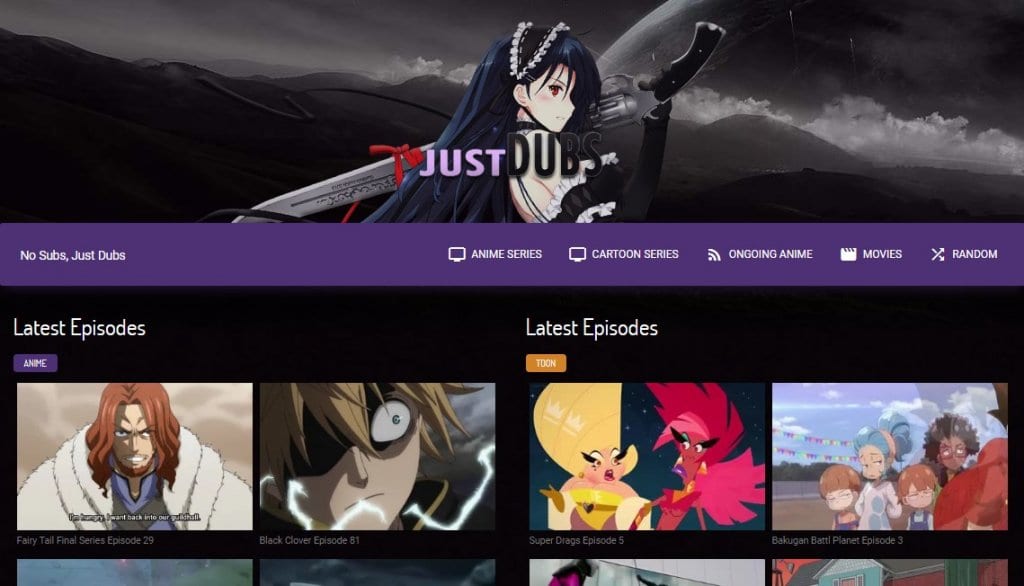 Besides anime Justdubs also has ordinary cartoons series such as Garfield, A Pink Panther, Aladin.  Of course, many of them are Japanese production animation.
A selling point is that all videos are high-speed load with no stops and interruptions. The quality of sound is perfectly clear,  easy to understand, and available in English.
The website has a stunning dark theme design with a nice picture on the top of the homepage. The interface makes it easier to understand the website structure and get familiar with it. I in no time so you can easily find what you are looking for. Justdubs can be called a great alternative for the Otakustream anime website.
Search filters have a few options: search by the first letter of the anime, by genre, and some other ways.
Enter the world of free anime with Justdubs.
Go to Justdubs website.
Crunchyroll
Crunchyroll is another alternative website to Animeflavor. It offers a broad selection of Anime, Manga, and Drama. You will find there a lot of famous anime such as Naruto,  Dragon Ball Z, Angel Beats and many more.
All anime are accurately categorized into 15 genres: Romance, Drama, Sports, Comedy, Fantasy, Shoujo, etc. Dramas are sorted into 14 categories and divided into different folders according to the country of production ( Japanese, Singaporean, Korean) and genres (Family, Horror, Romance). The website also posts related to anime production news on its homepage.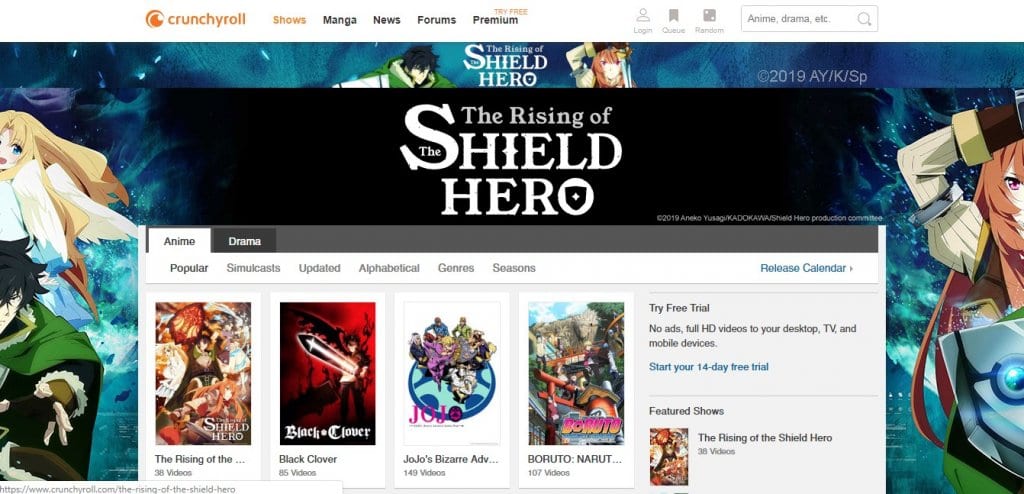 You can watch any anime for free with some pop-up advertisements. There is also an option to remove all ads, get access to al locked anime, manga, and drama, and have a possibility to watch the latest releases as soon as they have been broadcasted in Japan.
For this, you need to register and sign in with your own account. Get a premium package with a starting price of around 5$ per month. With the premium membership subscription, you will get HD quality anime up to 1020p against 480p in standard free membership.
You can get a 2 weeks premium membership trial by registering on the website. In addition, the website supports 8 different languages including French and Arabic.  You will be provided with the interface and video subtitles in your native language.
Go to Crunchyroll website.
Funimation
Funimation is one of the biggest foreign media content distributor based in North America. They mostly provide anime. The website is completely free. It offers a lot of famous completed anime from last years and the newest ongoing series.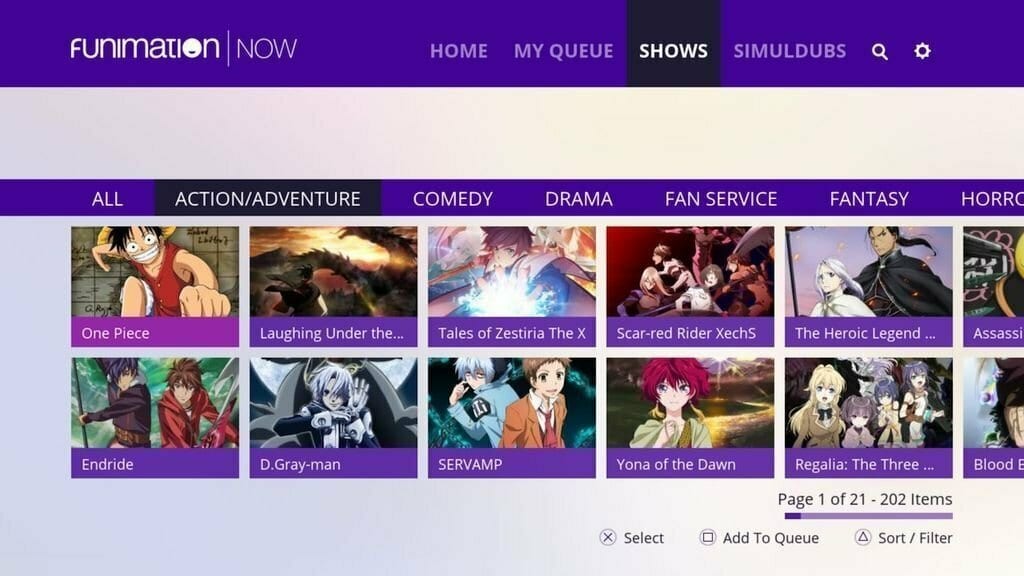 Besides anime, Funimation provides Manga stories, anime games, and anime related accessories that you can order directly from the site. In order to do that you have to register.  The website offers dubbed and subbed anime series and shows. All anime are sorted into different categories: action, adventure, fantasy, fun, etc.
The website has a pleasant interface, good navigation, and structure so you can easily find an anime you would like to watch.
The website streaming anime only in North America, though the company has created a new service that covers the UK and Ireland.
Go to Funimation website.
Animeheaven
Animeheaven offers a great collection of Japanese animation series and movies.
It provides subbed and dubbed anime as well. You can search for a specific anime or you can browse all list and choose something new.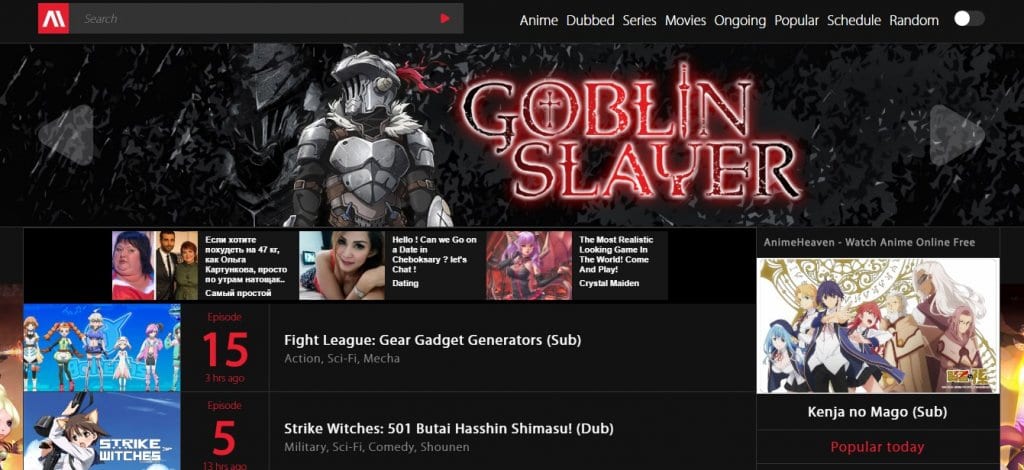 Below are the main features that Animeheaven offers:
You can watch any anime for free on the website.

There are different lists of anime displayed on the homepage: ongoing anime, popular today, and latest releases.

Tapping on a particular anime will open a complete description of anime, its genre, and all episodes of this series. Below the description, there is a list of similar anime that you can watch if you liked this genre and scenario.

There is a filter button that opens a list of genres and a few ratings: most viewed, most favorite, and most good rating. A number of genres reach more than 40. Including military, comedy, drama, magic.
Some of the latest dubbed anime include RobiHachi, Isekai Quartet, Fairy Tail.
If the anime is interesting you can share it with your friends via Facebook and Twitter. You can also, leave comments, complaints, votes for a particular anime, or an episode. For these features just log in with your Facebook, Twitter, or Google account.
Go to Animeheaven website.
You can also check: 11 Websites to watch cartoons online for free
Chia-anime
Chia-anime presents a vast collection of high-quality Asian anime. The website isn't overloaded with advertisements and looks decent. It loads perfectly well and doesn't have major bugs.
To choose an anime you can select a genre from the list of categories on the main page. There are more than 20 different categories including Adventure, Drama, Fantasy, Mystery and Horror, and even Erotica. Logically the website is prohibited for young watchers, though there are no official restrictions.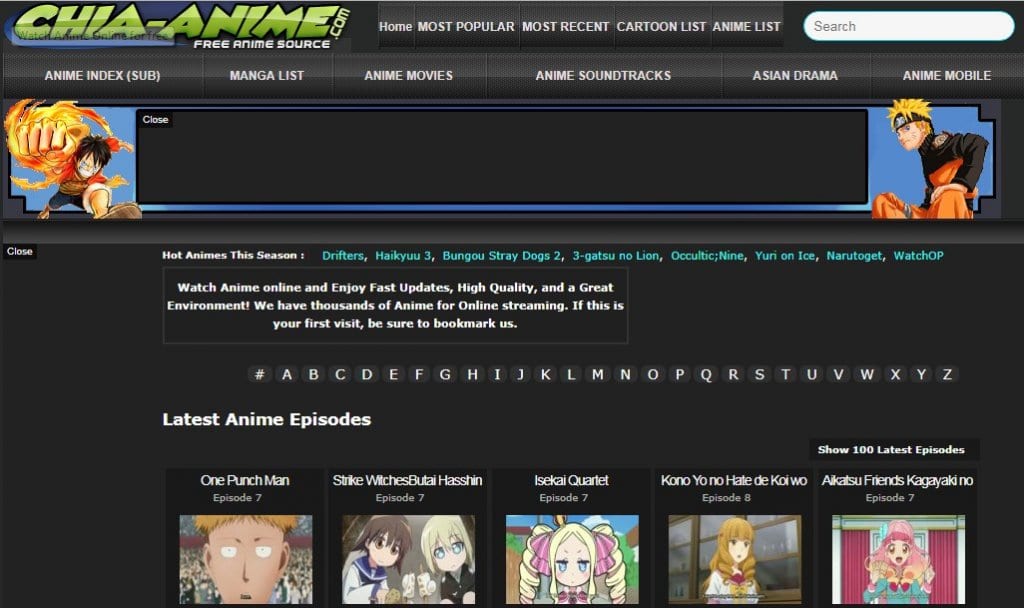 Anime is growing in popularity over time and accordingly lots of new series constantly appear. Chia-anime is an up-to-date website that offers the most popular anime and the latest releases.
There is also a collection of Asian Drama and Manga.
What is really surprising and can delight any person is that all technical characteristics are perfect: the sound of the video is clear, subtitles go in time with sound, the image is a high -definition. If you a real anime lover this website will be a good source of anime for you.
What's great is no registration required.
Go to Chia-anime website.
Animestreams
If you are searching for another Animeflavor alternative,  Animestreams can be a good option. It offers subbed and dubbed anime series to watch online for free.
You can find the latest anime series releases ( Miru Tights, Shoumetsu Toshi, Robihachi) which are current and old famous anime ( Naruto, Hunter X Hunter, My Hero Academia). Here are full movie masterpieces like Ponyo, Howl`s Moving Castle.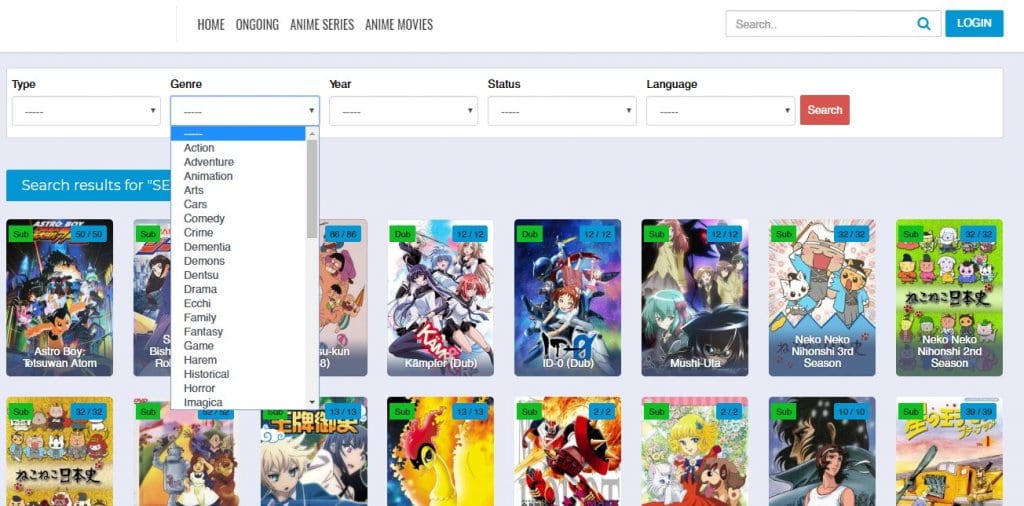 The website itself is very well organized. It has an appealing design and a user-friendly interface. It has one section devoted to advertisements and they are not annoying. Though opening a particular video you will be forced to have a newly opened tab with ads.
Use a search bar to look for a particular anime or check the whole list that can be sorted by your preferences. It has more than 40 genres including Comedy, Dementia, Fantasy, School, Family, Historical, etc. You also can sort anime by year or release, choose subbed or dubbed, choose movies or series.
Enjoy watching ongoing and completed anime in good quality for free.
Go to Animestreams website.
You may also like: 10 Free Anime Drawing Apps for Android & iOS
AnimePlanet
A great collection of Anime and  Manga are available for watching on AnimePlanet. Its a really a big planet of anime with ongoing and completed series. AnimePlanet is a streaming resource with more than 40 thousand episodes.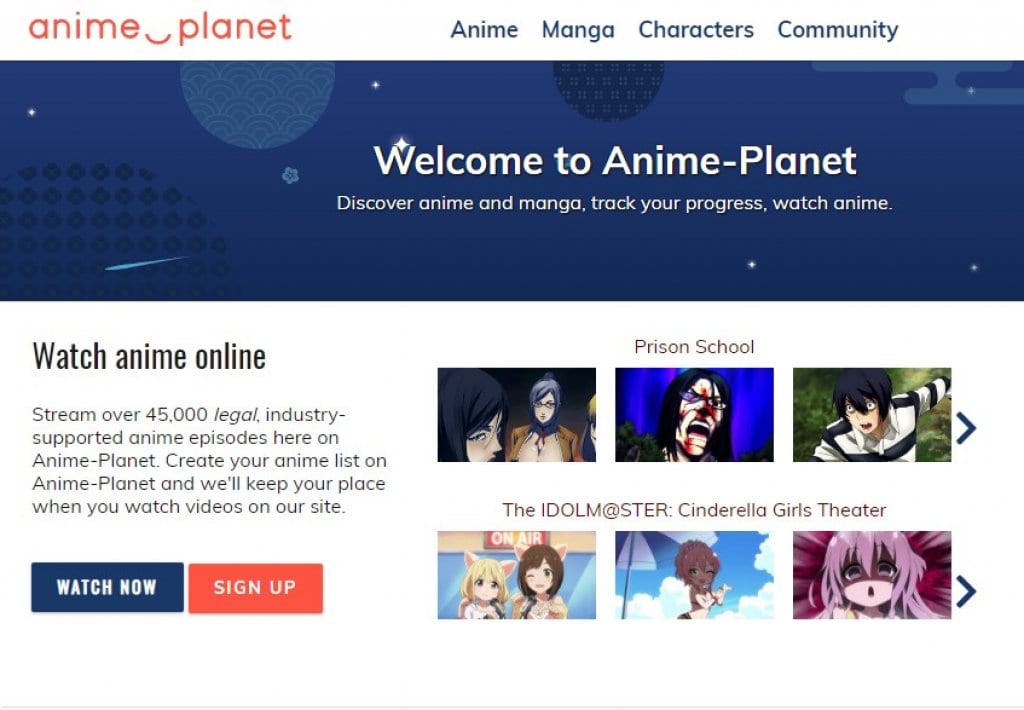 The website allows you to register and join a big community, share your thoughts on forum, leave your reviews, and check others` reviews. This way you easily can understand what anime is deserved to watch and what is out of your list.
After registration, you can create a personal list of anime, where you can add some of your favorite series.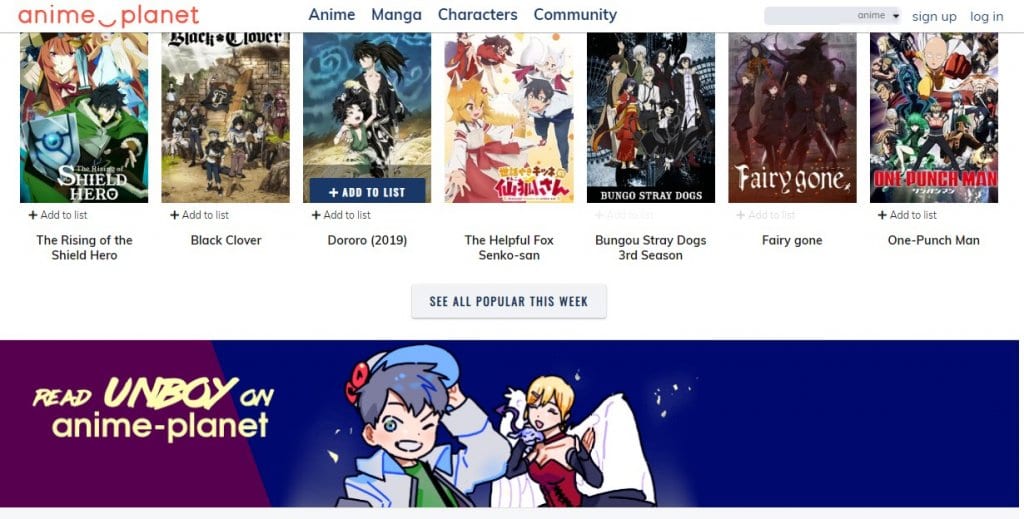 Browse a wide selection of anime, read descriptions, and add them to the list. Anime series are free to watch.  You can really enjoy this last listed but not least source of anime.
Go to Animestreams website.
Besides Animeflavor there are really lots of great decent alternative websites and we have proved it. Hopefully, each of you will choose something in the list above and keep on watching the best of anime.