Not everyone likes to read movie subtitles. There are a lot of reasons for that. It's a distraction from watching the movie.
When reading the subtitles, you can miss a lot of interesting details. But there are also positive sides to using subtitles.
For example, you can use subtitles to learn foreign languages. And, most importantly, listen to real speech actors, with their accent and so on.
This review contains the best free subtitles to download for your movies.
Subscene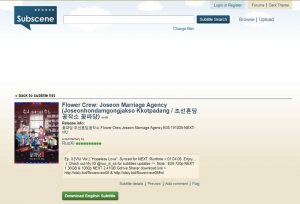 This is one of the oldest online subtitle libraries, which to this day enjoy tens of thousands of people.
And although the support of the site is almost non-existent, the archive of the portal has translated more than 22000 films in 46 languages.
This resource is always included in the top set of utilities for working with video hosting.
The interface of the service is quite simple – on its main page at the top of a special line you need to insert a link to the video and click the Download button.
The service will analyze the video itself and offer to choose the subtitles available with the language in mind.
If there is no text in the video in the language you need, the site will offer to perform automatic translation, and then download the file.
Of course, the exact correspondence and literary presentation are not expected, but the meaning can be conveyed.
Downloading subtitles implies obtaining a file in SRT format. This is a rather popular format.
Practically all modern media players can work with it. You can also open a file with an SRT extension in a text editor when you see its contents.
You can also check: 7 Legal Subtitles Apps for Android & iOS
OpenSubtitles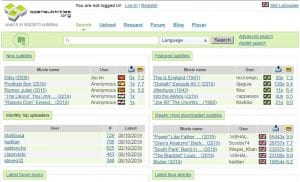 It is one of the most popular subtitle download sites, with a huge database of movies and popular shows from all over the world.
Subtitles are added daily by users as well as site owners and are available in many languages.
The site has a simple, user-friendly interface that allows you to filter the subtitles by language.
And if you can't find the subtitles you need, there is a "request subtitles" function. You can use this function to request subtitles that are not in their database.
The laconic site with high attendance offers users subtitles for free.
The resource has an impeccable reputation: you can download files without any fear. Here you can find English subtitles for movies and TV series.
TVsubs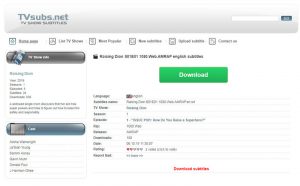 This is a large and quite active resource with tens of thousands of registered users.
You can save files for free, but without authorization, you can get no more than 10 subtitles per day.
You can find a list of recently downloaded and popular translations on the home page.
Thanks to this site, you can either save the entire clip or just one subtitle separately.
Subtitle Seeker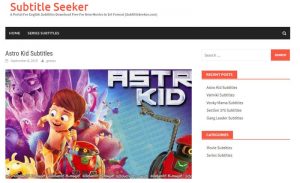 This is a high-quality multi-lingual archive.
The database of it is constantly updated with translations to new films and classic films from different countries.
The full functionality of the resource, including search, download, and upload files.
As well as communication on the forum is available after registration.
A standard set of tools is available to you: downloading original subtitles and translating them.
The bonus lies in the ability to download subtitles from the URL list and XML file. Thus, you won't have a problem to get subtitles from several videos simultaneously.
This is a cool way out if you have a whole playlist in your head. There are several online services that provide options for both full download and partial download.
On this site, by inserting a link to the clip, you can download videos, subtitles in the SRT extension, as well as their decoding in TXT.
Here you can also create their version in any foreign language using the auto-translation function. As a result, the file contains both the original and localized versions.
English Subtitles for DivX Movies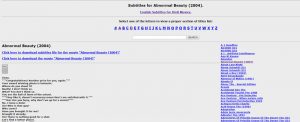 This is another good site for downloading subtitles, which is regularly updated.
The site has a user-friendly interface that allows you to find the right subtitles depending on the language and genre.
Here you will also find a huge collection of all the popular and latest movies.
The site also allows you to view the ratings and year of release of all downloaded movies. But when you download subtitles, you will be redirected to the download page in PDF format, which is a bit stressful.
The site's database is huge: you can find popular movies and TV shows from all over the world. Catalog translations are mainly in English, Indonesian, Brazilian Portuguese, and Arabic.
There are many subtitles in French, Italian, Chinese, Norwegian, and Spanish. Including forced subtitles in different languages.
Is it hard to find subtitles for new releases? This site provides subtitles for the latest trailers, movies, and TV shows for free.
The site looks very simple, without advertising, images, or movie posters. A simple search bar and several useful links to search and download subtitles.
http://www.divxmoviesenglishsubtitles.com
SubTitles & DivX World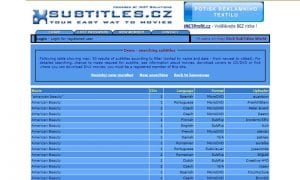 It's one of the best libraries for fans of TV shows and soap operas.
Subtitles in different languages for 3000 TV shows are available for download as ZIP archives.
Before inserting the subtitles into the video, you should unpack them using WinZip.
Any user can create new translations by uploading them to a resource. All you need to do is insert a link to the video on the main page and click on the download button.
Depending on the video, the service will offer to upload subtitles in any of the available languages. And if the text in the desired language is not listed, you can download the automatically generated translation.
It is far from ideal, but still, this possibility is present.
The subtitles are downloaded as a file with SRT extension. You can open it in most modern media players or in a text editor.
YIFY Subtitles

This site takes a different approach to uploading subtitles.
Instead of having its own collection of subtitles, this site uses results from more than twenty subtitle download sites.
This makes it a better search engine for subtitles. If you can't find the necessary subtitles elsewhere, then you're on this site.
This site has a simple, user-friendly interface that many users like. On the home page, you will see a search bar and sections for the latest subtitles for movies and TV shows.
The resource is available in several dozens of languages. The database is constantly updated: anyone can upload their translation version after logging in to the site.
A catalog search is convenient. The filter allows you to set various parameters: the date of the film's release, country, the season of the series, and much more.
This site also has one of the largest subtitle databases. The site is available in several languages and offers subtitles in different languages for download.
It also has a useful and handy search tool that allows you to filter search results by year, country, type, genre, season, or episode.
Addic7ed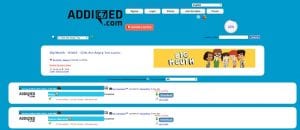 On this site, you can find subtitles for the latest series and the most popular novelties of the film industry.
And also translations to films that have become classics.
Subtitles are packed into ZIP archives and available for download without registration.
The resource is very popular, with thousands of files in different languages.
The site supports the most popular formats. You can download subtitles in text format or save them in .srt in a couple of clicks. When downloading subtitles, you can choose the language you want.
You can edit subtitles here. Leave the original subtitles or add your own timestamps to help you navigate more quickly.
Choose a specific time interval for uploading subtitles if you don't need the whole text. Use a preview before you start downloading.
Thanks to its advanced website functionality, you can create your desired file and do it easily and easily.
SRTSubtitle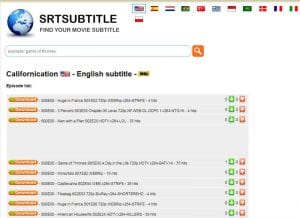 On this site, you can find and download subtitles for the latest movies, TV series, and even trailers.
The site offers subtitles of certain genres, which you will not find anywhere else.
This service provides English subtitles for download as well as in other less common languages.
There is an opportunity to register on the site, but you can download subtitles without registering an account.
You can also see films and shows that are currently being translated and for which translation is not yet complete.
The interface of the resource looks quite conservative, but the functionality is not affected in any way.
A simple and convenient search form, a list of newly uploaded files on the main page is all that a movie lover needs. To download translations, you must register.
All subtitles are divided into two categories: movies and TV shows. This facilitates the search for the subtitles you are looking for.
Besides, if you have a subtitle file that you would like to share with others, you can easily do so.
http://www.srtsubtitle.com/en/
You may also like: 11 Best & Free media player apps 2020 (Android & iOS)