Despite the fact that golf is a peaceful game preferred previously only by men of high status, at the moment it is available to absolutely everyone. For example, through 13 Best Golf Game Apps for iPhone & Android.
Many countries have their own golf associations, which cooperate with golfers, organize competitions, and follow the rules. If you are just beginning to play golf, you may not yet be familiar with all the details of the game.
In order for golfers of different levels to compete in different conditions, the handicap system was adopted. It is designed to ensure that differences in golf skills can be leveled off and taken into account in any game.
The essence of handicap is that two players of different levels can play on different fields, the complexity of which is assessed. Depending on your exact hit in the holes, the exact handicap will be calculated – it will take from 5 to 20 rounds to play.
This is how the total score will be corrected. Since the independent calculations are quite complex and you can easily get confused, we found for you 9 Free Apps to Calculate Golf Handicap.
Golf GPS & Scorecard by SwingU
When downloading various applications, we often find that some of them are suddenly charged. It might seem that you choose a free application, but after downloading it you need to pay for it.
Golf GPS & Scorecard from SwingU is not such a thing – the developers immediately present users with a completely free and functional version. In this case, the application will be really useful for both new golfers and professionals, who would like to more carefully monitor their games.
What does Golf GPS & Scorecard offer you? First of all, you will get a GPS distance meter, which perfectly monitors the distance to holes and obstacles in the way of your ball. Secondly, Golf GPS & Scorecard perfectly captures all the indicators of your game, that is, each blow will be added to the application.
Despite the fact that we have already mentioned that to calculate the handicap you need to make at least 5 blows, Golf GPS & Scorecard can calculate an approximate handicap for only 3 rounds. Enter the data on the go, so that the application immediately gives you the current score and the result.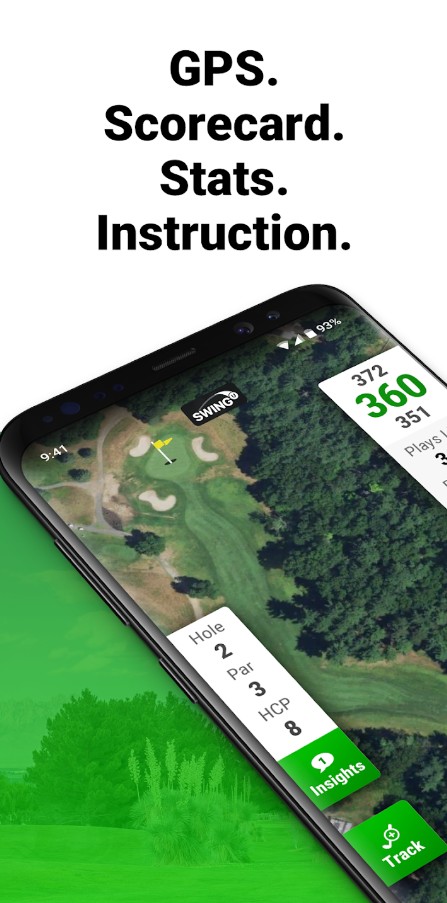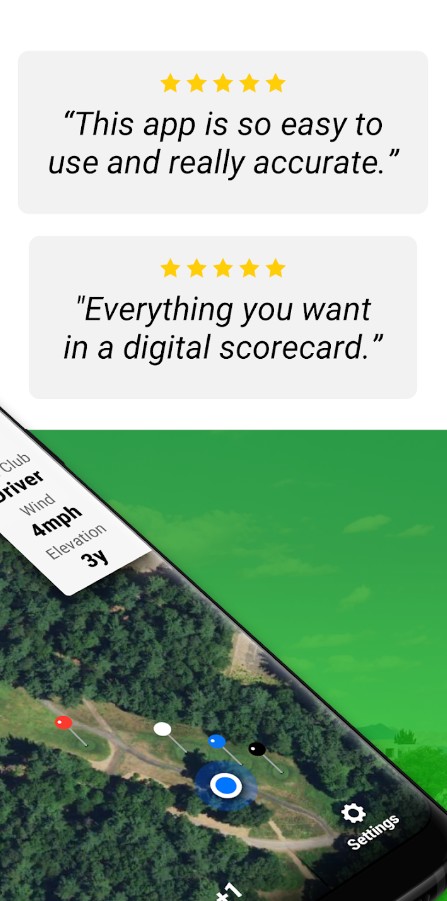 You may also like: 15 Best Measure Distance Apps for Android & iOS
Golfshot: Golf GPS & Statistics
Earlier Golfshot had the highest rating among all such golf applications. It is really popular among fans of this game, as it contains a lot of information and data.
For example, in Golfshot you will find more than 45 thousand gaming courses around the world with complete information about them – such as the distance to the nearest obstacles, the distance to any point, the appearance and location of the holes, and much more. You should agree that for real golf fans such information will be incredibly useful.
Of course, Golfshot has a built-in handicap calculator, which will keep statistics and score all your games. All your cards with points and scores can be easily emailed to yourself to have access to them from any device.
Your statistics will be more than just points: you will be able to see how many times you hit the waterways, how many times the ball hit the hole, and other deep analysis data. In Golfshot you can even predict your future games based on the statistics.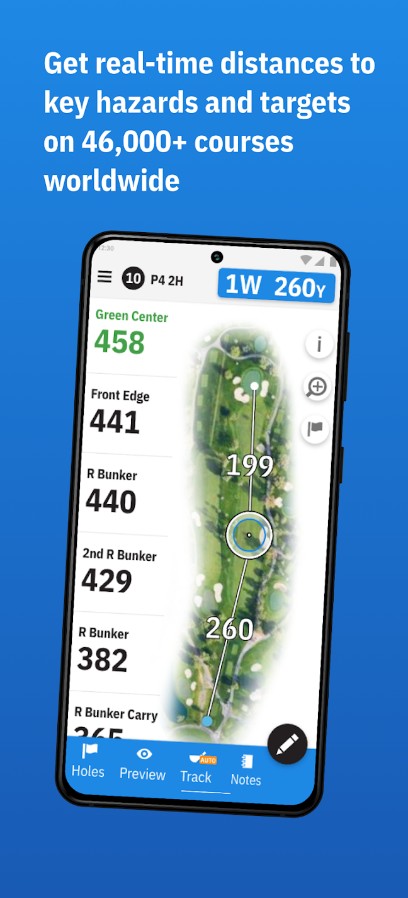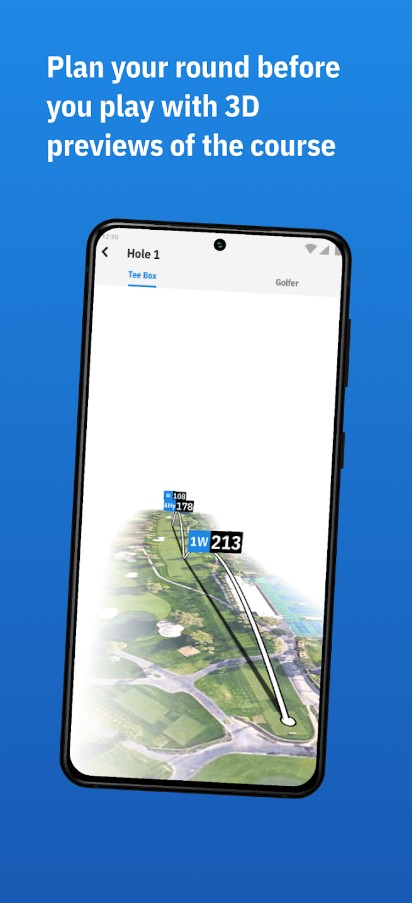 18Birdies
At the heart of 18Birdies is its unique feature that allows you to calculate your golf handicap effortlessly.
By inputting your scores from various rounds, the app uses a complex algorithm to provide you with an accurate handicap index, helping you keep track of your progress and compete more effectively.
From GPS-enabled course maps that help you navigate the terrain to shot tracking and stat analysis that provide insights into your strengths and areas for improvement, this app is like having a personal caddy in your pocket.
Connect with fellow golf enthusiasts, engage in friendly competitions, and share your achievements with a like-minded community. This fosters a sense of camaraderie and healthy competition that can inspire you to take your game to the next level.
In summary, 18Birdies is more than a golf app, to my mind it's a comprehensive golfing companion that simplifies score tracking, improves your gameplay, and connects you with a vibrant golfing community.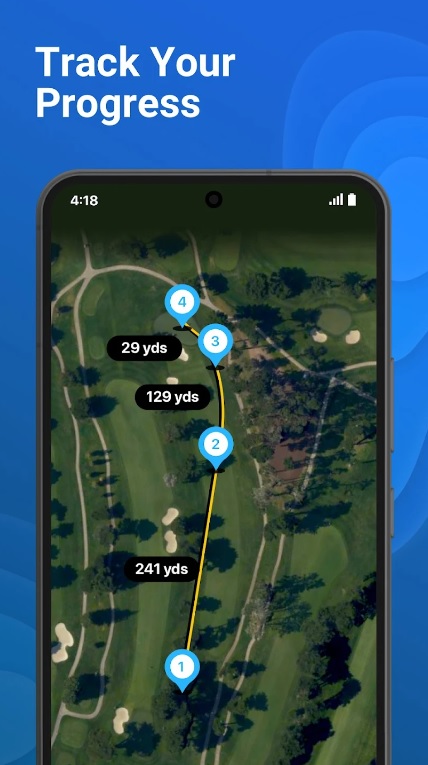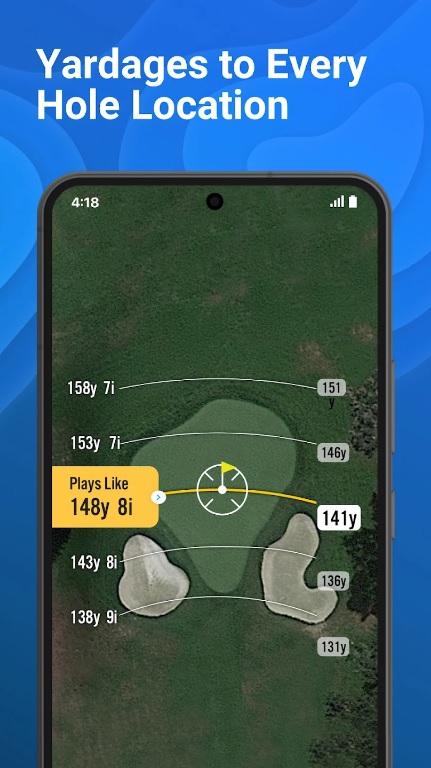 mScorecard – Golf Scorecard
Looking for a good application to track your golf statistics? In that case, we recommend you to try mScorecard. It is designed to keep track of your performance, game stats, handicap counting, and much more that you really need in golf.
Here you will be able to monitor all the indicators according to the world golf rules, as well as get the indicators of each hole or field in a couple of seconds. All data will be available all the time on your smartphone.
mScorecard uses GPS to calculate and track distances on the course – to holes, obstacles, or other players. The handicap index is tracked automatically when you enter your game data in the application.
It should also be noted that mScorecard supports different handicap calculation systems for different countries – but we recommend using the most common system. In order to improve your game style or skills, you can analyze all your current statistics – data about your past games will be stored in your mScorecard profile.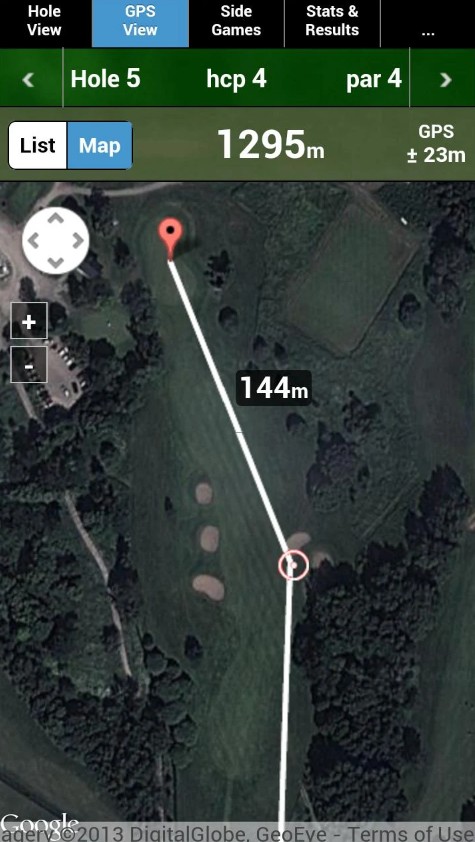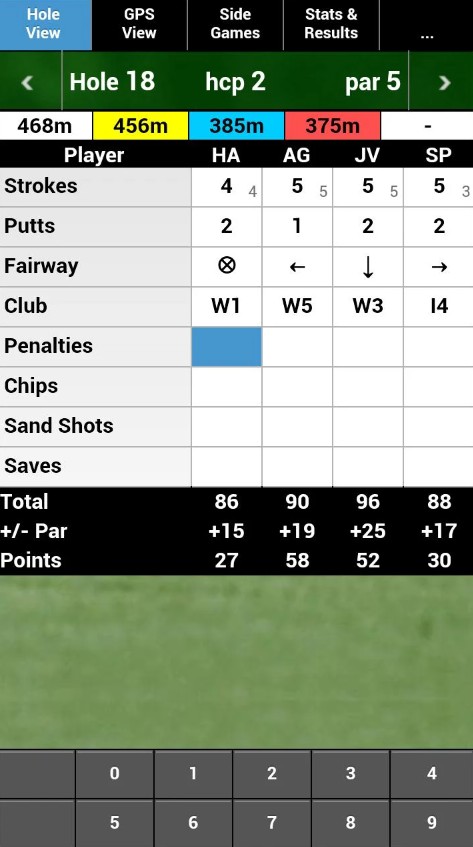 You may also like: 11 Best Baseball Scorecard Apps for Android & iOS
TheGrint | Your Golferhood
TheGrint is a full-fledged golf community that includes golfers from all over the world. The application is constantly used by them in games and friendly meetings, as it has many features and is convenient for tracking your rating.
In addition to the fact that you get the functionality of really convenient calculations and statistics, you can also contact other golf fans around the world. They often exchange photos in TheGrint, just talk and share their own tricks.
In TheGrint you can find more than 37 thousand different golf courses around the world for which GPS tracking is available within the application. You can also contact other teams of golfers during your own game – in fact, to arrange a competition not only within the team but also between the four.
Since TheGrint collects all the information about your games and saves it, you have unlimited access to the data about your old games and can transcribe them during your own success analysis.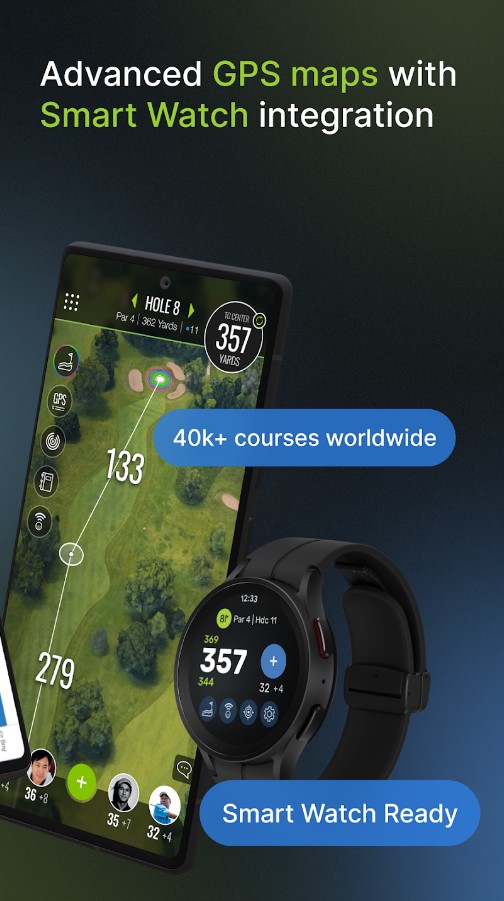 Golf GPS Rangefinder
GPS & Scorecard is a comprehensive tool designed to enhance your golfing experience. Beyond just being a scorecard, this app is equipped with a range of features that cater to golfers of all levels, making it a valuable companion on the greens.
By recording your scores over multiple rounds, the app calculates your golf handicap index, which is a measure of your skill level. This feature allows you to track your progress and compete more effectively in various games and tournaments.
It also functions as a GPS-enabled course guide, helping you navigate the course with accurate distances to hazards, greens, and more.
The app's shot tracking feature allows you to record your shots and view detailed statistics about your game, helping you identify strengths and areas for improvement.
Additionally, the app's digital scorecard lets you easily record and share your scores with friends. It even includes features like live leaderboards during games, creating a sense of friendly competition and camaraderie among players.
So, with the help of this app, you can enjoy your golf game no matter you are a master or just a beginner.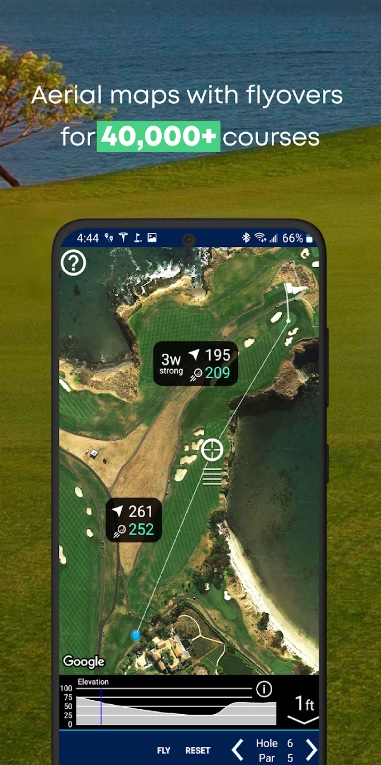 Golf Handicap Calculator Tracker Free-World Rules
If you play not professionally, but for yourself and your own pleasure, you can use the application Golf Handicap Calculator.
It will calculate your handicap scores for you and follow the game statistics to find out your shortcomings and advantages in golf right now. All calculations are based on modern handicap rules, which are updated annually – so you don't have to worry about missing any nuance.
It is worth noting that the application Golf Handicap Calculator is not an official tool for calculating the indicators of USGA or R&A. To improve your gaming skills, you will learn your current performance or try to calculate what the maximum result you can achieve.
A handicap can be calculated for a specific distance, for maximum stroke and on a certain number of holes – you set all the parameters yourself.
Since Golf Handicap Calculator is a multi-user application, here you can also monitor the performance of your friends – they will be automatically sent to you as push notifications when they are updated.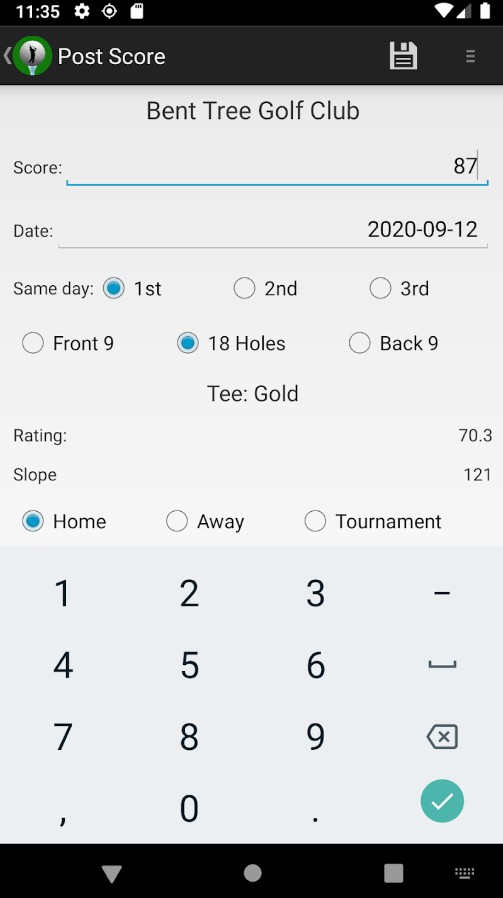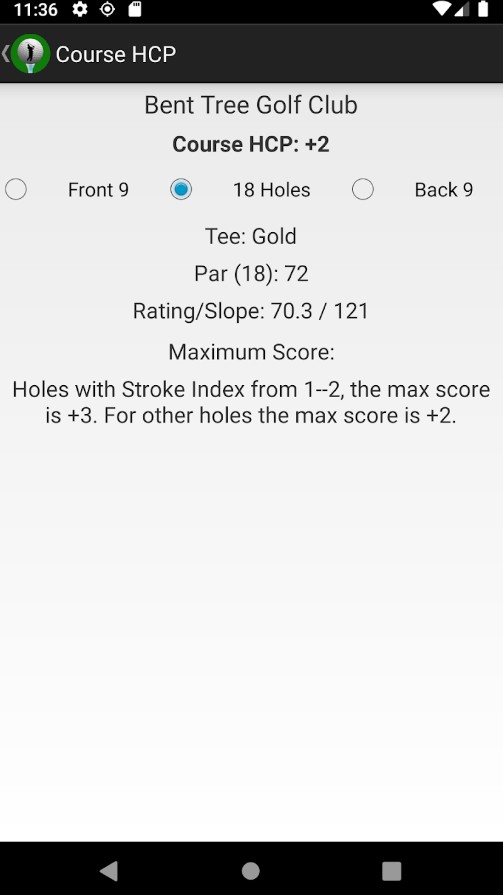 EasyGolf
This digital companion offers more than just a scorecard – it's a pocket-sized golfing coach that caters to players of all levels, whether you're a seasoned pro or just starting your golfing journey.
By inputting your scores from different rounds, the app calculates your handicap index, which is a valuable metric to gauge your skill and compete more fairly with others.
Beyond handicaps, EasyGolf acts as your personal caddy on the course. It provides accurate GPS measurements to guide you through each hole, helping you navigate hazards and select clubs with precision.
The app's shot tracking feature records your shots and provides insightful statistics to analyze your game, identifying areas for improvement.
It also boasts a digital scorecard for seamless scorekeeping, and the app's intuitive interface makes it easy to share your progress with friends. With its live leaderboards, you can elevate the friendly competition amongst your golf buddies.
To sum up, I think that this app will become your most comfortable platform to calculate golf handicaps.


You may also like: 11 Best ballistic calculator apps for Android & iOS
Golf Handicap, GPS, Scorecard – My Online Golf Club
The name of the application fully reflects its theme – My Online Golf Club. After installing it, you really get in your smartphone a whole club, united by one hobby or activity.
Here you will get complete data on game statistics, indicators, GPS rangefinders, and of course, handicap. It will allow you to calculate all results of your game series an unlimited number of times, to track and support the current handicap, to calculate it, and even to buy real cards for printing your indicators.
My Online Golf Club supports the world's handicap system, which is considered to be universally recognized around the world. It is also possible to find CONGU and USGA in the application, but they are used not so often.
The application tracks the performance of many users, and you can compare yourself with them in skill. In order not to get confused with statistics, you can name each series of games separately – for example, for which match this was timed or in which competitions you participated.
If your friends don't use My Online Golf Club, you can always share your results with them on social networks.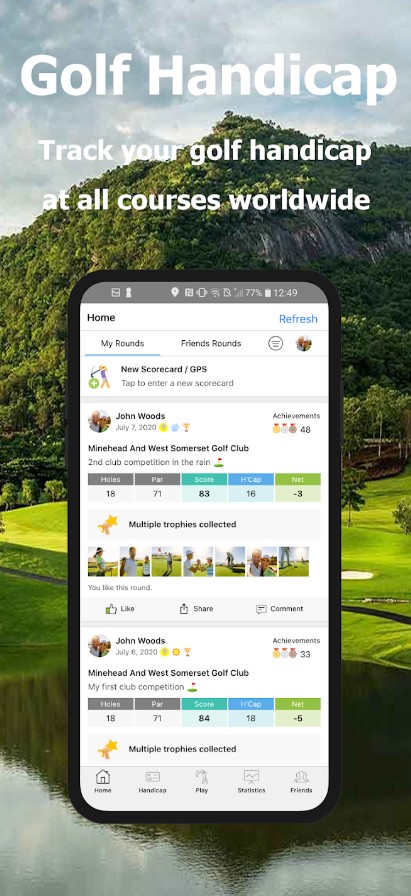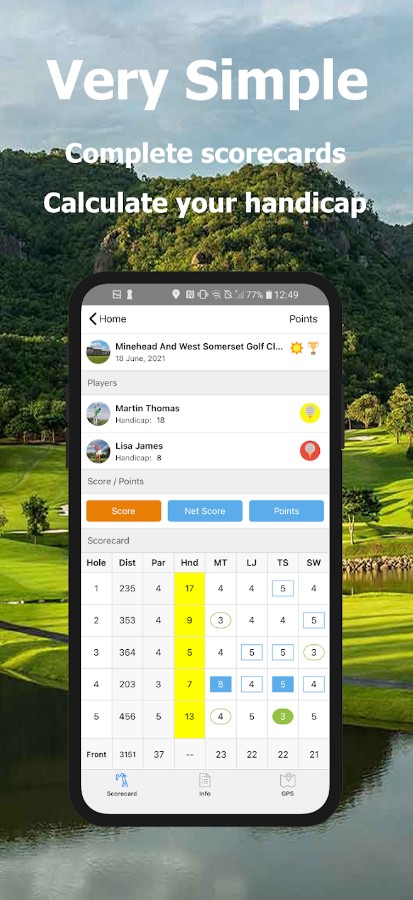 Usually, any golf course has its own scores for each hole. Such information is provided by the administration of the golf club, and you only need to add it to the application.
If you have previously tried to find the formulas for calculating the handicap, then you know exactly what in such calculations is used integration and differentiation, which immediately makes most golfers sad.
We suggest you do not do the calculations by yourself, because you can always use the application for this purpose. Especially services for automatic calculation of handicap will be useful for all beginners and those people for whom golf is not a hobby.
We hope that our article helped you and now you will definitely calculate your handicap correctly.