Nowadays, various videos can be watched absolutely at any time, both on the record and live. But, now television broadcasting, reports from the scene and other broadcasts are preferable to watch in the present tense. This article will feature best webcasting apps.
And if you like this article we also recommend you to read the one about the best Twitch chat apps for streamers.


Web Video Cast
This app can be safely called one of the best tools in this area thanks to its developed options. In this utility, you will be able to watch literally everything from movies to live broadcasts. It is worth noting that the app supports video and audio files of all types and is very convenient to use.

Some of the most significant characteristics of the Web Video Cast:
lack of built-in advertising integrations and any PR in the app that saves your nerves and allows you to enjoy viewing
built-in history of all viewed files in video and audio format, allowing them to be viewed at any given time
the presence of the "most visited sites" tool, which allows the app to recommend video to the user based on his interests
support for all popular devices that allow you to establish a reliable connection during live broadcasts, such as Roku or Chromecast
the ability to work with absolutely any type of video and audio, be it a television show, a live broadcast of a match, or a soundtrack
simple and easy-to-use interface that allows you to easily customize the home page as it will be convenient only for you
the presence of unique prompts to understand the functionality of the app even for the most inexperienced users
absence of requests for any personal information or data about the user, which guarantees complete confidentiality
So, we could say that this app is going to be a great option and you can enjoy a huge amount of browsing. Excellent functionality, catchy design and a well-developed interface will do everything for this. In addition, the app does not require any cash investments.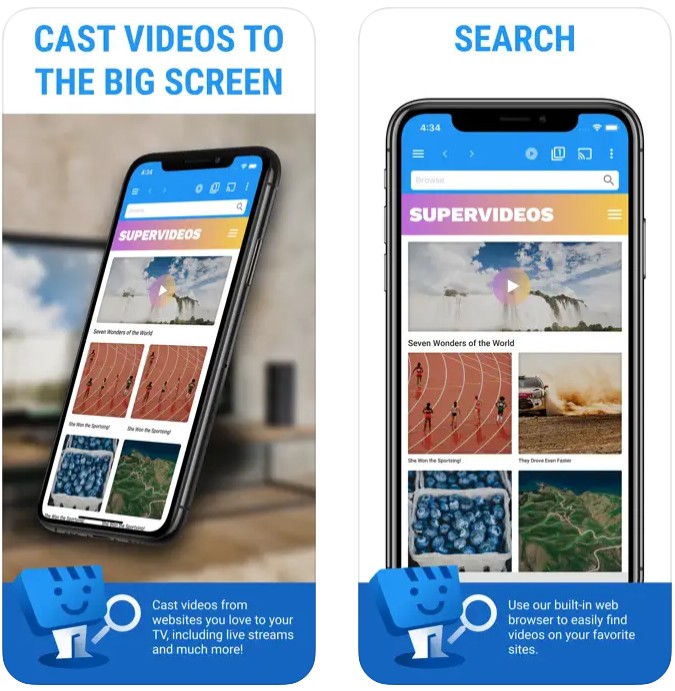 You may also like: 13 Free apps to watch videos with online friends
Web Cast | Web Videos to TV
Web Cast is one of the best utilities to stream different types of videos to your devices. It is worth noting that at the moment this app has the most stable connection among all the others. In addition, the program has a sequence of the simplest steps for successful work with it.

Options of this utility, on which the greatest emphasis is placed:
support for all built-in operational capabilities in your TV or other device, be it Smart TV or anything else
having a browser inside the app that will allow you to find any new videos or broadcasts of interest to you on any streaming service
having various options for working with video, created so that you can watch everything you need in the best quality
the ability to view various files from your input device (tablet, phone, computer) on the output device (TV or other monitor)
ultra-fast connection using a new technology that avoids various interference or delays in the image or video sequence
built-in ad and PR blocker, which will allow once again not to get annoyed and have complete pleasure from viewing
the ability to view search history and bookmark those websites whose videos seemed to you the most interesting
Summing up, we can conclude that this utility will appeal to even the most fastidious user thanks to the developed characteristics. This app has been allowing users to enjoy the best videos and broadcasts for more than one year. Download it and make sure for yourself.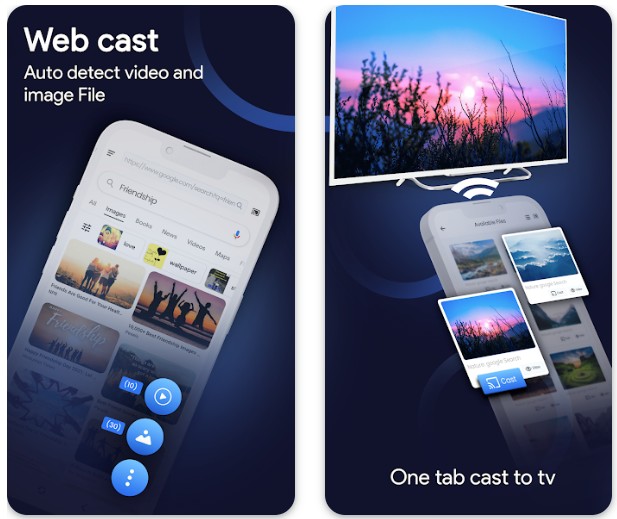 Roku Cast – Cast Phone to TV
This program is fully functional because thanks to it, you can show not only video and photos on your TV, but also audio. It is important to note the fact that the app supports all major home media servers like Smart TV. In addition, the program is easy to use.
A number of the most necessary functions of the utility:
one of the most stable connections of all utilities of this type, which guarantees a high data rate and good resolution
the ability to connect and display absolutely any file from your phone, from video or picture to mobile game broadcast
universal support for all existing types of text, visual or audio files, the list of which is constantly updated
the ability to watch any broadcast or video regardless of where you are – at home, at work or on the road
compact and easy-to-use interface, as well as bright design that perfectly complement each other and form a positive impression
support for such a tool as screen splitting, which allows you to simultaneously observe several video sequences at once
As a result, this app has been pleasing users with its functionality for more than a year and allows them to receive positive emotions from viewing. The utility was developed by an American company, which indicates a high standard of quality. Developers are constantly working to make the app better.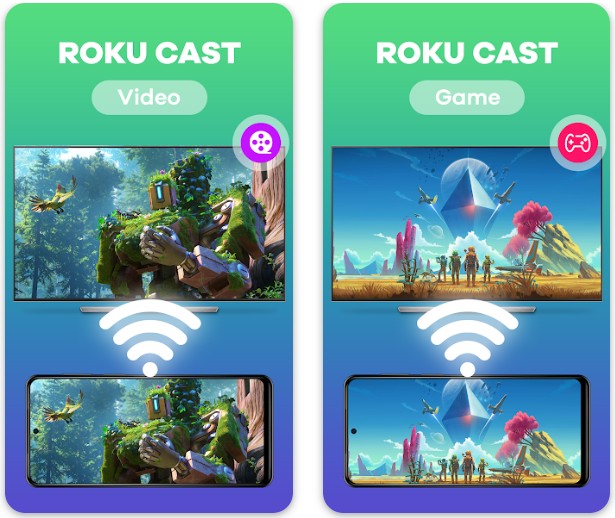 MyCast – Web Video TV Cast
MyCast is your reliable assistant when you need to watch any video or live stream. This can confirm the fact that this utility is in great demand among users due to its functionality. In addition, the program is completely free.
Features of the app, which are given the greatest emphasis by the developers:
the ability to connect various videos from websites or social networks on the Internet using popular Roku media servers
browser inside the program, which allows you to access the Internet and view all the photos, pictures, music, and videos you need by interest
the ability to add your favorite web pages with videos to favorites so that you can view them at any time
multiple video options such as rewinding, acceleration, improved image quality and resolution, and numerable others
a special tool that can block various pop-up notifications and ads, saving you time watching a video
easy-to-use interface, as well as a design that saves the user's vision and makes it possible not to be distracted by anything other than video
To sum up, MyCast will be an excellent assistant to you in the ability to watch broadcasts and other video files of different types on your devices. It is worth noting that this app supports almost all popular software like Chromecast. In short, this program has everything you need for cool viewing.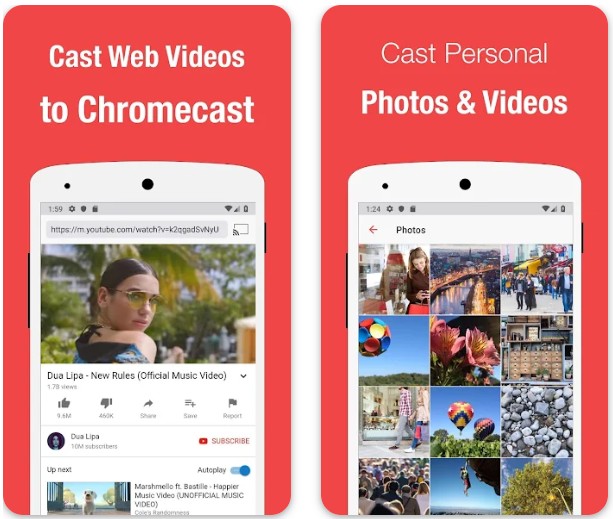 Fire TV
Thanks to Fire TV, you can easily stream all kinds of videos and pictures to any of your devices. This will not require anything complicated, you should sync your two devices through the app and start enjoying watching. Also, inside the program, there is a choice from an extensive list of films or TV shows.

The most noteworthy tools of the app:
the ability to transfer or even start an extensive broadcast on your TV using a sequence of simple steps
the ability to shoot files of various formats, be it music, video, or something else, but also view videos from the Internet using the built-in browser
versatility of the utility in support of devices with both weak processors and strong ones, as well as constant work on synchronization with all possible options
the presence of one of the most reliable connections in the world, minimizing the possibility of various lags, friezes, and even breaking the connection
the possibility of contacting technical support in case of any problems, and possibly introducing new ideas
cooperation of the company's developers with popular social networks like Facebook and attracting new users as a result
In conclusion, it must be said that this utility can become an indispensable assistant for you in conducting broadcasts or watching videos. This app has been operating for five years and during this time has never been able to disappoint users. Try to use it – and you will not be mistaken in your choice.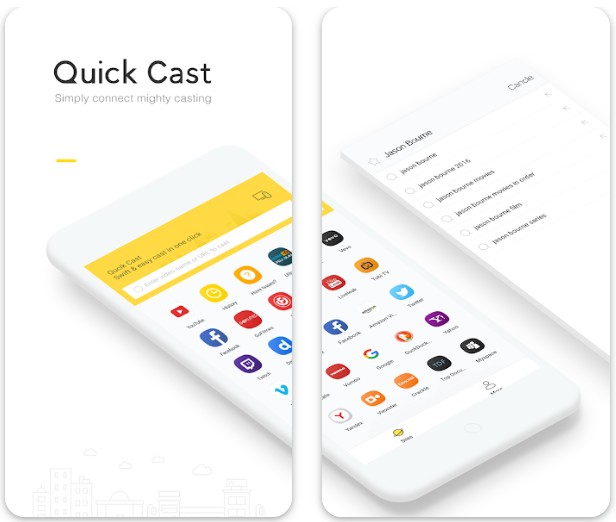 Tubio – online videos on TV
Tubio is the very app that will help the user both broadcast and watch your favorite videos and movies. This program contains smart algorithms that allow the utility to select everything according to your interests. Incidentally, there is a function for playing locally saved videos and photos.
Features of the app, which are most beloved by users:
automatic detection of all devices ready for connection, followed by translation from a phone or tablet
the ability to use the utility as a translation control manual due to the presence of all the necessary buttons
the ability to bookmark your favorite websites, music, photos and videos to access them at any time
an abundance of various tutorials and tips for the most inexperienced users, which greatly simplifies the use of the program
support for all the most famous players on your TVs, such as Amazon TV or Nexus Player, the list of which is constantly increasing
the ability to play your favorite films in the best possible quality, as well as the absence of advertising or other methods of distraction
To conclude, you can see that this program is very multifunctional and has variability in use. Thanks to it, many users already have the opportunity to enjoy their favorite videos and broadcast literally by clicking their fingers. The utility is checked for various bugs at least once a month.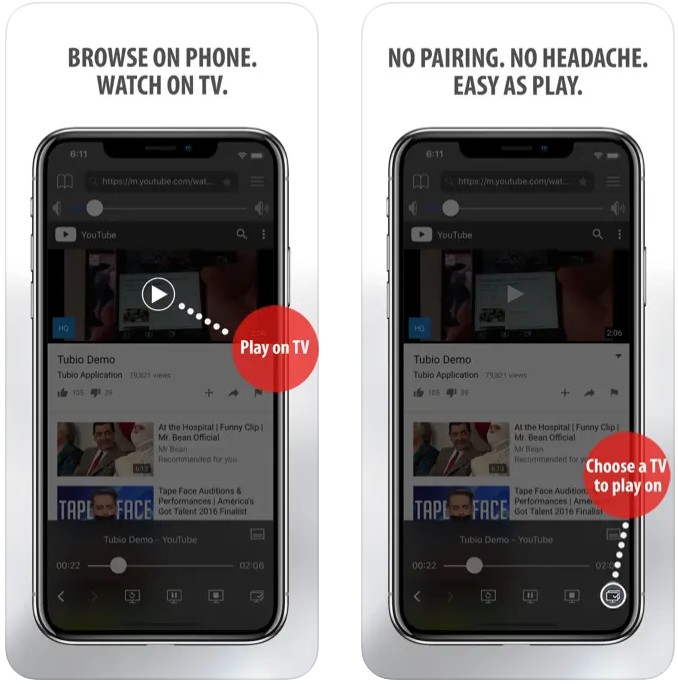 You may also like: 11 Best Android Apps for Downloading Videos Online
Translate on TV: Chromecast
This app can be called one of the simplest, but at the same time worked out and made at a high level. With this utility, you can perform a huge number of different actions with translations, from viewing to launching your own. It is also important that this program is completely free of charge.

Interesting features of this utility:
the presence of remote control, which is customized by each user individually, which allows you to adjust the entire broadcasting process
the ability to stream videos from popular streaming services like Twitch, as well as video platforms like YouTube
the latest digital TV technology that enables you to turn your TV into a multifunctional computer
the ability to transfer all files of graphic and sound format, from pictures and videos to various musical compositions
having a choice of permission to watch any movie or series, as well as improve the quality of your broadcast
the ability to download subtitles in different languages ​ ​ so that your broadcast can be recognized by people from all over the world
Thus, you can emphasize that this program will appeal to people of various professions. In addition, the utility plans to introduce options such as custom design and downloading videos from sites directly to the device. Download this app and make sure you've made the right choice.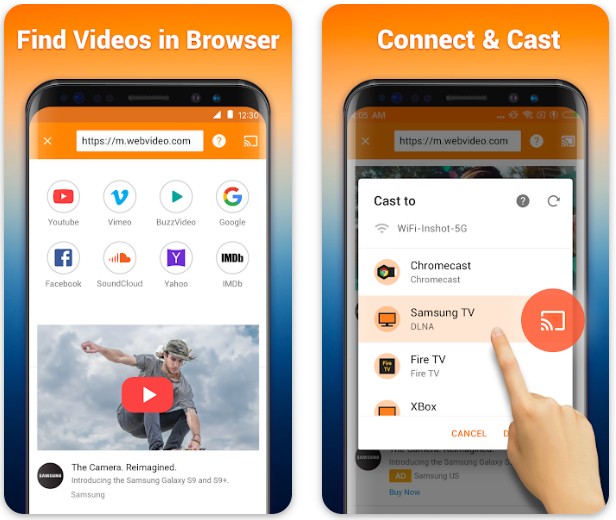 Video Web Cast to TV
This utility is designed primarily so that you can get a clear broadcast of your videos from your phone on your TV. However, this is just one of the many features that this app has. The developers themselves call their creation "one of the most functional and full-length tools."

Several options for this app that are considered to be the most important:
the ability to save absolutely all files on the TV that are in the storage of your device and protection against hacking by third parties
thanks to advanced algorithms and up to the smallest details of the latest technologies, you get the highest quality translation
the presence of a translation tool without pauses, in which you can continue broadcasting even when the connection of your devices is disconnected
built-in remote assistant that allows you to block various pop-up photos and videos with ads, thereby giving you the opportunity not to distract from the broadcast
the presence of proxy servers, thanks to which the process of streaming or broadcasting becomes much easier
Finally, Video Web Cast TV will be able to suit a variety of purposes, whether it's streaming or just watching movies. It is worth noting that this utility is under the control of leading specialists, who are trying to make it as good as possible. The app has technical support that is always in touch.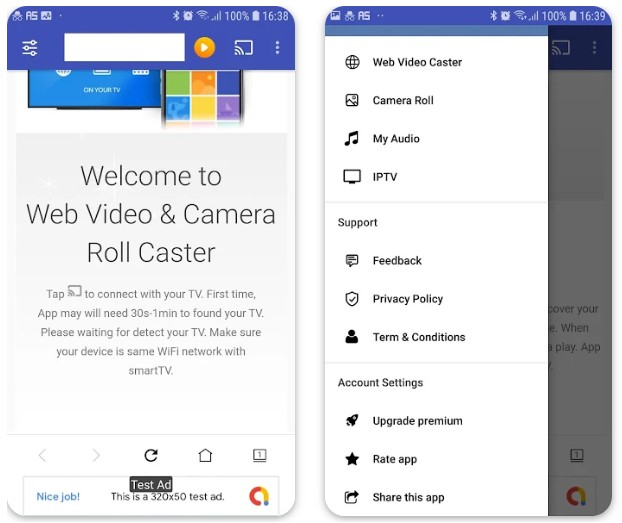 Cast to TV/Chromecast/Roku/TV +
This app can be safely called one of the simplest utilities for creating streaming broadcasts. It supports a huge number of popular streaming platforms and devices, with some of which it has a partnership. It should be said that the program interface is as easy to use as possible.
In addition, as in all programs of this type, there is a built-in browser, thanks to which you can perform different actions. This utility supports all nowadays existing video and audio formats. Thus, this app combines everything you need to fully play broadcasts.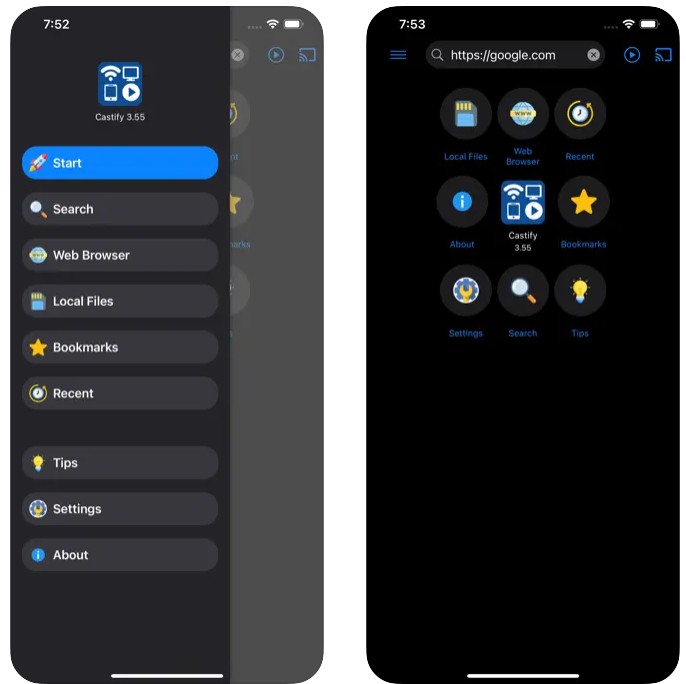 APlayer – Video Play, Web Cast
aPlayer is a multifunctional app that allows you to perform different actions with videos and broadcasts. A distinctive characteristic of this utility is the presence of various user designs for every taste and color. In addition, the app automatically saves your migrated files.
It is worth saying that interesting options of this utility include working with an equalizer, which will allow you to adjust the sound quality in the broadcast. You can also choose the mode you need: day or night with vision savings. The app has the ability to personalize the color palette and design.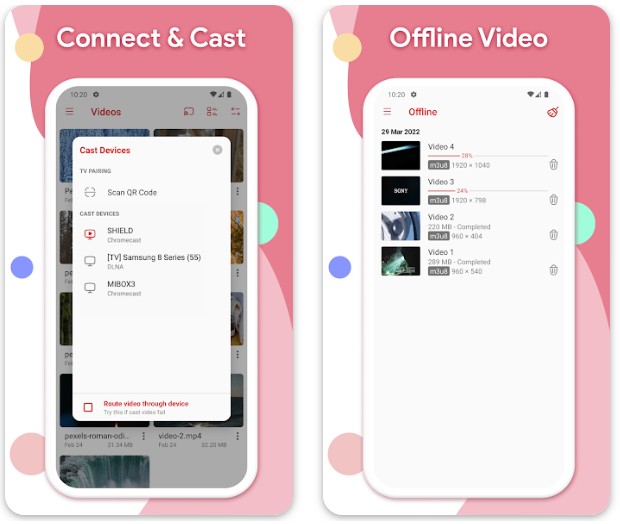 You may also like: 7 Best Apps to Watch Basketball Online on Android & iOS
EZ Web Video Cast
EZ Web Video Cast is considered one of the best additions to the existing Chromecast. It is worth saying that thanks to it, you can transfer files of absolutely any type, as well as safely start and end any of the translations. As in all utilities of this type, there is a built-in browser.
In addition to all of the above, it should be noted that this app has a huge number of tutorials and tips for solving all user problems. The main functions of this app are the presence of remote control, as well as a well-developed function for adjusting the sound and graphics of your broadcast.
It is worth noting that this app can work both using the Internet and without connecting to it. As a result, this program combines everything you need to create a full-fledged broadcast and get positive emotions.