We all know perfectly well that the common precept is that a right night's sleep should last from seven to eight hours. But night work, stress, insomnia, and night gatherings often prevent us from sleeping the right amount of hours and normally get enough sleep.
Overcome insomnia and normalize sleep can be achieved by using mobile applications that offer different programs to achieve sound healthy sleep – from targeted controlled meditations to audio programs with the calming sounds of nature. You, for certain, put on the phone near the bed at night, so why not take advantage of what mobile applications can offer you?
Make your every morning cheerful with the help of these free alarm apps for heavy sleepers to wake up anyway.
Calm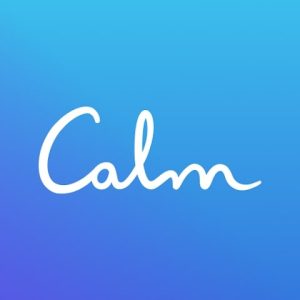 An app for high-quality meditation and relaxation. It will help you defeat stress, manage moods, sleep soundly, and concentrate.
The platform contains meditations with a professional, lectures about sleep, relaxing sounds, breathing exercises, and stretching.
The app is constantly updated and the database is replenished. Improvement in the overall condition is guaranteed after two weeks of use. Bedtime stories will give you a restful sleep. Relaxing sounds are not distracting. More than one hundred and fifty stories are available.
While listening, it is important to watch your breathing and find peace. This skill will help you be less stressed in your daily life. You can take a self-healing course where new tasks are given each day. They will take no more than ten minutes a day. A pleasant interface will inspire a change of lifestyle.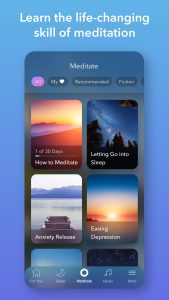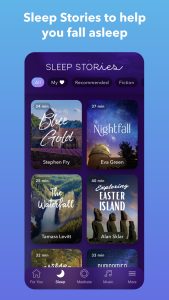 You may also like: 11 Best Sleep Talk Recorder Apps (Android & iOS)
Relax Melodies: Sleep Sounds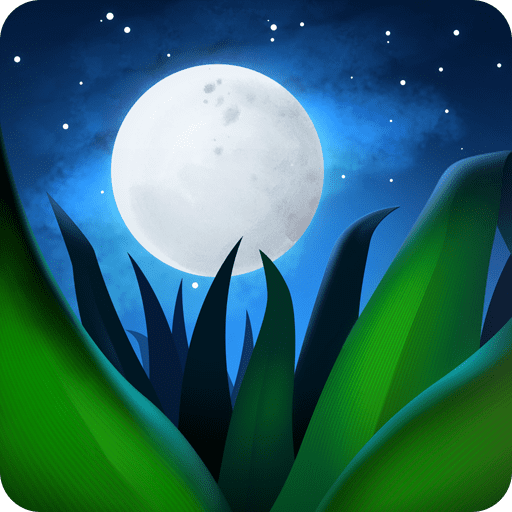 Cannot fall asleep? Or to pick up a good soothing melody? Then this application is just for you.
Relax Melodies – Sleep Sounds is a unique application that allows you to create your own tunes for meditation and sleep by combining sounds. In total, the application contains 46 sounds that you can mix with each other.
This application is a collection of relaxing melodies and sounds that you can selectively reproduce or mix different sounds, combining them into a common harmonious melody.
You can listen to the noise of the forest, it's raining, the sounds of the ocean, the singing of whales, the crackling of the bonfire, the howling of the wind, the thunder, and much more. It is possible to set the timer to close the application, so as to fall asleep under the sounds of the sea, do not disturb your sleep.
So, how it works:
Create your own mix, combining sounds and music with each other. To do this, just click on the sound icon. To deactivate the sound, click on the icon again. Switching between screens can be done with the help of vertical gestures.
Save it.
Set the timer to turn off.
Start up your mix.
Enjoy the soothing melody of your own composition.
Is not it simple?
If you have problems with sleeping or just want to listen to a pleasant melody, then definitely download this application. Also, if you like the application very much, you can always purchase an extended version with an even bigger sound set.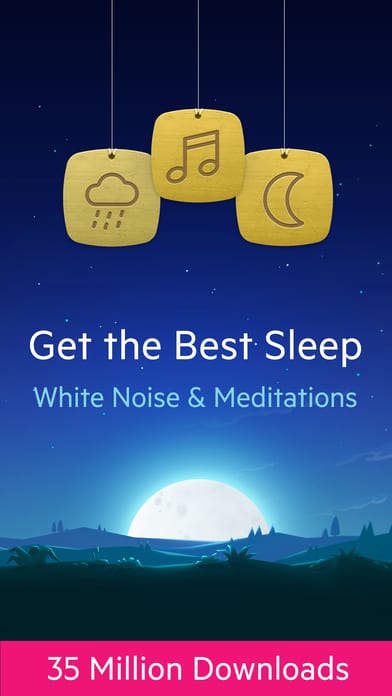 Relax & Sleep Well Hypnosis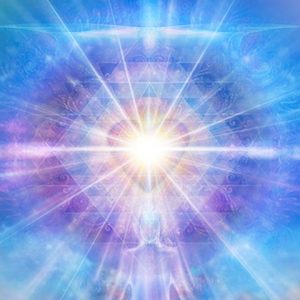 An app containing hypnotic and meditation practices that help with anxiety and distress.
The creator of the platform is a professional hypnotherapist. He has been teaching for twenty-five years. All of his unique materials are collected here. Six recordings of his webinars are available for free.
There are hundreds of ways to subscribe and purchase. Topics such as weight loss, self-esteem, sleep, stress, biological rhythms, proper awakening, and so on are discussed. Each meditation is recorded in a professional studio. You can create folders of sorted materials in the app.
There is capacious storage where you can download an unlimited number of recordings and listen to them at a convenient time off the Internet. The interface is functional and includes titles with detailed descriptions. The app also features a large library of free e-books on the above topics.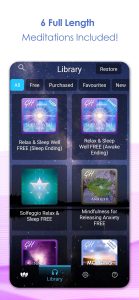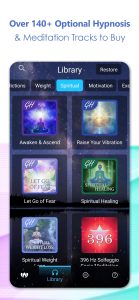 One Deep Breath: Relax & Sleep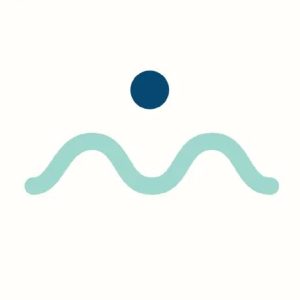 If you have ever had problems with insomnia or just want to improve your sleep, then this app will come in handy.
This app has a number of different functions, ranging from the ability to improve your body to working out its physiology. In a word – everything you need in one place.
You can highlight the following most important options of the app:
variability in the choice of methods based on physiology and biomechanics in order to improve the physical condition of the body, as well as individual things
a huge number of different clues inside the app that will help to fully unleash your brain and physical potential
the presence of programs such as various breathing and meditation techniques, lowering blood pressure, preventing panic attacks, and many others
the ability to track your progress in the app profile and reach certain heights in one aspect or another that you are working on, for example, muscle development
So, we can make a simple conclusion that this utility can suit absolutely any user. It doesn't matter if you are a newcomer who is just starting to work on yourself or a seasoned professional who is increasing his skills. So what are you waiting for? Download soon!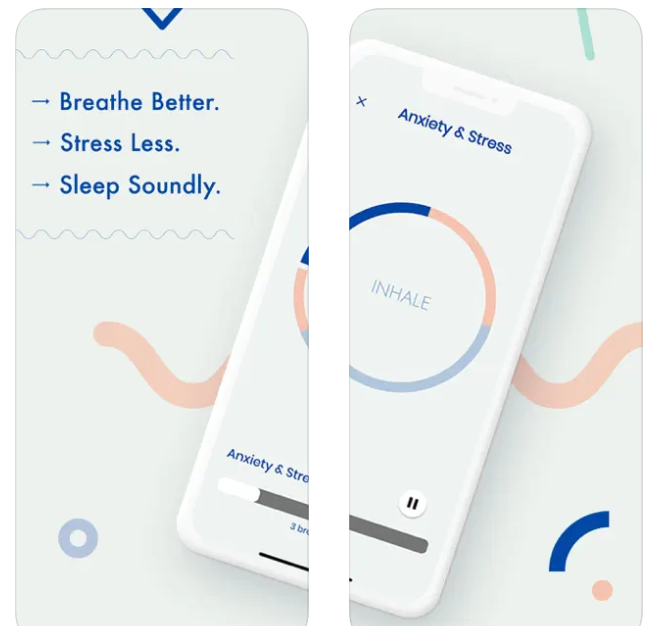 Deep Sleep with Andrew Johnson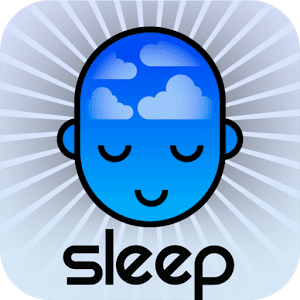 This application is a utility for meditation under the guidance of expert Andrew Johnson. The purpose of the application is to easily and accurately bring you into a more relaxed state, after which you will fall into a sound and quality sleep.
Together with soothing instructions for breathing and relaxing, this application can enchant you and become an invaluable component of your sleep preparation regardless of gender and body characteristics.
Deep Sleep with Andrew Johnson was created especially for those who suffer from insomnia. The action of the program is built on the principle of meditation: you just watch how the white band slowly moves across the display, and gradually sink into sleep.
It is possible that the autosuggestion effect works here but nevertheless, judging by the responses, the application copes with its task.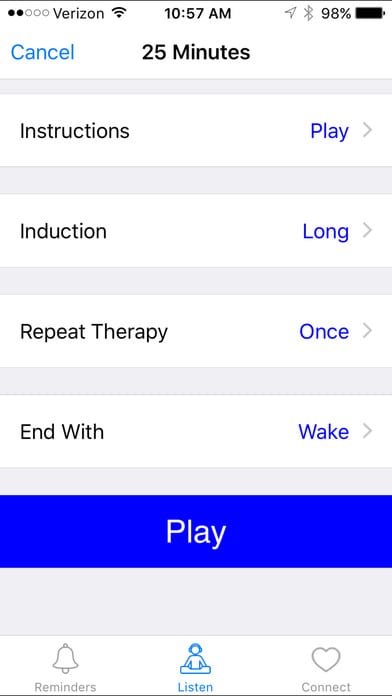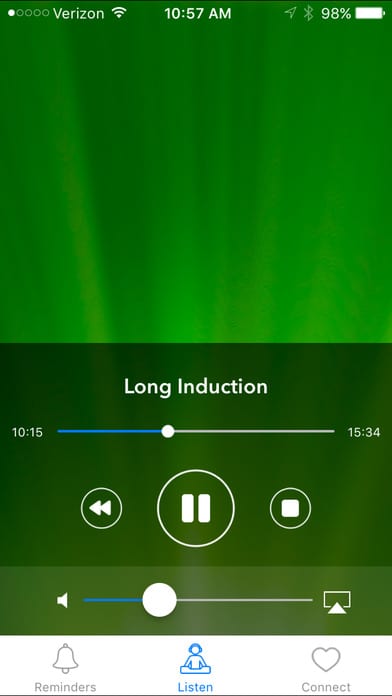 Pzizz Sleep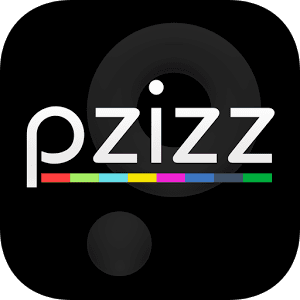 As the manufacturers of this application say, before you, there is a real personal sleep assistant. The program is aimed at treating insomnia, so it is able to keep a person in a state of sleep throughout the night.
The price of this small program is obviously rather big but it is explained by the serious scientific approach that was applied in the process of its creation.
Binaural rhythms and neurolinguistic programming were taken into account, about one billion combinations of sleep sound were created – there are so many options so that the brain does not get bored and does not identify recurring combinations, and every night can "digest" a new one.
Also, there is a mode of playing Energizer, meditation, and sleep – all modes are fully customizable for the required interval of work. If you still care because of the high price of the application, there is a light version of it, which costs ten times less.
How does it work?
The user sets the duration of the sound from 10 seconds to 10 hours, and the application creates a unique audio track, based on the built-in library of sounds. From other settings, you can adjust the volume level, a set of effects, and voice tracks.
We draw conclusions: Pzizz helps users to ease the process of falling asleep, using for this combination of music, words, sound, and stereo effects. It helps to relax and relieve stress.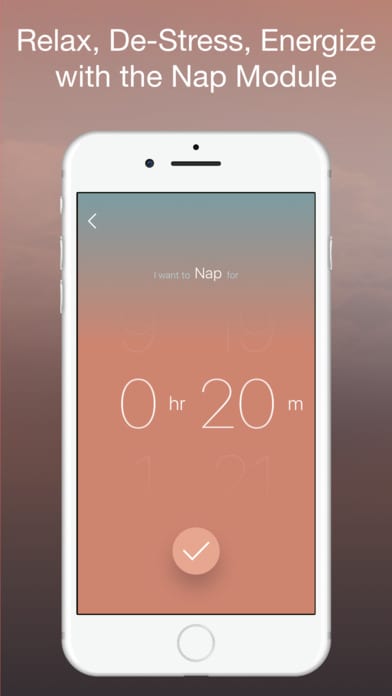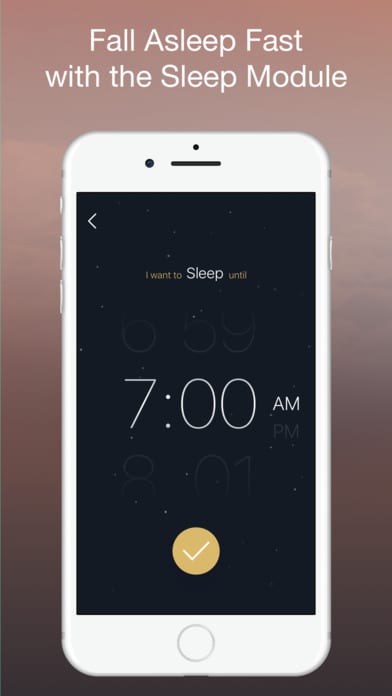 SnoreLab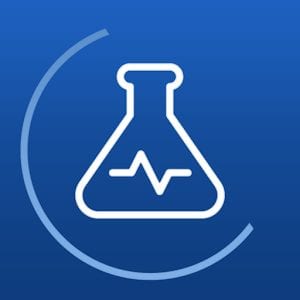 Do you snore? If your answer is "no", most likely, you just do not know about it yet. For those who are sure that snores, another question: do you get at least partially to get rid of it and snore less loudly?
Snoring not only irritates others, it affects your own health badly. It disturbs sleep at night and generally negatively affects the quality of sleep, leading to problems with the heart and low levels of oxygen in the blood.
SnoreLab records and tracks your snoring every night. It lets you know how loud you snore, at what time it often happens, offers recommendations on how to cope with snoring. True, this does not negate the need to consult a specialist.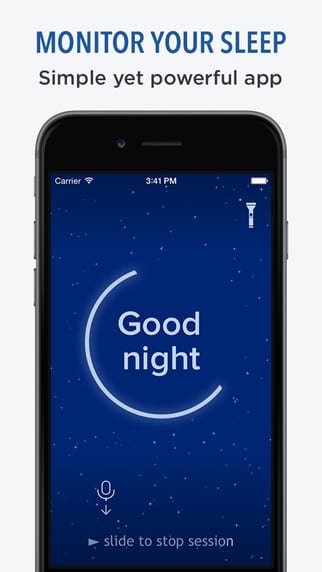 Sleep Sounds – sleep melodies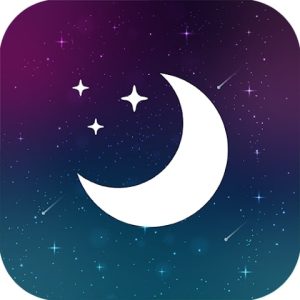 An app with a large library of soothing sounds that make it easy to fall asleep. The melodies of nature gently bring harmony. By experimenting, you need to choose the sounds that better affect the stability of the psyche.
The tracks you like can be added to a favorite folder. After practice comes a sound sleep. The noise in your head will no longer bother you.
Anxiety and stress will disappear, and attention will always be focused on what's important. You can create author playlists to fall asleep with pleasure. The volume of each track is adjustable.
The sound plays in the background. It stops on a preset timer. The sound is recorded in excellent quality. All tunes work without using the Internet. The app is available to download for free. It is intuitively easy to use.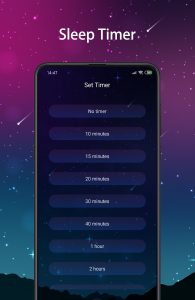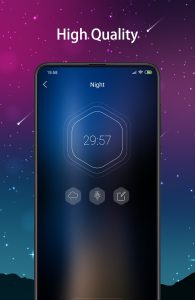 You may also like: 9 Free Sleep Cycle Apps for Android & iOS
Sleep as Android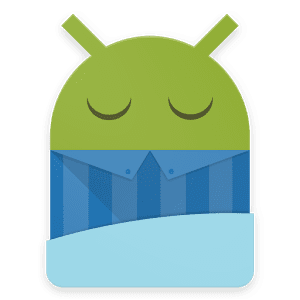 The principle of the work of Sleep as Android is the information that the dream of each human being consists of two repetitive phases – slow (deep) and fast (superficial) sleep.
The app is not only one of the best sleep trackers available at the moment but also an excellent alarm clock: it tracks sleep cycles and gently wakes up at the best time.
But the useful functions of the program do not end there. The app has many additional features that for many users can become even more interesting than the main function of the application.
It integrates with Pebble, Android Wear, and other wearable watches, as well as popular health apps Google Fit and S Health. Keeps track of whether you snore at night (there is even an anti-snare function), records the sound, if you talk in a dream, helps to cope with jetlag with changing time zones.
Main functions:
Calculating the optimum length of sleep and reminder to go to bed at the right time.
Rapid falling asleep under a lullaby in the performance of the app or quiet natural sounds.
Tracking the rhythms of sleep with the building visual diagrams.
Save and analyze all findings of your dream.
Record all the sounds that you make in a dream. For many, it will be interesting.
If you suffer from snoring, then Sleep as Android will hear and slightly push you with vibration. Your loved ones will be happy.
Persistent alarm clock. Does not stop ringing until you solve any simple task.
Sharing of the actual information about your night rest on Facebook. And suddenly someone needs to know it? For example, your doctor.
As you can see, the program is very functional and quite worthy to take a place in the bed next to you. But for this, it will ask you for money, alas. Not immediately but only after two weeks of trial use. In addition, some functions of Sleep as Android are implemented in the form of separate modules, which also apply to separate, albeit small but money.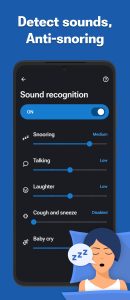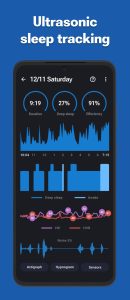 Slumber: Fall Asleep, Insomnia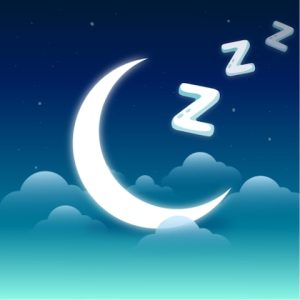 An app that soothes the emotional state with interesting narratives. Suitable more for adults than children. The practices in the app fix the quality of sleep and get rid of insomnia.
Relaxation comes in as little as five minutes. You can use it every day. The offer is available for free to all users. It contains more than six hundred tracks, each of which brings peace and harmony.
The meditations are based on techniques of conscious gratitude for the day that has passed. There are tracks with suggestive hypnosis that will help you fall asleep without noticing it.
The background music setting is available to create the desired atmosphere. It is important to understand that the app only gives effect in conjunction with the advice of medical professionals. Using the platform is intuitively simple and pleasant. There are thousands of positive reviews.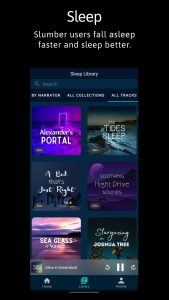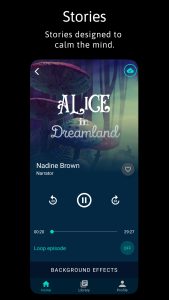 Relax and Sleep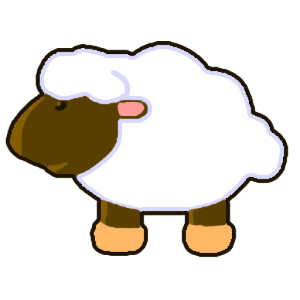 Relax and Sleep helps to relax and fall asleep under background sounds. The application is very simple but effective in typical situations, with insomnia.
The library of the application includes with three dozen meditative "ambient" – partly exotic but quite pleasant to the ear. This is a chorus of Buddhist monks, the sound of dishwashers, cat purring, weather effects, and others.
You can adjust the volume and background, create "mixes" from several backgrounds, save them in presets. As an option, Relax and Sleep can be used as the simplest (albeit not the most efficient) alarm clock: the same melody will work at the specified time.
To turn on the background, just select the favorite option from the list, then set the timer. The background will sound for the specified interval, then it will start to fade. Thus, Relax and Sleep does not significantly drain the battery, the time of the sound is adjusted and the program works only at the set time.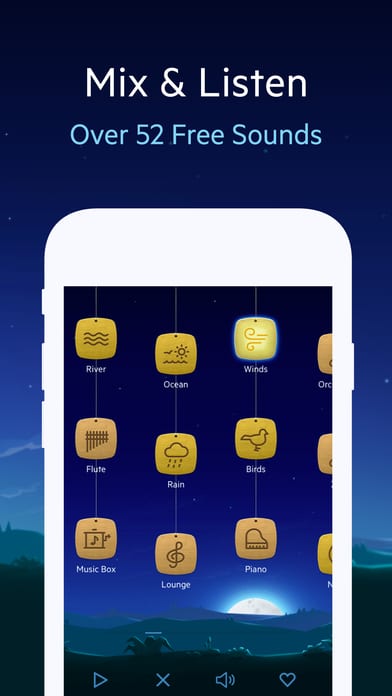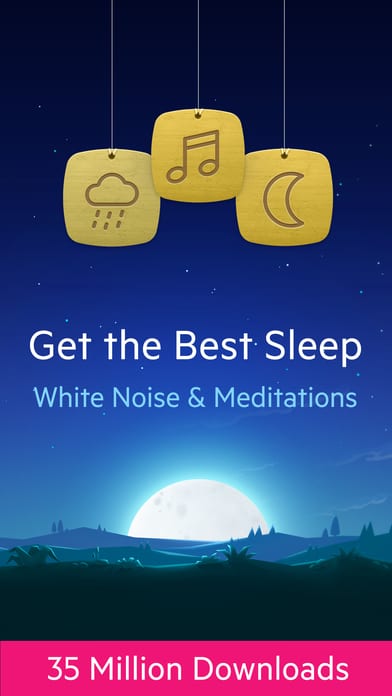 White Noise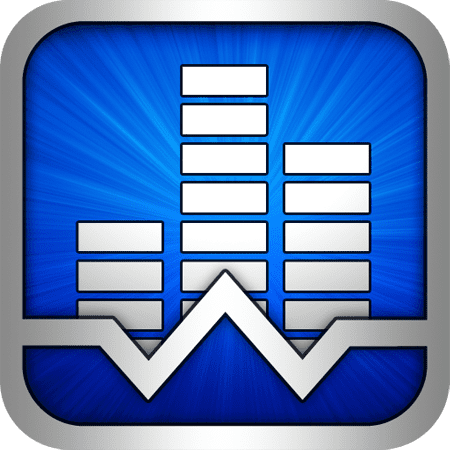 This program, according to its "hypnotic" effect, can be put on a par with Relax and Sleep. It will be useful to those who have problems with sleeping or just have a habit of falling asleep under some unobtrusive sounds.
In particular, White Noise generates white noise – a uniform sound background, which allows you to relax and quickly fall asleep.
Generally speaking, the application is universal and serves not only to fall asleep. The complete list of features of the application looks like this:
Soothes and reduces stress.
Soothes children.
Improves concentration.
Eliminates headaches.
Masking ringing in the ears.
White noise – according to the description – "interrupts", blocks distracting sources. For example, if outside the window, there are extraneous sounds that can awaken, the program "dissipates" them.
Theoretically, it is possible to sleep in the presence of noise, and this point is especially emphasized by the developers. However, there is no need to believe the word: too small should be interference, so that white noise could muffle them.
White Noise contains a fairly diverse library of 40 sounds. This is not only white noise but other shades and sounds – mechanical, natural. You can also download the add-ons free of charge on the developer's website.
A small player is used to control the playback. White noise is played in a circle, while you can do other things and listen in the background, mix sounds, and create your own mixes through a playlist, adjust the sound, balance, and playback speed.
In addition to the player, the White Noise includes an alarm clock and a timer.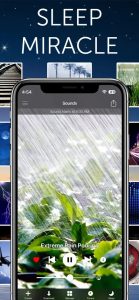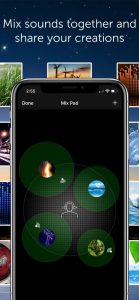 Loóna: Bedtime Calm & Relax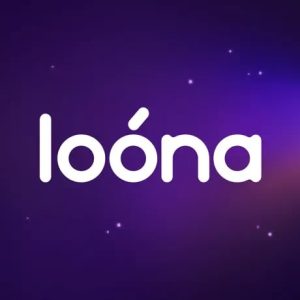 An app that will quickly create the mood for a healthy sleep after a long day at work. This happens due to the soft effect on the emotional background. If the day was hard, the negative impressions will be reflected in the quality of sleep.
The situation will worsen in the future. Any feelings affect the phases of sleep. The app affects their processing in the subconscious. It maintains the emotional background throughout the day.
Each night, the recommended resource is accessed. It is a story that includes a captivating narrative and quiet music. After listening to the episode, all disturbing thoughts leave the mind. The brain is ready for sleep, which will restore strength for the new day.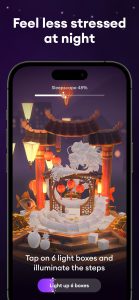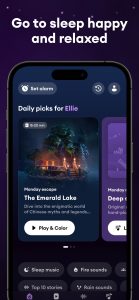 Sleep & Meditation: Wysa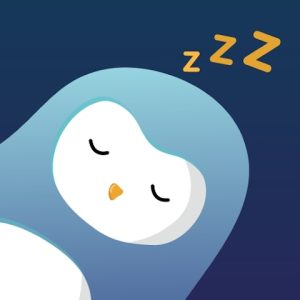 An app for those who want to experience deep sleep. This can be difficult due to negative thoughts on a busy day.
The app will provide content in the form of stories with soothing sounds to help you fall asleep.
Bedtime stories restore breathing and relieve stress and tension. Adults need them just as much as children do. Meditation will help you tune in to sleep and get a good night's sleep.
New content is available every day. Evening routines involve journaling to free the mind before bedtime. A gratitude practice will also raise positive energy form. Morning rituals are also available on the app.
There is a large library of sounds of thunder, water, rain, ocean, white noise, pleasant whispers, and sounds of nature to listen to. These are natural soothsayers. In all, there are more than thirty instruments. Already five days of working with them will improve the quality of sleep.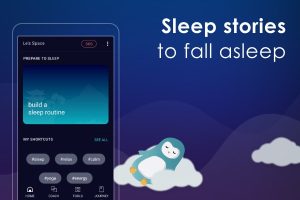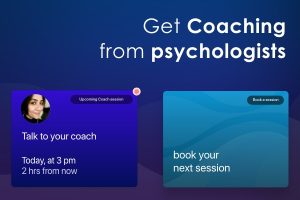 You may also like: 11 Best Sleep Tracking Apps for Android & iOS
Calm Sleep: Sleep & Meditation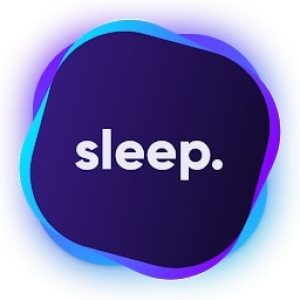 An app to fix your sleep problems. It will relax your body and improve the quality of your sleep. The content in the app is designed and tested by top sleep experts. It is based on relaxing music. Suitable for beginners.
There are operating modes from five minutes to one hour. This is enough time to achieve mindfulness. The app works if you feel relaxed after doing the practice. Deep sleep will give strength for new accomplishments.
The platform also contains meditations for rest, productivity, and harmony. They will teach how to deal with stress and be serene. Small courses on selected topics are available.
You don't have to be experienced to use the app successfully. Nature sounds and other melodies for relaxation are available. High-quality relaxation will help you focus on business afterward.