15 Apps to help you sleep well (Android & iOS)
We all know perfectly well that the common precept is that a right night's sleep should last from seven to eight hours. But night work, stress, insomnia, and night gatherings often prevent us from sleeping the right amount of hours and normally get enough sleep.
Overcome insomnia and normalize sleep can be achieved by using mobile applications that offer different programs to achieve sound healthy sleep – from targeted controlled meditations to audio programs with the calming sounds of nature. You, for certain, put on the phone near the bed at night, so why not take advantage of what mobile applications can offer you?
SleepyTime: Bedtime Calculator
The main task of SleepyTime is to wake the user in between the sleep cycles. As the scientist say, this time will be optimal if it is correctly calculated and to wake up at the right time.
The application helps not only "get up on the wrong foot " but also optimize sleep time. 3 methods of setting the alarm are supported:
Setting the time to fall asleep.
Setting the time for waking up.
I'll fall asleep now.
After selecting one of the options, SleepyTime calculates the time and offers a list of possible time for waking up or sleeping, respectively.
Together with the mobile application, a similar online service is available at sleepyti.me. It is useful in that it allows you to calculate the optimal time for awakening. The user enters the time – there are 4 options with an interval of 30 minutes when it is desirable to wake up.
Wake up fresh and vigorous along with useful service SleepyTime Bedtime Calculator, which once and for all decides the question of how late to go to sleep.
Relax Melodies: Sleep Sounds
Cannot fall asleep? Or to pick up a good soothing melody? Then this application is just for you. Relax Melodies – Sleep Sounds is a unique application that allows you to create your own tunes for meditation and sleep by combining sounds. In total, the application contains 46 sounds that you can mix with each other.
This application is a collection of relaxing melodies and sounds that you can selectively reproduce or mix different sounds, combining them into a common harmonious melody. You can listen to the noise of the forest, it's raining, the sounds of the ocean, the singing of whales, the crackling of the bonfire, the howling of the wind, the thunder, and much more. It is possible to set the timer to close the application, so as to fall asleep under the sounds of the sea, do not disturb your sleep.
So, how it works:
Create your own mix, combining sounds and music with each other. To do this, just click on the sound icon. To deactivate the sound, click on the icon again. Switching between screens can be done with the help of vertical gestures.
Save it.
Set the timer to turn off.
Start up your mix.
Enjoy the soothing melody of your own composition.
Is not it simple?
If you have problems with sleeping or just want to listen to a pleasant melody, then definitely download this application. Also, if you like the application very much, you can always purchase an extended version with an even bigger sound set.
Android version
iOS version
SleepRate – Sleep Therapy
SleepRate is an application that uses a heart rate monitor data and a smartphone mic. The medical application tracks and analyzes the user's dream to understand how long and how well he sleeps and then draws his attention to those problems related to sleep that he may not even know about. In addition, the app offers a personalized therapeutic program that improves sleep by sequentially traversing all stages of a customized sleep improvement plan.
The therapy uses patented and clinically proven technology, based on the analysis of the connection between the heartbeat and the mechanisms of brain control. The app was developed already about 10 years ago by specialists who have many years of experience in the treatment of sleep problems.
Unlike many devices that are based on the definition of movements, the SleepRate app has a heart rate monitor, it gently follows your body during sleep. An application, connected to a microphone on your phone, records noises and can establish a relationship between the quality of sleep and the environment – including any unforeseen events, such as car alarms or your partner's snoring.
After five days of using the application and the heart rate monitor based on your data, a personal report will be compiled to turn the digits into useful information. The application will provide you with a detailed instruction on when you should wake up, what to do to fall asleep, and how to amend your biological clock.
Android version
iOS version
One Deep Breath: Relax & Sleep
If you have ever had problems with insomnia or just want to improve your sleep, then this app will come in handy. This app has a number of different functions, ranging from the ability to improve your body to working out its physiology. In a word – everything you need in one place.
You can highlight the following most important options of the app:
variability in the choice of methods based on physiology and biomechanics in order to improve the physical condition of the body, as well as individual things
a huge number of different clues inside the app that will help to fully unleash your brain and physical potential
the presence of programs such as various breathing and meditation techniques, lowering blood pressure, preventing panic attacks, and many others
the ability to track your progress in the app profile and reach certain heights in one aspect or another that you are working on, for example, muscle development
So, we can make a simple conclusion that this utility can suit absolutely any user. It doesn't matter if you are a newcomer who is just starting to work on yourself or a seasoned professional who is increasing his skills. So what are you waiting for? Download soon!
Android version
iOS version
Deep Sleep with Andrew Johnson
This application is a utility for meditation under the guidance of expert Andrew Johnson. The purpose of the application is to easily and accurately bring you into a more relaxed state, after which you will fall into a sound and quality sleep. Together with soothing instructions for breathing and relaxing, this application can enchant you and become an invaluable component of your sleep preparation regardless of gender and body characteristics.
Deep Sleep with Andrew Johnson was created especially for those who suffer from insomnia. The action of the program is built on the principle of meditation: you just watch how the white band slowly moves across the display, and gradually sink into sleep. It is possible that the autosuggestion effect works here but nevertheless, judging by the responses, the application copes with its task.
Android version
iOS version
Pzizz Sleep
As the manufacturers of this application say, before you, there is a real personal sleep assistant. The program is aimed at treating insomnia, so it is able to keep a person in a state of sleep throughout the night. The price of this small program is obviously rather big but it is explained by the serious scientific approach that was applied in the process of its creation. Binaural rhythms and neurolinguistic programming were taken into account, about one billion combinations of sleep sound were created – there are so many options so that the brain does not get bored and does not identify recurring combinations, and every night can "digest" a new one. Also, there is a mode of playing Energizer, meditation, and sleep – all modes are fully customizable for the required interval of work. If you still care because of the high price of the application, there is a light version of it, which costs ten times less.
How does it work?
The user sets the duration of the sound from 10 seconds to 10 hours, and the application creates a unique audio track, based on the built-in library of sounds. From other settings, you can adjust the volume level, a set of effects, and voice tracks.
We draw conclusions: Pzizz helps users to ease the process of falling asleep, using for this combination of music, words, sound, and stereo effects. It helps to relax and relieve stress.
Android version
iOS version
SnoreLab
Do you snore? If your answer is "no", most likely, you just do not know about it yet. For those who are sure that snores, another question: do you get at least partially to get rid of it and snore less loudly?
Snoring not only irritates others, it affects your own health badly. It disturbs sleep at night and generally negatively affects the quality of sleep, leading to problems with the heart and low levels of oxygen in the blood.
SnoreLab records and tracks your snoring every night. It lets you know how loud you snore, at what time it often happens, offers recommendations on how to cope with snoring. True, this does not negate the need to consult a specialist.
Android version
iOS version
eSleep
An application from Vanke Software, eSleep provides many tunes for quiet sleep and mute sounds in your home. Options include white noise (a flat frequency spectrum in linear space), pink noise (3 decibels per octave lower than white), red noise (deeper sound), and nature sounds. There is a function of playing several sounds at the same time and recording your own melodies.
For those who like to combine the process of sleep and background noise, this application will become a real godsend. It offers a wide range of sounds and their combinations (up to three superimposed sounds). eSleep will be a good option for those who prefer a variety of settings and wants to sleep under a wide variety of sounds and melodies. Also, this application is available in the light version (Lite) absolutely free and for $ 2.99 in the extended version, Deluxe.
iOS version
Sleep as Android
The principle of the work of Sleep as Android is the information that the dream of each human being consists of two repetitive phases – slow (deep) and fast (superficial) sleep.
The app is not only one of the best sleep trackers available at the moment but also an excellent alarm clock: it tracks sleep cycles and gently wakes up at the best time.
But the useful functions of the program do not end there. The app has many additional features that for many users can become even more interesting than the main function of the application.
It integrates with Pebble, Android Wear, and other wearable watches, as well as popular health apps Google Fit and S Health. Keeps track of whether you snore at night (there is even an anti-snare function), records the sound, if you talk in a dream, helps to cope with jetlag with changing time zones.
Main functions:
Calculating the optimum length of sleep and reminder to go to bed at the right time.
Rapid falling asleep under a lullaby in the performance of the app or quiet natural sounds.
Tracking the rhythms of sleep with the building visual diagrams.
Save and analyze all findings of your dream.
Record all the sounds that you make in a dream. For many, it will be interesting.
If you suffer from snoring, then Sleep as Android will hear and slightly push you with vibration. Your loved ones will be happy.
Persistent alarm clock. Does not stop ringing until you solve any simple task.
Sharing of the actual information about your night rest on Facebook. And suddenly someone needs to know it? For example, your doctor.
As you can see, the program is very functional and quite worthy to take a place in the bed next to you. But for this, it will ask you for money, alas. Not immediately but only after two weeks of trial use. In addition, some functions of Sleep as Android are implemented in the form of separate modules, which also apply to separate, albeit small but money.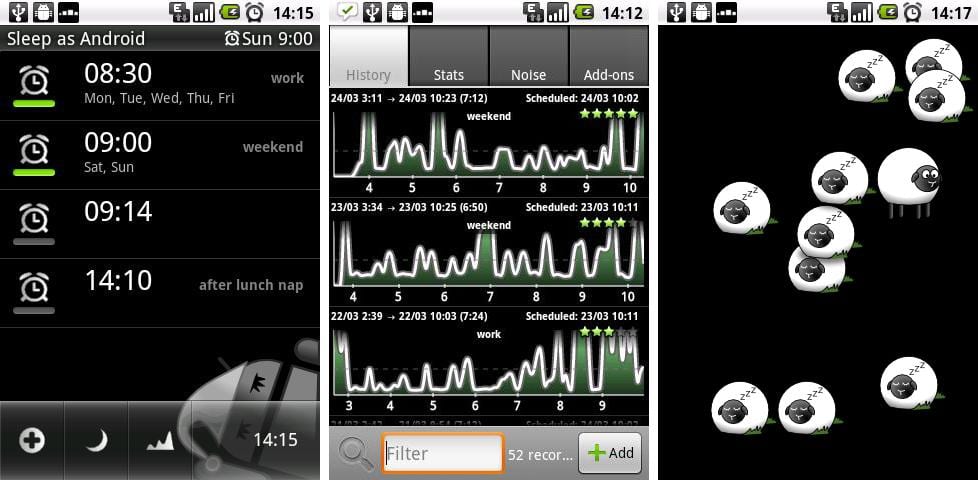 Android version
Proactive Sleep
This is a multifunctional sleep application that includes both basic tools and an alarm clock with a snooze function, and also maintains a "sleep diary" that allows users to track sleep quality, identify sleep difficulties, take into account physical activities, the amount of caffeine consumed, and much more.
In this diary, also, it is possible to write down the habits and reflect the employment (like respiratory gymnastics), and also to do other marks. The application even promises a certain feedback based on the information entered.
You will receive individual feedback, advice, and recommendations based on the information that you enter into the application.
All data are analyzed and submitted in the form of a report for a week (7 days) or for a month (30 days).
If you want to track how you sleep, then be sure to pay attention to this application.
Android version
iOS version
Relax and Sleep
Relax and Sleep helps to relax and fall asleep under background sounds. The application is very simple but effective in typical situations, with insomnia.
The library of the application includes with three dozen meditative "ambient" – partly exotic but quite pleasant to the ear. This is a chorus of Buddhist monks, the sound of dishwashers, cat purring, weather effects, and others.
You can adjust the volume and background, create "mixes" from several backgrounds, save them in presets. As an option, Relax and Sleep can be used as the simplest (albeit not the most efficient) alarm clock: the same melody will work at the specified time.
To turn on the background, just select the favorite option from the list, then set the timer. The background will sound for the specified interval, then it will start to fade. Thus, Relax and Sleep does not significantly drain the battery, the time of the sound is adjusted and the program works only at the set time.
Android version
White Noise
This program, according to its "hypnotic" effect, can be put on a par with Relax and Sleep. It will be useful to those who have problems with sleeping or just have a habit of falling asleep under some unobtrusive sounds. In particular, White Noise generates white noise – a uniform sound background, which allows you to relax and quickly fall asleep.
Generally speaking, the application is universal and serves not only to fall asleep. The complete list of features of the application looks like this:
Soothes and reduces stress.
Soothes children.
Improves concentration.
Eliminates headaches.
Masking ringing in the ears.
White noise – according to the description – "interrupts", blocks distracting sources. For example, if outside the window, there are extraneous sounds that can awaken, the program "dissipates" them. Theoretically, it is possible to sleep in the presence of noise, and this point is especially emphasized by the developers. However, there is no need to believe the word: too small should be interference, so that white noise could muffle them.
White Noise contains a fairly diverse library of 40 sounds. This is not only white noise but other shades and sounds – mechanical, natural. You can also download the add-ons free of charge on the developer's website.
A small player is used to control the playback. White noise is played in a circle, while you can do other things and listen in the background, mix sounds, and create your own mixes through a playlist, adjust the sound, balance, and playback speed.
In addition to the player, the White Noise includes an alarm clock and a timer.
Android version
iOS version
Monster Scanner
Do you remember yourself as a child? You were afraid of the dark because there different monsters and ghosts could be hidden. The world has changed a lot, which cannot be said about people. Our children are also afraid of the dark, their grandchildren will be afraid, as it is inherent in children's consciousness. Fortunately, there is an application that can quickly "scan" the room for the presence of monsters and other horror stories. It's worth simply launching it, walking along with the child, "scanning" potentially "dangerous" places and showing the result of the "research" on the display. Believe us, this will reassure any child.
Sleep Calculator
One of the popular theories is that during sleep we go through several cycles, each of which lasts an average of 90 minutes. If you wake up in the wrong part of the cycle, you will feel tired and unsteady throughout the day.
The Sleep Calculator application on the basis of this theory suggests the following information:
When you should go to bed if you want to wake up to a certain time.
What the best time is to set an alarm if you go to bed right now.
How much time you will need to make up for the strength if you are going to take a nap.
You can independently adjust the duration of your sleep cycles and give the application information, through how much you get to sleep. Then it will take this information into account in its calculations. But keep in mind that there is no alarm in this app.
SleepBot
The main idea of the application is that the alarms are adjusted to the phases of sleep. In practice, this means that the alarm does not fire at any one exact time but at the specified time. The specific value is chosen by the program based on the assumption of which phase of sleep you are at this particular moment. This floating response time gives the alarm clock the flexibility and is designed to make the awakening as pleasant as possible. Well, or at least as close to a natural awakening as it might be in the absence of alarm clocks or any other external interference.
It must be mentioned that SleepBot is a complex application equipped with all the modules of the modern smart alarm clock: it can not only wake up at regular intervals but also maintain and visualize statistics, calculate the length of sleep for a different amount of time, and inform about the lack of sleep that you can simply not notice, paying attention only to its consequences: reduced efficiency, bad mood, and other similar charms.

If you download one of the above applications, you will forget about the problem of bad sleep. Sleep soundly!