There are many services on the Internet, and programs that allow you to accurately calculate the time of sunrise and sunset. In this article, we'll look at the best applications for calculating the time of sunrise and sunset for your gadget:
You may also like: 10 Best Weather Apps for Android
LunaSolCal Mobile
LunaSolCal Mobile is one of the most popular applications to calculate sunrise and sunset times. It shows the information in details: the time of sunrise and sunset, length of the day, moonrise and moonset, age/visibility, phase. View twilight (start/end): astronomical, nautical, civil.
You can find a location by GPS receiver. There are more than 30 thousand cities available. You can choose any date from 01/01/1901 to 01/31/2099.
Everything is simple and understandable. The app is made in dark colors. It is available both for Android and iPhone users. You can share the data with others via Twitter or Facebook.
You may also like: 15 best compass apps for Android & iOS
Sun Surveyor Lite
Sun Surveyor Lite was created for photographers and filmmakers to help them calculate sunrise, sunset times, and plan for golden and blue hours. It also will be helpful for architects and gardeners.
The application has a built-in 3D Compass and detailed  Ephemeris. It shows twilight times: Astronomical, Nautical, and Civil.
The Sun Surveyor Lite application is free but has a full paid version with wider functionality: Live Camera View, Interactive Map View, Street View Panoramas and much more.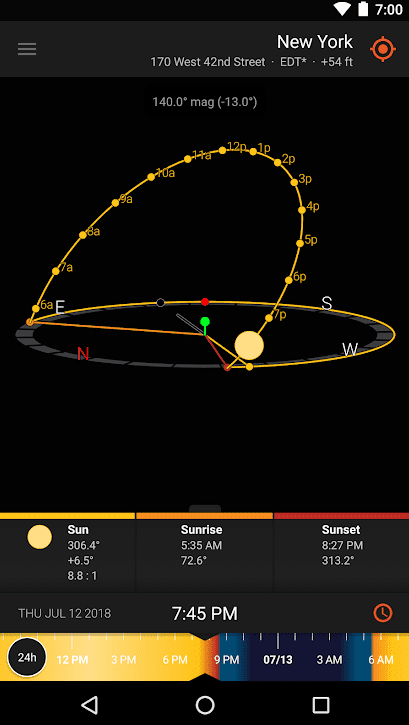 SUNNYTRACK
Sunnytrack turns your phone into a personal tool that knows the current location of the sun, path, and shadows for any place in the world and at any time.
The completely undemanding app is easily displayed in different views, such as a map or real-time camera image with augmented reality. Check the height of the sun, and its direction and predict its detailed path from sunrise to sunset.
We also wanted to highlight, that SUNNYTRACK is not only a great tool for photography, but also for finding sunny properties in real estate, checking their sunlight over the day and year, installing photovoltaics, and planning house and garden and for all outdoor activities like hiking, mountain biking, etc.
The AR 3D View feature requires a (normal) compass sensor built into your device.
Try simulating the shadows cast by objects in the sun using shadow simulation mode. You can see the length and direction of the shadow that a tree or building casts on your garden. A cool app with great potential for photographers and fans of just fun apps alike!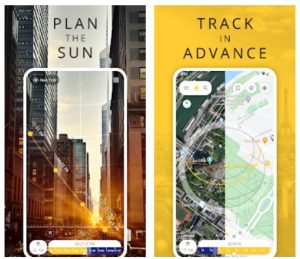 Sun Position, Sunrise, and Sunset Demo
You would probably think that apps like these are not really able to surprise anyone. This app will change your mind for sure – it works like the augmented reality, being able to measure the sun position right when you are taking a picture, along with calculating the time of sunset/sunrise position in the next few hours at the same time.
What is more, here you can even see the scheme of the sun rays projection on the map. A very detailed schedule of all the sun movements, including astrological sunrise/sunsets, civil twilight, and many more are available in the special section of this app for Android.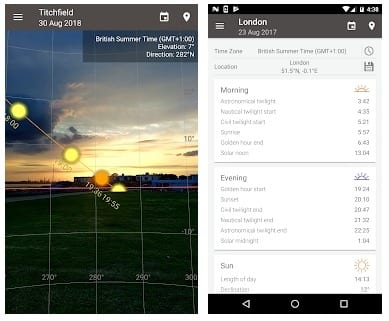 Sunrise Sunset Times
Sunrise Sunset Times is a free application available on the iOS operating system. It is made in an elegant style and has a clear interface. With its help, you will know about the sunrise and sunset times. You will see the accurate results according to your current location.
It also counts down the length of daylight. You can view information for today or any other day chosen. In general, the app is easy to use. It is completely free. The only drawback is advertising.
Sundroid
Sundroid is an app that can calculate the time of sunrise and sunset. It will give you the answer when the rising and setting of the planets of any location occurs.
The program has many features. It keeps track of the length of the day and tracks the location of the planets. The app has a built-in GPS that makes it show accurate results.
The program is available to everyone completely free of charge. There are no ads, no unnecessary interfering blocks, and no in-app purchases.
Allow the program to track your location so you don't have to use extra sources on the Internet. That way you will be more comfortable to use, and the results will definitely surprise you.
Those who have already used the program are satisfied with the interface and the app in general.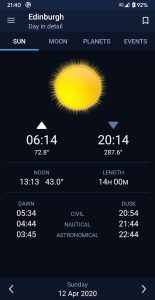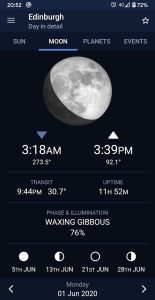 There are two themes to choose from in the program: blue and gray. You can choose the one that you adore. Downloading this software, you will not regret it for a minute, because you will discover many useful things.
Sunrise Sunset Calculator
Sunrise Sunset Calculator is a simple and fast tool giving you the info you need. The app uses GPS to find your current location or you can find the city needed from the offered list. It is possible to create a Favorite List of locations.
The application can work without an Internet connection. Customize widgets and you will no longer have to open the application to see sunrise and sunset times. Set all the details: show/hide seconds, AM/PM, and so on. The Sunrise Sunset Calculator will be useful for fishermen, hunters, photographers, pilots.
You can also check: 15 Best Weather Apps for iPhone
The Sun Ephemeris
This app with a beautiful unusual name will allow you to detect the sun and moon position in any part of the world. The Sun Ephemeris is ideal for landscape, nature, travel, and outdoor photographers. The app works on the map-based approach – you can just type in any locations in the world and see the position of the sun or the moon there.
If you want, you can also get the elevation graph of the sun or the moon during the day. There is also a compass in The Sun Ephemeris which you can use whenever you need it.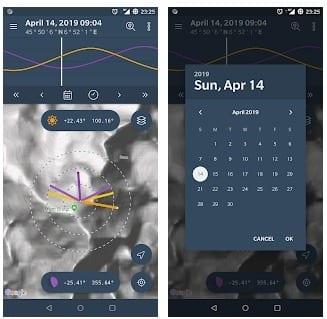 Sunrise Companion
Sunrise Companion is a perfect tool when you want to know sunrise, sunset, and golden hour times for your current location or any other place in the world. You can search for any date.
The application offers to use the home screen widget which will show sunrise and sunset times. There is a GPS function to find your location fast. Or you can search for any other location. The locations that were already used are saved in the history of recently accessed locations.
You can choose a theme: dark or light. Everything is simple and minimalistic.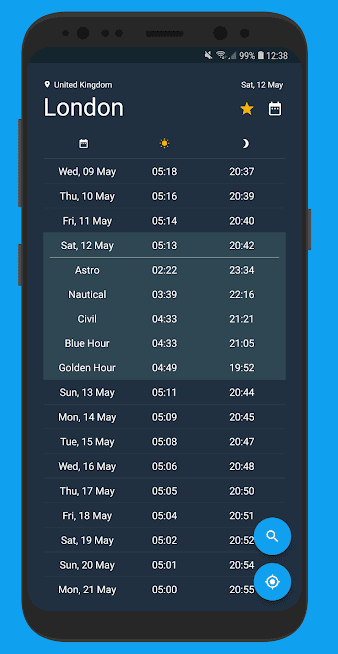 Sunrise Sunset
The Sunrise Sunset application helps you to know sunset and sunrise times for any point in the world for any date. You can choose a location manually or in automatic mode. Thousands of cities are available. It shows the Astronomical, Nautical, Civil and Official sunrise and sunsets.
The visualization is on a high level. You will enjoy how it shows the path of the sun. You can also track other planets rise and set times.
The app can be successfully used by photographers to know about golden hours and plan photoshoots. Astronomists can use it as well for planning out Solar Observations.
Sunclock
Sunclock is an app that acts as an astronomical clock. It shows the time of sunrise, sunset, and the length of the day.
There are different time systems: Byzantine, Athos, and others. So, for each representative, there will be appropriate sections.
The app has many unique tools that you will not find in other analogues. Here you will be able to use the magnetic compass, which indicates the direction of cities in the world.
A compass with an azimuth will indicate the right direction based on one of the four sides of the world. You may also find the world clock tool useful, especially if you travel frequently.
The program has many settings that you can change and a gallery to choose from. There's a regular dial and a dual one. You can install a widget on your phone screen so you can access it at any time. No internet connection is needed.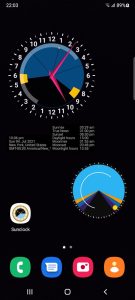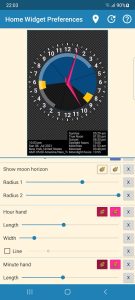 Moreover, the app doesn't consume battery power, so you can use it without interruptions. Users are happy with the program because they can change the design, simulate the time and date, and watch what is happening at other locations.
You may also like: You can also check: 15 Best Weather Apps for iPhone
Golden Hour
Surely you will agree that the best time for photography is sunset and sunrise. It is at this time that you can get the most spectacular and beautiful pictures. Find out about the time of sunrise and sunset is not difficult enough, but there is no limit to perfection. The Golden Hour application will not only show you how much the sun will rise and set, but also remind you in a convenient way.
Geolocation is used to determine the time of sunrise and sunset. You can trust to automatically determine your geo position or select a location manually by searching. Now you can always be aware of the time of the beginning of sunrise and sunset.
In order not to open the application at all, you can configure push notifications about sunrise and sunset. To do this, it is enough to enable the corresponding toggle switches in the settings. For a more "fine" setting, you can choose to have notifications only on weekdays and/or weekends. Conveniently.
A fairly simple utility, but it will help mobile (and not only) photographers to simplify preparation for shooting. After all, now you will know the exact time of sunset and dawn, and to accurately forget about anything, you can use the appropriate reminders.