Have you ever dreamt about being a successful musician? I bet you did! Well, this is not an easy task, you need to take a huge number of small steps to achieve this.
One of these steps is learning to read music. In other words, you should know how to read sheet music using notes.
By the way, if you would like to master the skill of playing the piano, we recommend that you read 7 Best Piano Apps for Android & iOS.
There are three ways of doing it. Firstly, you can go to a library and take the books devoted to the topic. This is a hard path, which requires time, effort, and persistence.
Secondly, you can hire a teacher and take lessons. This is highly efficient as the teacher will concentrate on you and your progress only. However, this way might be quite pricey.
And finally, you can download a good app and start learning to read music. This is the cheapest way to practice such a skill.
In this list, we have collected the best applications you might need for reading sheet music. Most of them are available for iOS or Android users.
Hopefully, you can start your music journey right now, after reading this article.
Music Tutor (Sight Reading)
This application is aimed at sight-reading only. This is why you should start with this very app. It was created for beginners.
Even if you see the sheet music for the first time, Music Tutor will help you understand its main principles of it.
Music Tutor is packed with cool features that you will appreciate. Here are some of them:
The application supports notes up to four ledger lines.
Reference charts that will help you study.
You can use a keyboard or a piano. It will work perfectly.
There are many other features that will please you. And all of them are free of charge. Still, some limitations will be imposed on you.
There will be many ads but they can be easily removed. You can buy a plus-upgrade subscription, which will remove all types of ads away.
The app is very reliable, it keeps getting positive feedback from the users. There are no glitches or bugs, the application works fast and flawlessly.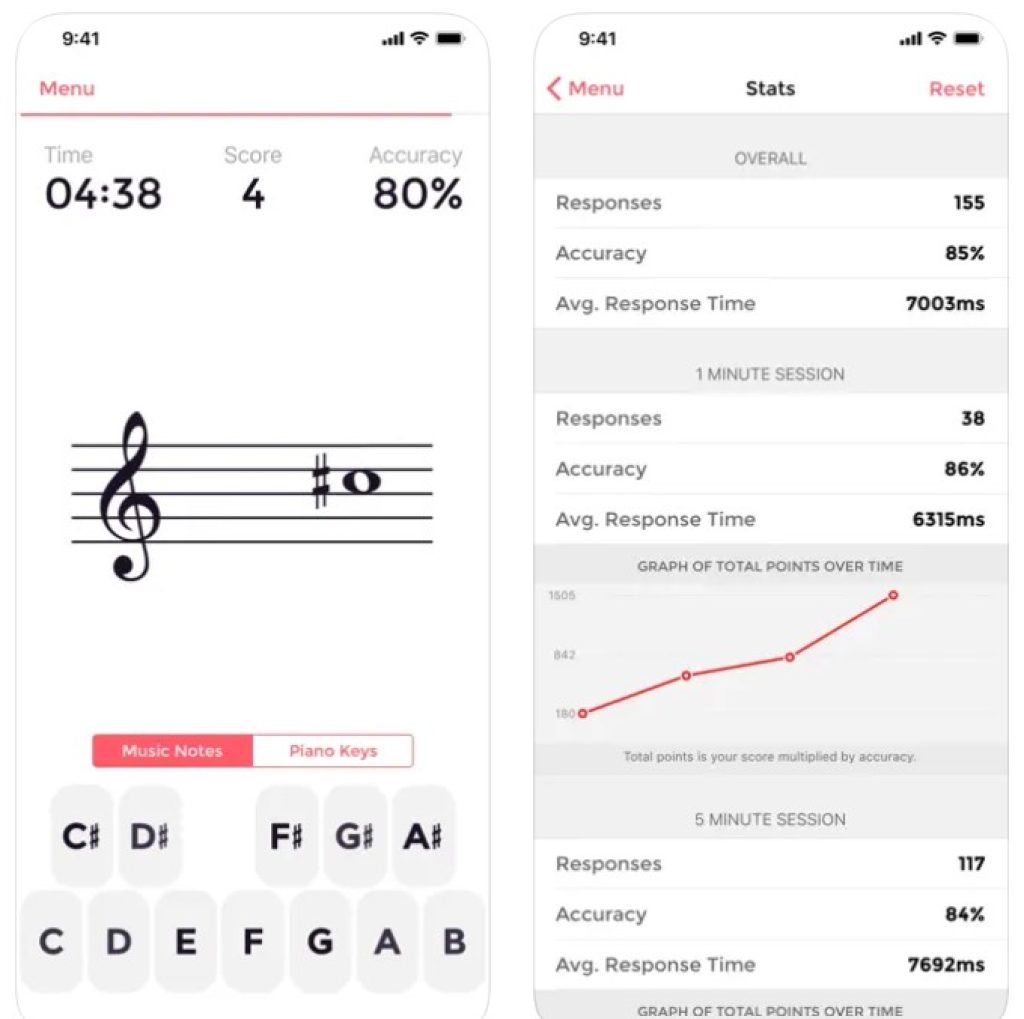 You may also like: 11 Best Music Composer Apps for Android & iOS
Vivace: Learn to Read Music
It's high time you improved your music reading skills! There are big number of useful tutorials you might use for learning.
Once you have watched the tutorials, you can start practicing. There are various modes you can use to master your music reading. Set notifications not to forget about your lessons.
There are many cool features you will like:
15 Key Signatures to learn
Alto and Tenor clefs
Practice mode where you will master what you have learned
100+ training lessons available right after the download
The possibility to customize the app according to your needs
Step-by-step schemes to understand sheet music
This app is free but it contains ads that keep it available for you. If you don't want to put up with ads, you can always remove them by going premium.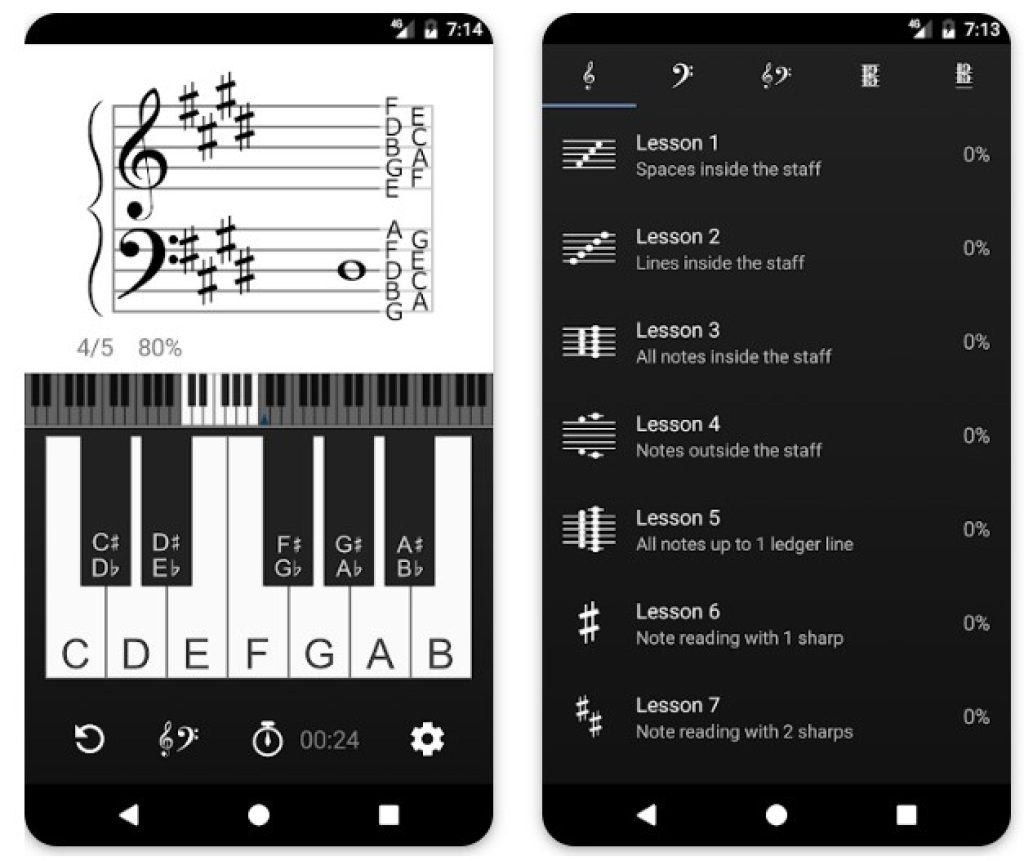 Learn to Read Music!
This is a package that consists of two good apps for learning music. The main skill you will get is reading piano notes. If you have a real piano at home, you can reach two aims at a time – to learn to read sheet music and play a new instrument.
Even though it's a package of applications full of great tools, its size is not too big – only 15.3MB.
There are three modes you can use:
Arcade. If you like thrilling games, choose this mode. The better your performance gets, the more levels are available.
Countdown. Try to play faster, as fast as you can. This will help to master your playing skills.
Endless mode. Relax while playing and learning to read music. You can finish whenever you would like.
If you are afraid that you will be too lazy, set the system of notifications. It will tell you when you should start learning.
Still, there is a huge disadvantage – the application is not free. To be more precise, it is free with a strictly limited range of functions. If you want to enjoy all of its functions, you need to get a subscription.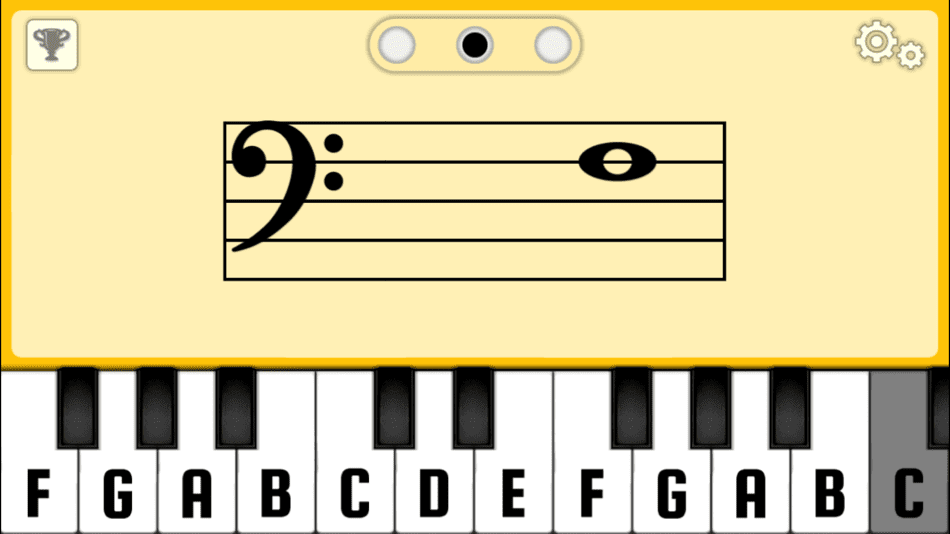 Notes Teacher
One of the main features of Notes Teacher is the interactive exercises that help users to learn the basics of music notation.
Here you will discover the range of exercises that cover topics such as note names, rhythms, and intervals. These exercises are designed to be fun and engaging, and they provide instant feedback to help users track their progress.
Another key feature of Notes Teacher is the note recognition module. This module allows users to practice identifying notes on a musical staff. The app provides a range of customization options, including the ability to adjust the range of notes that are used in the exercise and the tempo at which the notes are played.
The app also includes a range of learning tools, such as a glossary of musical terms and a reference chart that displays the note names and values. These tools are designed to help users build a solid foundation of music theory knowledge.
In terms of design and user interface, Notes Teacher is clean and easy to navigate even for children. The app has a simple layout that is easy to understand, and the exercises are presented in a way that is both intuitive and engaging.
There are no major complaints from users about the app. Some users have noted that the app could benefit from additional customization options, such as the ability to adjust the font size of the exercises.
To sum it up, Notes Teacher is an effective app for learning how to read music. Its range of features and interactive exercises make it a valuable tool for beginners who are just starting to explore the world of music theory.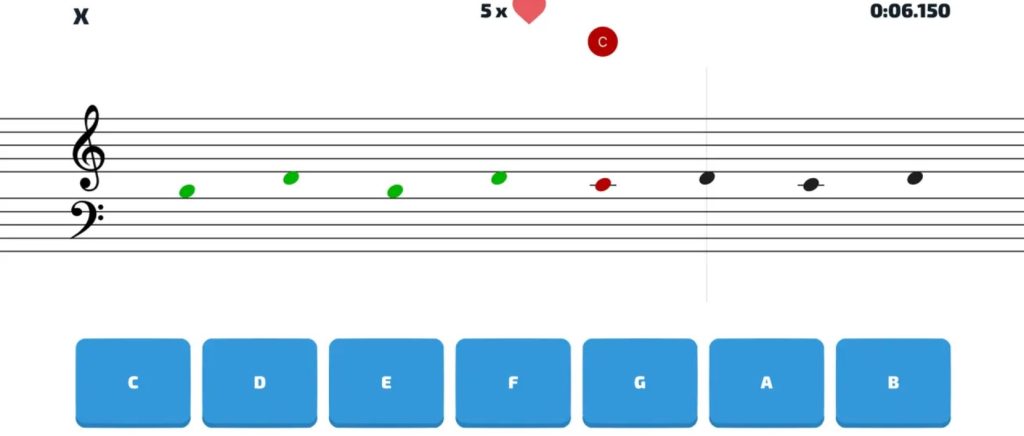 Complete Music Reading Trainer
This is the best training app for those who try to read music. The application is aimed at non-professional musicians who want to start reading music from scratch.
If you have already learned clefs and clef combinations, you can go to the practicing mode at once. If not, it's not a problem: watch the tutorials first and then go to practice.
There are 270 drills that are available at once, just download the application and start learning. The time you will spend depends on your ability to learn and your determination.
You can practice bass clefs, key signatures, and many other things that are necessary for a musician. There are two ways of learning: firstly, you can learn to read music step by step, moving from one level to the next. This is a good strategy if you are not in a hurry.
Secondly, you can go to the settings and customize the app according to your needs. There is a possibility of setting the system of notifications so that you won't skip classes or forget about them.
Complete Music Reading Trainer has a flexible system of levels and achievements – there are 35 levels you can unlock. After you go through all the steps you will be able to read music very easily and fast.
What is more, there are a few modes: classic music, jazz, modern music, and many others. Try all of them to see what appeals to you most of all.
If you are afraid to lose your progress, you can forget about it – cloud sync will ensure that your achievements won't fade away and disappear.
There are some ads that keep the content free.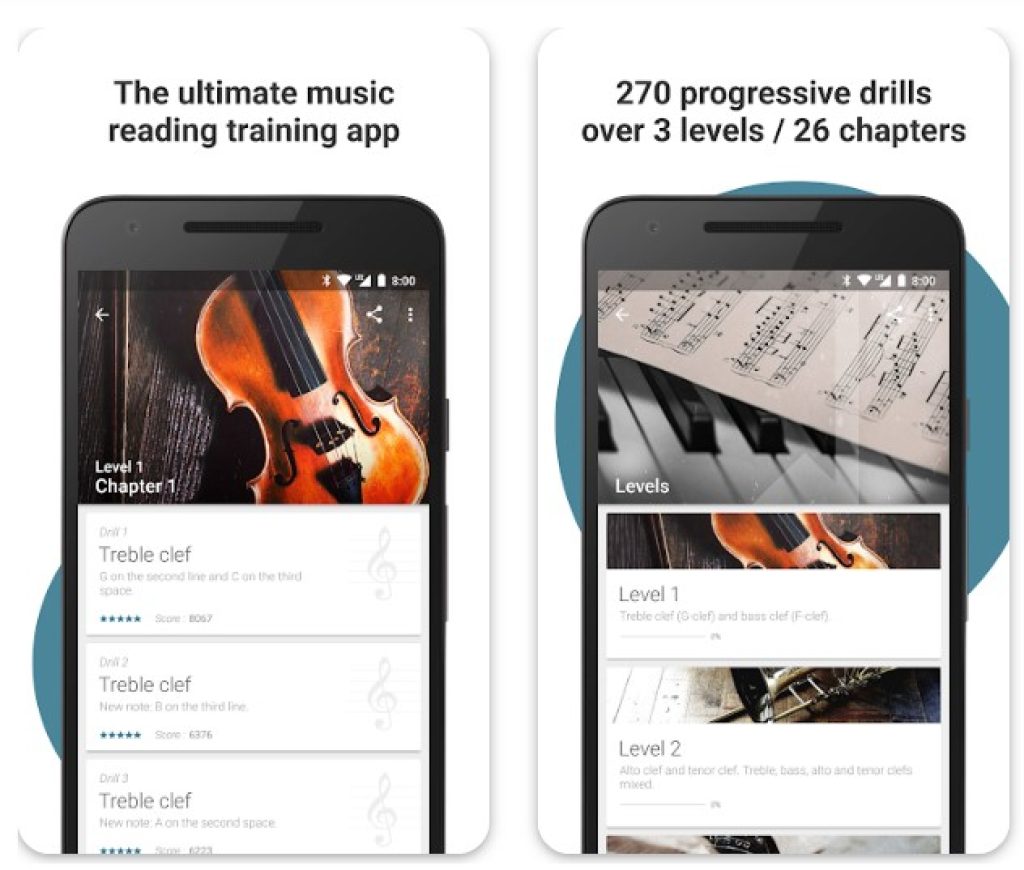 If you are passionate about classical music, make sure you read 9 Best Apps for Classical Music Radio (Android & iOS).
Learn Music Notes
If you have two aims – to learn to read music and to play the piano – you need to download this app. There are two input modes available for you – piano or buttons. Both of them are quite comfortable, try them to decide which one you like the most.
Practice all the clefs: bass, treble, and others. Practice before you get to the next level. If you are afraid to lose your progress, you can keep it in the cloud. It can ensure that your achievements won't be lost.
Score history will always be there to remind you about the achieved levels and give you additional motivation when you feel that the progress plummets.
There are very comfortable and easy-to-understand schemes that will help you realize the links between the clefs and other parts of the melody.
There is a possibility of sharing your progress with others. Once you have created a melody, feel free to tell the world about it. You can do it via social networks, such as Facebook and Twitter.
The app is free of charge; it contains ads and in-app purchases. Still, all the basic features are free. You can try the basic mode and then decide if the subscription is needed.
The app is very reliable and has no bugs.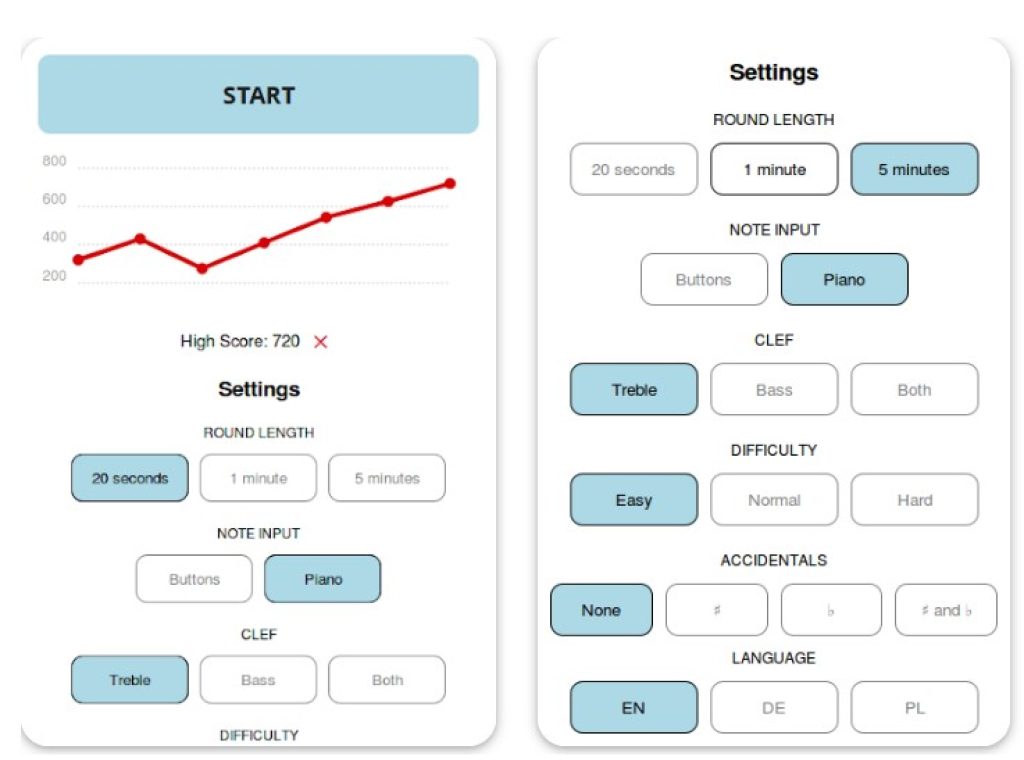 Music Theory Helper
This app is aimed at helping people who study at a musical school. This is why we wouldn't recommend that you don't use the app if you are not skilled (at least a little bit) at reading sheet music.
If you know the basics of reading music but struggle to understand advanced melodies, then Music Theory Helper is what you need.
Here you will find the following features that will help you master your skills:
Chords, exercises, and intervals
Scales and rests
Special exercises for memorizing chords and notes
Various listening exercises will help you develop your ear for music
There are practically no ads in the app. Even though it is free, it contains a great number of good exercises, lessons, videos, tutorials, and useful materials.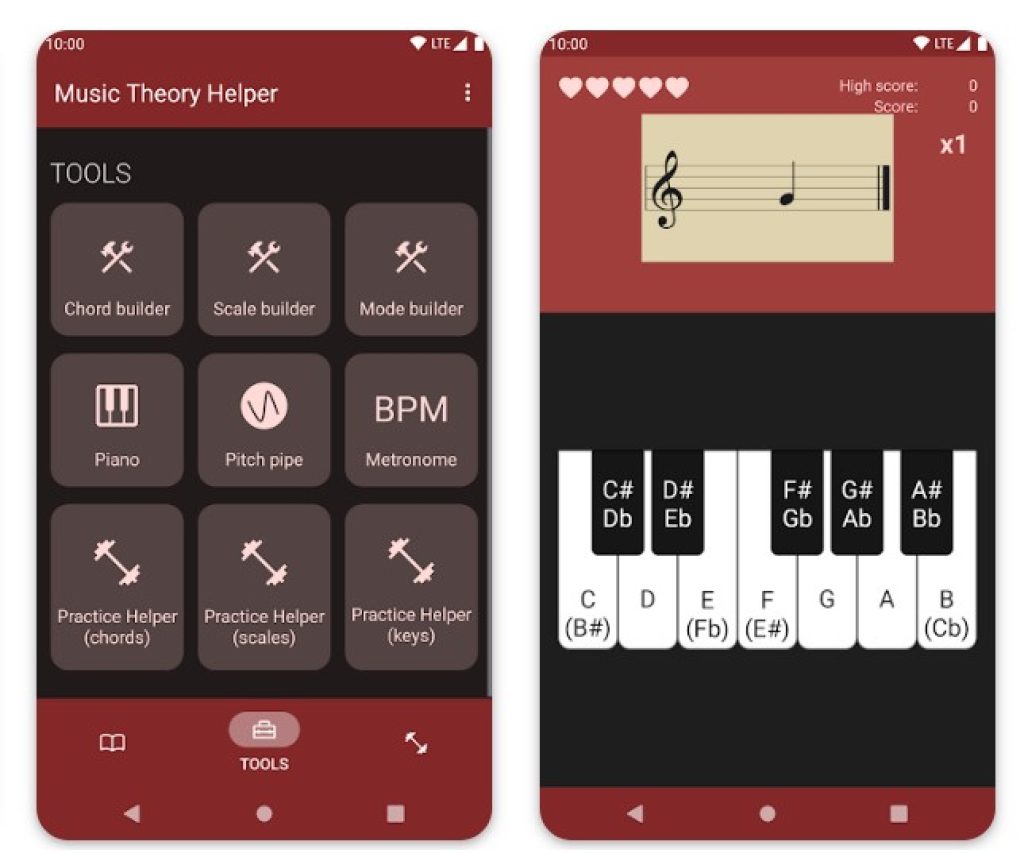 You can also check: 9 Best harmonica learning apps for Android & iOS
Music Crab-Learn to read music
Music Crab: Learn to Read Music is most an app for kids, but if you're an adult who wants to make the experience of learning the music notes reading notation a little bit more fun, then this option is for you.
One of the key features of Music Crab is the game-like interface, which encourages users to learn through gameplay. The app includes a range of mini-games that cover different aspects of music theory, such as note recognition, rhythm, and musical notation.
These games are designed to be both fun and educational, and they provide instant feedback to help users track their progress.
In addition to the mini-games, Music Crab also includes a comprehensive tutorial section that covers the basics of music theory. The tutorials are presented in a clear and concise manner, and they include a range of interactive elements that help users to understand each concept.
You can also customize the elements of the app and there is an ability to adjust the difficulty level of the games and the option to select different instruments and music genres. This allows users to tailor the app to their own preferences and learning style.
In terms of design and user interface, Music Crab is bright, colorful, and fun. The app has a playful, cartoonish aesthetic that is sure to appeal to younger users, but it is also suitable for adults who are just starting to learn music theory.
The only thing that the users are frustrated with – is the limited amount of levels in the free version of the app.
Overall, Music Crab: Learn to Read Music is an effective and enjoyable app for anyone who wants to build their music theory skills. Its game-like interface and range of customization options make it a great tool for both beginners and more advanced users.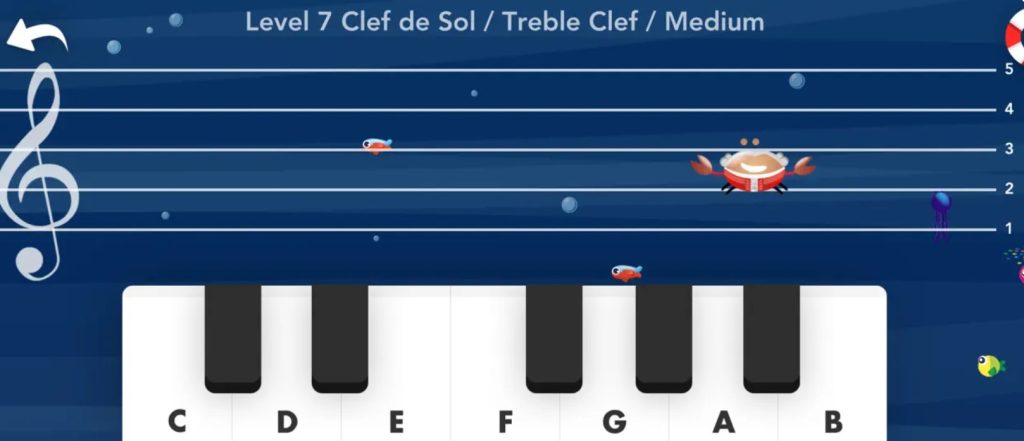 MyMusic Theory
This app combines theory and practice. First of all, watch the tutorials and read the articles thoroughly. If you have any questions, ask them using the app's forum. You will get answers and additional motivation there.
The topic devoted to chords is greatly represented in this application. So if you are not interested in learning to read sheet music and your only dream is to understand the chords, MyMusic Theory is a great solution to this problem.
MyMusic Theory is very well structured, it has a clear and simple navigation system. It will help you find the topic you needed at a click of a button.
All the topics are divided into categories so that you could easily find the one you are interested in. If you fail to do it, feel free to use the search.
Other cool features are the following:
Different note schemes: English? Latin, and German
Many exercises to practice the theory you have learned
The possibility to share your progress with others
Major and minor scales
Intervals (including compound ones), up to double octave.
Progress tracking functions
The system of levels and achievements
MyMusic Theory is free with ads.