It's no secret that taking care of your health is crucial, and you should track every aspect of your life. The regularity and quality of your toilet breaks are no exception.
For some people, this topic may seem taboo, but in fact, it is an important indicator of internal organ function. To avoid missing any changes in your body, use these best poop tracker apps in 2023.
There are many crucial processes in our body that you can monitor using these best health coach apps.
Poop Tracker – Toilet Log, Bowel Movement Analysis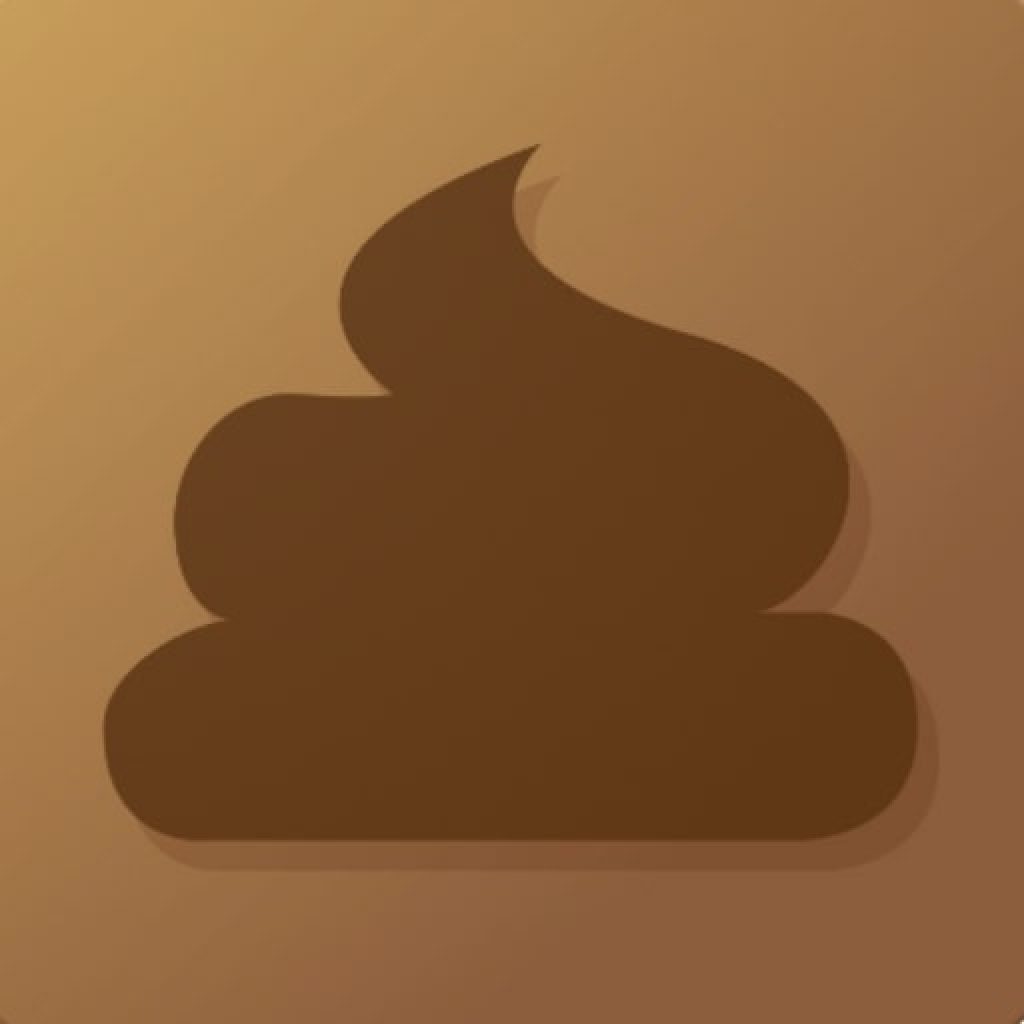 Poop Tracker is a great app for tracking the frequency and quality of your bowel movements. With it, you can quickly send all the necessary data directly to your doctor.
Here you need to enter data about color, consistency, frequency, pain, and other parameters that signal certain changes.
All of this information will be automatically compiled into statistical data. So, you will be able to visually see all the changes in your feces.
This service is based on the Bristol Stool Scale, thanks to which you can identify various diseases.
If you are constipated, you can highlight days without defecation using special tools. While using the app, it will keep a log of all the data. You can also view them on a calendar.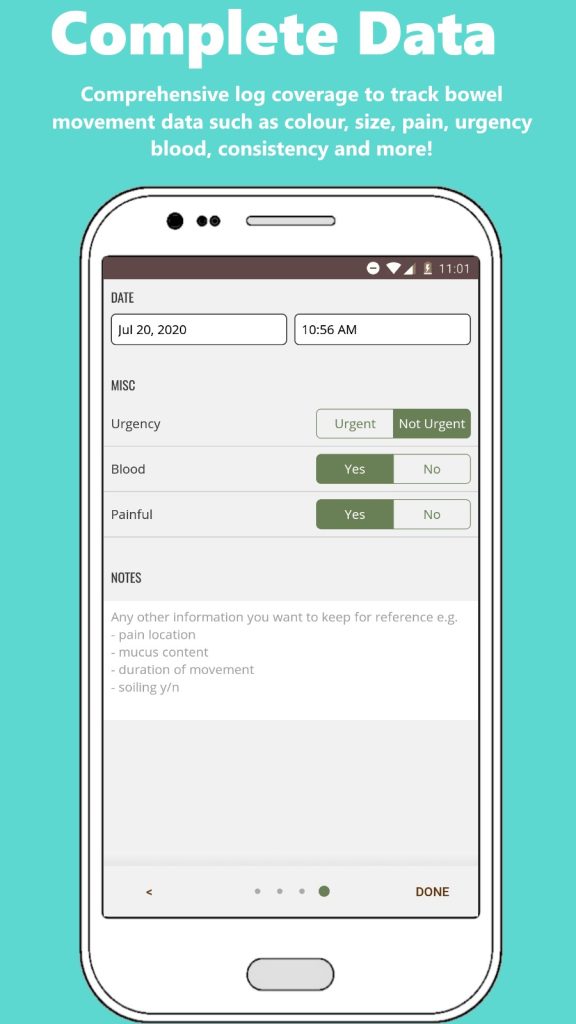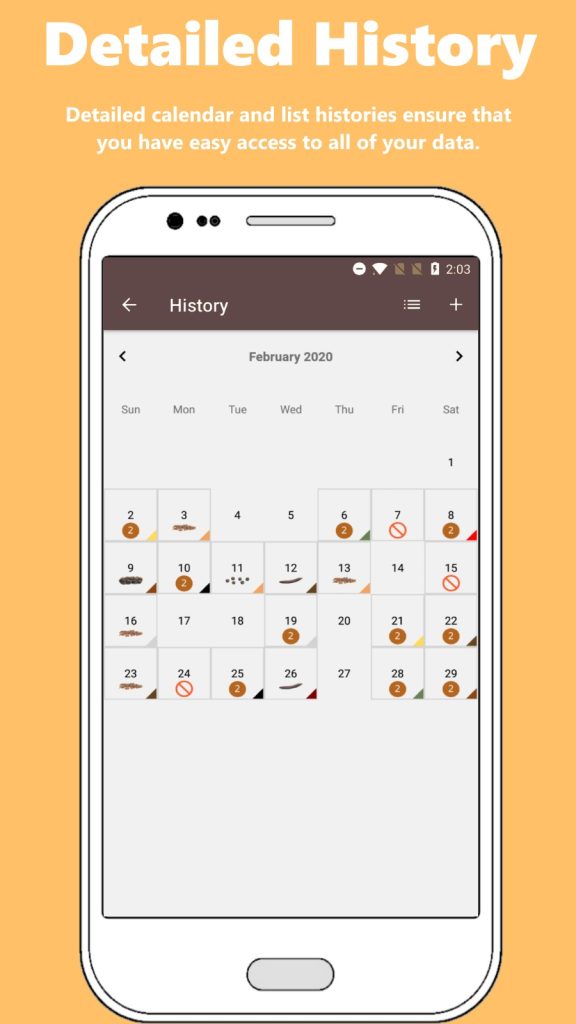 The finished file with all the information can be exported in CSV format to send to your doctor.

You may also like: 15 Best Snoring Control Apps (Android & iOS)
Happy Poop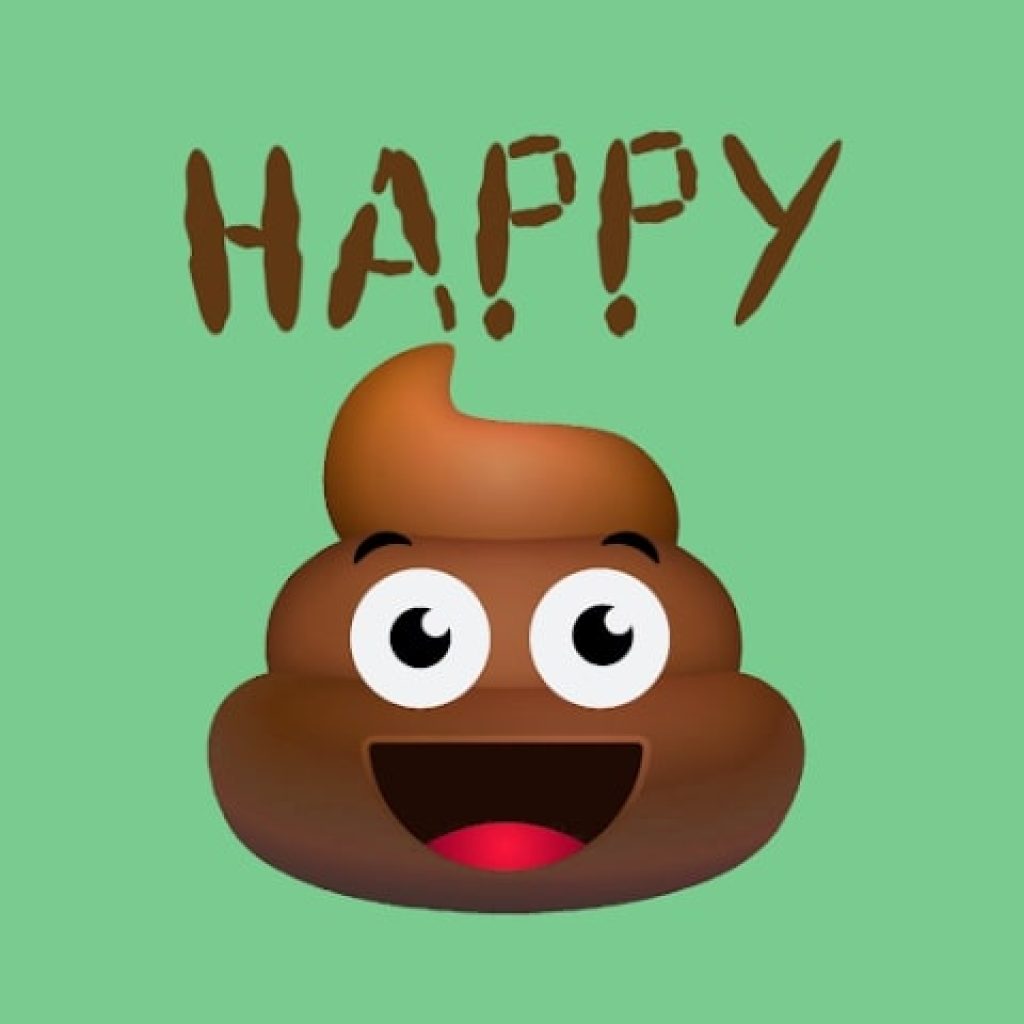 In the Happy Poop app, you will keep a diary of your bowel movements. It will allow you to create a schedule of your trips to the toilet and see all the changes in your feces.
You will also be able to share all the data you have created with your doctor.
This app has an entertaining part in it. So, if you are bored sitting in the toilet with nothing to do, you can read thematic articles.
Learn new health facts while your body is working. You can also include relaxing sounds in the background to make the whole process more enjoyable for you. If you prefer more active entertainment, go to the special section with mini-games.
To classify poop, use the Bristol scale built into the app. Here you will enter data on the consistency, color, and amount of your faeces. You can also manually enter your personal notes and photos.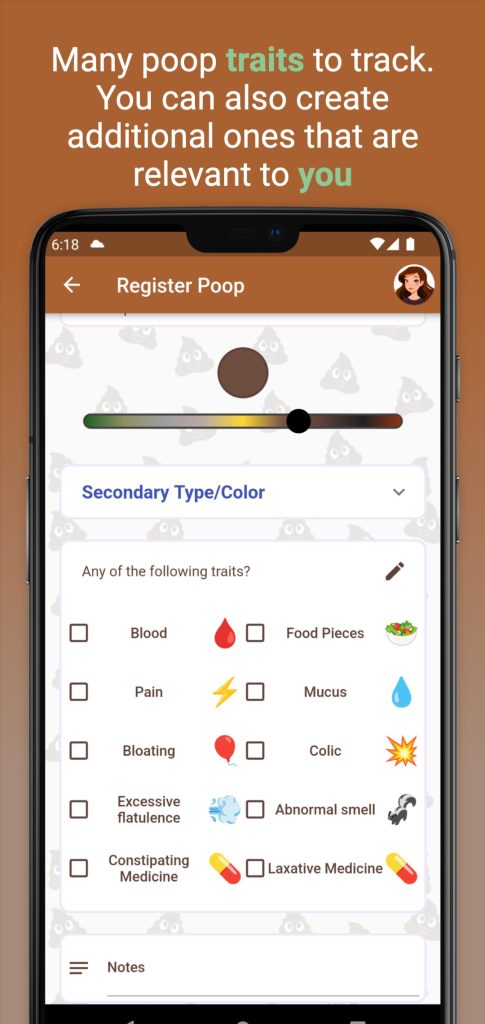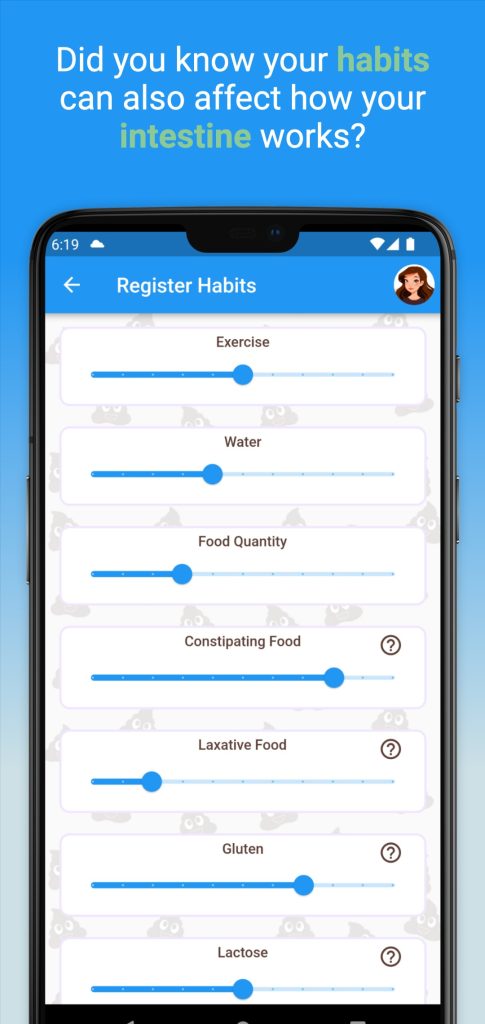 You don't have to worry about your privacy, as the app is fully protected. In case of a body malfunction, the app will tell you what your regular actions have led to this result.


Poop Map
The Poop Map app allows you to keep track of all the places where you have defecated.
The whole process is quick enough with the touch of a button. You need to "Drop a poop" and the place will be automatically marked on the map. You can share this data with your friends right from this app.
You can also sync your devices, enable push notifications and receive them every time your friend poops. To share this information, change your privacy settings in the special section of your profile.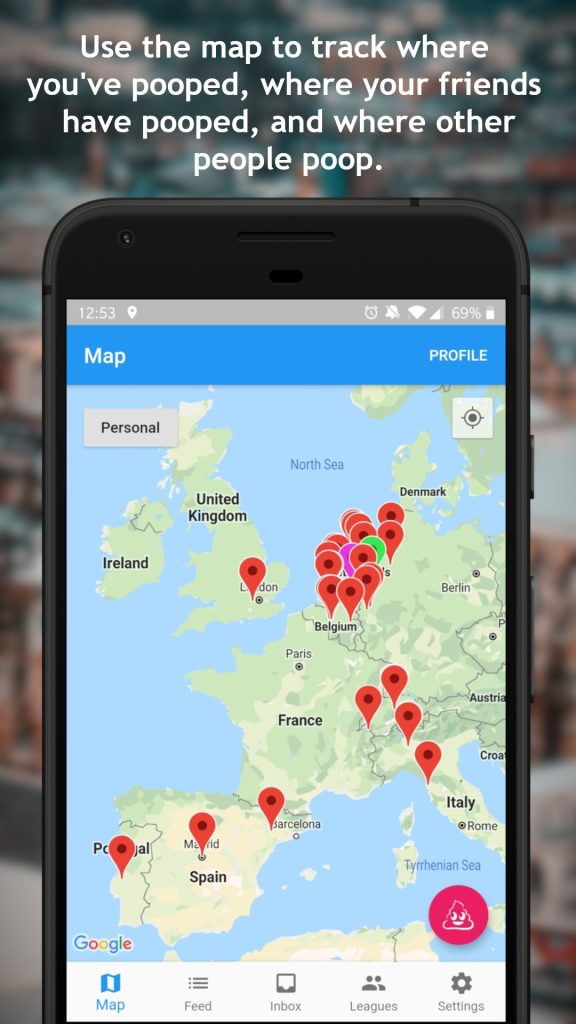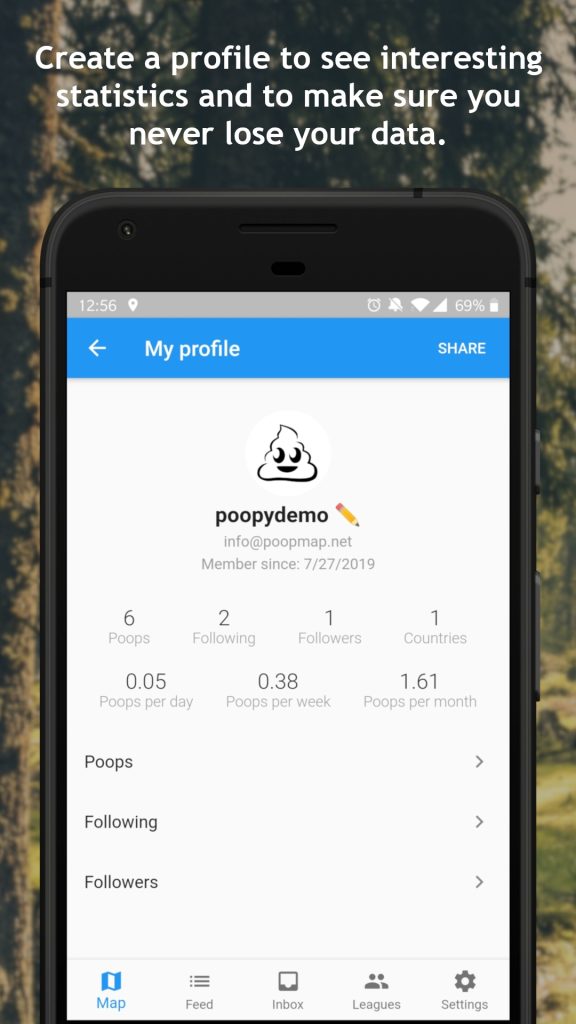 You can also view all of your followers and those whose updates you subscribe to on your profile. All poop statistics will be available in a corresponding section.


Plop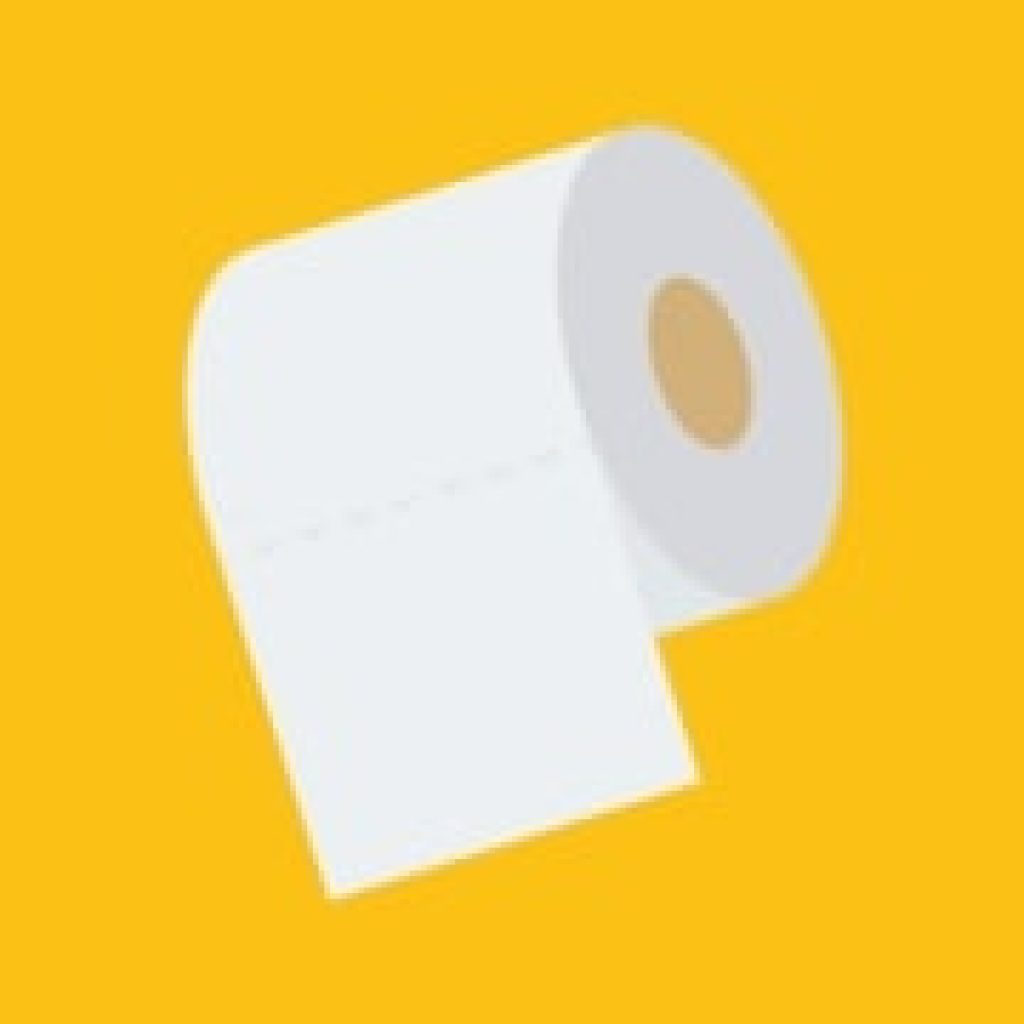 Track and analyze all your bowel movements with the Plop app. In this program, you will track all changes in your feces on a daily basis.
Enter your food and supplement intake to understand exactly what is affecting your bowel movements.
This app works in the same way as the heart rate monitor. All data can be shared with your physician through a special section.
All the data you collect will be compiled into statistics and saved in the history section.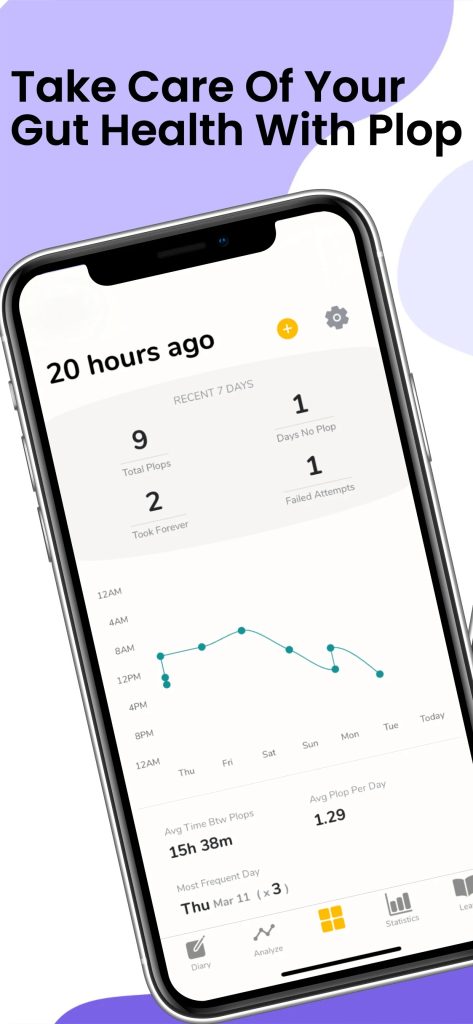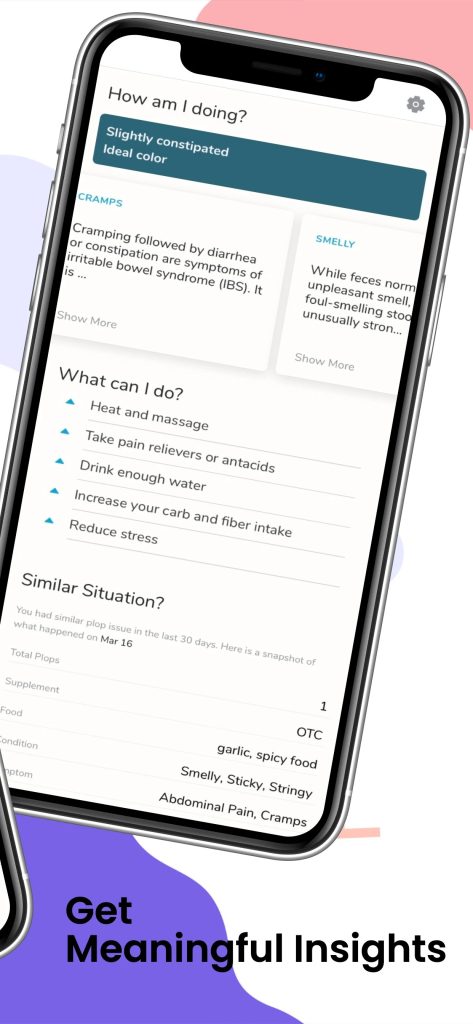 The app's interface won't let you get confused with the functionality. The dark theme will allow you to use it even in dark rooms without straining your eyes.


You may also like: 7 Best Pill Identifier Apps for Android & iOS
Poop Tracker: Refreshing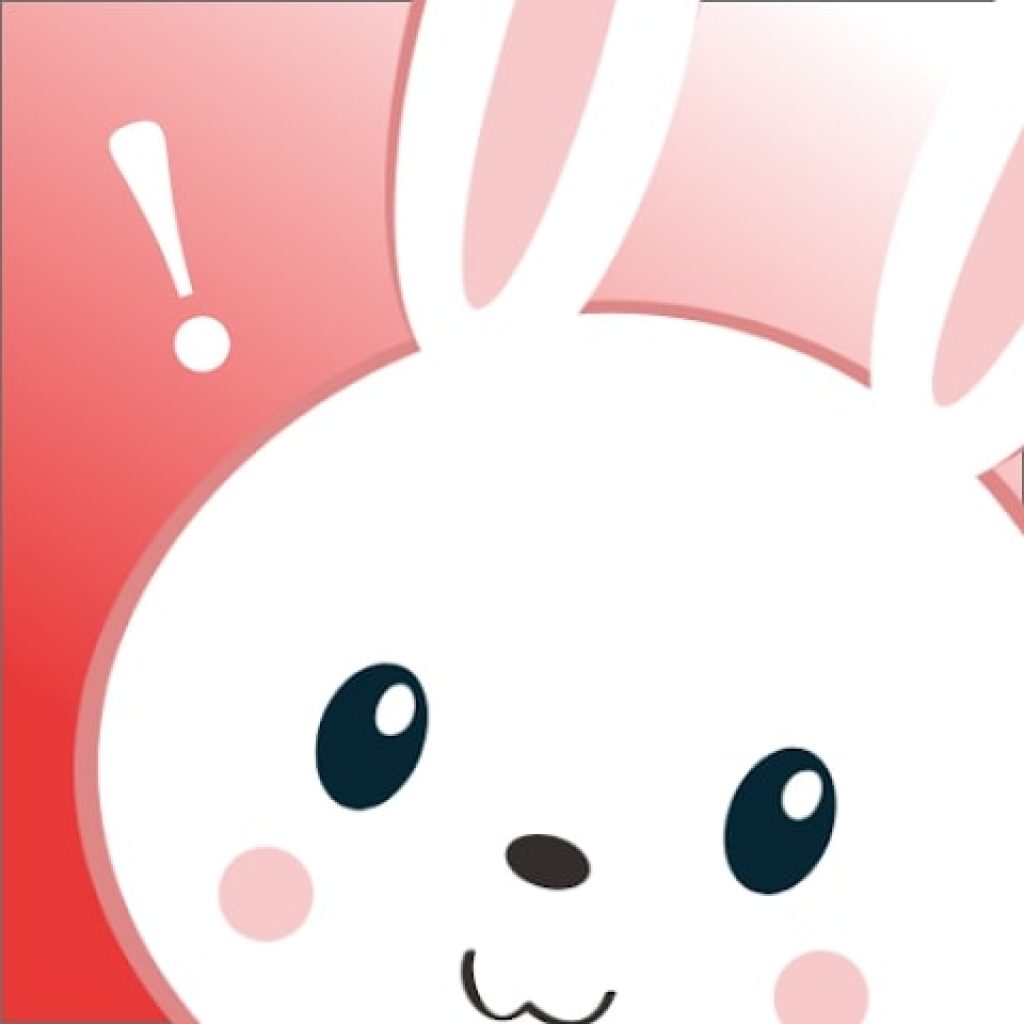 If you notice changes in the quality of your stools, use the Poop Tracker: Refreshing app. It will help you understand what factors have influenced your feces changes.
It is also a great tool for all mothers who are responsible for the health of their newborn babies. Here you need to enter data into a special calendar.
The program will show you the last time you or your baby defecated. You'll see how many hours have passed and you'll know if your bowel movements are regular.
Choose the quality of your poop from visual examples. For instance, you can choose a color from among the choices offered. You will also be able to choose the shape, size, date, and time of your pooping.
If necessary, add a personal note. You don't have to worry about the security of your data. Add a password to be entered when you open this app.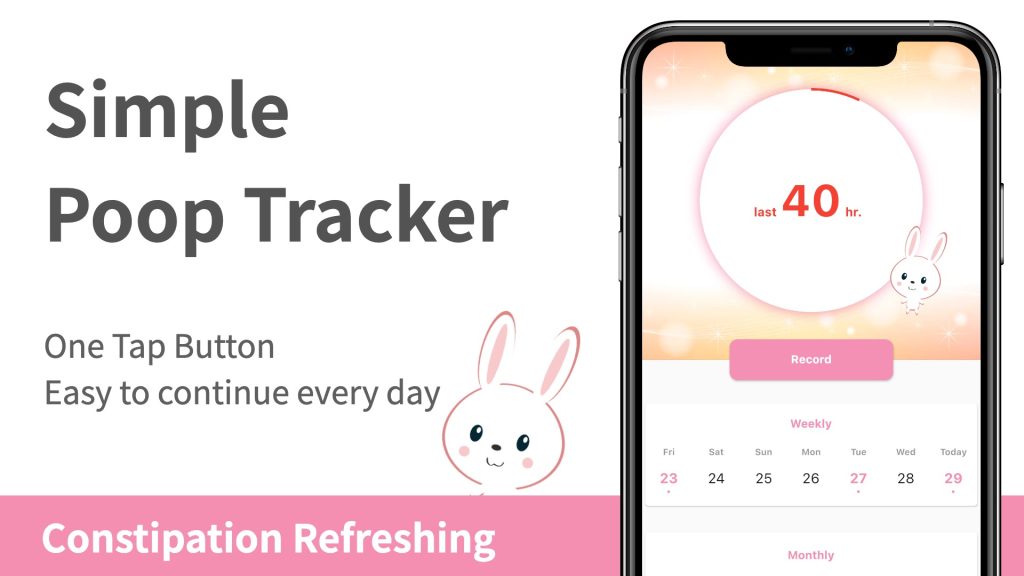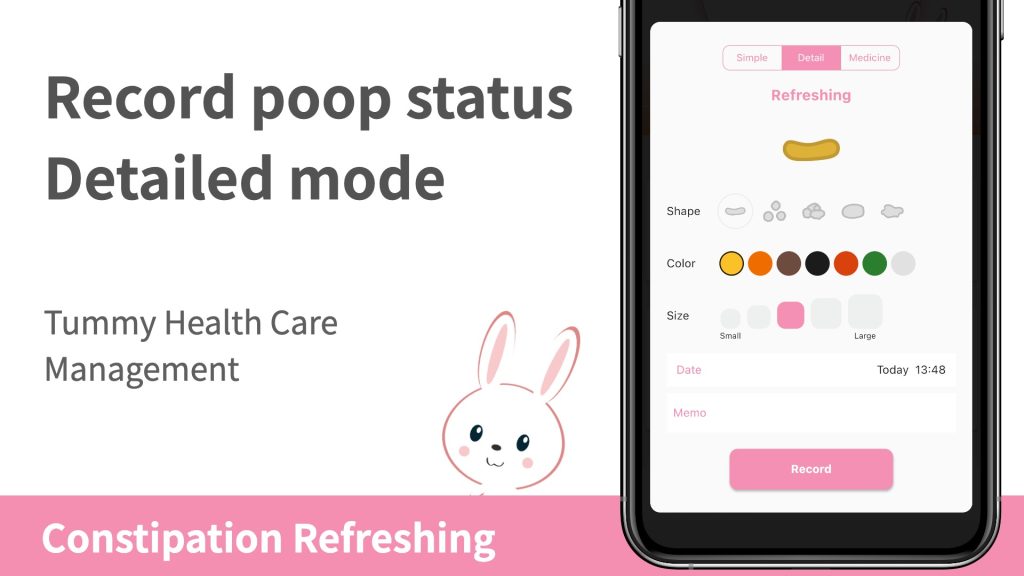 Set special notifications if you haven't gone to the toilet for 3 days so that you can contact a specialist in time if you have a problem.


PoopLog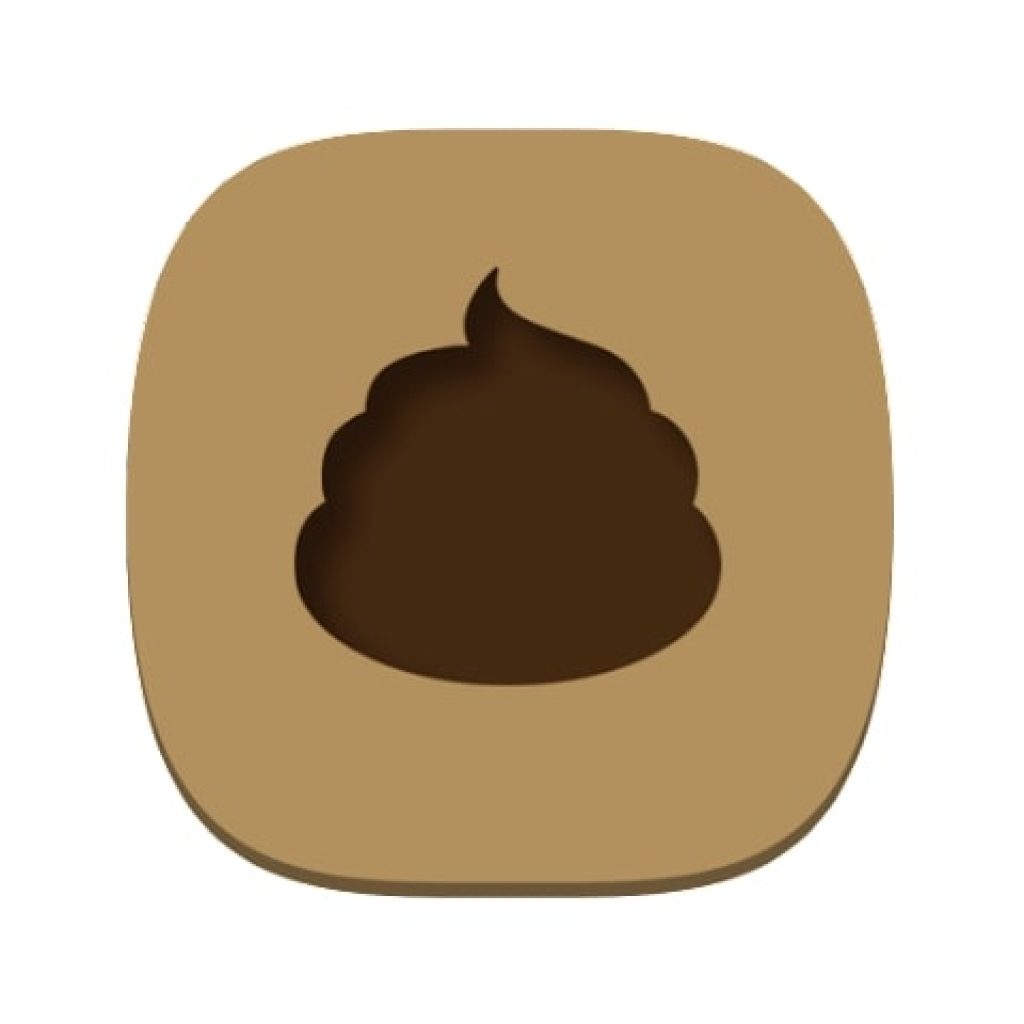 The free PoopLog app allows you to track changes in your gut based on the Bristol Stool Scale. Here you'll be able to enter data about more than 20 options.
So, add photos, location, personal notes, consistency, color, presence of abnormal changes, and others. You can also add or remove the options that you consider most important in the app settings.
All the data you made will be saved in the history section. View the changes as a list and promptly perform the actions your body requires of you.
All changes can also be broken down by day and month. Create handy charts to share with your doctor in the future.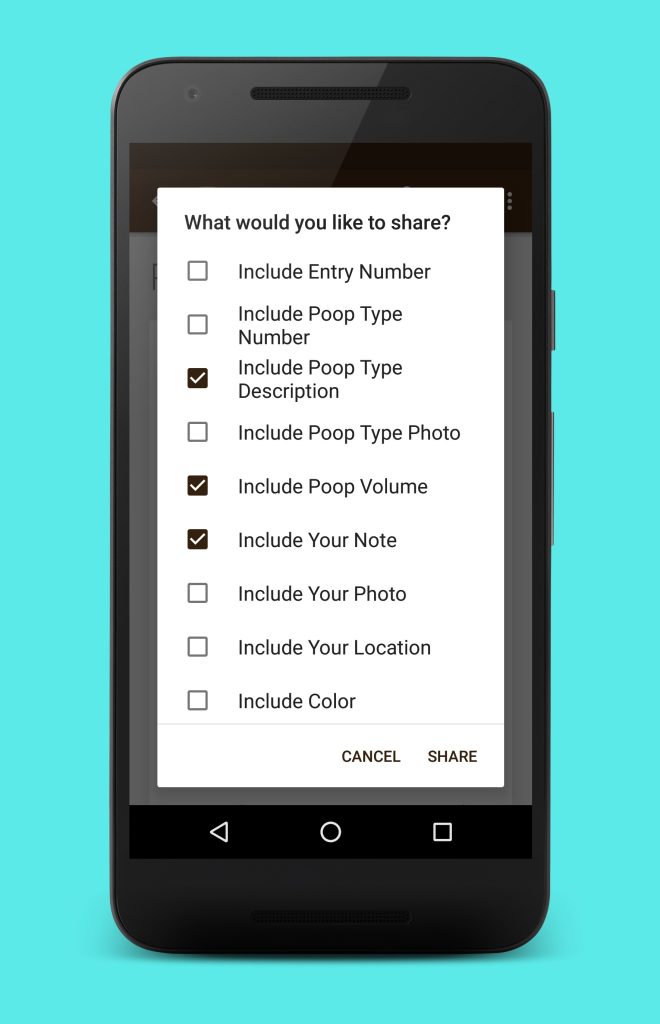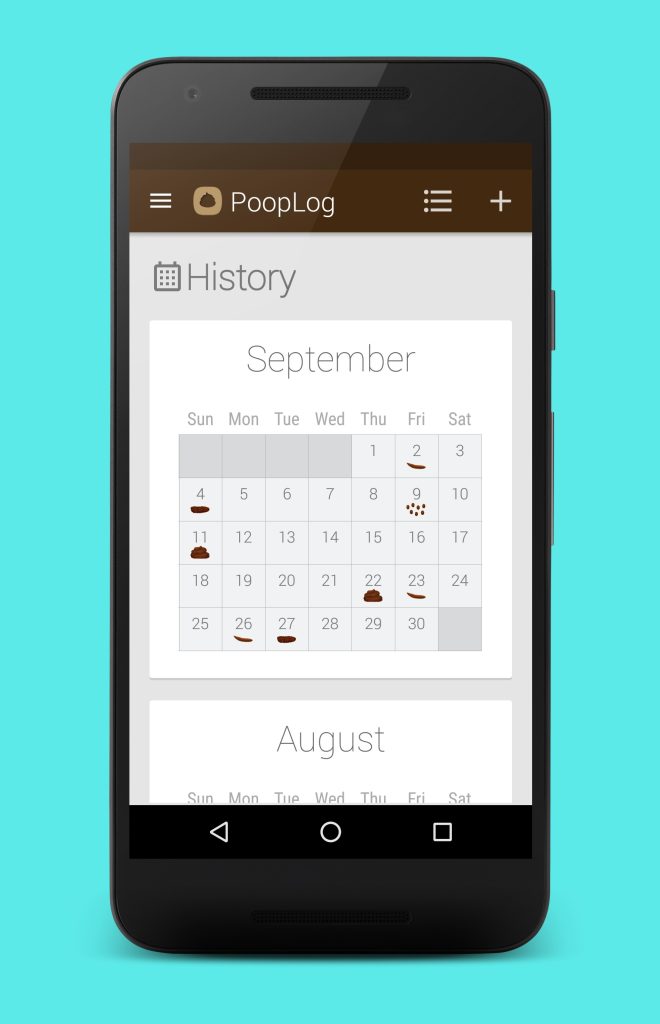 You'll also be able to export them in CSV format. At the end of each period you choose, you will receive a detailed report on your bowel movements.

You may also like: 11 Best Games to Prevent Dementia (Android & iOS)
Poopify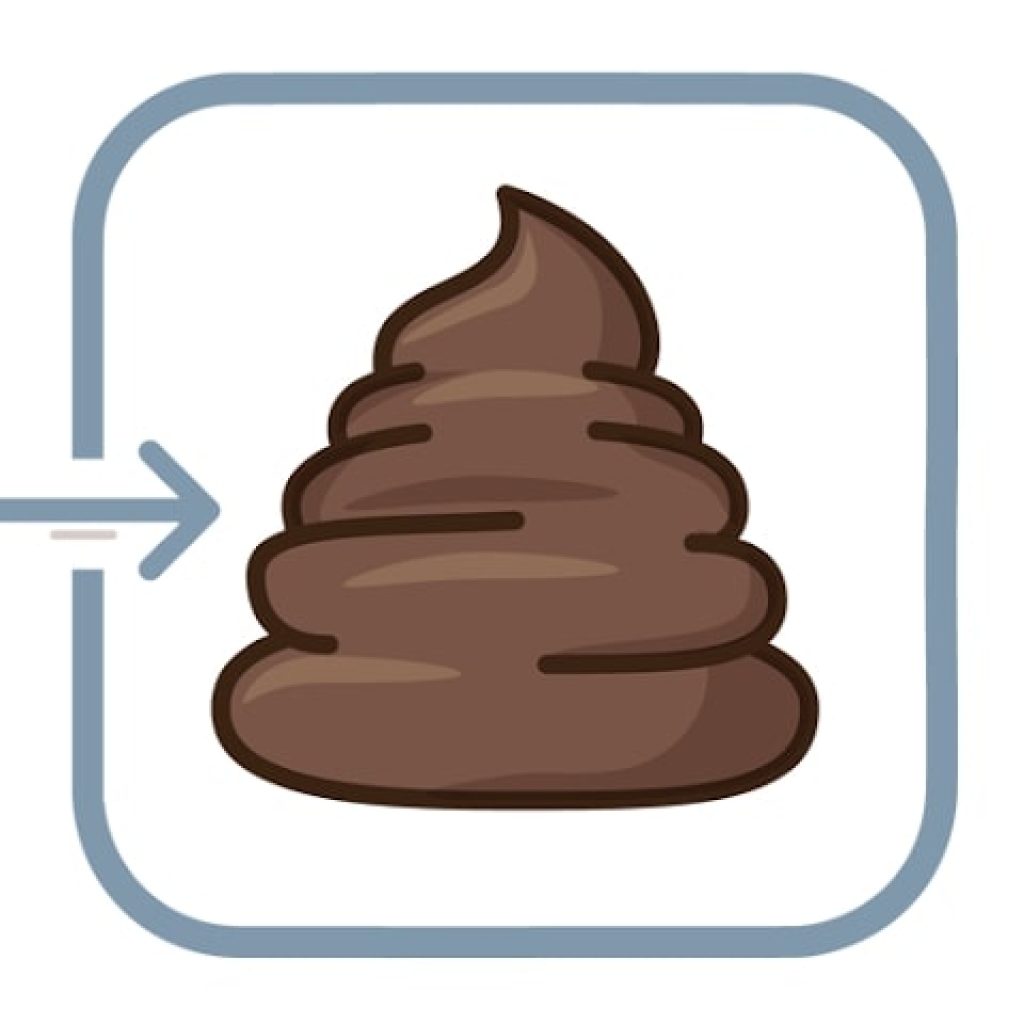 Register every time you go to the toilet with the Poopify app. Here you can enter data about the color, shape, odor, volume, and other important parameters of your bowel movements.
If you have any new symptoms or sensations, be sure to enter that data into the notes. Like most other similar programs, this one is based on the Bristol Stool Scale, which confirms the high quality of the service.
It will show you all your defecation statistics for the period you choose. The resulting log can be sent to your doctor directly from the app.
For women, there is a special section that allows you to mark the period of your menstrual cycle. This is important because this period directly affects bowel function. You can add data about 4 users. So, it's great to track the feces quality of each member of your family.
Here you will have an easy-to-use calendar where you will enter all the data by date. The app will also regularly remind you to mark your next trip to the toilet.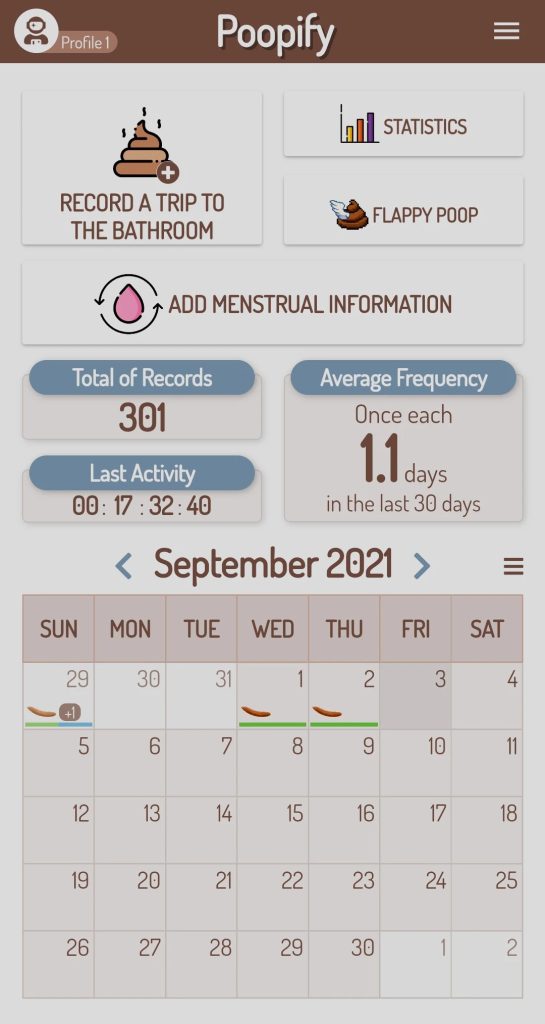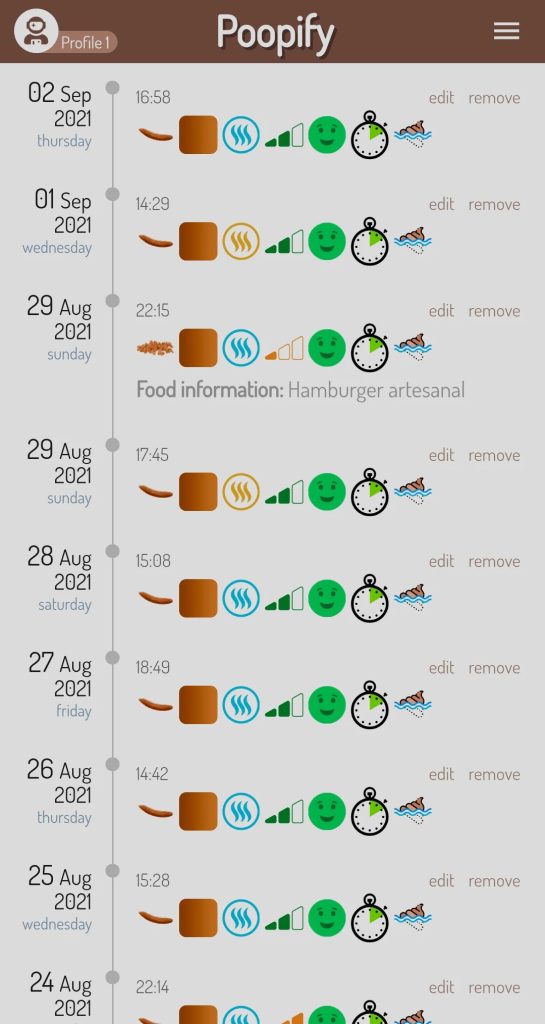 Have fun with the built-in mini-games while you're on the toilet. That way, the whole process will be much more enjoyable. Rest assured that your data is safe, as this app ensures complete privacy.