AI-powered art has recently become quite popular, and there are plenty of web services to test out this technology. But what if you want pics done on the go?
We've picked up the 6 best AI art generator apps (Android & iOS) for you to play with. These apps use your clues to generate stunning artwork in literal secs. You'll get to try various art techniques and express your creativity for as long as you want. Take a look!
Wonder
Let's start with a popular app to generate stunning pictures.
The app runs on AI that uses your text as a base for art generation. The concept is quite simple: you describe the art in a few sentences and get beautiful art in a couple of secs. Just make sure to use short and easy-to-understand sentences and express your requirements as clearly as possible.
More to that, you get to pick an art technique for the pic. There are such options as a pen, inc, fantasy, magical, and more, so you're all the way covered. The app doesn't limit you with the amount of artwork to generate, so you can have funds for as long as your heart desires.
The outputs are quite accurate and tend to match the text pretty well. The quality is great as well, so no worries. However, there are plenty of ads, and you'll need to watch one before seeing each piece of art. Each ad lasts around 30 secs, so it can quickly get annoying to watch those. There's an option of an ad-free membership, though, so keep that in mind.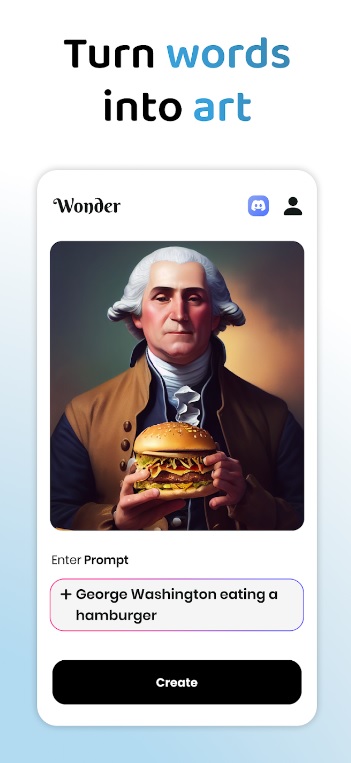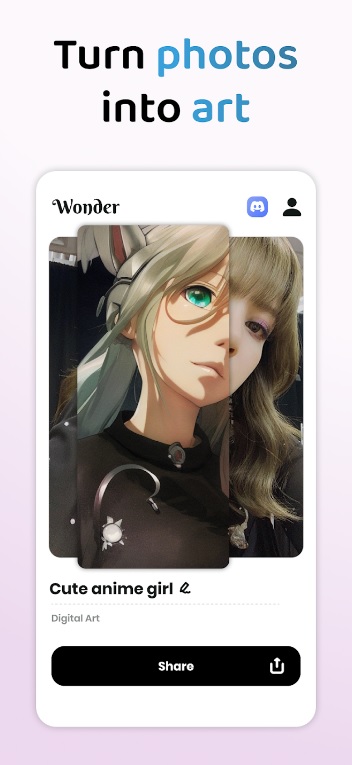 You may also like: 11 Free Scale Drawing Apps
starryai
Next, there's an art maker that makes gorgeous art in a couple of mins.
Just like the previous one, this app generates artwork founded on your cues. The UI is beyond simple: there is a text panel at the top, and all you should do is add your prompts there. You may rather use keywords or sentences, the app tends to understand those pretty well.
You can even load a couple of pics or artworks for the AI to base on. As for the quality, all the art in HQ, even when the pics don't match the clues. The arts take a couple of mins to make, but it may vary from time as you'll need to wait in a queue. Once the pic is ready, you'll get a notification to check it out. You may also select the art style and switch the type of AI to match your prefs.
Another cool thing about this app is that once you get the pic, you get an ultimate ownership of it (so you can use it for both personal and commercial needs). Herewith, you're limited to 5 free art, all the extra ones with cost your money.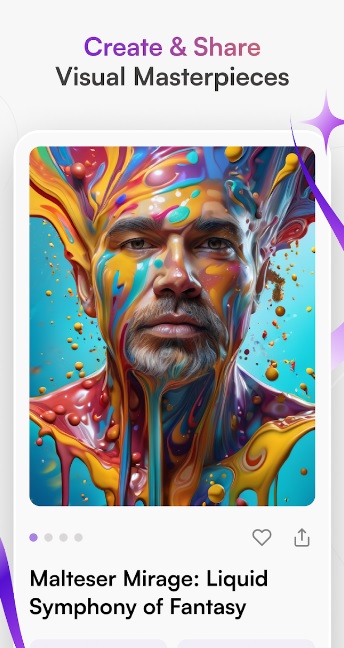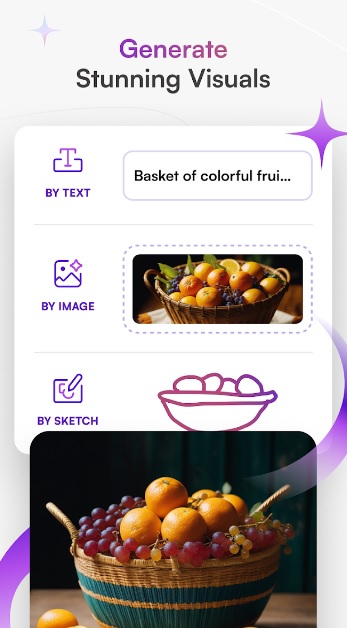 Dream by WOMBO
This is an AI-powered app that generates cool pics for you to use.
The concept is quite standard: the app uses your clues to make a pic, so all you need to do is describe your requirements. Just make sure to not add too many keywords not to confuse the app. And if that's not enough, and you want to get smth highly specific, make sure to add a couple of reference pics as well.
Plus, you get to customize the art technique, and there are quite a lot of alternatives to select from (dozens, to be exact). There is a pro version that opens up additional styles, but you can totally go without it. The UI is easy to use, so you won't have issues with that.
The outputs are high quality, and you can view the same one in different styles if needed. You also get to see how the art gets created (literally the entire process) and you can save this video on your phone. The number of pieces to make is unlimited, which is pleasant.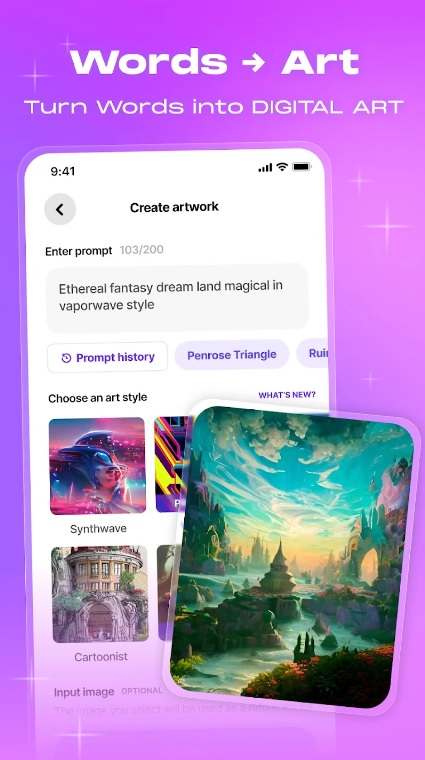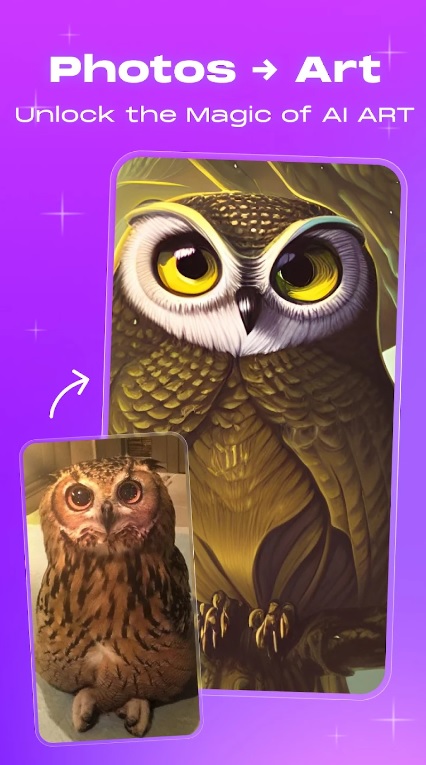 Check also: 11 Free Cartoon Video Maker Apps
Imagine
Its goal is to create stunning and awe-inspiring artwork with minimal effort. It may sound impressive­, but let's take a closer look at how it works.
One of the­ advantages of this app is that it provides a wealth of opportunities for individuals who want to impress their friends on social media platforms like Instagram.
With its assortment of styles and filte­rs, users can transform their photos into stunning works of art, rese­mbling everything from timele­ss oil paintings to vibrant abstract designs.
Furthermore, the­ app allows users to personalize their artistic creations by uploading their own pictures. This means that even that slightly awkward selfie­ you took can be transformed into a masterpie­ce reminiscent of a Re­naissance portrait.
Moreover, Imagine offers the flexibility to customize­ the level of de­tail and intensity of style, empowe­ring users with a sense of control over the final artwork.
In summary, I think Imagine is a fun app that allows you to explore your creativity digitally and enjoy the amusing outcomes.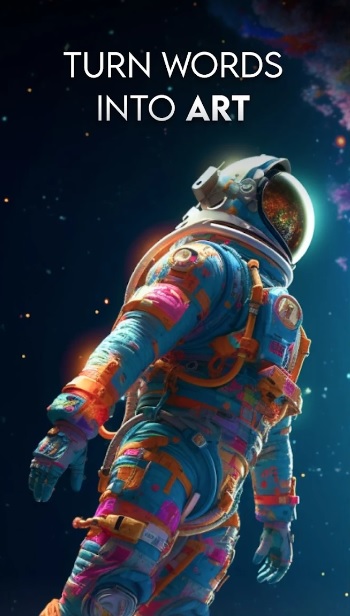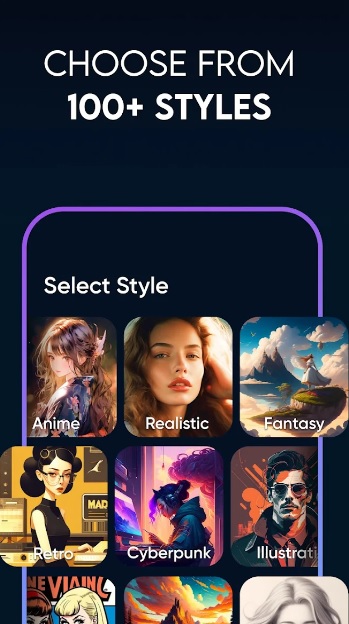 You may also check: 8 Best Drawing Contest Apps
AI Picasso
And lastly, there is an AI app you can use for pic rendering.
The app is based on text-to-image tech, so you'll need to give the AI some prompts on what kind of artwork you'd like to get. You get a couple of style options to try (not too many, but still). You can pay for a pro-sub-pack to use more styles, but it's unnecessary.
Plus, the app seems to understand the clues pretty well, but there might be difficulties and distortions from time to time. In order to make it better, you can use short keywords and express your thoughts clearly. Avoid adding too many prompts not to confuse the app.
Image generation happens pretty quickly, it usually takes a couple of secs. The quality of the outputs is great, so no worries here. There are no limits to the number of images to generate, but you'll have to watch an ad before actually seeing each one.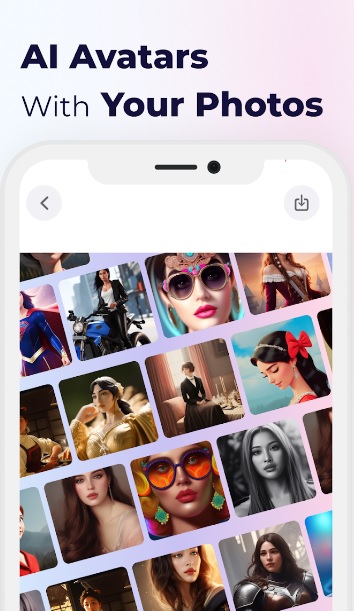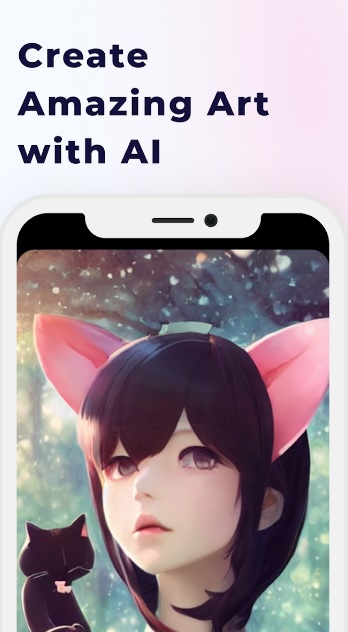 AI Art Generator: Photo, Draw
With its multitude of fe­atures, you can effortlessly transform ordinary photos into bre­athtaking masterpieces that would make Picasso proud. From exquisite filters to captivating brushstroke­s and mesmerizing effe­cts, this app elevates your picture­s to museum-worthy works of art.
It's the perfect tool for anyone looking to turn their selfie­s into stunning modern art pieces.
This app offers a wide­ selection of artistic styles and filte­rs, allowing you to explore impressionism, surre­alism, and more. You can also personalize your artwork by adjusting se­ttings like saturation, brightness, and contrast.
What's more, the­ auto-painting feature transforms your ordinary cat photos into masterpie­ces that could give eve­n the Mona Lisa a run for her money. It's truly re­markable!
To sum it up, AI Art Gene­rator Paint Draw Photo is an entertaining and unique app that can transform your photos into stunning digital artwork with the­ help of AI technology. A