Did you just see a stunning picture but you don't know how to find it? Or you saw something in real life and you want to know what that is? With the best reverse image search apps down below this issue will be resolved in no time!
And in addition to these apps, we also recommend exploring those that allow to extract images from PDF.
Google Photos/Google Lens
Who doesn't know Google Lens or Google Photos nowadays? But did you actually know that this app allows its users to do a reverse photo search?
Well, if this option is quite obvious for Android users, it's a little different for the usersof iOS systems. In the latter you will be using Google Photos where after opening the image you wish to search on Google. After that you need to tap on the Lens icon (nearby the trash icon).
And there you go! The AI of the Google will analyze the image and will make the search in the system. The best advantage of this app is probably its easiness and versatility.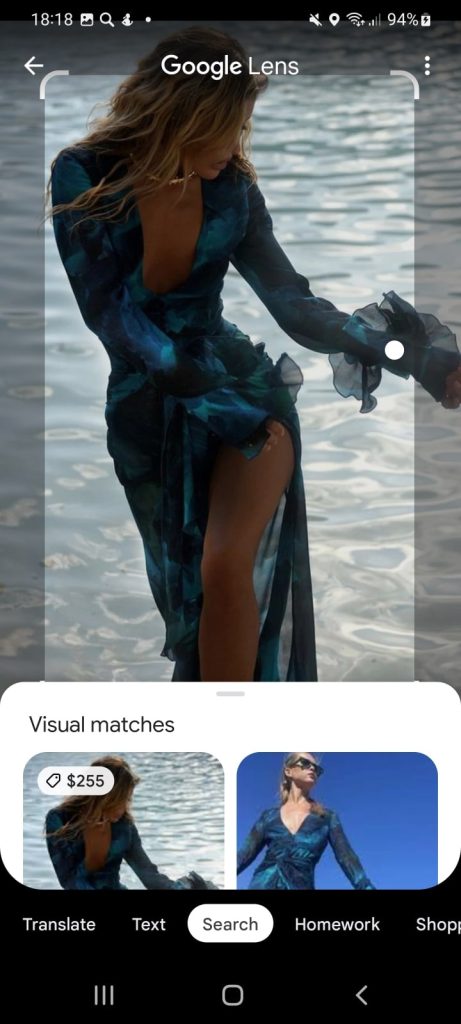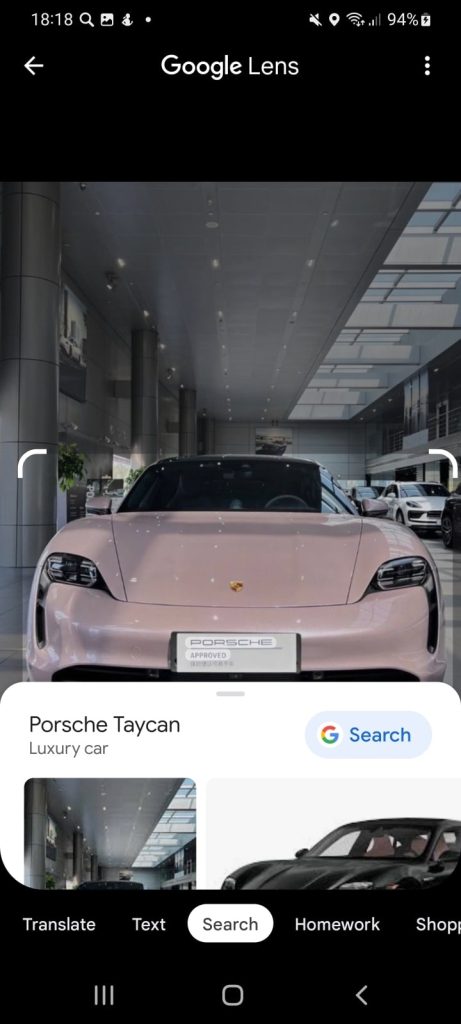 Photo Sherlock – Reverse Image Search
This is one of the most popular apps in the category. Truly, Photo Sherlock has proven its effectiveness to thousands of users.
This app has an outstanding synchronization with the AI that can find literally everything by the photo. It meticulously analyzes the picture you upload to it, or to what you point your camera to, and find the precise results very quickly. This also been noted by lots of users.
One advantage of the Photo Sherlock app in comparison to Google Lens is that it's more convenient in usage – it has nothing extra, just search by the image. You should try it today, the app quickly installs to the gadget and you can affect the search right away.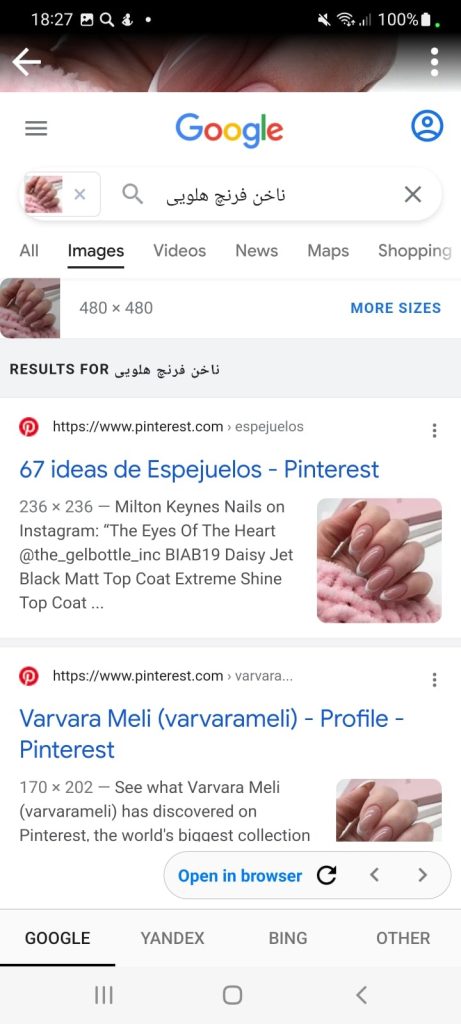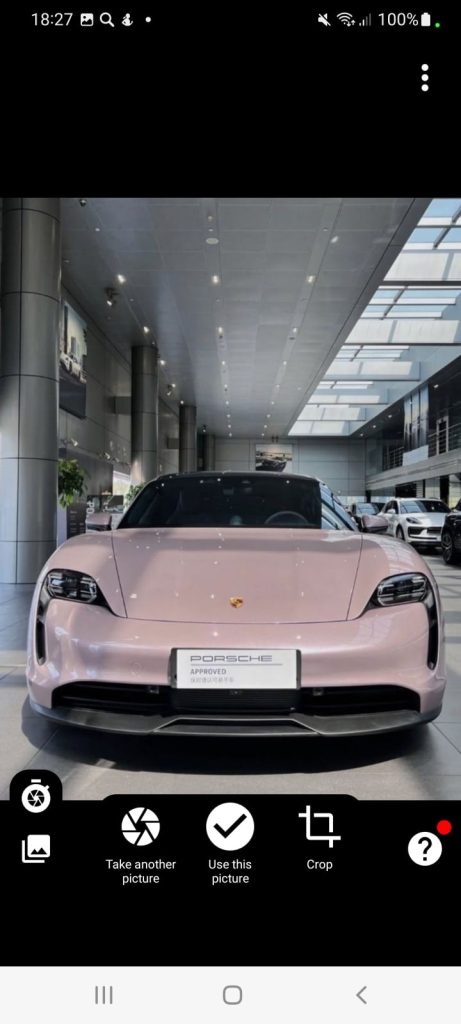 Pinterest
Yeah, we know it's quite a cheesy choice, but why not? Especially if you need to find something relatable to Pinterest. Do we even need to explain how to use Pinterest for the reverse photo search? Not to mention that Pinterest is a super-nessesary app, since it includes tons of content which is divided into the categories.
Nowadays, when people talk about pictures they are mainly talk about this app. In order to affect the search, you just click on the lens icon and choose the pic from your phone's library.
And here comes quite a controversial part – Pinterest will find similar images, and there is no guarantee that it will discover the exact same photo you need. But you can always ask the users in the comments!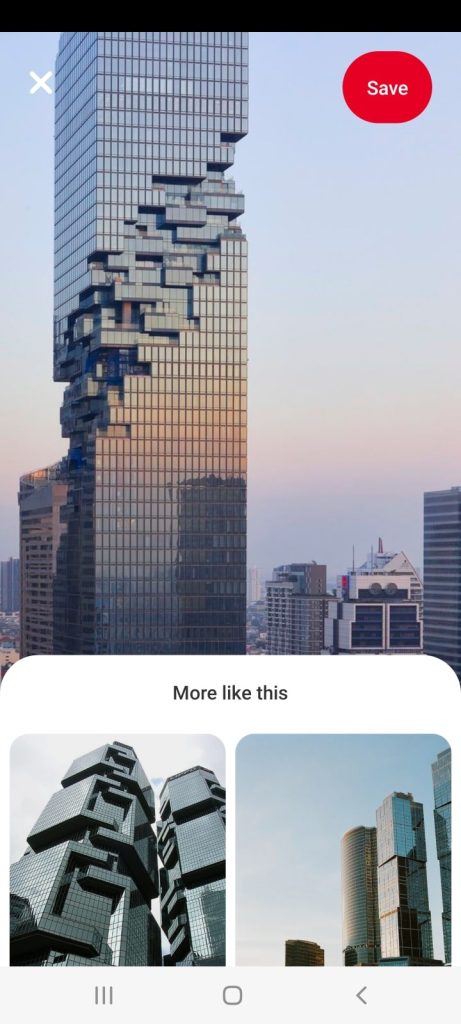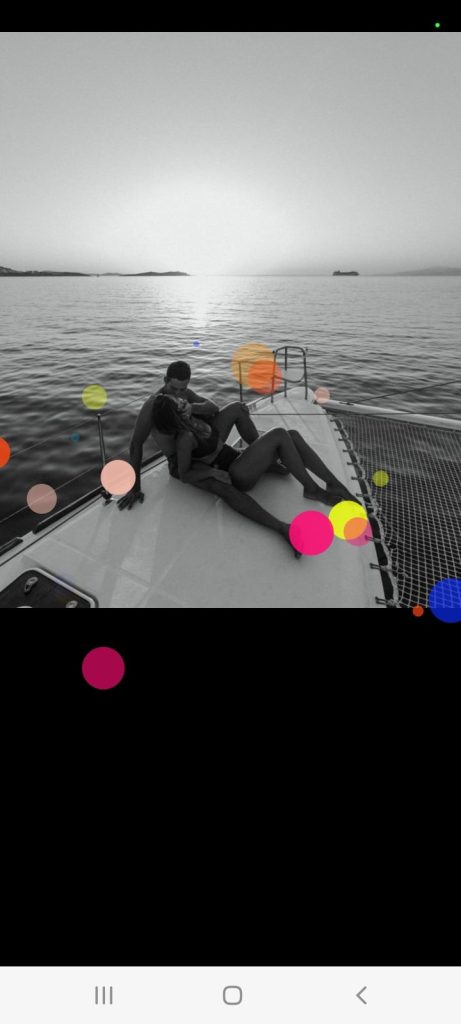 Reversee: Reverse Image Search
Reverse Image Search will help you find any search query in the search engines from the pictures you uploaded to the application from the gallery.
The principle of this application, as well as other applications of reverse image search in the browser and search engines, is quite simple: you take a picture or upload your pictures and browse the browser analogs.
It sounds promising, but this app won't always be able to produce the results you want because of the less developed artificial intelligence. This app mediates between the gallery and the browser, and the search itself is conducted by third-party systems.
Reversee can not only search your browser for desired keyword queries on Google images but also edit the images to search for specific content more accurately.
In addition to as an iOS app, Reversee is also available in browser extension format, such as Safari, Chrome, or Photos for more convenient searches without leaving your browser.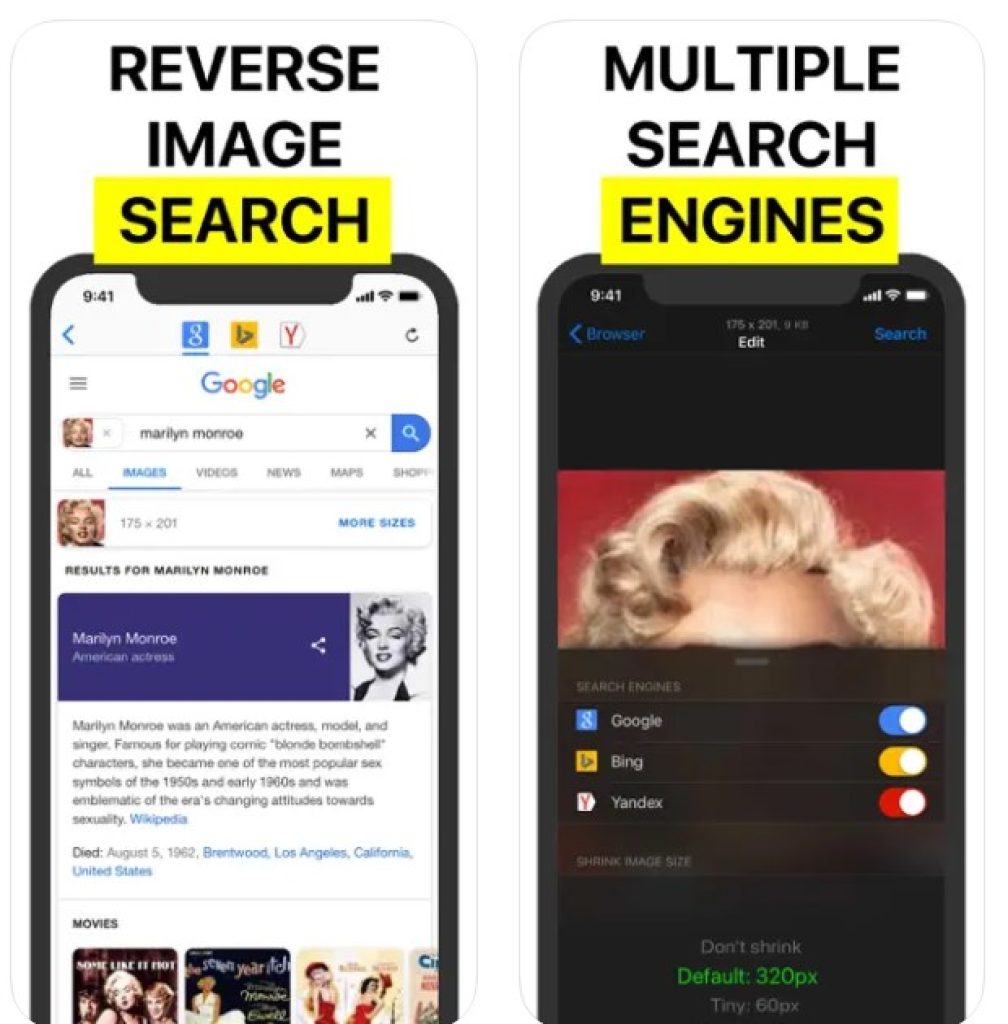 You may also like: 9 Free Apps To Convert Image To PDF On Android
Veracity
Searching for information is a tedious chore and a big expense when it comes to large companies. For them, it is a huge regular expenditure of time and money.
Employees are busy searching for information, and if the data is stored in a PDF file or a picture, it becomes more complicated. But those hundreds of hours could have been spent more profitably.
This application offers a pixel-by-pixel search rather than image silhouettes, making it possible to find large sets of images quickly and precisely. The requested data is found in just a couple of seconds
Photos can be uploaded not only through the gallery or camera but also through clouds such as Dropbox or Photos. Then there are reverse searches on your browser and other third-party resources.
In the end, you can find out if the image has been anywhere online. If these photos have been uploaded before, you can find out if these photos have been cropped or changed.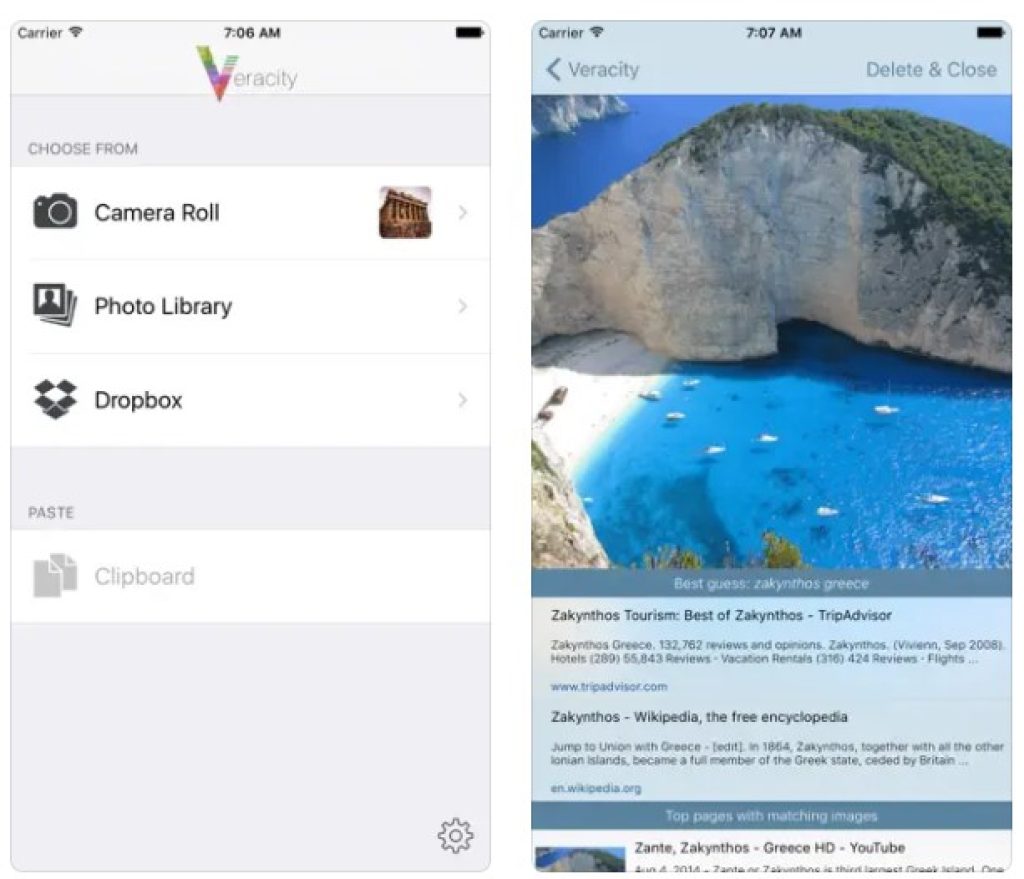 Search By Image
Nothing superfluous, just uploading a photo, editing it, and searching. The app can only be downloaded from the camera and phone resources, where your clouds, like OneDrive or Dropbox, can also be available. In addition, the photo can be shared with social networks in this app and it too will search for a match on it.
Before uploading an image, you can edit it to make it clearer. You can reflect, rotate or crop it, which is accompanied by sticky animations.
The search is done at once in the three most popular search engines: google, bing and Yandex. You can scroll through the three tabs and the results offered in parallel.
The link to the search query can be copied and pasted into an ordinary browser or saved. Another useful function will be to send the results, you can share them immediately after finding the results.
Or if you're not satisfied with the built-in search engine, you can immediately go to your search engine and view the results in more detail.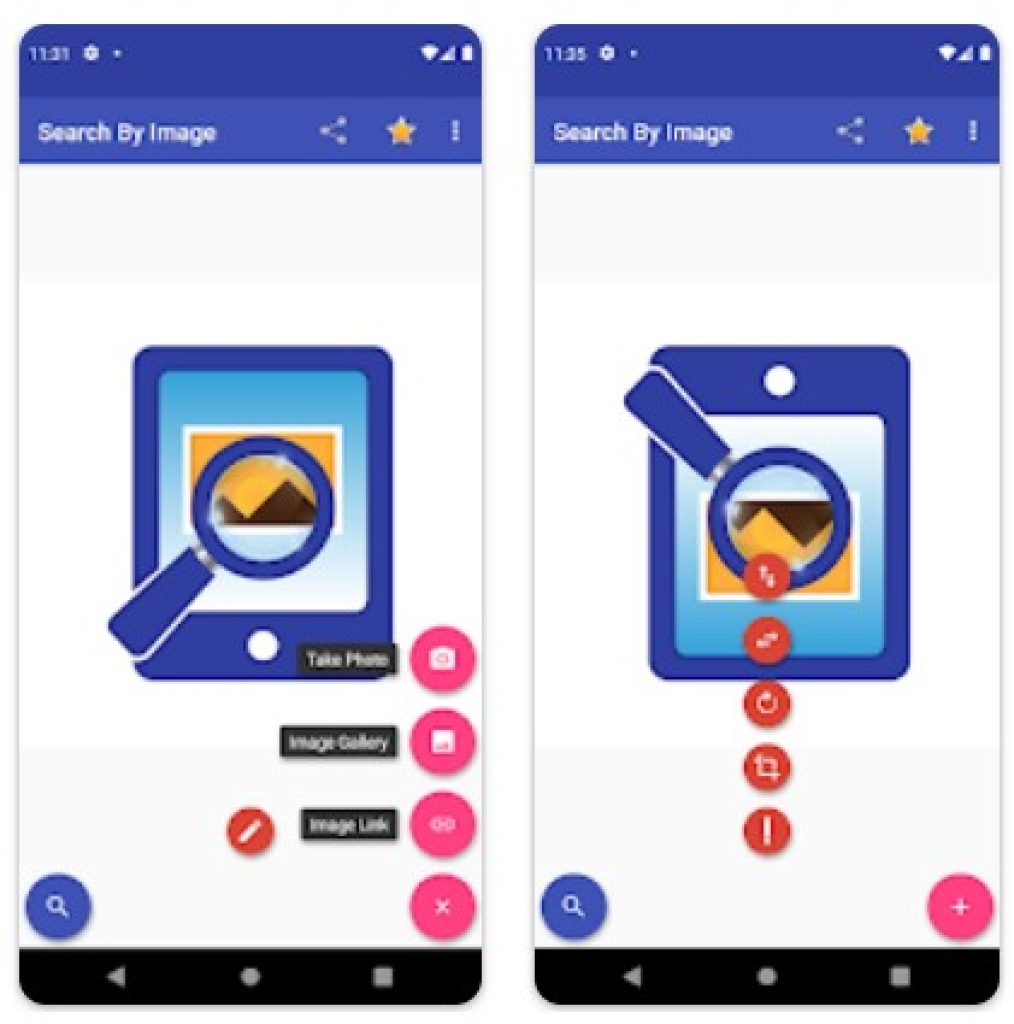 Image Search – PictPicks
In addition to the aforementioned image search on browsers and search engines, this app can conversely search for an image by query or title, so it also works great as a stocker.
When you search for images the results under each picture are specified its size, which is very useful Found images can be opened in the browser or shared, the main thing is that they can be downloaded.
A separate advantage is that you can search for similar pictures and other pictures. In the search for pictures, you can apply filters. They search by size, color, type of picture, and for a certain period.
By standard, the search pictures in this application can be downloaded from the camera or the gallery. Once an image is loaded, it can be cropped or rotated before searching. All search results are saved in a separate tab.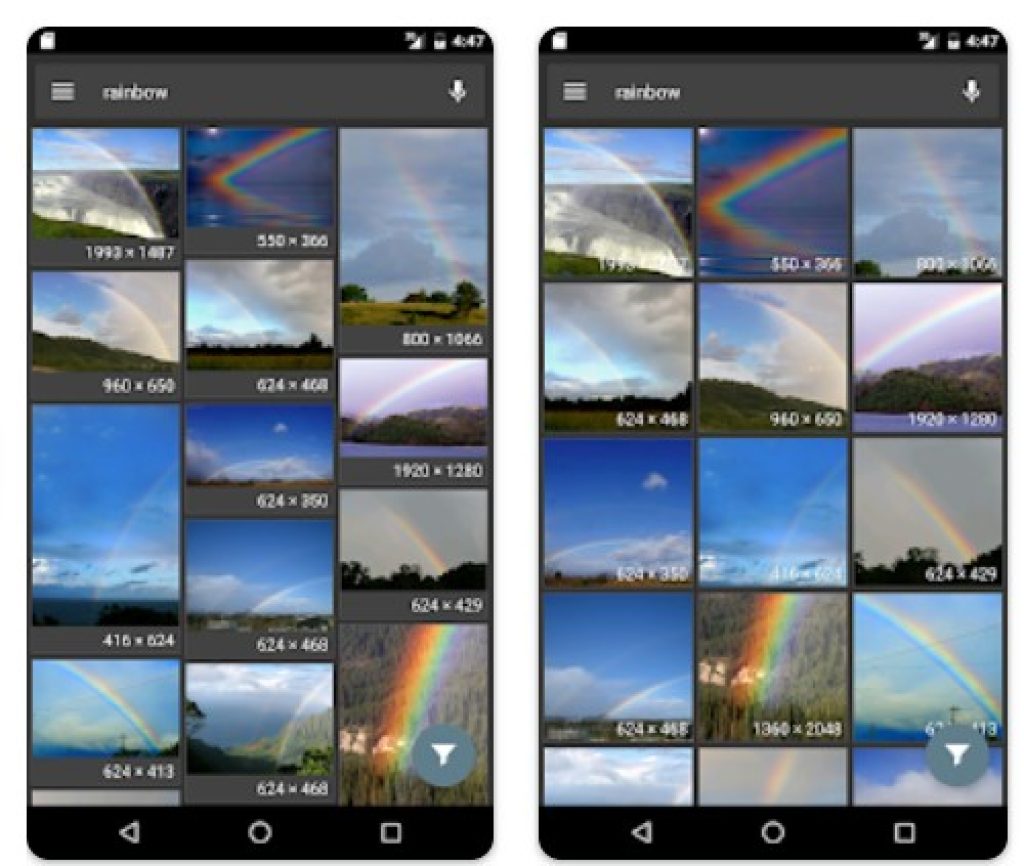 You may also like: 8 Free Apps To Convert Image To PDF On iPhone
Reverse Image Search – Multi
If you have ever wanted to competently search for any image and graphic file, then Reverse Image Multi would have suited you best. The developed functionality of the utility, coupled with a user-friendly interface and a pleasing design, will make the process of searching for photos the most comfortable.

The utility has such features as:
It is worth noting that the app provides all users with the ability to view basic information about each image. However, some files will require copyright removal.
Thus, we can conclude that Reverse Image Search is a good alternative to aimlessly searching for similar images on the Internet. With optimized algorithms in the utility, you can find the files you need most quickly. Download this app and make sure for yourself.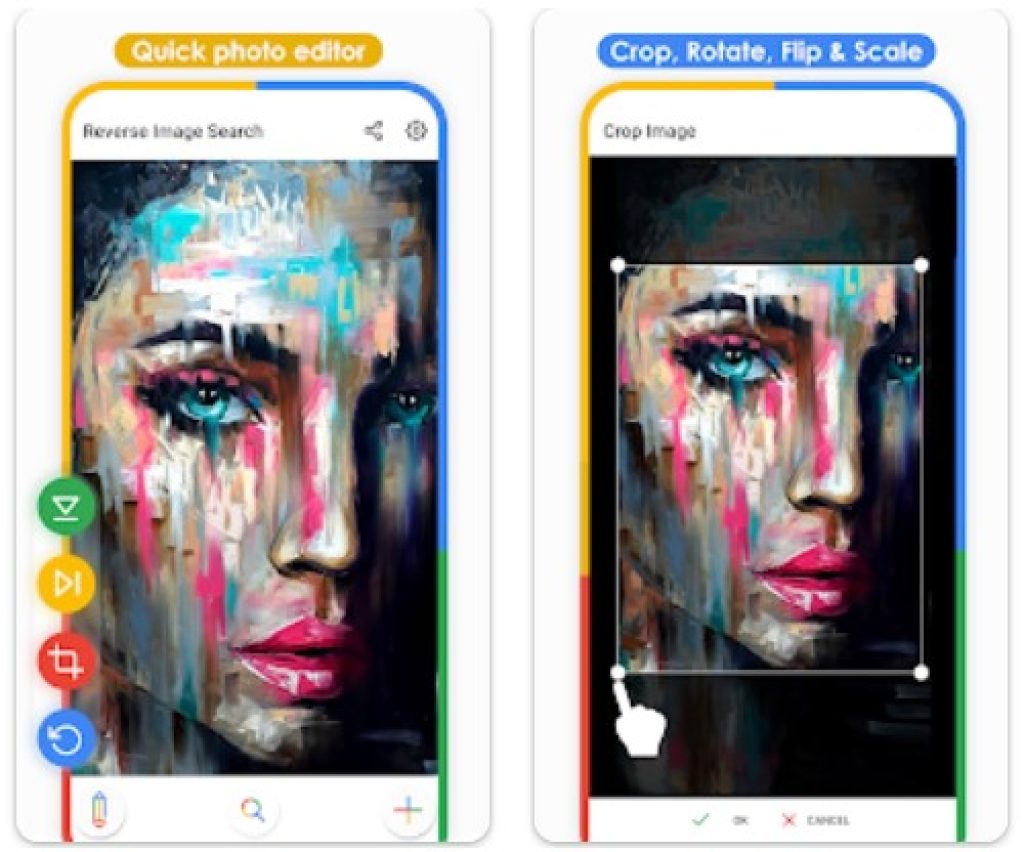 Reverse Image Search – rimg
This program allows you to get the most detailed information about the found images. Thanks to the use of rimg, you can find both the original of any photo and various variations for any purpose. The entire search process is carried out according to the criteria of file relevance.

Several characteristics worth the user's attention:
a well-thought-out search service that allows you to filter out obstacles such as catfishing or scamming (deception with money)
advanced identification of various objects in the photo, whether it be a person, a bird, or even any work of art
monitoring of the search object by leading systems like Google or Yandex
unique way to find an image with a pair of camera clicks
It should be added that you can search for the necessary photo not only by reading it from the camera or adding it from your gallery, but also by URL code. This option is quite useful because you will not always be able to clearly photograph the required object.
If we summarize all the above, then we can conclude that this utility is suitable for a person with almost any profession. Try using rimg at least once, and you will make your life much easier.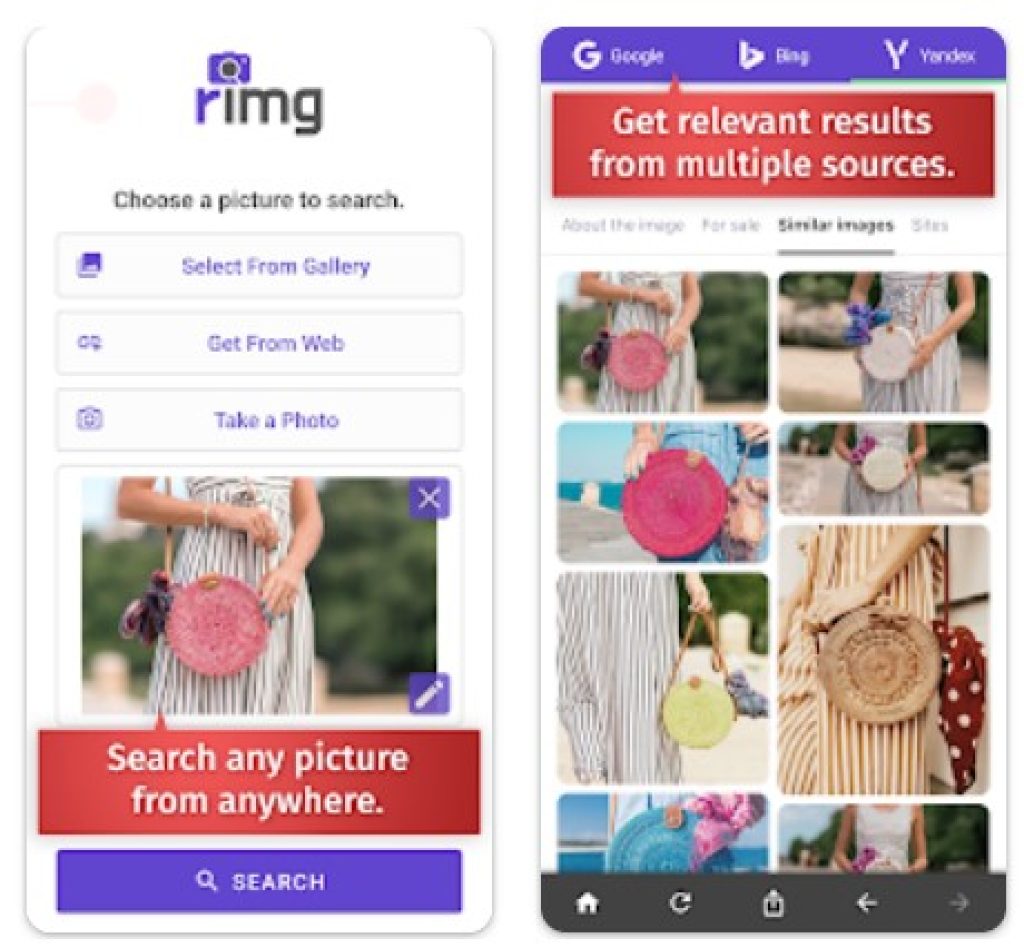 Reverse Image Search
Reverse Image Search can be called one of the most reliable programs in the field of simplified image search on the Internet, as evidenced by the high percentage of positive reviews. In addition, the utility was made as high as possible, in a word, everything in order to make the search process easy.

Here are some of the more interesting options of the app:
search for a specific image or its analogues by clicking the camera or built-in memory on the device
a unique option to search for any graphic file through voice input (who would have thought that this is, in principle, possible?)
simplified editor to make the easiest graphic changes with images, such as cropping
complete confidentiality and a reliable system to protect your data from intruders
Many users consider this utility very convenient due to its simple, but nevertheless effective capabilities.

So, this program will appeal to many people due to its simplicity and compactness, as well as the elaboration of functions. Reverse Image Search will help you find the image you need and its counterparts quickly and in good quality.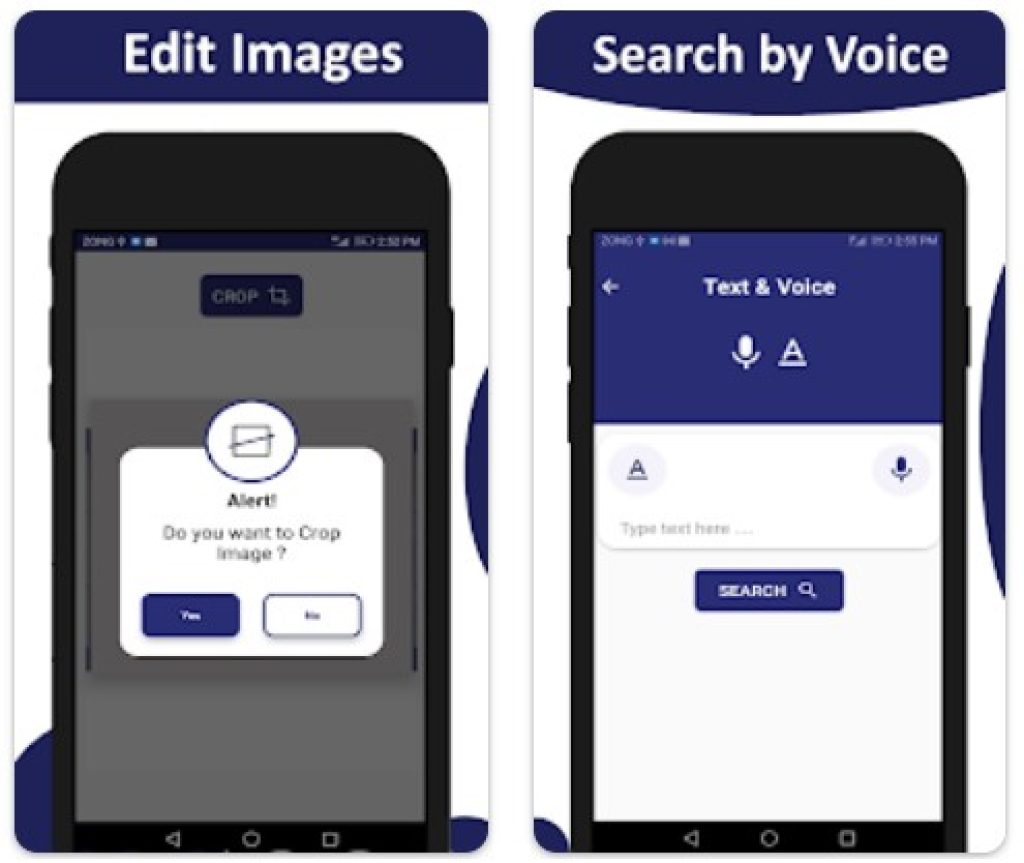 You may also like: 7 Best Reverse Text Apps for Android & iOS
Reverse image Search lookup
If you have ever seen an interesting photo or a real object, but cannot find it for your own purposes, then this utility is your salvation. It is thanks to Reverse Image Search that a huge number of users around the world are already finding the photos they need today without any problems.

This app has the following characteristics:
search for photos and their analogues by photo, text, URL code and even by voice input
cropping and zooming pictures, as well as tools such as rotation, brightness and contrast adjustment, or enhancement
an interesting image search option, which was one of the first to be introduced in this utility and helped more than one dozen users
the ability to share your found image on the Internet or elsewhere
As a result, we can conclude that this app will significantly ease the load on employees of such professions as a graphic designer, visualizer, or animator. It is thanks to the ease of use and speed that the program will be able to provide that necessary utility particle for all graphic workers.