Facial imperfections can ruin not only a photo but also your mood. But if you think that this is quite a rare problem, you are very wrong. A huge number of people are dissatisfied with the quality of their skin and need special tools to help hide them.
This explains such a variety of mobile apps for facial editing, which almost every user has on the phone. To save you from a long choice, we have collected these best blemish remover apps 2023 for Android & iOS. You'll be surprised how wonderful your photos can be after using these tools.
Surprise your followers with awesome photos using these best selfie apps.
Face Blemish Remover – Smooth Skin & Beautify Face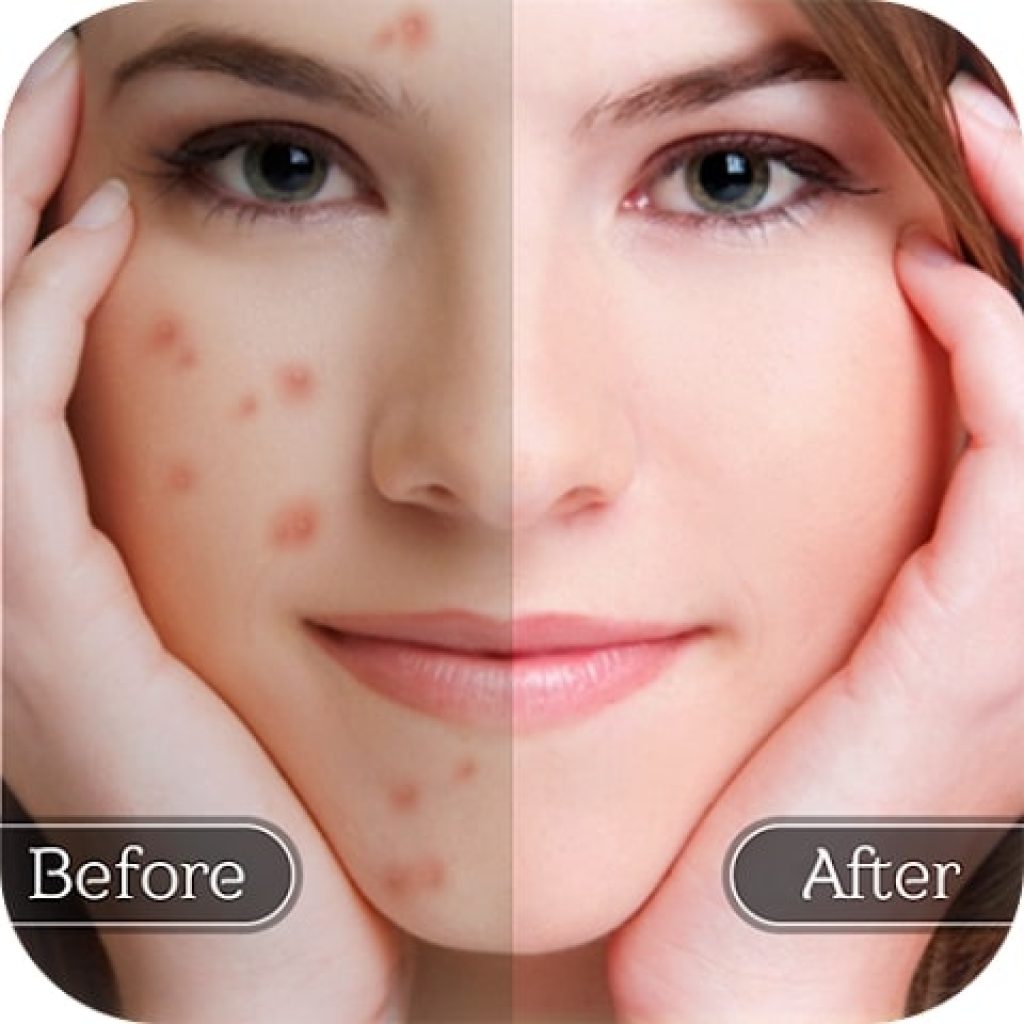 Face Blemish Remover is an awesome app for professionally retouching your photos.
Do you want to straighten wrinkles, remove unwanted spots or get rid of pitting acne in your photo and become more attractive? This app is definitely right for you.
There are several modes to use. In the first one, you can get rid of blemishes dot by dot. Choose your desired brush size and click on a mole, freckle, or spot; it will blend in with your face.
The second mode is skin smoothing. Select the intensity and your wrinkles will smooth out and disappear in no time. What's noteworthy is that if you make a mistake, there's an option to reset the result and go back a step.
There is also a "Compare" function – when you click, you see the "before" and "after" results. The interface is done in soft pink tones, easy to use.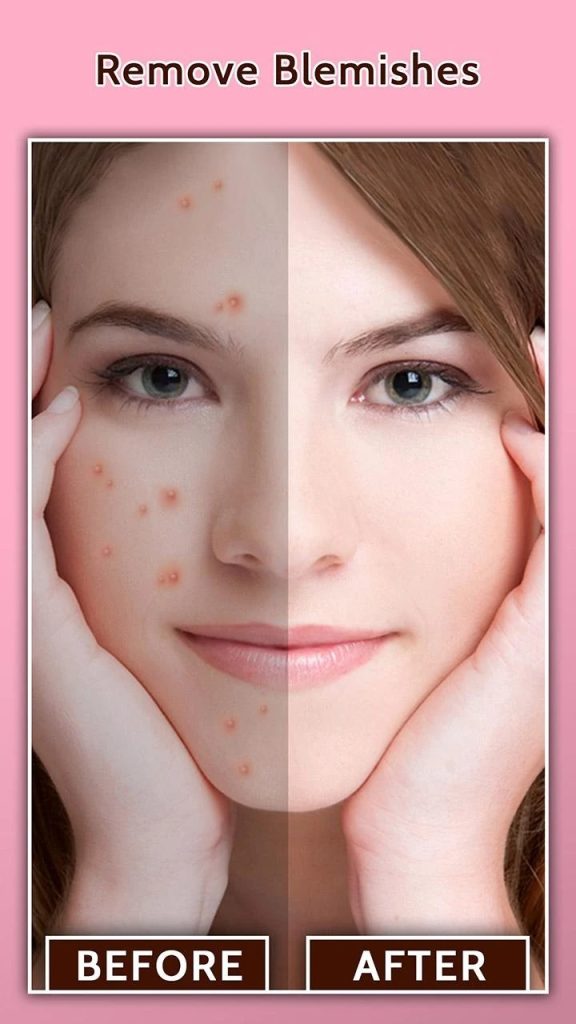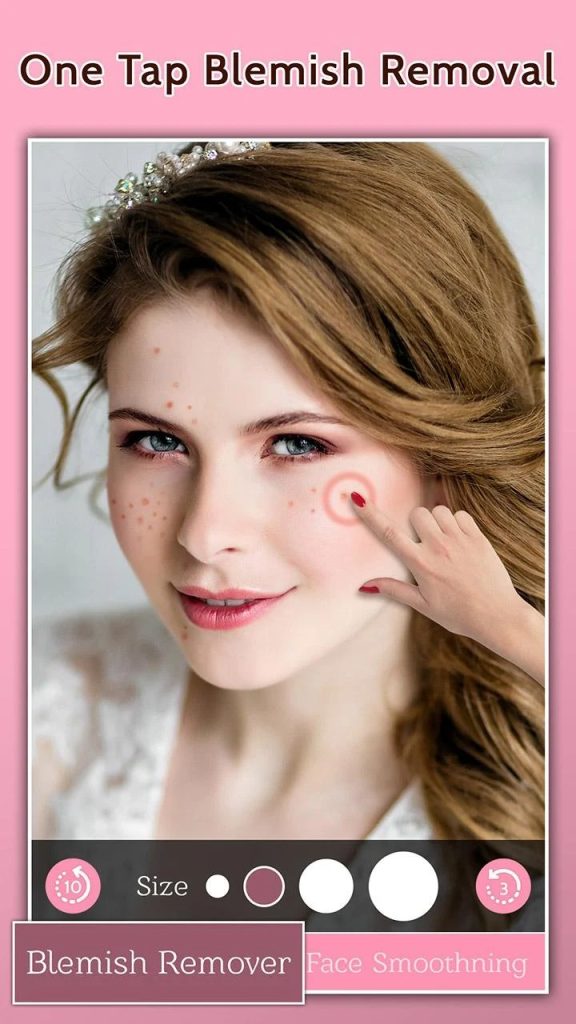 In the end, you can change the appearance – insert lenses, glasses, blush, and other additions. The final photo can be sent to messengers and saved in the gallery, which is handy for the user.

You may also like: 15 Best Acne Removing Apps for Android & iOS
Blemish Remover Photo Tool
The Blemish Remover Photo Tool app will save you from the trouble of having to wear makeup specifically for photos.
Here you can hide your pimples, acne, unwanted objects on your face, and even scars without much effort. In the app, you can point the "target" at the object you want to remove, and with a button, you get rid of the blemish on your face.
For an extra fee, you can purchase a premium account and discover new features. You will be able to use the app without ads, get rid of watermarks, and improve photo quality.
The subscription can last from one month to a year and it has a free period, when the period expires, the subscription renews itself.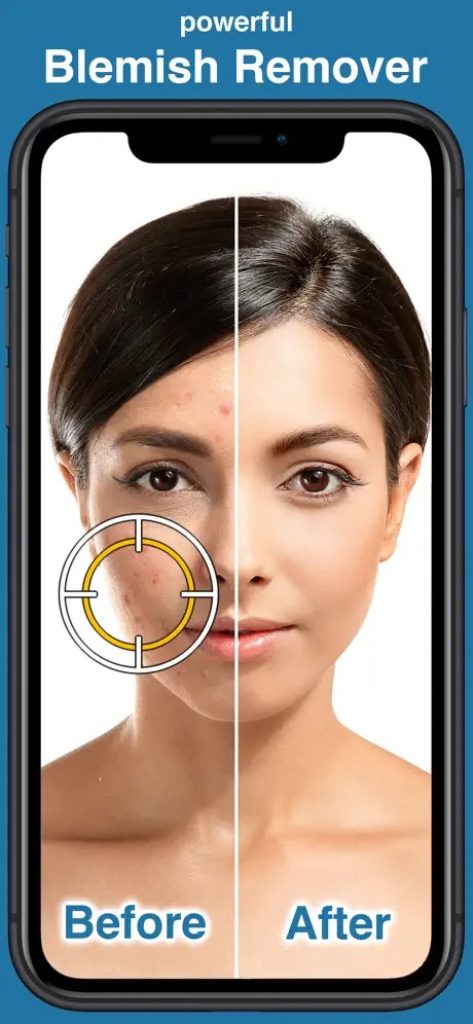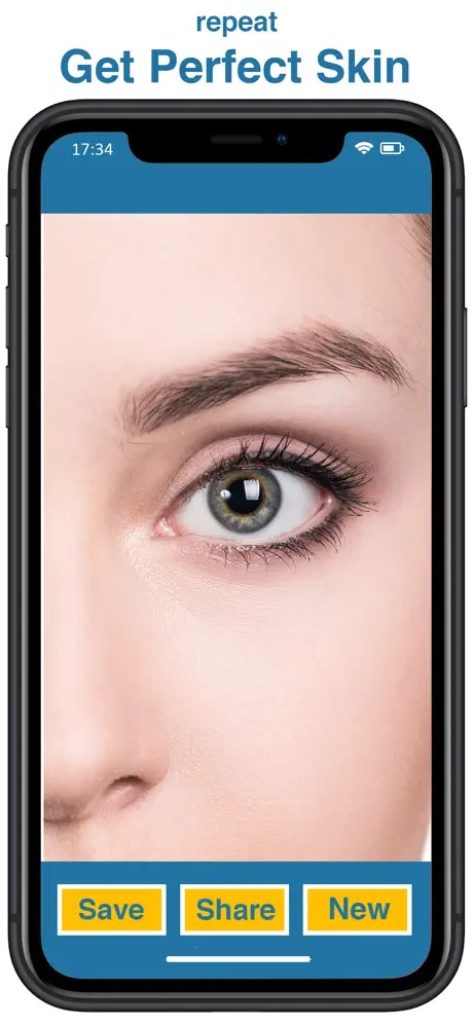 The app does a great job and every day helps users around the world feel perfect and collect lots of likes on social media.

Face Enhancer: Blemish Remover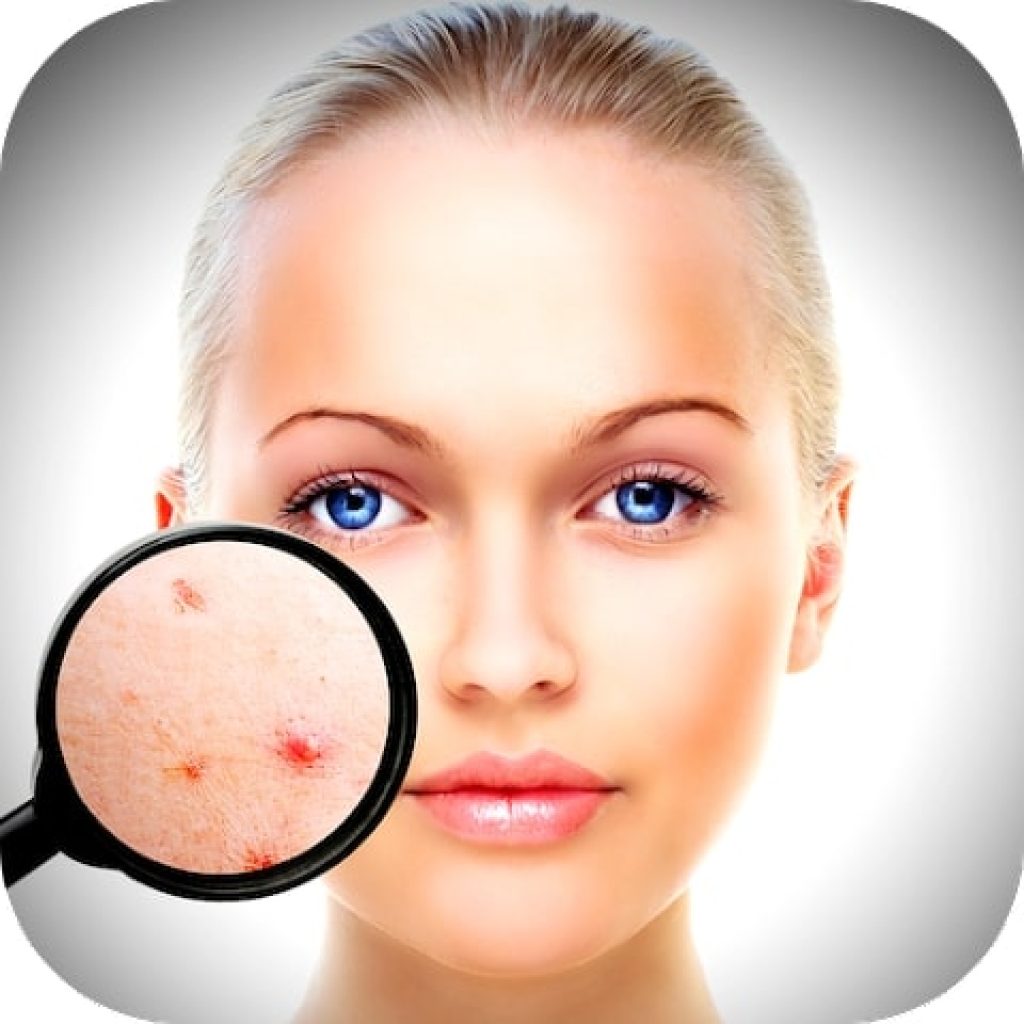 Face Enhancer: Blemish Remover is an amazing photo editor. Unlike many similar ones, it is free and great for beginners.
You will easily manage even if you have never edited your photos before. This program allows you to make your selfies perfect.
Experiment with your own appearance, for example, make professional makeup or a new hairstyle.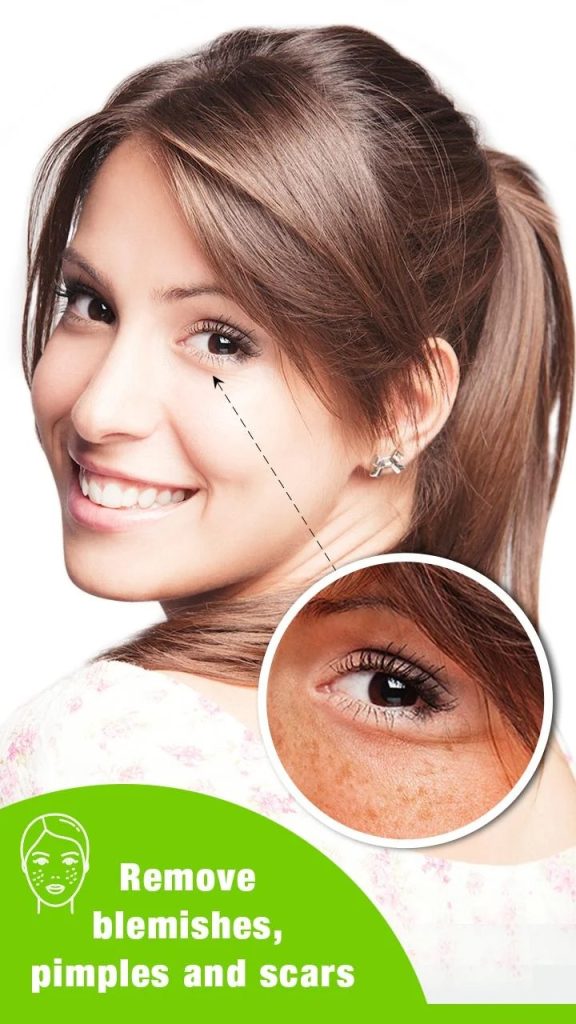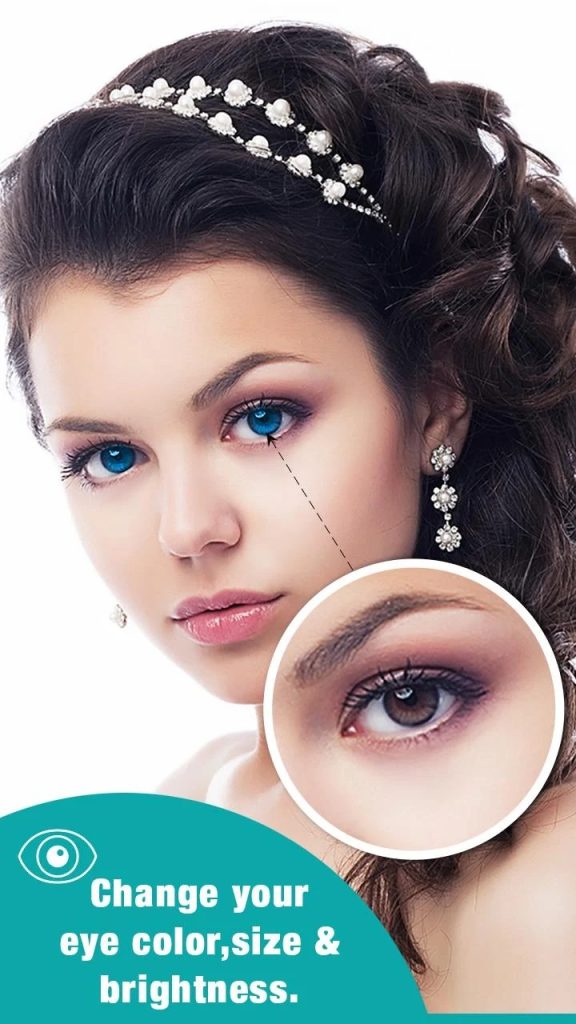 The app allows you to eliminate all skin imperfections and make your skin smooth and beautiful. It is also possible to whiten your teeth and change your eyes or lips. After making changes, the photos are easy to save.

Photo Retouch – Blemish Remove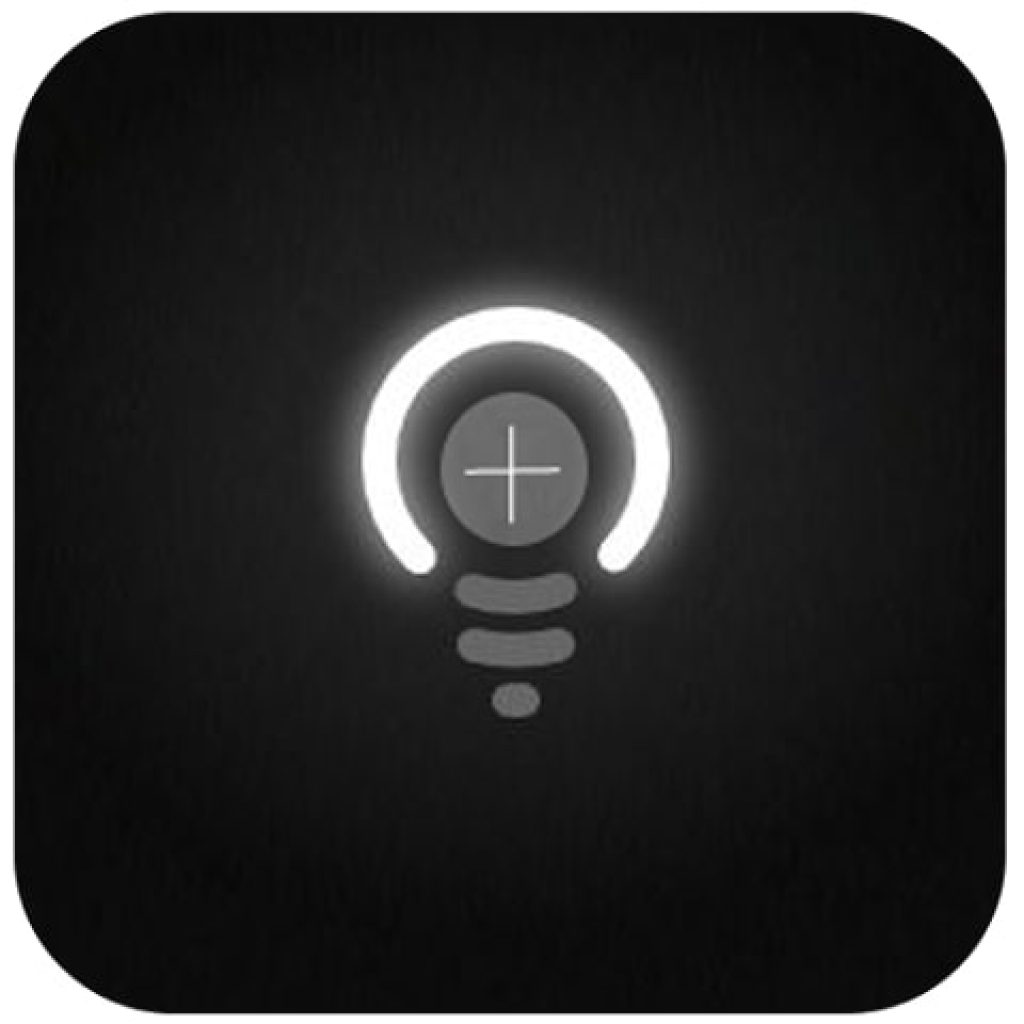 Fix the imperfections in your photos with Photo Retouch. This app will easily get rid of unnecessary wrinkles, blemishes, and objects in your photos.
It has an easy-to-use interface. All the tools are quickly accessible in a minimalistic dark color that won't blind your eyes at night.
You can easily zoom in and move the photo to where you feel most comfortable removing an object.
If you want to remove some extra person or object from the photo, you can be sure that Photo Retouch will easily do the job. Just select the tool you want and highlight the object and it will glow red.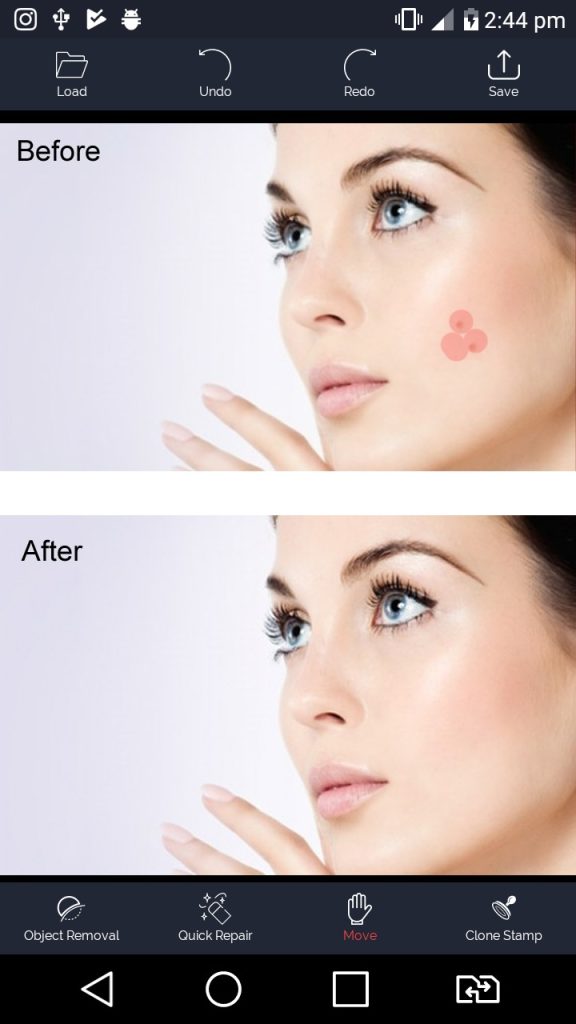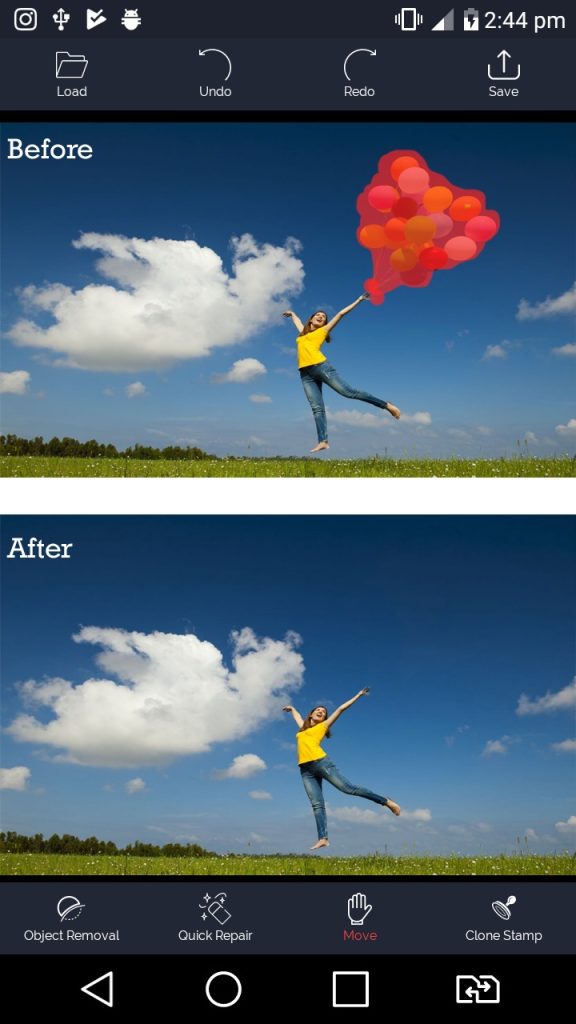 The app will then do everything for you and retouch the photo so that the removal of the object won't be noticeable. Use Photo Retouch and be sure of a great result.

Blemish Remover Photo Editor by Repic Photo studio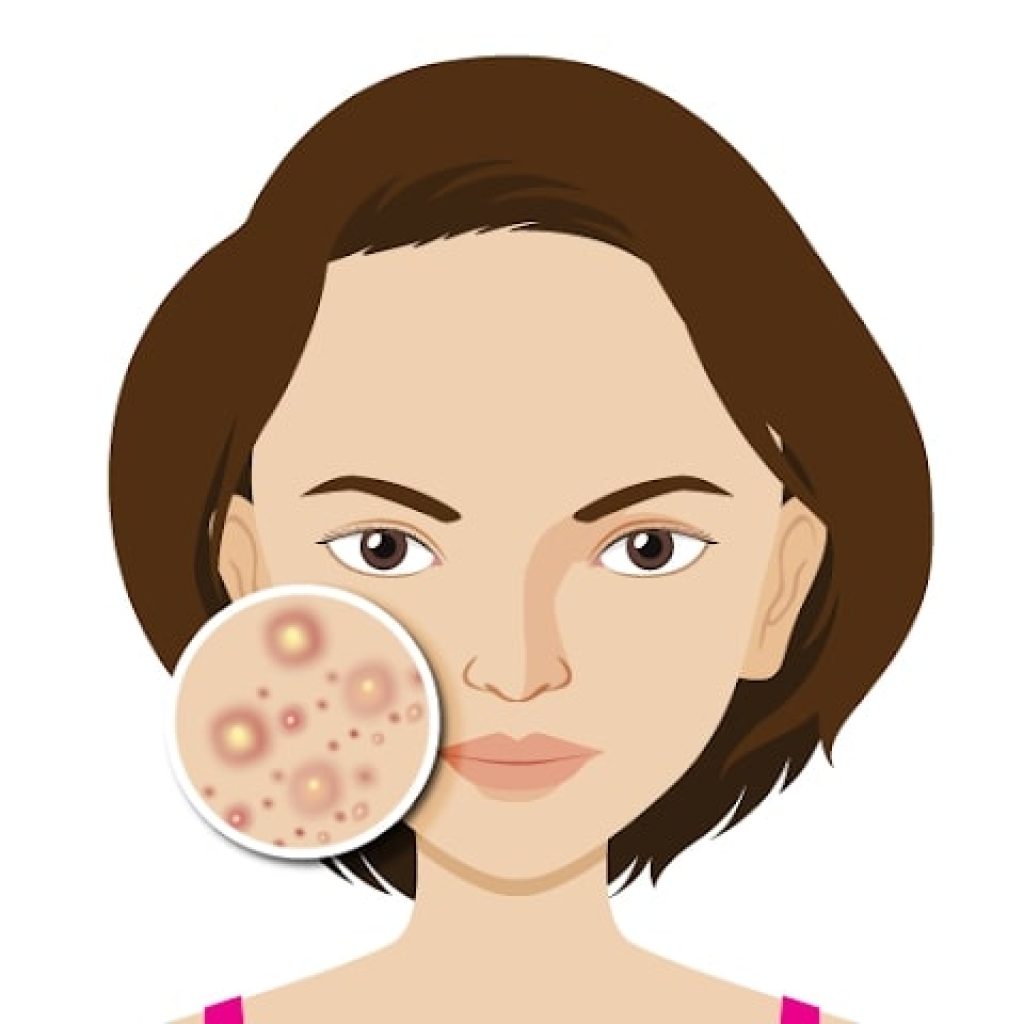 This app will help you make your photo perfect. It has a huge number of useful features, after applying which you will shine on your phone screen.
The app has a night mode and a user-friendly interface to make it as comfortable as possible for you to use it. You don't need to register and make an account to use these features and tools.
Here you can change the proportions of your face and body, create a smile on your face and add beautiful filters to decorate your photo.
All features are unlimited and there is no paid subscription, which makes the Blemish Remover Photo Editor app unique. You can whiten your teeth and change your skin tone, add yourself a tattoo in the appropriate editor and even do your makeup.
The app provides a large selection of wigs to change the image of the person in the photo and colorful lenses for the eyes. There are funny stickers, different neck jewelry, and earrings and you can also leave text on the photo.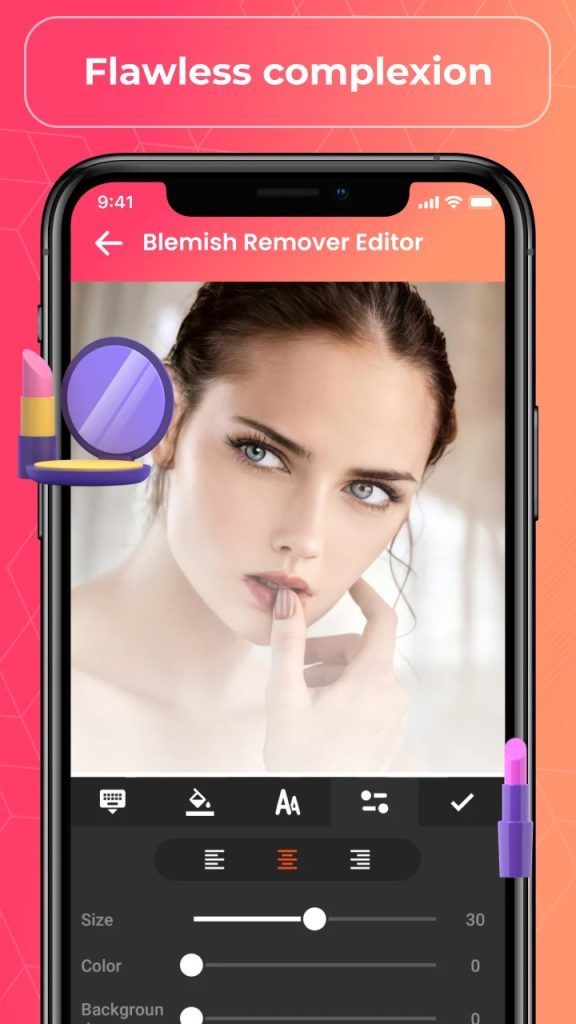 There are also tools that allow you to remove dark circles, blemishes, and moles under your eyes. Use Blemish Remover Photo Editor and get prettier!

Face Acne Remover Photo Editor App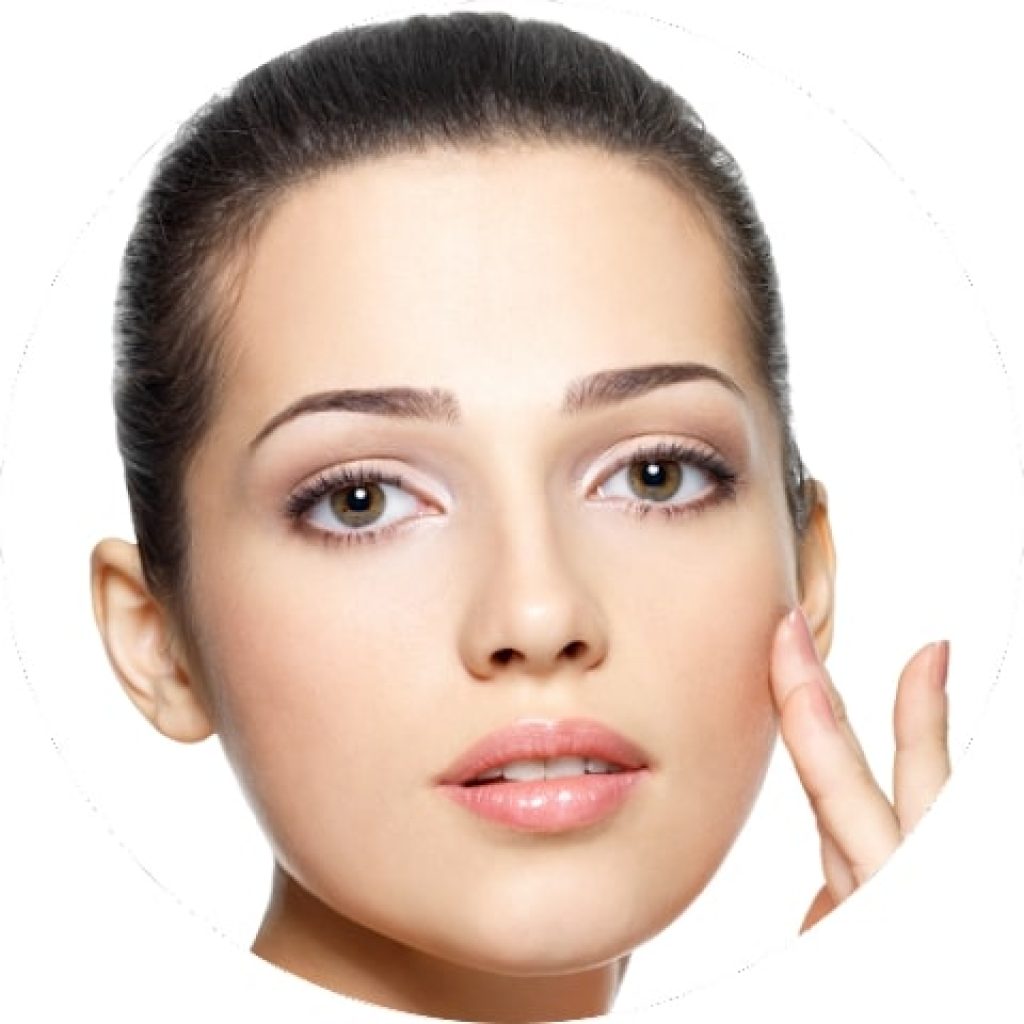 This app is designed to remove acne from photos. In one click you will be able to remove all the spots on your face.
To do this, you need to upload a photo and click on the button with the acne label. The result of the edit is perfect acne-free skin, exactly what you've always dreamed of.
Your subscribers will never know what preceded your perfect photos. All your photo plans will be fulfilled.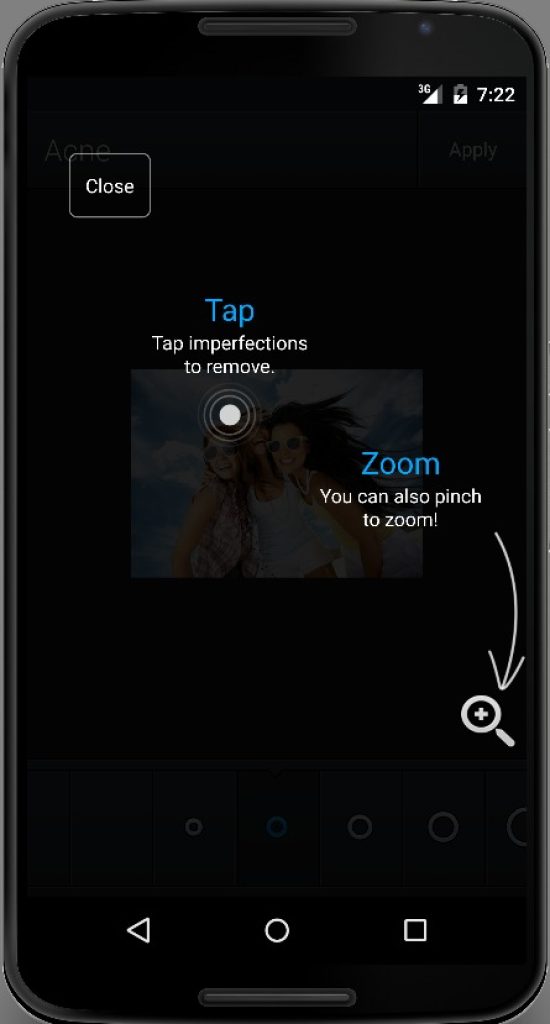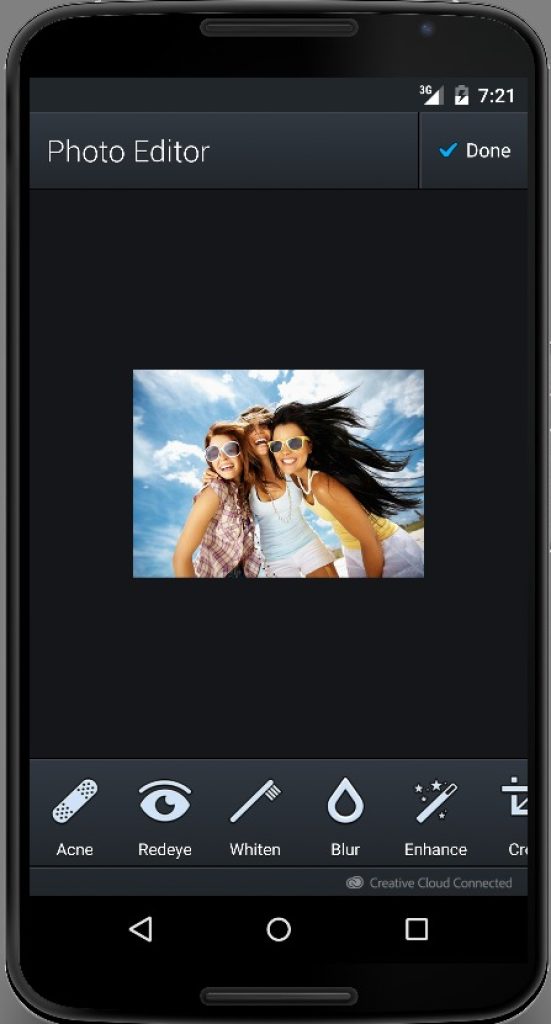 Besides, the app allows you to edit your smile – now it will be snow-white in the photo. Your photos are sure to gather likes, you will get an incentive for new experiments.

Blemish Editor Pimple Remover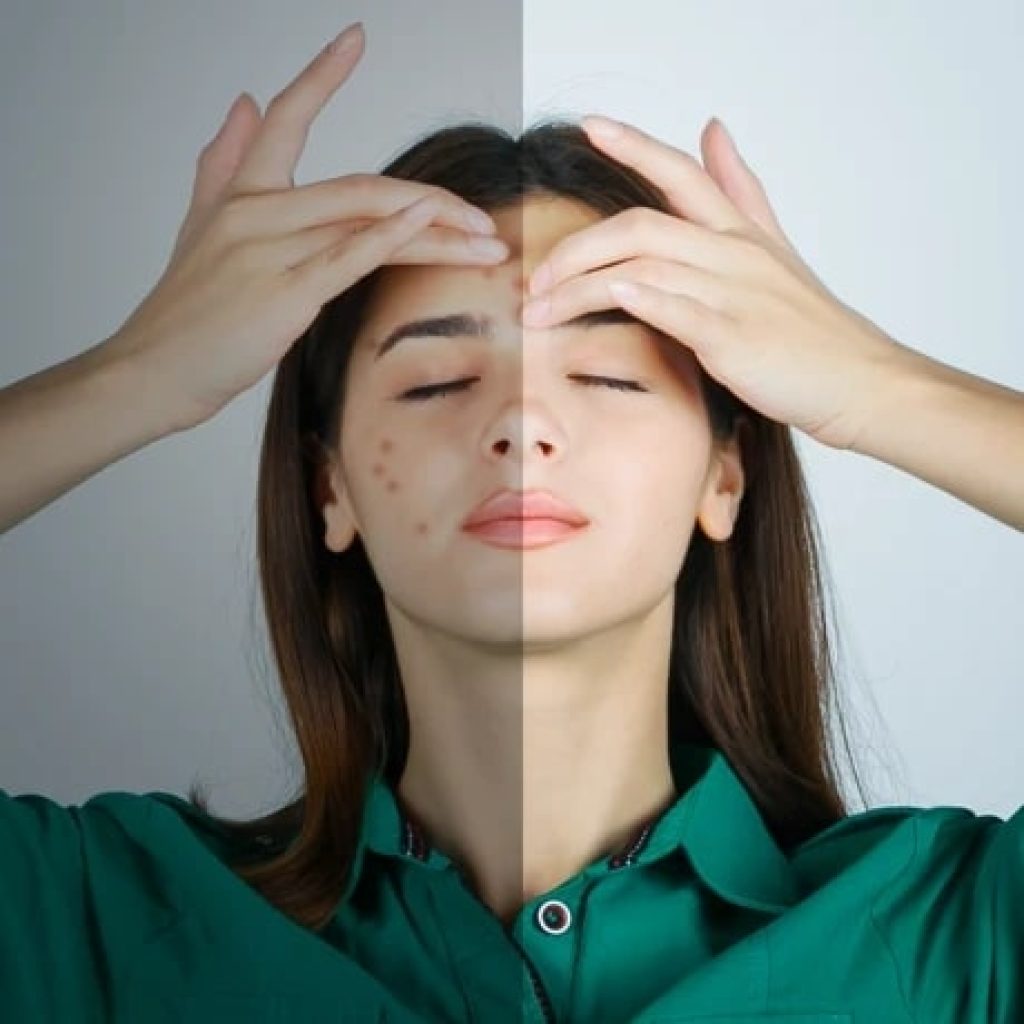 This photo editing app quickly and easily corrects all skin imperfections in a photo.
You need to select the area that needs editing and place it in the center of the correction circle. Just one click on the "delete" button and the problem will be eliminated.
You can easily remove acne, scars, blemishes, and other imperfections, even if this is your first photo editing experience.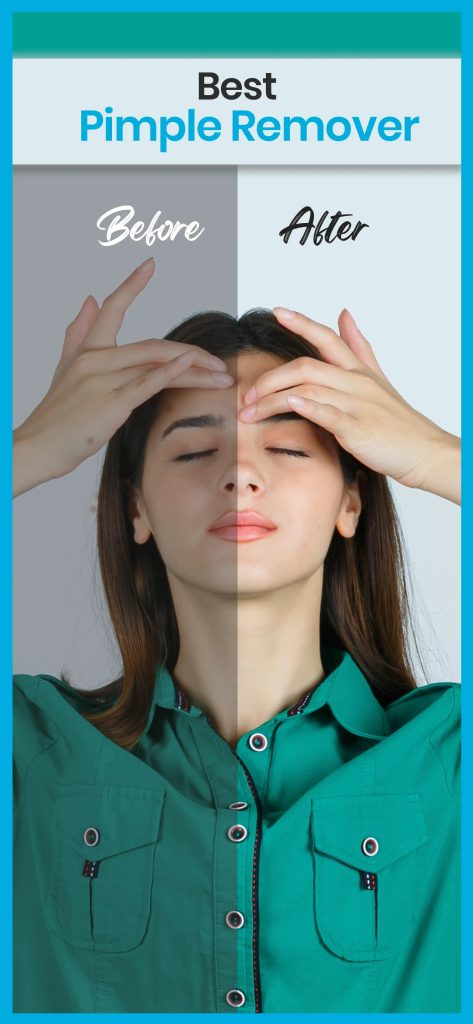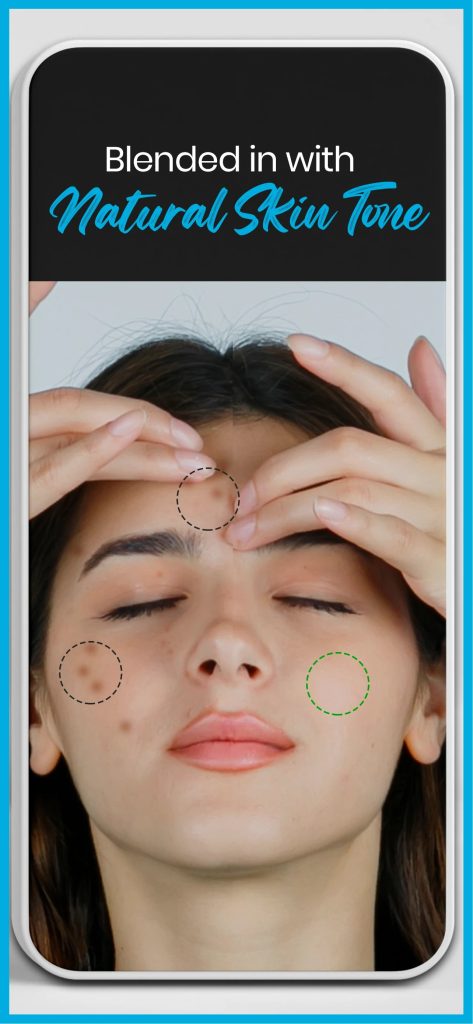 The result is easy to save and proceed to the next photo. Now, skin imperfections will no longer be a reason to refuse to take part in a photo shoot.


You may also like: 7 Free Teeth Editor Apps for Android & iOS
Face Retouch – Blemish Remover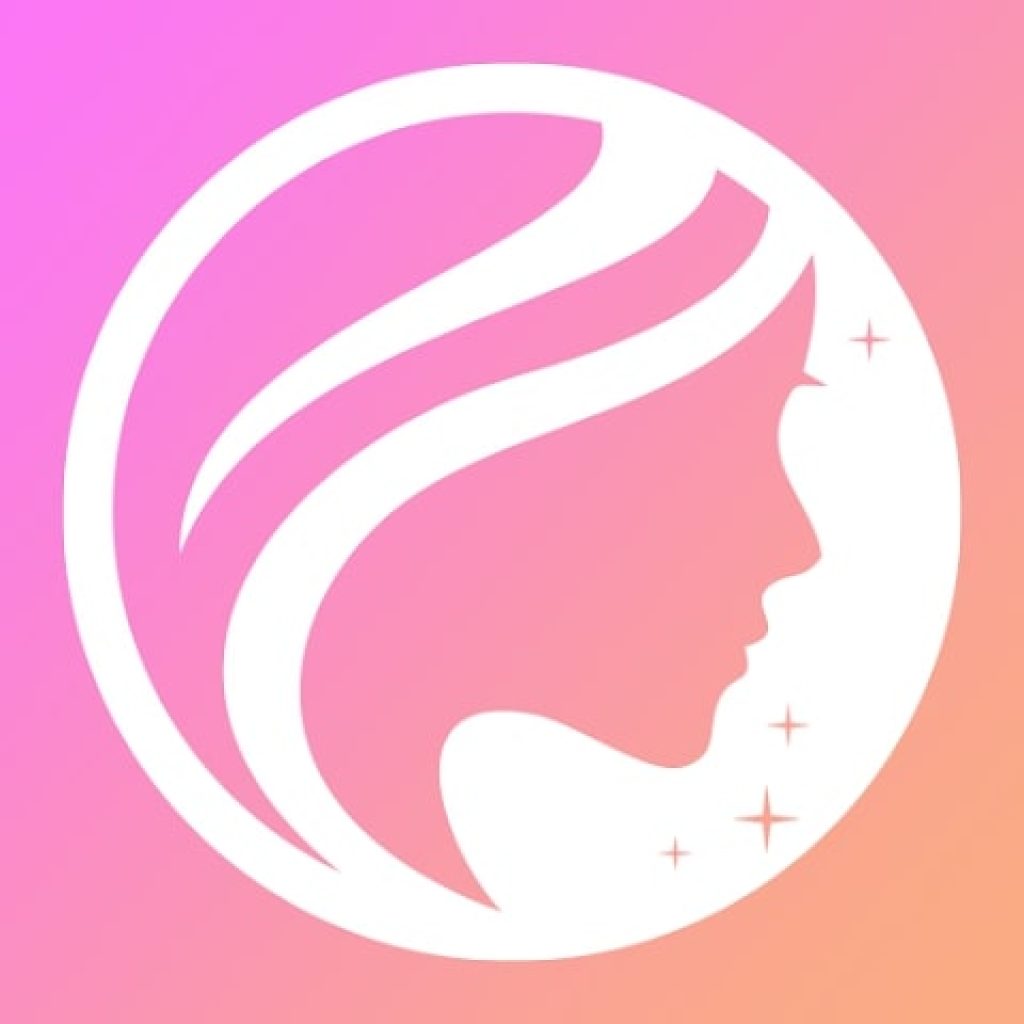 In this app, you can use the automatic enhancement settings or choose the methods available to you. Making your face perfect is now easy, even for beginners.
Users can make perfect skin of any shade, color, and condition. No more pimples, wrinkles, and other annoying problems, everything is easy to remove with one click.
You can also give your skin a tan effect. Do you want to whiten your teeth or make your lips more attractive? Those features are available, too.
The in-app filters can help make your photos look even better. What's more, there won't be any red eyes in your photos either. Now, your perfect photos are ready. All you have to do is save and share them.
By the way, users of the app can not worry about the safety of their data – they are not collected and are not transferred to third parties.

Blemishes Remover You Makeup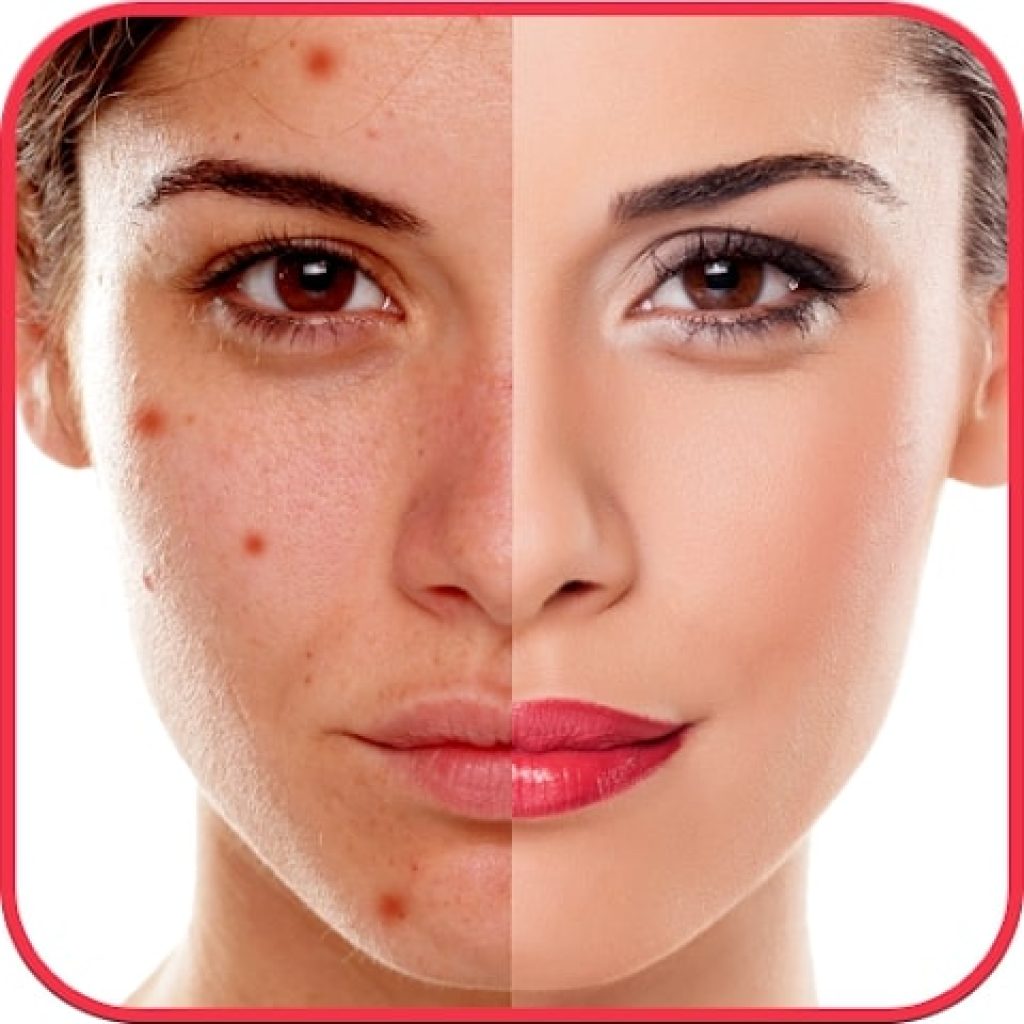 This app allows you to take perfect photos without any extra effort or time expenditure. It is suitable for beginners and advanced users.
You can use the automatic photo editing features or identify and make adjustments yourself. Remove acne, scars, and facial blemishes, and make changes to the shape of your eyes or nose.
There are also special filters – for most users, this option is crucial when choosing an app. You also have the ability to change the brightness, sharpness of photos, and other similar features.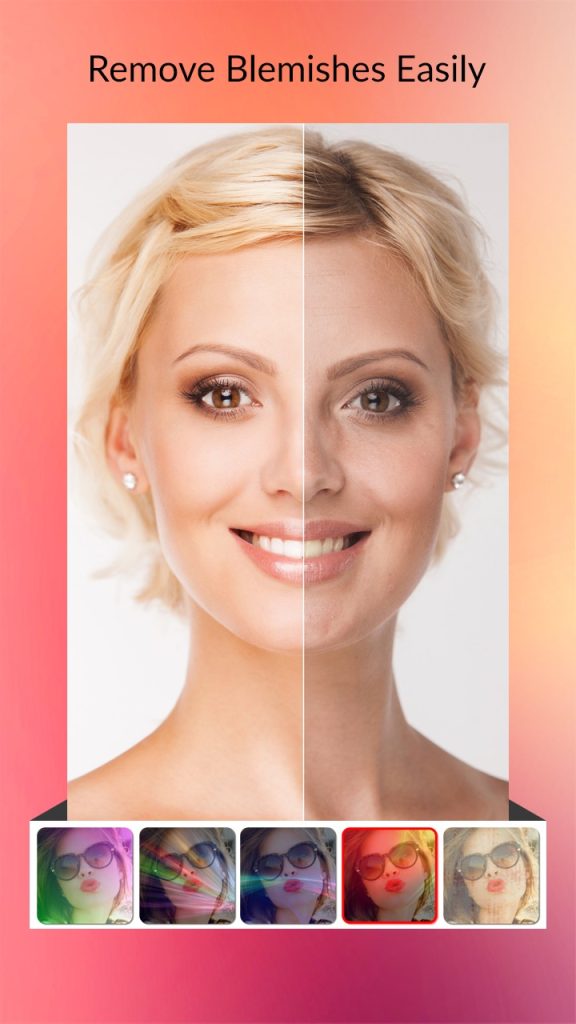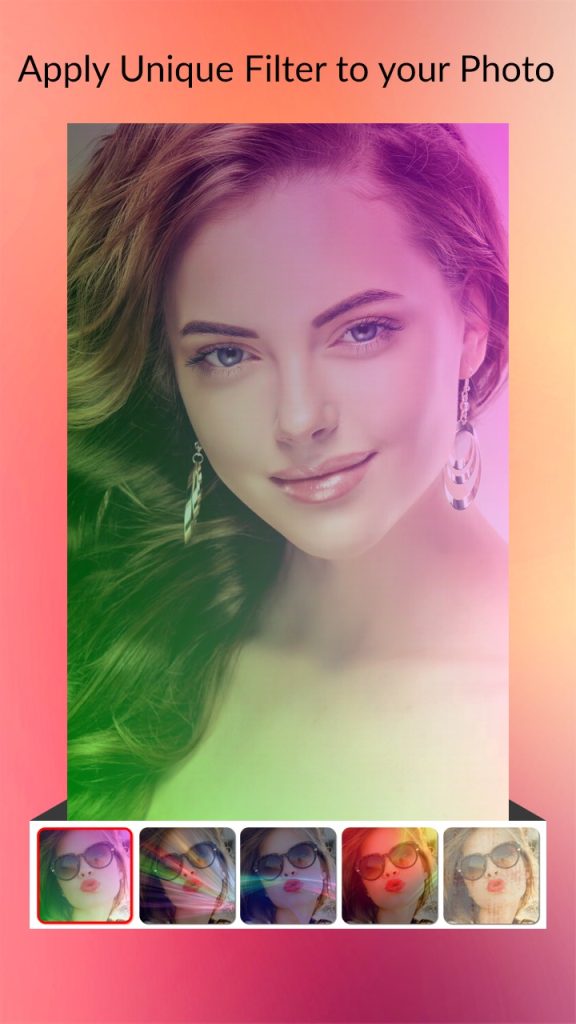 No more bad or low-quality photos. All your photos can become perfect thanks to this program. Save them and feel free to put them in your feed. This app is your reliable assistant on the way to perfecting photos.

Blemish Remover Photo Editor by Phone Secure Apps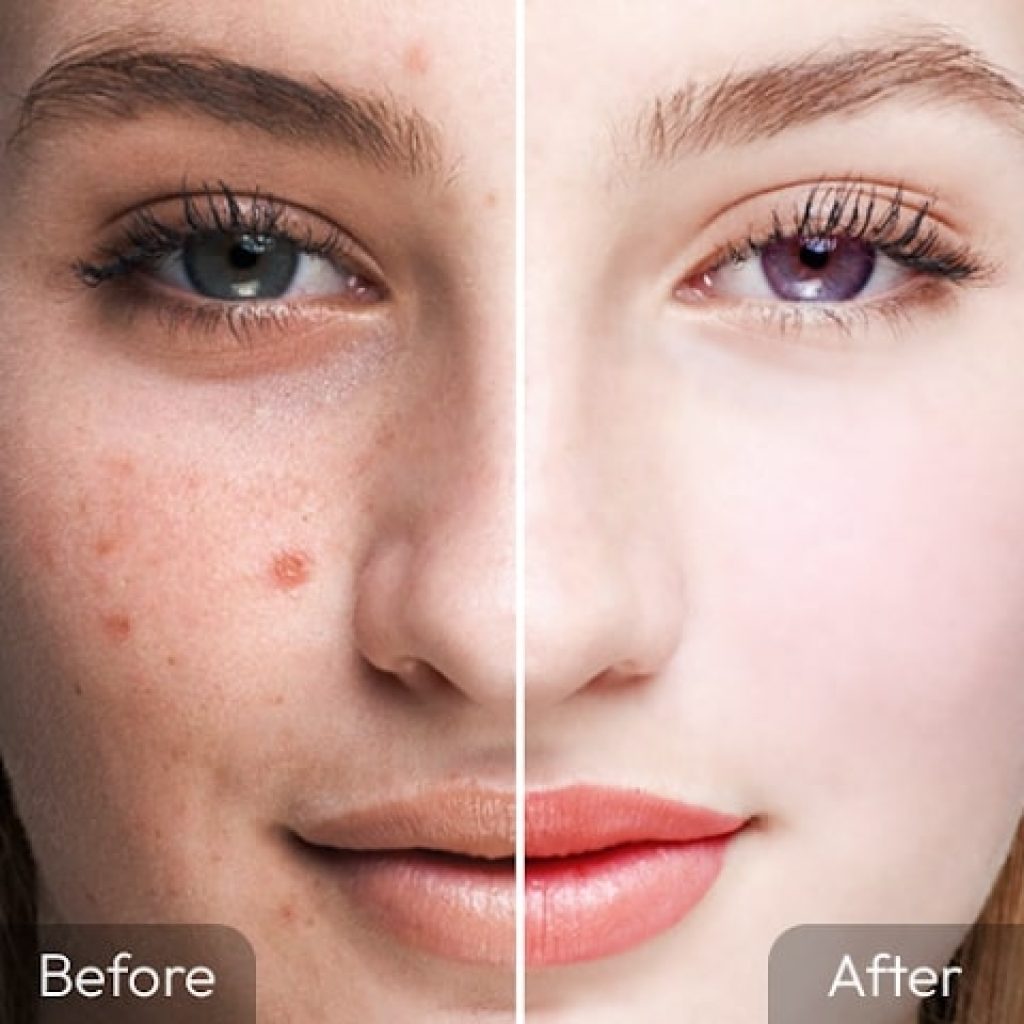 This program can work wonders. Its functionality and interface are so simple that it is understandable to anyone who wants to change or even improve their appearance.
Add blush to your cheeks, lenses to your eyes, eyelashes, and lipstick. The program provides access to unusual stickers in the form of crowns and flowers, it will give charm to your face.
Change your skin tone, and get rid of red eyes and yellow teeth. Remove facial spots, unwanted pimples, freckles, and moles.
The app is so functional that you can even add sunglasses to your photo and change your hairstyle. After all these stickers and changes, add a caption and the perfect photo is ready.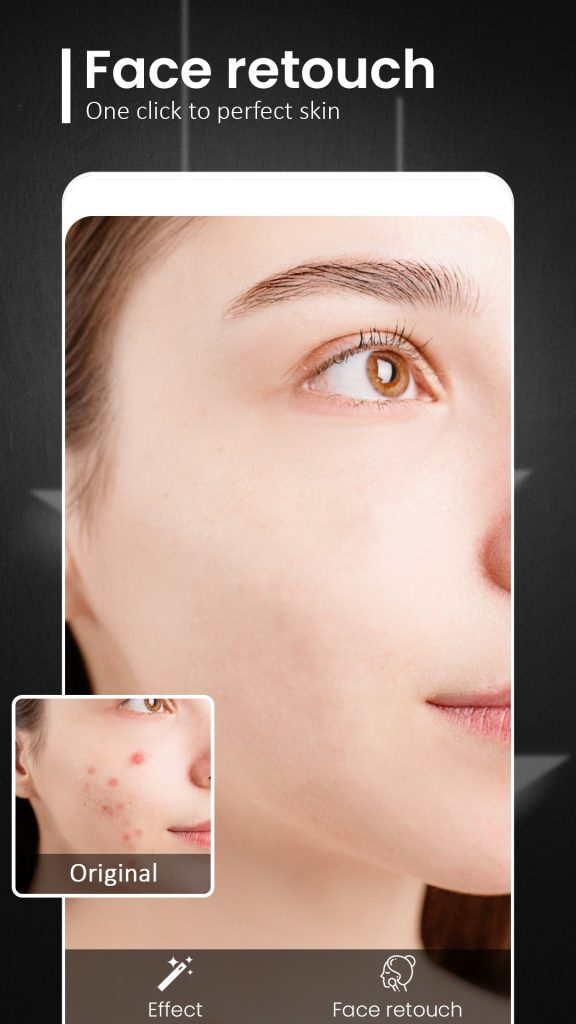 All that's left is to share it on social networks, which is easy to do with just one tap on the screen. A huge number of useful features are at your disposal, and it's all in this app!

Face Blemishes Removal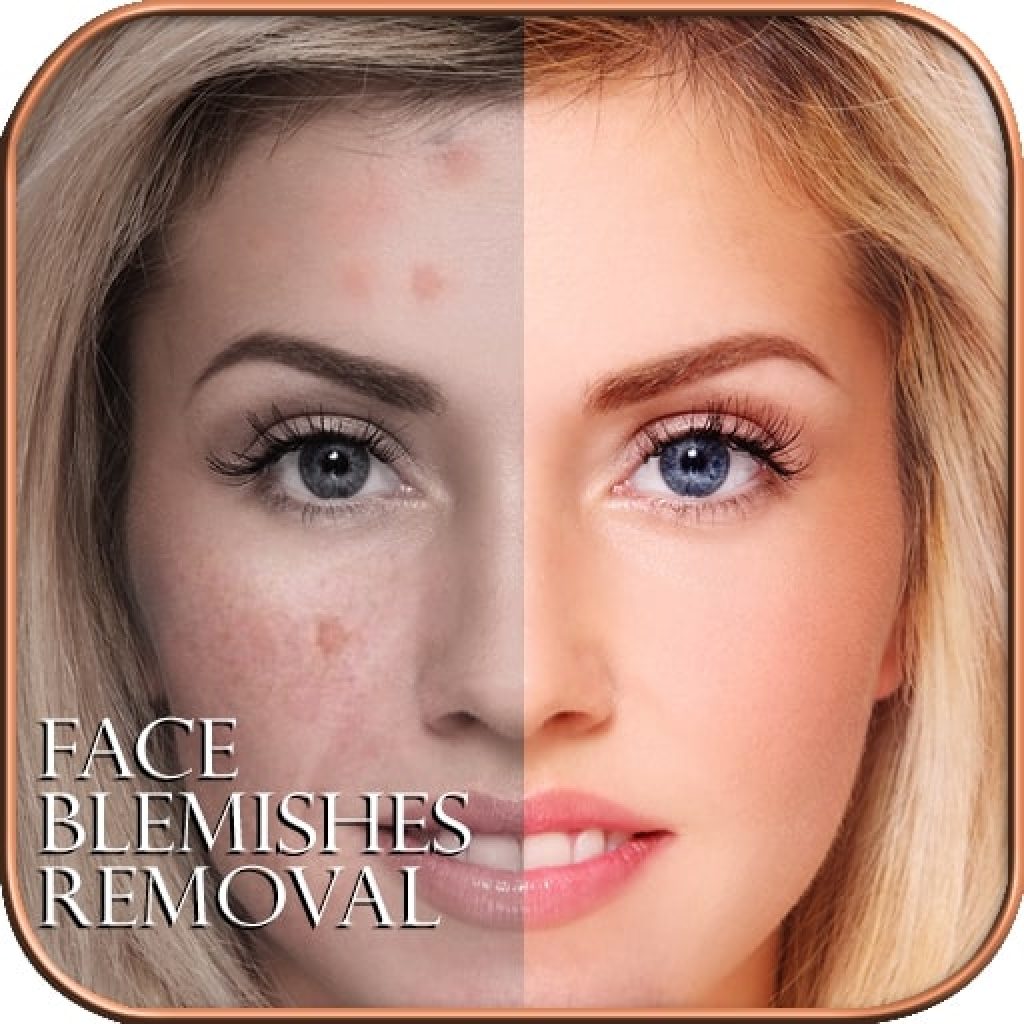 This is a high-quality photo-editing app. There are built-in image enhancement features and the ability to select and process images yourself.
Now it's easy to make your face perfect, regardless of skin tone and color. You'll be able to remove acne, scars, and other blemishes whose appearance used to prevent you from enjoying your photos.
These are not all facial enhancement options. Users can make their smiles whiter and get rid of the red-eye effect.
In addition to aesthetic changes, you can choose brightness, contrast, and warmth, and make other adjustments. There are also other options to improve your photos or make them fun.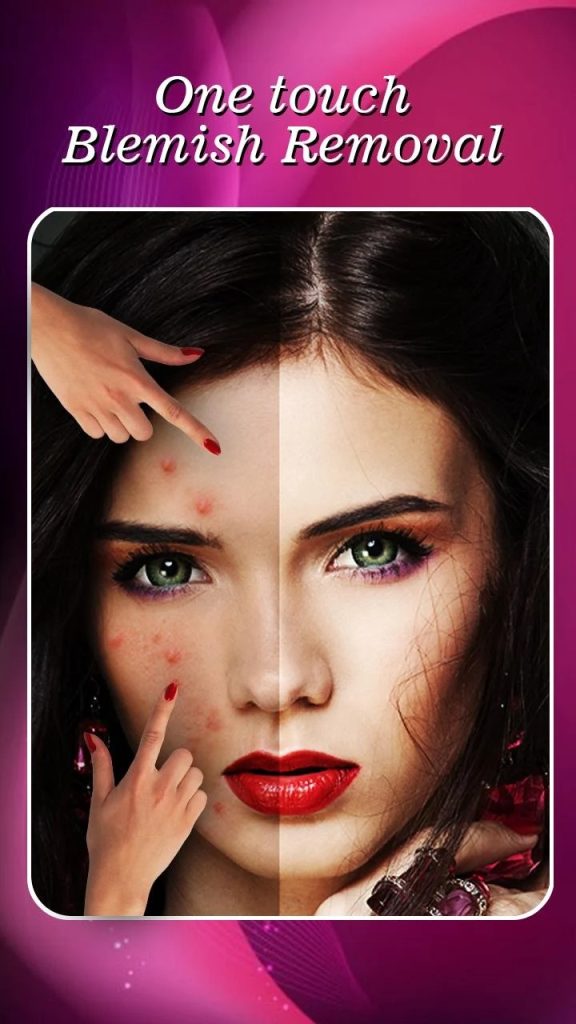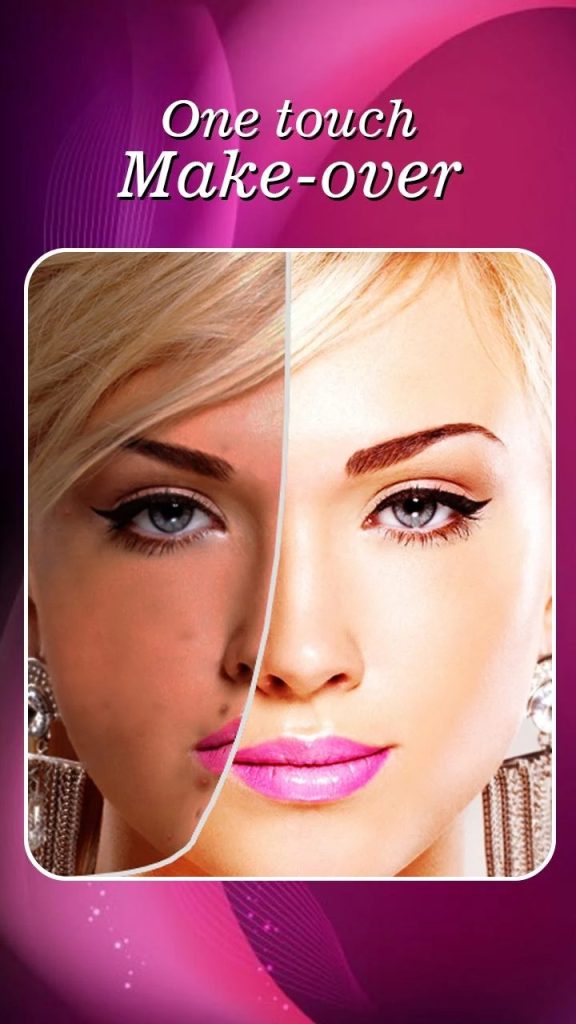 The result is easy to save to your phone or another device. Such cool photos will definitely not leave your subscribers indifferent. Now perfect photos are easy, quick, and affordable.

FotoRus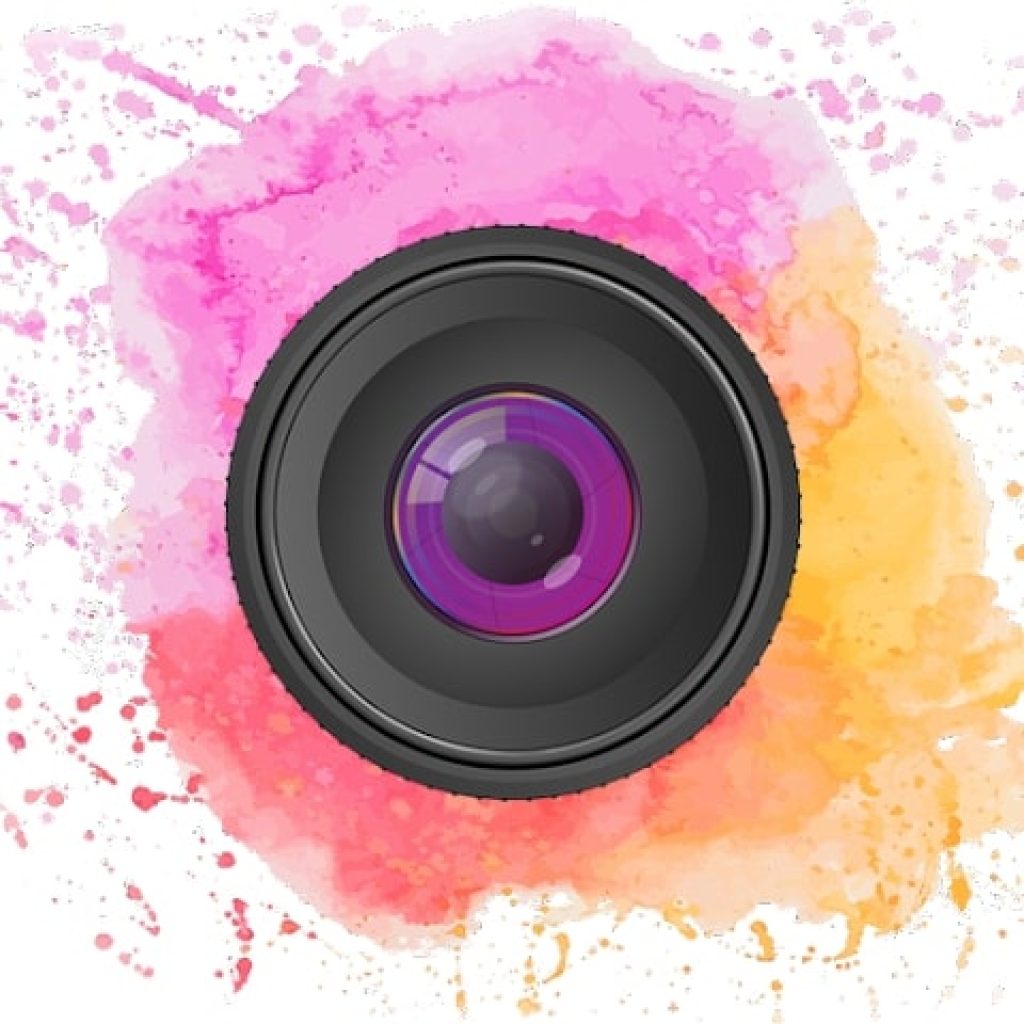 FotoRus is an app for taking photos, editing images, and collaging photos. The program is for those who do not see their life without photography.
The software gives users access to a large number of options, frames, all sorts of effects, and stickers. They will give each picture an individuality.
Access to the functionality of the app is made simple and straightforward. There is a possibility of taking photos directly from the main menu of the program, its own photo gallery is built-in.
The finished results of photo processing can be sent directly to popular social networks. Share it with friends via messengers, or sent it for printing via wireless printers.
Thanks to this utility each photo can become a work of art, to preserve for a long time the amazing moments of life.
With this program, you can get rid of skin blemishes, remove bags and dark circles under the eyes, and correct the effect of "red eyes".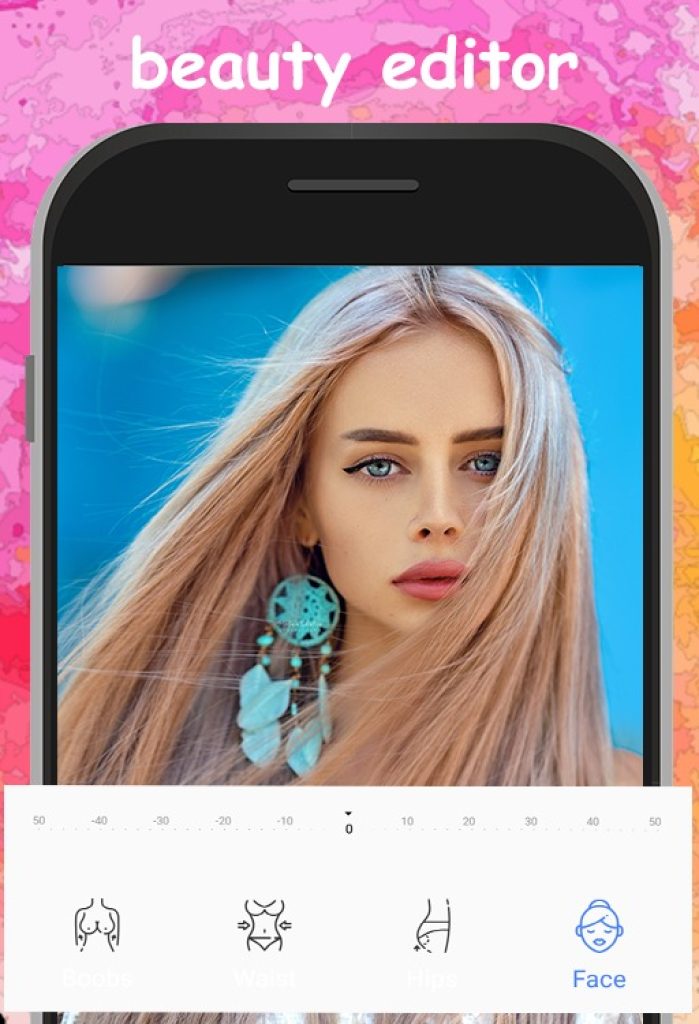 You can create collages from photos, change the appearance of the frame, and select the location and size of images.


You may also like: 9 Best nose editing apps for Android & iOS
Pixl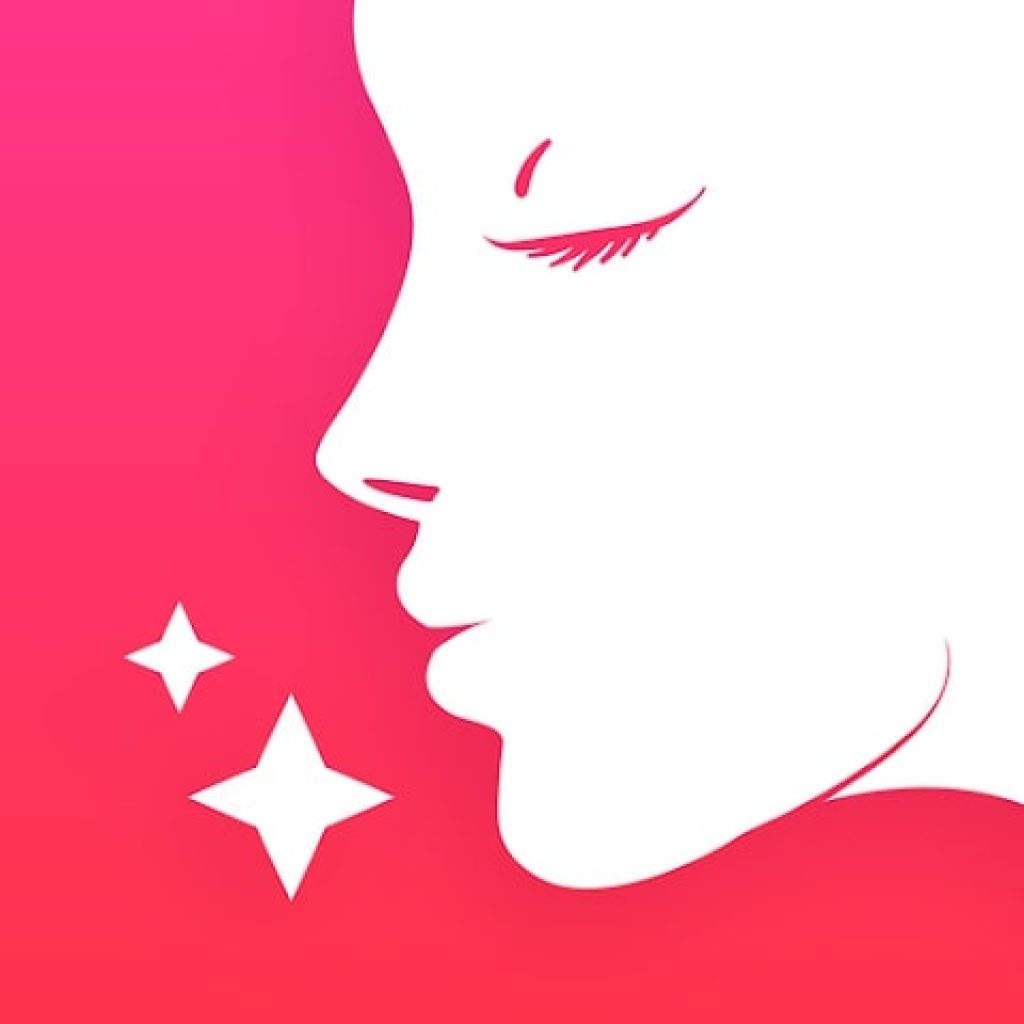 Pixl is a photo editor that specializes in retouching portraits. It can be used to correct and "rejuvenate" faces in photos without resorting to more complex solutions.
The first time you start Pixl, it prompts you to select the photo you want to edit. This displays photos from the storage on your device. You can also open the camera and immediately take a picture to edit.
After selecting an image the editing window will appear. The app is extremely easy to use and allows you to retouch portraits in seconds.
All tools except the last two work on the principle of a layer, which is applied with a marker and for which you can adjust the intensity.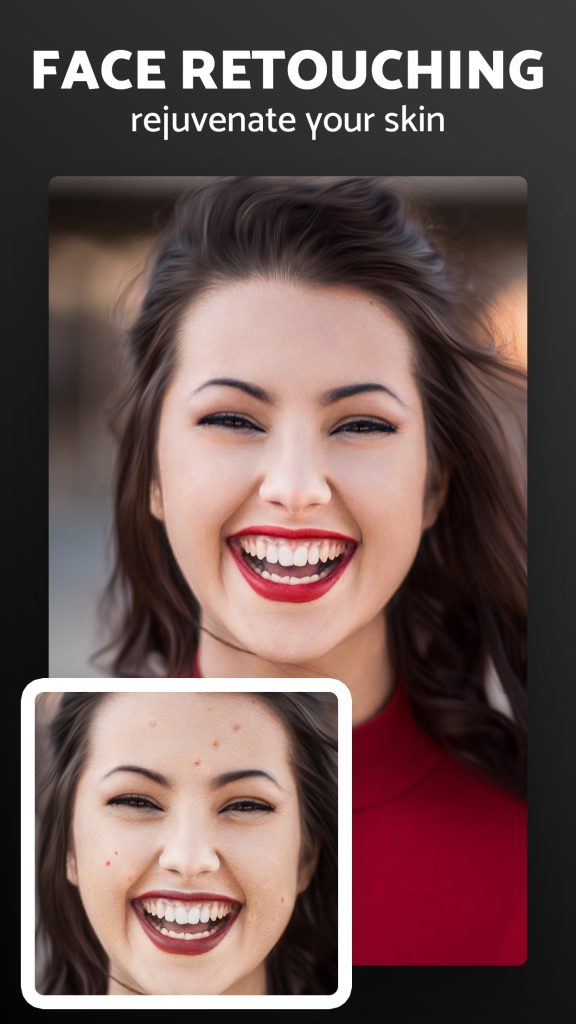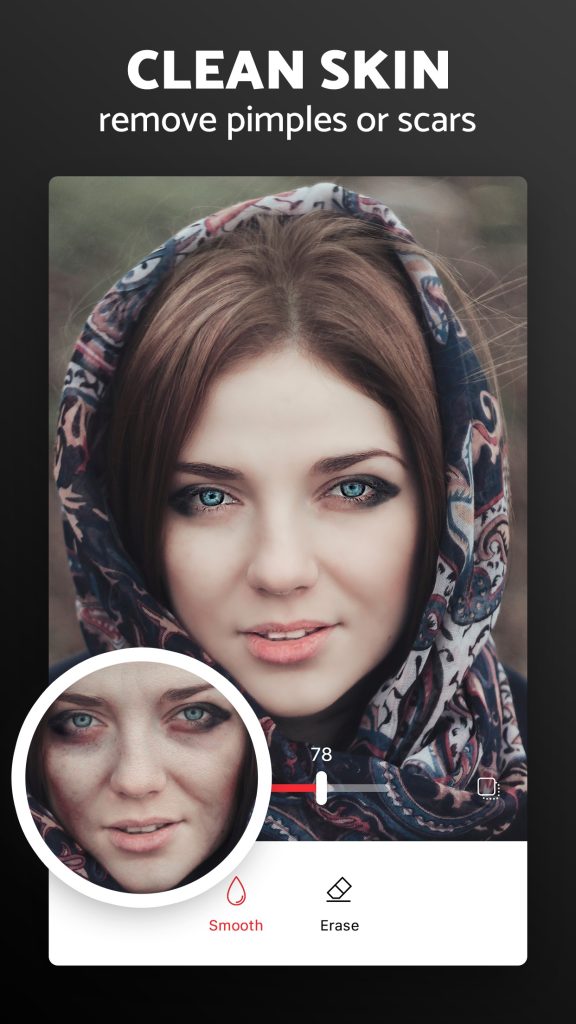 As you work on the image, you can scroll through it and use the buttons in the lower-left corner to undo and revert edits. When you are finished, you can save the picture using the button in the upper right corner of the screen.