Nowadays the design industry has gained crazy popularity. Design is a significant part of our lives: you will rather go to the hairdresser who has a nice Instagram page than to that one who has nothing on his account. This article will feature the best menu maker apps.
And if you want to create not only menus but beautiful posters for your apps as well, you might want to explore the best poster maker apps.
Canva
Canva is a perfect app for implementing any creative ideas! The app allows the user to generate everything from an ordinary Instagram story to a modern restaurant menu design in a few minutes! The only thing which the menu creator needs to do is to add several photos and desired text.
Here are some benefits of the app:
The opportunity to make a cool restaurant menu with catchy designs and capture the attention of future customers
Totally free app (but, if you want to have premium photos, you need to pay 1$ for one of them.)
130 various fonts which will help diversify your menu, as well as get much more response from possible buyers because a structured menu attracts many more people than a list of nonsense
More than 1500 customizable templates will allow you to both create your unique project from scratch, and get some new ideas for your design, as well as get a more complete idea of ​ ​ the correct design
Able to use over one million free stocks of pictures and videos that, in turn, can be diversified by various visual effects, which will add interest to your work
Summing up all the above, we can conclude that Canva will be your best assistant both in creating an attractive menu and, in principle, in working with various visualizations. Download this app and you can see it with your own eyes.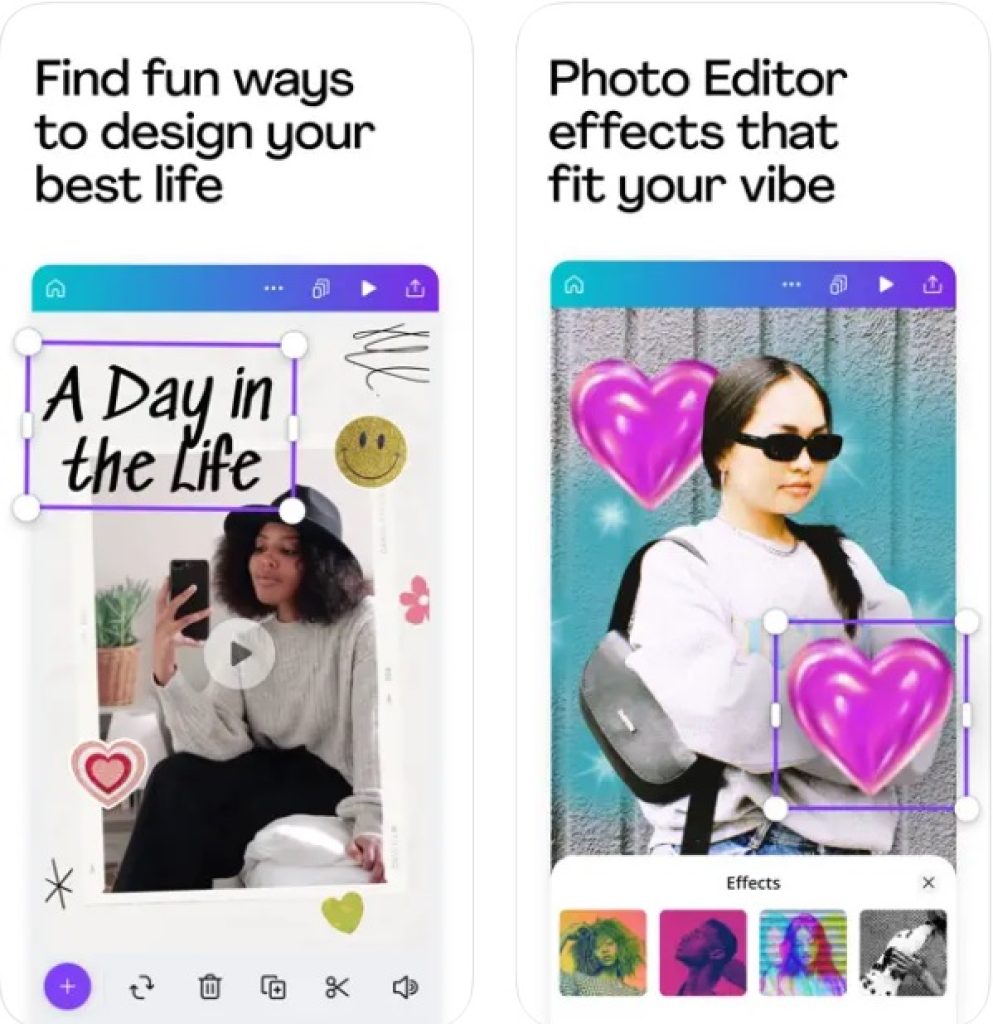 You may also like: 11 Free Live Photo Filters Apps for Android & iOS
Adobe Express: Graphic Design
Adobe Express is a mobile design app, but it's also available online! Adobe provides you great quality stock pictures, thousands of fascinating templates, fonts, and icons, applying a huge number of effects and filters, and the best thing- no design skills are needed!!
With Adobe Express you can create:
unique logos that will show the personality and competent approach of the user, and will also be able to attract the close attention of users if the emblem is really well worked out
beautiful posters that can be used as one of the elements of a competent advertising company aimed at attracting a large stream of clientele
unique presentations that make it possible to more clearly outline what you are doing, as well as show yourself from different angles, for example, a good graphic visualizer
an attractive menu for a cafe, restaurant, clothing store, or some other business; there is also the possibility of using ready-made samples if you need to complete such a task in a very limited time frame
collages of photos that will help you form a gallery of warm and memorable memories or simply diversify your flyer
Here are some options that deserve attention:
Easily achievement of a great result in a couple of clicks
Millions of stock photos with various topics that can diversify work on absolutely any topic, be it a menu for a cafe, hairdresser, or something else
After all, the app is made in such a way that even the most inexperienced user in the shortest possible time will be able to master the basic skills of graphic design
A large number of different visual and animated effects can help to creatively approach people's attention

In conclusion, we can conclude that this utility is worthy of attention due to its unlimited design capabilities. That it is new that a specialist in the field will find this app a really useful and developed tool that will allow you to achieve the goal much faster.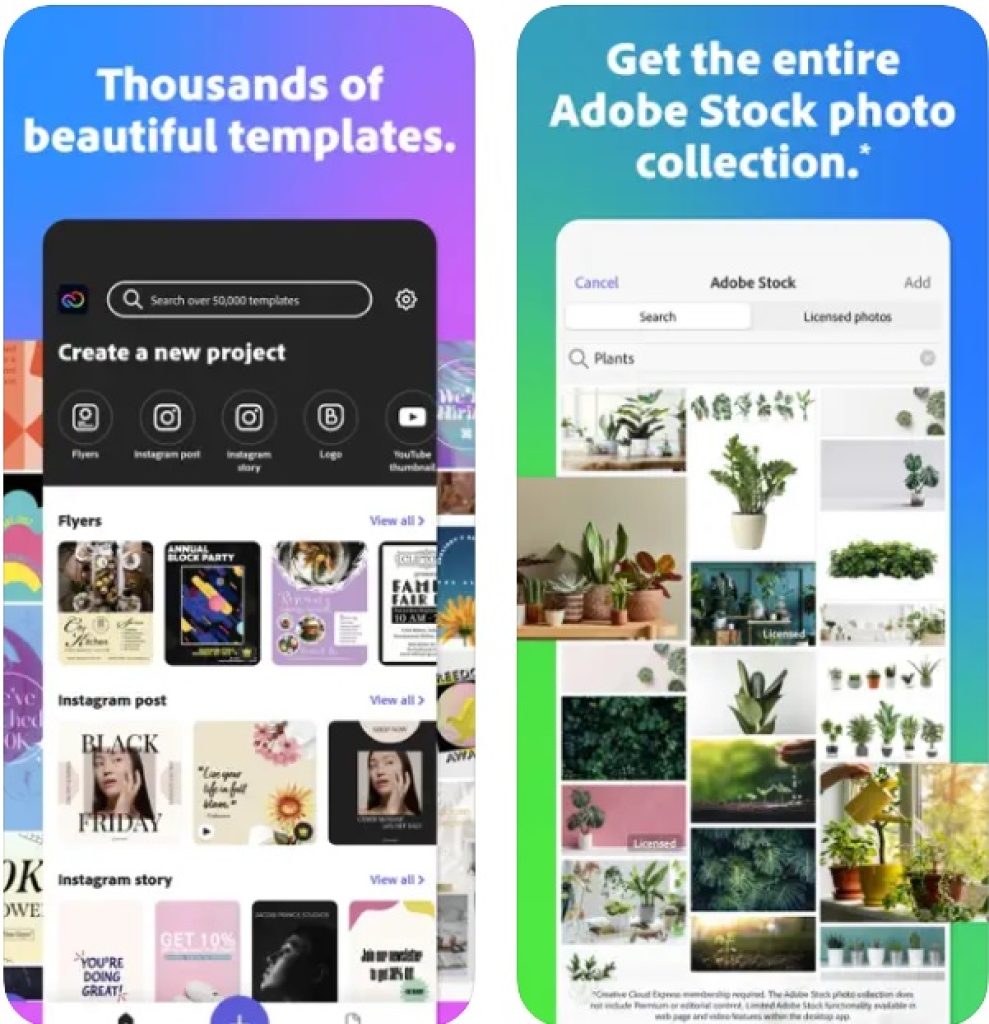 Picsart
The Picsart app is a unique opportunity to create absolutely any layout of anything: Instagram stories, design logo, make an incredible custom restaurant menu design, or just aesthetically edit your favorite photos!
Benefits:
The ability to establish an incredible restaurant menu which will be able to attract many clients from various sectors of society, among which there may be some employer who is seriously interested in you
Great chance to use modern filters and other graphic tools that make the design catchy, high-quality, and attractive
A huge amount of layouts and developments from other authors can thus transfer experience to you and contribute to the birth of new creative design solutions in your head
The ability to create unique drawings using built-in brushes in the utility, coupled with the effect of "transparent clothing"
A large number of different stickers and emojis can be superimposed on photos and videos at any time, thereby diversifying the work; there is a unique opportunity to create your own stickers
To summarize, Picsart will appeal to absolutely all users who want to master graphic design at a decent level, as well as create a unique menu to realize any of their goals.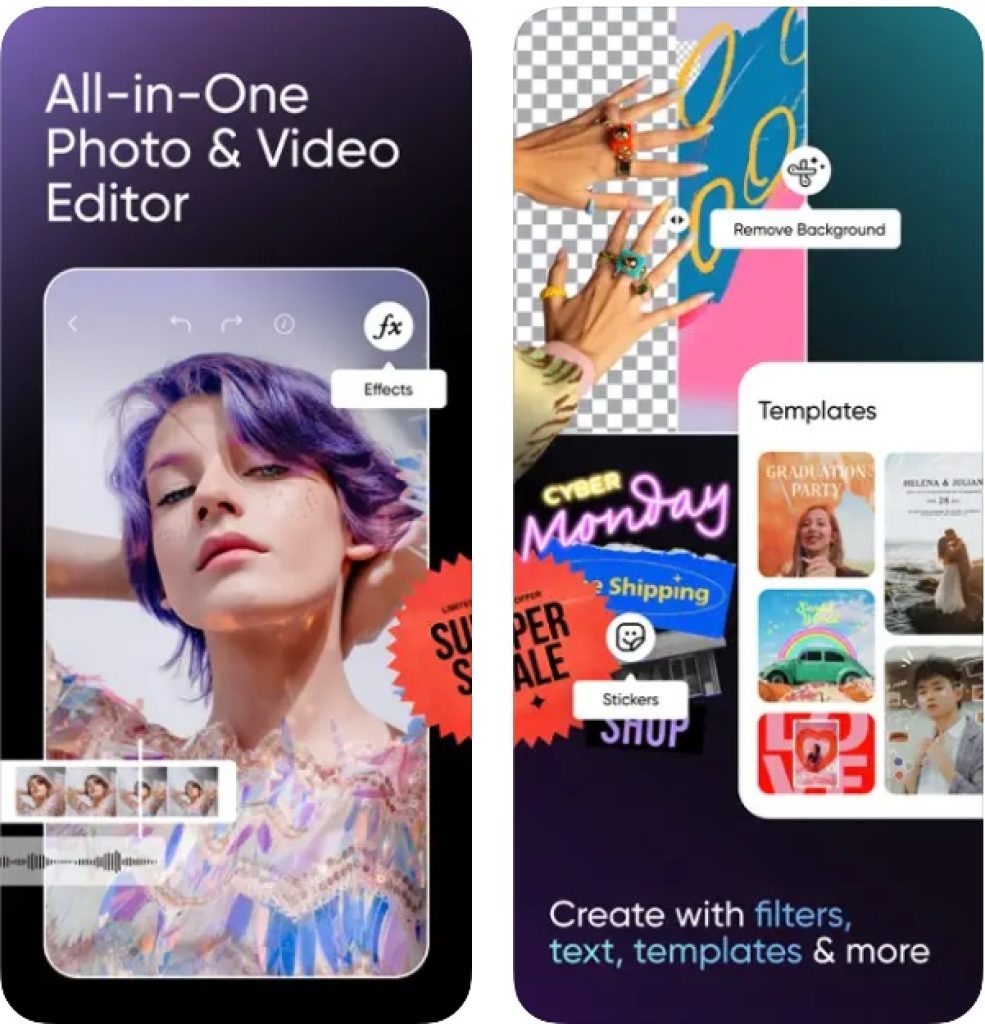 Poster Maker- Flyer Designer
Custom your boring basic restaurant menu into something especially awesome and remarkable! It's a perfect platform for creating cool designs! Develop everything from uninspiring posts, Instagram stories, menus, photos, and videos with that unique app!

The key feature of this utility is the abundance of various photos, videos, logos, and customized badges that will help you create your attractive product from scratch. With more than eighty fonts and a huge number of gradient fills, you can diversify your design.

In addition, you have an interesting opportunity to prove yourself on the good side by flaunting your work on social media like Pinterest, so you can be replaced by scouts from well-known design companies. Thus, your work gives you progress.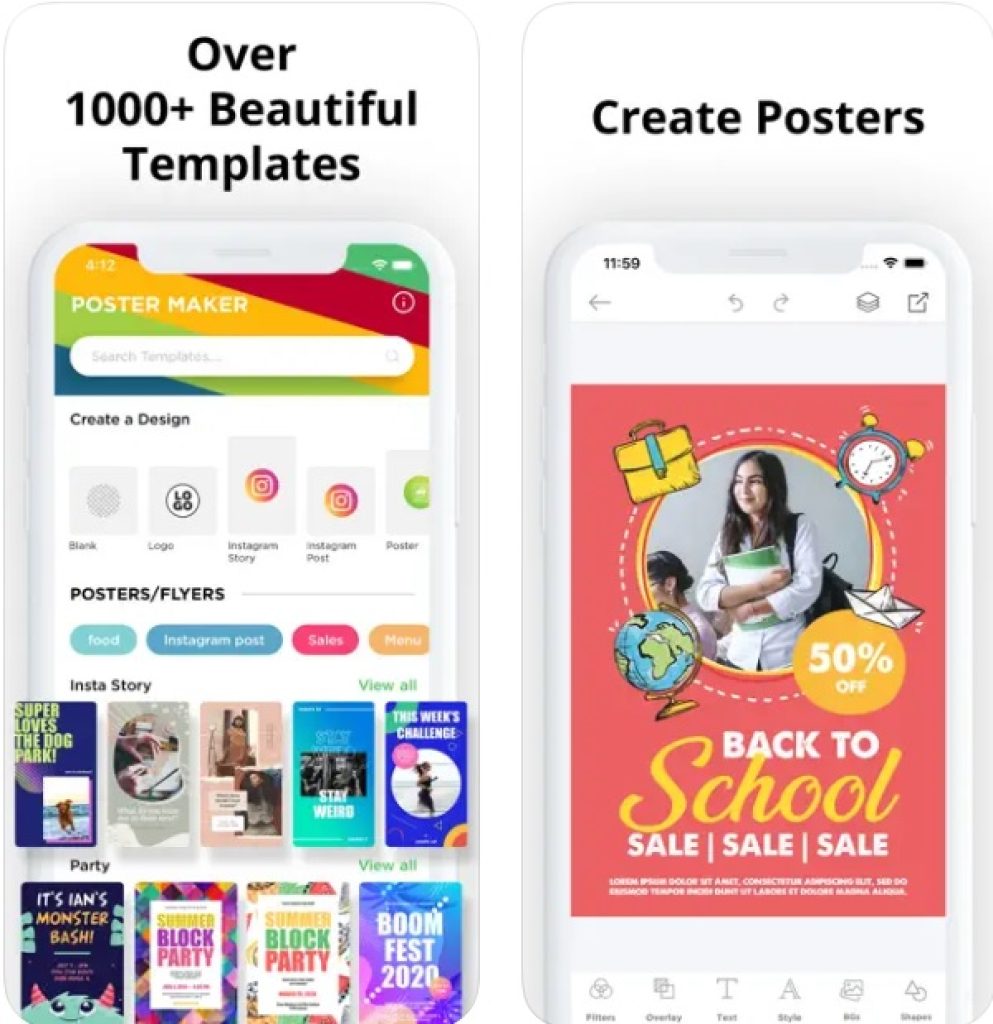 Unfold
Insanely easy-to-use app for creating a fashionable original design for all aspects of your life: sport, parties, organizing restaurant menus and business, and maintaining an Instagram account. All these things can be done with the help of this universal tool.
Benefits:
The ability to use various fonts
Edit photos and videos using a lot of filters
Best layouts for making beautiful designs!

This program gives you the opportunity to use various fonts and visual effects in order to make your stories look really catchy and attractive. In addition, the app has a palette with a lot of colors and shades that can help you add brightness.
It is worth noting the presence of smart synchronization in the app, which can help you save only the best and most memorable moments in the life of you and your loved ones.

In addition, the utility has the option of a planned publication that will allow you to make competent targeting in order to reach more viewers.


You may also like: 11 Best Photo Retouching Apps for Android & iOS
Clay
Turn a Menu design into a real masterpiece! But not only the creation of a wonderful menu is available, but also the design of miracle Instagram stories! All you have to do is press a couple of buttons!
This app can be safely called the very tool that can turn the graphic component of your work into a masterpiece. It uses a truly unique clay visualization approach, which makes it possible to make truly creative solutions.
A distinctive feature of this utility is that you can change the background of the same templates with complete freedom of action. Want – change the color scheme, insert a beautiful drawing, emoji or something else.

If you don't want to reinvent the wheel, then just take the ready-made template and diversify it. Clay will help you unleash your full creative potential, as well as the opportunity to show the whole world what you can be able to do thanks to the weekly Top of the created works.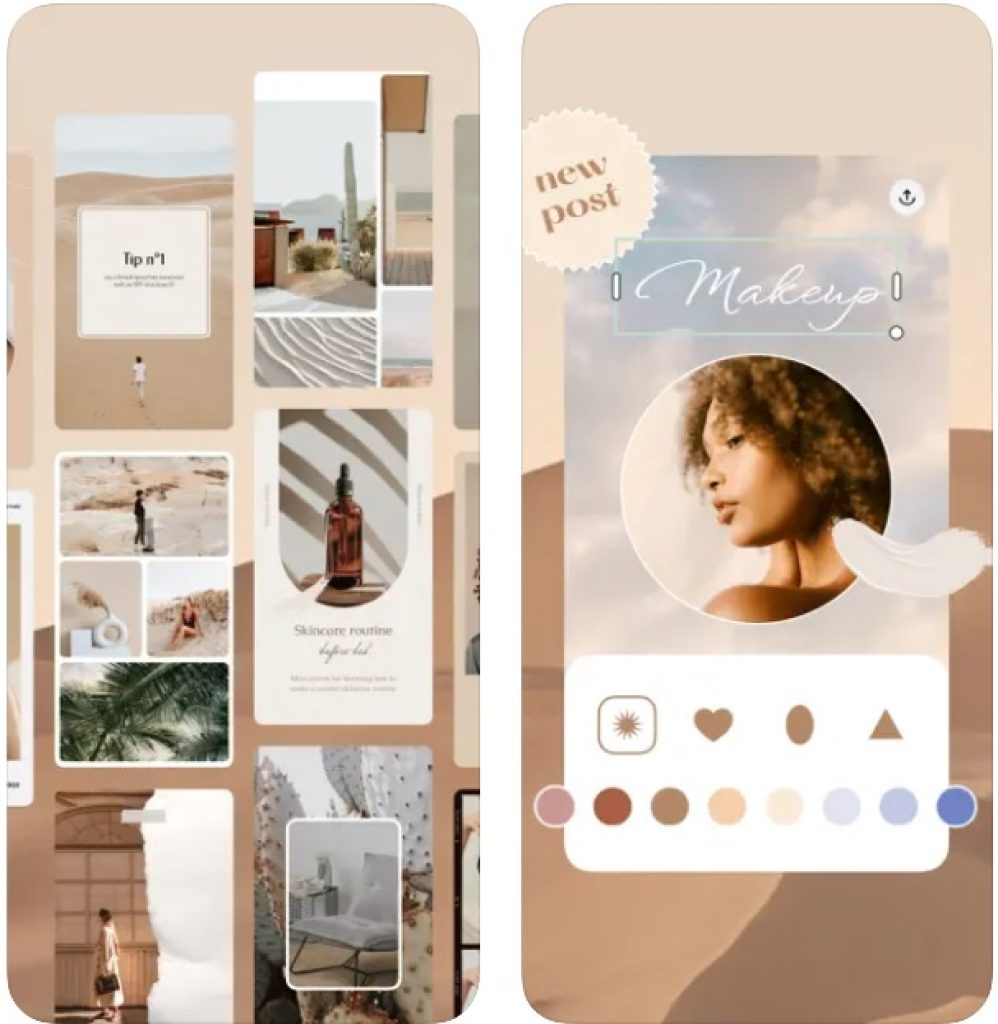 Ninetales
This cool app will save your time by using ready-made templates, and will present a nice opportunity to give all your attention to the things which are really significant!
Ninetales is quick and clear planning of design work, coupled with wide functionality and decent quality of work. This program is able to help users create a design on absolutely any topic, be it business, game design, or anything else.
The program will allow you to implement all ideas, and possibly find new ones using tools such as ready-made templates, divided into trend and aesthetic, "creating work from scratch" functions, as well as a variety of visual effects. In addition, using smart filters, the utility saves your time.

It is worth noting the presence of creative tutorials, thanks to which you can learn something new and implement it in some postponed projects. The app is constantly updated and optimized to become much more convenient and comfortable for new users.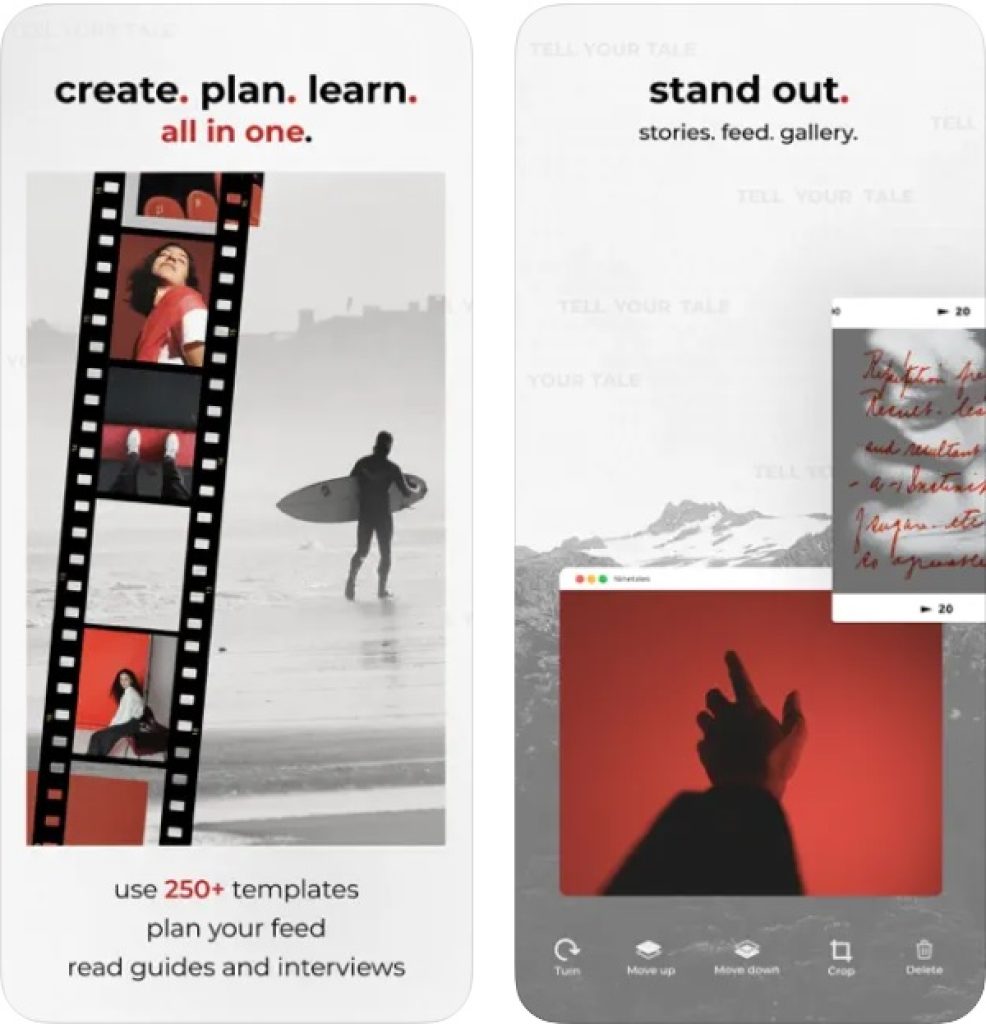 Nichi
The cute app with using which we can not only to design a restaurant menu or beautifully edit a photo, but also find our personal style!
The moment, this program has been holding the lead for many years to create various collages and stories on social networks. And not in vain, because the painstaking work of the developers gave the impetus to facilitate the work of most of the world's famous 3D designers and visualizers.
Thanks to Nichi, you can diversify your work with fun stickers and emojis, beautifully designed and detailed pictures, add several truly developed filters for the atmosphere (such as sepia) and just make your work more colorful with an abundance of other useful options.
It is worth noting that this app was developed by one of the best Asian companies, and therefore has an emphasis on the theme of the country of the rising sun, which confirms the abundance of backgrounds with various traditional symbols of Asian countries.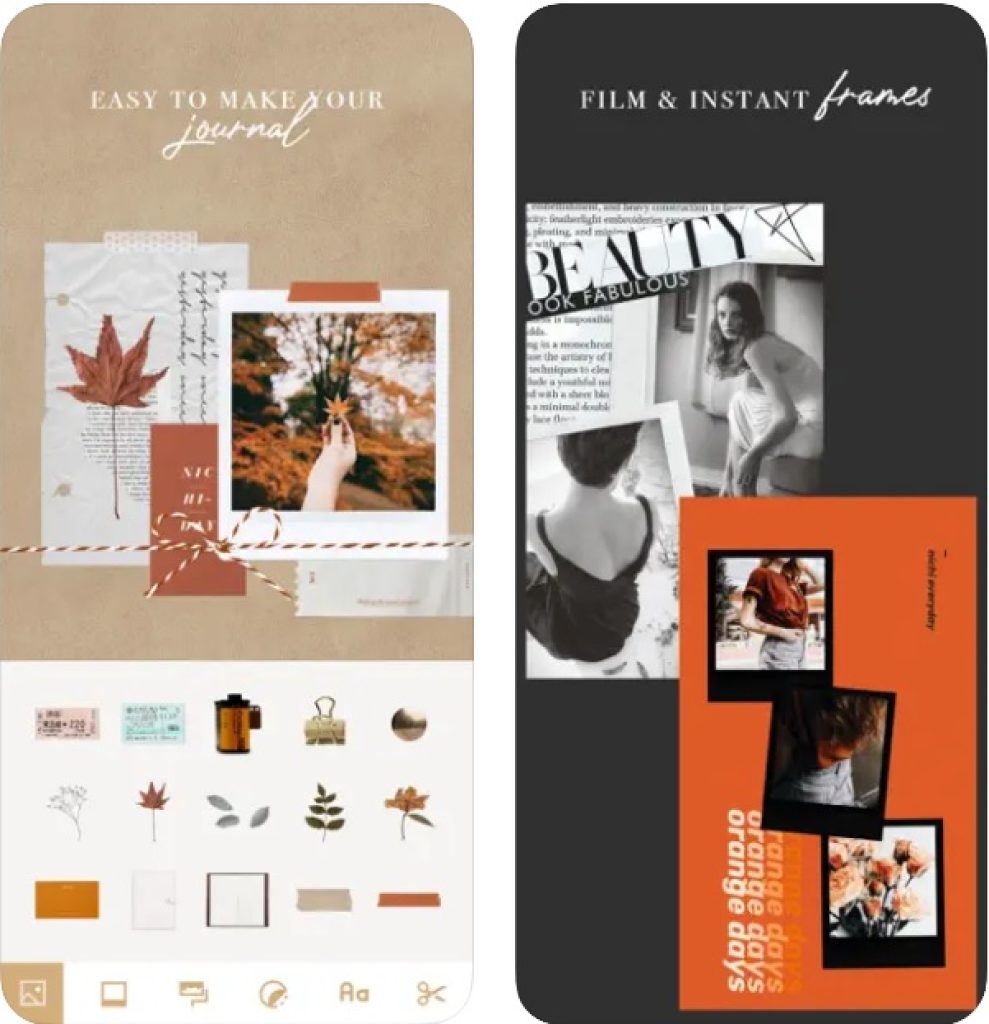 You may also like: 7 Best apps to create brochures on Android & iOS
Brochure maker
If you ever wanted to create a compact brochure or flyer in order, say, to draw attention to your created enterprise or services, then this app is a real find for you. The variety of functionality, as well as the user-friendly interface of the utility, will save you from many problems.
The program has a number of templates, a high-quality photo & video editor for creating finished work, as well as an abundance of tools for working with text, front and back of your creation. In addition, you can put a block at work if you do not want someone other than you to see it.
Brochure Maker specializes in a huge number of themed flyers for any variation, whether it's a restaurant business, a logistics firm, or even an agency of surveyors. Download this utility and you will see the result of how your design skills will rapidly reach a new level.