Parkour is a sport that gained incredible popularity some time ago. Over time, the sport has acquired its own professionals, as well as a huge number of people wishing to start classes. Training to develop their own sports skills and abilities will be useful to anyone – even those who first came across this sport.
Parkour training helps to develop discipline, the ability to master own body and muscles, and, of course, physical strength. You will become more confident and stronger, which will certainly affect your self-esteem and abilities. 15 Best Bodybuilding apps for Android & iOS can help you develop your body.
If you are nervous and do not want to use the services of a special trainer, applications with training programs will always help you. It will explain in detail what you need to do at the moment and many other nuances.
Since parkour is a highly specialized sport, we decided to help and collect some good services for training. We suggest you learn the 9 best parkour training app for iOS & Android.
Parkour Strength & Athleticism by Fitivity
Do you want to start your training in parkour? Then you can try the Parkour Strength & Athleticism app. Even if you've done this sport before, you can enhance your skills and abilities with the app. It focuses specifically on the power part of training – it's essential for you to perform complex movements and exercises.
Parkour Strength & Athleticism has several types of training you can choose from. These can be plyometrics, flexibility, balance, hand strength, and more. You will need to exercise in a way that balances your lower and upper body.
This will allow you to perform exercises on an obstacle course. If you decide to purchase a Premium Subscription, you will receive guides from your digital trainer and individual training.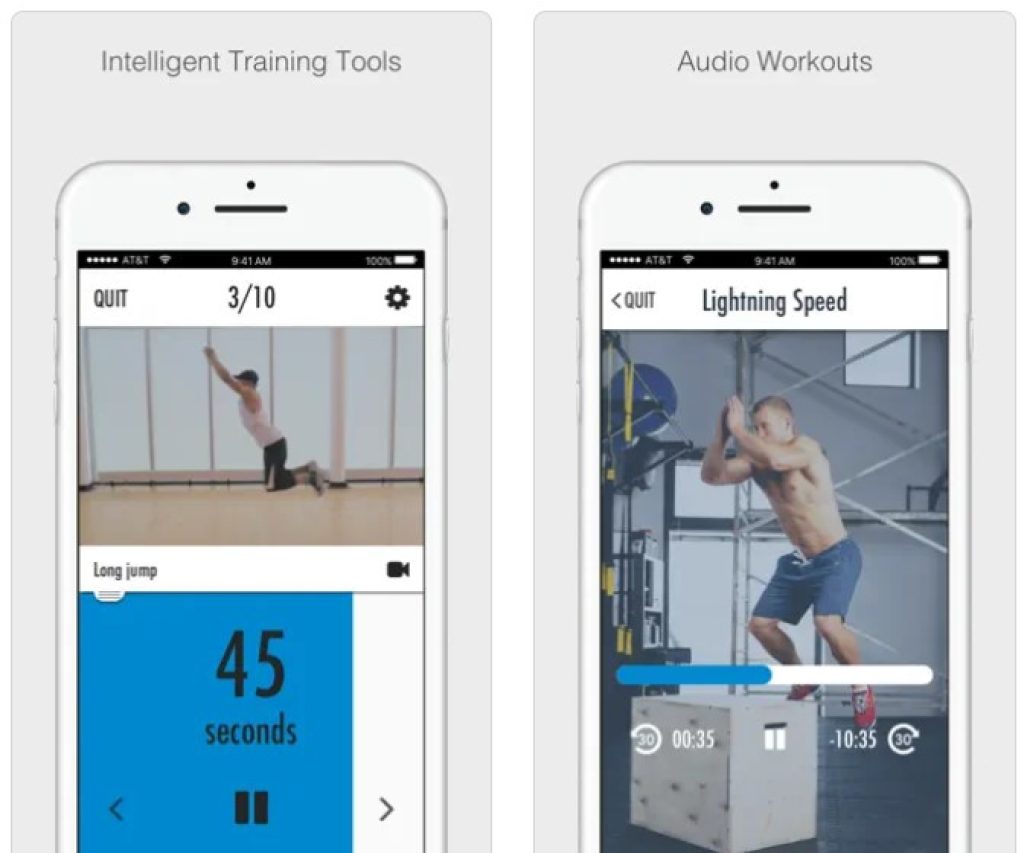 Parkour Moves Technique & Training for Beginners
The Parkour Moves app is the best choice for people who don't like unnecessary details. It is the simplest interface that contains only the most important details and categories.
The entire application is a list of different exercises with explanations of techniques, dangers, and other details that should be taken into account for beginners during training and practice.
Parkour Moves has a tutorial for each exercise with illustrations to help you repeat a specific movement or trick. Among the most popular are the Wall Climb, Side Parkour Roll, and Cat Jump.
Each exercise is viewed separately, which is inconvenient if you already have experience with movements and training. So Parkour Moves is only suitable for beginners who are just trying to do something in the first few training sessions.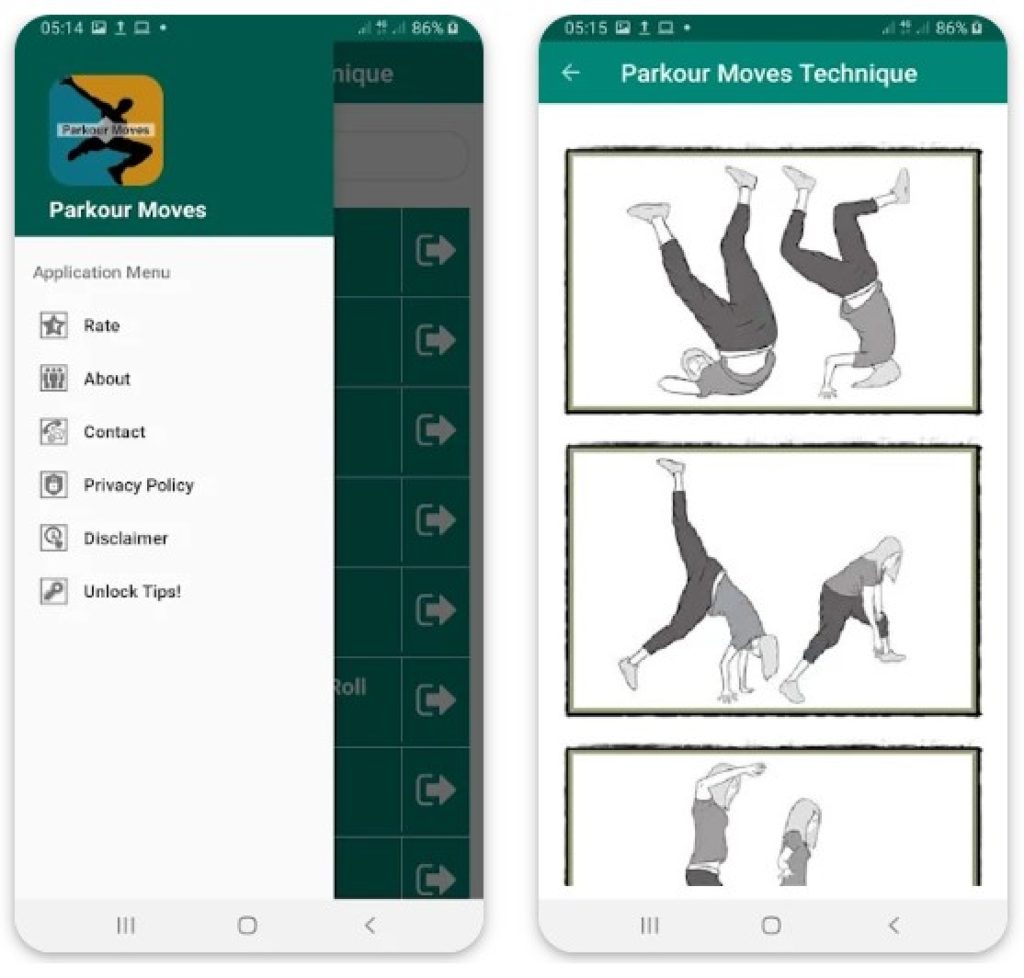 Ultimate Parkour App by Nicolas Provost
Want to learn new tricks? Or maybe learn parkour techniques from scratch? With Ultimate Parkour App, you can find a lot of new and interesting information that developers have carefully selected during the creation process.
You'll be able to master new tricks, learn a little more about the technique, and much more. Get started as soon as you download it.
Each trick on the Ultimate Parkour App has its own progress that you can track during each workout. For more motivation, you can set personal goals that will remind you of what's important.
Ultimate Parkour App has a huge database of parkour tricks with video lessons attached to it. There's a total of about 60 of them, including both the basic and unique tricks.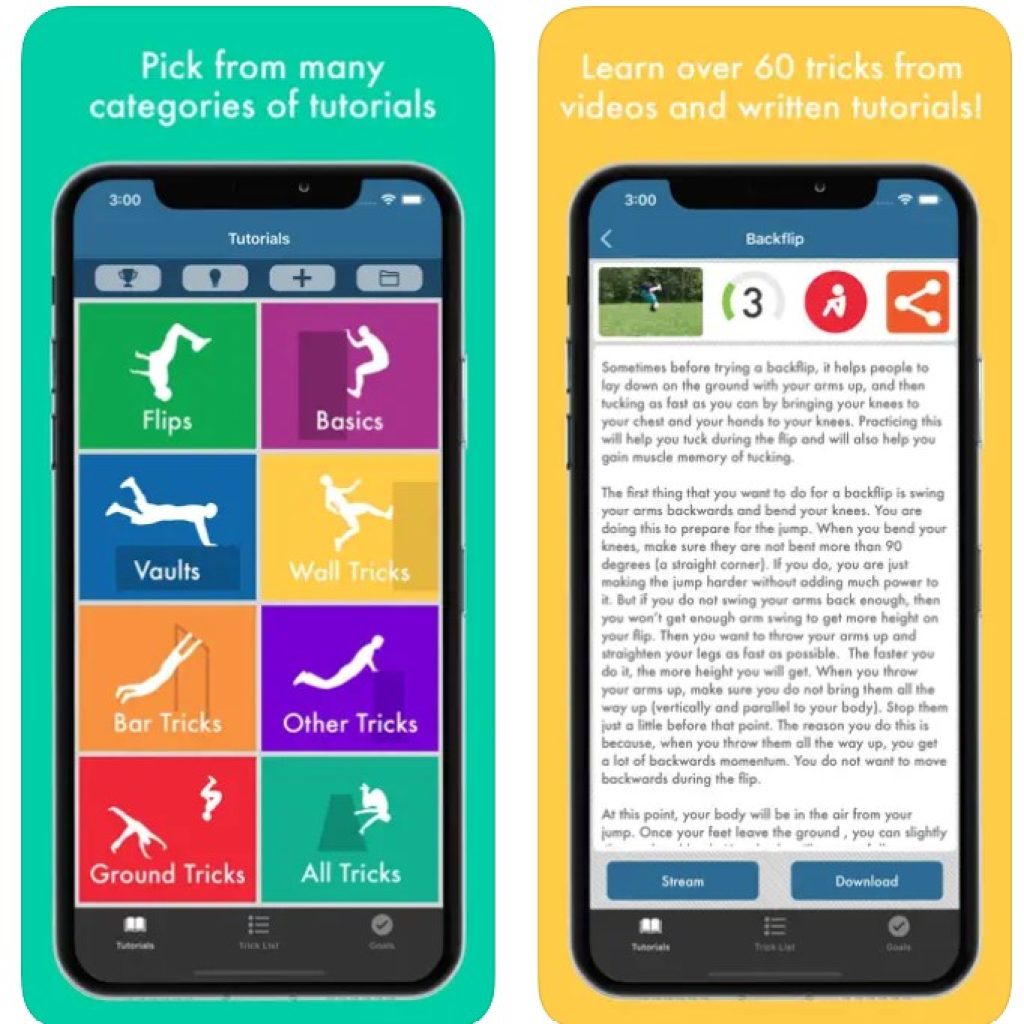 You may also like: 9 Best random workout generator apps for Android & iOS
VerticalJumpTraining
Even though this is more of a general workout app, you can use it to upgrade your parkour skills. The app offers a comprehensive training program that includes warm-ups, plyometrics, strength training, and cool-downs, all of which are aimed at increasing vertical jump height.
In terms of parkour training, VerticalIJumpTraining can be extremely helpful as vertical jumping is a critical component of many parkour movements. Being able to jump higher can help parkour practitioners clear obstacles, reach higher heights, and execute more advanced techniques with greater ease.
By following the program outlined in the app, you can improve your explosive power, leg strength, and overall athleticism, which can translate directly into improved parkour performance.
The app also contains a number of individual workouts in different styles that you can explore and customize if you're interested.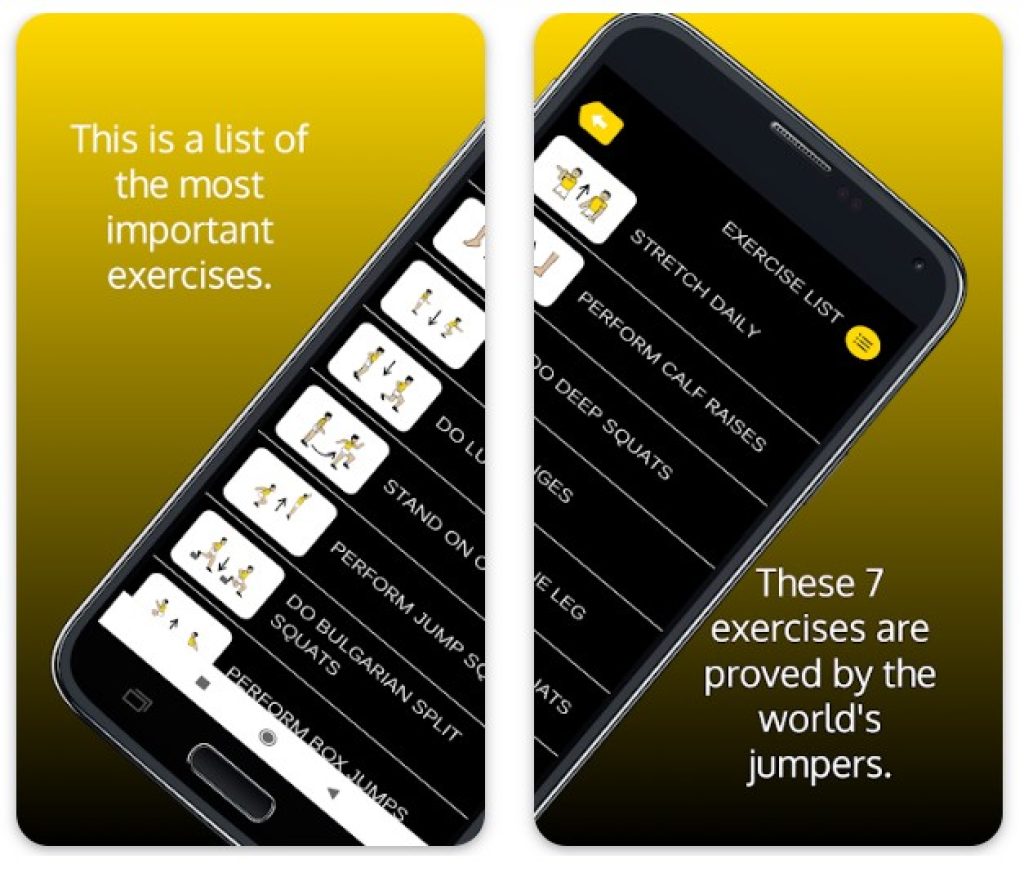 URBN Jumpers – Parkour, Freerunning & ADD
For permanent training in an urban environment, a special area is required. It must be large enough and have many obstacles on which you will sharpen your skills.
URBN Jumpers will allow you to find many new playgrounds as well as meet people that are as passionate about parkour as you are. You will be able to share your favorite spots as well.
Thanks to the simple interface in URBN Jumpers, you can easily add a new place that you found during your latest training or walk. With special settings, it can also be viewed by other parkour users.
In the URBN Jumpers, you can also plan your workouts by marking your progress after each one. Share your latest results and achievements with the community and get an objective evaluation!

Workout Trainer
This is another app that isn't aimed directly to teach you any parkour lessons, but it will train your agility and strength so you can run long distances and perform complicated tricks. Here you will find the possibility to use ready-made workout programs, or create your own.
For parkour training, the app can be an incredibly useful tool. Parkour requires a combination of agility, speed, and coordination, all of which can be improved through regular training.
The Workout Trainer app offers a range of exercises and workouts that target these specific areas, including agility drills, sprint workouts, and plyometric exercises.
By incorporating these exercises into their training regimen, parkour practitioners can improve their overall athleticism and physical conditioning, making it easier to perform advanced parkour techniques and movements.
Additionally, the app offers a community platform where users can connect with other parkour enthusiasts, share training tips, and track their progress, providing an additional level of motivation and support for those looking to take their parkour training to the next level.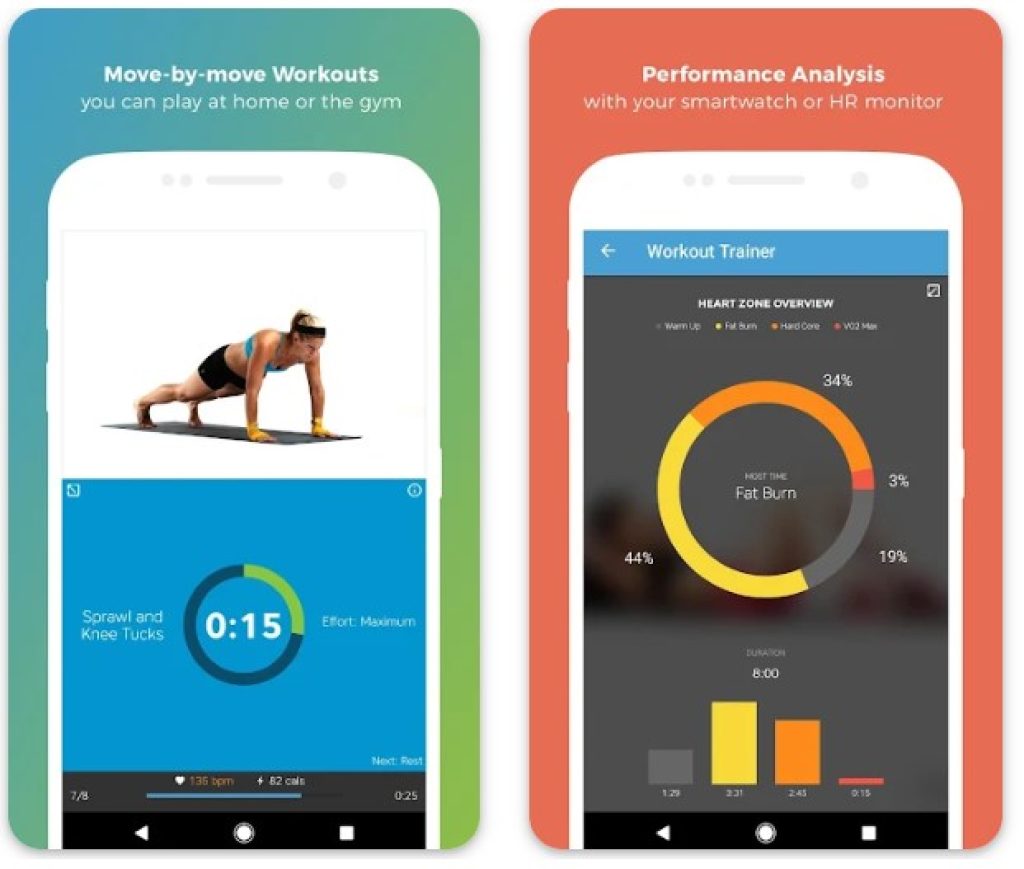 You may also like: 7 Best butt workout apps (Android & iOS)
Sprint Speed Training Guide
The Sprint Speed Training app was developed to help users to increase their speed of running and agility. You can find this app useful when training for parkour as well.
The app has quite a lean interface though. Here manly you will find a number of sprint workouts, including interval training and speed drills, that can help parkour practitioners build the necessary speed and explosive power needed for advanced parkour movements.
But the app contains lots of ads that pop up constantly on the screen.
In Sprint Speed you can also find video demonstrations and coaching tips to help users improve their running form and technique, which is essential for executing parkour movements with precision and efficiency. There are not so many, but if you're curious, you can check out that section too.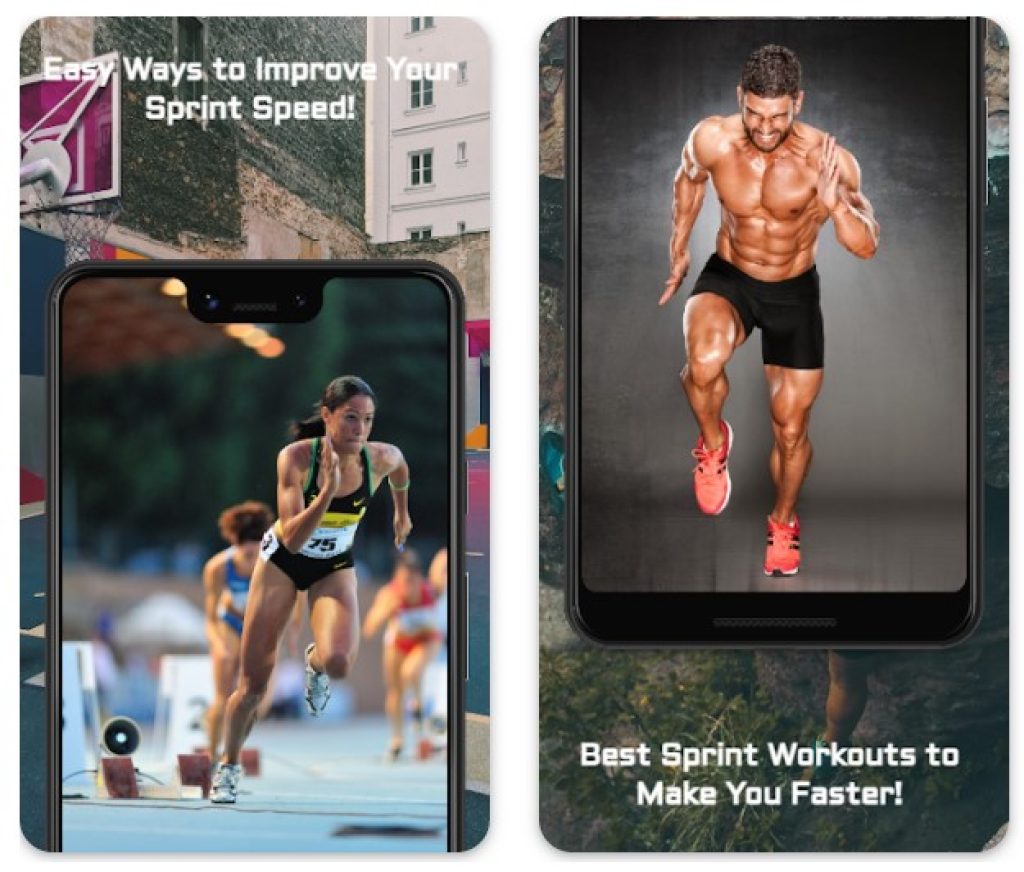 Parkour Workout Challenge – Gain speed and agility
Agility, speed, and flexibility are the main qualities needed for parkour activities. All of this can be achieved with the Parkour Workout Challenge app. No complicated tricks, exercises, and so on are required from you – just regular daily training that will really improve your physical condition and sports skills.
Parkour will help you reduce your body fat percentage, improve your fitness, and enjoy your performance. During your workouts, your smartphone at the Parkour Workout Challenge will display a video showing you the right technique.
No extra equipment is required for your workout – use your body and handy items. The Parkour Workout Challenge screen always shows you the time you need to exercise – you always know how long your workout will last.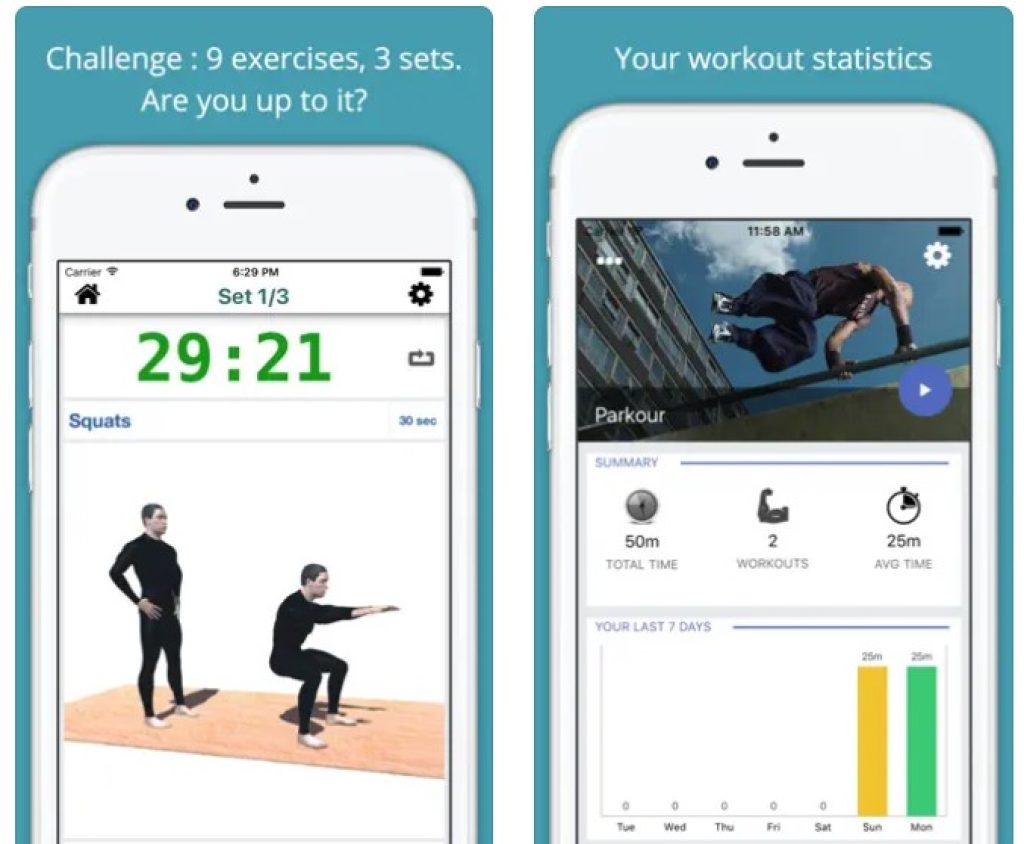 You may also like: 9 Best kegel exercise apps (Android & iOS)
Parkour Training Guide
For sports, you will often hire qualified coaches to guide you and form an individual plan. The Parkour Training Guide app provides you with a complete guide for beginners who want to explore parkour.
In your environment, you'll be able to exercise with your own body weight – jump over obstacles in your path, move around quickly, and control your body.
Each exercise in the Parkour Training Guide is a short video that you choose by name. It shows you in detail the exercise technique that you will need to repeat correctly.
This application will not replace your trainer, but you can learn more about the sport itself. At any age you will be able to start training at an amateur level and to start you will need to constantly study the information. The Parkour Training Guide will guide you through the process.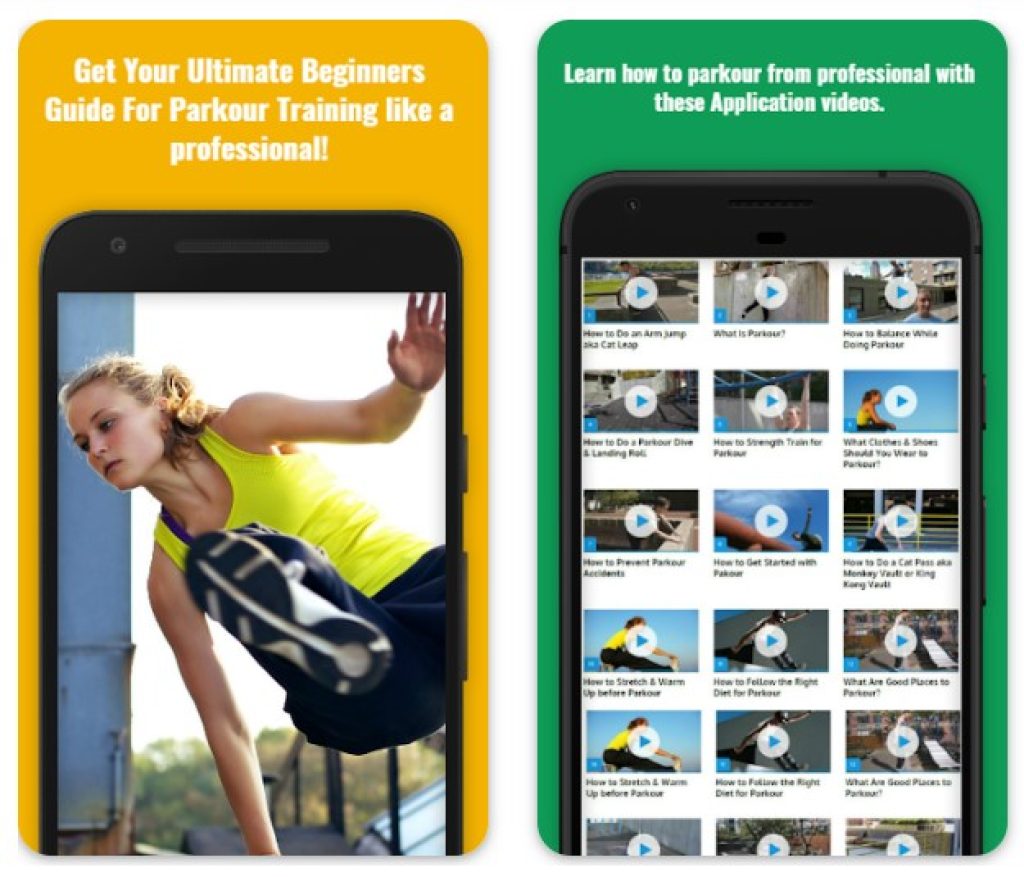 Any sporting activity is useful if it is not harmful to your health. You're developing physically while getting rid of stress and doing something useful. Parkour is a good option for people who are tired of standard sports and do not want to lift dumbbells and barbells in the gym.
Working out on the streets, in the gym, and even at home, you can find new friends, and do your body-building. The most important thing that you should consider is your initial physical health.
Parkour is prohibited for people with diseases of the joints and spine. If you are not tormented by anything like this, then you can try out a new sport right now.