When you invite friends or relatives to a party, you always plan meals for dinner. Cooking them consumes a lot of time, money, and effort. But now you can relax and put the preparation of the food for the upcoming event in the hands of a processionalist.
Take advantage of these best personal chef apps for the USA and enjoy the awesome quality of dishes.
Zen – Cook Finder
Zen is an address book of the best chefs near you. Through this app, you can directly contact top-class chefs, trusted caterers, and catering managers.
The app will help to recruit qualified staff for any celebrations: weddings, anniversaries, and corporate meetings. Without intermediaries and long discussions. Just set the task and expect a response from professionals.
You can choose the workers yourself and find out if they have plans for the selected date. In the resumes of the presented cooks, you will find all the necessary information: qualifications, work experience, and place of work to date.
Each chef has their own specialty and cooking preferences. Familiarize yourself with the nuances in advance. Before you hire the performer, do not forget to go through the reviews page. Write your opinion about the chosen professional after working with him or her.
Zen helps chefs and suppliers find new clients. Leave your resume for introductions and expect job offers. Indicate your capabilities and area of residence.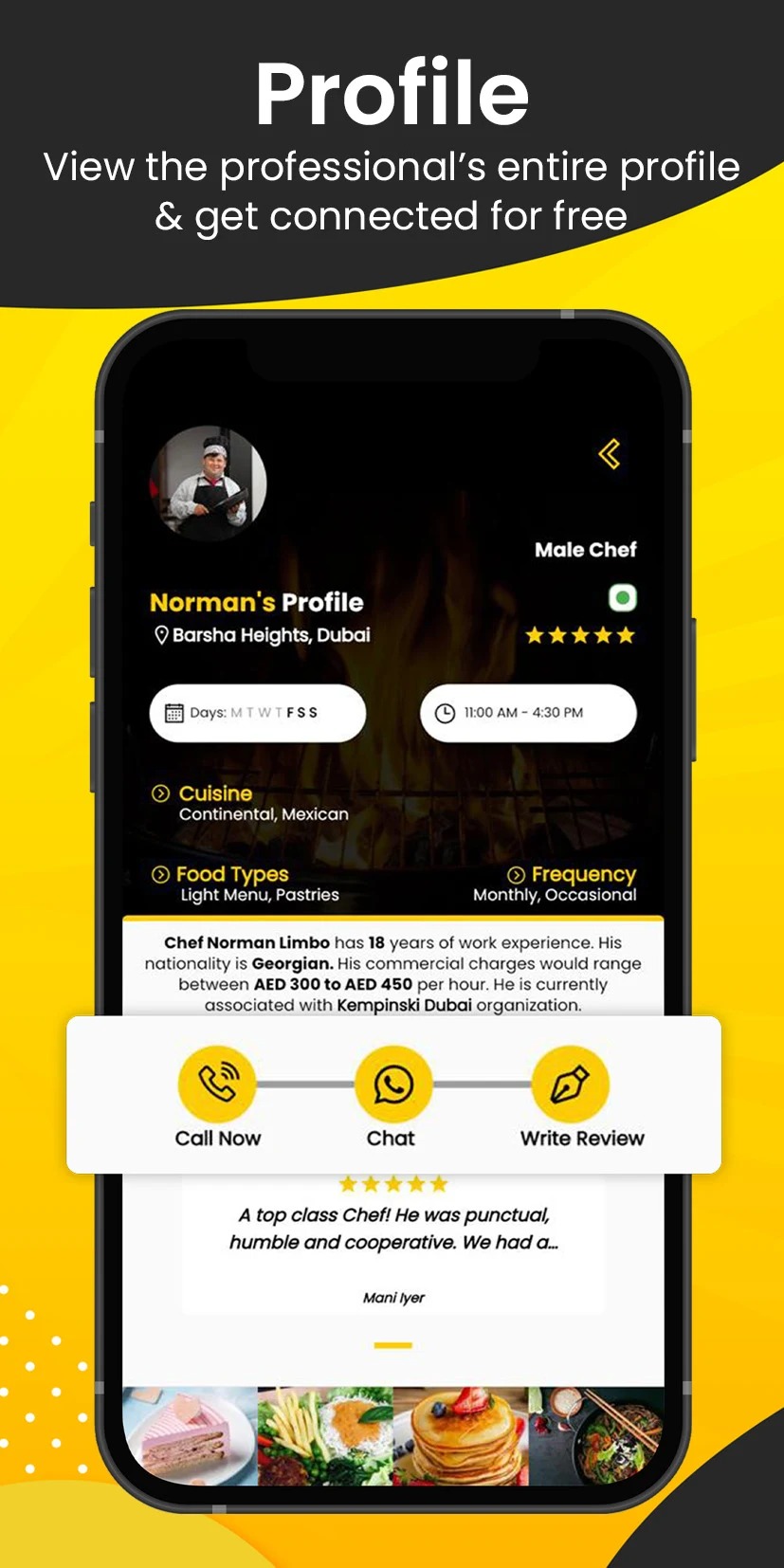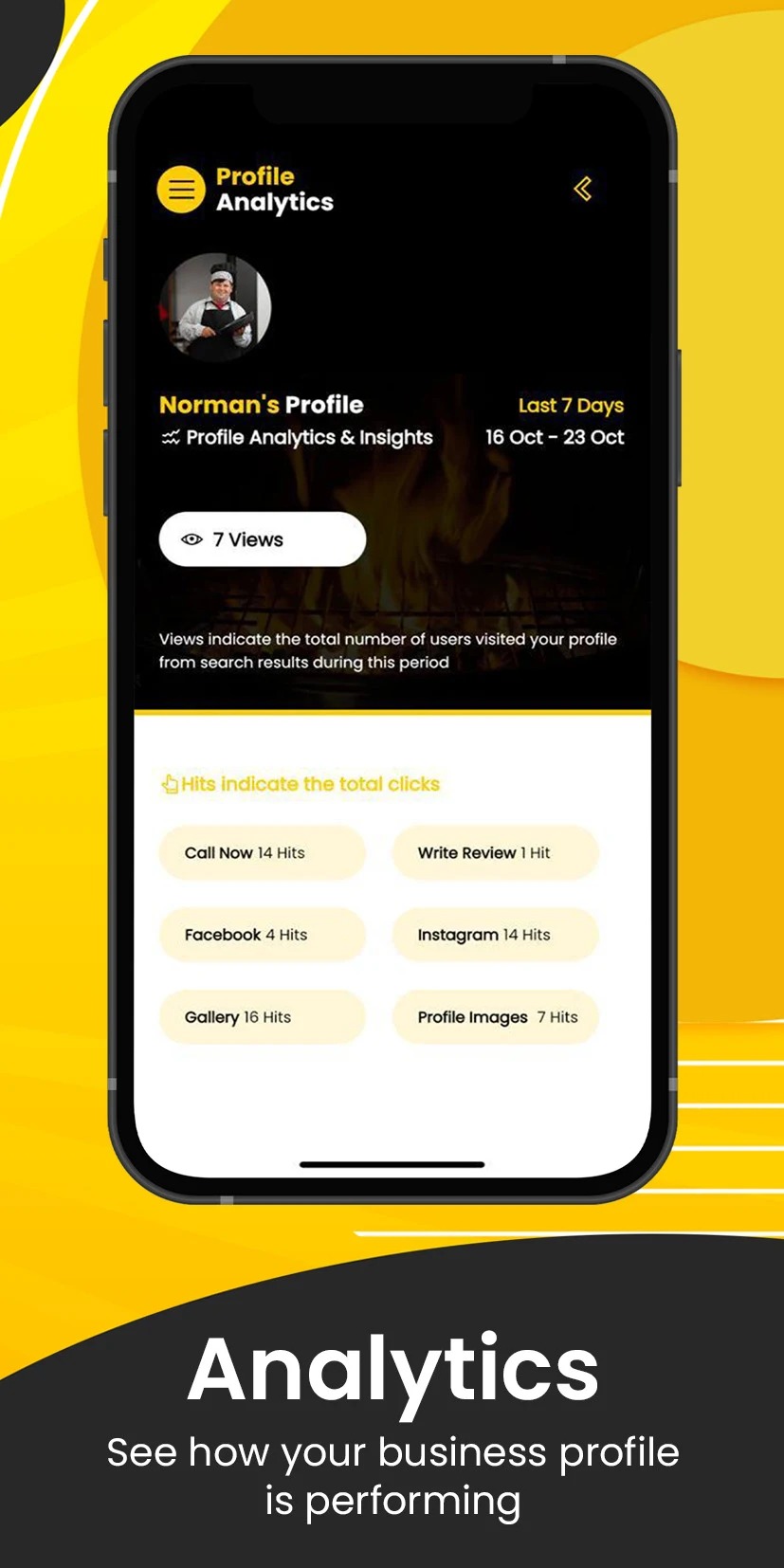 Simple and fast registration. Free use of the app with no restrictions. Don't waste your time searching for chefs and suppliers on ads or other services.


You may also like: 11 Free Cooking Apps for Beginners (Android & iOS)
Chefpost
If you are planning a celebration, you cannot do without Chefpost. In this app, you will easily find an experienced chef who will pleasantly surprise you and your guests. Here you can find up-to-date resumes of chefs of different qualifications and directions.
Choose the right specialist and negotiate the deal directly, without wasting time. Here you can get detailed information about the activities of the chef.
Where he or she was trained, where he or she worked, and what positions he or she held. Perhaps you are interested in a specialist who works with a particular cuisine or unusual dishes. Ask the chef a question and get a quick answer.
On Chefpost you can find a personal chef for different situations. Maybe you want to plan a dinner party or an entire wedding. Or just looking for a good chef to buy hot lunches. All the nuances can be coordinated directly with the chosen specialist.
To get started, download the app and go through a simple registration. Next, specify in the calendar the date and time you are interested in. From the list of proposed candidates, choose a few chefs and write to them in a separate chat. One of them will definitely win your heart and stomach.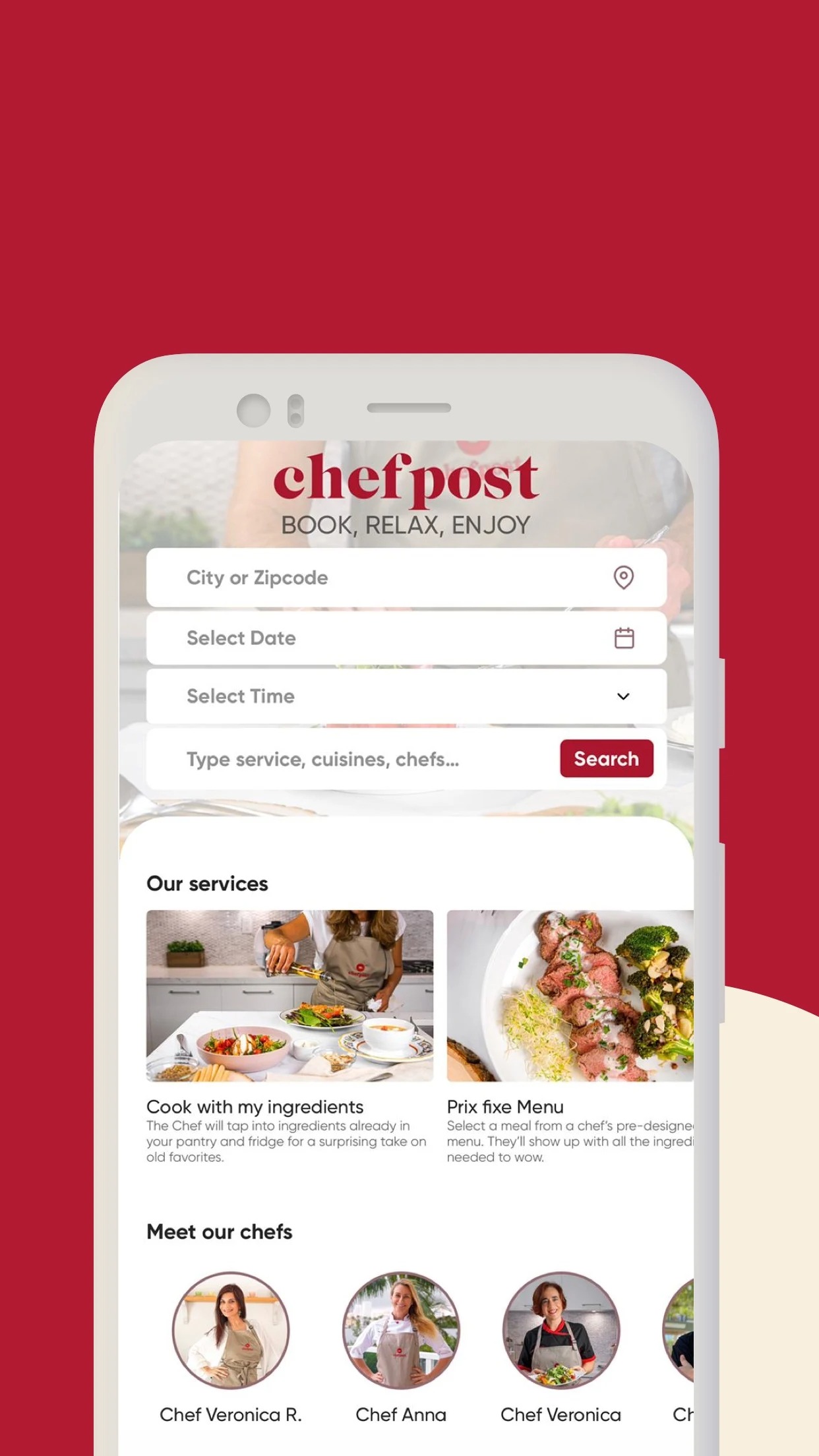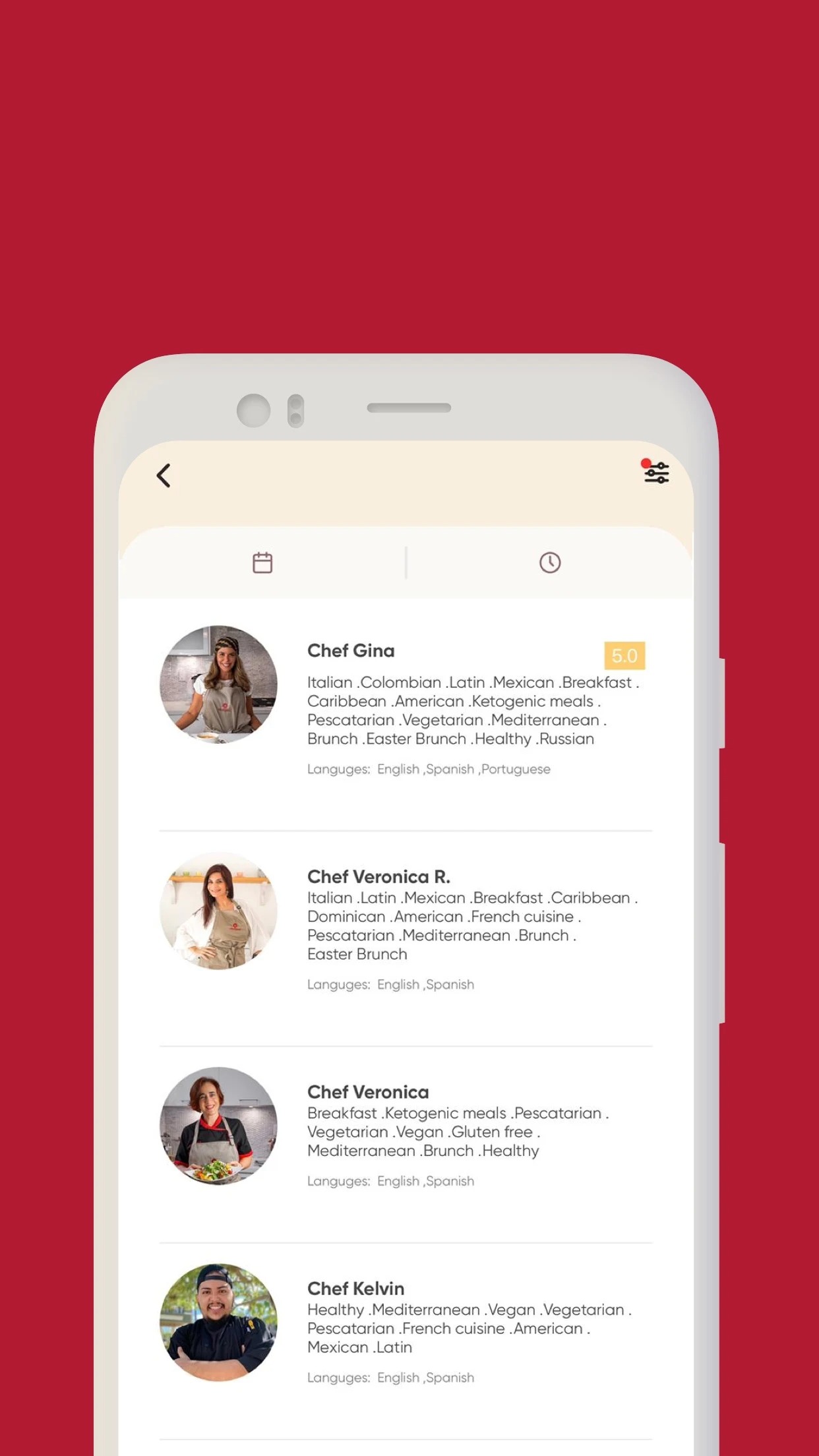 Here you will find a chef with excellent references even at the very last moment. Pay attention to whether the master of cooking is ready to cooperate on a permanent basis, work on the road or make a discount for regular customers.


ChefMaison
ChefMaison brings you a selection of the brightest stars in the culinary arts. Ask them for help if you don't want to or can't make it in the kitchen on your own. Surprise your guests with Michelin-level dishes.
Treat yourself to a weekend of French or Japanese cuisine. Treat your kids to an unusual buffet and a colorful birthday cake. Select a personal chef depending on your preferences. Book a specialist in advance to have time to discuss important details.
After downloading the app, you need to select the date and time for which you want to put your kitchen at the disposal of the chef. Do not forget to specify important details: the choice of cuisine and dishes, the number of guests, and the place of the celebration.
After that, you will receive contacts of chefs who meet the given requirements. Contact several of them and discuss the order in detail. Pay attention to the reviews of other users.
All the worries about the food will fall on the shoulders of the guest chef. He or she will buy fresh products, monitor the cooking, and solemnly serve the dishes. All you have to do is enjoy the delicious food and festive atmosphere.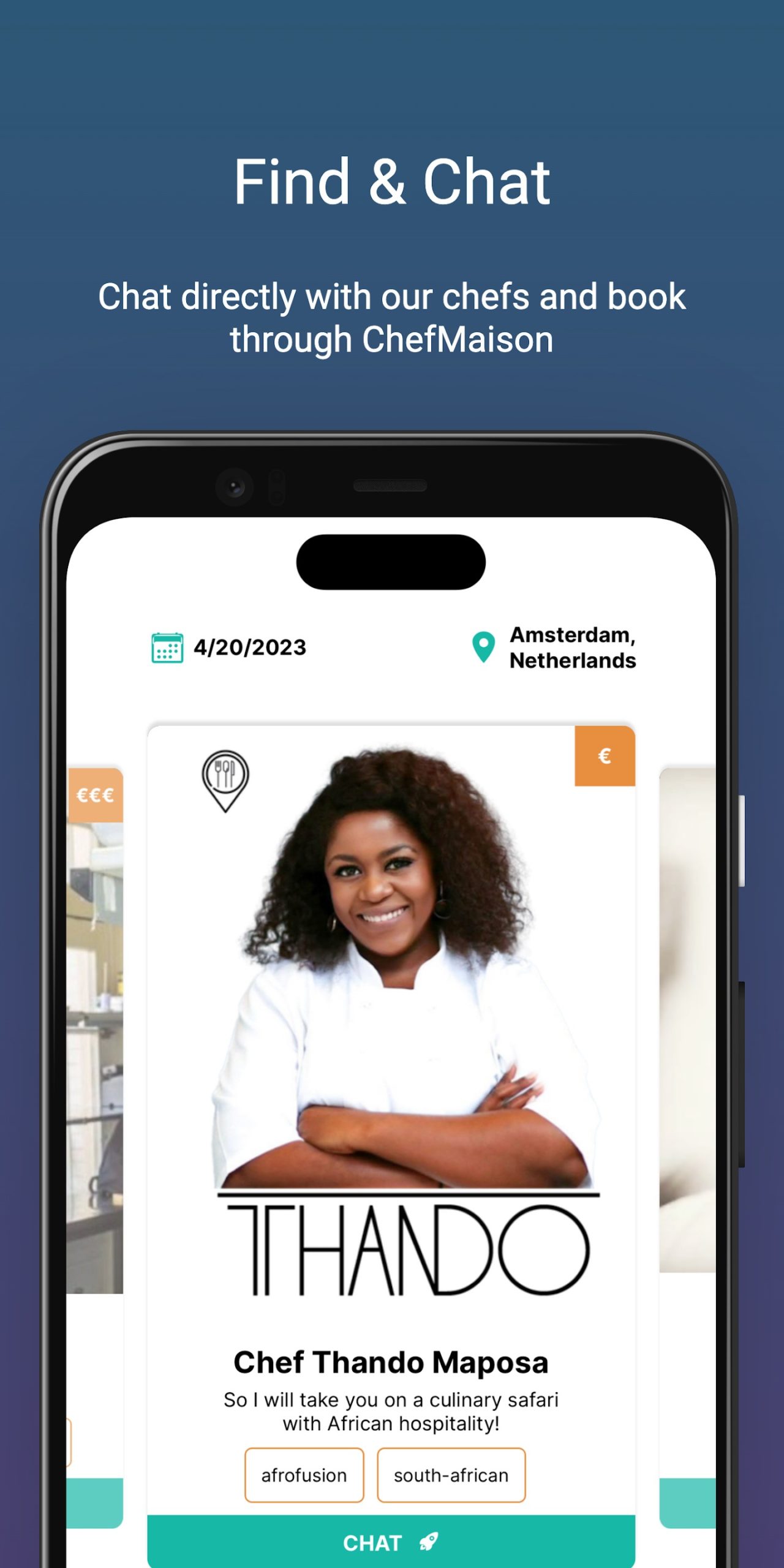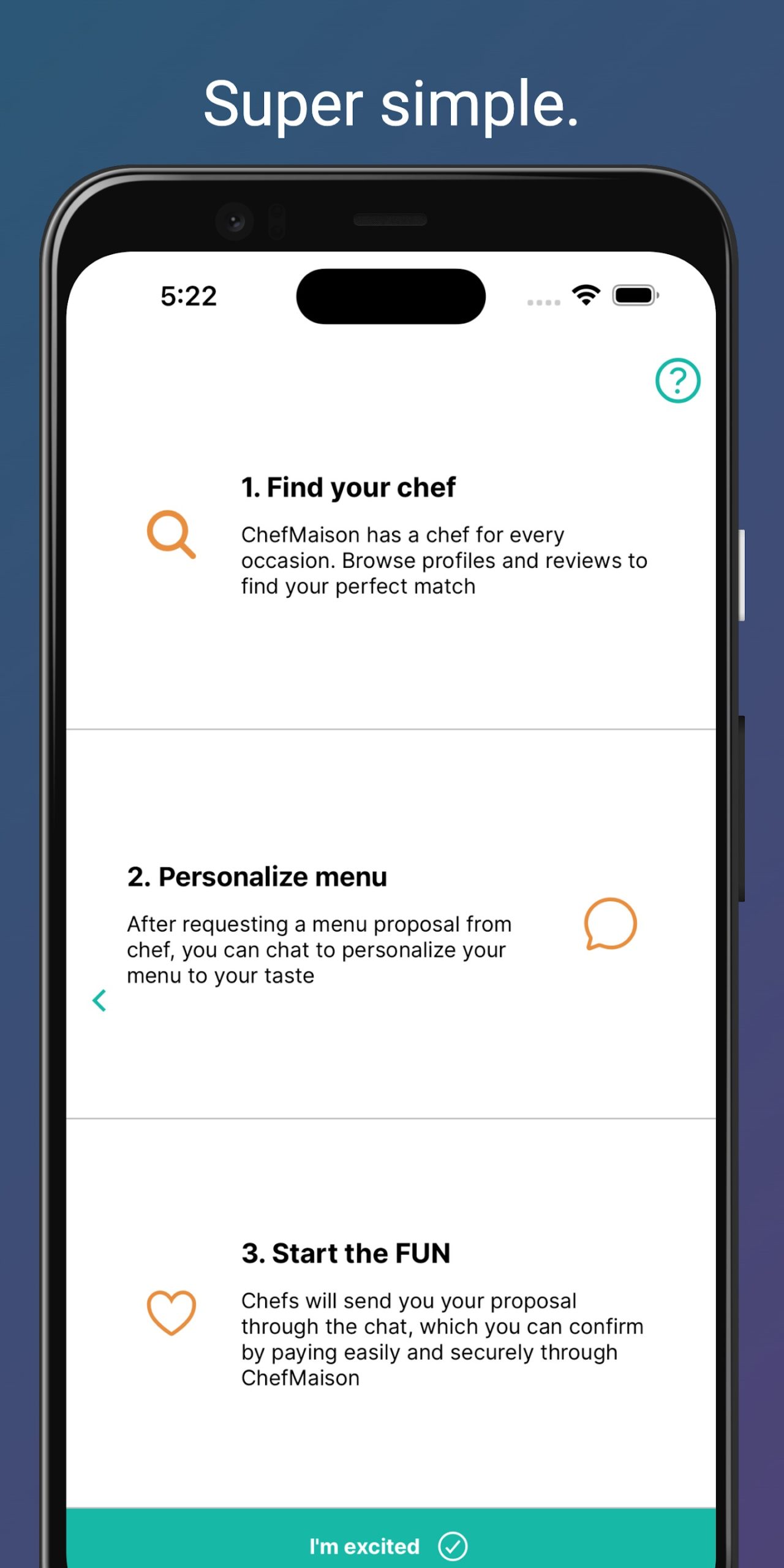 ChefMaison is constantly updated and adds new chefs near you.


SAVOUR Private Dining
At least for a while, forget about cooking and relax with your family. The Savour Private Dining app will help you find the most responsible professionals in the business.
Chefs, waiters, and kitchen workers will be happy to organize a banquet, a family dinner, or an entire wedding. They will perfectly cope with a large amount of work and will please you with delicious dishes.
This app will select cooks who specialize in dishes of a particular cuisine. Almost all of the participants have a lot of experience and work in famous restaurants.
It doesn't matter what exactly your plans are: a business dinner, an anniversary celebration, or an entire wedding. Just voice your requirements and talk to the performers personally.
Specify the day and time when the cook should be at your place. Outline his or her task in advance: choose the kitchen, specify the possibility of dietary dishes, and decide on the number of guests. Once you agree with the cook, you can relax and entrust him or her with all the work in the kitchen.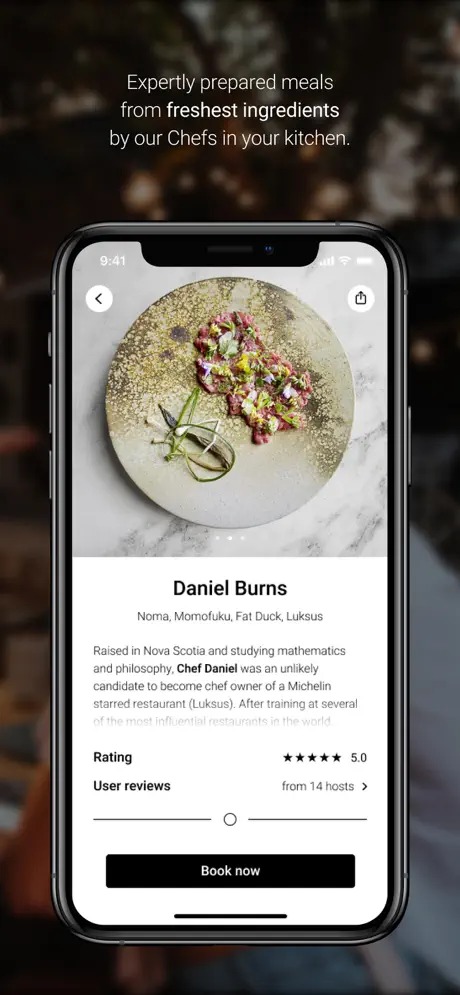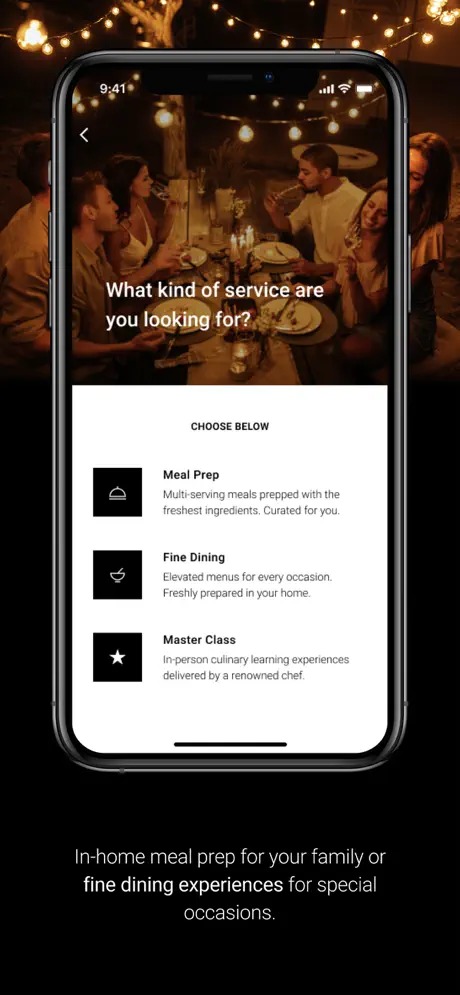 Your kitchen will look perfect once the cooking is complete. Savour Private Dining allows you to hire personal chefs throughout Los Angeles, Miami, and New York. Don't miss the chance to diversify your regular diet.

Gradito
Gradito is a great option for anyone who wants to welcome the holidays in a good mood. Look for chefs near you. Get perfectly delicious and beautiful dishes without any effort. Rest assured that the celebration will go smoothly. Involve real professionals in your cooking.
Here you can find masters of culinary art for all occasions. Diversify your usual dinner, and make your birthday unforgettable. A business meeting with colleagues can end in an informal atmosphere in the company of the most famous chef in the city.
In just a few hours, you will find a talented chef who will give you a lot of positive emotions and an incredible menu. Choose any cuisine, and indulge in delicacies and specialties. Before getting to know the chefs better, choose the date and venue of the party. Then specify the number of invitees and the chosen cuisine.
After that, the app will suggest you the chefs that are perfect for your request. Don't waste your time and book the chefs in advance.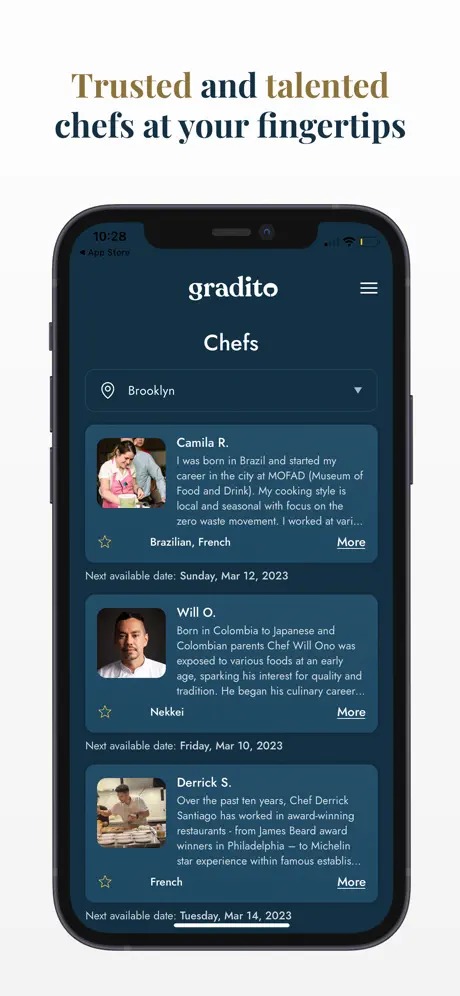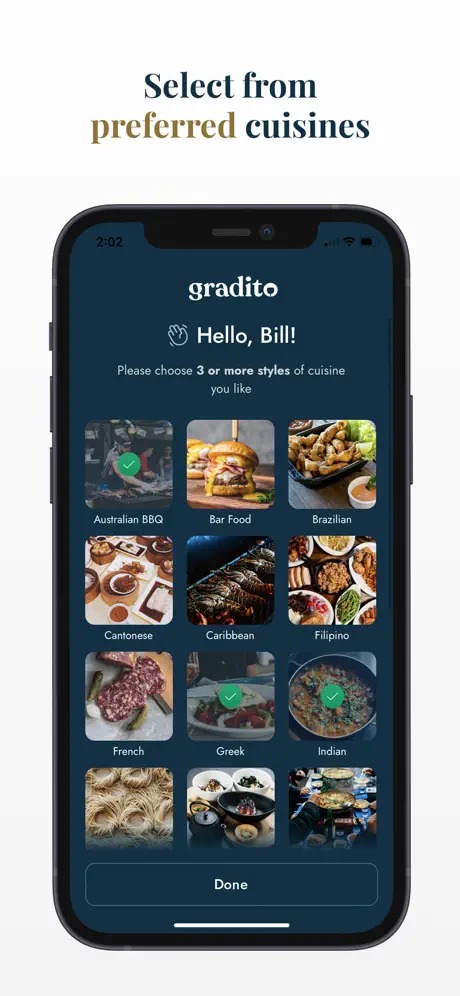 The app has resumes of not only chefs but also famous sommeliers. You can familiarize yourself with their achievements, learn a specialty dish and see the prices for services. Use the services of chefs at Gradito throughout New York and the Hamptons.

You may also like: 9 Best Soul Food Recipe Apps (Android & iOS)
Amaze App Private Chefs
Turn a dinner party into the most talked about event of the year. A meal prepared by AmazeApp chefs will be the topic of conversation for a long time to come.
Culinary delights, tasty delicacies, and a good mood are waiting for you. To find the best chef for your celebration, you need to install AmazeApp. Register and answer a few important questions.
Be sure to tell what kind of celebration you are looking for a chef for, how many people will be invited, and what kind of cuisine you prefer. Every chef has a history and a lot of professional experience. You can view other users' reviews about their cooperation.
You will get acquainted with dishes that you have only heard about. Guest chefs take care of all the kitchen work, including grocery shopping, cooking, and cleaning. This makes your life much easier and allows you to enjoy your holiday to the fullest.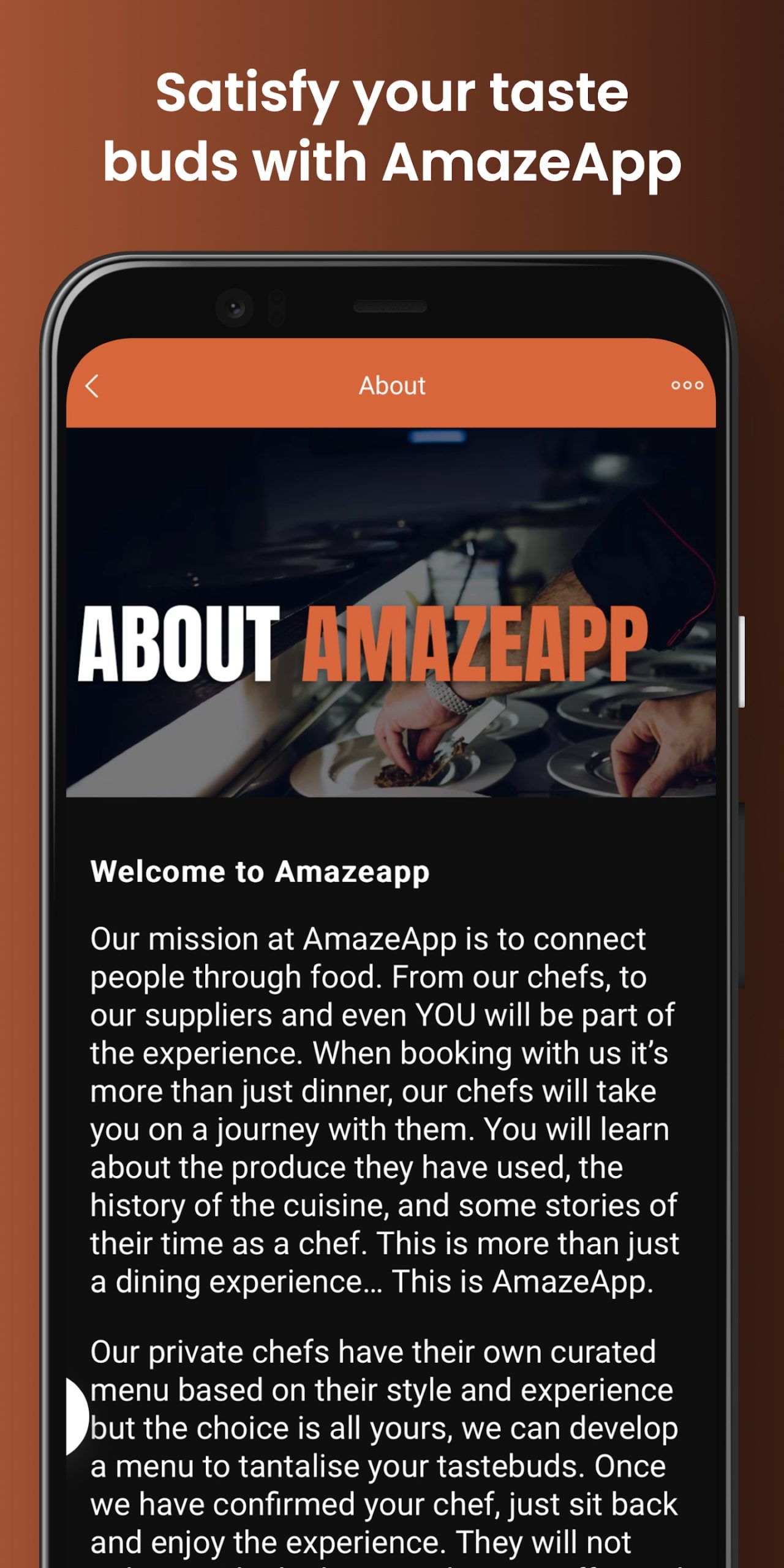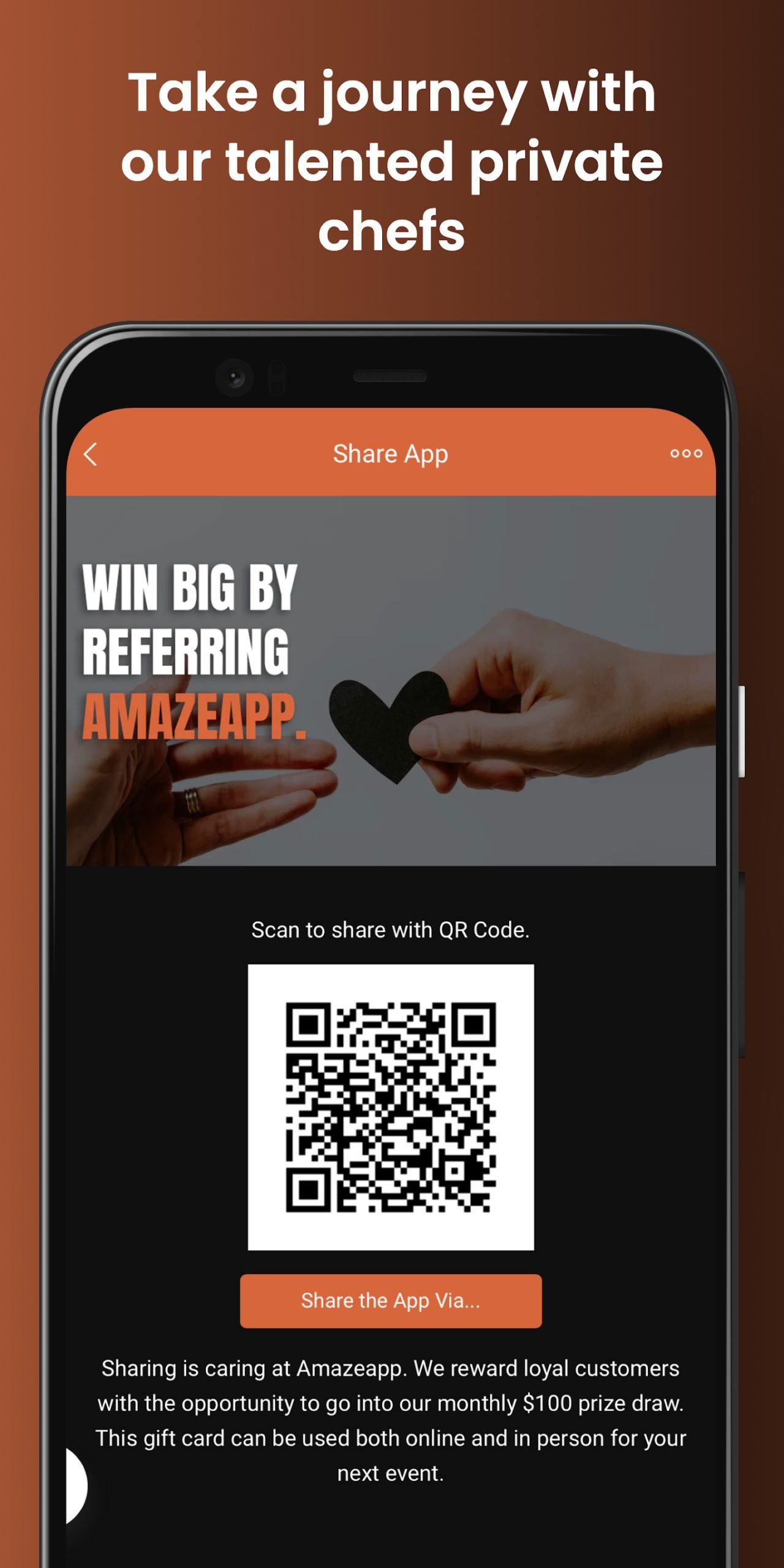 At AmazeApp, the chefs not only prepare delicious and high-quality food but are also happy to share their recipes. Their advice is based on years of experience and will be relevant for everyone. Choose from 100 chefs registered on the site.


Luxe Mange – Personal Chef
Luxe Mange is a multifunctional platform for everyone who is interested in cooking. There is a huge library of recipes from the simplest to the real masterpieces. You can watch instructional videos and try to repeat after the chef, following the step-by-step instructions.
Keep up to date with new developments and trends in cooking. Make a selection of your favorite dishes. Share unusual recipes with friends. Prepare at-home dishes that are served in Michelin restaurants.
More than 12,000 cooking and catering professionals are registered on the platform. Here you will easily find a chef who will perfectly fulfill your requirements and create an incredible atmosphere at the party.
Enlist the help of waiters and bartenders. Experienced staff will take into account all wishes and make the celebration perfect. Find a personal chef for a reunion of classmates, a children's birthday party, or a casual dinner with friends.
Free up the evening from cooking and enjoy the skills of a guest chef. In minutes, you can hire all the necessary workers who work on-site or near you. You won't have to sign multiple contracts and supervise every step of the staff.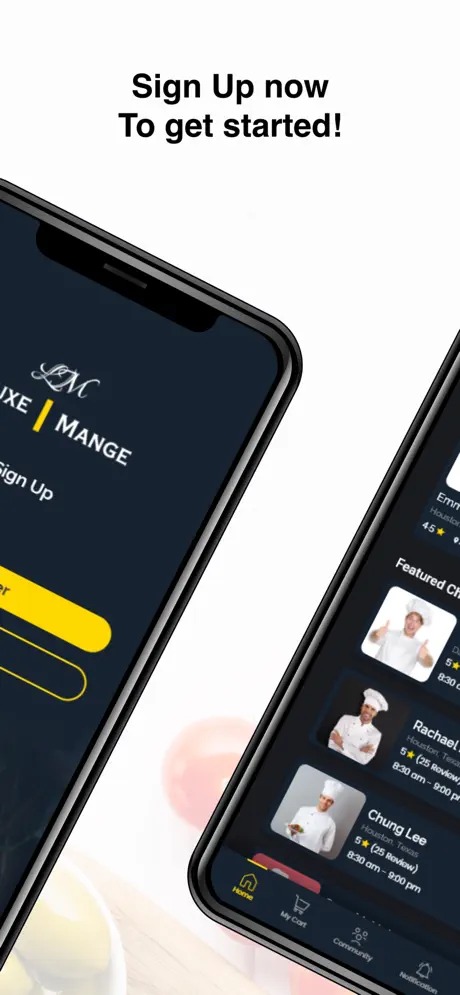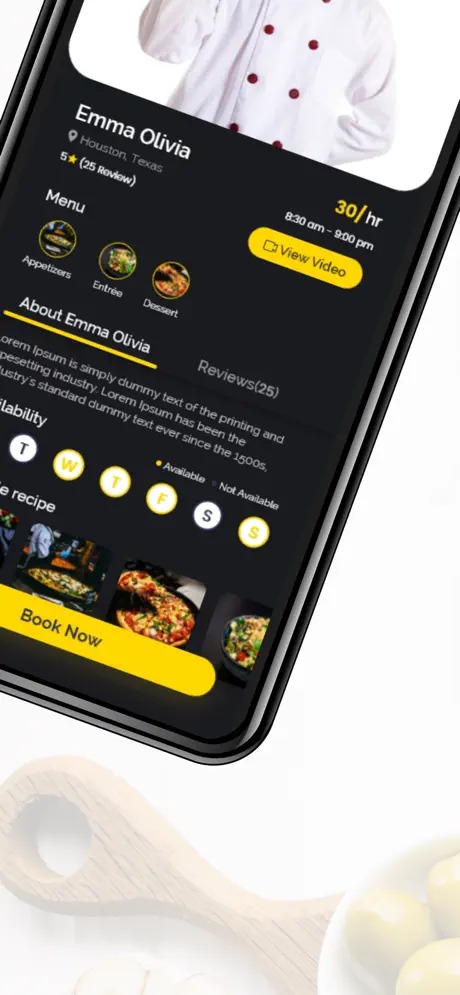 All the professionals who have been registered on Luxe Mange are highly experienced and have excellent credentials. Entrust your celebration to true professionals.

Rockoly
If you have planned a party and want fresh food, look for a chef on Rockoly. There are real professionals of their craft registered on this app. Book a chef who works near you. Speak personally with a legendary master of cuisine and take a master class from him or her.
Ask questions and get advice based on life experience. Forgive a brief characterization of any chef. Choose a particular candidate who specializes in cooking the dishes you are interested in. Have a dialog directly with the chef. This way you will be able to agree on the details of the job much faster.
Each cook has his or her own rate with an hourly rate. You can hire a master for an hour or a few days, depending on the scale of the celebration. All the nuances are negotiated separately. It is desirable to order the arrival of a personal chef in advance to avoid time overlaps.
Rockoly employs real professionals. You will definitely find a chef who will help you create a menu for the celebration and provide all the guests with delicious dishes.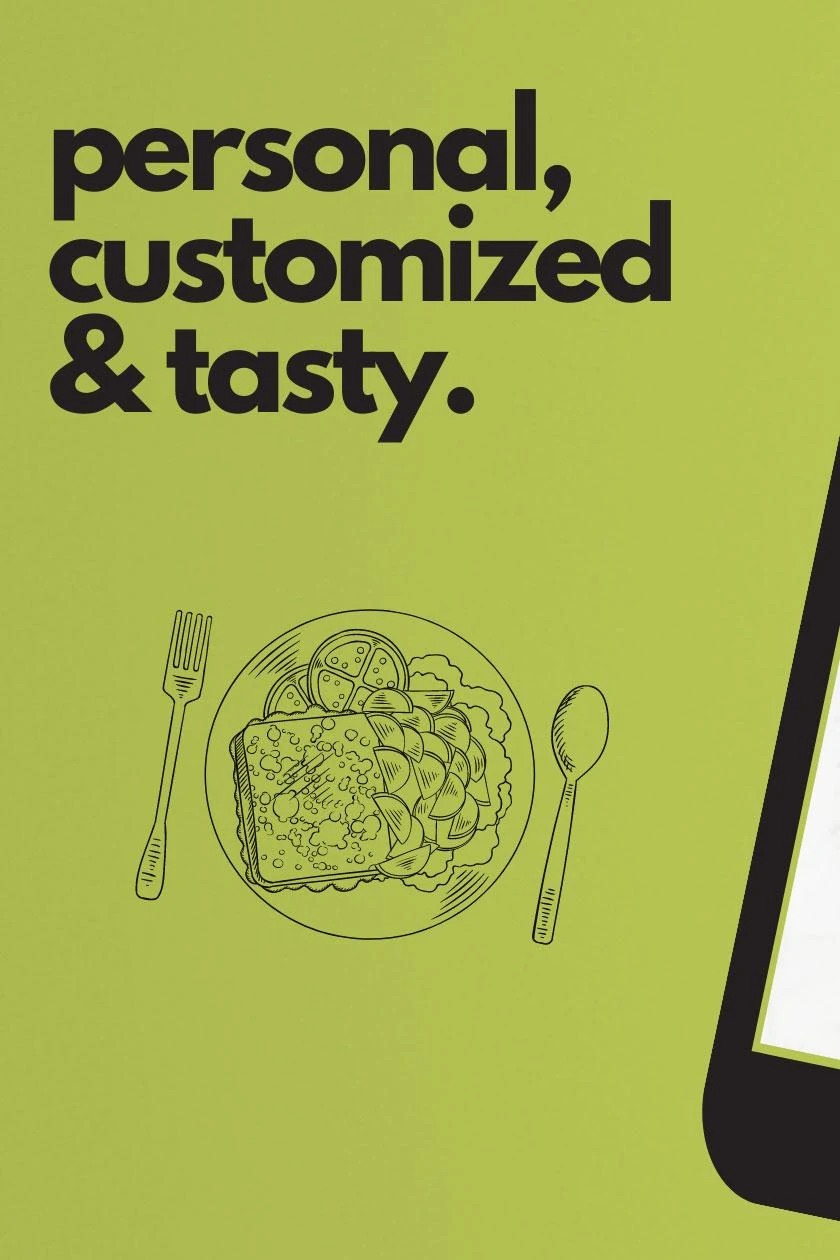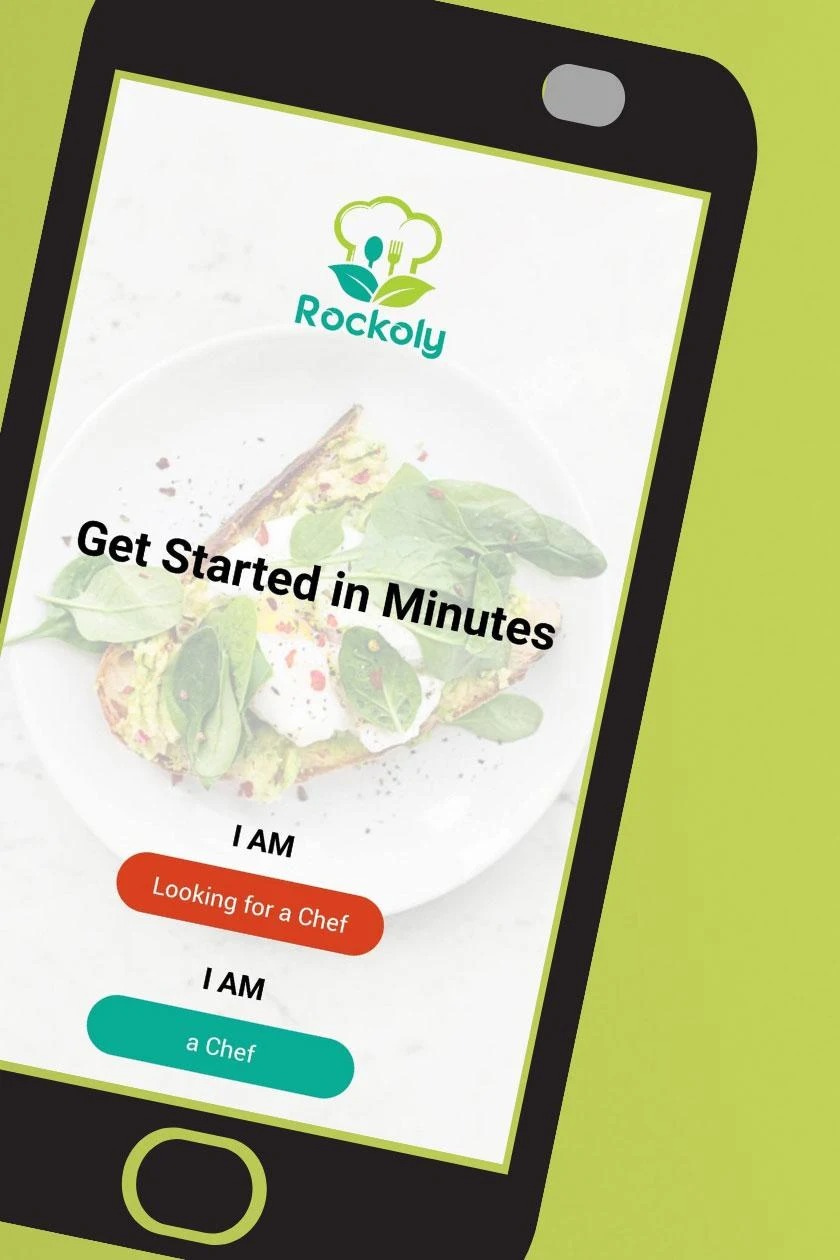 Do not hesitate to express your wishes. Perhaps you want to see dishes of a certain cuisine on the table. Or some of the guests need dietary dishes prepared. After inviting a frequent chef, all you will have to do is enjoy pleasant interactions with your guests and collect compliments.

You may also like: 11 Free Juice Recipes Apps for Health & Diet
MyTable
Discover the magical world of professional cooking. MyTable offers you the services of the best chefs in your city and beyond. You don't need to collect reviews of chefs from your friends and look for their contacts yourself. All the best representatives of this profession are already on MyTable.
Here you will find young and talented chefs who are just starting their professional journey. You can also hire real stars of the restaurant business. Surprise your guests with the appearance of the chef of a famous restaurant.
Taste unusual dishes from the personal menu of the hired chef. Get to know international cuisine right at home. You can hire a chef once or become a regular customer.
In addition to cooking, you can take a master class from the chef and learn how to prepare seasonal dishes yourself. All specialists have been seriously selected and have earned your trust.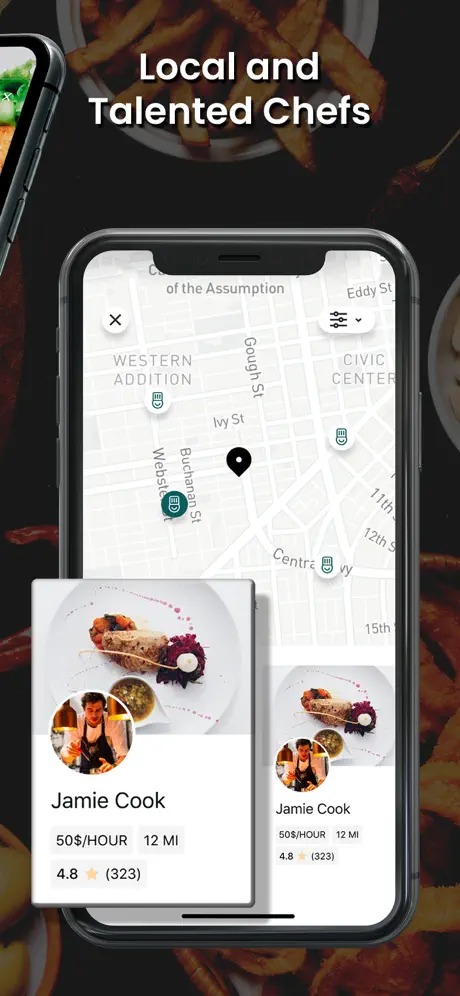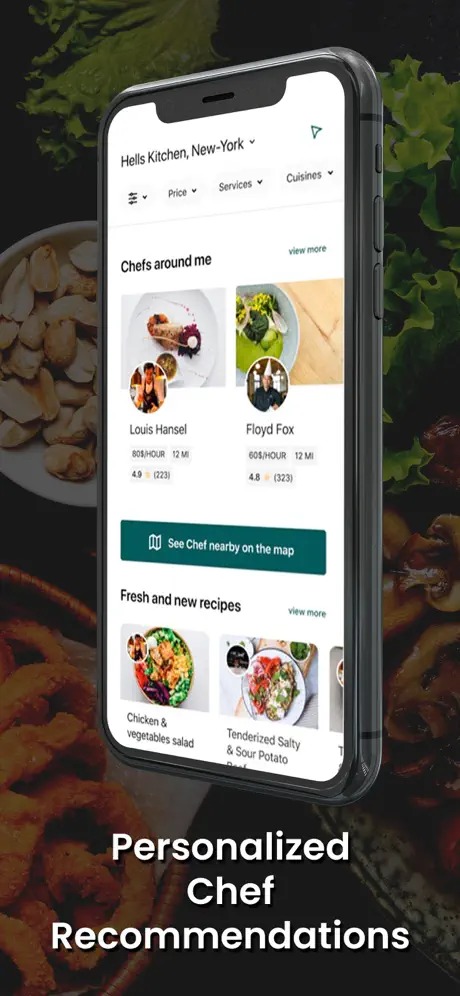 This app will also please you with democratic prices. Here you contact professionals directly. This means that you will bypass the costs of advertising and managers. Earnings of chefs are also commission-free, which allows young chefs with small initial capital to register.