Presenting information in a clear and understandable way is the key feature of the success in spreading your ideas. Today slides are used everywhere – in education, in businesses, in science, etc. The reason for that is obvious.
We're all bombarded with tons of data and a concise presentation is something that can outline the most important facts and make them sound louder. Needless to say, that clarity in combination with pictures or statistics makes us more susceptible to the influence of the presented ideas.
I hope that was convincing enough to persuade you that making a presentation is totally worth it. That brings us to the next stage, which is what tools we should use to create a presentation. Every second person would probably say PowerPoint, but this program has become redundant due to some new innovative slideshow software.
Moreover, the number of PC users drastically shrinkers. People prefer using tablets or smartphones, which is exactly why we have decided to gather 5 top slideshow apps for iOS devices. Check them out and astonish your friends, colleagues, or fellow learners with an outstanding presentation!
You may also like: 7 Best Photo Apps That Take Multiple Pictures (Android & iOS)
PicPlayPost
This app is a photo and video editor and a great tool for making the best slideshows! It allows you to overlay artistic layouts on your photos and videos when using the slideshow path. Another cool bonus that you will find here is that it allows you to add GIFs from giphy to your slides.
Apart from that, you can always add a text with the customizable font on your slides. You can create slideshows up to 30 minutes long here (looking just like a movie). Of course, you don't have to try so hard each time you want a simple slideshow. You can make a simple traditional slide show without any additional features.
You can just pick the elements you want to show and press play. If you want, you can add a voice-over. The only aspect you need to be aware of is that this app requires a monthly subscription. First, you get a free trial 14 days period, however, after that, you need to pay something if you like PicPlayPost.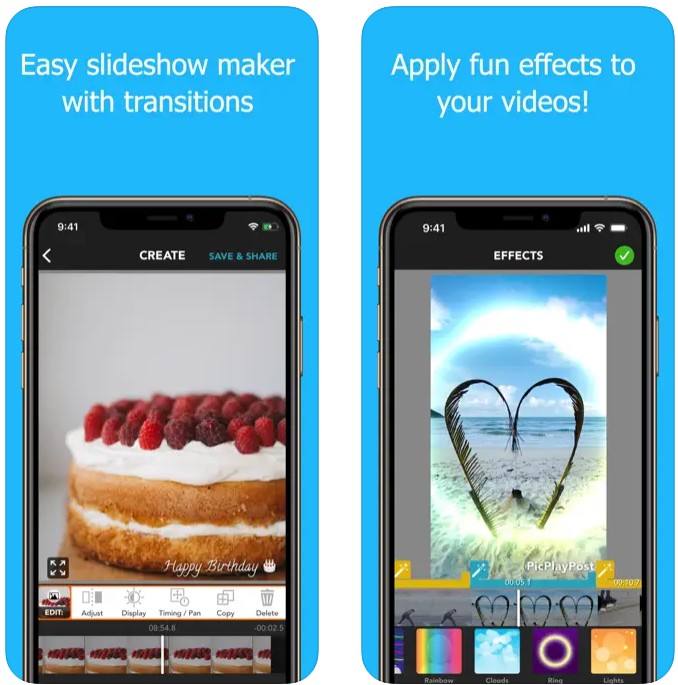 You may also like: 11 Free Calculator Photo Vault Apps for Android & iOS
Slideshow Add Music to Photos
Not all the presentations are made for professional purposes. Sometimes we make them just for fun or, for example, in order to wish someone a happy birthday.
I mean, isn't it nice when someone makes a beautiful slideshow for you, full of memorable pictures and accompanied by your favorite music? Even professional presentations sometimes require creativity.
SlideLab is designed exactly for those purposes. With the help of this app, you can create videos using pictures from your gallery. There are three simple steps you need to go through in order to create a stunning presentation.
The first one is choosing photos and organizing them in the way you like. The second one is editing the photos you've chosen, applying to them different gorgeous filters. And, finally, the third one is adding transitions and music.
As simple as it can be, the app represents a handy tool for making creative presentations. When made, a presentation can be shared on Instagram, YouTube, or Facebook. Download SlideLab right now and make a pleasant surprise for your friend!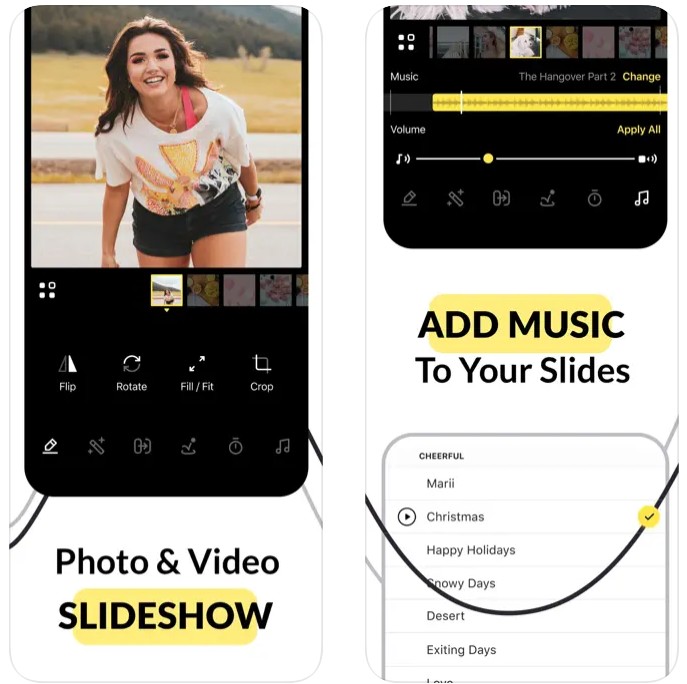 Photo Slideshow Director Pro
Another great app that was developed specifically for you to do the best slideshows right on your phone. Seriously, if the previous app were video editors or photo editors with excellent functions for creating slide shows, then this one is only the slideshow maker.
The sheer number of effects is almost astounding for an app and you can even save them as HD movies. Apart from that, you are able to share your work on social media platforms and you have one of the most popular of all photo slideshow apps.
The interface is intuitive here and half-automatic. It means you will be able to compile all the slideshows two times faster. When you've done another slideshow, you can choose the way how you want to save it – you can save it even in HD format.
By the way, if you want, you can first edit your picture and only after adding it to a show.
The app has a picture editor section. Another cool feature is that you can add music to your slide shows. The only thing, before using this app, make sure that the memory space of your iPhone is not overloaded, otherwise, Director Pro might work slower than usual.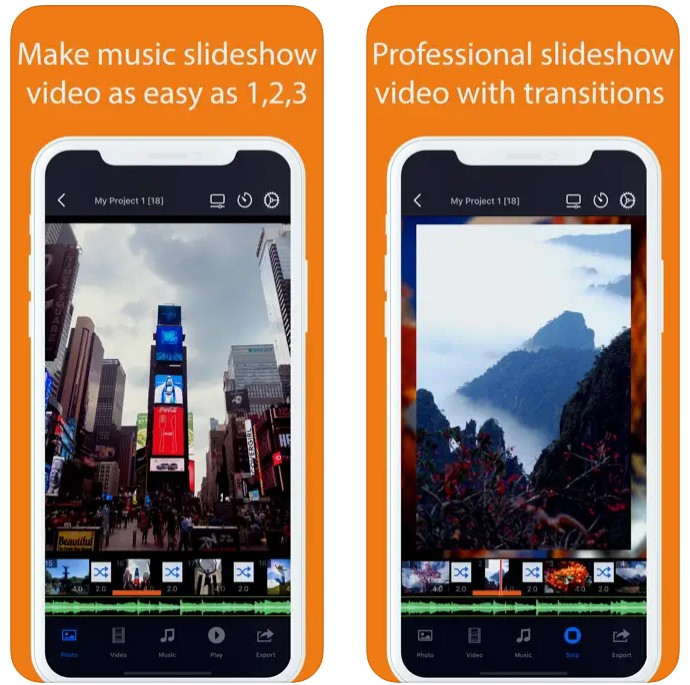 You may also like: 11 Best Apps To Transform Photo Into Anime Drawing
Google Slides
And, as for dessert, we decided to mention Google Slides. If you are already acquainted with this app, you probably know that there is nothing special about it. It is quite simple and efficient.
The reason it is on our list though is the opportunity to view, create, and edit presentations anywhere, on any device.
Apart from being so being simple and familiar, the app has one more significant advantage – it enables several users to work on one presentation at the same time. If you often have to make presentations for your work or for studies, Google Slides is a must-have!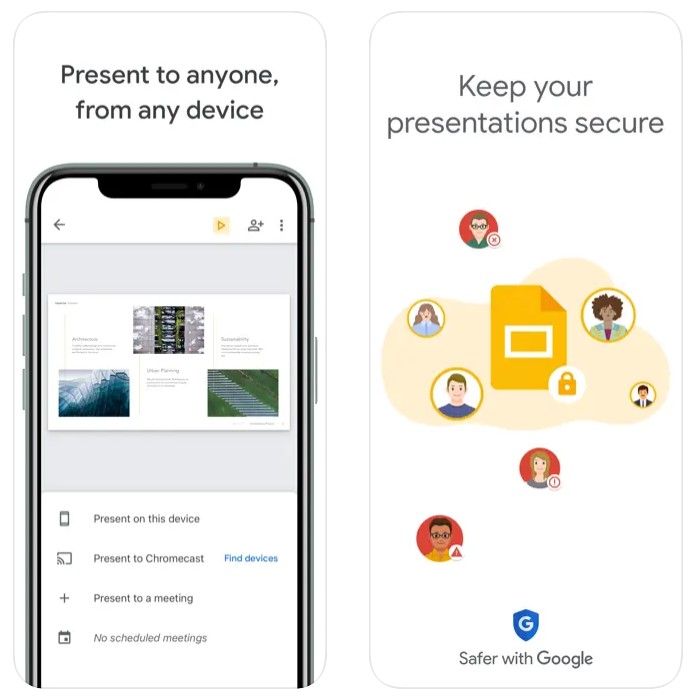 You may also like: 11 Best Apps For Combining Photos (Android & iOS)
SlideShow Maker Photo to Video
This is an ultimate way for creating stunning presentations in a moment.
You have an option to choose the favorite pictures from your phone's camera roll or iCloud, and then edit your slideshows with a variety of dynamic themes, sounds, and text overlays. There are a lot of tools for creating a great, bright slideshow.
It is possible for you to adjust the length of the file, add texts and so on. And with support for 1080p HD and 4K Ultra HD video output, your slideshows will look stunning on any device.
Whether you're looking to create a slideshow for a special occasion, to showcase your portfolio or to promote your business, Slideshow Maker – Photo to Video has everything you need to create a professional-quality presentation in minutes.
Advantages:
Customizable filters and effects.
Built-in music tracks.
Text options for captions.
Ability to share on social media platforms.
Drawbacks:
Limited options for customization.
Some features may require payment.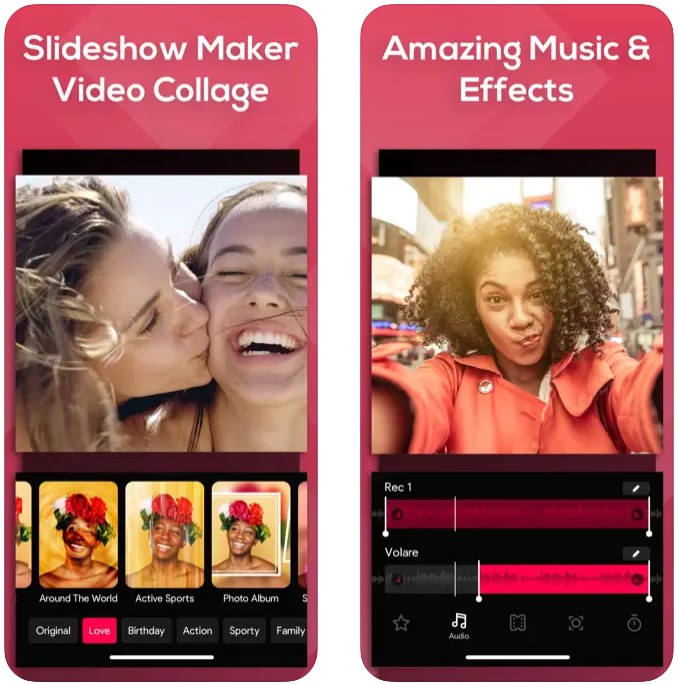 Quick Slideshow Maker + Music
This is the ultimate tool to make your memories more vivid.
Just select files that are saved on your phone, adjust the order of the media, and pick from different styles. It is also possible to use various of stickers and other elements that give your slideshow a memorable look.
Moreover, you can add soundtracks. It makes the photos be even more charming. The app offers a vast collection of tracks, so you can choose a track that perfectly matches your slideshow's mood and theme.
You can also import your music from your iTunes library.
Advantages:
User-friendly interface.
Range of customization options.
Ability to add music to your slideshow.
Built-in camera feature.
Drawbacks:
Limited features compared to professional software.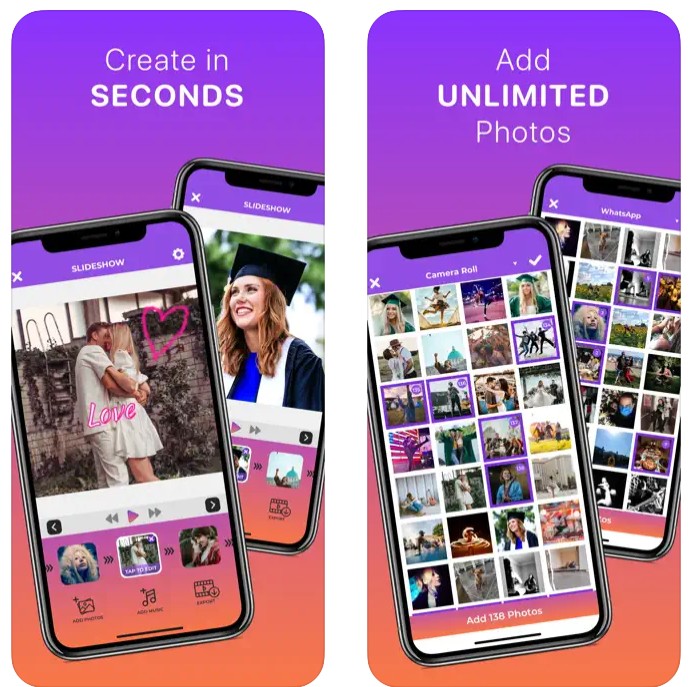 You may also like: 9 Best Witchy Photo Editing Apps For Android & iOS
Slideshow Add Music to Photos
Viva Video is one of the most popular video editors and you probably didn't know it can make slideshows as well. You can enjoy simple interface that helps you selects pictures saved on your phone, choose music, and combine these two elements.
There are a lot of useful tools to edit and customize the slides, such as adjusting the photo duration, selecting transition effects, and adding text or stickers.
Users can also adjust the volume of the music and set the timing of each photo to match the beat of the music.
Once the slideshow is complete, users can export their creation as a video file and share it on social media platforms or save it to their device's camera roll.
You also have an option to create an unlimited number of slideshows without any watermark or time limitation.
Advantages:
User-friendly interface.
Customization options.
Built-in templates, direct sharing.
Drawbacks:
Limited features compared to other specific slideshow apps