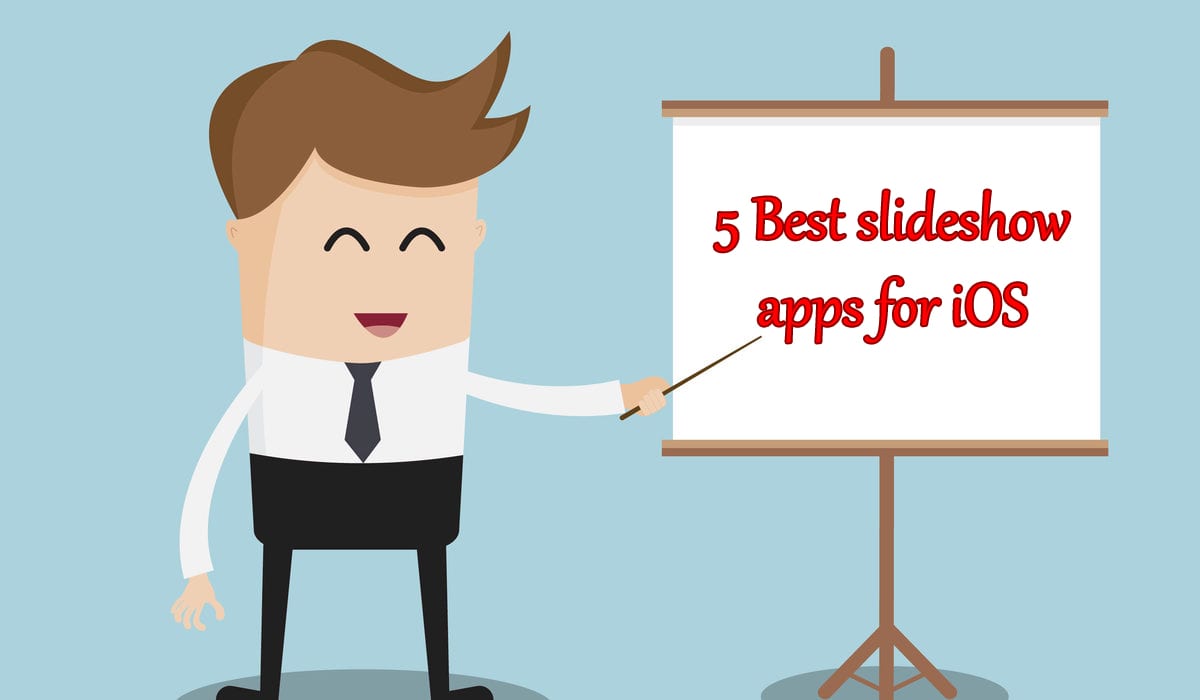 Presenting information in a clear and understandable way is the key feature of the success in spreading your ideas. Today slides are used everywhere – in education, in businesses, in science, etc. The reason for that is obvious. We're all bombarded with tons of data and a concise presentation is something that can outline the most important facts and make them sound louder. Needless to say, that clarity in combination with pictures or statistics make us more susceptible to the influence of the presented ideas.
I hope that was convincing enough to persuade you that making a presentation is totally worth it. That brings us to the next stage, which is what tools we should use to create a presentation. Every second person would probably say PowerPoint, but this program has become redundant due to some new innovative slideshow software. Moreover, the number of PC users drastically shrinkers. People prefer using tablets or smartphones, which is exactly why we have decided to gather 5 top slideshow apps for iOS devices. Check them out and astonish your friends, colleagues or fellow learners with an outstanding presentation!
Prezi
If you are a lucky owner of iPad or iPhone, then you have this wonderful opportunity to view presentations created with the help of Prezi.
Prezi is a brand-new slideshow tool, which became a game-changer in developing such kind of software. The idea is to let a viewer see the whole picture first and then zoom in for the further details. Presentations made in Prezi turn out to be colorful, stylish and informative.
The app enables you to view and present your 'prezis' anywhere! 75 million people have already tried Prezi and were pleasantly surprised by the effectiveness of such kind of presentations. Join the army of these excited presenters right now and start creating unforgettable prezis!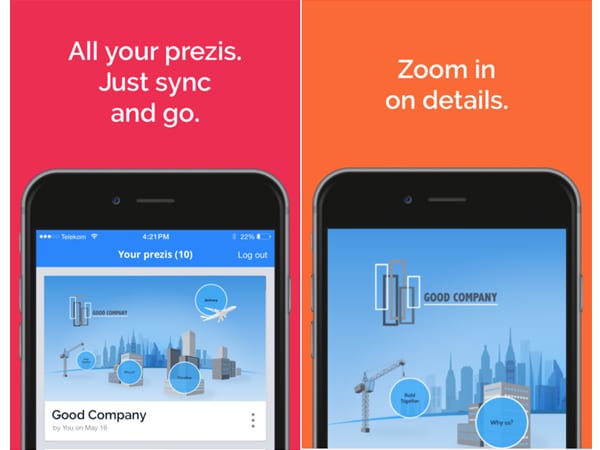 SlideLab
Not all the presentations are made for professional purposes. Sometimes we make them just for fun or, for example, in order to wish someone a happy birthday. I mean, isn't it nice when someone makes a beautiful slideshow for you, full of memorable pictures and accompanied by your favorite music? Even the professional presentations sometimes require creativity.
SlideLab is designed exactly for those purposes. With the help of this app, you can create videos using pictures from your gallery. There are three simple steps you need to go through in order to create a stunning presentation. The first one is choosing photos and organizing them in the way you like. The second one is editing the photos you've chosen, applying to them different gorgeous filters. And, finally, the third one is adding transitions and music.
By the way, if you are a fan of filters, you can check out our article in order to find out more about HDR.
As simple as it can be, the app represents a handy tool for making creative presentations. When made, a presentation can be shared on Instagram, YouTube or Facebook. Download SlideLab right now and make a pleasant surprise for your friend!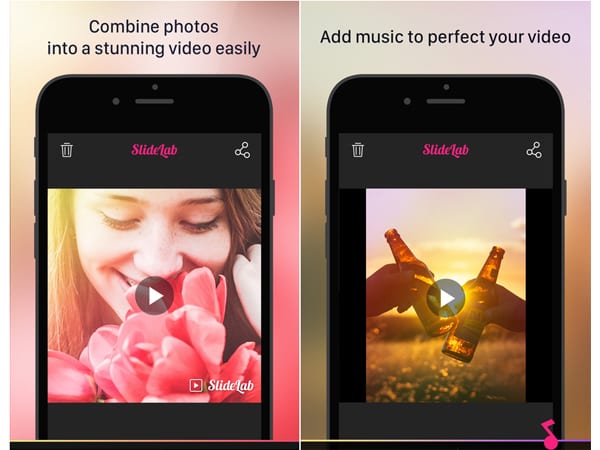 Haiku Deck
Haiku Deck is one of the most innovative tools for creating stylish presentations. It boasts with the fastest methods of making slides. For example, the app is able to find relevant pictures to use as a background or to import the pictures from Flickr, Instagram, Facebook and other online sources.
The presentations created with this app look very up-to-date thanks to professionally designed fonts and layouts. Those who love using statistics may find useful the ability to make pie charts, bar charts, and stat charts.
With Haiku Deck you are able to present anywhere on any iOS device. Your presentations can be synced between iPad, iPhone, and Web. Needless to say, that the app provides unlimited sharing features. One of the most remarkable ones is export to pptx. and pdf.
This one is definitely worth trying. Who knows, maybe it will appear to be your favorite slideshow app!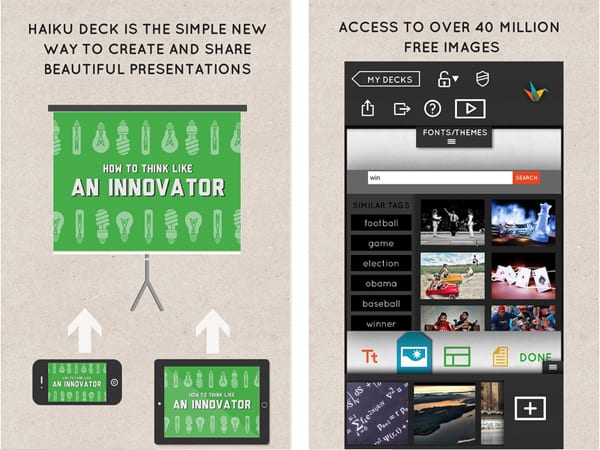 Google Slides
And, as for desert, we decided to mention Google Slides. If you are already acquainted with this app, you probably know that there is nothing special about it. It is quite simple and efficient. The reason it is on our list though is the opportunity to view, create and edit presentations anywhere, on any device.
Apart from being so being simple and familiar, the app has one more significant advantage – it enables several users to work on one presentation at the same time. If you often have to make presentations for your work or for studies, Google Slides is a must-have!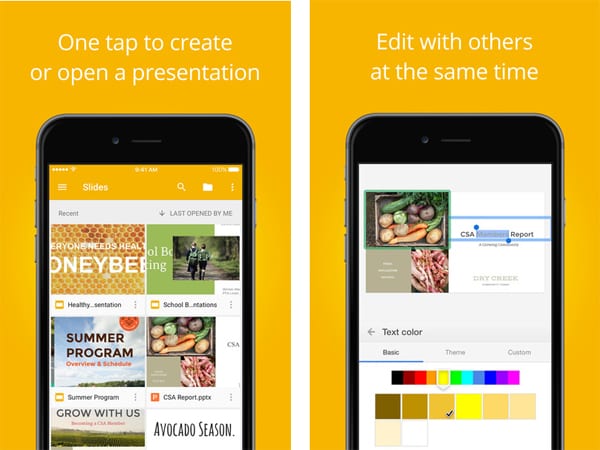 SlideShark
All that cutting-edge stuff is undoubtedly mind-blowing, but what if you need to present something unimportant? I mean something that is made in the old good PowerPoint? Well, if that's the case, SlideShark is exactly what you need!
The app allows you to view and present slides on your iOS device without any problems. The only drawback of it is probably the price, but there is a 15-day-free-trial, so you can use it when you really need it. Or, else, you can buy the premium version and enjoy all the possibilities of SlideShark. The app is renowned for being helpful in promoting business ideas.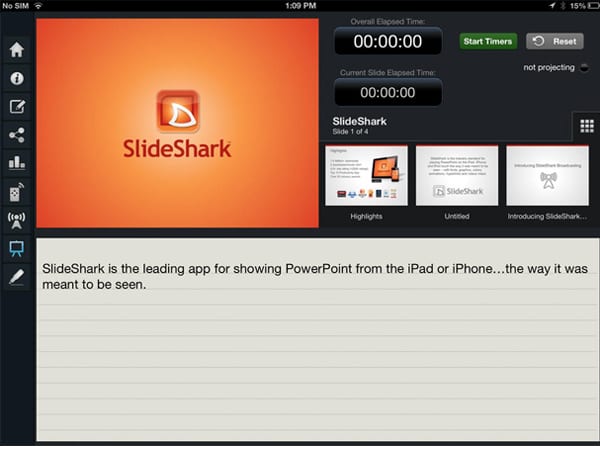 So this is it for slideshow apps. We hope this article has been useful for you. Wow people with astonishing slideshows and, as usual, be smart in choosing apps!