21 Best picture in picture apps for Android & iOS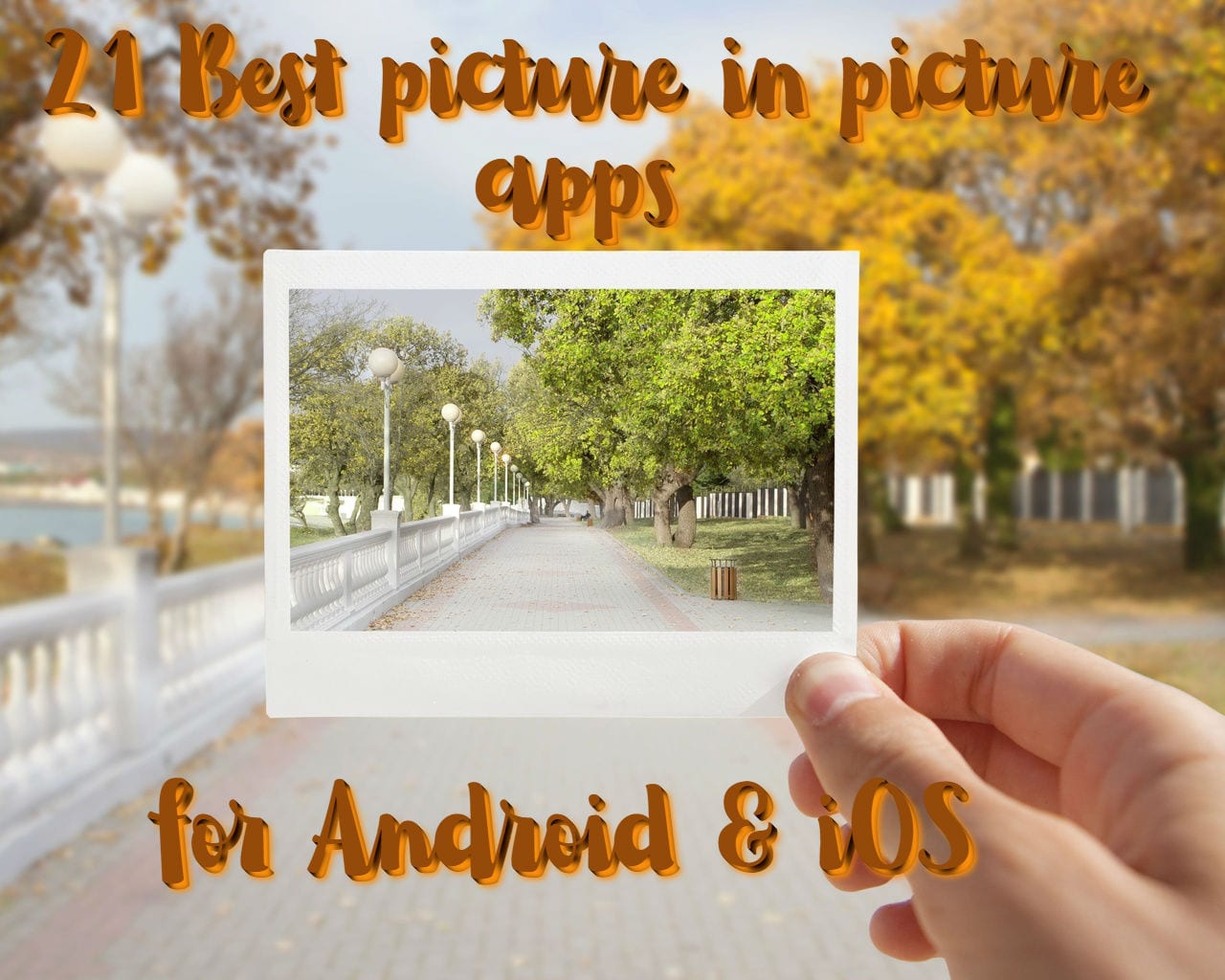 The picture-in-picture effect is often used in sports events broadcasts, video blogs, video classes and to add logos. Just like the Split Screen effect, it helps to show different viewing angles and simultaneous actions.
Also, the this type of effects is widely used when editing photos. It's about the so-called PIP editors.
PIP cameras are the best companions for editing your photos. The camera is designed for a beautiful picture-in-picture effect, which will make the photos fun and very beautiful. A creative tool will help you edit photos using photo frames, graphic filters, the ability to change the foreground.
Enjoy our list of picture-in-picture effect apps below.
Picture in Picture
With Picture in Picture, you can display on the desktop a small, neat window that broadcasts video from both local storage and from various streaming services, including Youtube, Netflix, Vimeo, Dailymotion, Twitch.tv, and others. According to the developers, Picture in Picture supports all types of web players, including a player based on HTML5, Flash, and iframe.
With Picture in Picture, you can significantly expand the possibilities of interaction with Safari and Chrome, make viewing video more comfortable. "You no longer have to choose between web surfing and a new series of your favorite TV series. From now on multitasking has reached a completely different level,"- says the developer.
Despite the fact that the program requires deep integration into the OS, it is distributed through Apple's official online catalog. The application uses Safari WebKit, with which it activates the required plug-in and makes it possible to use the "picture-in-picture" mode.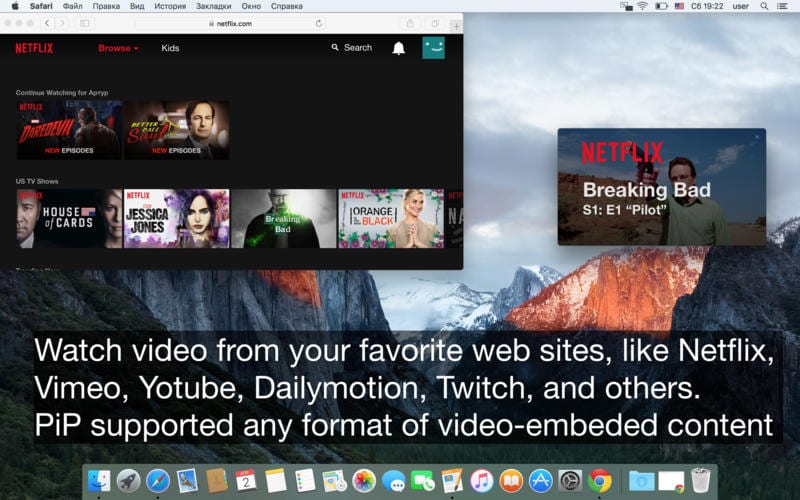 Get it on iOS
iMovie
iMovie is a proprietary multimedia combine for creating and editing video, developed by Apple. The application makes it possible to create and save projects, easily add the necessary multimedia content to them and at the same time has a huge internal library with all sorts of gadgets like filters, transitions effects, blanks for creating subtitles and signatures and so on. Also, the editor includes advanced tools for supplying the future of the movie with subtitles and supports the ability to work with several audio and video tracks at once. You can also praise the local tool used to adjust the playback speed. With it, you can create stylish Slow Motion effects or "squander" not interesting segments of the video. The latter function is especially useful for people engaged in active sports.
Like any software product from the "apple" corporation, iMovie is extremely intuitive and is designed for a wide audience of users. The presence of tooltips and a detailed manual for working with the editor, displayed at the entrance to the application, will help you to understand all its functions, even for those who have never worked with such programs before. Unfortunately, the application is chargeable.
Key features and functions:
Allows you to create editing projects and easily add content to them.
Provides the user with extensive functionality for adjusting the playback speed and implementing color correction.
Includes an extensive library of all sorts of graphic "gadgets", including picture-in-picture effect.
Allows you to add subtitles and captions to the video.
Supports AirPlay technology.
Has a stylish modern interface.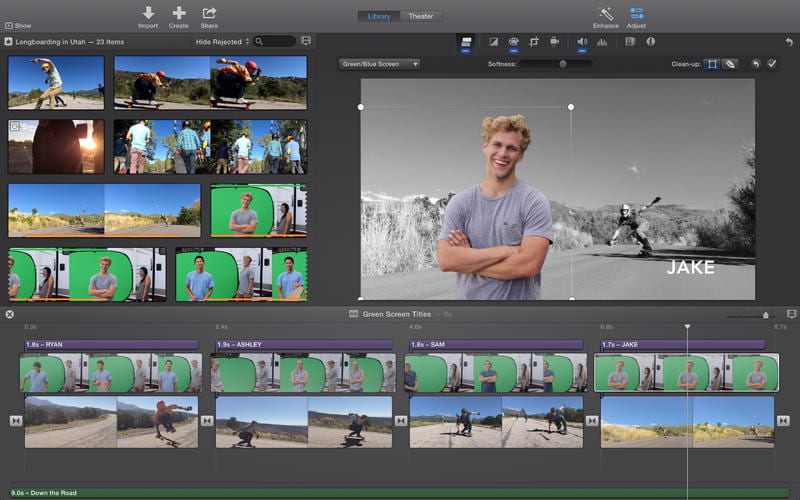 Get it on iOS
Pinnacle Studio Pro
Pinnacle Studio – by right is the most popular video editing software from the company Corel. It comes in several variations with a different number of additional functions. The new version of the program, by tradition, includes improvements to almost all the main features and additional materials.
Pinnacle Studio Features:
Processing and editing of high-definition video files, audio, and photo.
Add effects, markers and titles.
Editing of any media files.
Recording of the created project on carriers of a different format – CD, DVD, Blue-Ray.
Creating smooth transitions between connected parts of video or audio.
The new and improved engine of the program.
More than 2000 effects (picture-in-picture effect is included).
Friendly and intuitive interface, multifunctional timeline, well-organized help and prompts.
All work on the recording of video and audio material is made in one program.
An additional sets of content and plug-ins.
The ability to work with 3D format.
Nvidia technology support.
A set of "smart" tools to facilitate the work with video and audio files for recording on media.
You can download Pinnacle Studio free with plugins in different variations.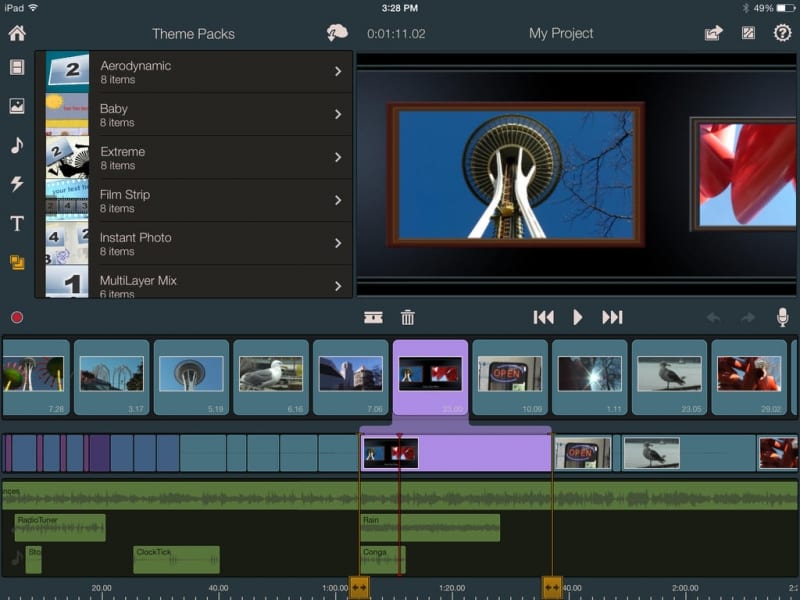 Get it on iOS
SPB TV
SPB TV is an IP-TV client, which includes a huge number of channels. The possibilities of this program are very great! The application allows you to view TV channels in different languages from more than 17 countries, has a nice interface and can be customized to the needs of the user. It is very convenient to choose the channel that you need because in SPB TV, there is a preview of the channels. The good performance of this application should be noted. Channels switch without any delay or you can view them with picture-in-picture technology.
The client also has a built-in TV guide, which is automatically displayed when the channel is previewed. A full program of television broadcasts is available a few weeks in advance. In order not to miss the desired transfer, you can leave a reminder in the calendar. If you watch the channels in the evening, and you are annoyed by the large screen brightness, then right after watching it you can reduce or increase it. In the same way, the volume is adjusted in SPB TV. This application can be operated with one finger without problems. All these small but very necessary and important details make SPB TV an excellent assistant in watching TV channels on your smartphone. In addition, the program is completely free.
Key features and functions
Fast switching between channels.
Rich settings window.
Includes the program of telecasts.
Has a nice, minimal interface.
Distributed completely free.
Get it on iOS
Get it on Android
FotoRus

FotoRus – is a photo editor on your devices, with many wonderful filters and effects. This is a free photo editor all-in-one: wonderful collages, frames, retouching, selfi-studio.
Take photos and process your photos directly on your favorite gadget, smartphone or tablet on Android and iOS OS. You can change the size, color, add text, apply a variety of artistic effects and filters, create fashion collages from several photos, retouch skin flaws in pictures and much more. FotoRus will help meet all your artistic needs!
Get it on iOS
RecoLive MultiCam
Do you want to feel like a talented director? Then download this application. Here you use one of your devices as a working switch and the other device as a video camera. Now, you can shoot as if you are in a real studio. You can view all cameras at once, merge pictures from multiple cameras at once, create different transitions. And you can do it live!
Using the Wi-Fi connection, the application is used for both the camera and switcher. Select those devices over Wi-Fi that you want to use as cameras and create!
Each camera displays one device that you have selected as the switch.
You can make any kind of transition between cameras: anti-aliasing, extrusion, cube, etc. It is also possible to combine two cameras on one screen. There are several types: panel, picture-in-picture and much more.
Remote control allows you to control the scale, focus, exposure, color stabilization, etc. All video is recorded in Full HD. After recording, you can immediately import the video into YouTube or iMovie, and also transfer the recordings to any of your devices.
Get it on iOS
Picture In Picture for Video
This is an excellent application that will help you make an amazing video. The main idea of the program is to make the video in picture-in-picture mode.
Also, the application allows you to add 10 attached video files at the same time. These files can be moved to any place. It is also possible to adjust the size of the video for more convenient viewing.
Get it on iOS
PIP Camera
PIP Camera – is a bright photo editor, created specifically for lovers of a selfie. This is a universal tool for photographic creation, which makes it possible to turn unsuccessful shots into bright and memorable photographs. Thanks to the expanded set of functions, this program will easily turn you into a "face from the cover", making a normal photo from a normal self.
The program supports all types of cameras on devices, allowing you to instantly upload your photos to the editor. If you do not want to process the snapshot right now, you can save it in the gallery and return to processing later.
The application interface is not complicated. All working buttons are placed on the main screen. There are only six:
Classic mode. Processes pictures in the basic mode, overlaying already pre-installed effects. Also, in the classic mode, quick processing is possible: upload a picture, apply a filter or effect and save.
Score. This button with a heart and the inscription MAG opens access to the store of additional "decorations": light filters, various effects, etc. Please note – all add-ons in the store are paid.
Collage. The essence is clear from the title – this tab is designed to mount collages from photos. You can adjust the number of photos and their location, or you can simply select automatic assembly by ready-made templates. When you create a collage, you can use up to 6 photos.
Editor. The most numerous in the set of functions section. Here there are almost all tools for maximum photo editing: cropping, overlaying of light filters, mosaic processing, color correction and others.
InstaMag. The button that allows you to share the created masterpiece with your friends. Thanks to integration with most social networks, the result can be sent to Facebook, Instagram, Twitter and other social networks.
Faq. The section which contains information about the program, instructions for working with the application and the ability to contact technical support.
Save the processed snapshots in the PIP Camera application using the "Save & Share" button. All results are stored in the gallery, where they can be retrieved for re-editing.
Functional
This editor allows users to access a wide range of functions necessary for creative and fast processing of self-photo.
The ability to edit both the front and back of the photo.
Trimming, color correction and lighting, the imposition of frames, color filters and original effects.
Instant preservation of photos in the gallery.
Support for all types of cameras.
Creation of collages.
Quick photo editing using basic settings.
The ability to share the results with friends with the help of most social networks.
Thanks to the mass of pluses, the PIP Camera will please every "photo-user":
More than 40 different styles for design.
About 200 templates and more than 40 frames for creating unusual collages.
Ability to blur the background when processing.
To set the background, more than 100 templates are available.
Ability to add text, signatures, graphic objects, stickers and smiles to each photo or collage.
A huge number of functions with the simplest interface.
Integration with the social networks.
Regular updating of the library of additional effects in the built-in store.
Get it on iOS
InstaMag
InstaMag is a handy application that will quickly create pretty photo collages for further postings to Instagram or other purposes.
In the main menu of InstaMag, several tabs are collected, some of which are related to the functionality of the program. Also, there are shortcuts to developer applications that have a similar theme.
All templates for future collages are divided into several types. So, in "Magazine" the preparations which will help to connect photos in one image are collected, they are similar to a page from the glossy magazine. There are several dozens of variations of different themes and formats. Some templates automatically load information about temperature, location and time of day.
For fans of the Japanese comics there is a section "Manga". The collage is divided into disproportionate parts, and the photos are added various effects and clouds of dialogues. In addition, the program contains classic collages of neutral themes with cute shapes. Regardless of the chosen layout, the user can change the position of each photo, as well as apply a set of filters to a separate component of the collage.
Thus, InstaMag will create a variety of collages, as well as process photos. The result is easy to share in social networks or to save a collage in the memory of the device.
Get it on iOS
Camera360
Camera360 is a very powerful program for photographing and processing images, which by all parameters exceeds the standard camera on your device, as well as many similar applications. By the number of total downloads and active users, Camera360 is the most popular application in its class. It is used on a permanent basis by more than 30 million people around the world.
Features of Camera360:
24 effects with the ability to fine-tune.
Convenient and intuitive interface.
High download speed and the ability to use it as a "default" camera.
Autofocus, grid, zoom.
Detailed adjustment of all aspects of shooting.
When you first start, Camera360 will prompt you to select the mode: "for a beginner" or "for a professional". If you choose the first, then you will be offered to take six simple tutorial steps, in which you will be guided by the main functions of the program.
It's very easy to use the camera, first choose the effect you like and just take a picture, then, we get the processed image. If we do not like something, then we can correct the effect or change it to another one. All popular filters and effects are available in the program, like Tilt-Shift, HDR, Retro, LOMO, etc.
Another important part of the program is the so-called scenes. Scenes – this is when there is already a ready photo, inside of which there is a place for a poster, stand, image. That is, we can photograph a person and depict it directly on a billboard in the center of Wall Street or on a large display in Shanghai. And it does not look like cheap photoshop, but as high-quality and professional processing. There are more than 30 such templates in the program and they are constantly replenished.
Camera360 is a very high quality and detailed application that can be a real rescue if you do not like the standard camera on your smartphone. The program is distributed on an absolutely free basis and has no built-in advertising. Definitely, recommend, this is MustHave!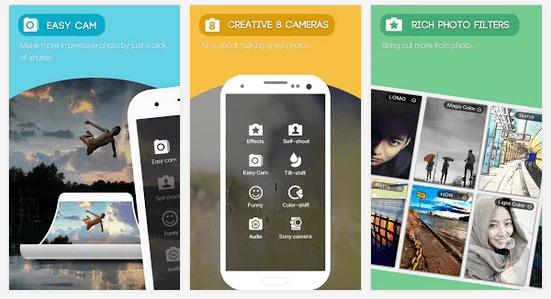 Get it on iOS
Get it on Android
VivaVideo
VivaVideo is a video editor, which is easy to use and has a large set of effects and filters, with which you can transform any video. In addition to working with finished clips, you can record a new one by immediately adding visual effects to it. Also, you can create an excellent presentation, taking your favorite photos as a basis and connecting them with transitions.
The interface of the application has turned out to be successful, intuitive menus and windows allow you to a quickly figure out and start working on the video. All filters and effects are superimposed by a simple selection from the list, although there is no setting, but this is compensated for by a wide variety. The main menu offers a quick selection of the mode of operation: video recording, simplified editing, presentation creation and professional editor.
Application features
The application refers to the category of video editors, it cannot boast of rich functionality in the field of cutting and processing video. The developers have focused on a simple and quick way to add a variety of visual "chips" and filters. That is, its main goal is to decorate the clip, giving it an original and more colorful look. But if necessary, you can still cut or paste fragments, superimpose an additional audio track or subtitles
Choosing or recording a movie, you can divide it into pieces or just add all kinds of jewelry, transforming the final result beyond recognition. And then, at your disposal, there will be a huge set of tools, dozens of filters, subscriptions, transitions and other elements that will make your masterpiece.
The program has additional features. For example, you can create a presentation from photos, again using a large set of tools. By the way, the basic set can be replenished by downloading the necessary elements from the server, and you can do it for free.
Another nice feature is video recording with pre-installed graphics enhancements. So, you can shoot a movie with a mirror image or with an imitation of the "door eye". The resulting video can continue to be processed or merged with other cuts to achieve the desired result.
Characteristics of VivaVideo:
Intuitive interface.
Editing and design of video.
Record movies with effects.
A large set of filters and themes.
Additional content is downloaded free of charge.
There are no serious shortcomings in the application, it copes with its duties perfectly. You can mark only the slow processing. In particular, a long movie with a lot of effects will persist for several minutes. There are other minor flaws, but they are all quite acceptable because the program is distributed free of charge.
VivaVideo is suitable for those who are looking for a simple tool for decorating video clips. But if you need a serious tool for cutting and editing clips, then the program will be almost useless, since it can offer only modest functionality in this direction.

Get it on iOS
Get it on Android
Plex
The program for remote viewing of multimedia content located on the computer. It supports the broadcasting of music, videos, and images.
Powerful media server Plex allows you to remotely view all the media files on your PC and remotely manage the desktop program. The app automatically adapts videos to the mobile device format and can sync content for offline viewing. When working in conjunction with a desktop utility, you can transfer snapshots and videos from the portable gadget's camera to a remote server.
Capabilities:
Remote content browsing.
Support for popular image formats, video, and audio.
A local media viewer.
Additional online services.
Support for the technology of the Camera Upload.
Principle of operation
Because the service is "sharpened" for work in conjunction with a remote server, you need to create a single account for your mobile device and desktop.
A restriction of the free version – video and music are played just a minute, and a watermark is superimposed on the images. To remove restrictions, you must purchase a subscription. Its cost is $ 5 per month. Local content is available without restrictions.
You can save the video on the device, and then watch it at a convenient time without connecting to the network.
Thematic broadcasts for subscribers.
There is an opportunity to exchange content with friends.
Separate installation of necessary quality of translation for a cellular network and Wi-Fi.
Get it on iOS
Get it on Android
Photo Effects Pro
If you want to make an original photo, process it with this application. Photo Effects is a simple and convenient way to superimpose various effects on a photo. Now, everyone can become an artist. The application allows you to process photos by applying a single effect of 31 possible. To use the application is very simple, select a photo from the gallery or take a photo, all you have to do is to impose one of the effects. By the minus of this software can be attributed to the lack of the ability to rotate and crop the photo, and it would be better to apply several filters at once. After achieving the desired result, the processed photo can be saved to the phone's memory or shared with friends.
Application features:
a large number of effects (Black & White, 3D Sculpt, Sharpen Filter, Color Invert, Black White Photo, Picture-in-picture, Gray line sketch, Yellow dots, etc.);
creating beautiful photos quickly and easily;
share your creations in social networks;
the photo is saved in the Photo Effects folder.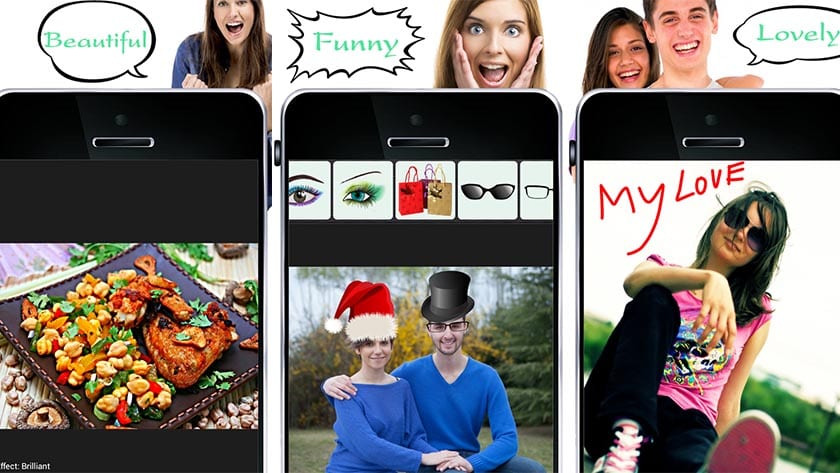 Get it on Android
Picture in Picture Camera
This application is a great photo editor that will make you a stunning picture-in-picture effect. Upload a photo or select from the album and enjoy the result. In addition, in the application you will find many more features: decorate photos, resize, and share the end result online. Download the application and convert your photos beyond recognition.
Features:
Share collages in the social networks.
Edit photos with the help of numerous modes.
Large selection of photo frames.
Add a filter to get a stunning photo.
Background blur, the effect of the "pipette" and much more.
Path Player
Path Player is a universal media player for smartphones and tablets based on the Android platform. The application supports most popular formats, offers several interesting additional functions such as "picture in picture", it can be used to view files from local disks and streaming video from websites.
There is an opinion that the Path Player user interface needs additional polishing. But in terms of the number of features the player leaves far behind most of the competitors. There are several modes for viewing the contents of personal collections of media files. Path Player can present available files as a list or grid, and organize them into folders, playlists or categories. You can create your own "playlists" and assign the selected video to a specific category.
The built-in search engines allow you to find the content you are interested in an extensive library and start viewing it in a separate floating window on your smartphone or tablet screen. The picture-in-picture function will allow simultaneous viewing of two clips on one screen.
VidPic Video Collage Photo Pic
Thanks to the VidPic Video Collage Photo Pic application, you can create beautiful video collages, combine photos and videos together. Here, you will find the picture-in-picture function.
Features:
Excellent choice of frames.
Support technology picture-in-picture.
Combining photos and video clips.
Add music to the video clip.
Adjust the color of the image and the size of the canvas.
Creation of collages.
The ability to save collages and import them into the social network.
User-friendly and intuitive interface.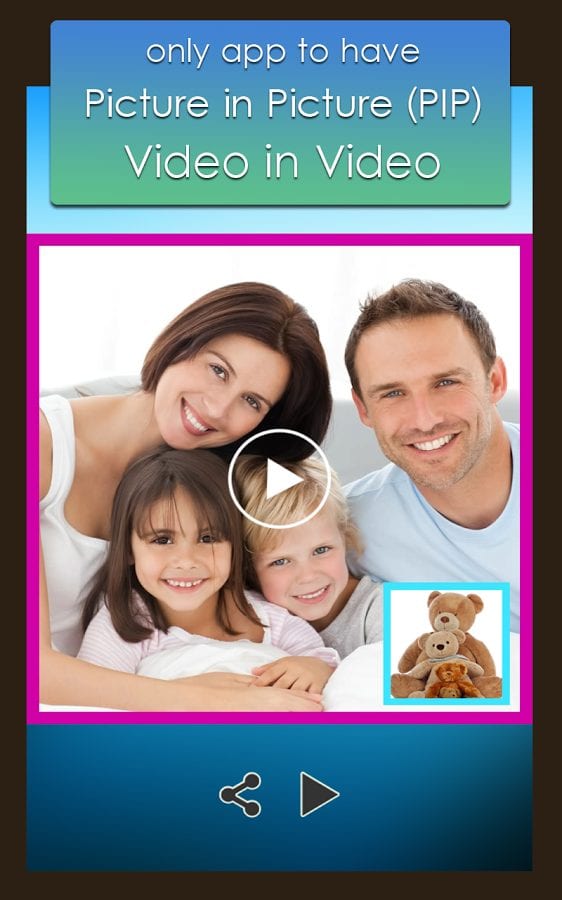 Picture in Picture – Layer Photo Editor
This application combines two images in amazing shapes.
Simple and convenient interface, without advertising, no difficulties: you can easily and simply make a stunning image. Using the application, you can crop your photo by selecting 120 amazing shapes and symbols. Then, you can show the result to your friends using Instagram, Facebook, Twitter.
Main features:
Work immediately with two images from your gallery.
Photo design using 120 different shapes and shapes to merge.
An ability to save the resulting image and send it to Instagram, Facebook, Twitter.
Make unforgettable photos in just a few minutes and enjoy the result!
Video in Video
This application is an "old man" in the creation of a video, thanks to which the videos are obtained in a stunning HD quality. If you need to create a training or promotional video, then the Video in Video application is the best for you.
Functionality:             
Import and export videos to Facebook, Instagram, YouTube, and Viddy.
The possibility of saving the result to the gallery.
The ability to import video into other editors.
Support high-resolution video.
Ability to add a picture as a background.
Any video format is available.
Ability to superimpose audio.
Any orientation.
Adjust photo and video settings.
The orientation of the video on the working screen (picture-in-picture mode).
Adjust of image borders, rotate video, photo opacity and much more.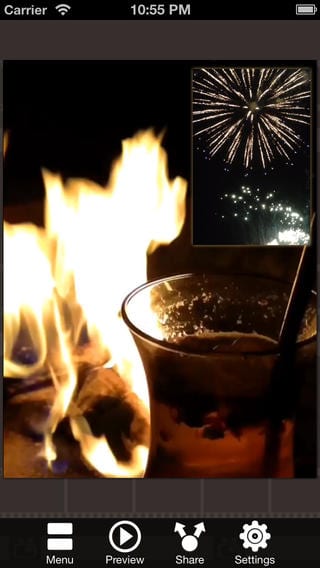 PIP Photo Editor
Together with this application, your photos will look great. Choose from a variety of shapes and designs, decorate photos, make your photo unforgettable.
Now edit the photo does not take long. Just download the PIP Photo Editor application and create. A large number of photo frames, templates. Place one photo in the other and see how your photo has changed.
Be creative. And having a wide selection of photo effects and filters will help you do this!
PIP Photo
Of course, this is a useful application for your device. It helps to create an artistic photo, thereby making the image unforgettable and creative.
Here you will find a large number of styles of picture-in-picture, and also be able to save and share the result with friends in social networks.
Save the best moments of your life together with the PIP Photo application.
PIP Camera Eastern
The effect of the picture in the picture has been known for a long time, but not many people use it. With the PIP Camera application, you have the opportunity to create stunning photos that can easily excite your friends.
Functional
In total, the application offers you 3 options for design: a classic picture in the picture, frames, and collage. In the first case, you are offered a set of pictures that were specially chosen to get a really interesting effect. You do not need to cut anything manually, but just choose one of the patterns that most fell into the soul. After, you click the Next button and apply interesting filters both to the background and to the foreground. You can impose absolutely two different filters on the background and foreground, to get an even steeper effect. In the end, press the Save button and your result is ready for publication or simply saved in the gallery. In the second case, you will find a set of stylish frames, which, unfortunately, not very much. In the third case, you can select up to 6 photos, and then place them on the album cover or in other prepared templates. It looks very cool!
ю