15 Cool & Free games for Android Tablet 2020
Do you like playing video games? Of course, you do. Especially now, when most people have to stay at home all the time. It is important to keep yourself busy and entertained in order to enjoy the life of isolation.
Have you been looking for a list of the most exciting games for Android? If yes, you have just found it. Here we have collected the most popular and interesting games for your tablet.
These are the games of various genres, from horror to puzzles. You will definitely find something that will meet your demands.
What's more, all the apps listed are free of charge. There is also no need to attach your credit card to get the subscription or the access to the game. Just download it and enjoy it.
PUGB Mobile
This is one of the most thrilling games for a tablet. There is a great number of playing modes. First of all, you can try a classic one, where there are 100 players.
What is more, there is an exciting arcade mode, where you have to create a wise strategy to survive and kill all of the enemies.
You can also play with a friend or in a crew of 4 players. Shoot as much as you want – you will never run out of cartridges. There is also a special zombie-mode.
When the game gets too tough, you can always ask for help. After creating a clan, you can go back to the fight.
The game is being updated on a monthly basis. New awards and challenges are constantly being added. Make sure you don't miss them.
There is also a special algorithm that is aimed at preventing any type of cheating. You don't have to worry, all the rankings are fair. The more you play, the more weapons and awards you get. Use them to upgrade yourself.
PUGB is available in Google Play Market. Download it for free.
You may also like: 9 Best games with unlimited levels for Android
Alto's Odyssey
This game will be a perfect option if you are looking for something really original and new. Imagine that you are looking at an enormous desert, which should be explored by you.
You are going to discover something fantastic and surreal. Amazing graphics will create an atmosphere of magic. This game is connected to Alto's Adventure, another game by Noodlecake Studios Inc.
Still, you don't have to download Alto's Adventure in order to understand what is going on in Alto's Odyssey. There is no background story that you need to now. Just start playing.
The main character is Alto, as you might have understood from the game's name. There is also a possibility of unlocking 6 more characters, each of them has his own unique abilities.
The aim of this game is to discover new things and explore the mysterious desert. There are two modes – the classic one, where you need to do some tasks and collect coins and bonuses. The second one is a kind of zen, where you simply explore the desert.
The zen mode is very relaxing. There is complete freedom of movement. You control everything: where you go to, how fast you move and what you do. It is a great way to unwind when you are stressed.
Don't forget to put your headphones on, because the music used in Alto's Odyssey is so charming.
Pokémon GO
How many memes about this game have you seen? Probably a lot. But have you played it? If you haven't, you need to try. This app is so addicting and thrilling. Once you started playing you can hardly stop.
This game helps you to discover the world of Pokémon. What you need to do is to search for a new pokemon in different locations. When you catch a pokemon, you add it to your Pokedex.
The more you do, the more awards you get. Use them to unlock new levels and tasks and keep discovering the game.
You can also build up a team and do the search together. Take part in Raid Battles to get more achievements.
This adventures will keep you busy and entertained for a long time. So download and start your life-like adventure.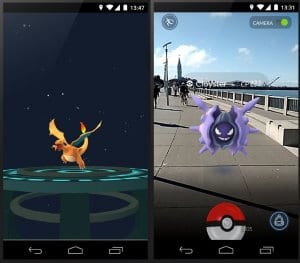 Vainglory
This game was created for a smartphone or a tablet, but its quality is on a very high level The graphics of this game is just amazing as if you are playing a top-notch shooter on your computer.
There are many different modes. You can choose quick fights that will take you less than five minutes or full 5V5 combats. You can also play alone or with your friends. There is an opportunity to create a crew with players all around the world.
The game can boast off a perfect control. You will enjoy Vainglory on any of your devices. There are no bugs and technical problems, which could possibly distract you.
There are about 50 characters available. Choose the one that you like the most.
Vainglory is not only about shooting and running, you will need to build up a strategy to survive and defeat your opponents.
You should also collect items and bonuses to upgrade your weapons and character.
Download in for free.
Brawl Stars
This is an easy-to-understand game that will keep you busy for a long time. It can be classified as an action game.
It is made by Supercell, the company that created Clash of Clans and Boom Beach. So in this game you will have to take part in various fights. The most popular mode, however, is 3 vs 3. To defeat the opponents, you need to collect and keep at least 10 crystals.
If you die during a fight, all the crystals you have collected will be lost.
The game is constantly being updated, so every day you will find new awards and tasks. Don't skip them, they are a great way to upgrade you.
Try not to lose more than two times in a row in order to keep a good ranking.
This game is free, so you don't pay for the download. Still, some of the items can be bought by real money, so there are some in-app purchases that might help you to gain rating faster.
However, it is possible to play without these purchases. The most important thing is to win as many times as you can.
Sky Force
This game was created long before 2020, but now we have a new version of it available in Google Play Market.
It is a shooter and arcade at the same time. Conquer the sky, using your tactics and reaction. The mechanics of the game is also on a high level.
There are 15 levels that you need to come through. 9 different aircraft are available. To unlock all of them, do all the tasks on previous levels.
When you manage to achieve an impressive number of wins, you can start collecting the best aircraft.
Every week there is a tournament, where you can try to gain more points and achieve a higher rank. You can also save some of the players in order to get additional awards.
What is more, you will be pleasantly surprised with the quality of sound and a good soundtrack that perfectly suits the idea of the game.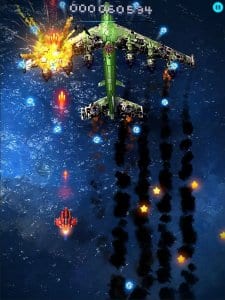 Last Pirate
Have you ever imagined yourself being alone on an isolated island and having to survive in hard circumstances? If yes, you will definitely like the Last Pirate!
There are many things that you have to worry about. First of all, you need to find some food and a place to sleep. Then you will probably need to find a shelter or build a house.
Secondly, there is a possibility of you being attacked by other pirates, skeletons or zombies. You always have to be 100% attentive and careful.
As you are on an island, you need to use all the resources available. Do some fishing to get food and try to find drinkable water.
When the night starts, watch out: the danger is everywhere.
Download the Last Pirate and find out if you can survive. The game is free of charge, but there are some in-app purchases. However, all the basic start is already there, no need to pay for it.
Urban Legends – Survival
Another nice combination of action and survival. But here you will have to survive in a dangerous and aggressive urban area. There are some elements of horror, so be ready for screamers and scary images.
This game demands logic and attention. Don't move too fast, unless you are trying to run from danger or prevent an attack on you.
There is a great number of locations, where you can test your survival skills. Jump from one bridge to another, hide and run, listen to the noises in the background. Remaining undetected is a key to success in Urban Legends.
And don't forget – the urban evil feels your presence. It is always looking for you, wherever in the city you might be.
Wormster Dash
This game used to cost about 3$ in Google Play, but now it is absolutely free. So use this opportunity to enjoy such a game without paying.
This game is different from others because of its original graphics. It is actually hand-drawn, which creates a cozy atmosphere.
This is a game, where you have to run. You will be facing different obstacles, such as stones, sticks and various monsters. So you go through this rush, trying to cope with all the difficulties.
The more you play, the faster your rush gets. This game is a perfect way to examine your ability to react and make decisions fast.
Wormster Dash can please you with amazing audio and thoroughly-prepared gameplay. This game will keep you excited for a long period of time.
Zombie Call
No game list can do without mentioning a kind of zombie apocalypse game. So here it comes. Zombie Call is a very popular action. It is a good shooter as well.
This amazing game brings us to the year 1945. What you need to do is to find a special base, where some cruel experiments are being conducted. This object is located in the woods, which makes it so difficult to find.
You will have to find out where exactly the facility is in order to destroy it as fast as you can. However, that's not that easy, as you are going to severely attacked by zombies and monsters.
Shoot zombies and take part in huge battles. Build up your team and try to unite your forces to achieve the goal.
The zombies in this game are not just slowly walking creatures. They are extremely advanced and even smart, so don't be too relaxed. A lot has to be done to save the world.
The game is free, but there are some adds popping out at times.
King's Empire
Taking part in legendary fights and facing the attacks of your enemies is a very thrilling thing. King's Empire gives you a perfect opportunity to enjoy this kind of entertainment.
This is a very popular app with a high ranking. More than 8 billion people have already downloaded this game. And King's Empire has a good ranking – it is rated 4.3 out of 5 in Google Play Market.
You will build your own army, create a crew of players all around the world and use a wise strategy in order to survive and extend your empire.
Don't forget to look for useful resources and collect them. You can sell them later or use it for your purposes.
Another nice feature of the game is magic. Use dark magic to increase your personal power and the force of your soldiers. This will help you conquer more. Should you run into a magician, take him to your empire to make use of his gift.
And for sure, you will have to make sure that you develop technology, which will help you to use the resources wisely and create new types of weapons.
Vikings: War of Clans
It is time to become a real leader. In this game (which has been popular for a few months already) you will build your own clan and develop it.
This is one of the best games ever, at least in Google Play. It is rated 4.5 out of 5 and it gets an enormous amount of positive feedback.
Before you start your game you need to create a good strategy, because your opponents are real players, who also try to be logical and smart.
Your opponents also have tactics, and you will have to predict their steps if you want to defeat them. But it's not all you do.
The second step is to create a strong team. It is perfect to play with your friends or people who can trust. Because very often online users can deceive each other and start cheating.
Build as many objects and bases as you can: they will help you to survive during the attacks of enemies. Expand the boundaries of the empire and make treaties with the neighbors.
But remember: even though you reach an agreement with another player, it does not guarantee your safety.
Let the war decide who is stronger.
Zombie Squad
In this game, you will find yourself right in the center of a terrible zombie apocalypse. Your main goal is to survive.
For doing this you can use all the stuff that you happen to find on the way. It is best to get a car, as it will enable you to kill zombies faster or to hide from them for a while. The more you play, the more upgrades of your car are available.
You can install some weapons on the roof of your car and get some protection from zombie attacks.
In Zombie Squad you have an opportunity to use a gun if you find it.
The graphics of the game is also on a relatively high level and the music is quite funny. For better playing experience use your headphones.
Download Zombie Squad to experience a real zombie apocalypse and try to survive in terrible circumstances.
SHADOWGUN Legends
This is an amazing action game. The civilization is under the threat of being destroyed by aliens and your mission is to save the planet.
You are just a soldier, but you can influence the outcome of the war. To do it, you will have to fight and build a strategy.
The key factor to success in this game is to build a strong team. You can accept any player from all around the world. The main thing for all the members of the crew is to stick to the same strategy.
Collect all types of weapons. You can exchange them later or use them during a fight with a boss.
Asphalt 9: Legends
Do you like racing on high speed? Do you want to check your driving skills? Then Asphalt 9 is worth downloading!
In this game, you can easily try driving Porsche, Audi, Mercedes or Ferrari. It's not that simple in real life, right? So grab the opportunity.
There is an impressive amount of different locations and distances. Try them all and gain more coins to buy a new car or upgrade the one you have.
The control is perfect as if you are driving a real car, racing through the streets of a big city, like New York or Chicago.
The app is free, but there are some adds, However, they don't pop out of nowhere during the race, so it is not irritating at all. Especially when you know that this measure keeps the app free.
You can also check: 21 Free arcade games for Android 2020