Rap is a new rock n' roll. It is hard to believe it, but it is true! At the moment, hip-hop is one of the most popular genres in music if not the most popular one. Its greatest advantage is availability. Now anyone can make music even without leaving home. Who would have thought about it!?
Create awesome music for your songs using these best beatbox apps.
Thanks to the technological advantages, we've now got special apps that make the process of recording even easier. Below, there is a list of the best rap & rap voice transformer apps. Check them out and make your first step towards recording good tracks. Everybody must start with something, right?
AutoRap by Smule
AutoRap is an amazing rap voice transformer app. Even if you don't have any serious intentions, you will still like this app! The app has two modes – talk mode and rap mode. In the talk mode, you gotta just say something in your phone's mic and the app will transform your words into something really cool! You should definitely try that!
The other mode is simpler – it's just for rapping to some beat. There are over a hundred beats, but, unfortunately, only two of them are free. The other ones that are from such famous figures as Snoop Dogg, Eminem, Drake, and so on and so forth require payment.
When you're done with recording, no matter whether it's talking or rapping, you got two options to choose from. You can either share your track with friends via a text message or take part in a rap battle. And there is also a leaderboard, so you can check how other users are doing. I literally couldn't put my phone down! So good this app is. Get it now and have fun!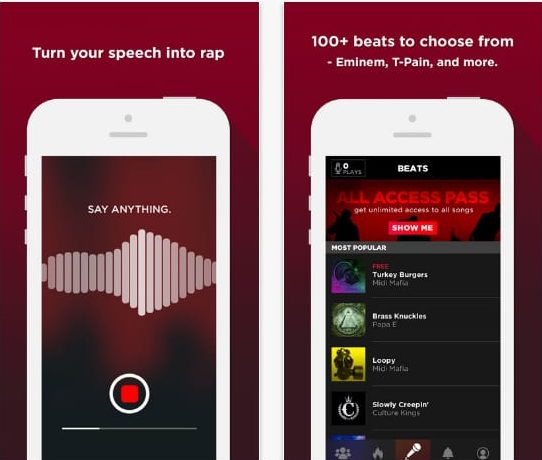 You may also like: 11 Best music composer apps for Android & iOS
Music Maker JAM
Music Maker JAM is not just for making rap – it is for making all kinds of music (including hip hop). The app will let you make your own beats, combine different styles of music, and a lot more. There are prepared samples (most of which are not free, of course) that you can change in the way you like.
It takes some time in order to get used to this app, but when you got used to it, you see lots of possibilities opening up for you. Get the app right now and start making your own authentic tracks!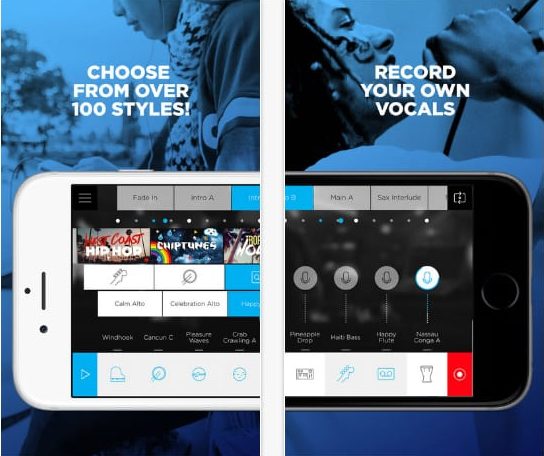 KEAKR
KEARR is a specific music network that mainly includes Hip-Hop fans, rappers, and beatmakers. And even though it can happen that you've never heard about it, this network has around 100000 artists.
Thus, it is a cool community for rappers to find inspiration, make collabs, find friends, and just be in their zone. KEAKR has one very convenient feature – you can just choose an instrumental beat that you will find in the app and record your track in the same place.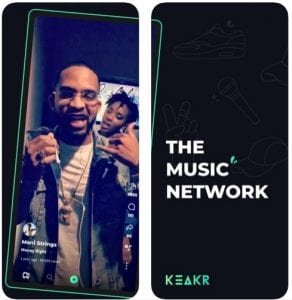 Rap to Beats (Android app)
This one has the same functionality as the app above, one of the few differences is that is is for Android. There are lots of beats of high quality. The app is almost free – without paying, you can't use any microphone other than your phone's and have to view ads all the time. Apart from that, a really good one this one! Get it now and sharpen your rapping skills!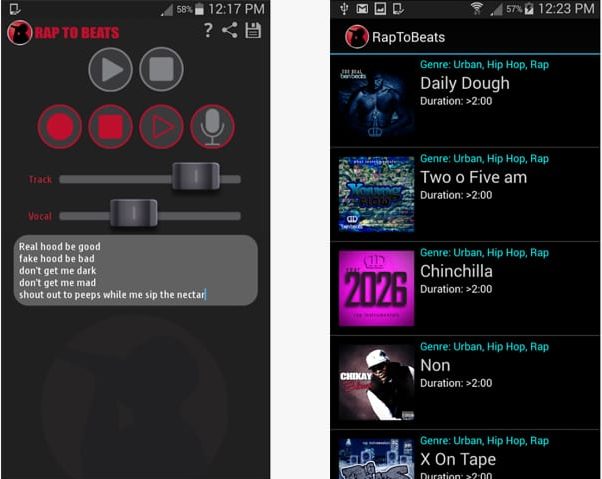 Battle Me – Hip Hop Studio. Record rap freestyle
Battle Me is a perfect rap app in case you wanna get famous or win people's respect. Like other apps, this one offers you lots of good beats to pick from. If you need help with rhymes, you can use the app's rhyme search helper.
The most amazing part of the app is that you can take part in tournaments and earn money. The app is used by over 800 thousand people! You have a real chance to get noticed by promoters, famous personalities and even record labels. There are lots of ways in which you can use this app. Get it now and choose what you prefer most!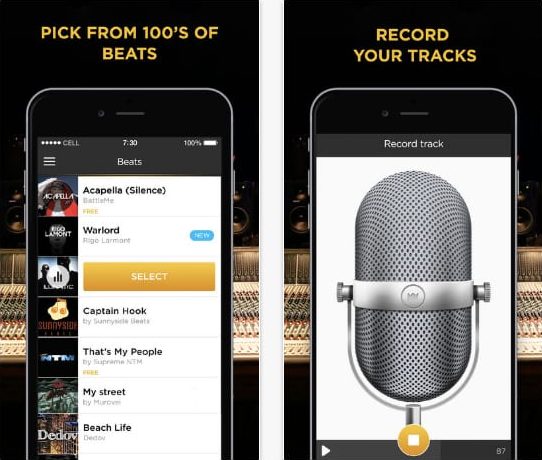 You can also like: 9 Free Apps for Music Mixing (Android & iOS)
Rap Wars Free
Today battle rap is one of the most popular sub-genres in hip-hop. It is a great way to show off your skills, meet other rappers, and hear what they got to say. The app offers quite a lot of beats – some of them are free, others are not.
If you don't want to be involved in a battle, you can just record a solo or rate other raps. This is a great way to find like-minded people and raise one's skills to a new level!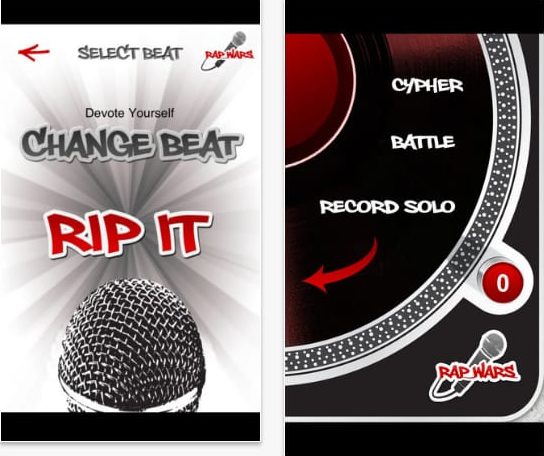 Rapchat: Social Rap Maker & Recording Studio
The last one on our list is Rapchat. Rapchat is a great app for recording rap and sharing it either with a wide auditory or just with friends. The number of beats the app offers is over one hundred.
Besides recording rap, you can listen to other rappers and rate their work. All in all, this app is a great helper for everyone who is interested in rap music. Download it today and share your best rhymes with people or maybe even look for something to listen to!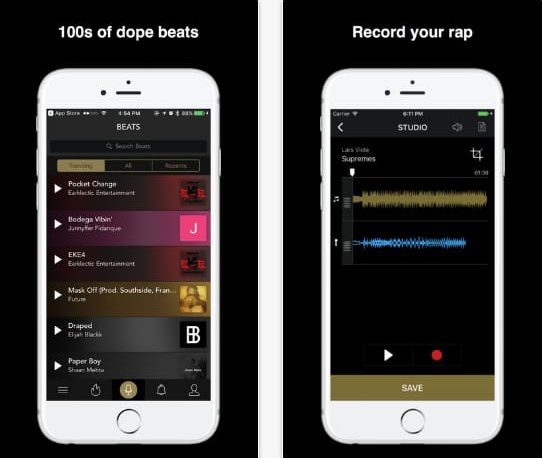 You may also like: 15 Best studio recording apps (Android & iOS)
Voloco
Voloco allows users to record professional tracks, remove background noise, and fine-tune voice settings.Once you have launched the app, you will be instantly transferred to the homepage containing an extended number of music genres and sound effects.
If you want to record a rap, select its section and you will gain access to the assorted beats. Scroll down the screen to check all of them.
After that, tap on the favored one and start recording rap. For this, you just need to press the red round button on the bottom of the screen. Here you can also adjust various controls or add the lyrics.
As for the additional features there, users can also apply special effects to the rap tracks, select an appropriate amount of beats per minute, choose a musical key, etc.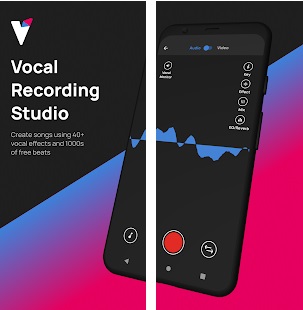 That was it for rap apps. Check out our website to see more cool lists such as this one, stay tuned and, as always, be smart in choosing apps!