If you are a fan of gambling, card games, then the Bid Whist game will definitely suit you!
Bid Whist is one of the most famous games, which is a game for four players playing in two crews. Also, this game is a partner version of the classic card game of whist. As indicated in the name, bid whist adds a betting element to the game that is not present in classic whist.
You may also want to explore the list of the best Solitaire game apps.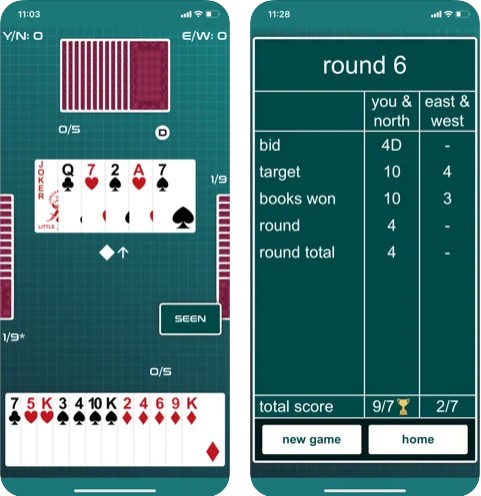 There is also a "kitten" in this game. In most choices, a "kitten" of four, five, or six cards are dealt separately from the cards delivered to each player. If jokers are not used, the kitten will consist of four cards. If one joker is used, the kitten will consist of five cards. And if two jokers are used, the kitten will consist of six cards.
The game is free and has a limit of 12+, so both teenagers and adults can play it. You can download this application on your phone or tablet.
In order to win, you and your partner must be the first pair to score 7 points or push your partners to drop to -7. Points are scored by the squad that wins the bet, and they get one point for the book they take for 6 if they fulfill or improve their contract, but lose 1 point for a bet of 6 tricks if they fail.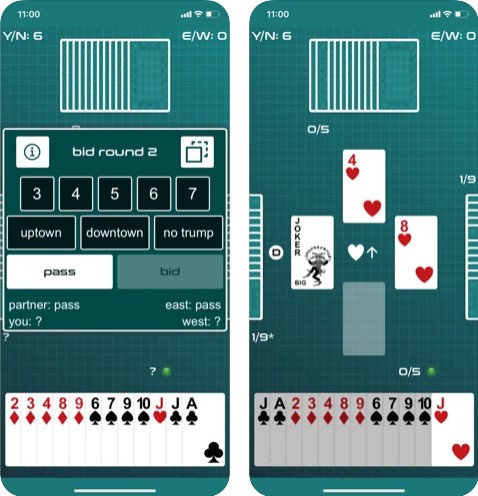 Check also the list of the best strip poker apps.
Features available in this game to make it perfect:
 You can set the number of jokers in the game.
 Enable or disable the no-trump bonus.
 You can play in landscape or portrait mode.
 Set the level: easy, medium, or difficult
You can also set your favorite color palette for your deck of cards! As features of this game, it can be noted that this game has quite good graphics and eye-pleasing colors. Rather, download Bid Whist and pump up your card game skill!