Sokoban-Retro is a delightful blast from the past, bringing back the classic Sokoban MSDOS game with a modern twist. It's a charming puzzle game, and I can't help but gush about it. With a board of squares, Sokoban-Retro presents a seemingly simple challenge, but as I delved deeper into the game, I was pleasantly surprised by its complexity and the fresh features it brings to the table.
You may also like: 7 Best Frogger Games for Android & iOS
The game's premise is straightforward yet addictively engaging. I found myself completely absorbed in moving around the board, navigating through the floor squares, avoiding walls, and strategically pushing boxes into their designated storage locations. The simple rules make it easy to grasp, but the levels progressively become more intricate and demanding, keeping the gameplay both challenging and rewarding.
Sokoban-Retro's enhancements take the original concept to a whole new level. The animated background and the option to choose from 50 different level designs add a vibrant and visually appealing element to the game. I appreciated the fact that this game is completely ad-free, providing a seamless and uninterrupted gaming experience.
You may also like: 7 Best Sliding Block Puzzle Games for Android & iOS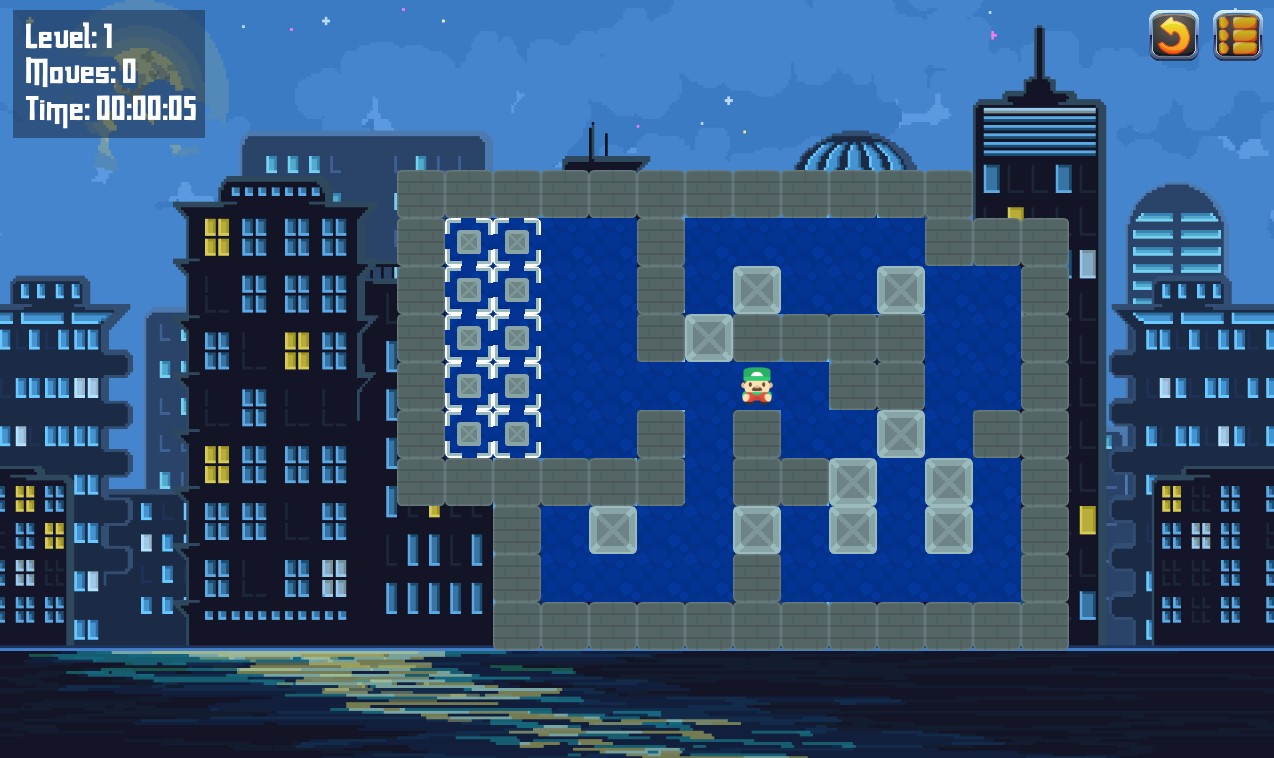 The inclusion of a save/load game feature is a game-changer, allowing me to pick up where I left off or replay tricky levels without any hassle. The sound settings, along with the delightful background music "On the Island – Godmode," add an enjoyable auditory dimension to the gameplay.
The new look and feel of Sokoban-Retro make it stand out while staying true to its retro roots. I love the nostalgic vibe combined with the modern interface. What truly sets this game apart is the competitive edge – striving for the lowest number of moves and the fastest completion time is not only a challenge but also incredibly satisfying.
In summary, Sokoban-Retro is a fantastic reimagining of a classic. With its blend of nostalgia and innovation, this game offers hours of brain-teasing entertainment. The intuitive design, captivating visuals, and the absence of ads make it a joy to play. If you're a fan of puzzle games or just looking for a fun, challenging way to pass the time, Sokoban-Retro is a must-try.
You may also like: 11 Free Offline Puzzle Games for Android & iOS