Call history often helps with some hot issues. Special apps help you keep track of this.
They also have extra features that help you know who the call is coming from. They will protect you from unwanted calls from scammers and spam.
All in all, they have a lot of useful features. Here we have reviewed the best call history apps for Android & iOS that do a great job.
To keep yourself informed on who is calling you use these free caller location tracking apps (Android & iOS)
Call history
The Call history app gives you access to real information about the incoming number. It will save the history of your calls and sort them by certain parameters.
Use the advanced search for quick access to the data. When a call comes in, the service will automatically identify the contact, including showing his or her operator.
You'll also find out the user's other contact information.
An outstanding feature is access to the location of the person who is trying to reach you. A useful recording feature will allow you to save important information.
In addition to all of these features, there are also basic tools here. For example, sending messages, and saving contacts.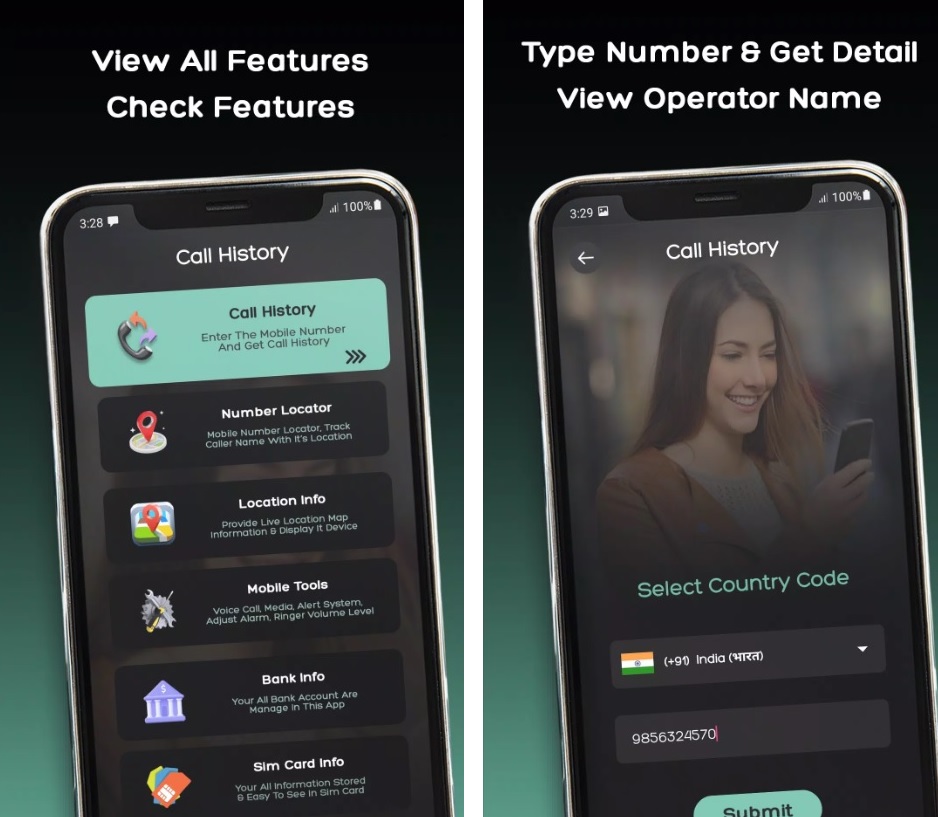 You may also like: 7 Best History Cleaner Apps for Android & iOS
Call History Backup and Recover
Call History Backup and Recover – This application allows you to conveniently view and manage your call history. You can access your call logs and filter them by various criteria including missed, received and dialed calls.
Apart from call history, it also provides advanced features such as the ability to block unwanted calls, backup call logs, and delete selected call logs. It will suit any user, because the interface is simple and does not have extra features that would interfere during work – you can find everything you need in the menu.
Suitable for most mobile devices
Does not have unnecessary functions, which makes it easy to use
An easy and convenient way to keep track of your call log
There are problems in operation
Technical failures and freezes
Despite this, it is not perfect and, like other applications, it has its drawbacks. Namely, application performance issues such as slow loading and freezing, as well as, the application is missing some important features, such as the ability to search for certain call logs.
Despite its shortcomings, the application has a number of advantages, including a simple design and user-friendly interface. It also gives you the option to back up your call logs, which can be handy in case your phone is lost or stolen.
Thus, it is a useful tool for managing call history on your mobile device, but it may not be the most reliable option available.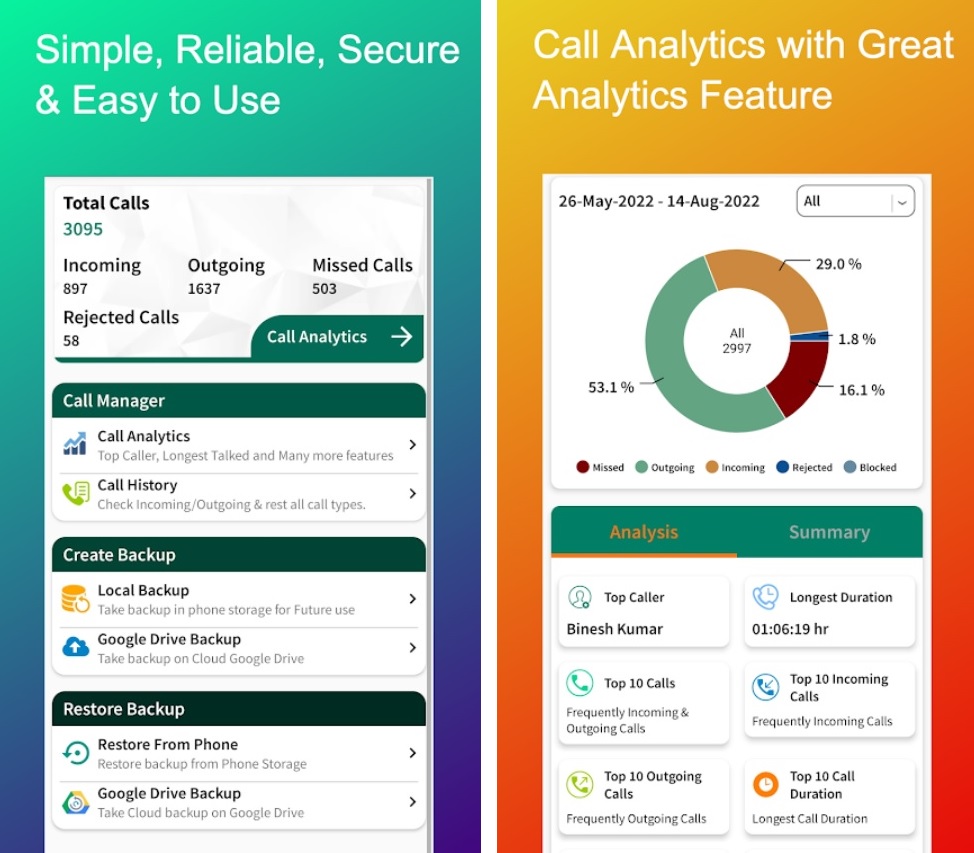 Eyecon
Eyecon is an app for managing calls and organizing contacts. This service provides convenient access to all of them and filters spam.
First, the app offers to choose the language and set the appropriate permissions in the settings. Next, you need to enter your phone number and fill out a profile.
After setting up Eyecon will present you with a brief demonstration of features. The main screen is divided into three tabs.
"History" is similar to the built-in apps with the call log. There are tabs for all calls and only for missed ones, they are displayed as a list or as tiles at the user's choice.
"Home" contains contacts and a home dialing panel. There are also options for customizing the list – background color, tile size, and sorting method.
"Photo" is the section where you are to change the profile, which will be seen by interlocutors who use Eyecon. When you select a contact, a grid appears with options for opening a contact and going to a messenger.
After opening a contract, you can start a video call, send a "Can you talk?" signal, and change data.
Eyecon also acts as a call acceptance app. This is needed to filter out spam using a centralized database. When such a call is detected, the app shows a warning on the screen.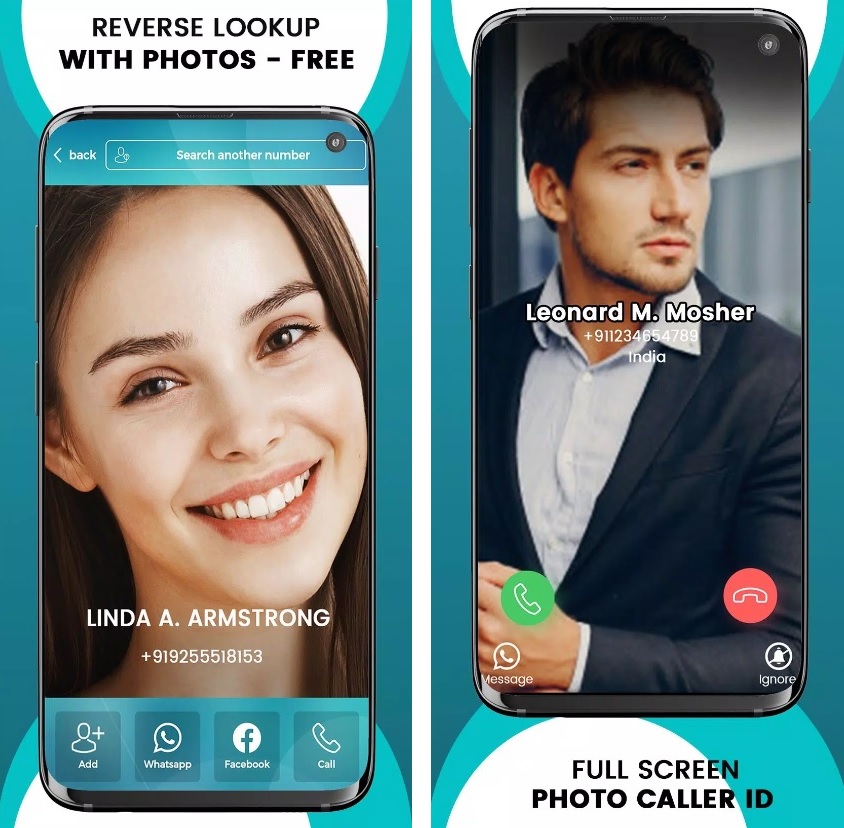 DW Contacts
DW Contacts is an alternative to the standard phonebook. You can use it to filter spam, add contacts, and create an event schedule. There is also a built-in task scheduler.
To use the app, you need to set it as the default call tool. Next, access to the calls and contact list should be granted. A speed dial feature is supported. It is also possible to add notes to the history.
The utility contains a built-in blocker. You can set to disable receiving incoming calls at a certain time, for example, at night. At the same time, there is an option to allow ones from a certain group of contacts.
During an incoming call, the screen displays the phone number, name, and photo of the contact. The app allows you to set different ringtones for groups of contacts.
Besides, there is a statistics. Using the utility, you can send messages and view the history of correspondence. There are tools for organizing mass mailing.
Schedule the sending of messages for a certain time. Filters and grouping functions are provided for easy search of contacts. This app allows you to receive notifications about birthdays, set avatars, and create reminders.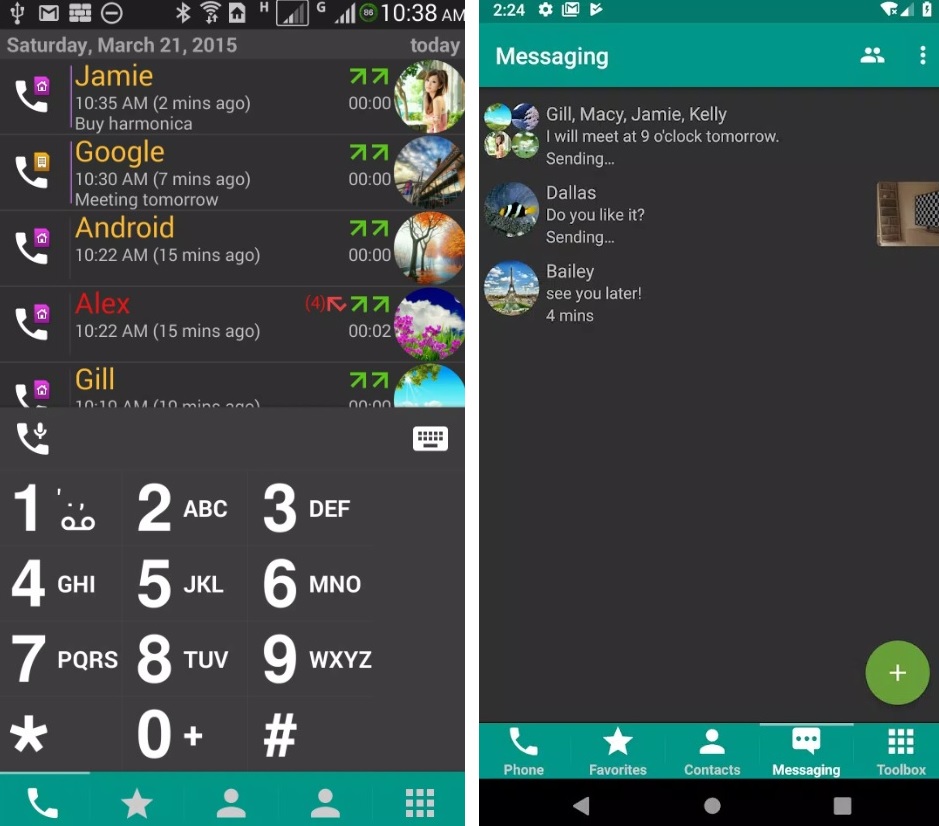 Drupe
Drupe is an app that takes your contact list to the next level. It supports one-touch calling and one-touch messaging.
Thanks to this program, searching among your contacts and dialing your phone number will become easier.
The app allows you to collect all your saved contacts and messengers for communication in a single interface. It can be accessed from any desktop screen.
An important feature of the app is that it allows you to call or send a text message to an arbitrary acquaintance from your contact list at any time.
You can navigate between basic actions with contacts using intuitive gestures. Another awesome feature of the app is that when you select an arbitrary phone number, it aggregates all actions into one list.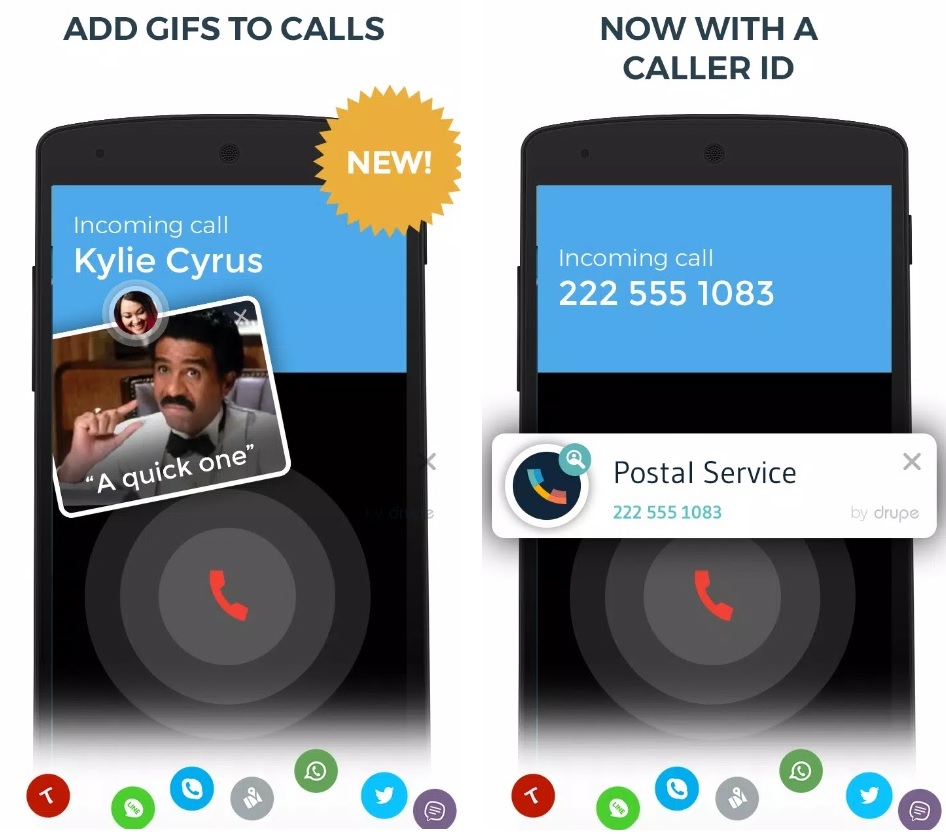 Imo
Imo is a free app that allows you to exchange text messages and make audio and video calls.
Users of this program can communicate and make calls to each other without using the services of a mobile operator. The app requires an Internet connection.
For identification, the program asks for a cell phone number the first time it is launched. Once filled in, the phone receives a text message with an authorization completion code.
If the device uses the same phone number as the one used for identification, entering the secret code is not required. The app automatically recognizes the message sent.
The main screen of the app is divided into three tabs: "Chats", "Overview" and "Contacts". To find the desired contact, there is a search function. To sort them, there is a group creation tool.
Also here you can add a new contact by entering the phone number. In the tab "Chats" all past dialogs are displayed, as well as the history including video ones. The entire chat history is linked to a single contact or group, to view it, just click on the contact of interest.
All history is tied to the phone number and is saved even after reinstalling the app. To completely clear the history there is a function "Delete chat history", which is located in the settings of the program.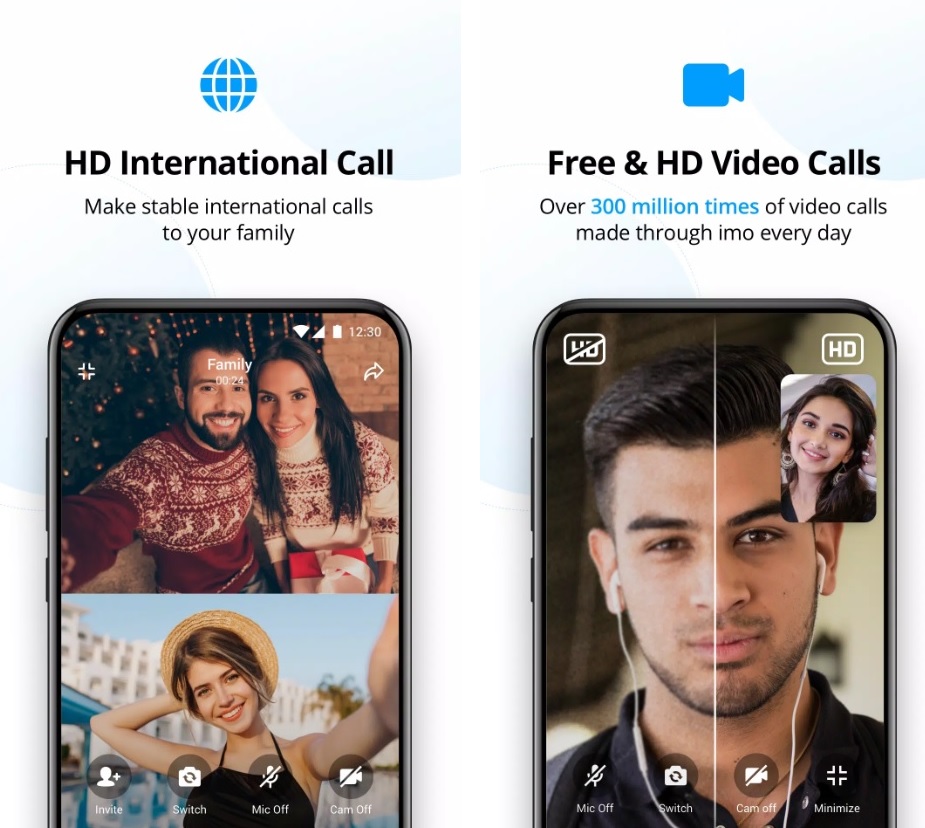 You may also like: 11 Free Call Forwarding Apps for Business (Android & iOS)
Who calls
With Who calls, you can find out all possible information about any contact.
The app requires registration in the database and some permissions. All of them are necessary for stable operation. You can register your number using known messengers or directly through a free call from the robot.
Once set up, you can know a lot of new information about who is calling you or sending you messages. Country, type, rating, recommendation, and possibly the name.
Besides, if someone has already blocked the contact, you'll find out in the appropriate section. This also helps you check the number and make the right decision.
On the main screen of the utility, you can do a quick check. Also here you are to select the mode of displaying the call window or view the history of the last checks.
You can also use the program as a standard means of sending and receiving messages. Thanks to the utility, you can instantly know some useful information about the caller.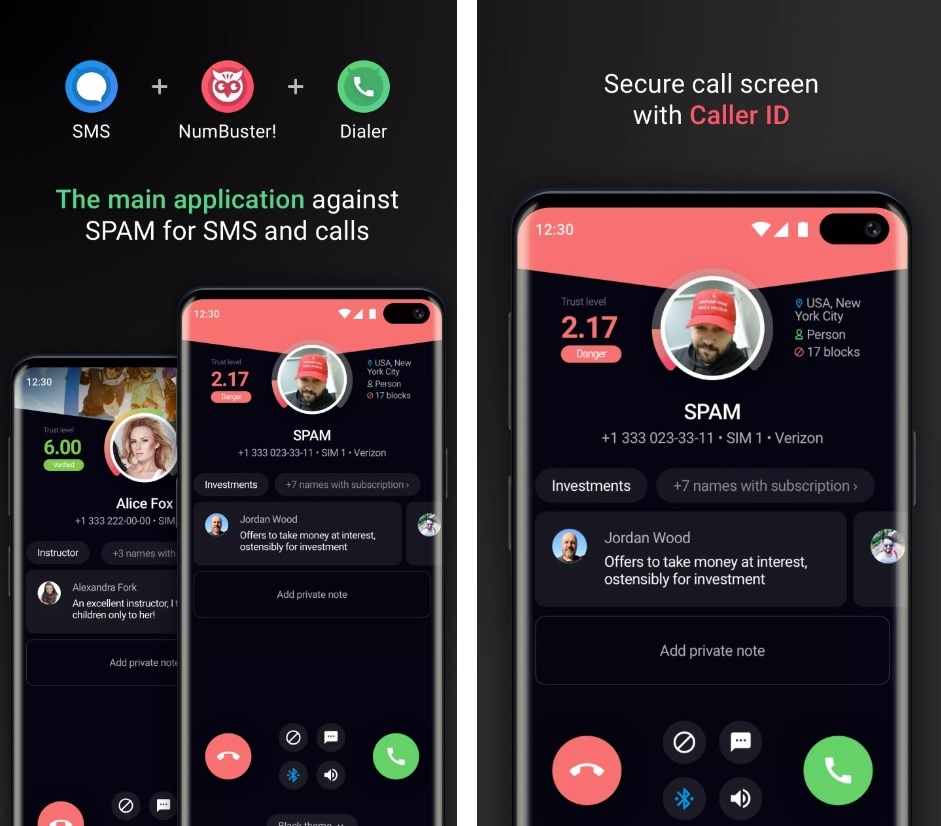 Call Control
The Call Control app is a blocker for unwanted connections. It uses a community-generated blacklist of blocked callers and protects against spam.
At the start, the utility asks for permission to make phone calls. It can be selected as the default app. The utility has an intuitive interface.
The main page contains a list of all calls, both received and made. A swipe to the left opens a tab that contains a feed of messages from community users. Here they inform you about the numbers of spammers and scammers from which intrusive calls are received.
By clicking the Plus button, you can add new data to the general list. You must specify the reason why a number should be included in the Junk List. Then follow the personal blacklist tab and the settings section.
The app identifies caller numbers, including hidden ones. It uses the information collected from the accounts of community users. It requires registration through social networks, such as Facebook, a Google account, or email.
Spam and fraudulent calls are blocked by the app, tracking user complaints about a particular phone number. Besides, it is possible to create a personal blacklist.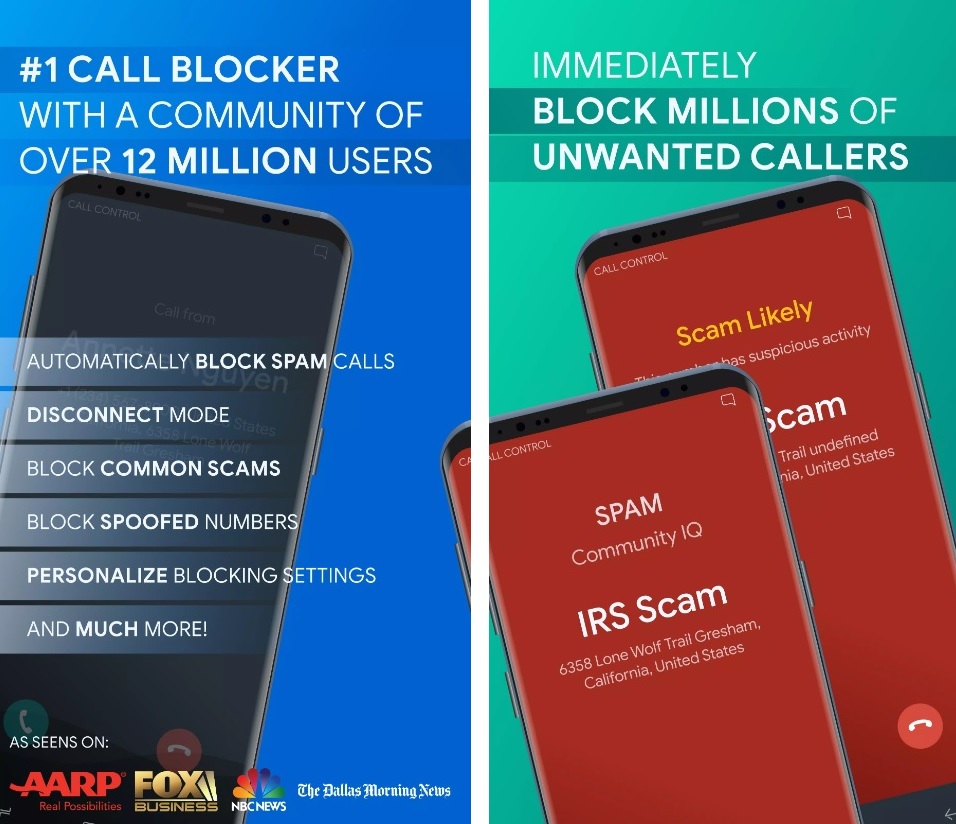 CallApp
The CallApp is designed to identify the phone number and block incoming calls. You are also to enable incognito mode.
The app allows you to record conversations and save them in the internal memory of the phone. So, there is an opportunity to remember important information.
You can record incoming and outgoing calls without any restrictions. Detailed statistics about the calls are provided.
You'll be able to find out how many calls were made recently. Check the number of minutes spent on them. Incognito mode allows full privacy and protection of personal data.
After activation of the mode phone numbers will be anonymous and will not be saved in the history of calls. This is handy when you need to conduct private communication and business negotiations.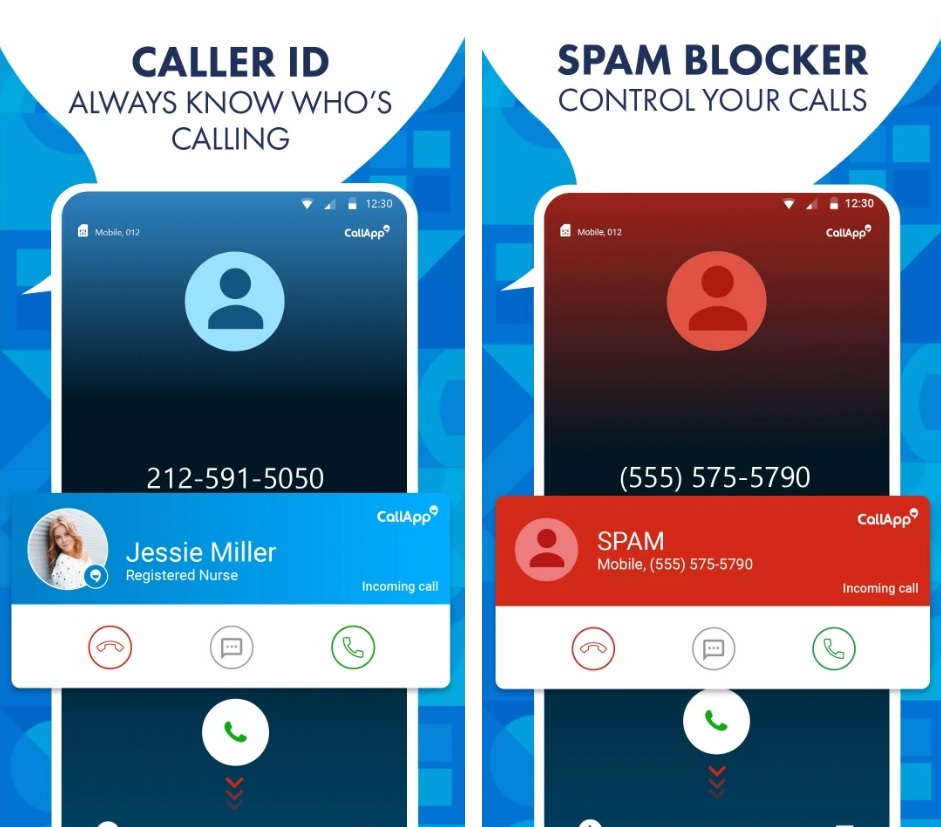 Callyzer Pro
Callyzer Pro – allows you to get detailed information about your calls. With it, you will receive a detailed call history and report on them. It has many features including call tracking, call recording, call analysis and call reports.
It allows you to monitor incoming and outgoing calls and provides detailed reports on call data such as number of missed calls, call duration and call source.
Helps organize and organize your call log
You have detailed information about your calls
May seem complicated and incomprehensible
There are frequent malfunctions
May not fit your device if your model is too old
One of the benefits of Callyzer Pro is that it provides real-time call tracking, which allows you to monitor your call volume and performance in real time. In addition, the app offers a customizable dashboard that allows you to filter and sort your call data based on various criteria such as date, time, and call type.
It is known that he has shortcomings, which we will talk about now. For example, it crashes quite often and sometimes it cannot record calls, which is undoubtedly annoying and does not allow it to work normally.
In addition, the app may seem too complicated and awkward to use for some, which can be a hurdle for non-tech-savvy small business owners.
If you are not afraid of the listed shortcomings, then this mobile add-on will suit you for work and everyday life. Its call tracking and reporting features can help companies identify areas for improvement and optimize their sales strategies.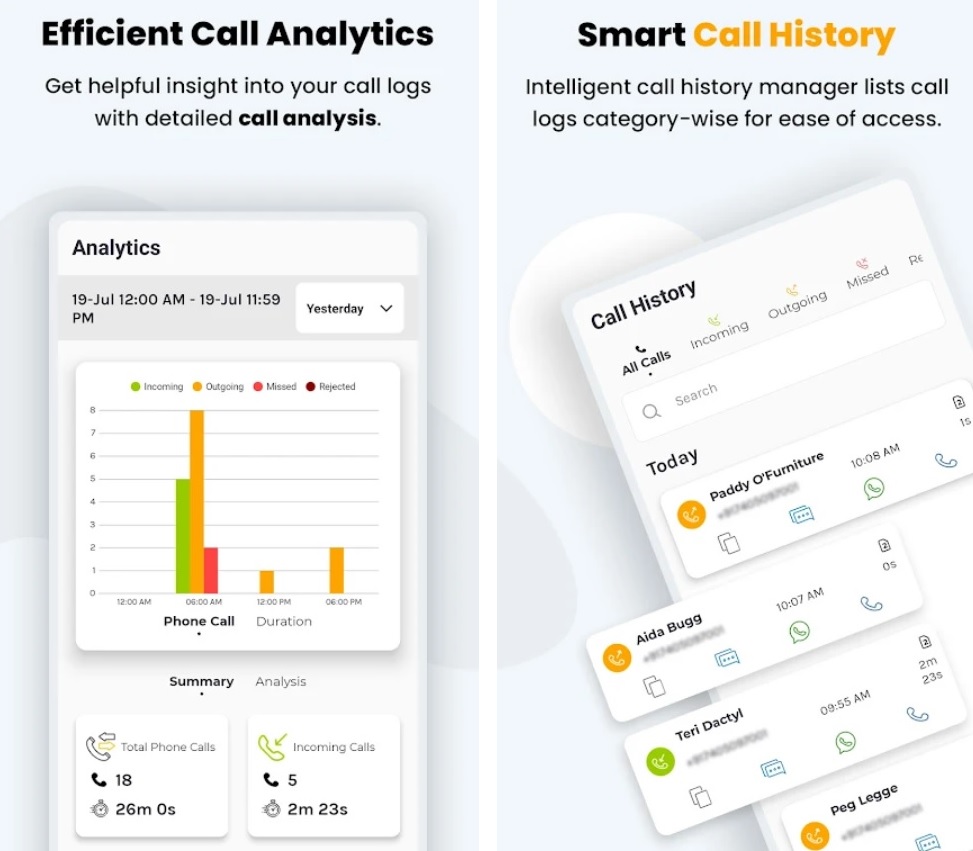 You may also like: 11 Best missed call alert apps (Android & iOS)
Phonelog
Phonelog is an application that will help you not only keep track of your call history, but also manage your phone book, as well as record calls for future reference. The app can record both incoming and outgoing calls with a single tap, and you can save your recordings locally or in the cloud.
Suitable for most mobile devices
Does not have unnecessary functions, which makes it easy to use
An easy and convenient way to keep track of your call log
There are problems in operation
Technical failures and freezes
He has a lot of good qualities. Phonelog has the ability to convert entries to text, making it easy to find and view past conversations. It also includes many organizational tools, such as the ability to tag and categorize entries, add notes and reminders, and search by contact or keyword.
The app has some drawbacks. The first is that he has problems with the transcription function, noting that it can be inaccurate or unreliable. In addition, some note that sometimes the application may crash or freeze, which can be frustrating when trying to manage important records.
Despite these shortcomings, Phonelog has several advantages that make it popular among call recording apps. The interface is simple and user friendly, and the app offers many customization options to suit individual needs.
The ability to transcribe recordings and search by keyword or contact is also an important benefit for users who need to keep track of important conversations.