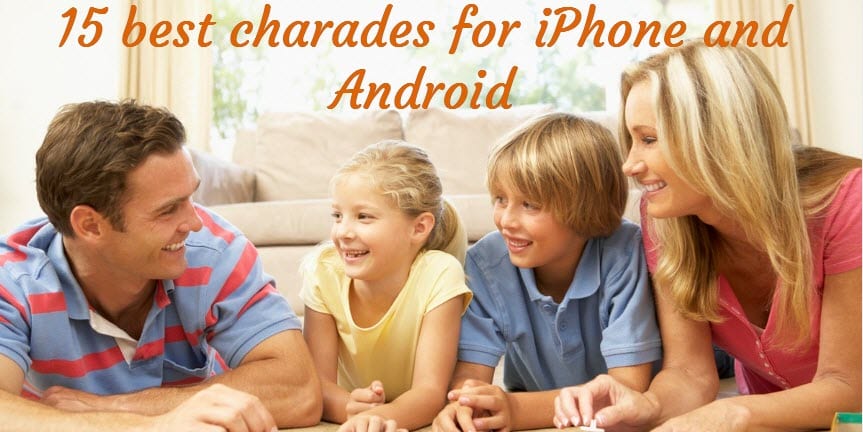 I think everybody plays games like searching the right word, crocodile( the game where you need to guess an animal or a subject person shows) or hide and sick, setting and dancing and that kind of things. I guess the majority of you remember the childhood. Do you agree with me that sometimes we feel a lack of childhood in our lives?
For me playing charades is associated with either cozy family meetings at the Christmas eve or with loud funny parties among best friends. In any way, charades help people to spend a weekend, having a lot of fun, relaxing and enjoying the moment. On the other hand, they develop the creativity, thinking, motor skills, attention, memory, and just train your brain.
When our parents were younger they created charades by themselves, doing sheets of paper with different tasks, searching for prizes for winners and didn't use any gadgets. Now the time has changed, we don't need to search for games in some sources, we have an ability to play charades using our iPhones and Androids. It is more convenient and we can take it with us wherever and whenever we go.
There is a list of 15 best charades apps Android & iOS. Hope it will be useful for you and you will have a lot of fun with your friends and family.

---
By the way, check other posts by Freeappsforme in this area. 15 best Sudoku apps for Android & iOS– a good collection for those people who want to think in another way. Apart from, I am glad to show you the 15 Best Disney Apps for Android & iOS– a perfect collection of apps for those who want to back to the childhood for a time. 
Charades!
People describe the Charades! as a perfect social game, anyone can play, it is very friendly for family night playing or for a holiday party with friends. Over 10 million people all over the world have downloaded and installed it rated with 4.2 stars- it is a very good result.
As for features, the game is about to guess the word written on the phone's display that you hold over your head. Get clues from your friends before the timer runs out.
There are up to 45 amazing decks you can choose from. What is more, the majority of them are packed with over 400 different cards with words.  Draw a new card by tilting your phone up or down. The fun won't stop, because of a lot of challenging decks. For example, decks include TV Shows & Movies, Dance Moves, science, Love the 70s, 80s, & 90s, Movie Characters, Accents and Impressions, Animal Kingdom, Act it Out, Sports Legends, Fairy Tales, Famous People and a lot more.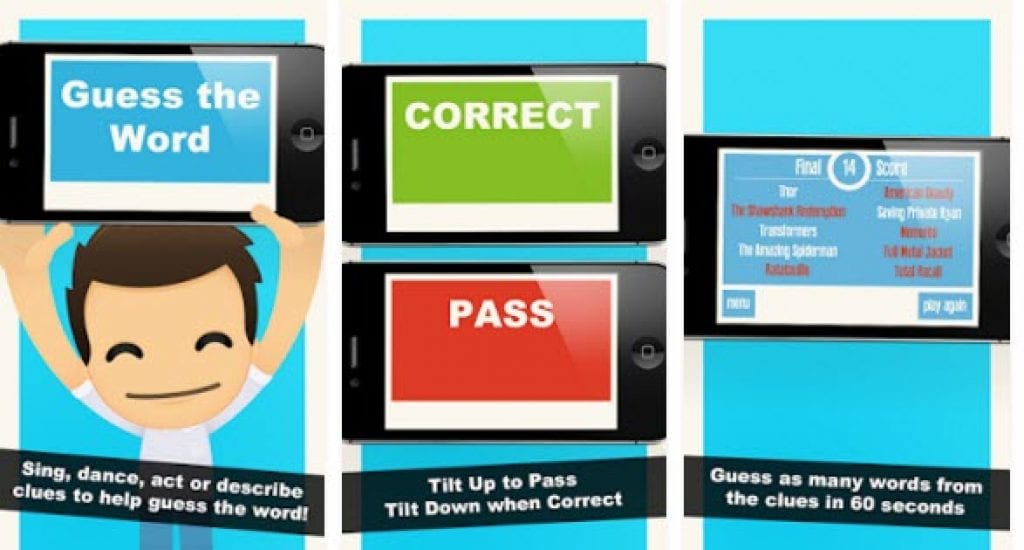 Get it on Google Play Store
back to menu ↑
Charades! Kids
Everybody knows how much satisfaction bring playing games, especially charades, to children. It is a perfect app to develop manual skills, a richness of associations and keeps them interested for a long time instead of playing video games. Do you agree that lively communication and help of technologies is a perfect combination? I agree too.
The Charades! Kids are developed by the same people who created Charades! so, without doubts, this app is worth it to install.
The rules are the same as in Charades! , but decks you can choose from are different. It made a sense to do it because not every theme is interesting for a child. The app consists of 15 curious decks, each packed with over 50+ exciting gameplay cards
Decks include Family Movies, Cartoons, Anime, Toys and Game, Children's Songs, And lots more!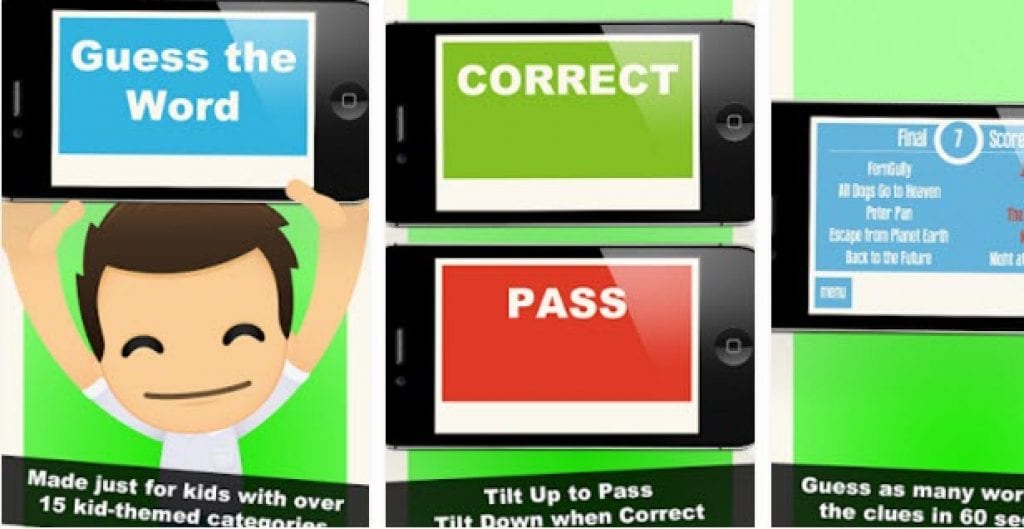 back to menu ↑
Boba Charades
A new kind of charades is coming! We would love to show you Boba Charades- a little twist to the game of charades. I can say that this game is different from other charades. It's fun whether you are playing with just one other person or a larger group, especially if you know each other. I will explain to you why later. The app offers more than over 5,000 clues to act covering absolutely different areas:  Celebrities, American slang, Harry Potter, Dances (e.g., Roger Rabbit), Movies, TV shows, Fun actions (e.g., flirting, rocking out), Sports, Phrases, Fictional characters (e.g., Superman, Cinderella)
Instead of one person acting out clues, the group acts out clues depended on what is written on the card- singing, dancing, talking or acting- while one person guesses. The main feature is that the app gives you an opportunity to relive hilarious moments from the game. Catch the moments when your friends do something crazy, hilarious and funny because everything will get captured on video that you can save later.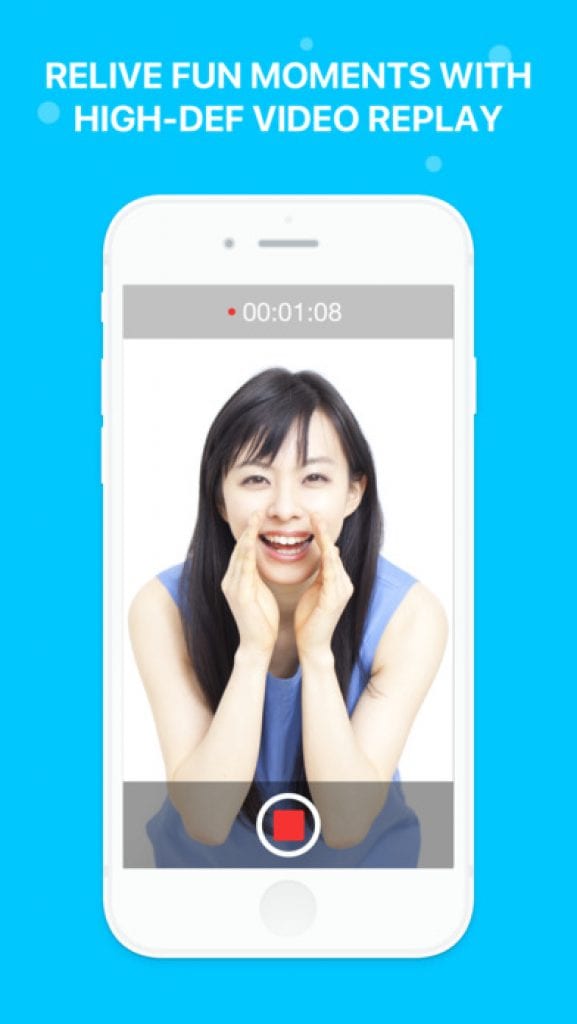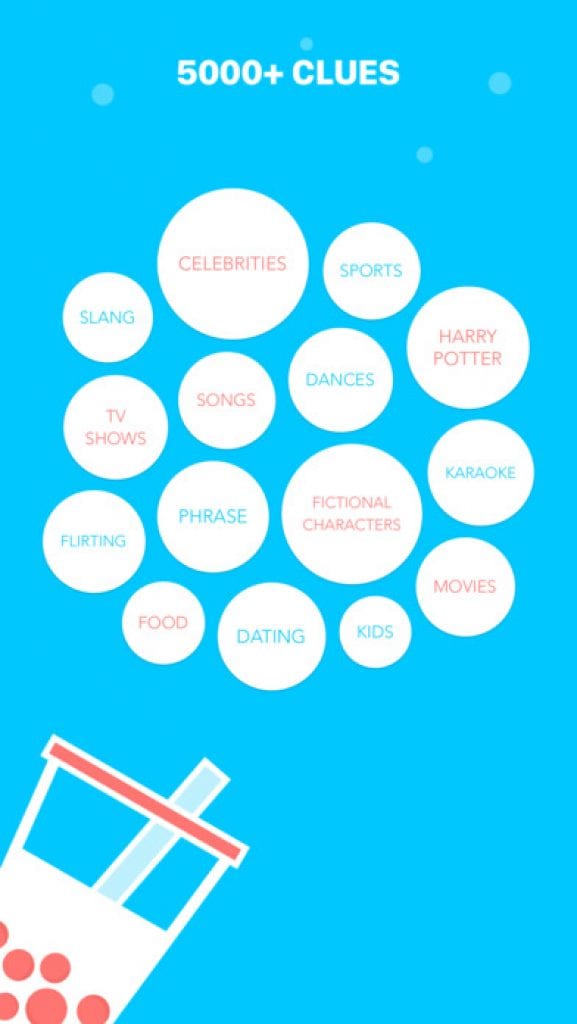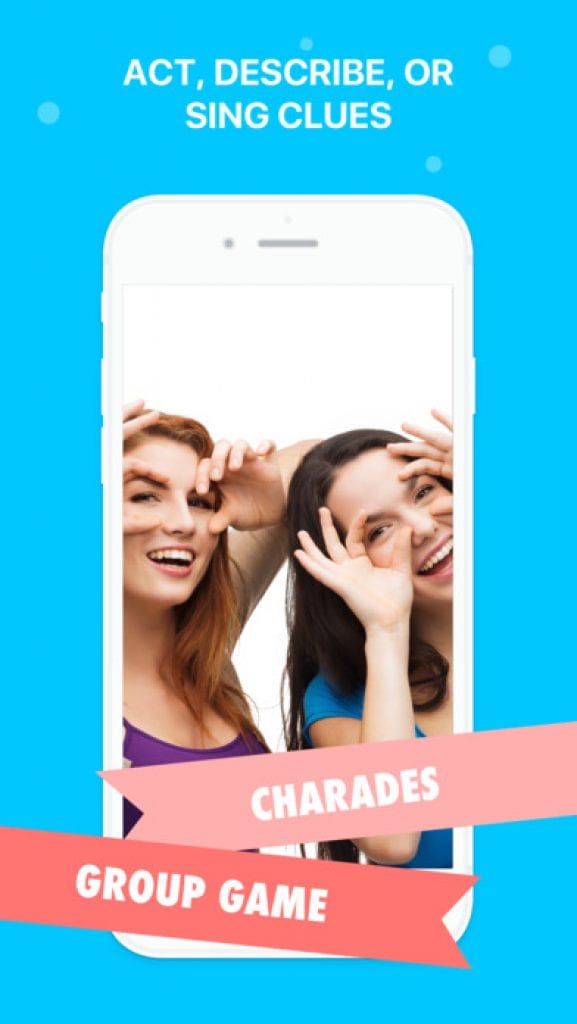 Get it on App Store
back to menu ↑
Heads Up!
Honestly, I don't know why so many apps use similar names. But here is another good guessing game that can help you and your family to spend an evening having a lot of fun and entertainment. Heads Up! is a fun "Guess who" app created especially for night-gamers! Heads Up! was called a "Sensation" by The
New York Times and Cosmopolitan said, "will be the best dollar you've spent."Asin Charades! you should guess the word that is on your forehead while your game's members try to clue. You are to guess before the timer runs out. There are 18 categories: each full of cards for guessing. The decks include Celebrities, Movies, Animals, Accents,
Characters and more.
You can keep videos of your hilarious game play for your own amusement, or share them right to Facebook.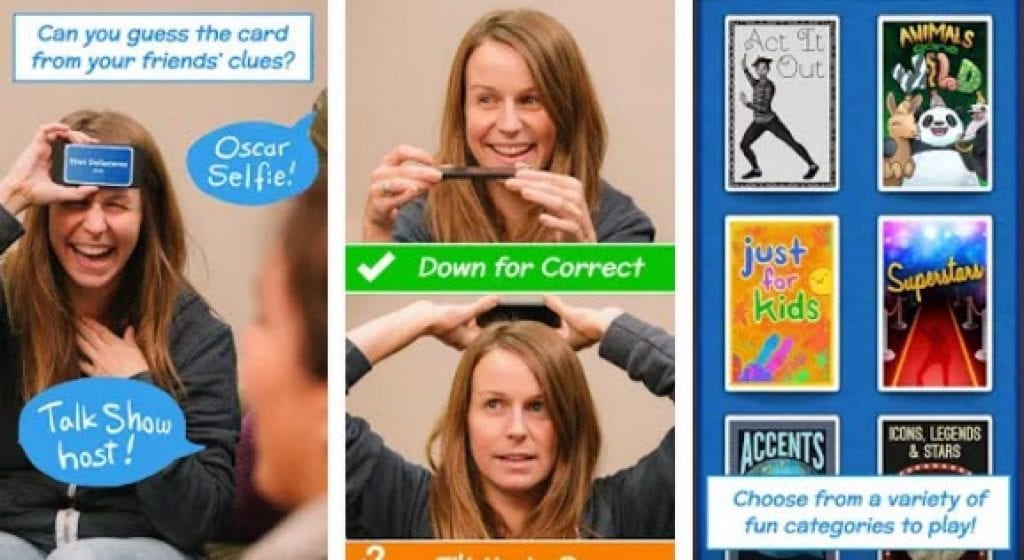 Get it on App Store
back to menu ↑
Move-it! The Game of Charades (Mexa-se!)
Move-it is in some extend a unique game that allows all members of a family be involved in a game process. Specifically designed to be used by families and multi-age groups, Move-it encourages social interaction rather than the typical isolation caused by screen time.
As for features, the app consists of 4 thousand of words and expressions. I think it is impossible to guess all words for several times. All words divided into many decks such as movies, animals, objects, places and other categories that will be the heart of your parties. All guest will be entertained. Playing such kinds of games, you need to show and apply all your member skills to guess the word and mimics to help another person to guess the word.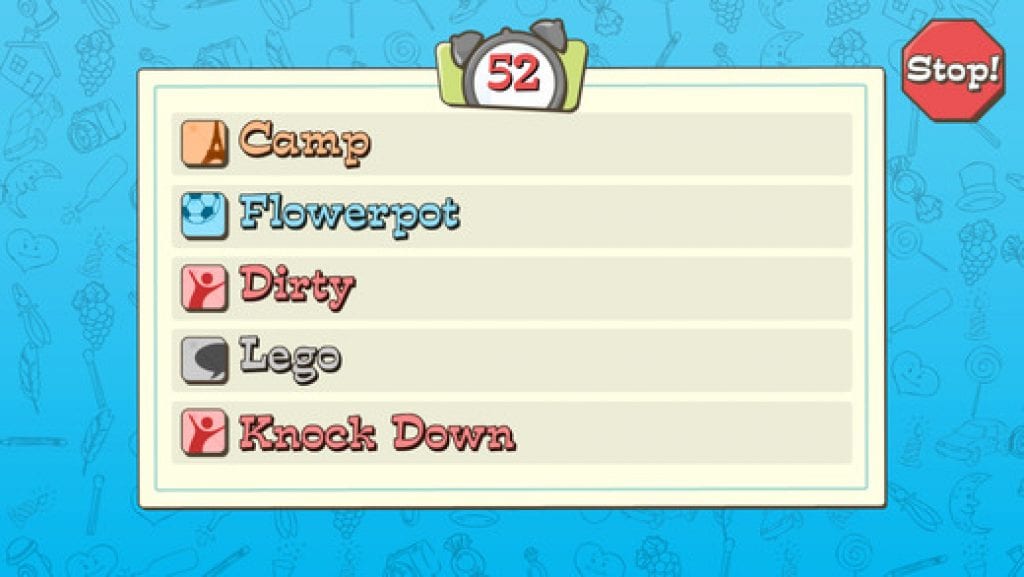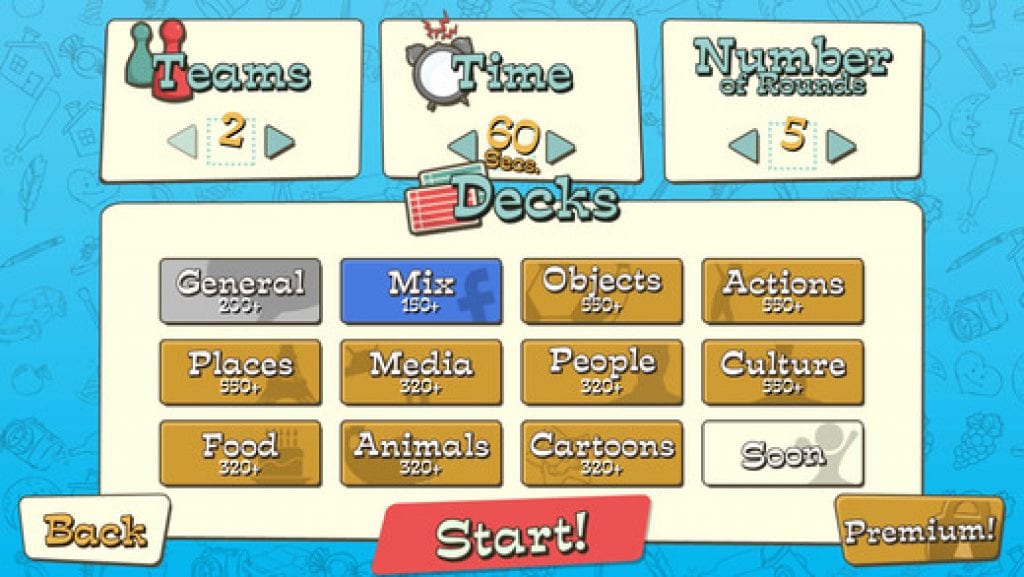 Get it on App Store
back to menu ↑
Acting Out! Video Charades
This app deserves some attention. Just look at its awards- #3 in Trivia Games for the iPad; #5 in Word Games for the iPad; #14 in Trivia Games for the iPhone; #20 in Word Games for the iPhone. Have a blast with your friends as you try to act out and guess each other's words. A big plus that there is no prior acting experience required! Get your point across moving around, dancing, singing, acting, doing impressions, using mimics and so on. The only rule is- don't say the word you're acting out.
As for features, the twist on this game is that players play with each other remotely. The game is played on an invite-only basis, so it's always safe. Players record up to 60 seconds of video for other players to view. Features include push notifications to let you know when you're up next.  Moreover, get achievements( up to 30) for your playing, let's look do you the best actress or not?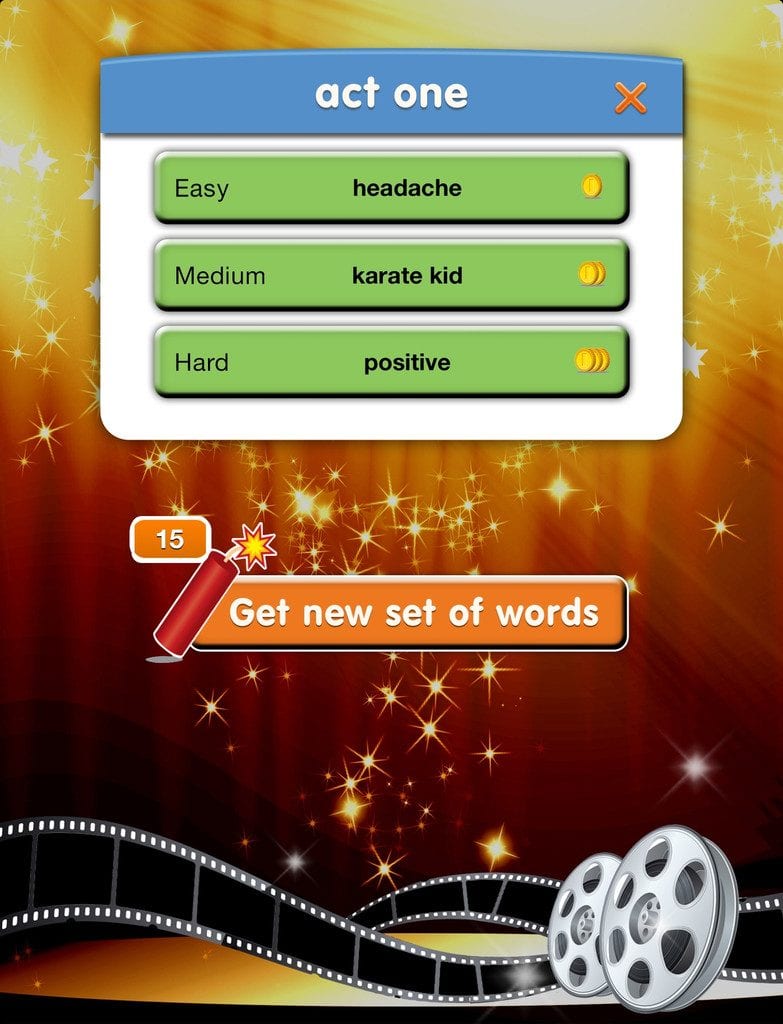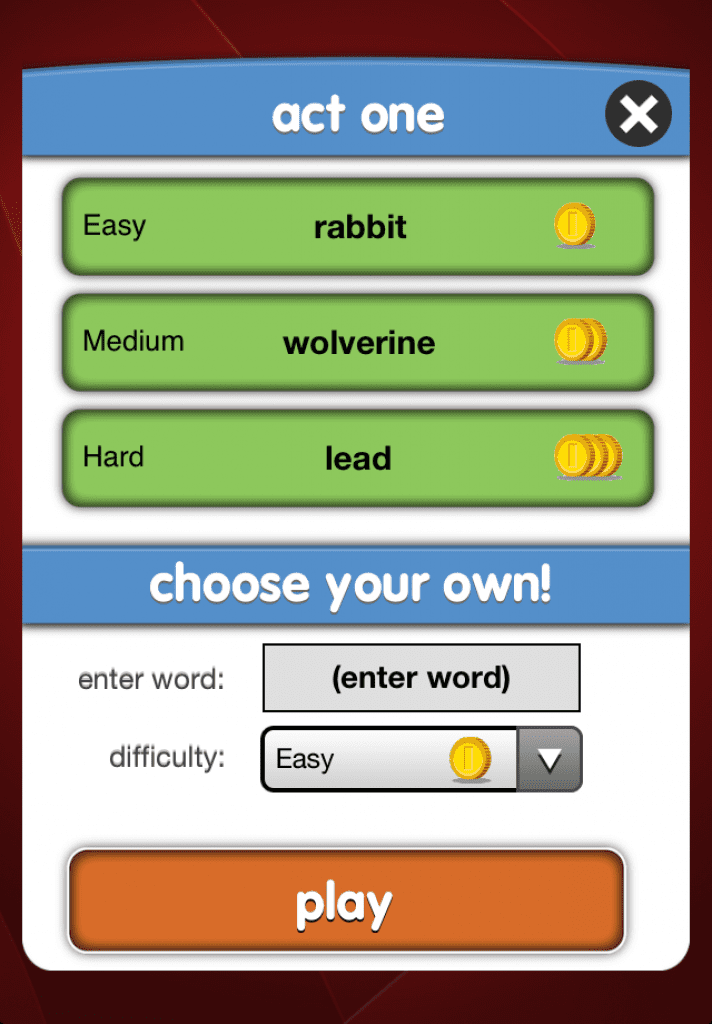 Currently unavailable
back to menu ↑
Kids Charades – Guess the Word Game – Psych out your friends
Another perfect guessing app for kids. We have told that it is not only entertaining little users, but also develop their imagination and critical thinking skills. Moreover, it is a good chance for you to spend an evening with all family, having a lot of benefits, in addition.
As for features, the game has 31 decks that are loaded with curious words and phrases ultimately creating happy kids and families. For example, you can face the categories like Brands, Breakfast Cereals, Objects, Fantasy, Jobs & Careers, Minecraft, Superhero, Kids' Movies, Popular Songs of All-Time, Summer Fun, Tools, Astronomy, Candy, Act it Out, Fictional Characters, Top Musical Artists, Video Games, Fruits & Vegetables, Act it Out II, Act it Out III, Board Games, Feelings & Emotions and that kind of things. As you can see, categories are more difficult as in previous apps. but it gives a lot of benefits in any way.
Guess words, from a category you've to choose, for 60 seconds.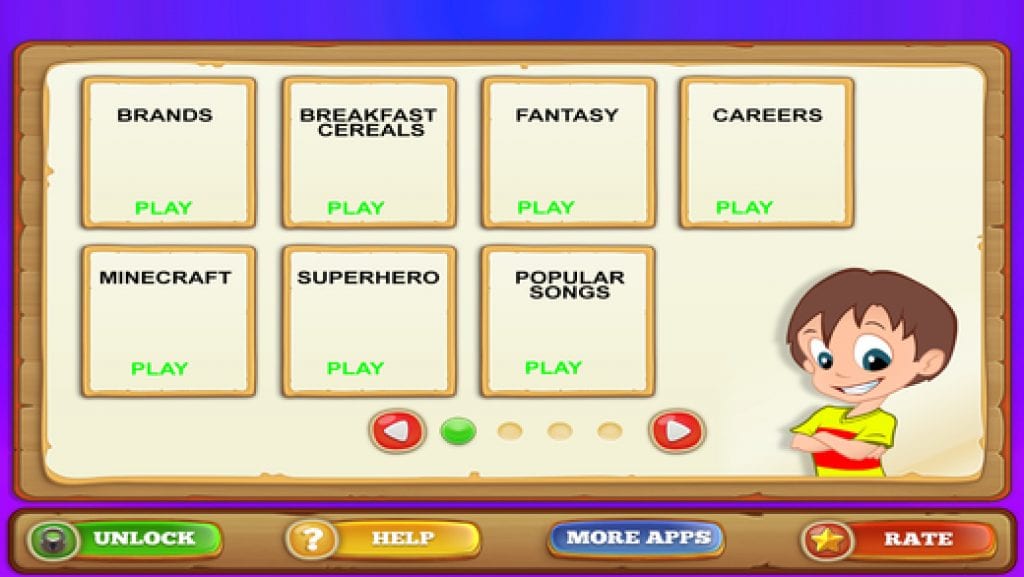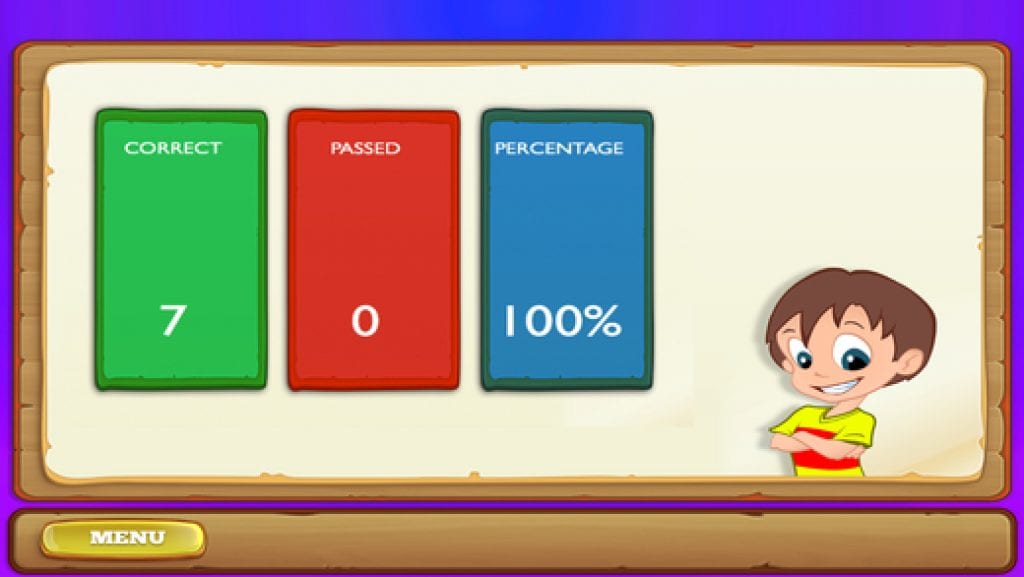 Get it on App Store
back to menu ↑
Truth Or Dare
It is another kind of charades that is more adult and provocative. Only brave people sit down playing Truth or dare because all your secrets will be revealed. If you are to show all your secrets and to know a mystery of other players, you are welcome. It is a perfect app to play at a party among friends, but playing with kids and teens is also allowed Honestly, there is so much fun!
As for features, choose from three available categories: kids, teen, adult. There is a large difference because all questions depend on the category. If you choose kids, there will be some easy to ask questions, but if you choose an adult mode, be ready for provocative questions.
Don't be afraid, every of 8 members of a group will be asked because the app consists hundreds of Truth and Dares questions. Moreover, it will be more intriguing if you add your own questions and set names of players ( to play in order)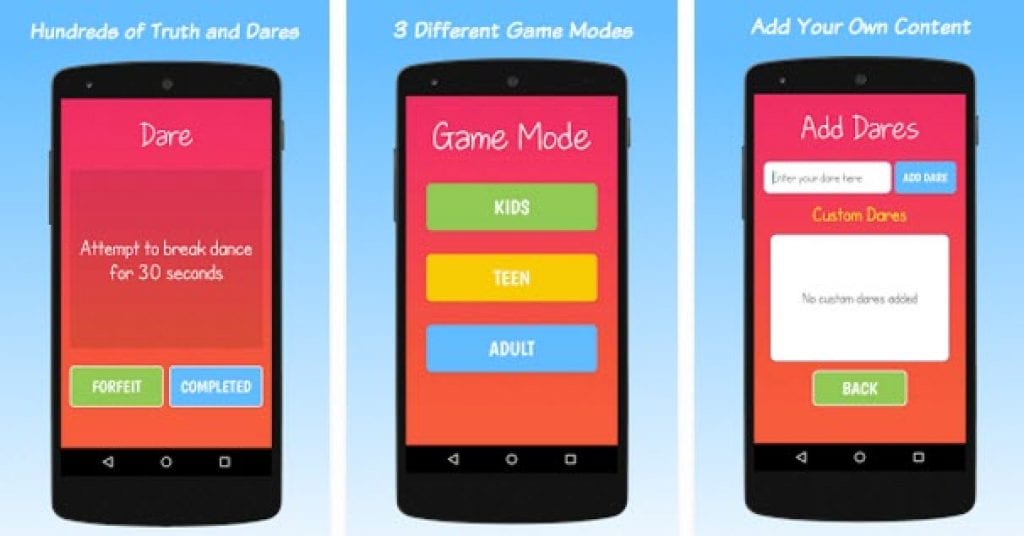 Get it on Google Play Store
back to menu ↑
Truth or dare for iPhone
You have already known about principles of playing Truth or Dare. As for this game, get ready to make difficult choices but this time with a modern twist! Instead of just playing one Truth or Dare, Truth or Dare … Online Edition allows you to submit your own questions for other truth or dare users! It will add some more intrigue, fun, and interest.
As for features, there are several categories, and, of course, Truth and Dare depend on a category. Choose between disgusting, hilarious, thoughtful, bizarre or a random shuffle of all categories. Remember that the bank of Truth and Dare extend every day, don't forget to check it and play with friends to reveal all their secrets.


Get it on App Store
back to menu ↑
Party Games Charades Like Guess Game
We return to guessing games. It is a fun little game that will certainly be amusing among friends or at a party. It requires users to have excellent teamwork, quick thinking, and even quicker reflexes. The app includes up to 4000 different cards,  so you and your family can play all day long if you want. 4000 cards offer 20000 different words of different difficulty, I think, there is something for every member of a family. What is more, it is a team game, it is possible to participate for up to 4 teams.
The options allow users to toggle through round times and score limits to make the game longer or shorter. There's an in-app purchase for the Full Version.
I think it is the best game to spend a winter evening.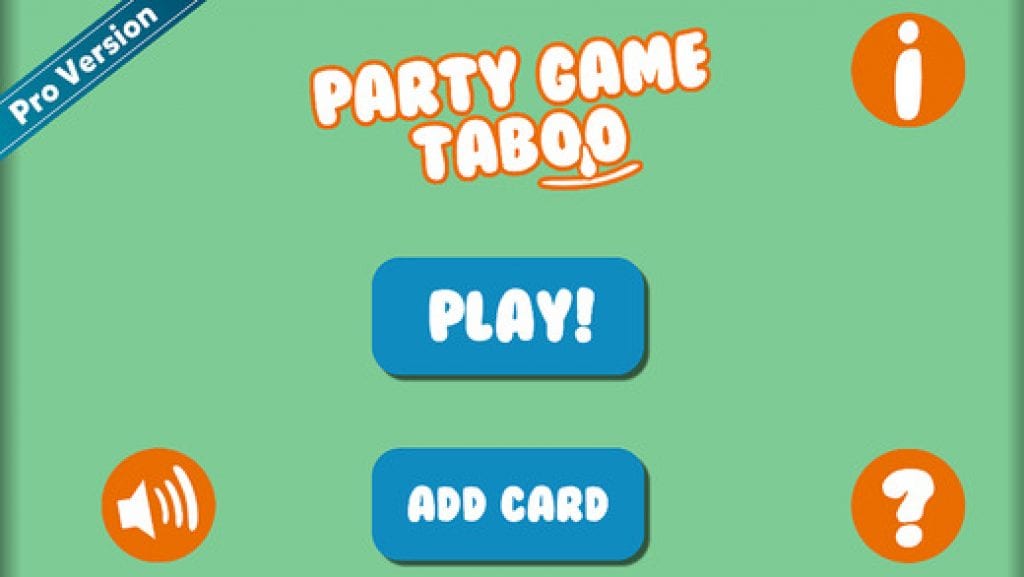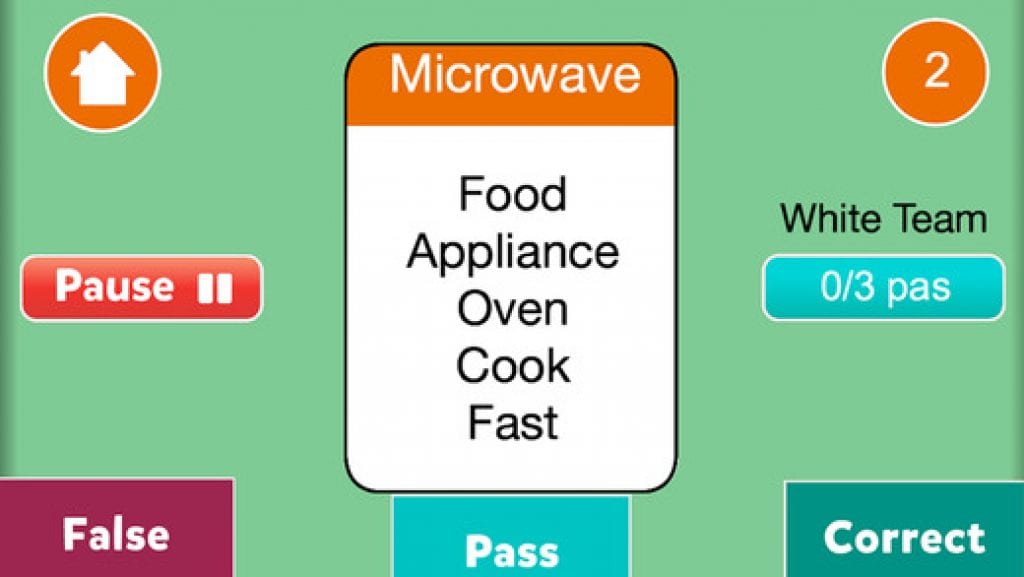 Currently unavailable
back to menu ↑
Wordie: Guess the Word
Wordie is one of the most loved brain game for guessing words. You can play with your family guessing words
between four pictures given and spelling the word using the letters available. There is possible to achieve new levels, win new characters and compete with your friends for the first place.
I think you will never end this game because it consists of 3000 different difficulty levels. What is more, collect characters is one more cool feature that doesn't allow people to get bored. It starts simply, with easy words. But hang in there! The challenge only gets harder in this word trivia game! Challenge your brain.
Share your results by connecting with Facebook and Twitter, invite friends and compete with each other.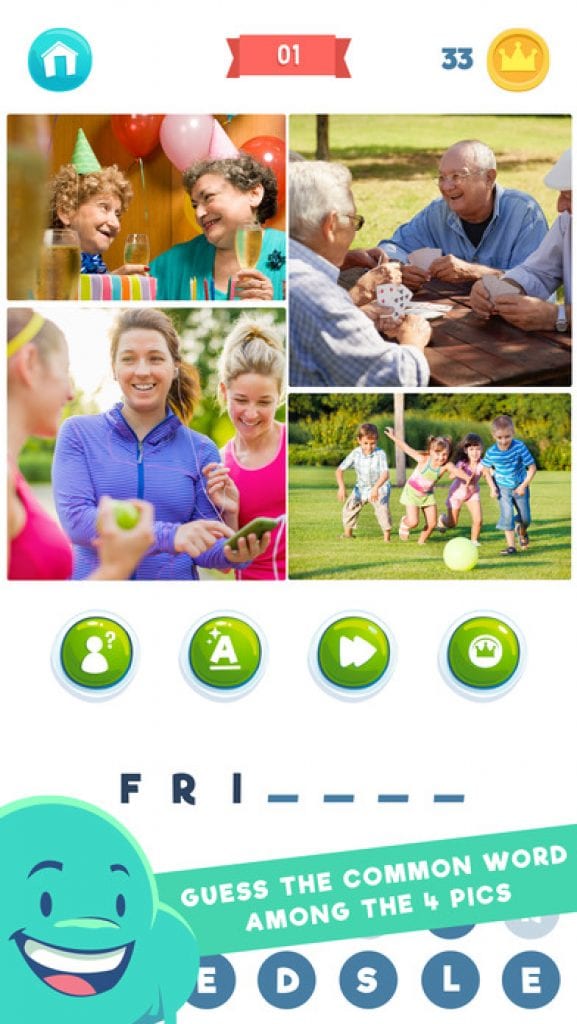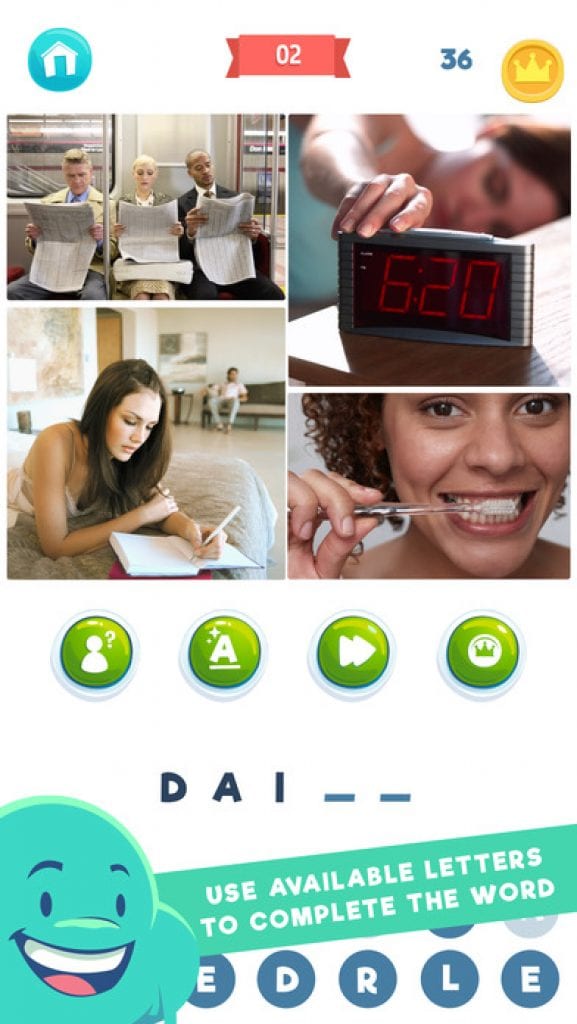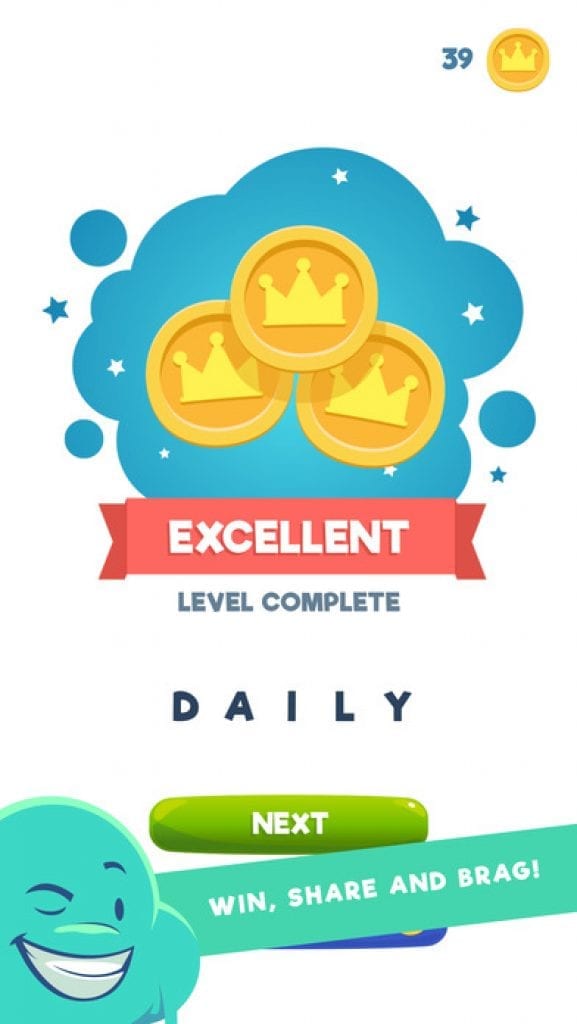 Get it on App Store
back to menu ↑
Pregame! Charades Free
Warm up for your big night out with Pregame! Charades. Hilarious and naughty, and full of nostalgia for millennials, Pregame! Charades is more than just a drinking game. The gameplay is similar to Guess Who? where you hold up the phone to your head and guess based on clues. It's the amusing categories that make this game fun. Selection from Drinking, Babes, Socially Unacceptable, Deal Breakers and much more. The app comes with an age warning, so users must be at least 17 to download. The fact is there should be an upper age limit too because this is not your parents' old-time charades game.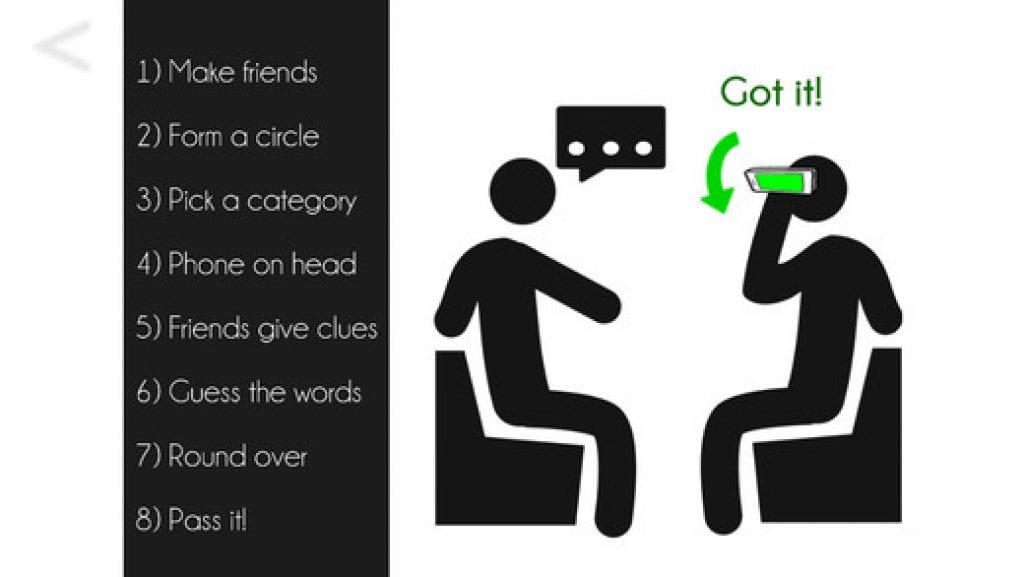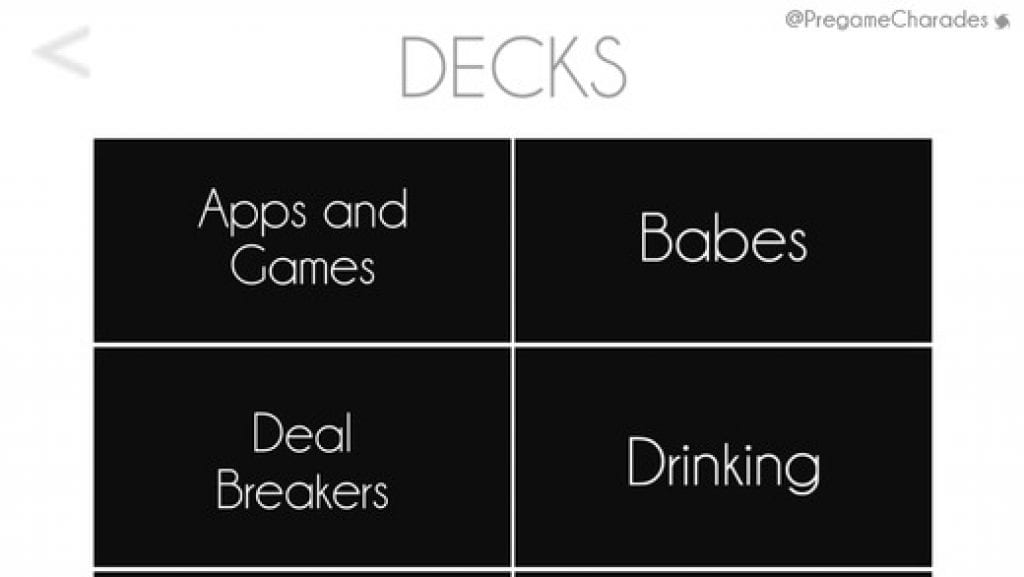 Currently unavailable
back to menu ↑
Charades Up!
We continue to introduce the best games of "Guess Who?" Games like the best charades ever. Charades Up! Is similar to Charades! but, all we know that every game has its own features. Instead of just answering questions until the player has figured out your word, Charades Guess Words! includes acting, accents, drawing, dancing, song and much more for maximum fun
As for features, you can play as with one friend or with one hundred of virtual friends, it is up to you. There are more than 30 different theme decks you can choose from, but the feature is that you can create your own deck! It is a convenient feature, especially if you are playing with kids who need other categories.
Tap to select a card, tilt down to pass, and tilt-up when you guess the word. Everything is easy to use. Decks include the next categories TV Shows, Movies & Characters, the 70s, 80s & 90s, Animals, Foods & Drinks, Super Heroes, Brands, Companies and a lot more. Have fun!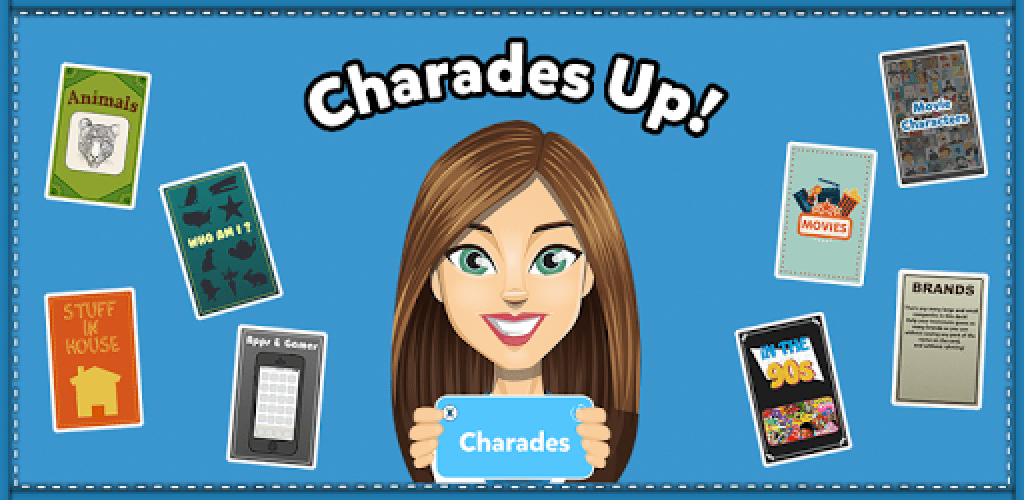 Currently unavailable
back to menu ↑
2. Charades! By Appogeum.com Limited
Here is an app for iOS with the same name, but the rules are different, design and content are different respectively. This charade fits people who want his company has a lot of fun tonight. The app is fully translated into English, Spanish, French, German, and Polish. Each language version contains a few thousand ideally selected phrases: single words, phrases, sayings, and proverbs. What is more, the app is optimized for iPad, iPhone, and iPod users and gets them an opportunity to compete with each other because it is an online game!
As for features, for a competitive game invite one, two or three friends or play with users all over the world and try yourself at knowledge, speed, a richness of associations, motor, and manual skills. Each of players gets a random task to draw some phrase or a thing, displayed on the screen. All players hurry up to be the first who guess the phrase and win scores. Drawer and guesser get more points in case the correct phrase is guessed sooner.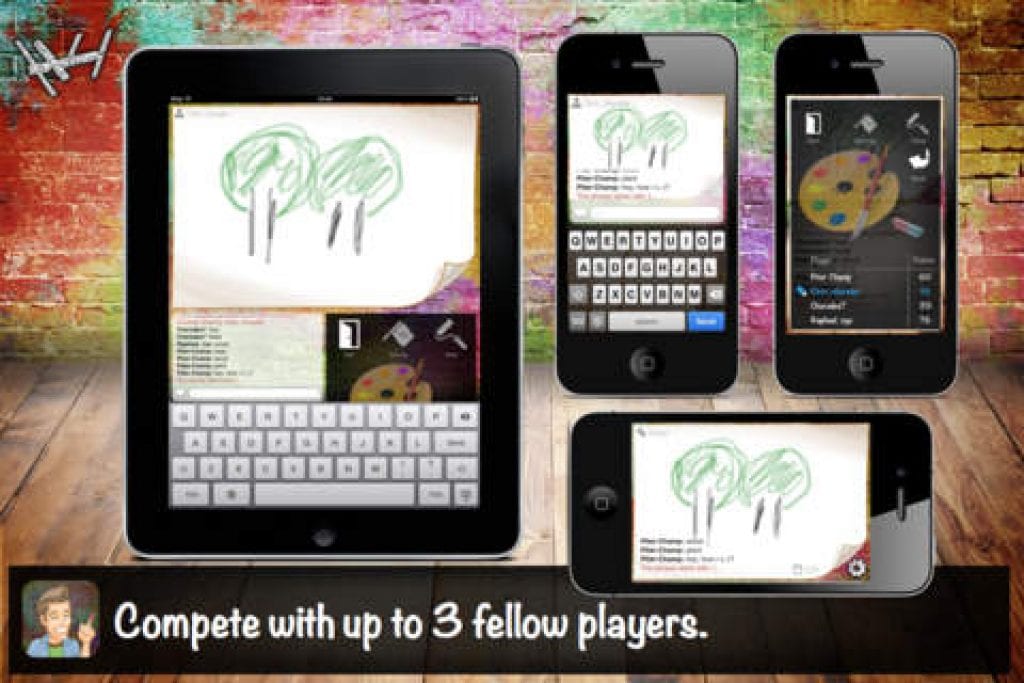 Currently unavailable
back to menu ↑
Hands Up! Charades!
Another cool guessing game where you need to show all your memory skills is a Hands Up! Charades! -the game with a twist. Play with one person or with hundred of users. It is one of the main features of this game- you can play with people you have never seen. It is a perfect opportunity to know how people see the world and its things.
At first, choose one of  150 decks, after that you randomly will be given a card that you hold over the head. People all over the world have to give you clues to help you guess the word on the screen by describing, mimicking, singing, humming, or acting out the word! Play any way you can think of!
For example, you can face categories as Accents & Impressions, Anime, Baseball, Basketball, Books, Celebrities, DC Heroes and Villains, Disney Characters, Movies, and TV Shows, Fairytales, Game Of Thrones.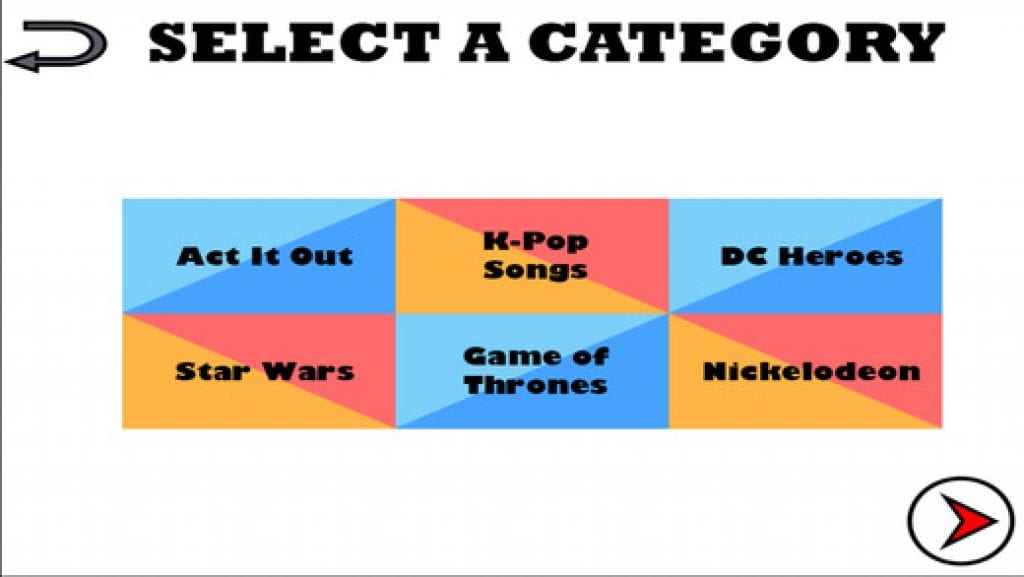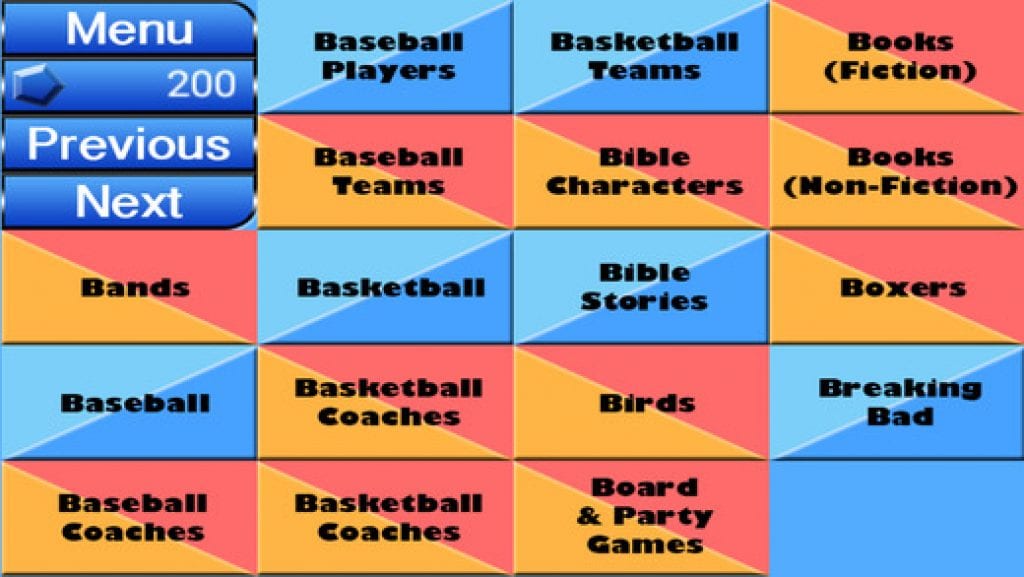 Currently unavailable