If you have ever been buying a car, you know that it is quite an experience. Many people consider it unnecessary intimidating, tiring, and hard. Getting to the dealership center, negotiations, and signing all the documents – all that can steal hours out of your day. The solution?
The best apps to buy used cars by owners will make this whole process much easier. And in case you don't find what you're looking for in them, you can also search for used cars in the classifieds apps.
Carvana
Carvana is the app that makes the process completely online, and when we say completely, we mean it. You will not have to get off the couch – search for your car through the app, sign all the documents and get your car delivered to your doorstep.
To use this app you will have to create an account. It is a very simple process, yet you are to fit some requirements: you have to possess a valid driving license to start your searching journey.
Using make&model, color, year, and many other filters, you finally make your choice and customize payment terms. After validating your identity, Carvana will automatically connect to your bank and settle all the issues with insurance companies.
A few more steps – sign your online contract, choose your delivery date and wait in anticipation for your car to come!
Once you create an account, you can choose your favorite cars for quick comparison and get an estimate for your trade-in. After you complete your purchase, you can track your delivery, get notifications and make monthly payments all through the app.
Key features:
3D animated models and pictures
Carvana finance support
Completely online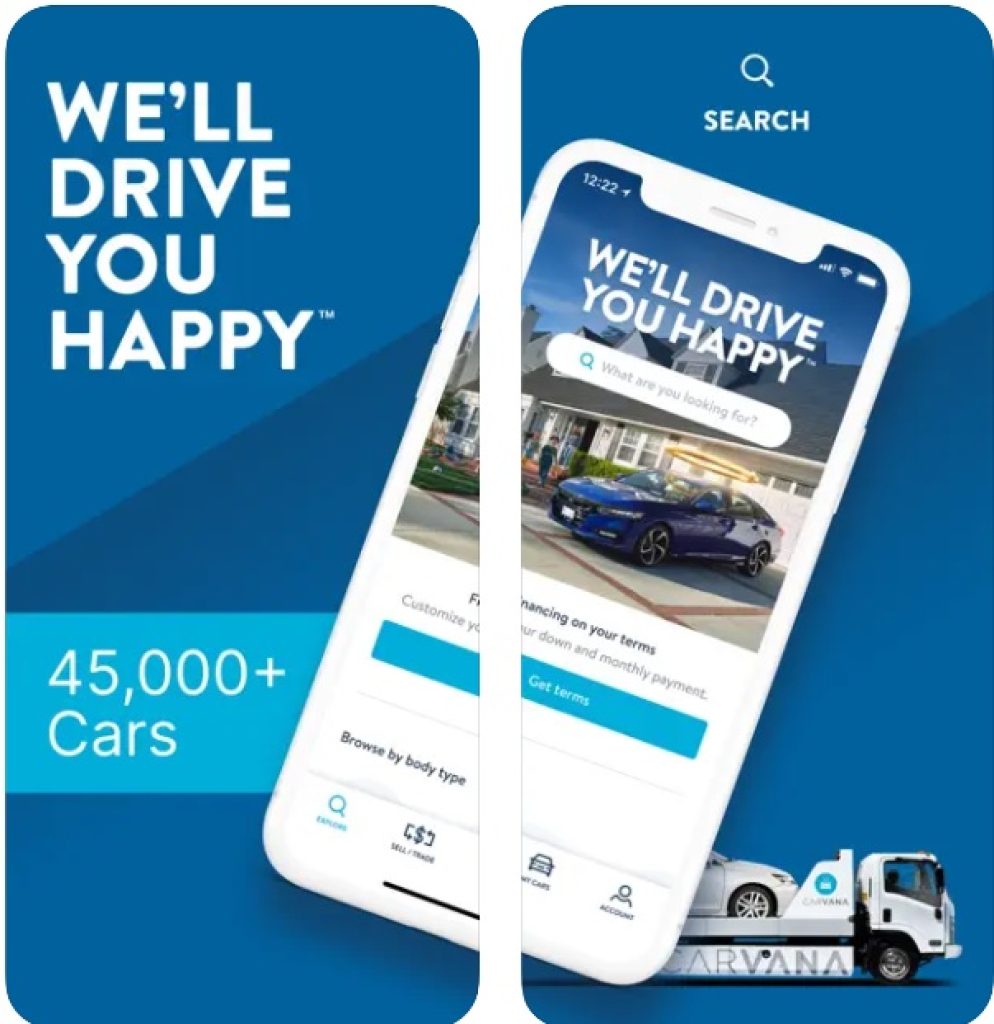 You may also like: 11 Best apps to connect your smartphone to car audio system
Vroom
Vroom is also an app that offers a delivery right to your doorstep. You can enjoy your car being delivered and the whole car searching process without putting your phone aside. With Vroom, you can trade in your vehicle as well without the need to take it anywhere to be inspected.
What is appealing to us is a 7-day or a 250-mile guarantee for the vehicle you buy. You can also opt for a limited warranty, which will set your repair bill if something breaks.
This option works as well if you find something wrong with your car within the 7-day trial. Vroom states that 7 days is not enough to see if the car is completely OK, so it will pay for unexpected drawbacks.
Compared to Carvana, we can say that Vroom seems less pricey according to financing conditions. However, here you will see a smaller variety of options, so if you are looking for a very specific model, you may not find what you want here.
Key features:
7-day / 250-mile warranty
No negotiations
Car delivery
The whole process is completely online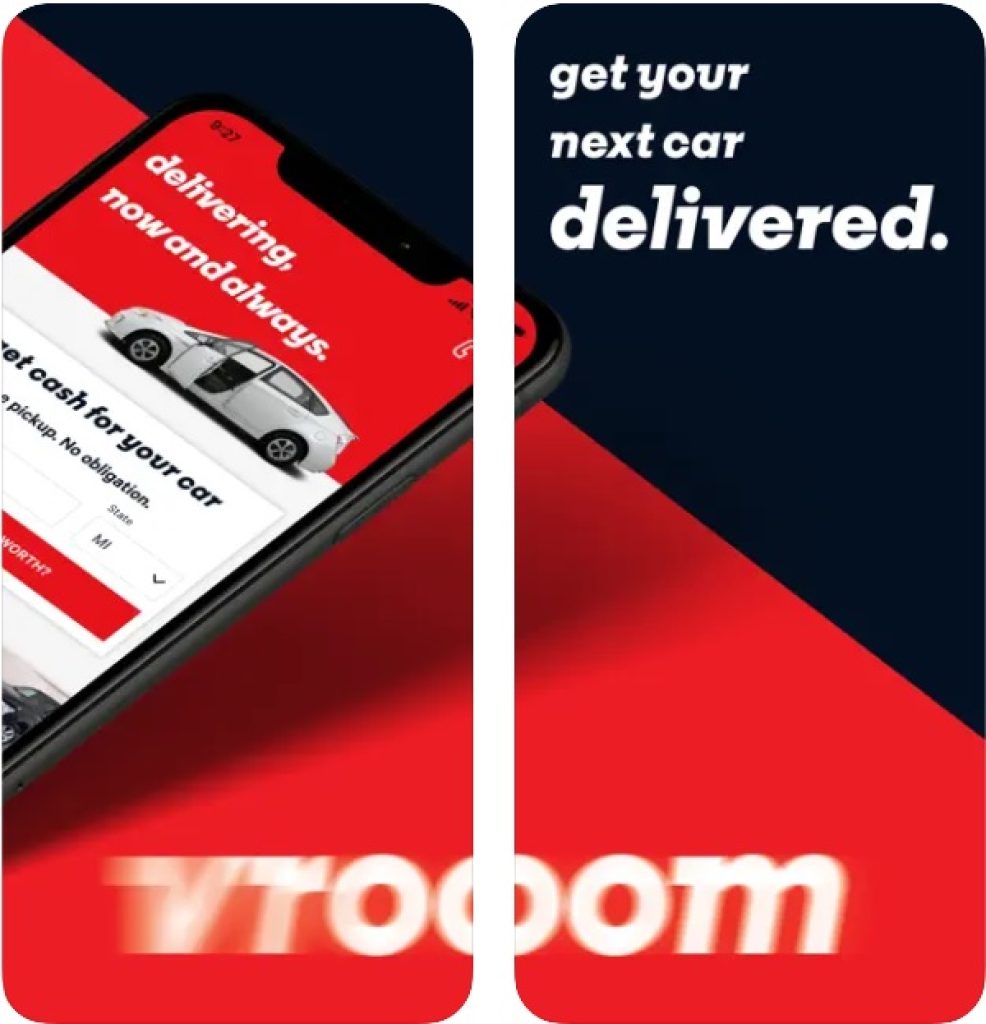 CarMax
CarMax is rather a controversial specimen. On the one hand, it is a "basic" option since almost everybody has either heard of it or even bought a car here. The app's logo is familiar and creates a feeling of stability and credibility.
The app offers a no-negotiations experience that once was a true revolution. However, many apps today have applied this technology and do not charge premium rates for comfort as CarMax does. Indeed, sometimes the price is not much lower than the one of a new car.
Nevertheless, wait! Premium rate is not a waste of money: CarMax offers a 24-hour test drive and 30-day money-back guarantee. 30 days! This is enough to show your car to every mechanic you know and test it up and down before making a final decision.
Key features:
Higher prices
Nationwide
24 hours test drive / 30 days warranty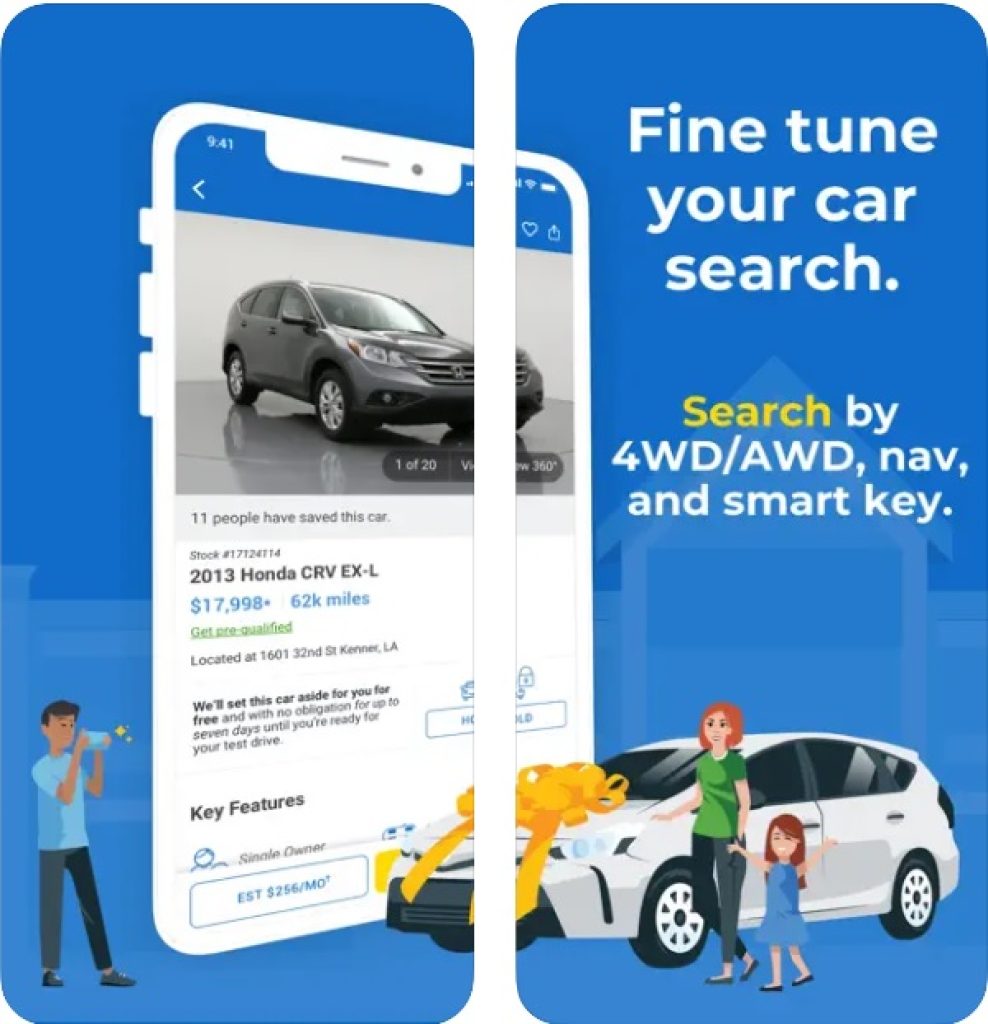 Edmunds
It is hard to say if many filters available help to find the best option or vice versa flusters us. Edmunds app provides no such dilemma – you can search only by two filters: "Make&model" and "Vehicle category". If you want your search limited, the app is definitely for you.
Once you have authorized by providing your zip code or allowing your location data, you start your search. You can do it even without logging in, however, an account allows you to create a dashboard of your favorites, compare them and contact an owner to find more details.
The app also provides a loan lease calculator. Many apps provide a similar option, but they are frequently connected to the app's own payment system. In Edmunds, it is just an instrument for you to calculate the affordability of your future car.
Key features:
Limited filters
Save searches & favorites
Loan lease calculator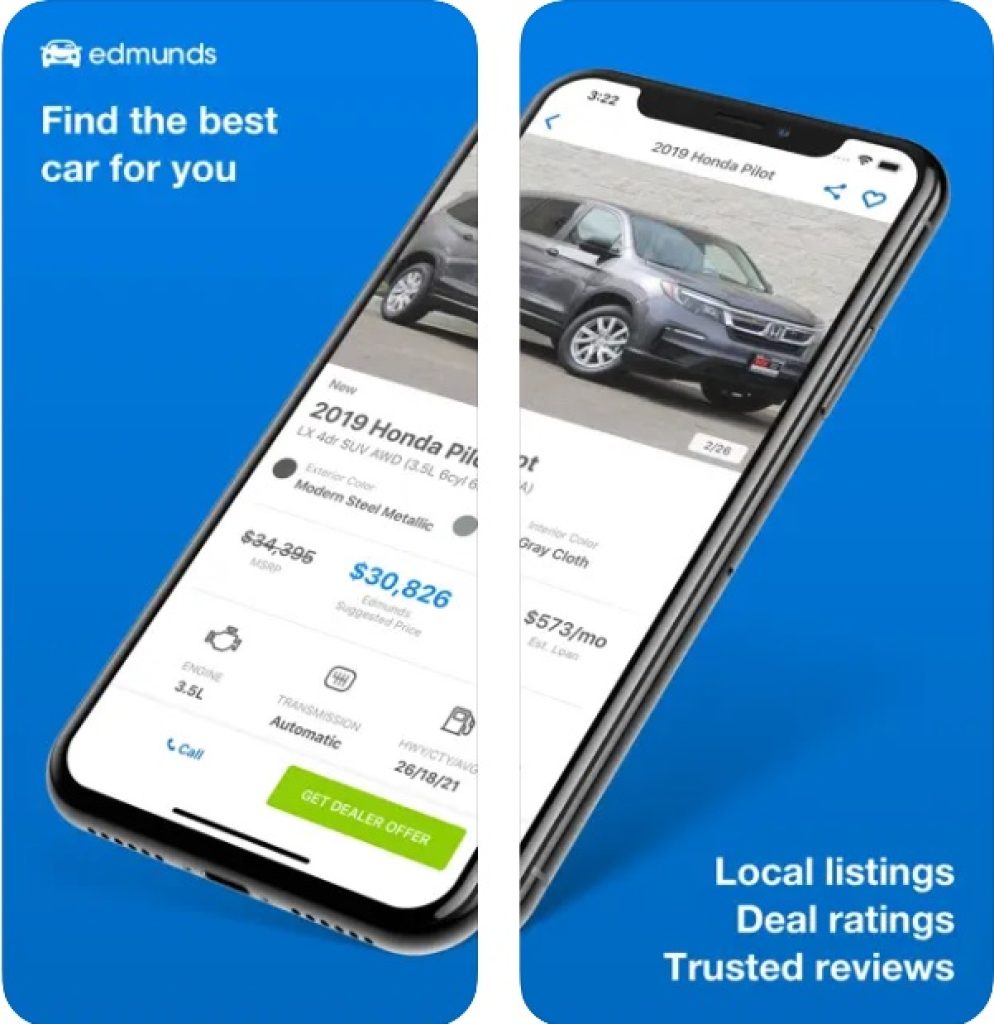 Kelley Blue Book
"Find my car's value" – if it was your Google search, you would end up browsing The KBB, or The Kelley Blue Book. The app, as well as the similar website, will not connect you to a dealer or provide a car delivery to your home but will help you not to be ripped off on either of the stages.
The KBB is a huge database of both old and new cars. Search for a specific make and model, and choose the year and transmission type. Not only you will get any possible information about the car you may want, but also see the typical price offered by dealers across the nation.
Now you can decide if the price offered to you by your dealer is reasonable, how much you should ask for your own car, and compare the car you search for with as many cars you want at the same time according to any possible criterion you wish: GENERAL / TECHNICAL FEATURES, FUEL / CONSUMPTION, TRANSMISSION, price, etc.
The design is however a bit out-of-date, so if you don't mind feeling a bit of nostalgia for the times when Instagram had a brown icon, it won't be a problem.
Key features:
No sell and buy options
Database functions
A lot of information included
No pictures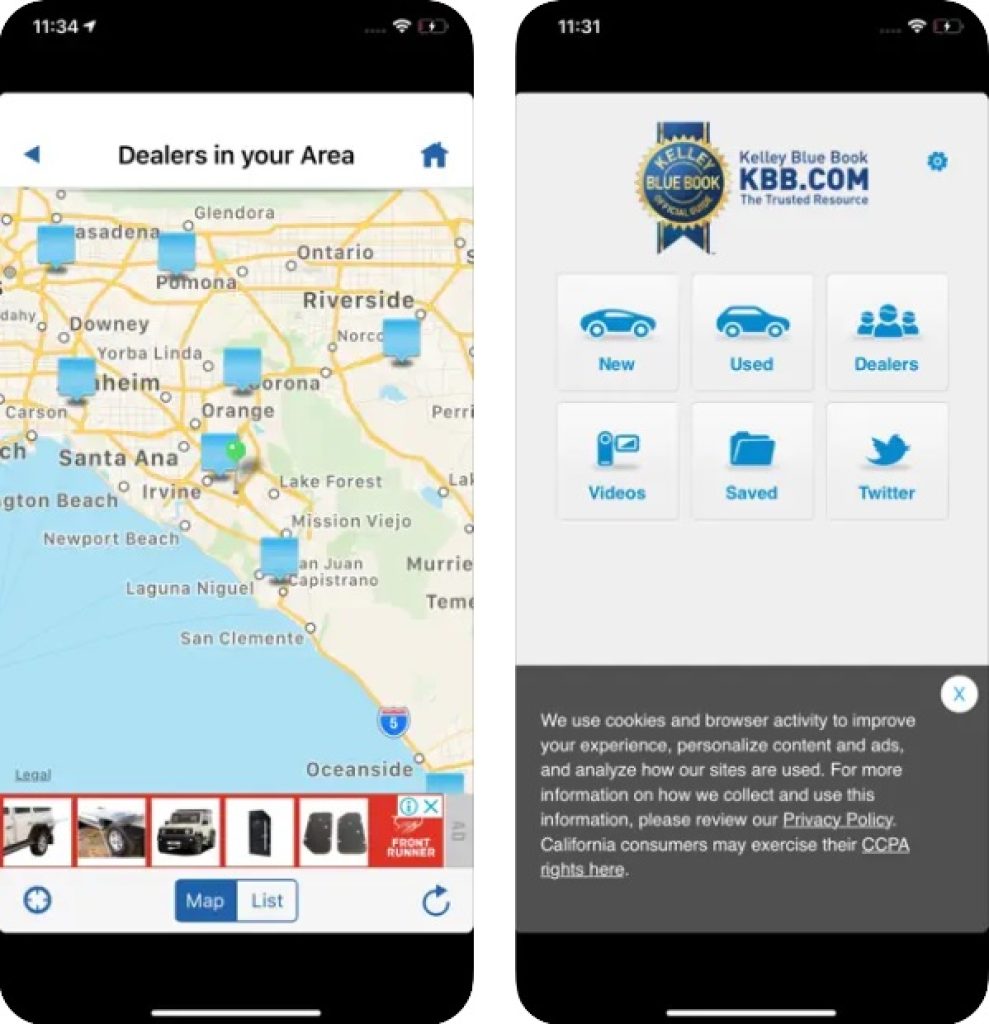 You may also like: 20 Best Black Friday Shopping Apps for iPhone and Android
CarFax
"Be smart and check in advance" – the slogan of another helping app named CarFax. No matter whether you already have a car or just going to buy one – a VIN code will reveal many things from the car's past.
If you have no idea what a VIN code is, start with quick instructions on where you can find it. Enter it into the search bar – and get a full CarFax report. Several tables provide information about accidents, maintenance, and inspections, mileage manipulations, import information, change of ownership, etc.
The price of one CarFax report is €34, 99. If you consider comparing car history reports of several vehicles, you can opt for a 3 CarFax option for €39, 99 or even 6 CarFax for €49, 99. Mind that the access to your newly bought CarFax is 30 days only.
Overall, it is a good app with fair prices and transparent service terms if you have already chosen a specific model and want to be aware of all the pitfalls you may confront. If you are still in search of the best deal, it will probably be better to use some other app.
From the technical point of view, the app has recently included a Dark Mode option – so that you could save not only your money but your eyesight as well.
Key features:
Used car check app
A detailed vehicle history report
Paid service
Dark Mode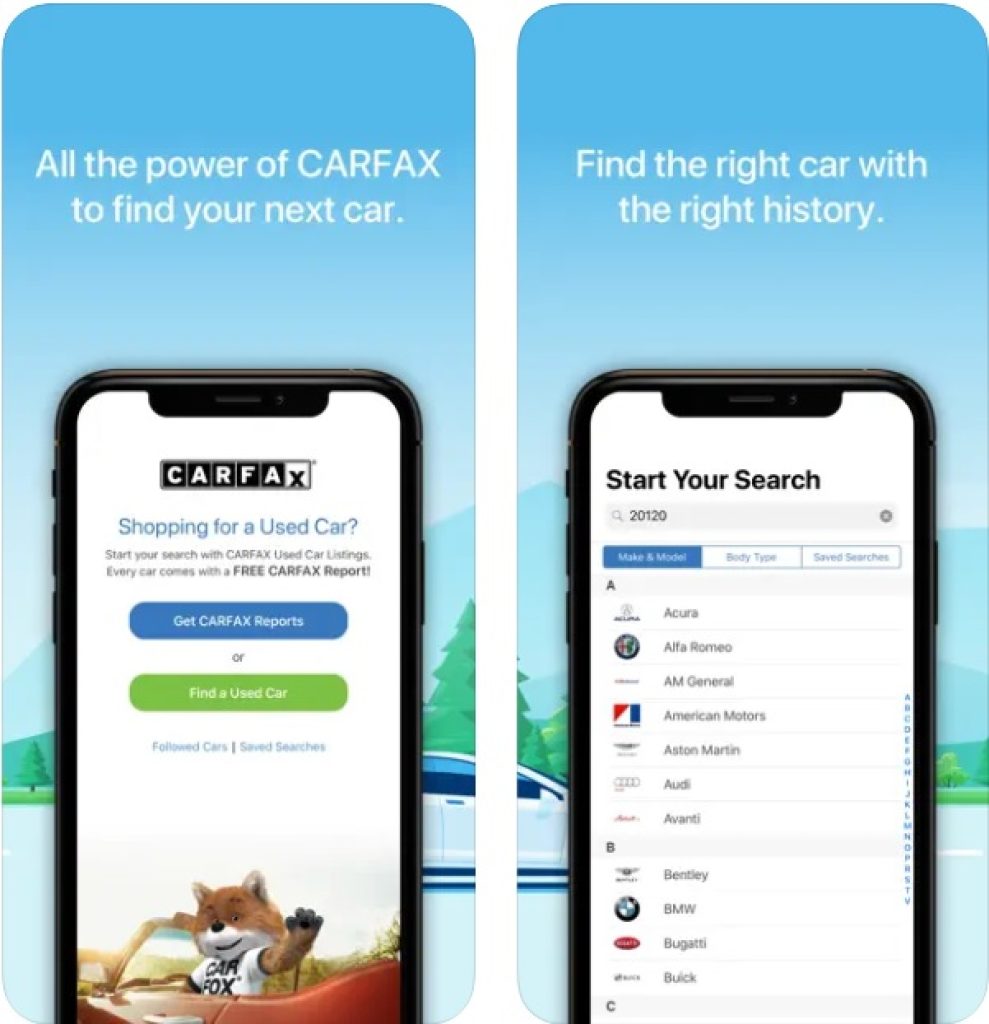 TrueCar
They say that TrueCar is an app that helps you to estimate the price of the car you want or you are going to buy with the price other people pay for a similar vehicle – either a new or a used one.
Once you have entered all the details including make and model, color, interior specification, etc., the TrueCar app will give you a personalized detailed offer including taxes and fees, which creates at least the smallest idea of what the final price would be.
The app divides the prices into four categories: "Excellent Price", "Great Price", "Fair Price" and "High Price". Each category has the number of sales performed at this or that price.
Dealers do hate this app since it, as many others actually, gives an idea of the price that is often quite far from the one they offer themselves.
However, be careful: the app says the information is for "illustrative purposes only". Though the app most often shows you the ballpark of the actual price, there are some specific situations when a mistake can cost thousands of dollars.
Another thing you have to keep in mind is that there is not necessarily a person who bought a car with the same characteristics as you do.
In that case, when the app's database does not possess the statistics on your particular choice, it will show you an average roughly estimated data that does not always correspond with the real prices dealers offer.
Key features:
Varied filters
Special discount for USAA members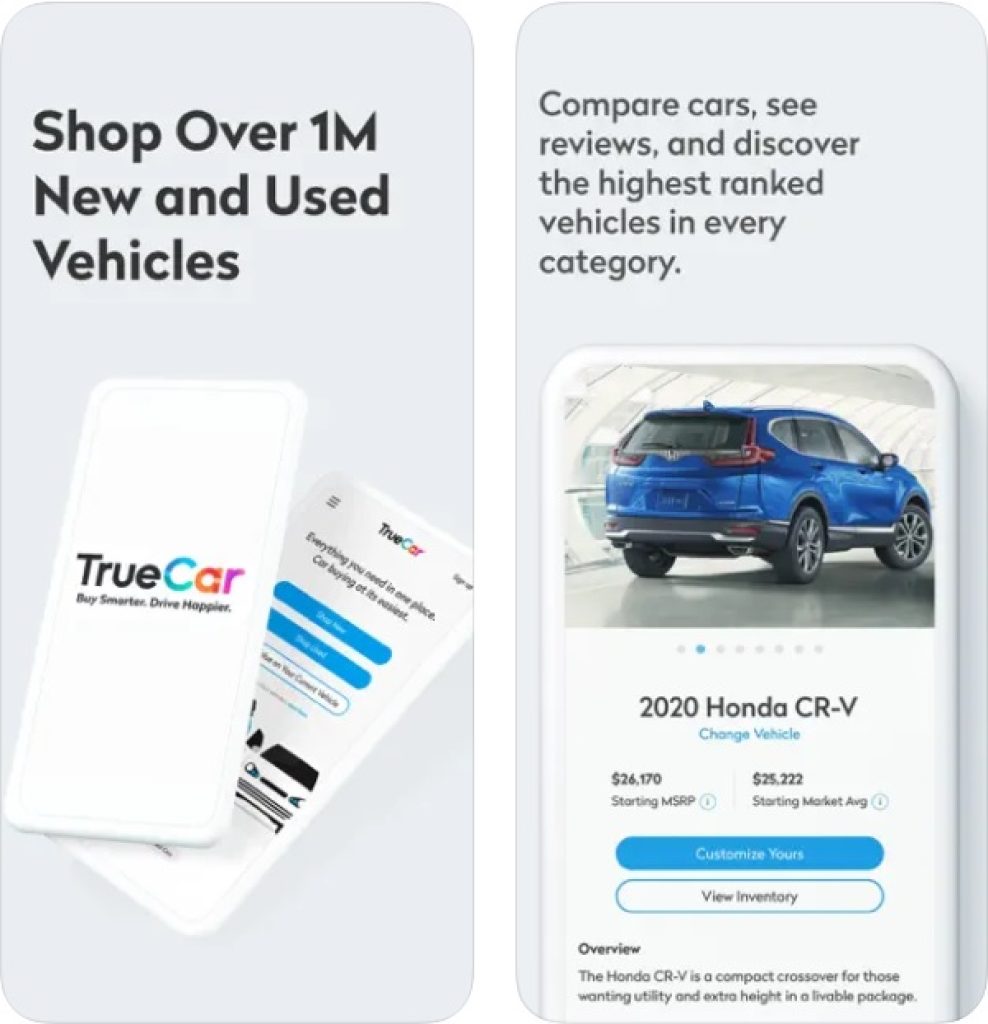 Cars.com
As you could have noticed, you have to create an account or sign up or even verify your driving license to use the app and search for your car. Things are a bit different with Cars.com –– you can experience all of the functions as a guest.
Once you have opened the app, you can complete a short form so that the app could help you select a car. Search by make and model, price, distance, and zip code (if you want the app to show you the best options specifically for your location).
The result includes the picture of the car, the seller's phone number, and basic and specific features. The app provides a payment calculator that will estimate your monthly payment at a specific APR rate.
A Deal Gauge™ tool is something that you may also find useful. Powered by Cars.com, it compares the car you have chosen with similar specimens according to mileage, condition, and other factors. Compare the price you see on the screen with the average market price and see if this particular offer is worth it.
Another useful option of Cars.com is the Research & reviews section. Here you can filter the car by make and model, type, and year. The section includes high-quality certified research as well, so you can learn more about new models coming to the market.
Key features:
Not the most extensive filters
Detailed car report
Pictures and a short informative video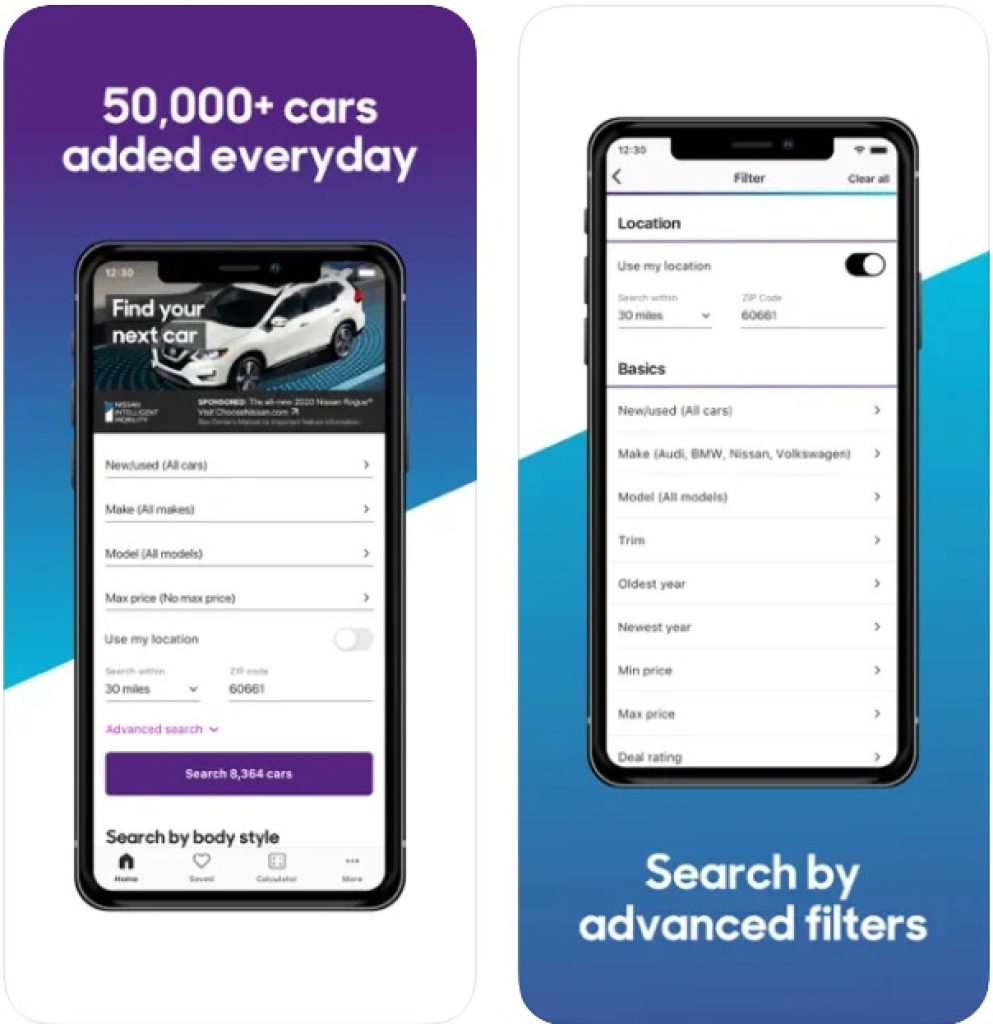 Autolist
Autolist is a top player in the used car apps market. It says it offers the largest range of both new and used vehicles – over 24 million items. There is an opportunity to contact the dealership directly to start buying your car.
The app is very simple. The filters include body, make, and model, as well as location. Speaking about the estimated price, the app estimated monthly payment itself, as well as provides mileage information and a CarFax report.
Once you have searched for something you would like to consider, you can save it to your favorites, wait until the prices drop down (the app will tell send you a notification), and calculate your monthly payment again.
It is said to have 'the most local vehicle listing", which means you will find something suitable for your depending exactly on your location. Enjoy the variety and convenience the Autolist offers.
Key features:
Limited filters
Variety of cars listed
A "Sell my car" option
High-definition pictures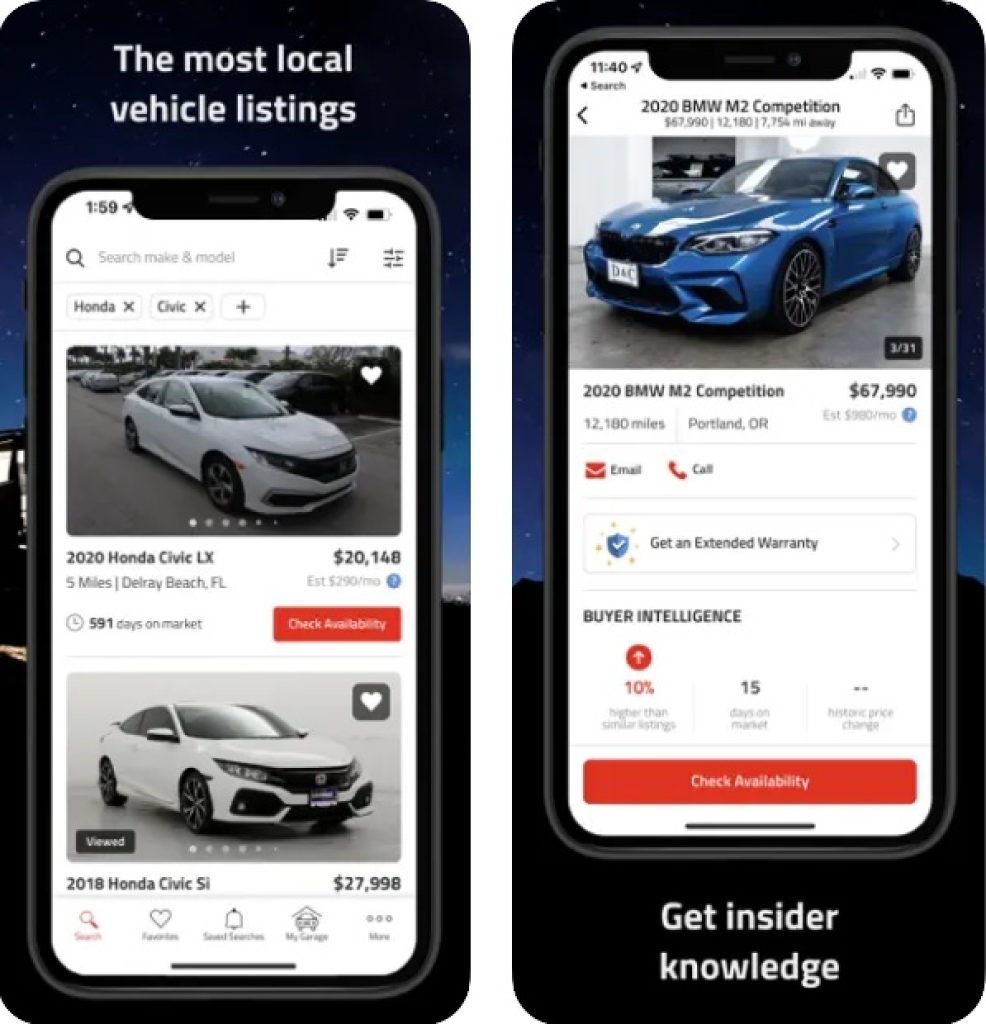 Used Car Search Pro
Previously known by the name "iSeeCars", Used Car Search Pro completely reflects its new name. You can search cars like a real pro with every possible filter possible.
Choose the model you would like to buy by such criteria as headroom or legroom, or, for example, such truck-only options as a bed and cab size.
59 filters in total will certainly narrow your search to the most suitable option. The app still has a free-text keyword field that has been removed from the majority of used car buying apps.
The app provides various estimating tools for you to find out whether you are opting for a good deal. The price analysis scatterplot shows how the price for the specific chosen model varies across the country.
Used Car Search Pro will notify you if there are any fluctuations and the price is dropping down or if any new cars are fitting your requirements.
With the help of the app, you can also find out how long the car has already been on the market and how long it usually takes to sell a car of a similar model.
Key features:
Extensive filters
Detailed price analysis
Email notifications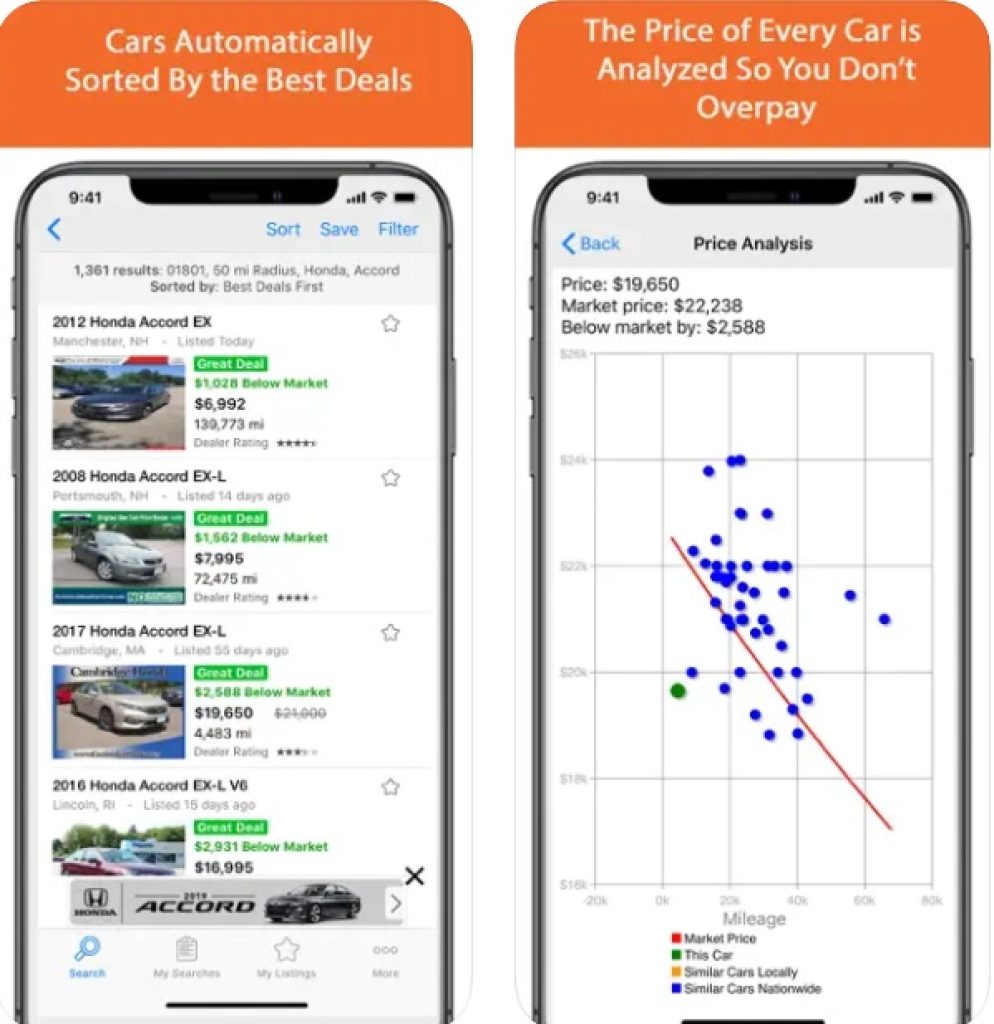 You may also like: 15 best apps to buy clothes on iOS & Android
Autotrader
All the apps listed above are suitable for those who want to get away from the traditional negotiation process. However, if you are looking for some assistance, but at the same time would like to opt for a traditional way of buying a used car, you can consider Autotrader.
The app provides a database of dealers based on your location, so you can find an extensive list of dealers within some seconds and contact directly the one you liked the most. The app is not a dealership system itself; it only helps customers and traders to find each other.
If you are in the middle between a traditional way and the way that lacks any social interactions, you can hire a private Autotrader seller to avoid direct contact with the dealer.
Send one to get you one of a variety of cars available at your location now. If you do not like anything offered, you can opt for brand new cars, which are in stock.
You can also sell your car. Spend a minute to create your own offer. The calculator inside the app will help you to check how much you can ask for your used vehicle.
Key features:
No dealership system
Extensive filters
Focus on the dealer
Sell your own car