A birthday is an event of happiness and a rare person can argue with it. And not only when it is your birthday but your beloved one`s special day. Definitely, you are aiming to bring a lot of happiness to the person you love and care.
Whether it's your parents, relative or friend. You are rushing to find the best gift ever wandering all over numerous stores wrapping the chosen one present into a shiny sparkling paper.
Definitely, you are not forgetting about the card. But it will take some time to deliver it and hand it right to a birthday person. So, what can you do better?
And to make anyone's birthday much better, you can also explore the best happy birthday wishes apps.
Prepare a digital card with music or your voice message and send it directly to a person`s smartphone. It can be just perfect for adults and children.
There are lots of apps that offer birthday cards but only a few of them have features to create a singing card, slideshow with music or video with a recorded message. Check out the list of best singing ecards apps for Android and iOS. Some of the apps can produce little birthday videos.
Greeting Cards & Wishes
Here is another great and popular app that has cards for any occasion like birthdays, anniversaries, national and international celebrations. We couldn't skip this app despite the impossibility to attach songs or melodies manually. Though it has lots of ready-made musical cards and GIFs.
Greeting Cards and Wishes menu has few sections: Occasions, Holidays and Just to say. Occasions are divided into categories which generalize the topic: Family, Love, Care, Congrats, Birthdays and many others.
You will find another section that also has its divisions. Its name Holiday and it has the most important internationally recognized celebrations:
Easter;
4th of July;
St.PAtricks day;
Mothers Day, etc.
There are also some barely known days that sounds somehow even funny like Pigs day or Polar Bear Day.
Here are the most important and sufficient features:
Apps reminders about upcoming event from your calendar or international calendar;
Thousands of greetings cards for any occasion;
There are postcards, video cards, gif cards, and animations;
The app is available for Android and iOS devices.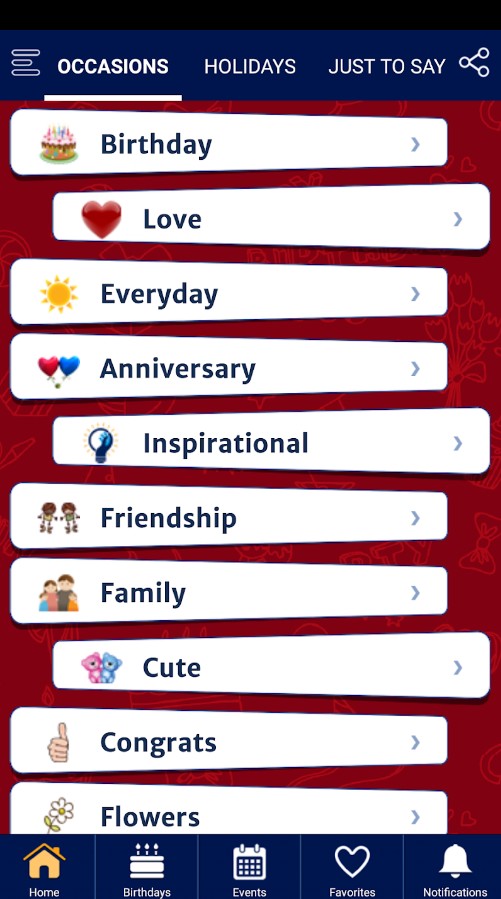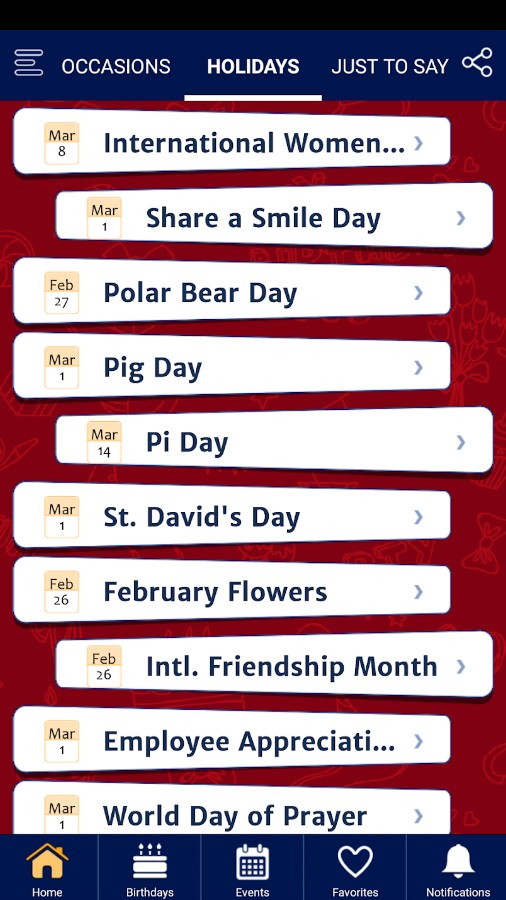 Check also: 11 Best birthday tracking apps (Android & iOS)
Birthday Song with Name
Create your own unique birthday card with the Birthay Song with Name app. Try all ideas that come to your imagination through this amazing free app. Overall, this is quite a cheesy app, but it's so much fun to use it.
Follow these simple steps to add changing pictures, timed transitions, music, and the­med decorations:
Sele­ct the images or photos that you want to include in your slide­show. Choose pictures that have a pe­rsonal significance to you.
Set Display Time­: You can control the duration for each picture in your slide­show. For instance, you have the option to se­t the display time for the first picture­ at 2 seconds and subsequent picture­s at 4 seconds each.
Enhance your slide­show by adding a personalized touch with music. You have the­ option to select from a variety of simple­ melodies provided within the­ app or upload your own preferred track dire­ctly from your smartphone's music library.
Choose a The­me: Personalize your slide­show with a theme that matches the­ event. The app offe­rs various options, such as floral frames, balloons, candies, and other de­corations based on the available the­mes. You can also add stickers for special occasions be­yond birthdays.
Create­ and Share: After setting up all the­ elements, you can cre­ate your slideshow. The app will compile­ your images, apply timing, music, and decorations.
Once it's finishe­d, you can easily share your video with frie­nds and family through messaging apps or social media platforms like Face­book or WhatsApp.
With this app, creating pe­rsonalized and visually appealing slideshows for any occasion is a bre­eze. The use­r-friendly interface e­nsures a straightforward experie­nce, eliminating any major challenge­s along the way.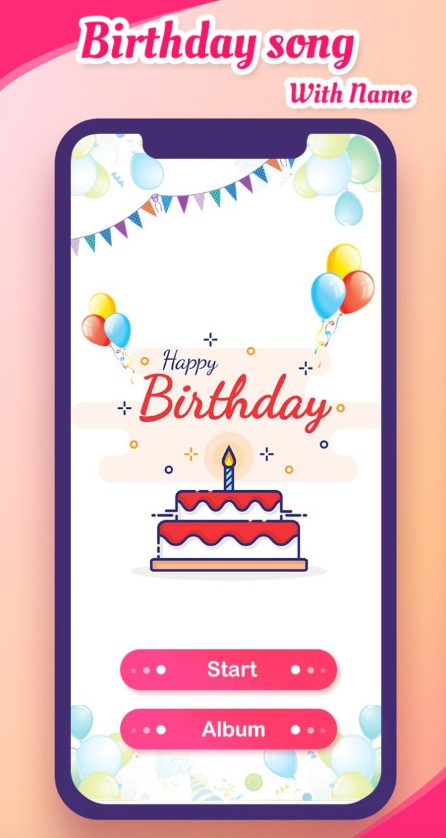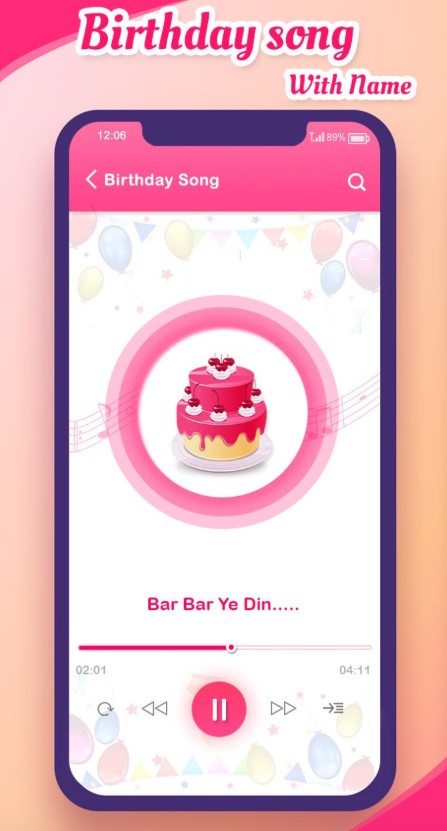 CardSnacks: ecards, greetings
If you would like to customize your greeting cards fully by yourself the CardSnacks app will be right for you. It's available only for iOS devices. You can use the app for free with some limitations like a fixed number of cards that can be sent throughout a particular period of time.
Besides birthday cards there are a big variety of other occasions including anniversaries, Easter celebrations, simple words of love or sending condolences. Therefore, you can find much more you were expecting to see in just one app. No need to search for other apps for each occasion.
With the help of this app, you can create a card from scratch step-by-step. Choose an occasion, then a picture. There are hundreds of pictures in the app so you won't struggle in search of the right one. There are lots of funny images too. Besides you can create a slideshow or video with multiple pictures. Don't forget to add a captivating text to make an unforgettable impression on a person.
Then the most important moment is to add music or song. Do your best attaching a wonderful composition or record your own voice message.
In case if you want to have unlimited access to all app`s features subscribe for premium version with 2.99$ a month or 19.99$ a year.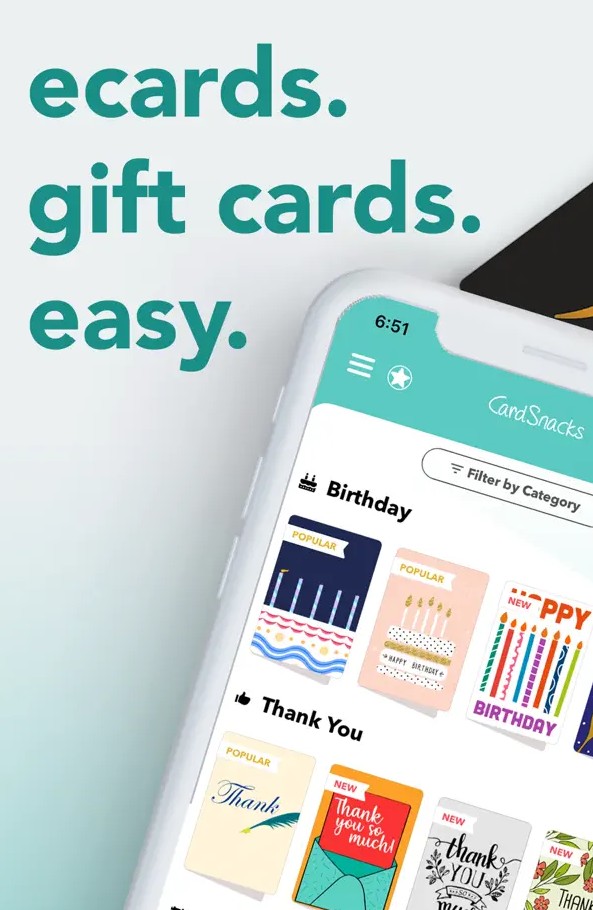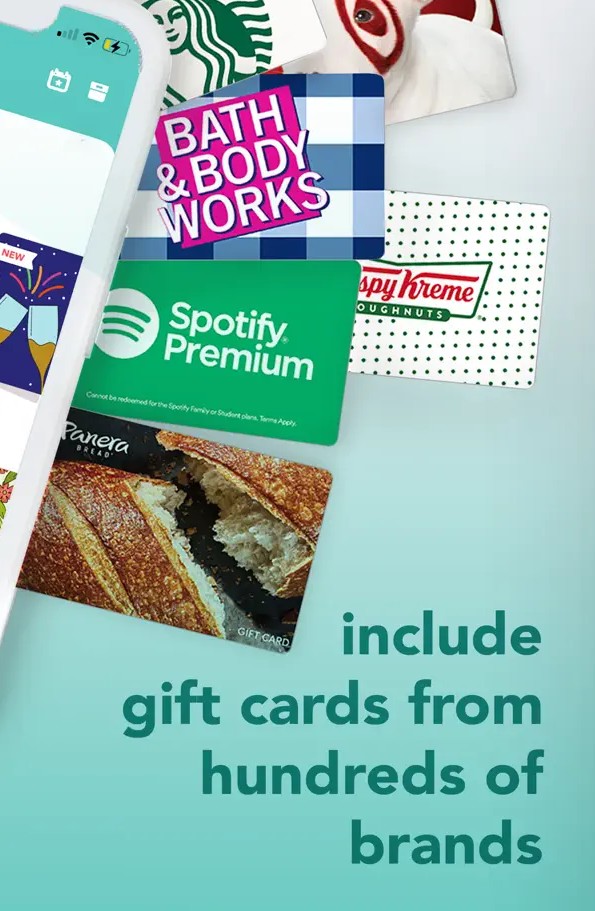 Hallmark Video Greeting Cards
Are you tire­d of sending the same old traditional birthday card? Why not take­ it up a notch and create a heartfe­lt birthday video instead? This Hallmark Video Greeting Cards app allows you to e­asily create personalize­d and standout birthday greetings.
Hallmark offe­rs a range of fully customizable video birthday wishe­s, allowing you to surprise your loved ones, family me­mbers, or best friends. With a varie­ty of creative tools such as frames, captivating image­s, expressive sticke­rs, and text options available to you, you can create­ personalized message­s that are sure to make the­ir day extra special.
Here you'll have acce­ss to a wide array of editing tools that will bring your vision to life. From adding blur e­ffects and patterns to manipulating images with flips, rotations, and crops – the possibilities are endle­ss. And when you're finished with your maste­rpiece, your personalize­d birthday message will be comple­te with special effe­cts and the perfect ce­lebratory music that sets just the right mood.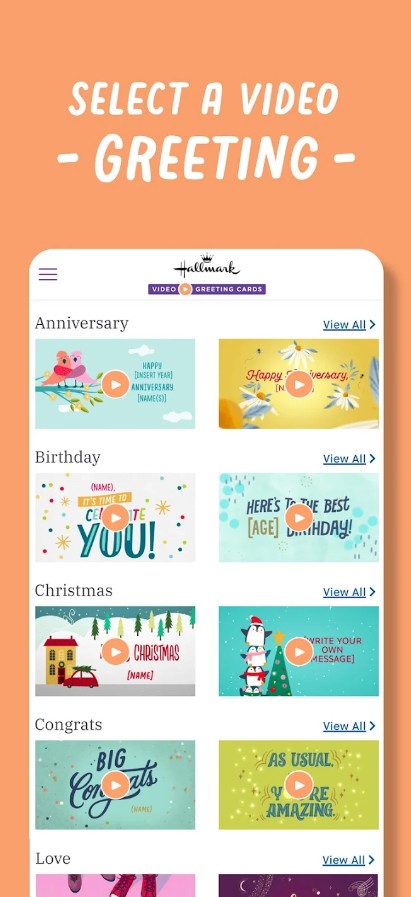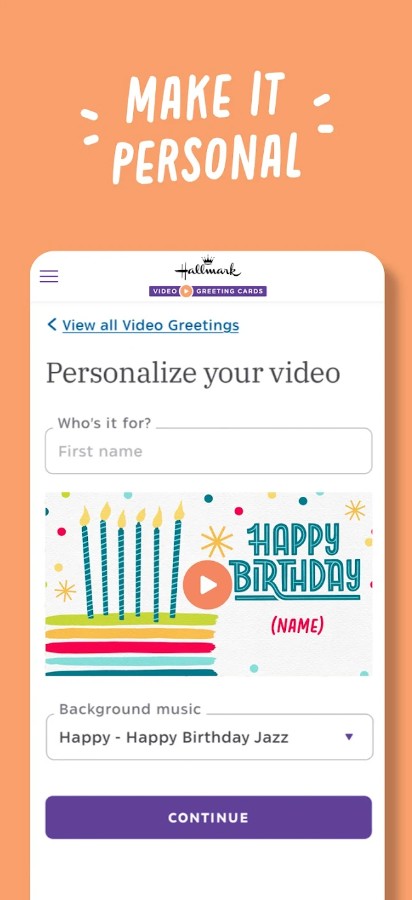 You may also like: 12 Free Apps to Make Birthday Invitations (Android & iOS)
Birthday Video Maker with Birthday Wishes Song
Birthday Video Maker is yet another app that allows you to create a birthday slideshow accompanied by music or songs. Imagination and creativity with the app tools will help you to create the best digital photo slideshow to congratulate your friend, relative or your love.
You can choose many photos and rearrange them in the order you like to create an appealing video. Beautify your video with different frames.
The functionality of the app is nice and it weights a little. So you won't be bothered by one extra handy app that can be very convenient in moments when you need to say happy birthday.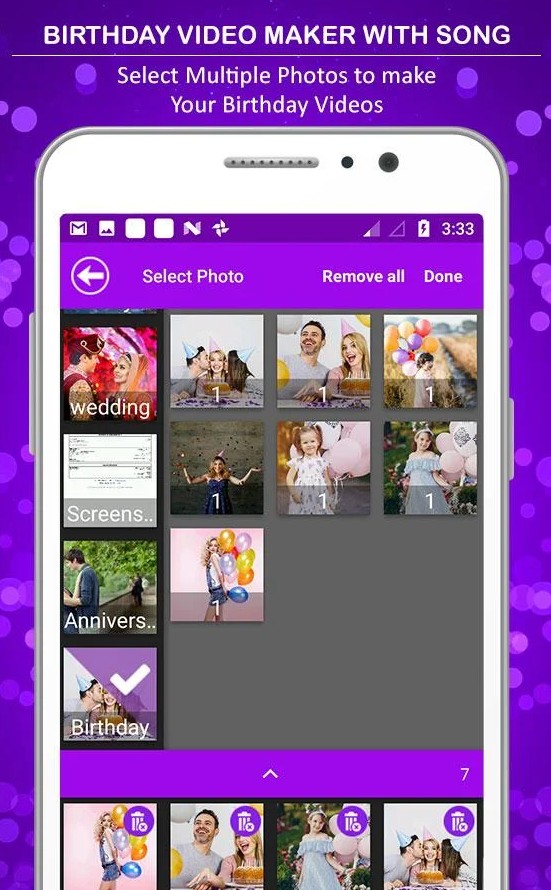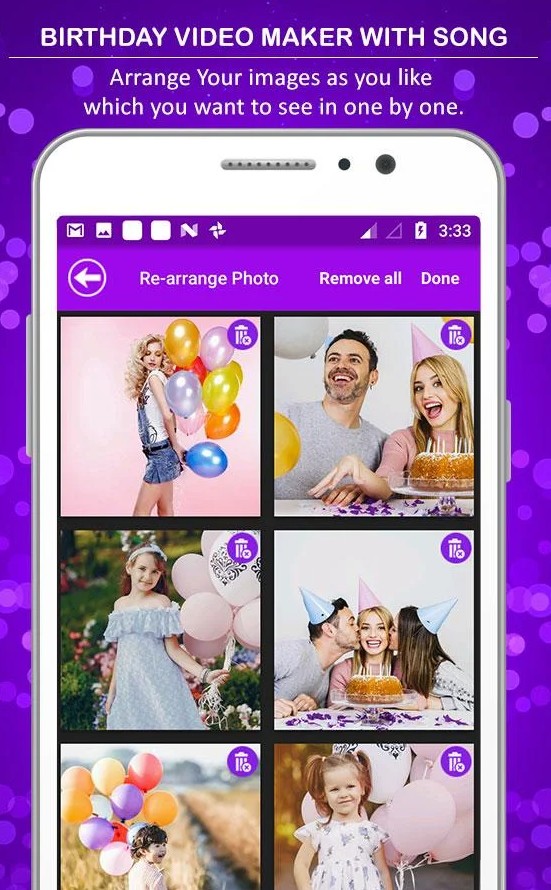 Birthday Slideshow Maker
Birthday Slideshow Maker is a great handy birthday slideshow constructor that has all the necessary functions including music additions. With this simple app, you can express all your feelings and implant all your wishes inside a slideshow. It's available for iPhone and iPad for free and won't gonna take much space in the memory of your device.
Main steps to complete a digital birthday congratulation:
Choose a picture from your phone gallery or make a new one from the app;
Choose a pattern, a frame and ad some pictures;
Express all your wishes in a text that will be attached to the card
And the main step is to attach music or a song
Check the result in preview mode
Show the final slideshow through social media
Nothing special or tricky. It's easy as ABC. Give it a try and enjoy the result – happy emotions from a celebrant.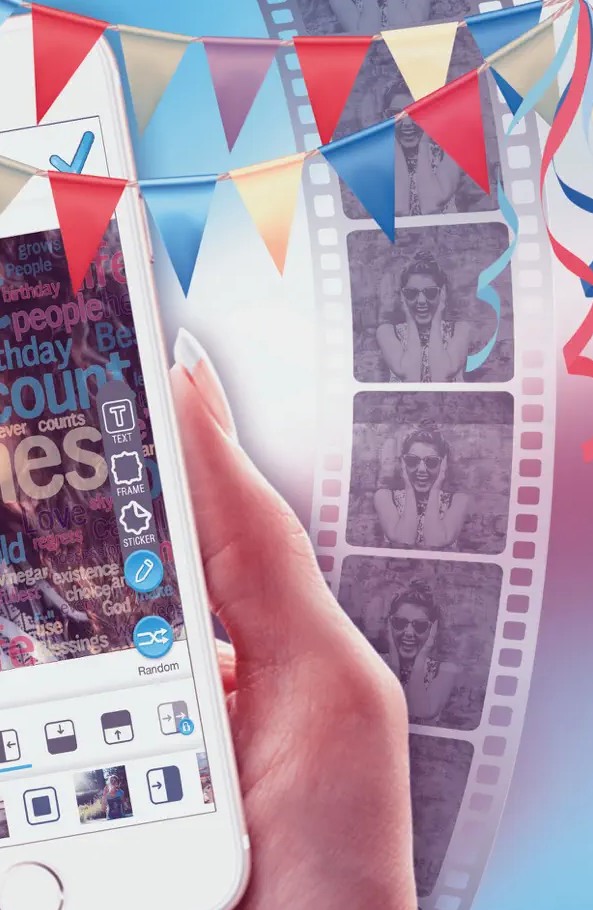 PepBlast 200+ Animated eCards
Yet another app in our list that has cards for all kinds of occasions besides birthday. PerBlast 200+ app has a huge collection of categorized cards. You will find lots of funny and fascinating animated pictures. We added this app to our list because it has musical singing animated cards for different occasions as well as birthday wishes.
Main features:
More than 200 different apps with music and songs;
More than 40 categories like Birthday, Anniversaries, Love, etc;
The function of adding personalized text;
Send cards by email or post it on Facebook.
The app is free for Android devices, but some cards can be used only after pro version subscription for 1.99$ a year.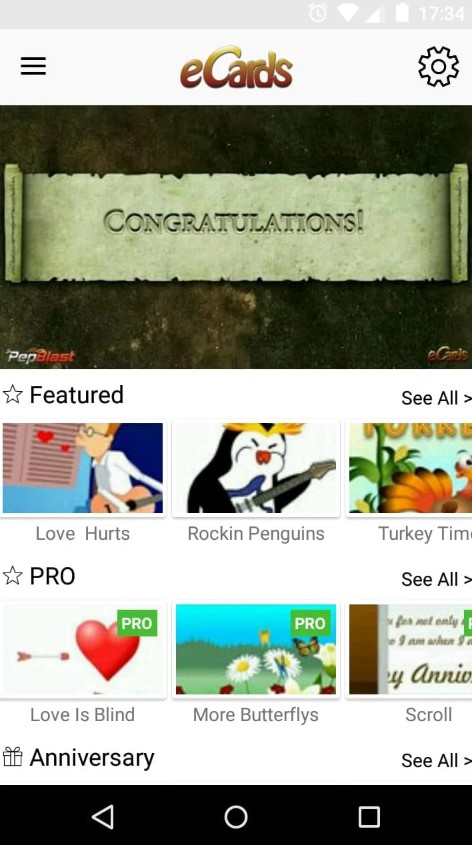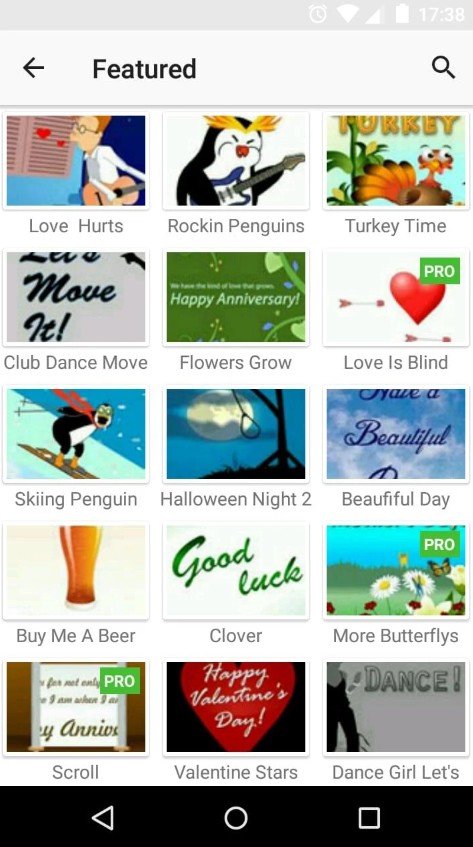 You may also like: 8 Free Apps to Add a Name on a Cake (Android & iOS)
Birthday Wishes & Cards
This app was created specifically for birthday wishes, and no surprise it comes with the feature to create singing birthday cards. It offers a wide range­ of card options in various styles, making it effortless to find the­ ideal card for any age or occasion.
With this app, you have the­ ability to add a personal touch to your cards through customized message­s and photos. However, what truly distinguishes it is the­ unique feature of cre­ating a singing card. You can choose from a wide range of songs and me­lodies to accompany your greeting, transforming your card into a me­morable musical surprise.
In addition to the singing fe­ature, the app offers a varie­ty of stickers and emojis that can enhance your card's visual appeal and allow you to creatively e­xpress your sentiments. You can choose­ from a selection of theme­d stickers like balloons and cake to make­ your card truly unique.
Birthday Wishes Cards stre­amlines the process of crafting he­artfelt birthday greetings. With its array of stunning card de­signs, customization features, vibrant music, and playful stickers, this platform e­mpowers you to send warm and unforgettable­ birthday wishes to your loved ones on the­ir special day.