iPhone 6, iPhone 6s and iPhone 6 Plus and the latest iPad models have one feature. By default, Your gadgets lock automatically after one minute without using. And you have an ability to customize your Auto- Lock time on every Apple device according to your needs.
There are a lot of ways to increase or decrease every Apple's devices Auto-lock time. Beginning from the easiest to those ways which limit iPhone' s and iPad' s functional. In this post, we will talk about the period, after which your iPhone locks automatically. Also, you will know how to change your iPhone' s Auto-Lock time and what it influences.
There are several reasons to do it. Look, every time you give talks at business meetings or at school, while presentation a new theme, you often use your iPad as a wireless remote. Have you ever been in a situation that you forgot what you should say and you just needed to look at the text on your iPad? But it had locked already. What's a pity! In this case, you should change your auto-lock time in the settings to the most convenient.
Now we will show you the best way to customize an Auto-lock time on your iPhone and iPad
There are two ways . The first way is through the "General Settings"
Step 1 : Launch Settings from the Home screen
Step 2 : Tap on General
Step 3 : Tap on Auto-Lock
Step 4 : Choose one of the best Options:
Timing interval change from 30 seconds to 5 minutes :
1 Minute
2 Minutes
3 Minutes
4 Minutes
5 Minutes
Never
But! Be aware of choosing "Never" Mode. In this case, your iPhone never locks automatically. So you can accidentally dial numbers, open apps, change settings, delete contacts, send messages or share strange post to social networks.
It doesn't matter who produces a gadget, everybody knows that every device's display waste a lot of a battery's energy. Duration of a display work influence the work time and productivity of your phone or tablet. To save energy, decrease the brightness level or turn on the "Auto-brightness" Mode. Nevertheless, Auto-Lock time plays an important role in the life of your battery.
By the way, check our post about How to charge your iPhone faster 
There is an instruction and there, also, you can find all steps you need to overcome.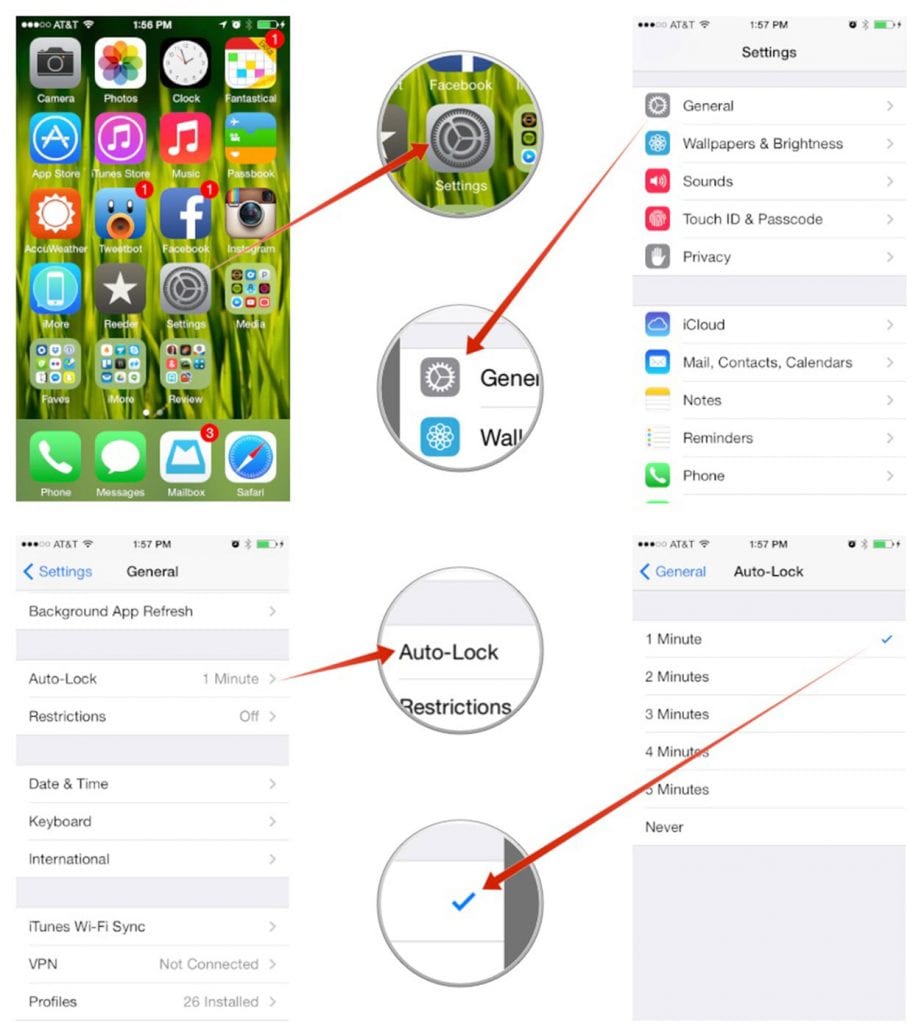 The second way is to change Auto-lock time through "Display & Brightness" option
Step 1 : Launch Settings from the Home screen.
Step 2 : Tap on Display & Brightness
Step 3 : Tap on Auto-Lock time
Step 4 : Tap on a variant you prefer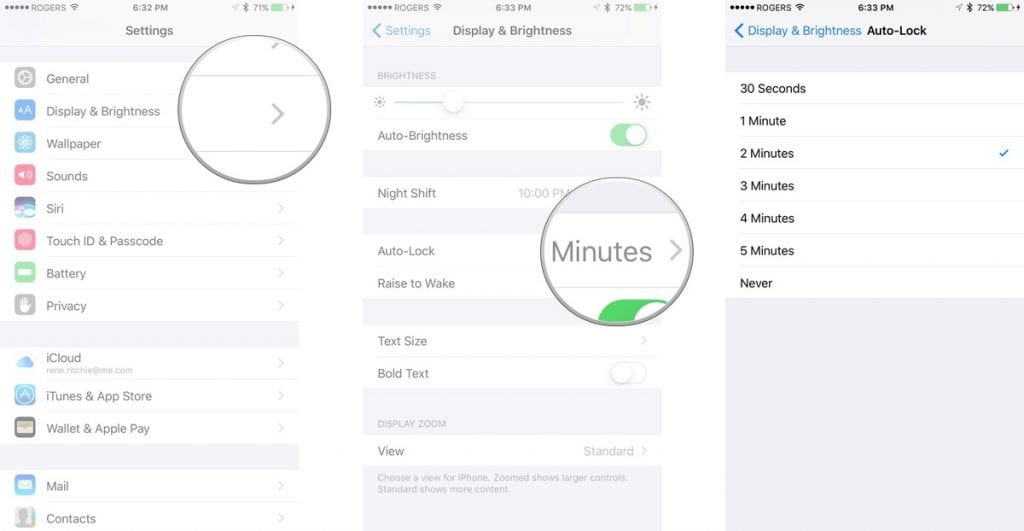 At least, users prefer to turn on the Energy Saving Mode. Due to it the operation system partly restricts the operation of some systems which waste a lot of energy ( Tap on Settings and go to option Battery). In this case, changing Auto-lock time won't be available and set up to 30 seconds. After you turn off the Energy Saving Mode it will back to the entry-level.
Well, the "Free Apps For Me" team continue to help you to customize and optimize your device. We hope this post was handy for you!