What does HDR mean and how to use it + 5 free HDR apps
HDR is a special technique that makes photos look considerably better when used in an appropriate way. Nowadays it is widely introduced to phone cameras in iPhone and Android devices and can also be used while shooting pictures with the help of different HDR apps.
Meaning
The abbreviation HDR stands for High Dynamic Range. Dynamic Range is the ratio between the darkest and the lightest values of an image.
The filter can, so to say, "play" with lights in order to get the best possible photo. For example, if you are shooting a picture in a room with a lack of light or, on the contrary, with too much light, HDR will moderate all the excess.
The technique is based on merging together several shots and highlighting the best in each of them. As a result, pictures become more vivid and look more natural – closer to how a scene is seen by a human eye rather than by a camera lens. 
Due to its peculiarities, HDR shouldn't be applied in situations, when something would potentially be moving, portraits in sunlight or pictures with high-contrast scenes. It would rather make them look worse than better.
However, landscapes and scenes with heavy shadows or bright lights would become just gorgeous if shot with the help of this technique. Fortunately, HDR apps work in such a way that the camera produces two photos – the one with HDR and the one without it.
Well, now you know exactly what does HDR means. Below you can see some effective apps which are designed to create stunning pictures with the use of HDR.
You may also like: 11 Free Apps to Turn Photos Into Sketches (Android & iOS)
5 Best apps for Android & iPhone to use HDR:
HDR Camera
HDR Camera is considered to be the best 2016 app for Android. It has a free version and is entirely focused on the HDR method. The app offers a range of regulations, such as the intensity of the effect. The user can try out different variants with HDR and find the most suitable model for any photo. The app has space for improvement though – sometimes shooting a picture takes quite a lot of time.
ProCamera + HDR & LowLight
This app is designed only for iPhone owners. Even though the iPhone itself has a high-quality & well-equipped camera, pictures become even more impressive with this app. The HDR effect is created by using 5 shots. A user may choose the best picture among several. ProCamera has a minimalistic design and is quite handy in use. It can edit videos as well.
Camera 360 Ultimate
Camera 360 Ultimate is a widely recognized app, which has lots of other features besides HDR – from standard Retro effect to tapping in order to set focus. So if you want a bunch of other interesting features, this app is for you. The only drawback is a quickly discharged phone battery.
TADAA
TADAA is a multi-functional app that will turn your phone into a professional camera. What is more, you don't need to be a professional photographer to use it and make awesome pics with it. HDR mode works perfectly and even smashed pics can turn out to be pretty good. Both beginners and pros will find this app interesting.
Camera+ 2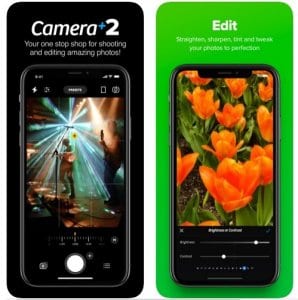 If you want an app that would allow you to edit your photos professionally, including the light curve and pixelization then this is your choice. It will be a little more difficult in usage for beginners, but for those who are used to work with editors, it's not a problem. Moreover, in order to use the HDR mode here, you don't need to possess any special skills. Because of the cool presents and built-in filters and frames, the photos will become even more captivating.
You may also like: 11 Best thermal imager apps for Android & iOS