People like designers' clothes – starting from very basic self-customization and ending with the most famous brands such as Versace or Prada. We like to express ourselves throughout the clothes. Probably each of us has ever thought of ordering a special T-Shirt with a unique picture so everyone could notice.
You may also like: 17 Best Online Shopping Apps for Android & iOS
Our favorite apps can be a great help in this process. In the apps listed below, you will find your inspiration in hundreds of different patterns or get the inspiration to create one yourself. Any type and color, size, and picture – now it is all available in just a few taps.
T-shirt design and print
It would be possible to say that printing personalized T-Shirts was extremely popular in the past, but, look – it is still popular nowadays.
Consumers want to buy special and exclusive products and this tendency seems to remain in the future. However, something did change. Possibilities for customization got much wider and now you can be your own designer just using this app.
In this app you can choose any kind of design you dream of and apply it on a t-shirt or a hoodie, to see the result in advance. The possibilities are unlimited. All the pieces that you create will have high quality, and the options include patterns for tees, hoodies, sweatshirts, youth, infants, jumpsuits, and more.
You can also choose a gender – will it be a t-shirt for man, woman, kid, or unisex? Then add the color and the mood you want to your clothes, for example, emojis, vintage or worn-out effect, or your favorite quotes. And as being environmentally friendly is extremely trendy nowadays. the app recently added such options as organic t-shirts.
It is really easy to create clothes with the necessary logo here. Maybe, you have a business or your own YouTube channel, birthday, or a corporate event – you can print everything on t-shirts. And there are also different types of fabric and structure that you can choose – for example, your T-shirt can be seamless.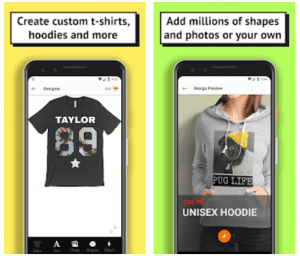 You may also like: 15 best apps to buy clothes on IOS & Android
Snaptee
Creating your own design for a t-shirt can reflect your personality and seal your thoughts on your clothes so everyone could see them.
And thanks to the nowadays technologies used in apps, you don't have to be a high-level designer to create your own personalized tee. The whole process will be a lot of fun and no complicated at all. Join the community of Snaptee and catch your inspiration!
For example, you can choose your favorite quotes, choose a font, layer them on a t-shirt and see how they're going to look on it. Create the best design for those who you love! A t-shirt with a meaningful image is a great present. You can also choose the photo from your Instagram and layer it on the T-Shirt.
In case of painting is your hobby or maybe you are a professional artist – you can copy your drawings to a t-shirt. For professionals that could be a good business idea. Or, if you have your own team, for instance, you play volleyball together, you can make a great unique design for its members and stand out.
You can put photos made by you on the T-Shirt, previously editing them in VSCO or PicsArt to add special effects to picture. Moreover, there are a lot of opportunities for customization in the app.
You can choose the size of a t-shirt, it's the type of fabric and, t-shirt templates and variations, it's elasticity, and much more. The innovative Remix button is also great for collaborations.
When you created your T-Shirt and you like your design so much you can share it via Facebook or Instagram so your friends could support you as well. And here we come to another interesting function of this app. Once you created an interesting design – you can choose to sell these T-shirts via the app.
Make sure to turn on the Publish and Sell button after finishing your design so other people can buy it. For every T-shirt sold, you earn a 10% commission on the sale.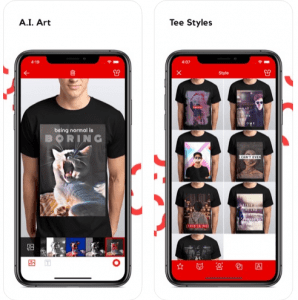 T-Shirt Design Studio
Want to get an exclusive T-Shirt in minutes without paying a crazy amount of money for it? This app is your chance. Create any type of design you wish with this T-Shirt design studio. After you are done with the design, the app service will print it out for you and send you the result.
The shipment usually takes from 1 to 6 days depending on where you live. The payment is in-built in the app. After you have paid for your tee, the order will be shipped.
Besides, with all the tools for colorizing and drawing in the app, the whole process is great fun. See which patterns work for you.
Add texts, quotes, graphic paintings, portraits of celebrities, Speaking of those, have you seen the prices for their merchandise on their concerts? Why paying so much when you can simply repeat the design in the app and get the same T-Shirt from a concert 2-10 times cheaper!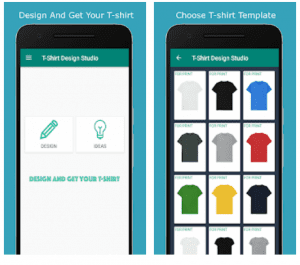 Super T-Shirt Designer
In this app, you will receive your own designed T-Shirt for only 25$. The product is of decent quality and the delivery is fast. However, keep in mind, that unlike previous apps, this one has options only for men and women.
The app includes 14 patterns for design from where you can choose the one you like and then customize it according to your preferences.
All the patterns for design are already adjusted to T-Shirts and thus you know approximately what you are going to get as a result. It is not always practical to create a T-Shirt with a completely new design because in that case, no one can guarantee to you that all the details are going to look the same in reality and that a T-Shirt size actually going to fit.
Here the app contains actual photos with T-Shirts and designs. Choose a sketch, colorize it, apply the necessary settings. You can choose images or words, or text, it's up to you. You can also choose pictures from the Internet and layer them on the clothes. By the way, you can order not only T-Shirts but also hoodies.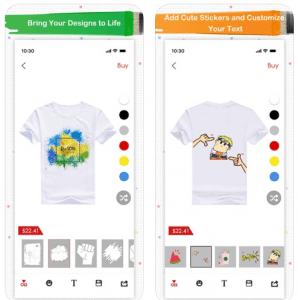 You may also like: 15 Best Men's Shopping Apps for Android & iOS
Autodesk SketchBook
Or maybe you want to become a fashion designer and you need a nice sketchbook app to create your own projects? Then check out this app – it will probably be a little bit difficult to handle for the beginners, but for those who are already more or less into sketching, this app will become a nice discovery.
Here you can import images from other apps and draw on them. You can draw the shape of a T-Shirt yourself, or you can import a file and draw on it – up to you. What is more, here some elements of 3D modeling are also available.
Create any types of decorative elements that you want – just draw them, then cut them out, and drag on the picture in the way you want. The colonizing options are wide as well – you can create the gradient, plain colors, you can mix colors and get new ones – everything is limited by your imagination only.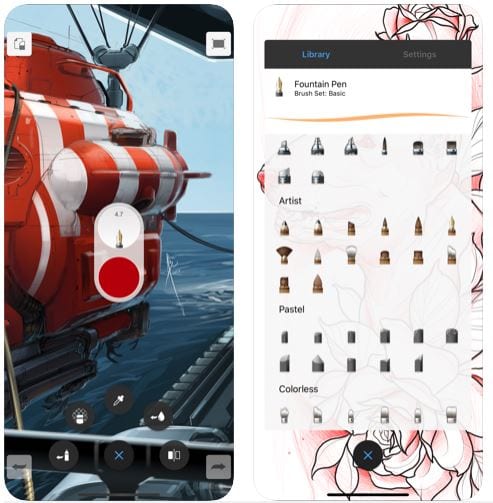 T-shirt design – Yayprint
More or less, we all express our personality through style. By the way, we look, we want to bring our message to this world. That's why all these T-Shirts, hoodies, and sweatshirts with inscriptions are so popular – this is our way slightly to deliver our thoughts to others.
This app is a mini-studio fir designers (well, not only for them, including those who want just to imagine themselves being one). Here people can create their own drawing for T-Shirts, order them, and sell. The app presents all kinds of tees for everyone – kids, men, women, unisex.
There is also a possibility to choose a T-Shirt made out of microfiber. They feel way better in summer than cotton and polyester. You can make your T-Shirt with the V-neck cut. Upload your own photos or create right in the app – it doesn't matter, there are no limits for it.
The app uses the latest technology for printing T-Shirts hand-made by people in high quality. So even if you layered something low-dimension on your tee, the app will fix that.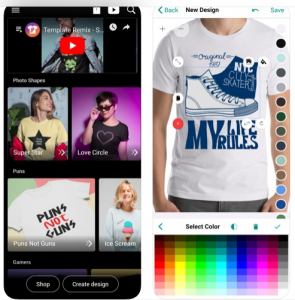 You may also like: 15 Best tattoo design apps for Android & iOS
Adobe Photoshop
Well, of course, where else would you create your unique designs? In Photoshop, of course. This program lets you create any types of patterns you want and experiment with colors. For better convenience, you can take the picture of a T-Shirt or find one on the Internet, then upload it to this app and then layer patterns and images that you created before.
If you know how to use Photoshop in detail, you can always create a more intricate design of a T-Shirt. Rotate the image, rotate the T-Shirt, create the 3D model of it, and see how would it look like in the real life.
Probably, it is quite difficult to describe all the possibilities of Photoshop now, and you are pretty much aware of them yourself. In other words, Photoshop Express is almost a "must" when you want to create a cool T-Shirt.